This recipe for Chicken Club Pasta Salad is an easy to make pasta salad that combines everyday ingredients for a hearty side dish. It's the best twist on the classic cold cut combination sandwich. Filling enough for a light Summer supper, perfect side dish to take to the next barbecue.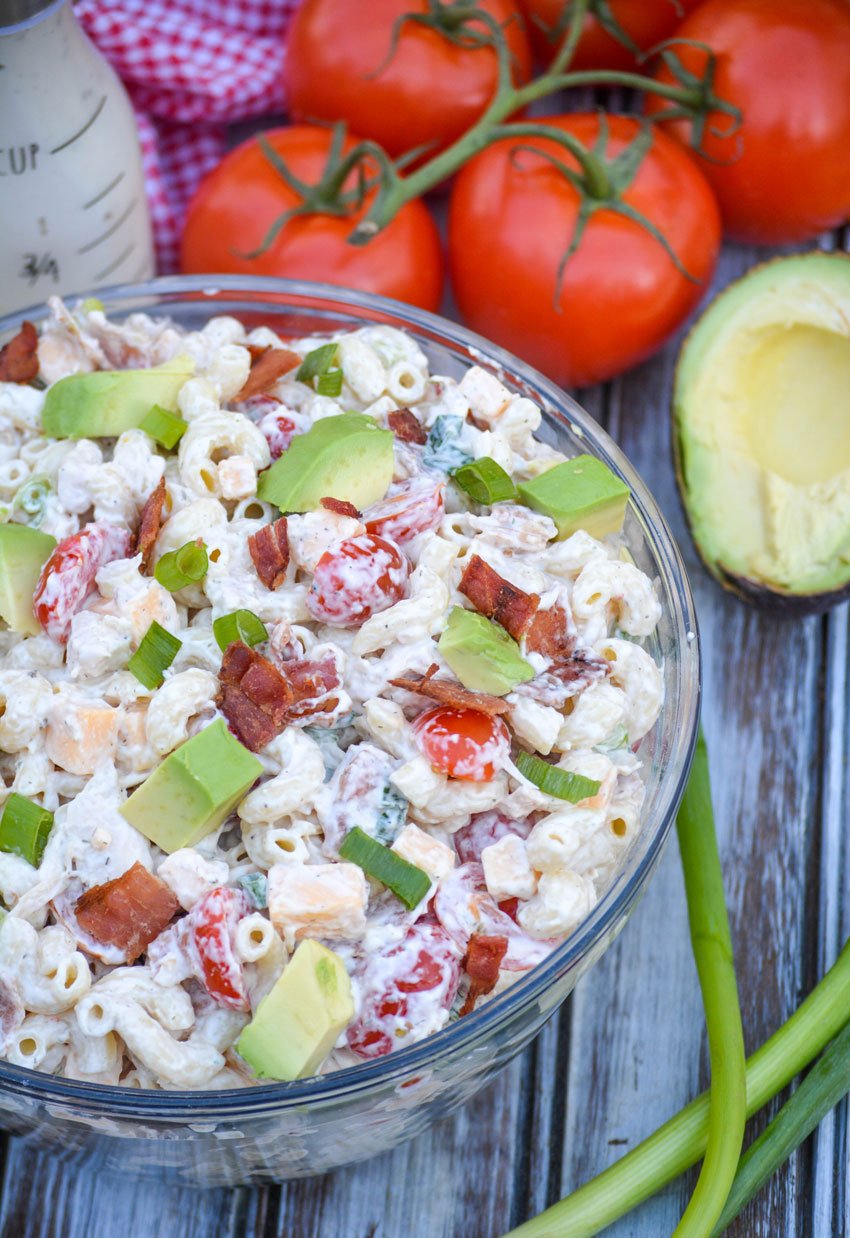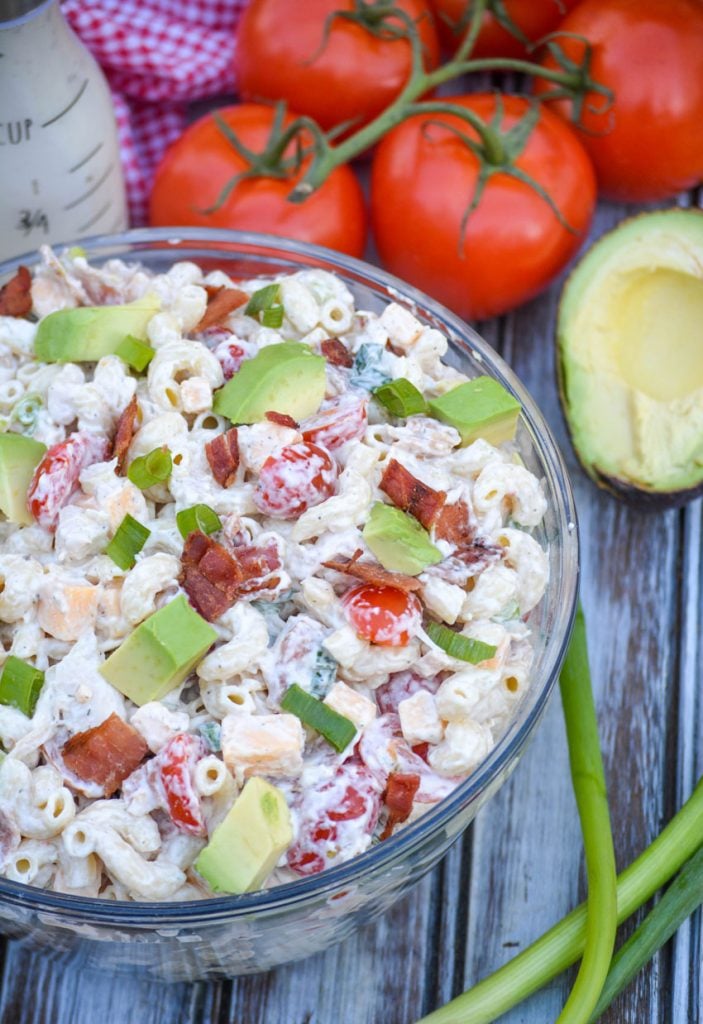 My kids always ask what's to eat. What'a for dinner? Something along those lines. And they've always got some comment to drop.
No, when I include 'club' in the dish it doesn't mean we're having a party. It does not mean that the recipe is from (or part of) some secret organization.
Sheesh.
At least if it's going to be an ever evolving game of 395,102 questions then their imaginations are keeping it interesting.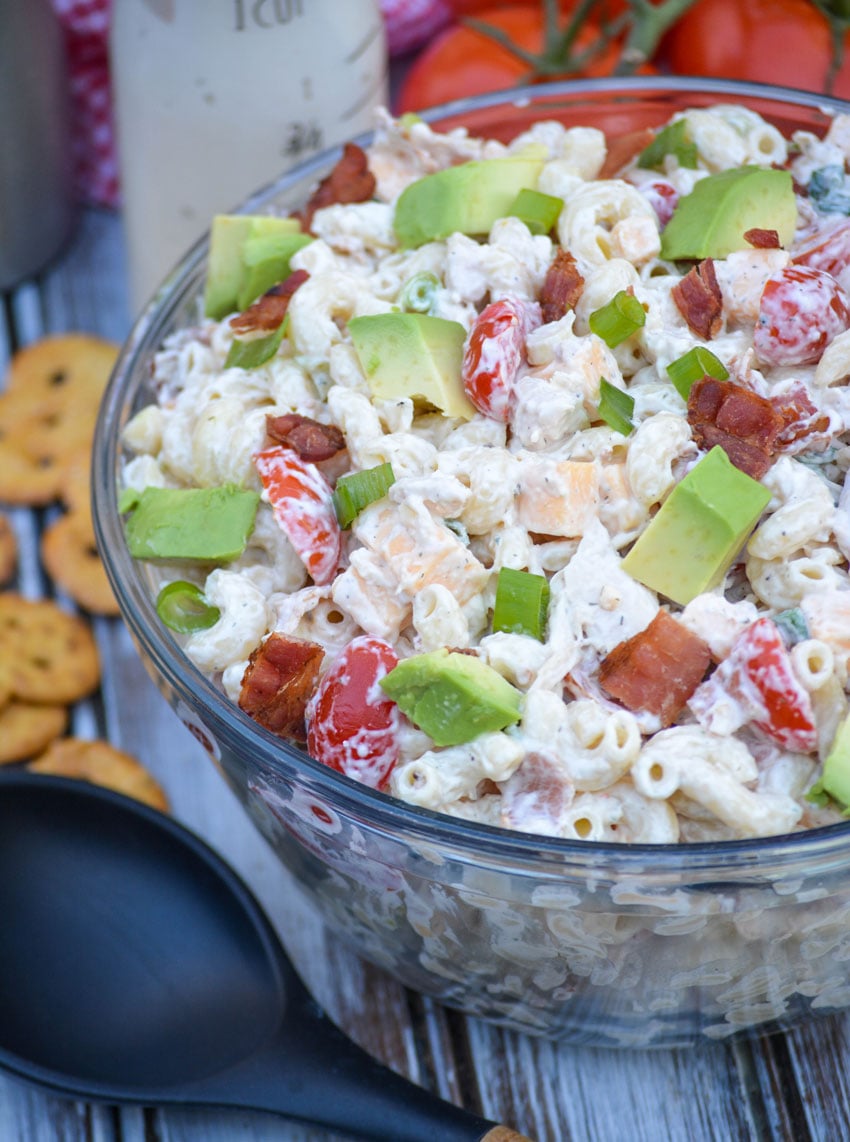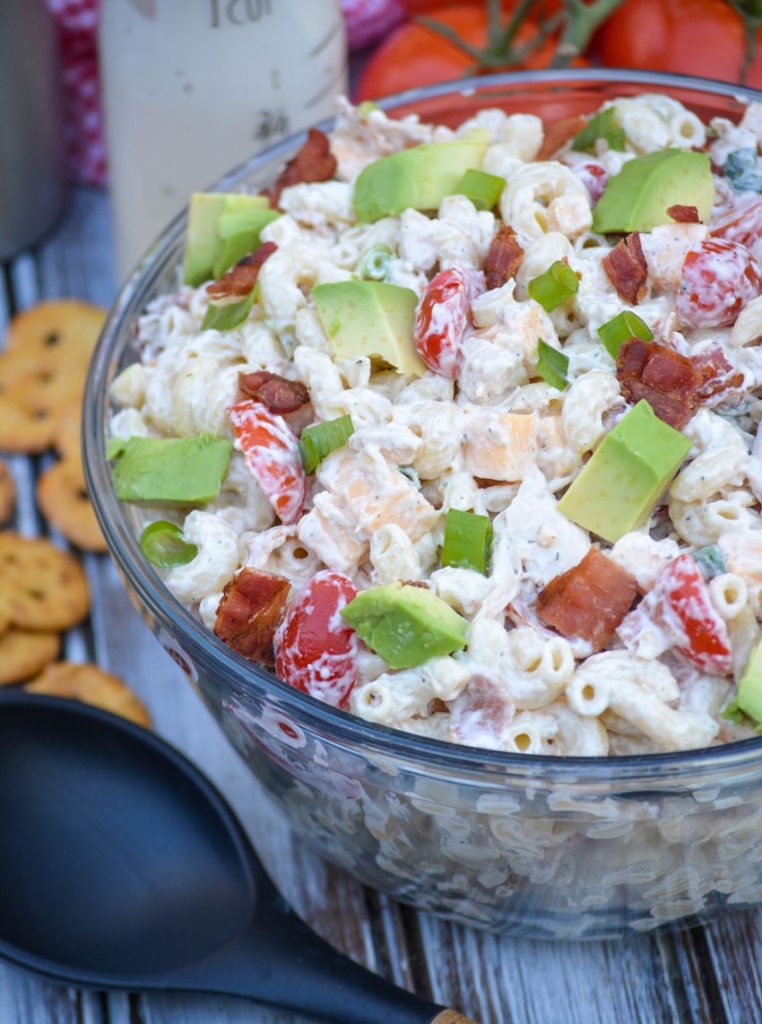 When I hear 'club' it automatically has my mouth watering. Why? Because there's no more refreshing meal than a club sandwich.
Why Call It A Club?
There's one thing New Yorker's now it's their way around a deli.
They certainly know their way around a sandwich, and serve some of the best that can be found.
It's no surprise then, that something as simple yet genius as the club sandwich originated in NYC, New York.
The earliest known reference to the classic is in 1889 and refers to the creator as the chef at the Union Club of New York City.
It began appearing in cook books the same year, and was immediately popular. Popular enough that it became an instant star, that still a staple of our lunch time diets to this day.
What Is It Made With?
Just thinking of one sets my mouth to watering.
The traditional filling was shaved chicken breast meat, sliced ham, lettuce, and tomato dressed with mayonnaise & seasoned with salt and pepper.
These can be sandwiched between two slices of toasted bread, or even between three of them.
If using three pieces of toasted bread, a bed of lettuce and tomato is added to the first slice followed by a layer of one of the lunch meats, and spread with mayo. A second slice of toasted bread is added, repeating the filling with the second lunch meat this time.
Season the sandwich with salt & pepper & top with the final slice of bread.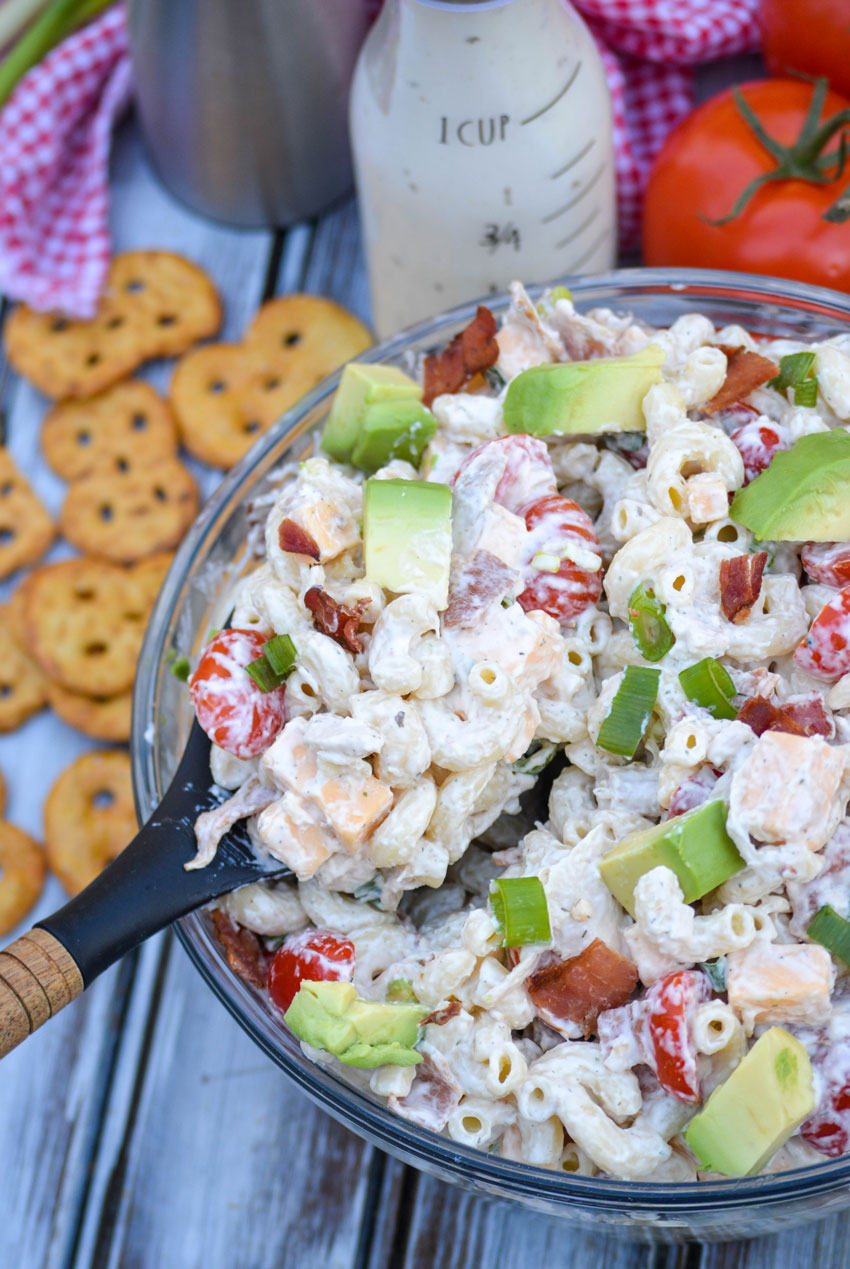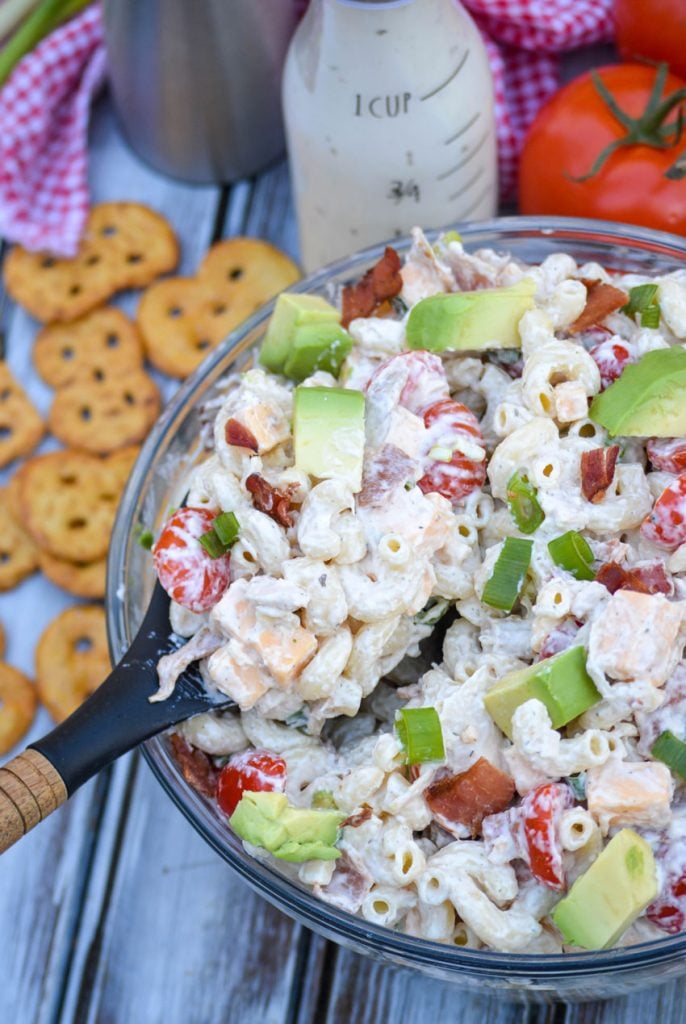 Chicken or Turkey?
A club sandwich always has two lunch meats, ham & poultry.
There is some debate on whether the proper choice is chicken or turkey.
There isn't a right or wrong answer.
Originally the sandwich featured chicken, but somewhere along the line turkey became a popular choice.
Today, both have their fans who will staunchly defend their preferred lunch meat's authority as the proper choice for the perfect club.
We prefer it with chicken, but won't turn it away it's turkey instead.
Californian's gave it their own spin by adding a layer of creamy avocado to the mix.
How To Serve?
Because they're such a hearty sandwich, they tend to be served a certain way.
They're either cut into halves (two triangles) or quarters (four squares).
The smaller sizes being neater to eat and to hold, they're typically served with tooth picks or cocktail sticks in each to ensure the layers hold together.
But that's a lot of work when trying to prep something fresh for a garden party or back yard barbecue.
I still want all that flavor, but in a much easier to throw together, portable form.
S instead of serving the sandwich with a side of pasta salad, we decided to skip the bread and combine the two into a unique hybrid dish.
One that could be main course or side dish- a chicken club pasta salad.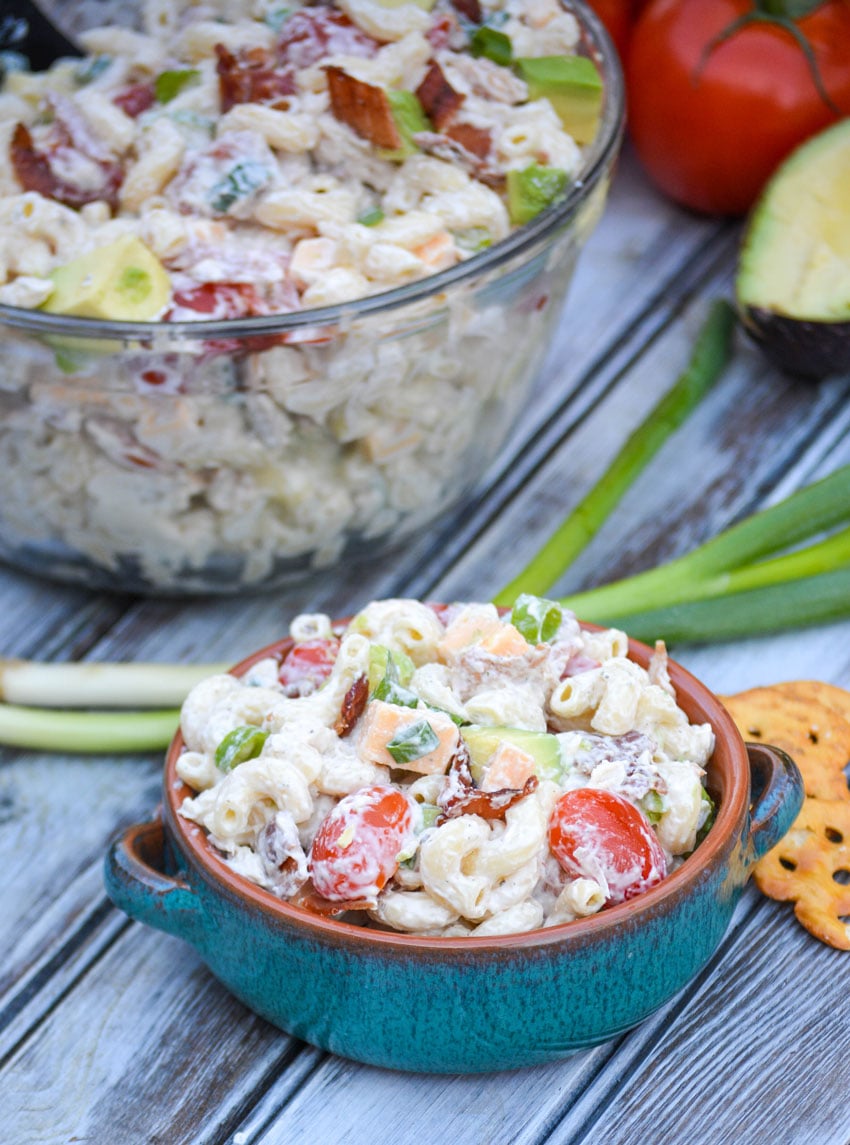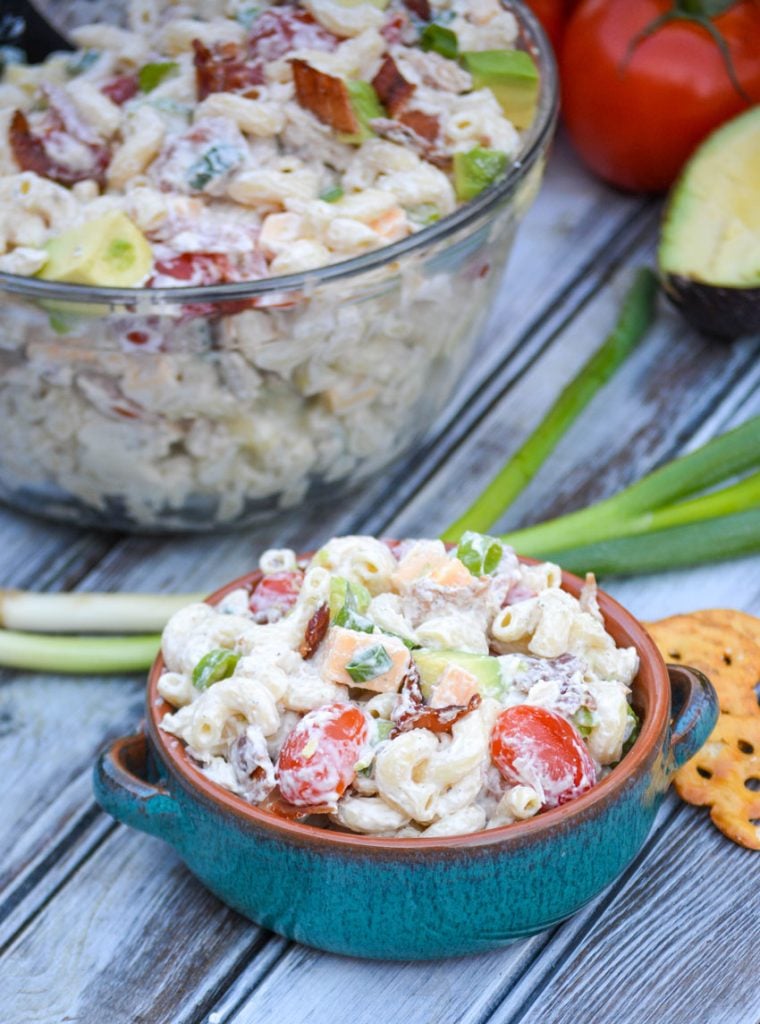 Instead of sandwiching it between two slices of toasted bread we've deconstructed the classic combo and mixed everything together in one big bowl.
We didn't forget those carbs though, which is where the pasta comes in.
Bound together in solidarity by a creamy ranch mayonnaise dressing– this relatively simple pasta salad recipe is a real kid & crowd pleaser.
All the flavors you love in a traditional club sandwich, but without the layers of bread.
Instead tossed with cold, creamy pasta salad.
Tips & Tricks For Making The Best Version of Chicken Club Pasta Salad
Want to enjoy this dish, but need to cut out some of the fat? You can skip the avocado if needed, and even use turkey bacon instead of regular.
If making ahead of time, say for packed lunches the following day- spritz the chopped avocado pieces with a little lemon juice before incorporating to prevent browning.
Don't have elbow noodles on hand? Another small pasta shape such as shells, radiatore, penne, or rotinni will all work.
Make sure you use real mayonnaise and not miracle whip.
Trying to get even more fresh veggies in? You can add chopped green leaf lettuce to make this pasta salad more 'salad' like.
If you want to keep it more in line with the original you can swap diced or shaved ham for the bacon.
Can This Be Made Ahead Of Time?
I often make my pasta salad's ahead of time, especially if they're for a picnic or party I'm hosting.
Makes for one less thing I have to do the day of.
However, while this chicken club pasta salad can easily be made ahead of time- it does require a few adjustments.
Prep all of your ingredients, including the dressing, but store them separately in the refrigerator overnight.
This will allow everything to chill nice and properly without the pasta absorbing all the excess dressing and making the salad dry.
When ready to serve, simple throw everything into a large mixing bowl and toss until evenly combined.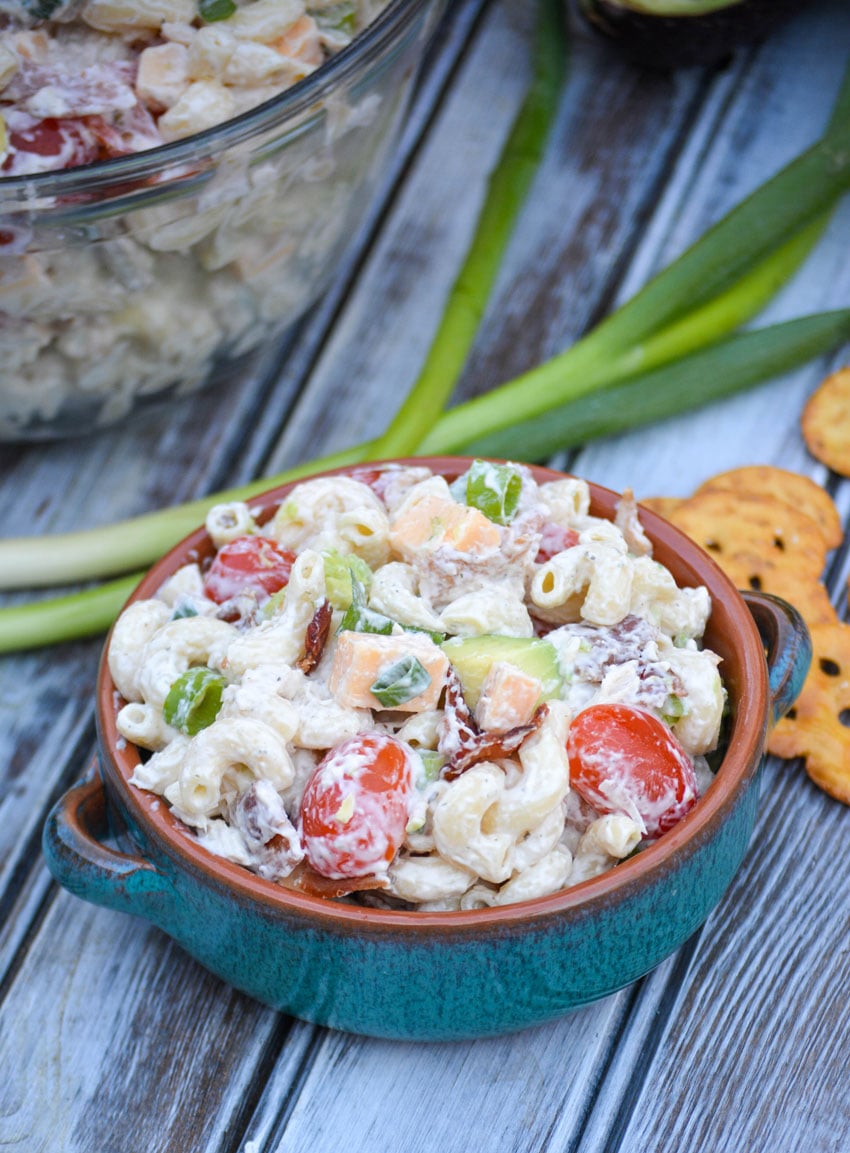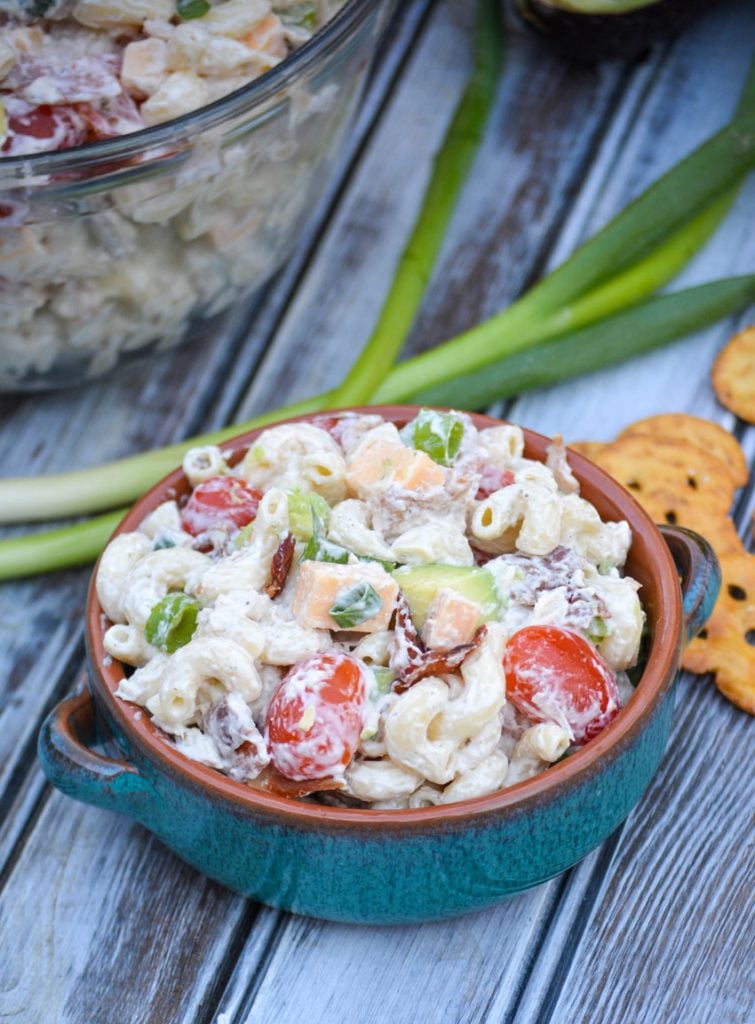 Remember all those pesky questions I mentioned earlier?
This delicious new take on the classic chicken club pasta salad is guaranteed to stop them in a single bite.
Not indefinitely, but enough to let you enjoy the meal and savor the silence along with the dish.
Other Hearty Cold Pasta Salads To Try:
If you've tried this CHICKEN CLUB PASTA SALAD, or any other recipe on the site, let me know in the comment section how it turned out, we love hearing from our readers! You can also follow along with me on PINTEREST, FACEBOOK, and INSTAGRAM to see more amazing recipes and whatever else we've got going on.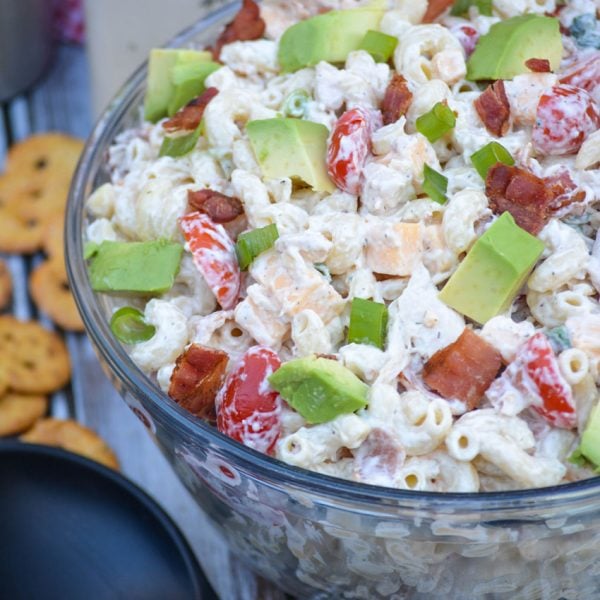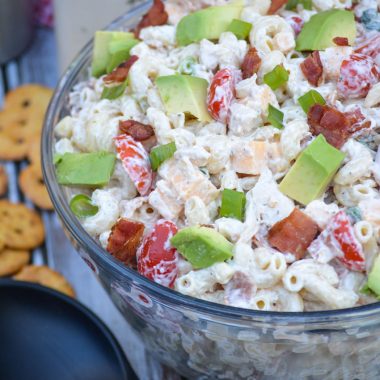 Chicken Club Pasta Salad
An creamy pasta salad that includes all the things you love in a classic Chicken Club Sandwich-- but in one easy side dish.
Print
Pin
Rate
Ingredients
8

oz

medium sized shell pasta

8

slices

bacon

cooked, drained, and crumbled

2

cups

cooked chopped chicken

breast or even pre-made rotisserie

1/2 - 3/4

cup

grape tomatoes tomato

halved lengthwise

1/2

cup

of sharp cheddar cheese

cubed

1/2

avocado

diced (optional)

1/2

cup

buttermilk

1/2

cup

mayonnaise

1/2

cup

sour cream

or Greek yogurt

1

tbsp

chives

1

tbsp

fresh dill

1

tbsp

fresh parsley

1

tsp

onion powder

1

tsp

garlic powder

salt & black pepper

to taste
Instructions
Add all of the ingredients for the dressing into a blender. Blend until evenly incorporated and frothy. Refrigerate until needed.

Cook the pasta according to the package directions- just to al dente. While straining the pasta run it under cold water to stop it cooking.

Transfer the cooled and strained pasta into a large salad bowl. Add in the remaining ingredients, except for the dressing, and gently toss them to evenly distribute. Stir in the dressing a 1/4 cup at a time, until the desired consistency is reached.

Serve immediately or let the pasta salad chill until ready to serve.
Nutrition
Calories:
582
kcal
|
Carbohydrates:
34
g
|
Protein:
23
g
|
Fat:
39
g
|
Saturated Fat:
12
g
|
Cholesterol:
85
mg
|
Sodium:
544
mg
|
Potassium:
475
mg
|
Fiber:
3
g
|
Sugar:
4
g
|
Vitamin A:
645
IU
|
Vitamin C:
7.3
mg
|
Calcium:
131
mg
|
Iron:
1.2
mg