Soft pillowy Naan bread is piled high with chunks of crispy, pan seared chicken breasts, generously sprinkled with shredded pepper jack cheese, and liberally dotted with thinly sliced rings of vibrant mini sweet peppers. The flatbread is then lightly toasted before the addition of fresh creamy pieces of avocado, a sprinkle of crisp, crumbled bacon, and a heavy handed drizzle of our bold chipotle ranch dressing. These California Chicken Flatbread sandwiches will leave you singing 'hallelujah' and have everyone praying for seconds.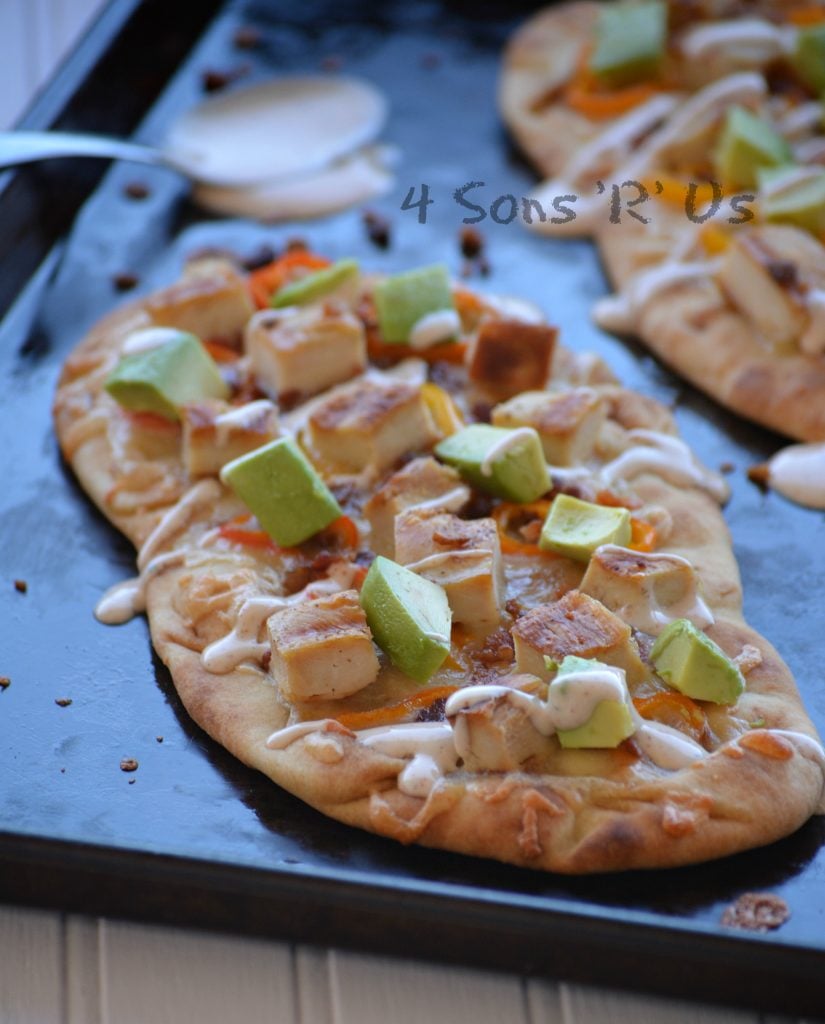 How many of you brown bag it for lunch everyday?
While I'm sure the hubs would enjoy eating out for lunch more than once a month, he appreciates that a packed lunch saves money. Still the hubs is picky.
He simply refuses to ever take or eat leftovers. He's very particular about his lunch meat. He will not voluntarily consume any fruit, but also refuses too many chips or other pack-able lunch items because he 'doesn't want to gain weight'.
It makes a challenge to pack a filling lunch that he'll actually eat all of.
Since the only thing he will consistently eat is a sandwich, he has 1 or 2 ham or turkey and cheese every day of the work week, every day of the year.
He doesn't complain about that but I will be truly shocked if the man will ever want to eat a sandwich again when the day comes for him to retire.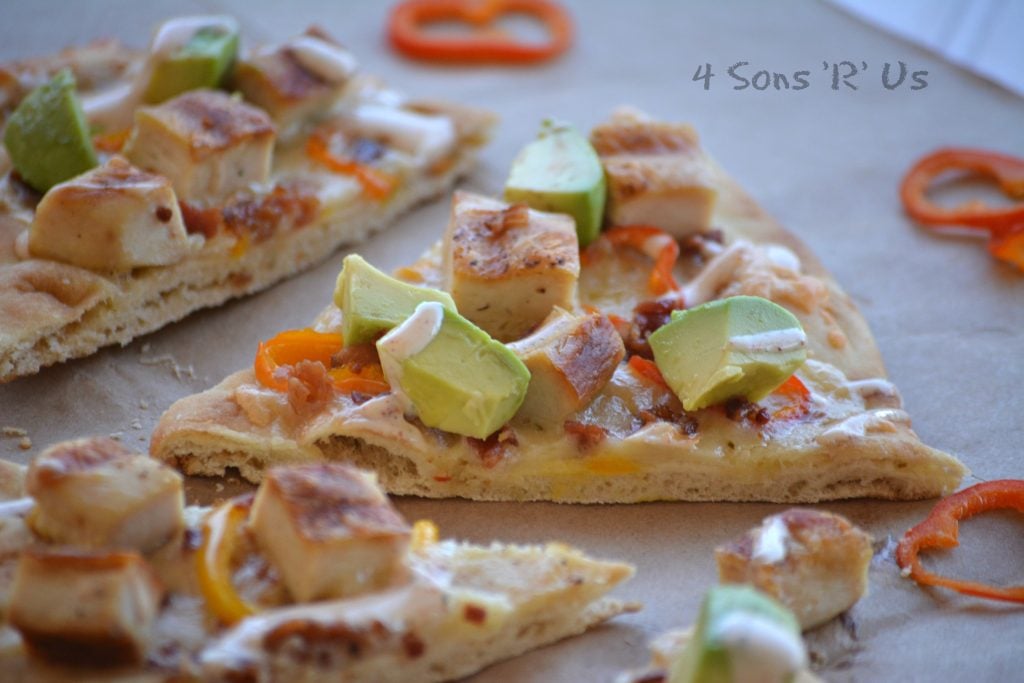 Keeping that in mind, I try really hard to avoid serving sandwiches for lunch or dinner unless they're something special.
Something with a little ummph and not remotely close to his M-F little mayo, lot of gourmet Boar's Head mustard, couple slices of turkey or ham, and a piece of Swiss on honey wheat bread.
We've come up with some real winners too that are easy and still assembled without out help from the deli drawer in our fridge.
Chicken Cordon Bleu paninis anyone? Tex Mex Chicken Salad flatbread sandwiches? Pomegranate, Feta, And Chive Pinwheels?
Gourmet, check. Easy, check. All thinking outside of the bread box? Double Check.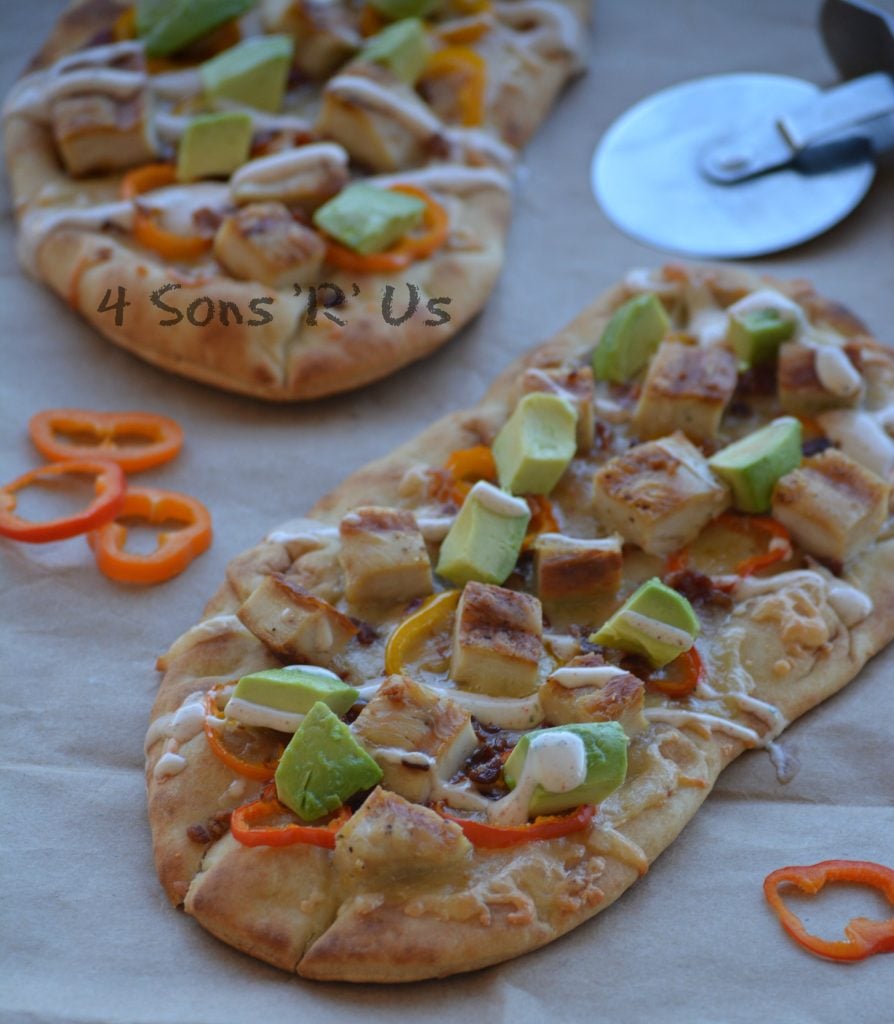 Following in the same vein– when I saw a pack of naan bread on our last grocery excursion I didn't even think twice when I immediately stick it in my cart.
It held potential. Lunch time altering, flavor melding, rule bending, non-sandwich potential.
The California Chicken Flatbread like a perfect sandwich pizza, but with pizzazz.
Savory chicken, a bit of spiced cheese, creamy chunks of ripe avocado, rings of sweet bell peppers, crisp bacon crumbles all marry together like they were meant to be together.
The mildly spicy chipotle ranch drizzle (applied liberally or more normally– the choice is yours) is the glue that binds them all together in a state of wedded edible bliss.
If you've tried this CALIFORNIA CHICKEN FLATBREAD WITH CHIPOTLE RANCH, or any other recipe on my site, let me know in the comment section how it turned out, we love hearing from our readers! You can also follow along with me on PINTEREST, FACEBOOK, and INSTAGRAM to see more amazing recipes and whatever else we've got going on!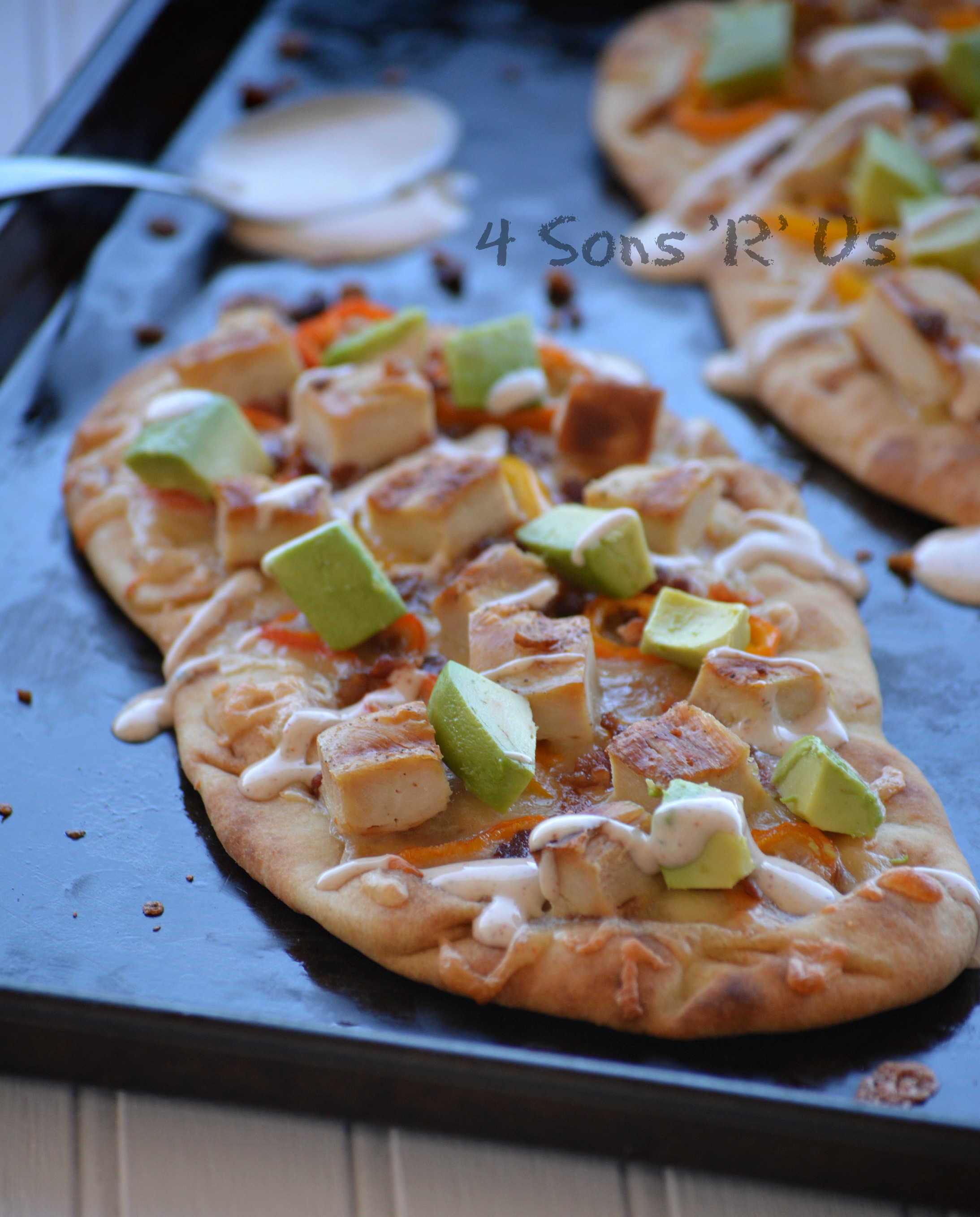 California Chicken Flatbread with Chipotle Ranch
A pizza-like sandwich that combines all the California-style toppings you love on a crispy flatbread crust with a lightly spiced, creamy chipotle ranch drizzle.
Print
Pin
Rate
Ingredients
2

pieces

of naan bread

2

tbsp

olive oil

1/2-3/4

cups

shredded pepper jack

or Monterrey jack, cheese

1-2

boneless skinless chicken breast

pounded to 1/2" thickness

2-3

slices

cooked crisped bacon

crumbled

1/2

avocado

diced

2-3

mini sweet peppers

sliced into thin rings

1

tbsp

packed cilantro leaves

roughly chopped

1/4

tsp

crushed red pepper flakes

optional

1/4

cup

ranch dressing

store bought or homemade

1

tsp

chipotle seasoning
Instructions
Salt and pepper the pounded chicken, to taste, on both sides. Cook the seasoned chicken in a large, shallow skillet over medium-high heat for about 3-4 minutes on each side or until cooked through. When the chicken is cool enough to touch, dice and set it aside.

Lightly brush naan with the olive oil. Sprinkle the cheese evenly overtop. Evenly assemble with the chicken, sweet peppers, and the bacon. Place on a baking sheet that's been prayed with non stick cooking spray. Bake them at 350 degrees for 10-15 minutes, or until the cheese is completely melted.

In a small bowl, stir together the dressing and chipotle seasoning. When the flatbread's finished baking, generously top them with the avocado, cilantro, and (optional) crushed red pepper flakes. Drizzle ( as little or as much as your heart desires) with chipotle ranch dressing.

Serve and enjoy!
Notes
This recipe serves two as a meal, but can easily be doubled to serve a family lunch or dinner.
Adapted from Creme De La Crumb