Breakfast doesn't get any easier, or more delicious, than these Blackberry Cobbler Muffins. Fresh muffins, filled with ripe blueberries, and topped with a sweet streusel crumble- they taste just like one of your favorite desserts, but this version was made for the AM hours.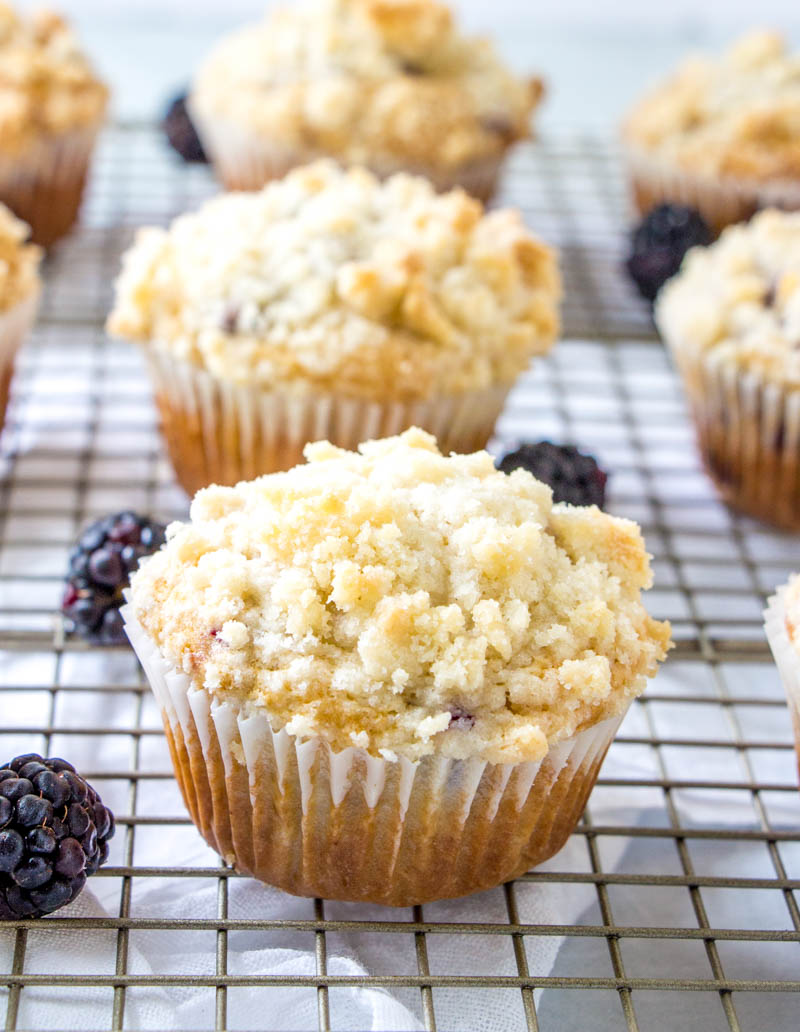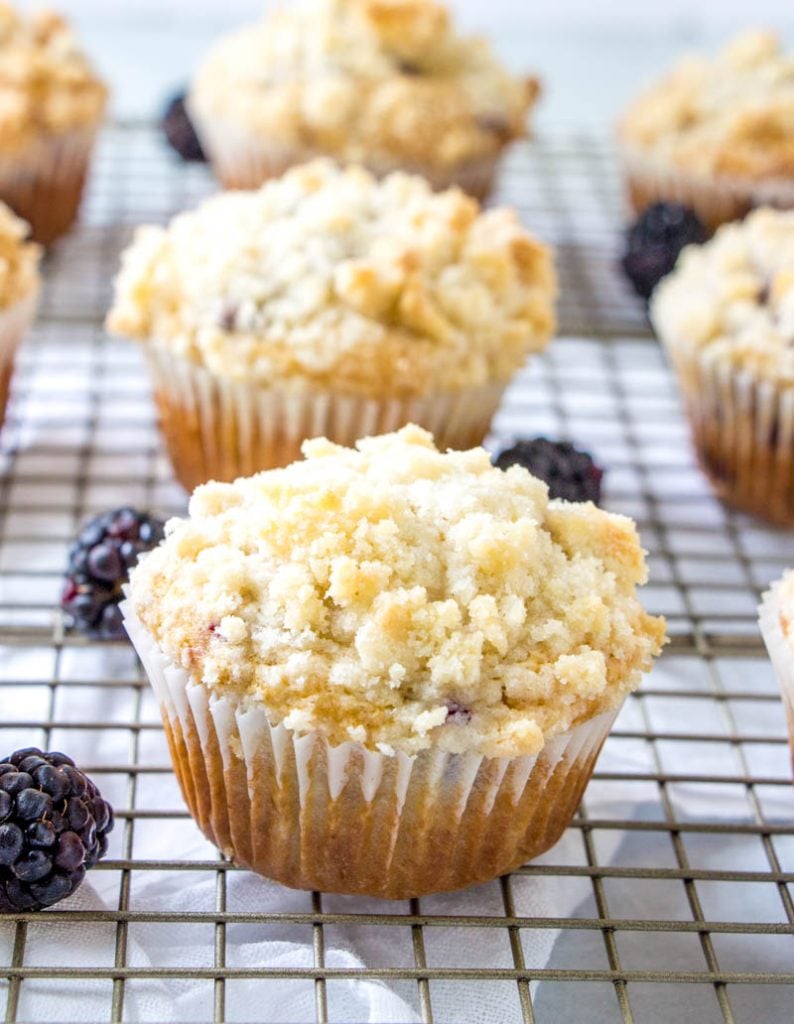 Summer has officially arrived at our house. Today marks the first official day of Summer Vacation 2018.
Woot woot!!
I am looking forward to a Summer or relaxing. Relaxing by the pool while the kids splash and play. Relaxing on my back deck with a good book, and a cold beverage, in hand while the kids ride bikes up and down the drive way, play catch, and throw the football.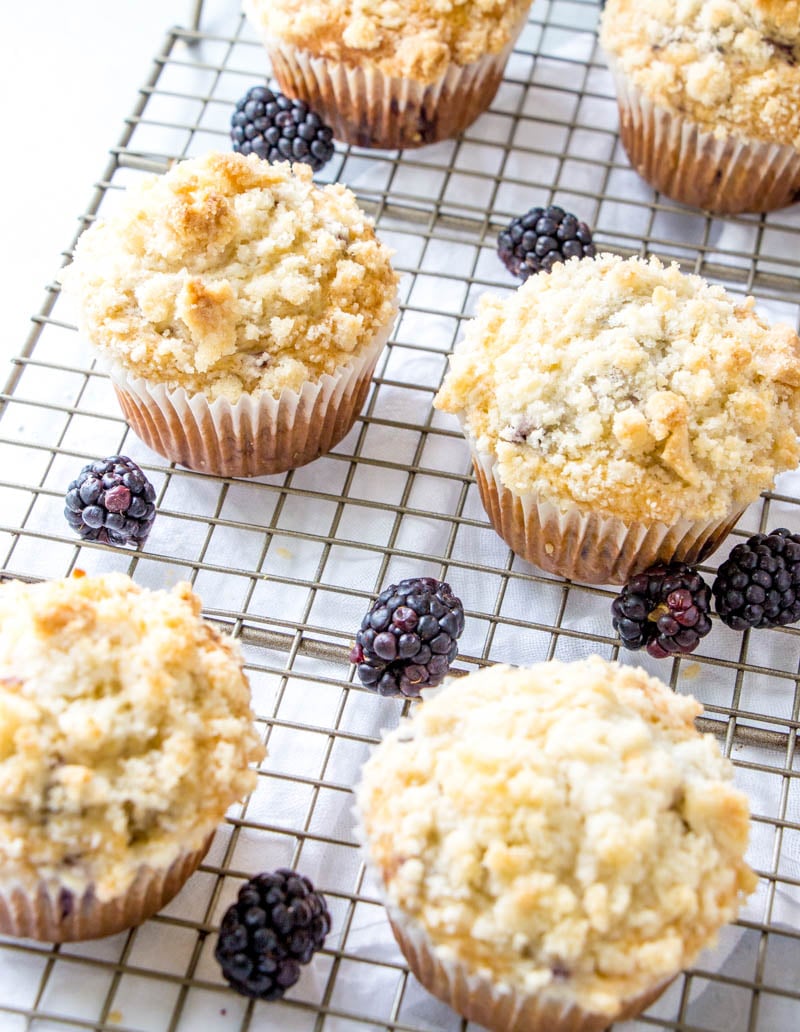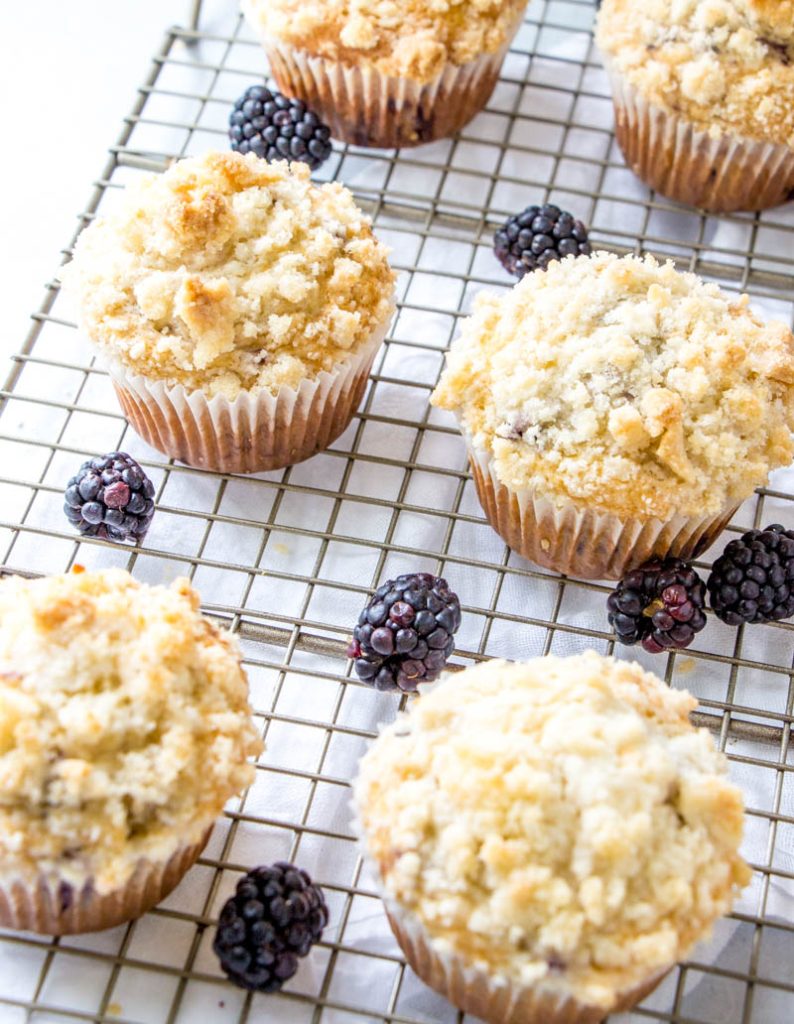 A Summer where I consciously make an effort to say 'yes' more, and (hopefully) 'no' a lot less.
Starting to tonight's trip to the grocery store.
Son # 4 is 8 (almost 9) so he has the unfortunate reality of begin dragged along on all of Mama & Daddy's tragically boring errands.
Sometimes though, this actually works out to his benefit because he gets to grab a bite with us whenever we get a hankerin', and I am a lot more liable to buy the cheap trinket or toy his puppy-dog eyes beg for when it's just him.
As opposed to years ago when it was a lot harder, because I had at least three, if not all four kids wanting toys at the same time.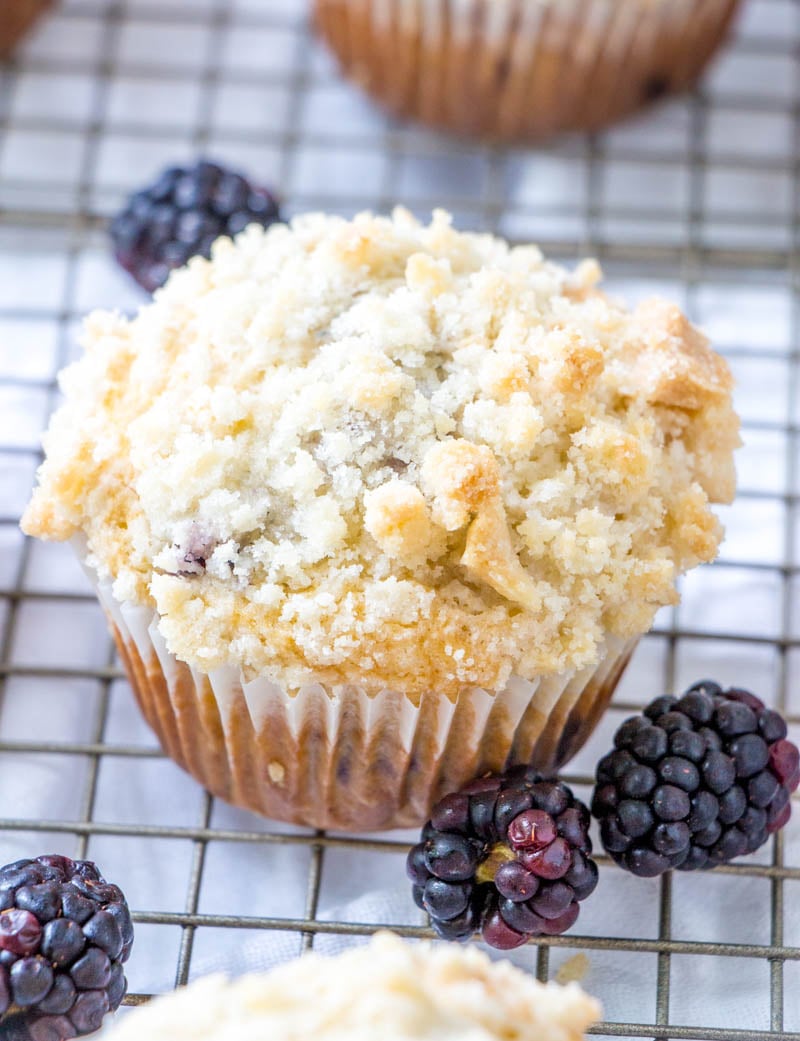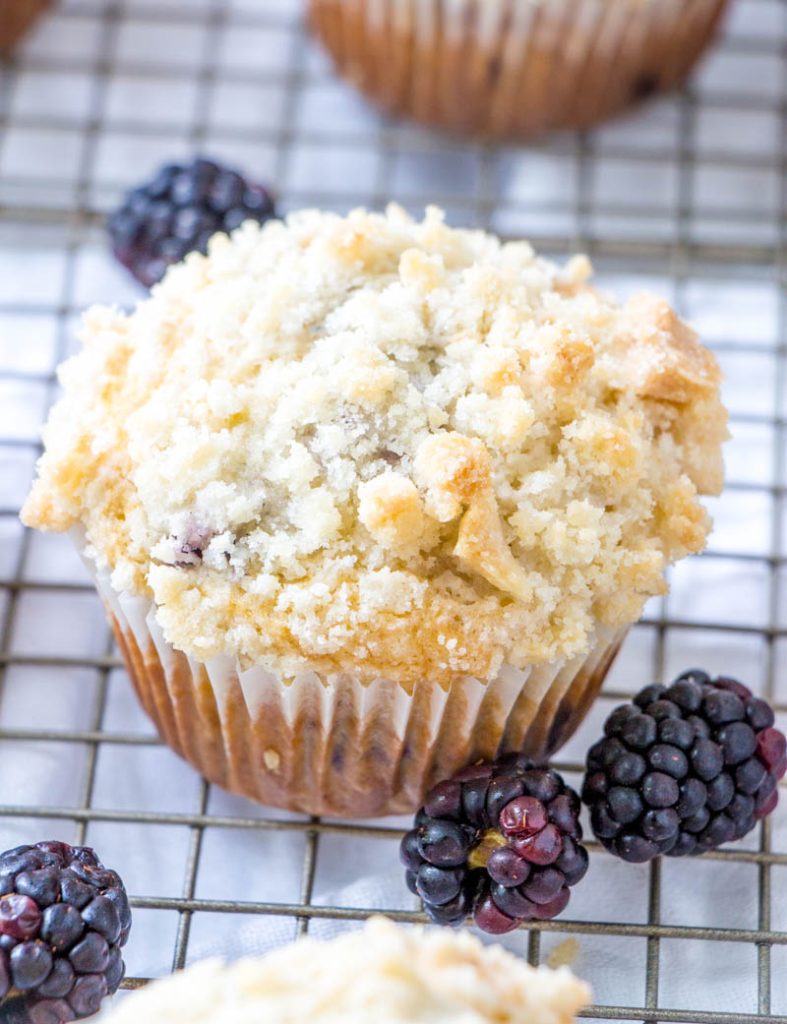 Son # 2 has finally figured this out. Now when we ask if anyone wants to come with us, he will actually ask where we're going and carefully evaluate his options. Girlfriend vs. parents buying you food or other various items while out and about.
Son # 3 still hasn't actually caught on at 16, but being grounded he did choose grocery shopping with me over sitting at home bored out of his mind. Which is precisely how I ended up with several pints of blackberries.
More than I even realized he'd stuck in the cart when I originally said we could/would get some. This son loves almost all fresh fruit, but in season blackberries are one of his all time favorites.
It was an easy 'yes' for me. This time at least!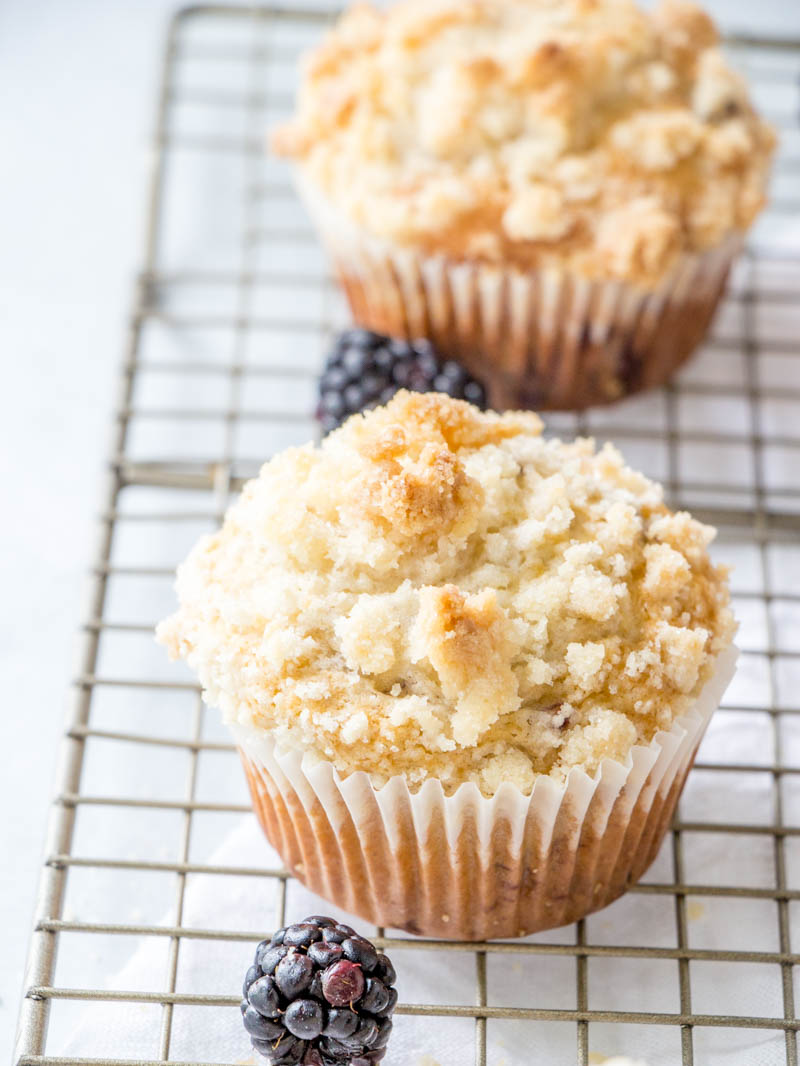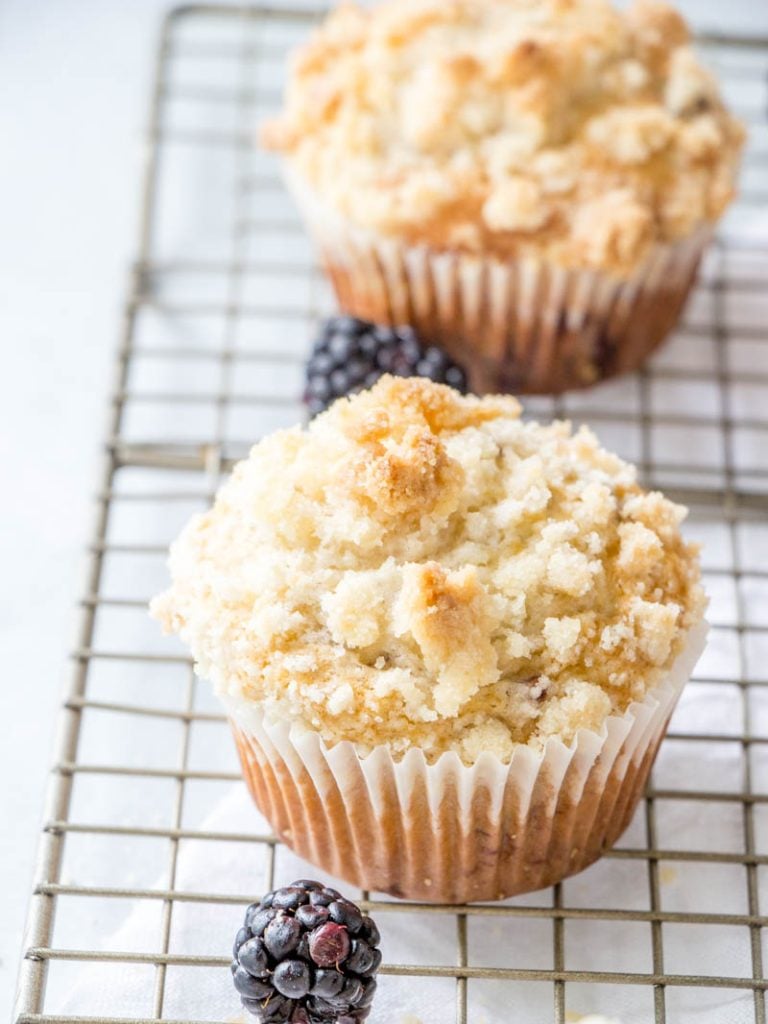 While he'll end up munching on most of them as a snack, there's no way he'll go through all of them before they start sprouting and growing nasty bits.
A couple days in he will get tired and go back to alternating between bananas, apples, and fresh kiwi. So now I've got to come up with a way to use some of these berries. In a way that the rest of my crew will enjoy, to be sure they're eaten and not wasted.
Cue to this recipe for sweet Blackberry Cobbler Muffins.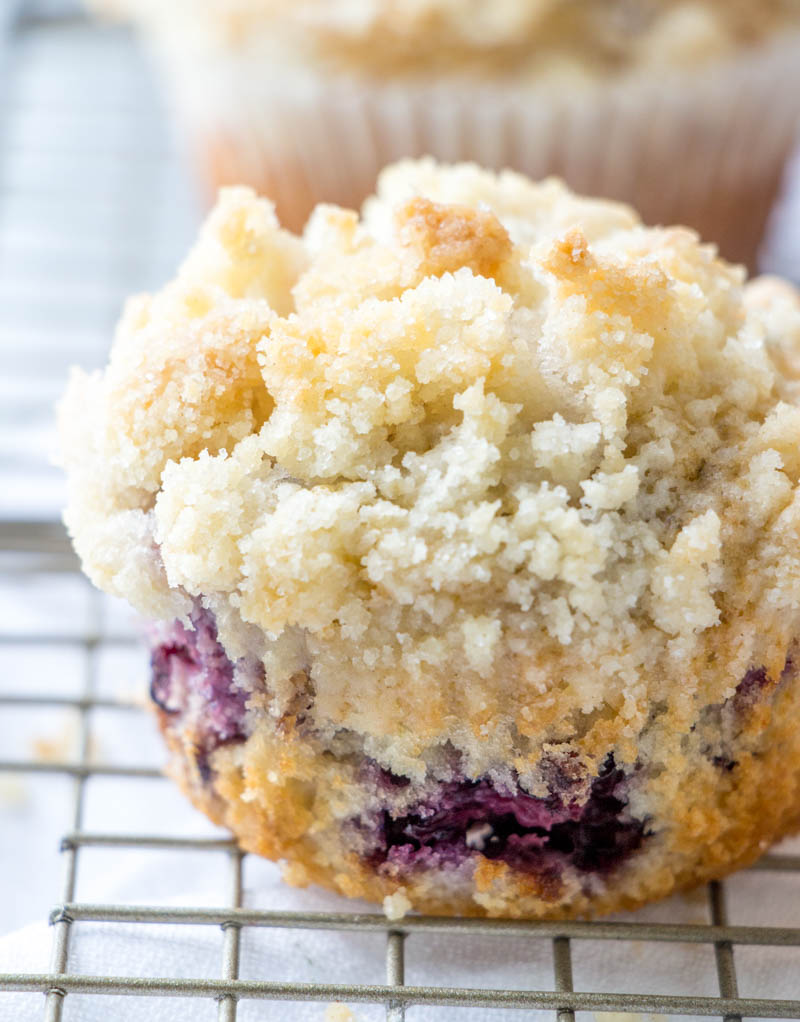 It is Summer after all, so I'd really love it if my cooking could stay simple and for the most part- my recipes stay easy. The troops are all home now for every meal too.
During the school year, they get the option of where they eat breakfast. Two opted for school, the other prefers to scarf down a cold bowl of cereal on his way out the door, or pop tarts, yogurt, something along those lines.
While weekends are big breakfast and brunch events, I have never been (will never be!) a morning person. A big breakfast on a Monday morning? That ships never sailing, barring the chance that it was some day of importance or special significance for one of the kids or the Hubs.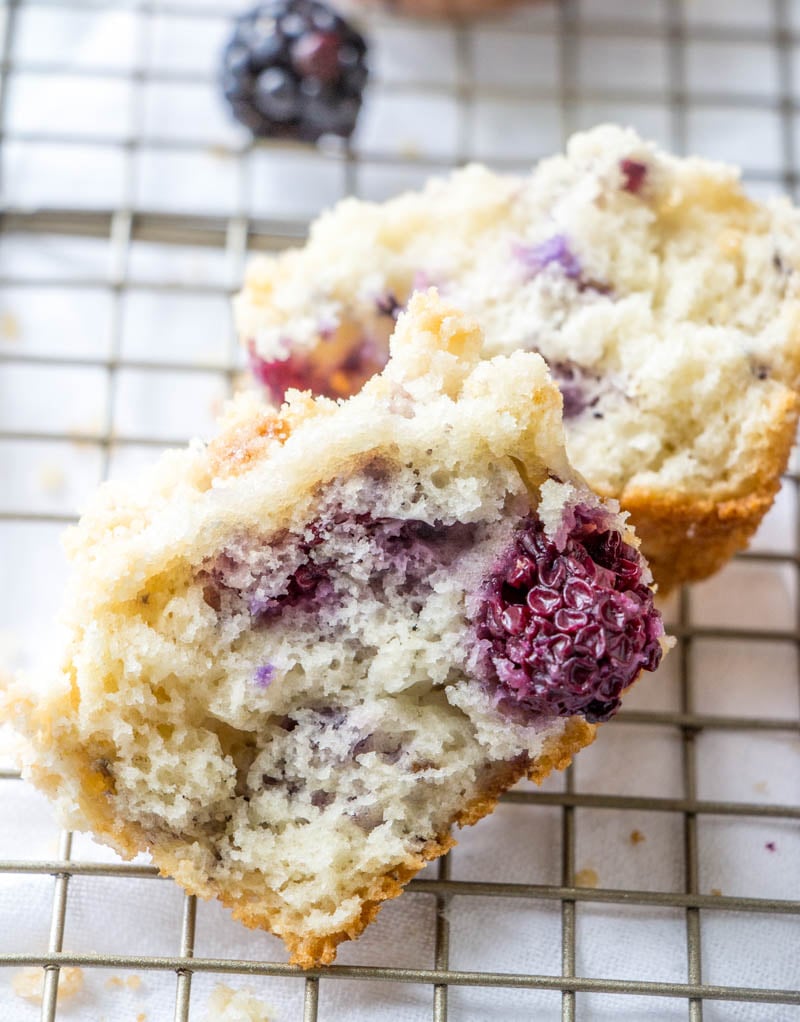 Before I get to far off topic, the troops gotta eat. Breakfast, whatever form it takes, is essential for my guys. Be they sleepy or hungry, either one is a recipe for disaster in the behavior and/or attitude department.
Luckily, muffins- well these Blackberry Cobbler Muffins in particular- are easy enough to whip up before I go to bed, and have fresh and ready, on hand in the morning when my sleepy heads get up.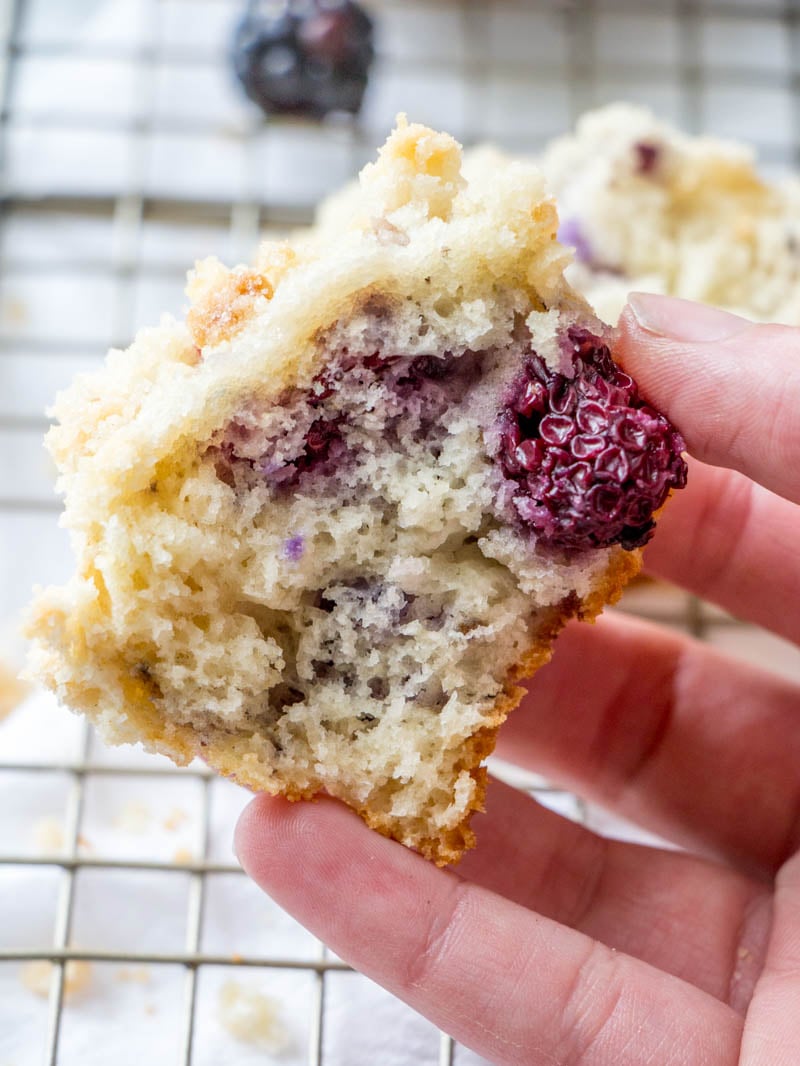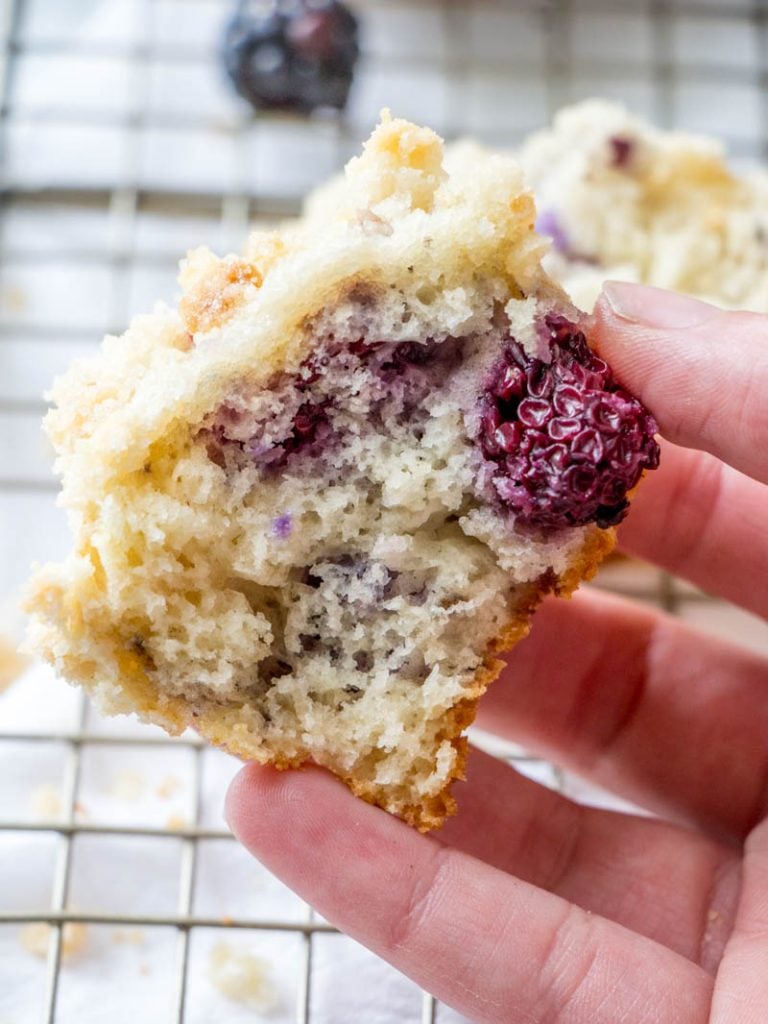 A moist breakfast muffin, this Blackberry Cobbler version is in season and so yummy. They're packed full of fresh flavor, and quick and easy enough that the whole family will enjoy.
Every. Last. Bite.
The family will appreciate every single second you spent making them, and you'll love the fact that they have no earthly idea how easy it truly was.
Next time they request a batch of these Blackberry Cobbler Muffins, it will be an easy 'yes' from you!
Other muffin recipes you might also enjoy:
If you've tried these BLACKBERRY COBBLER MUFFINS, or any other recipe on the site, let me know in the comment section how it turned out, we love hearing from our readers! You can also follow along with me on PINTEREST, FACEBOOK, and INSTAGRAM to see more amazing recipes and whatever else we've got going on!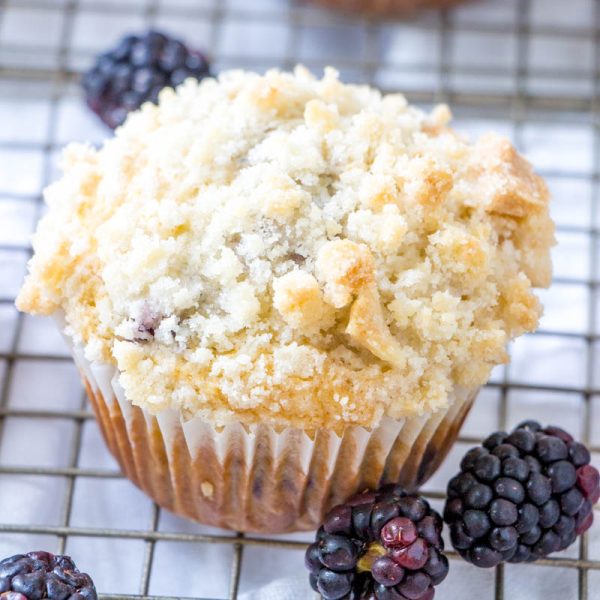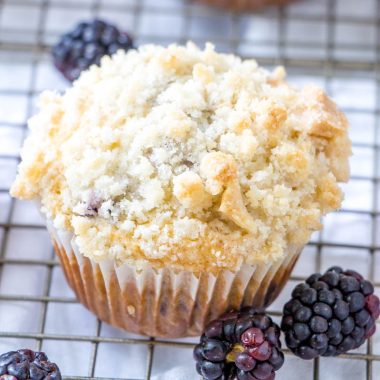 Blackberry Cobbler Muffins
A quick and easy breakfast muffin, these taste just like your favorite dessert- but in portable, hand held form.
Print
Pin
Rate
Ingredients
For The Muffins
1 1/2

cups

flour

3/4

cup

granulated sugar

1/4

tsp

salt

2

tsp

baking powder

1/3

cup

canola oil

1

large

egg

1/2

cup

milk

1/2

tsp

vanilla extract

1

6 oz container

blackberries
For The Crumble Topping
1/4

cup

flour

1/4

cup

granulated sugar

3

tbsp

butter, cold
Instructions
To Make The Muffins
In stand mixer add your flour, sugar, salt and baking powder and whisk to combine.

In 2 cup measuring cup add your oil, egg, milk and vanilla and whisk to blend.

Add in to your flour mixture and mix together until just combined.

Fold in your blackberries

Line a cupcake pan with paper liners. Using an ice cream scoop, distribute batter evenly in prepared pan.
To Make The Crumble Topping
In a large mixing bowl, using a fork or pastry blender, mix together your flour, sugar and butter until crumbs form.

Sprinkle crumbs evenly on top of the muffins.

Bake at 400 degrees for 20-20 minutes until slightly golden, remove from oven to cool.
Nutrition
Calories:
226
kcal
|
Carbohydrates:
32
g
|
Protein:
3
g
|
Fat:
10
g
|
Saturated Fat:
3
g
|
Cholesterol:
26
mg
|
Sodium:
86
mg
|
Potassium:
121
mg
|
Fiber:
1
g
|
Sugar:
17
g
|
Vitamin A:
130
IU
|
Calcium:
53
mg
|
Iron:
1
mg