Mornings are hard, start your day off with a tasty grab-and-go treat. These Raspberry Lemon Yogurt Muffins will make any day just a little bit sweeter.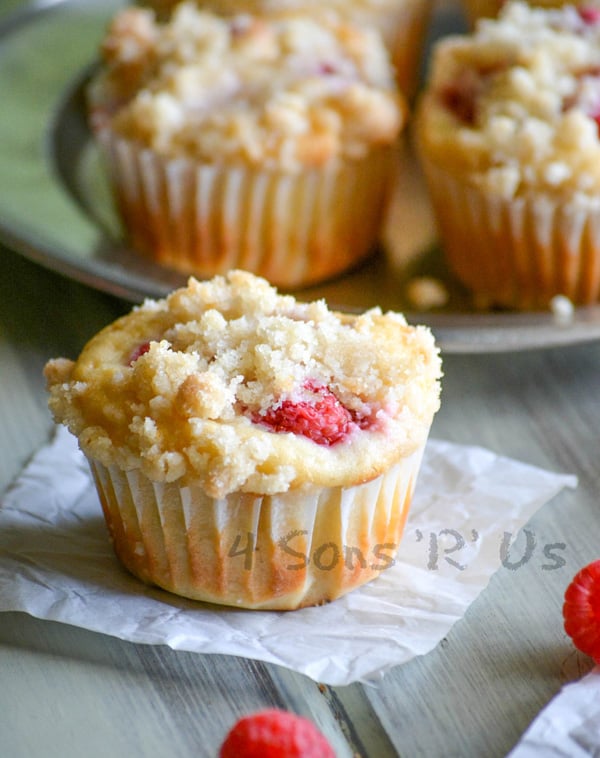 Spring has finally sprung. The local weather may not know that though. Someone should shoot it a memo.
It's sunny, warm by day, everything a beautiful SPRING day should be. But at night it's alter ego emerges, the one that's dark and broody and frigid enough to seep through your clothes. How does it go from over 70 out to below freezing in just a few hours in Central Virginia??
Maybe someone should tell the local weather that there aren't currently any casting calls for weather-based heroes or villains and their alter egos.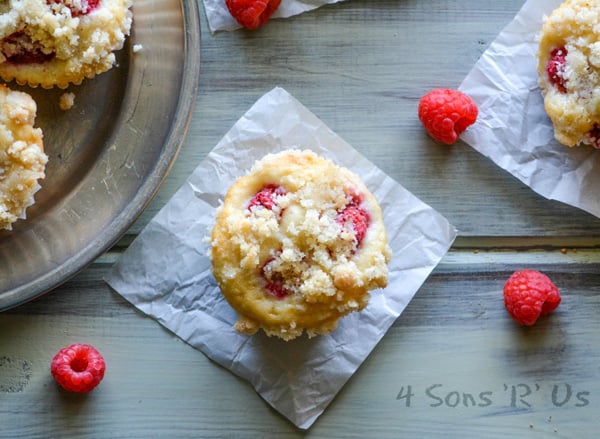 That being said– I may not be able to pack away the down comforter, or fold the flannel pajamas for the last time until next Fall, but it isn't holding me back.
I love when seasons change, and nobody's raining on my parade. It's *officially* Spring, so that's what I'm rollin' with. And that's why I'm ready to roll out this tasty treat: Raspberry Lemon Yogurt Muffins.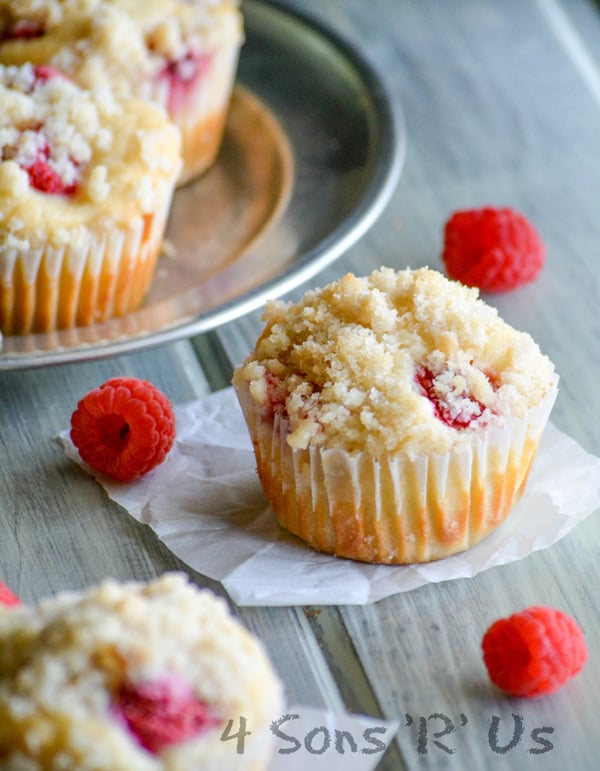 For us, every season comes with certain foods or flavors always associated with it. Like pumpkin in the Fall, or lemon and watermelon anything in the Summer. Spring? Well that's easy, it's fresh berries bursting with flavor.
Blueberries, Raspberries, and Strawberries, oh my! Give me allllllll the fresh berries. There's so many different ways to incorporate them into meals fit for anytime of the day- breakfast, lunch, and even dinner.
These yummy Raspberry Lemon Yogurt Muffins are perfect for breakfast, a snack, or even dessert. Even better? They're totally portable too. Take one, take two; just grab 'em and go.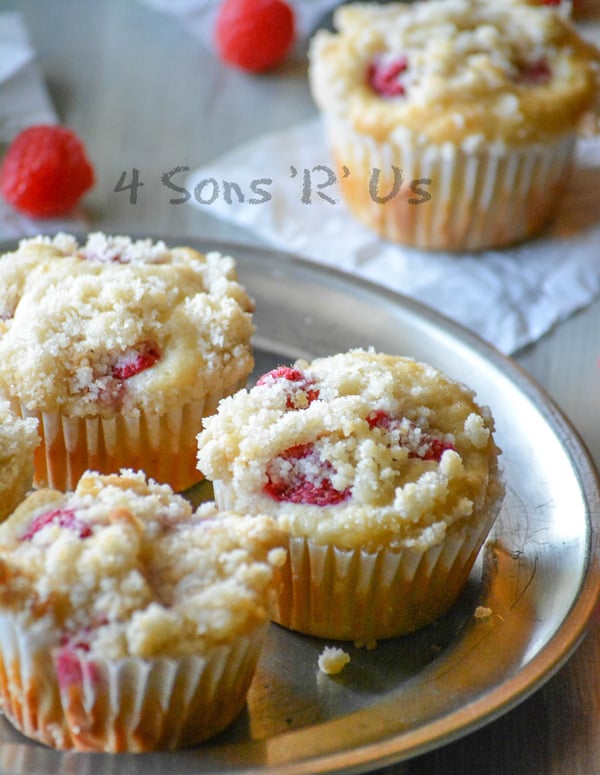 Mornings are rough enough as it is. Make your's flow smoother, and getting out the door easier, by having a batch of these moist Raspberry Lemon Yogurt Muffins on hand. Fluffy pastry studded with fresh raspberries and a hint of lemon, with a sugary crumble topping. These are the perfect treat to make getting up early just a little bit sweeter.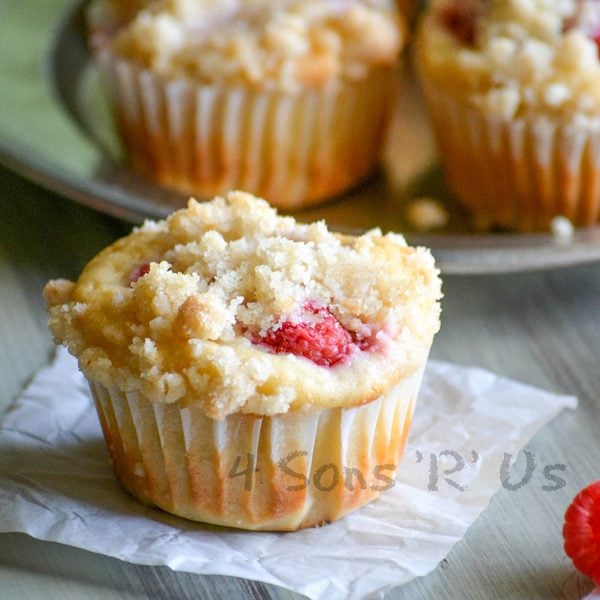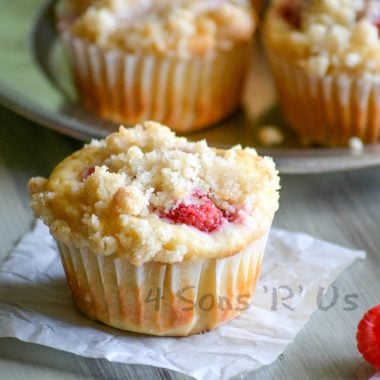 Raspberry Lemon Yogurt Muffins
Studded with fresh berries, a hint of lemon, and capped off with a crisp crumble topping- these are a tasty treat perfect for sweetening up your morning routine.
Print
Pin
Rate
Ingredients
1

cup

fresh raspberries

1 3/4

cup

flour

2

tsp

baking powder

1/4

tsp

salt

1/3

cup

sugar

1

egg

beaten

3/4

cup

milk

1/4

cup

butter, melted

1/4

cup

lemon-flavored Greek yogurt
For The Crumble Topping
1/2

cup

flour

1/2

cup

sugar

1/4

cup

cold butter, cubed

1

tsp

lemon zest
Instructions
In the bowl of a stand mixer, add the flour, baking soda, sugar, and salt. Stir them together until evenly combined.

In a separate mixing bowl, whisk together the egg, milk, and butter. Use a spatula to scrape the wet ingredients into the mixing bowl with the dry ones. Beat until just evenly combined.

Add in the yogurt, again mixing until just combined. The batter will be thick with lumps. Set aside.
To Make The Crumble Topping
In another separate mixing bowl, add the flour sugar, and zest. Stir them together until evenly combined.

Cut in the butter until the mixture's nice and crumbly. Set aside.
To Assemble
Line a cupcake/muffin tin with paper cupcake liners. Scoop about 1/4 cup of batter into each liner.

Divide the raspberries evenly between all the muffins, slightly pressing them down into the batter as you go.

Top each muffin with an even amount of the crumble mixture.

Bake there muffins at 375 degrees for 15-20 minutes, or until a toothpick inserted into the center comes out clean.

Remove the muffins from the oven, and let them rest in the pan for 1-2 minutes. Remove them to finish cooling on a wire rack, about ten minutes. Enjoy!
A few more muffin recipes that you may enjoy:
Skinny Chocolate Cherry Muffins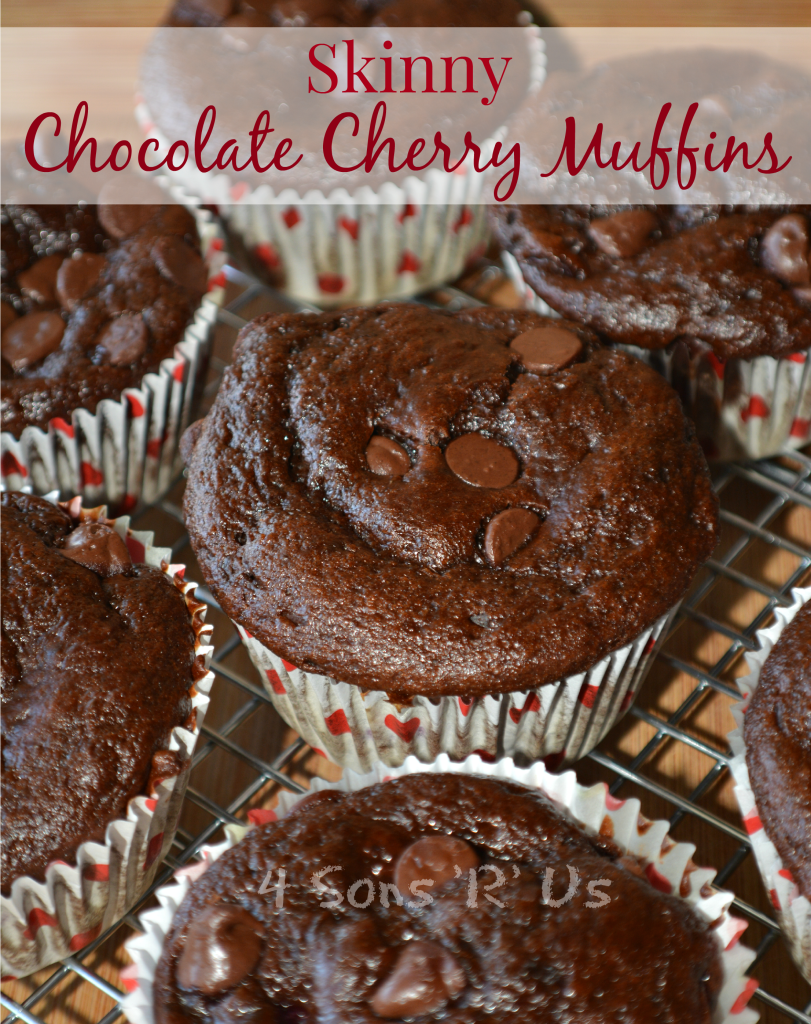 Bacon Cheddar Breakfast Egg Muffins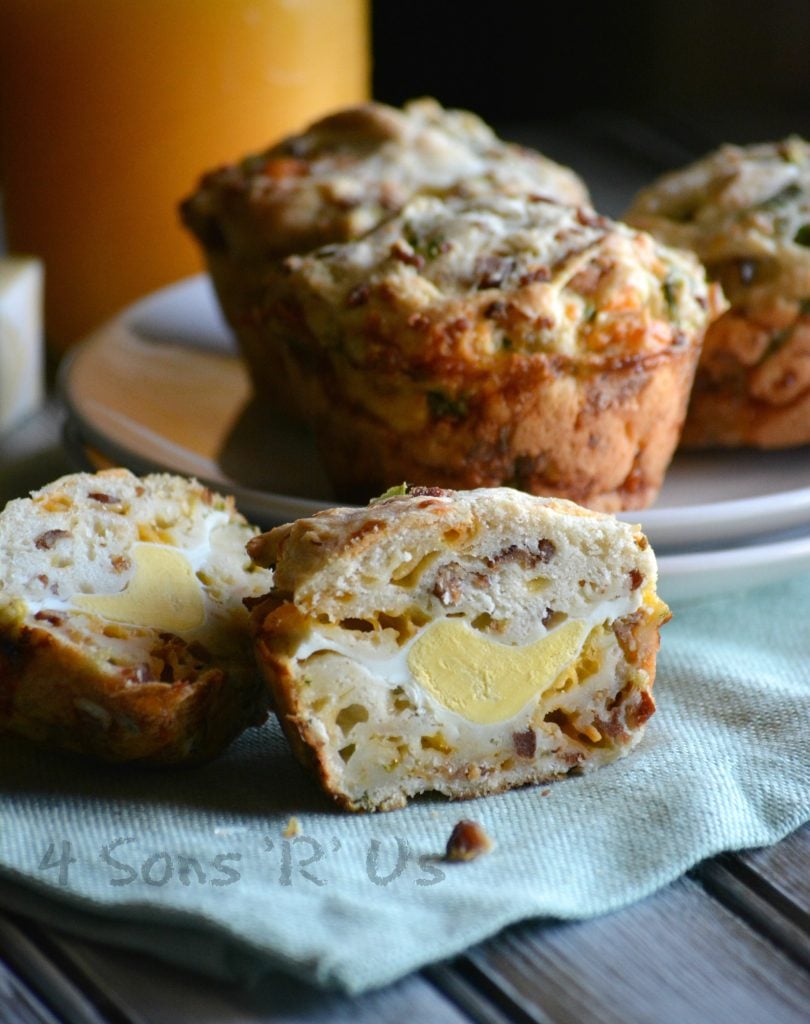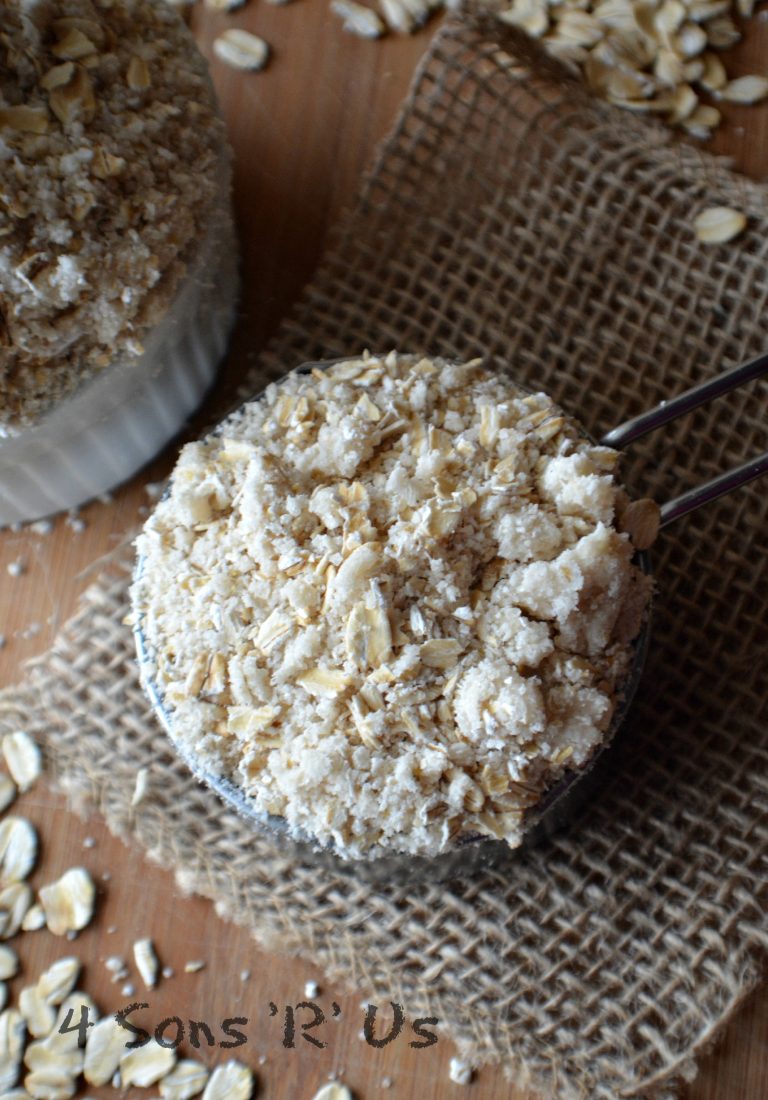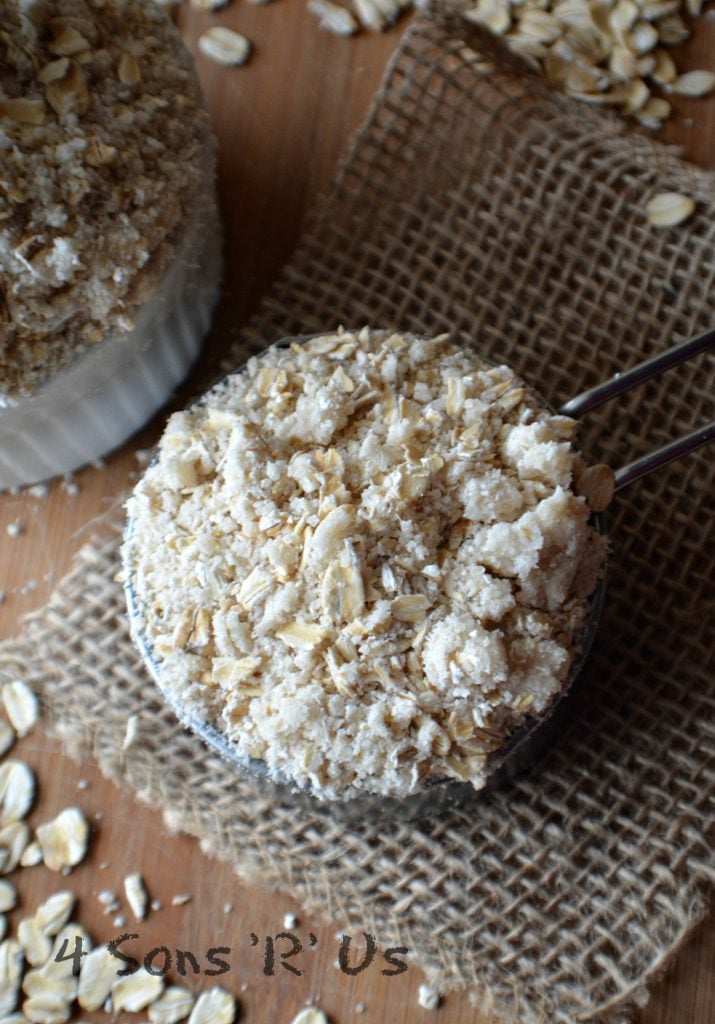 Healthy Applesauce & Oat Muffins