A traditional Southern Summer dessert, you can't go wrong with adding your favorite fruit into a sweet cobbler. Quick, easy, and only 4 ingredients- this Dump & Bake Blackberry Cobbler is a budget friendly dessert that absolutely tastes gourmet.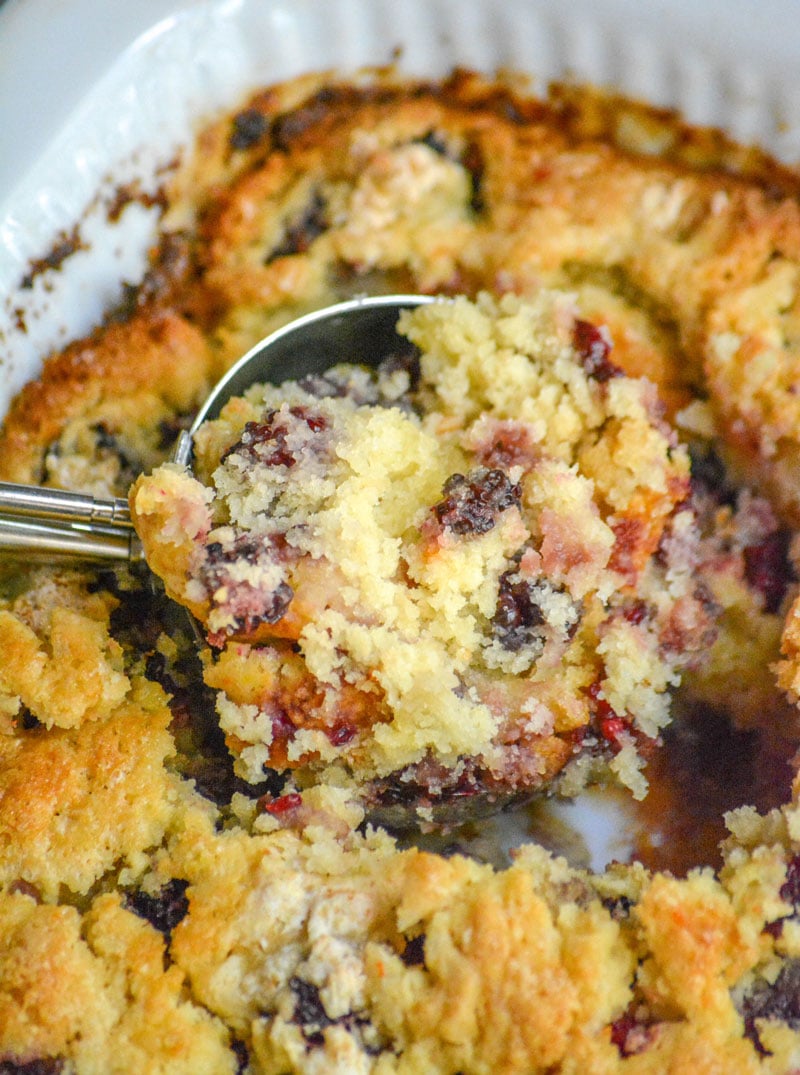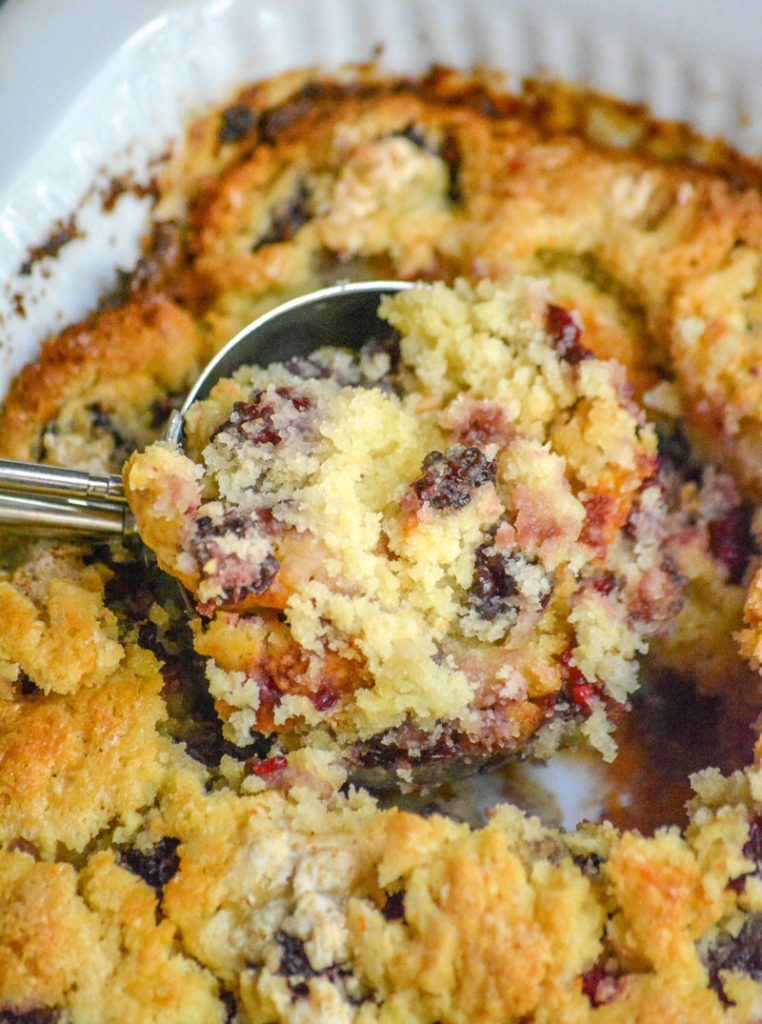 We're halfway through Summer, and blackberry season is in full swing this side of the Mason Dixon line. Whether it's the pick your own patch down the street, the farmer's market, or even the bushes out back behind Grandma's house- they're vines full of ripe berries all over the place.
And it's one seasonal goody that I like to take full advantage of.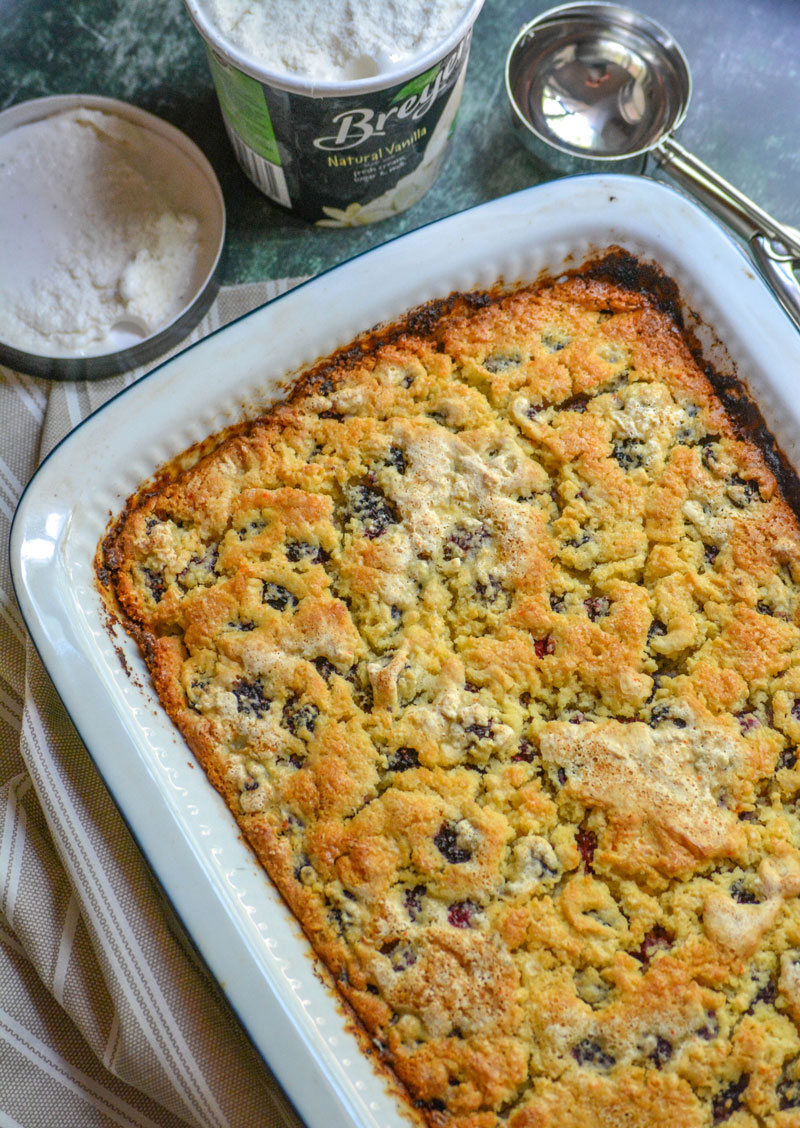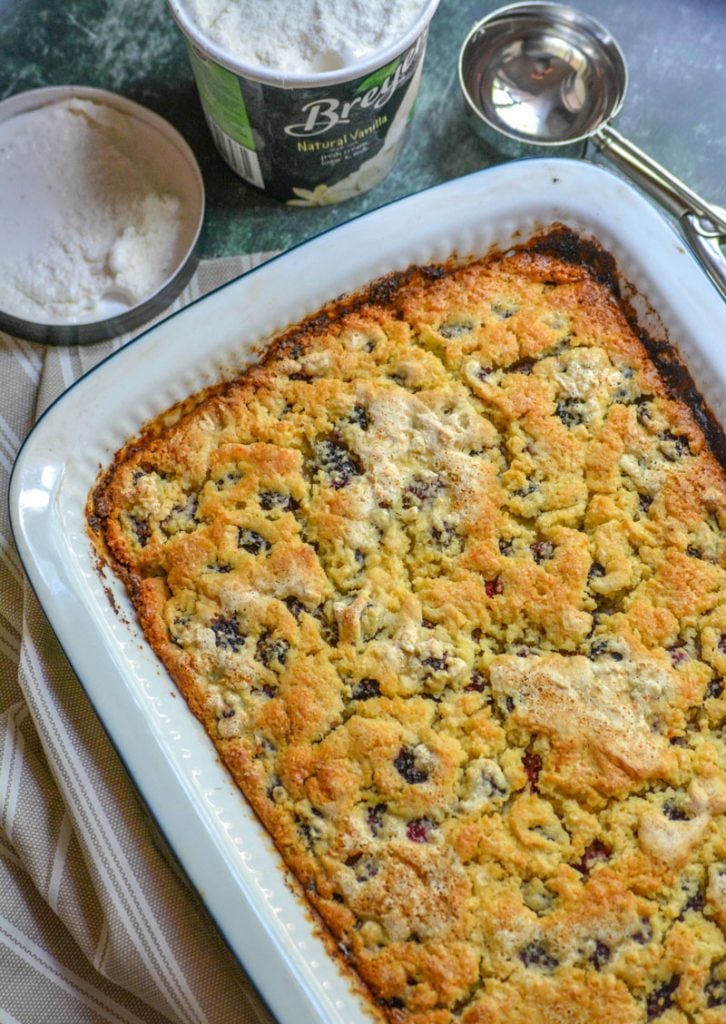 Not only can you not beat the price this time of year, you can't beat the flavor.
Bright, juicy berries bursting with juice, they're a magical ingredient in so many breakfasts and desserts. That's if I can resist the temptation to keep snack on a couple at a time, until I've eaten the whole lot of them.
Sadly, it's happened more than once. At least they're healthy, right?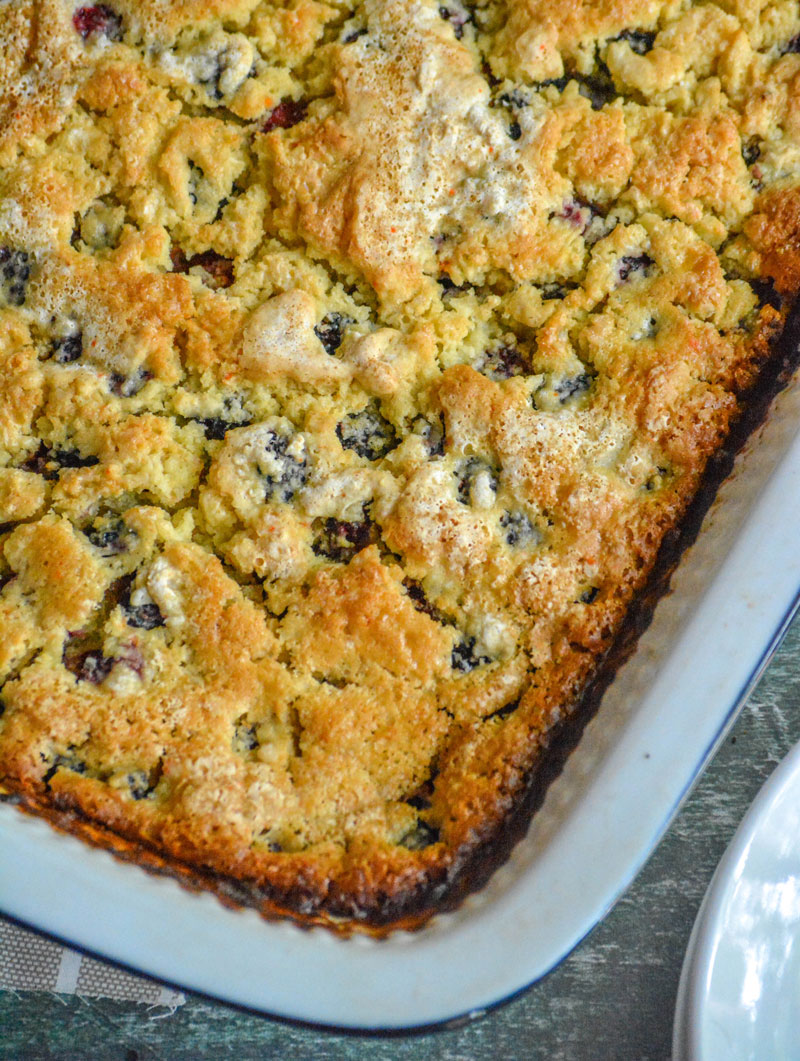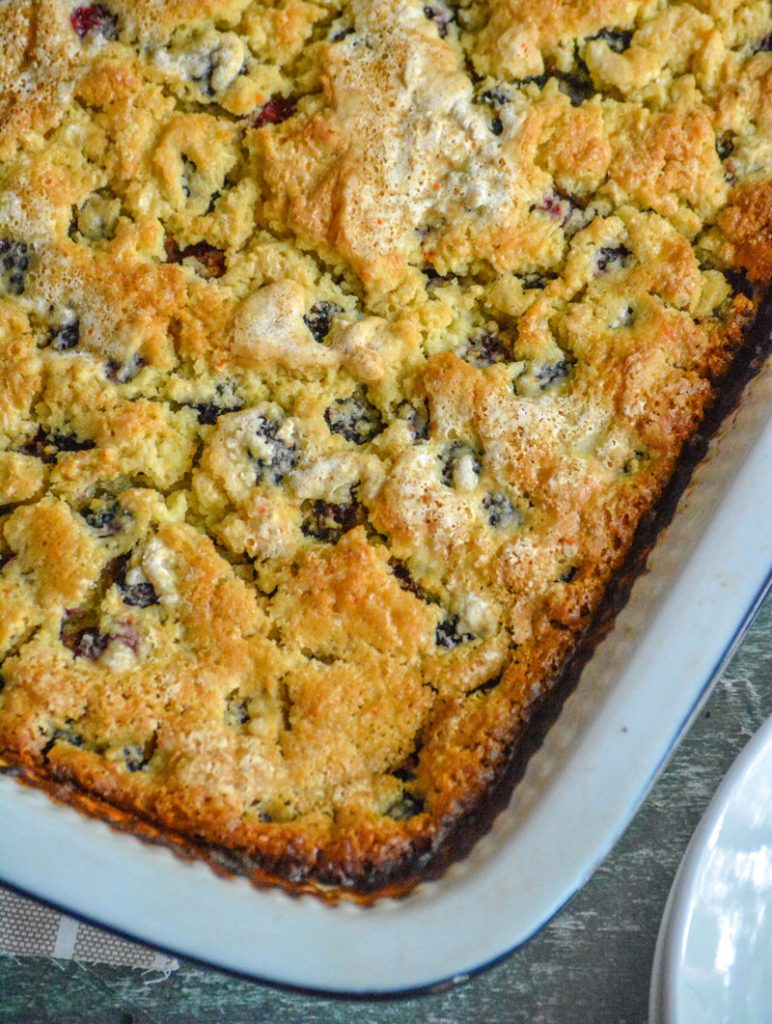 If we're not using them in this yummy cobbler, then I can guarantee you- they're getting baked into a tasty batch of these Blackberry Cobbler Muffins.
If that's not the case, then you can bet there's a pitcher of Blackberry Lemonade chilling in the fridge. It's the most refreshing way to cool off & relax in the Southern Summer heat.
Unless you're looking for a more adult spin, perfect for brunch or a lazy afternoon lounging on the porch, then this Blackberry Lavender Champagne Cocktail might be more your style. Either way, if there's fresh blackberries involved you really can't go wrong.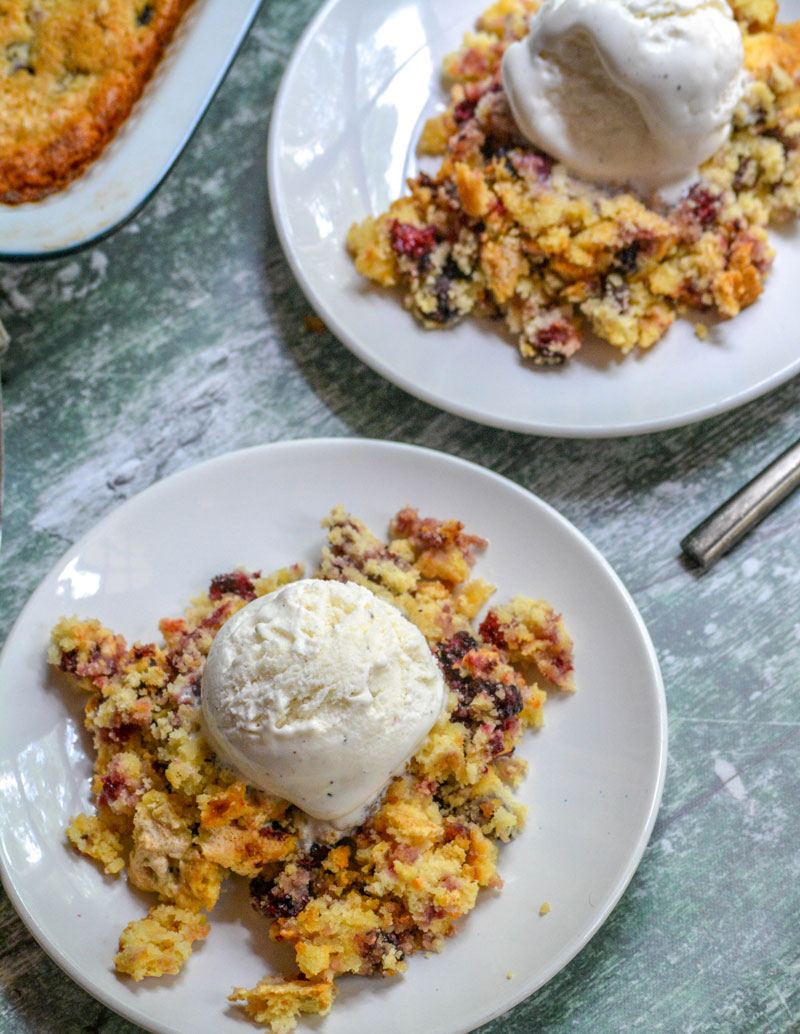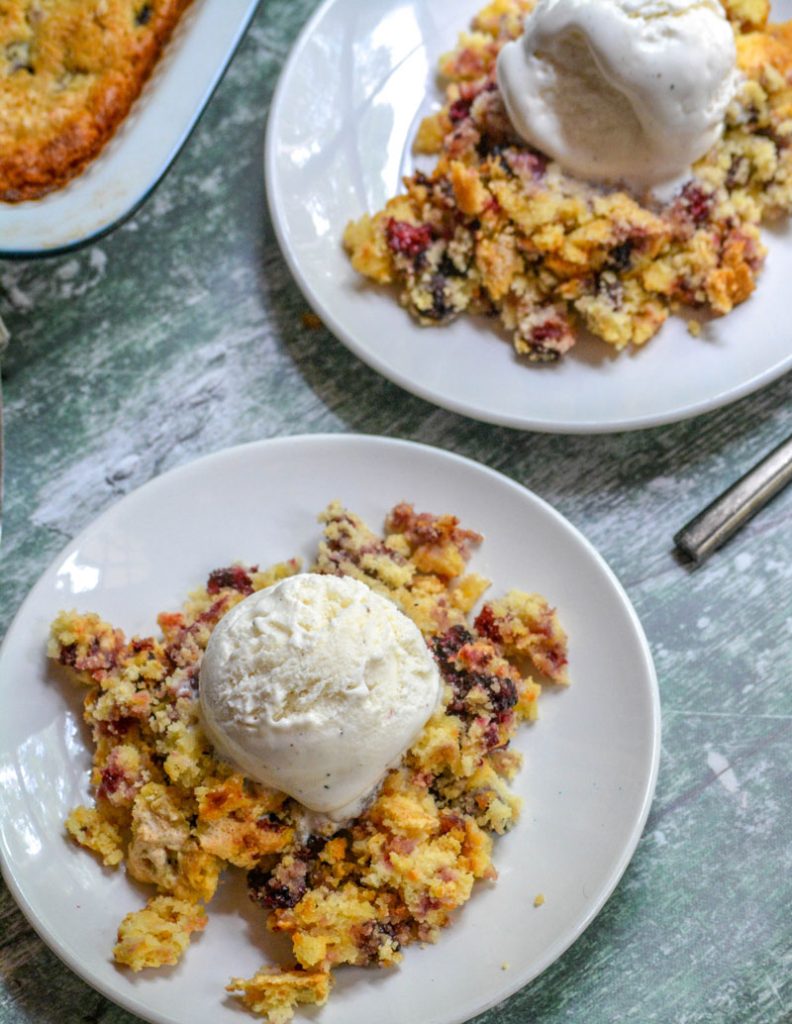 Cobblers are like any other popular dish, each region tends to have it's own way of doing things- the deep South being no exception.
For example, Southern cobblers are almost exclusively sweet- with savory varieties being far less common. Although a tomato pie, or cobbler, is a pretty popular staple here when the tomatoes are in season. That's really the only exception I can think of around these parts.
Also, while they do contain sweet fruit- it's more common for your family cobbler recipe to only call for a single variety of fruit. So while here we've got a version with our Dump & Bake Blackberry Cobbler, we also enjoy a good peach cobbler, or even an apple one when Fall rolls around.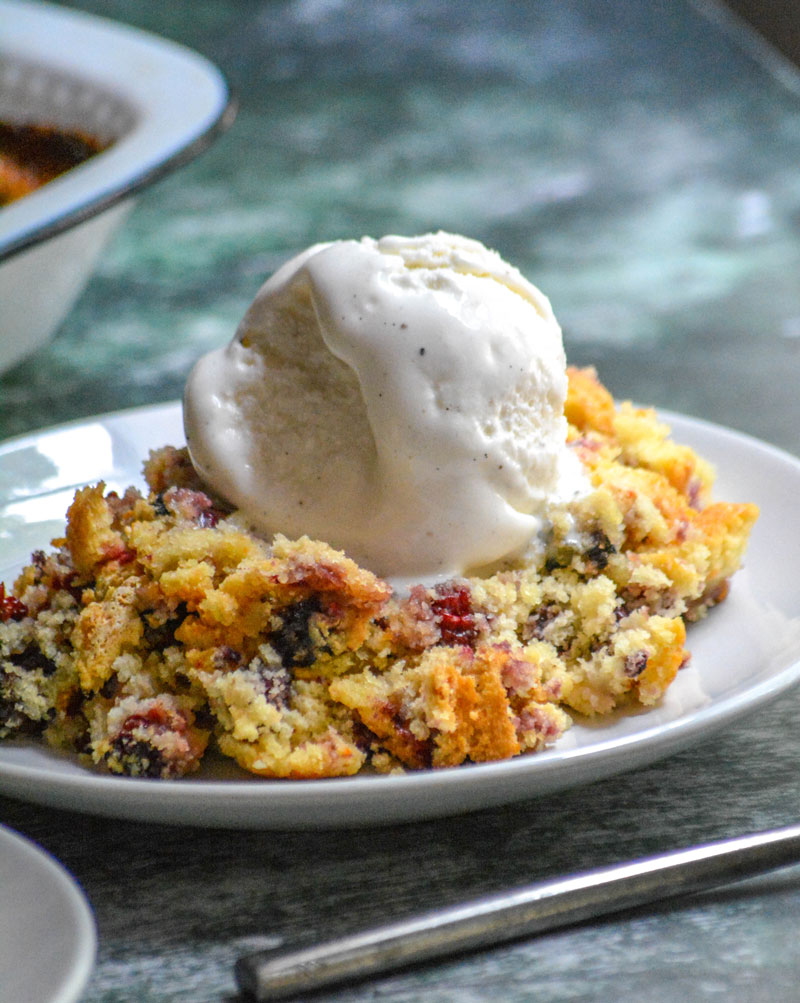 If there's one other thing I can tell you about cobbler in the South, it's that everybody has a family recipe for one, they swear it's the best there ever was or will be, and will go down kicking and spitting if you dare suggest otherwise.
I usually just smile and nod. Your Grandma's cobbler probably was amazing, mine's was too! Which is why I decided to leave her recipe in the family recipe box, and share this quick, easy Dump & Bake Blackberry Cobbler recipe with you instead.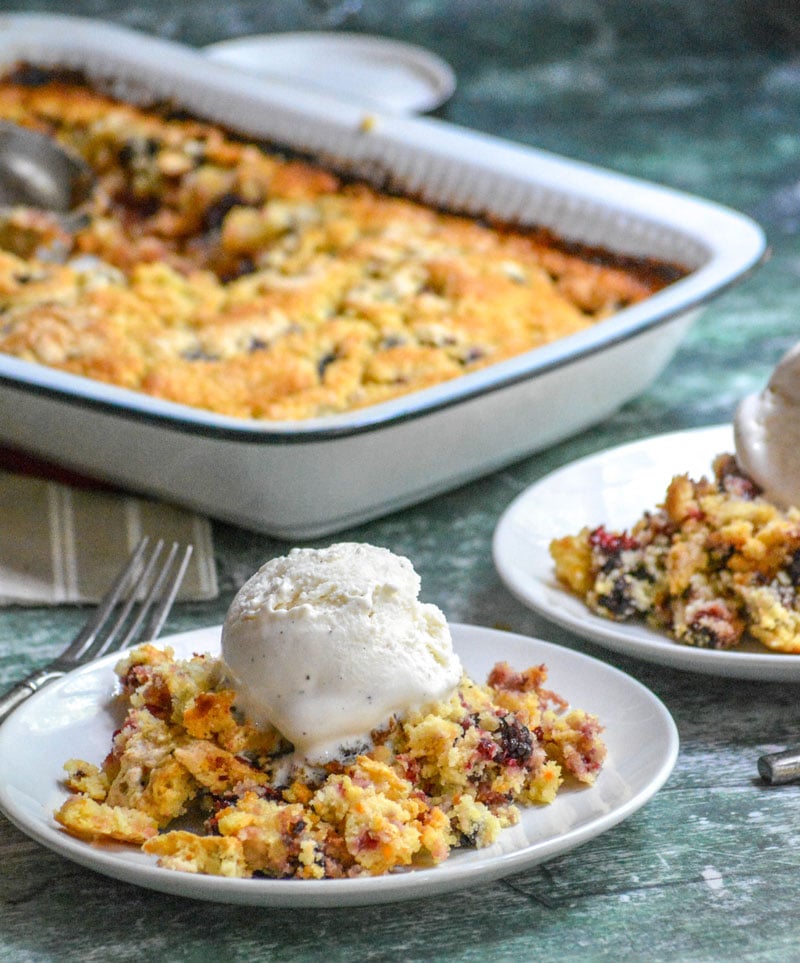 The first thing you need to know about this cobbler is that it's easy, requiring only 4 ingredients. Well technically 5 if you count the water needed, but we don't count something as simple as water, do we? Nope.
It's also ridiculously easy. Like dump it all in a casserole dish, give it a little stir here, a stir there, and bake. Voila, out comes a deliciously, delectable, sweet cobbler that's a perfect dessert to share.
It's easy enough for dessert on any busy night, and simple enough to whip up when company drops by at the last minute.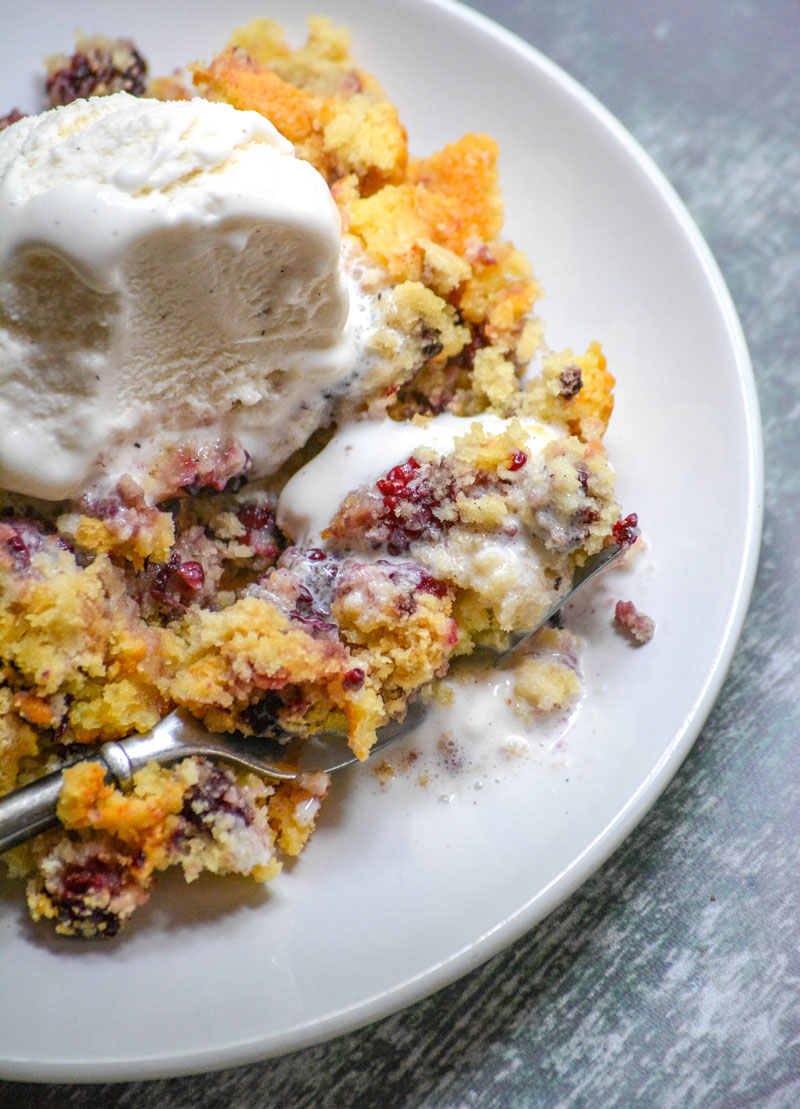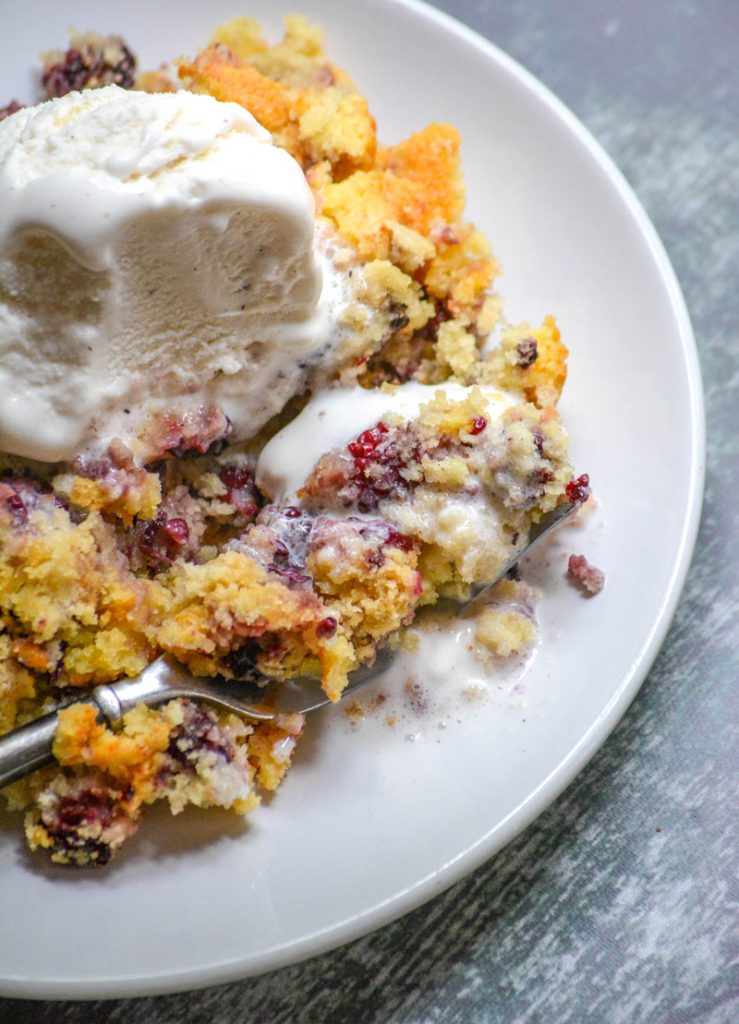 When I said easy, I wasn't lying. Toss your berries in the sugar, using a little bit more if they're on the tart side, a little less if they're on the sweeter side. Hence the 1-2 tablespoons, so a taste test is a must- just make sure you can stop at a taste. Let the berries rest for 10-15 minutes to get them sweatin' sweetness.
Dump your cake mix into a 9×13 inch casserole dish. Dump the berries evenly out over the cake mix. Pour the water evenly out over the mixture. Use a spoon to gently mix things up, not really to mix together (we're not trying for a batter here) but so that the water settles at the bottom of the pan.
Cut the butter into 8 tablespoons, or pats, and place the butter evenly out over the mixture. Bake for 45-50 minutes, and out comes a delicious blackberry cobbler, begging to be paired with a scoop of cold creamy vanilla ice cream, and destined to be devoured.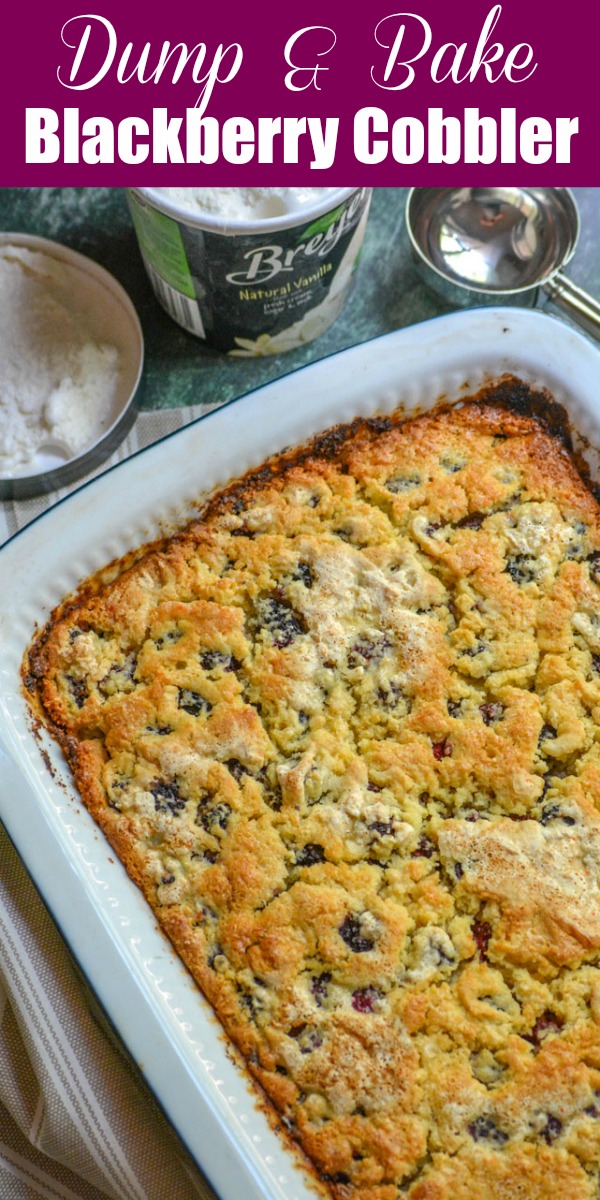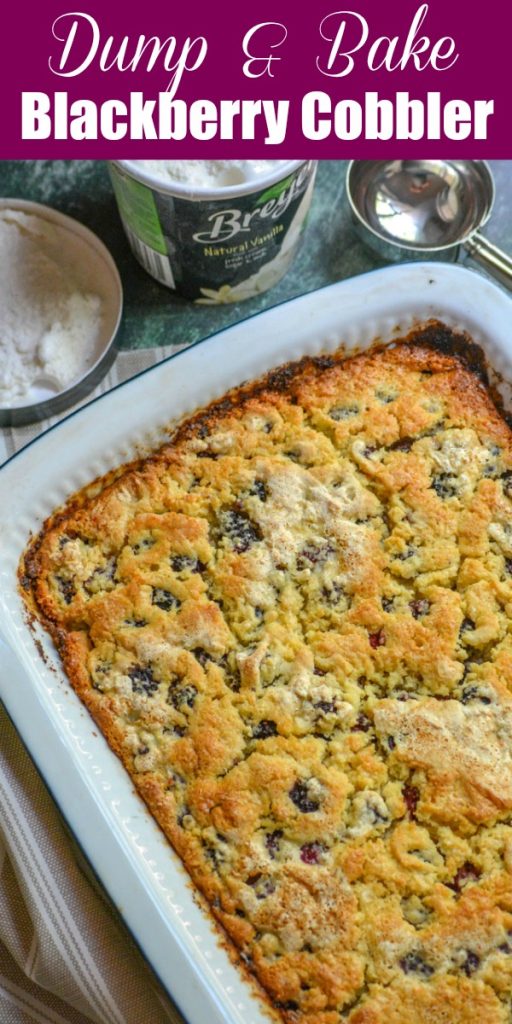 Other Summer Dessert Recipes You Might Also Enjoy: Old Fashioned Chocolate Church Cake, No Bake Lemonade Pie, S'mores Poke Cake, & Peaches And Cream No Churn Ice Cream.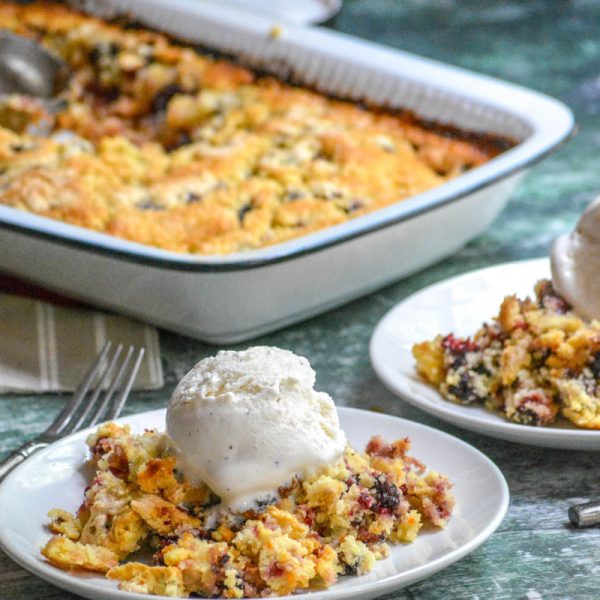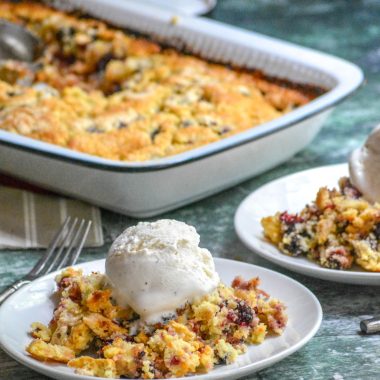 Dump & Bake Blackberry Cobbler
A quick & easy, 4 ingredient dump & bake blackberry cobbler made from boxed cake mix. This is the perfect recipe for Summer!
Print
Pin
Rate
Ingredients
1

box

yellow cake mix

5-6

cups

fresh blackberries

1-2

tbsp

granulated sugar

1

stick

of butter, sliced into 8 equal pieces

1 1/4

cup

cold water
Instructions
In a medium sized mixing bowl, toss the berries and sugar together until well coated. Set aside, and let them rest for 10-15 minutes.

Lightly spray a 9x13" baking dish with non stick cooking spray. Empty the cake mix out into pan, and shake the dish so that it's evenly spread out.

Scoop the berries and any/all juice evenly out over the cake mix. Pour the water gently out over the dish. Mix just enough to incorporate some of the water, and have most of it settle to the bottom of the dish.

Top with the pats of butter, spread out evenly. Bake at 350 degrees for 45-50 minutes.

Remove the cobbler from the oven, it may still be a bit gooey in the middle- but that's ok. As it cools it will continue cooking a bit and 'set'.

Serve warm topped with a generous scoop of vanilla ice cream.