Looking for a quick & easy dinner idea that the whole family will be excited for? This hearty Beefy Chili Cheese Mac features three of our favorite things: Beef, Pasta, and Cheese. It's guaranteed to have everyone running for the table, and clamoring for seconds.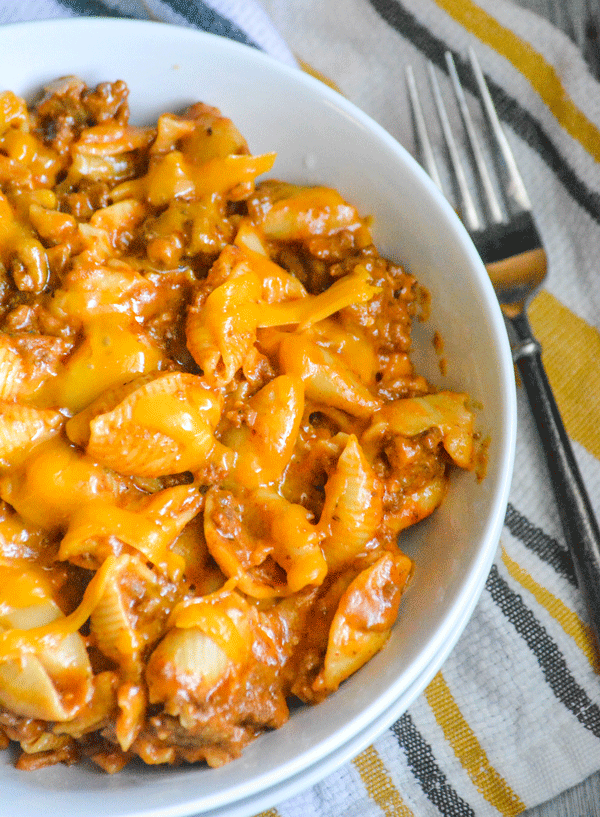 It's been a few weeks now, and we're finally back in the swing of things as far as our school year routines go.
Do you check in with your kids daily? As in that age old question, "How was your day?"
I have every school day for as long as I can remember.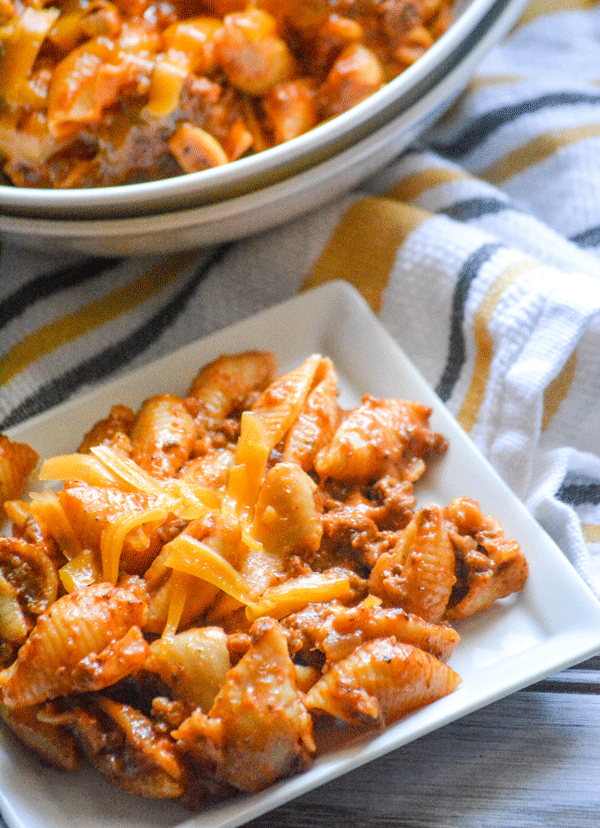 As the older sons got older, they're answers devolved from excited stories and snippets about their day- to grunts and an exhausted "fine".
Fine? What is fine?? Fine is not some all encompassing word that lets me know what you learned, or did you make new friends today, and what secrets were revealed to you today. "Fine" is not fine for this Mama.
So I had to get creative. I mean I still try and pry answers our of my teens, but there's only but so much they're gonna share, unless something truly excited them or interested them that day.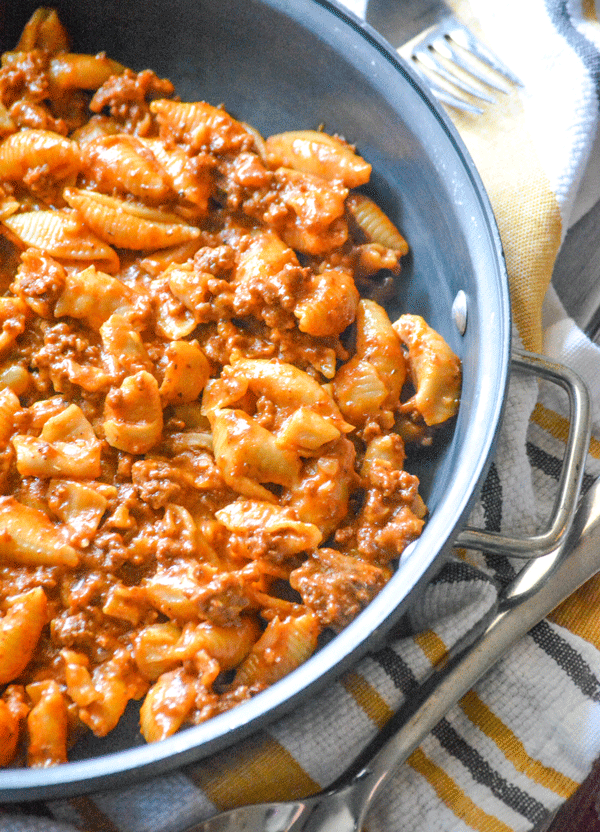 The youngest son is 8. You my beloved little boy, are gonna give me more than a bone that is 'fine' or anything in that ball park.
I changed tactics and started asking not one, but two questions. The first? "What was your least favorite thing about your day?" The second? "What was your favorite thing about your day?" Yes, I found asking in that order was key.
I also found that after 1st grade, I had to stipulate that your 'best' thing couldn't be recess, or resource unless you'd embarked on some awesome new piece of art work, or had a new overture to sing, or something of the like.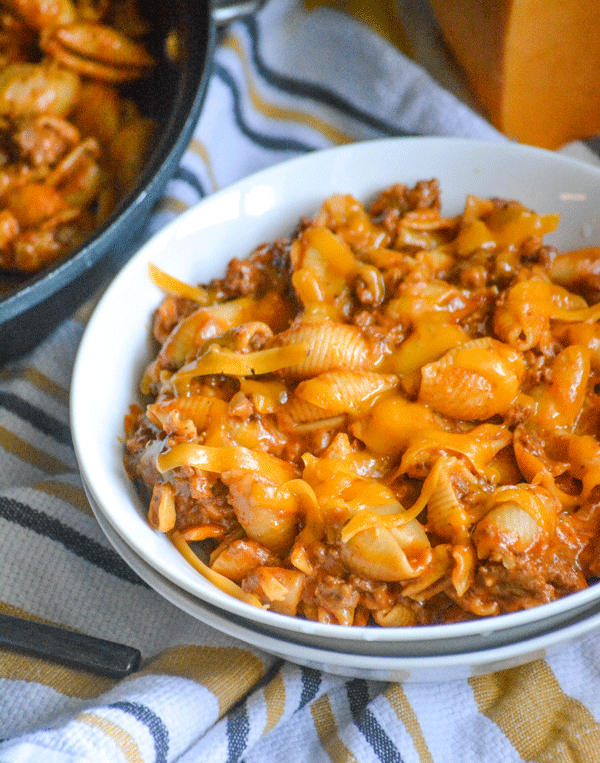 Checking in with them in that way is important to me. It makes me feel connected, and I want them to know that I'm genuinely interested and excited to engage with them. School's not boring, and you didn't spend 8 hours their doing nothing, without a single thing worth talking about.
I've also found, that they're more excited to share and to keep right on talking if it's seated at the supper table. I think it's because they feel less put on the spot and less pressure. Even better? If we're sitting down to a family favorite meal that's got everybody enjoying a case of the warm & fuzzies.
Beefy Chili Cheese Mac is one of my favorite meals for just this reason. It gets everybody excited for a family meal. Distracted by good food, in a good mood, you'd be amazed how much it gets everyone talking.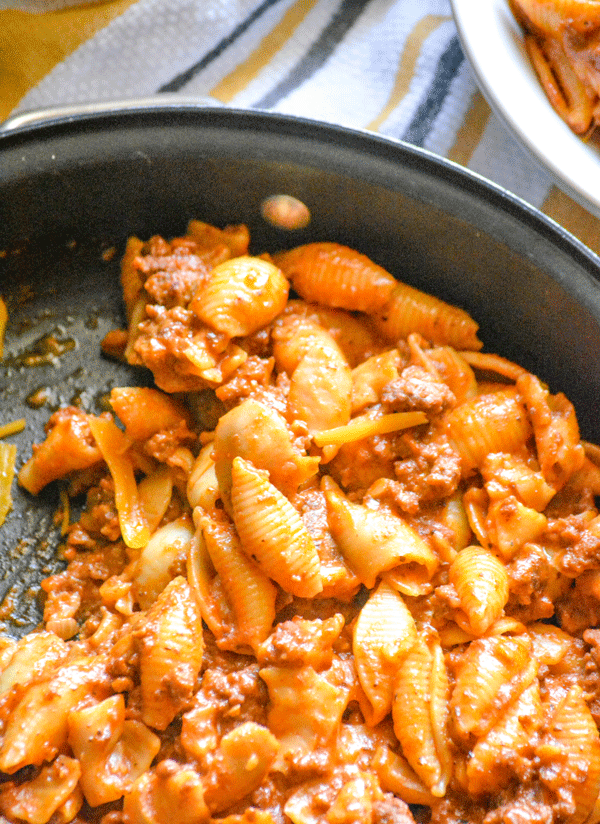 Pasta, beef, and cheese come together in one delightful comforting dish. Rich, hearty (and my personal Mom fav), easy- this Beefy Chili Cheese Mac is a quick dinner that gets everyone gathered around the family table.
Let things flow from there, because great food is always the best conversation starter.
If you've tried this BEEFY CHILI CHEESE MAC, or any other recipe on my site, let me know in the comment section how it turned out, we love hearing from our readers! You can also follow along with me on PINTEREST, FACEBOOK, and INSTAGRAM to see more amazing recipes and whatever else we've got going on!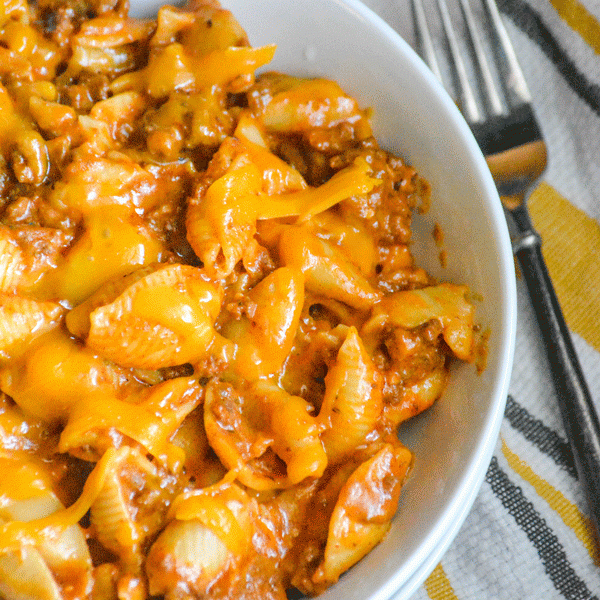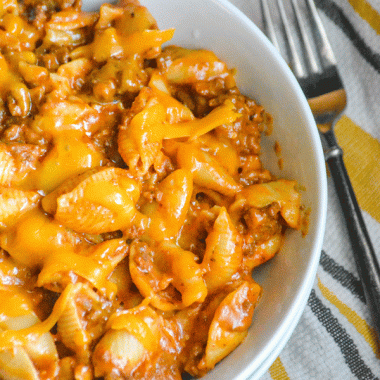 Beefy Chili Cheese Mac
A quick and easy, beefy pasta dish that's extra cheesy- it's a family favorite meal in a bowl.
Print
Pin
Rate
Ingredients
1

tbsp

olive oil

1

lb

ground beef

2

tsp

minced garlic

1

small

white onion, diced

2

tbsp

flour

1

tbsp

chili powder

1/2

tsp

smoked paprika

1/2

tsp

dried oregano

1

8 oz can

tomato sauce

2

cups

beef broth

2

cups

uncooked elbow noodles

1

cup

shredded sharp cheddar
Instructions
Add the oil to a dutch oven and heat over medium heat. Add in the ground beef and brown, breaking up as it cooks. Once completely browned, strain the meat and then return it to the pot.

Stir in the onions and garlic, cooking another 3-4 minutes- just until the onions are tender and becoming translucent.

Stir in the flour, and continue to stir constantly while cooking, for one minute- to cook out the 'floury' taste.

Add in the spices, sauce, and broth- stirring to deglaze the pot. Stir in the pasta and put the lid on the pot. After a couple minutes, check that the mixture has come to a simmer.

Reduce the heat to low, stir the pasta and replace the lid. Allow the mixture to simmer, stirring occasionally to prevent sticking, for 15 minutes- or until the noodles have absorbed the liquid.

Remove the dutch oven from heat and stir in the cheese. Serve the chili mac topped with extra shredded cheddar, if desired.