A recipe you can feel good about, because obviously adding Brussels sprouts cancels out the inclusion of bacon, this Bacon Brussels Sprout Pasta Skillet is an easy 20 minute pasta dinner that'll 'bowl over' the whole supper table.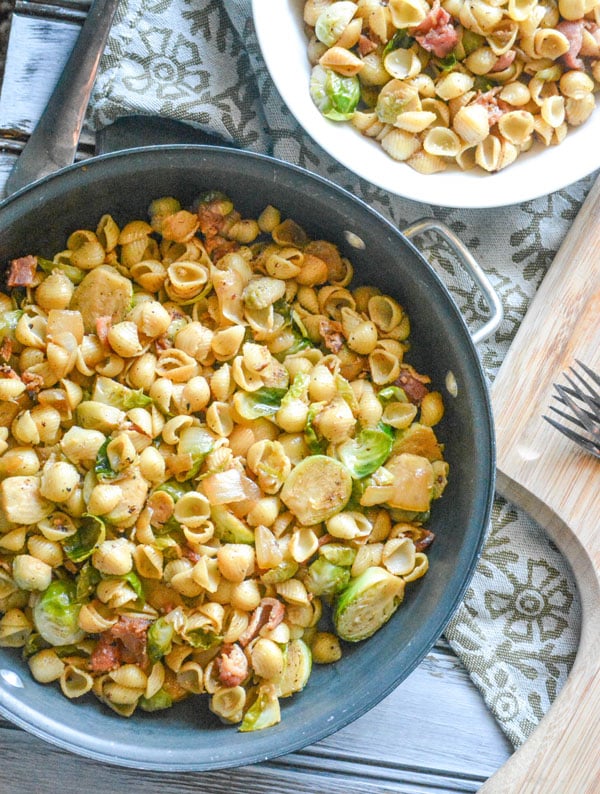 Anybody else go grocery shopping this weekend? Did you happen to venture into the produce section? The salad aisle in particular? If you did, you probably noticed the same annual phenomenon as I did.
The section was almost entirely wiped clean. I counted a whopping four bags of salad. Four! I ended up snapping a pic just to send to Hubs, because I wasn't sure he'd believe me otherwise.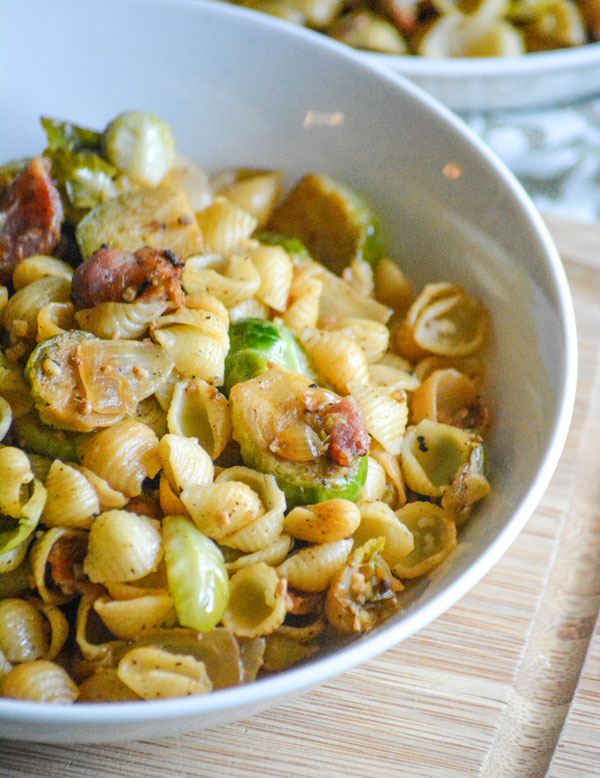 At first I was a bit confused. What in the world was going on here?! Was there some massive salad sale I wasn't aware of? Another lettuce recall? Then I remembered it's the first week of January.
Those New Year, New Me resolutions were still going strong, in full force. Judging by the state of my salad section, a lot of people made the same resolutions this year too!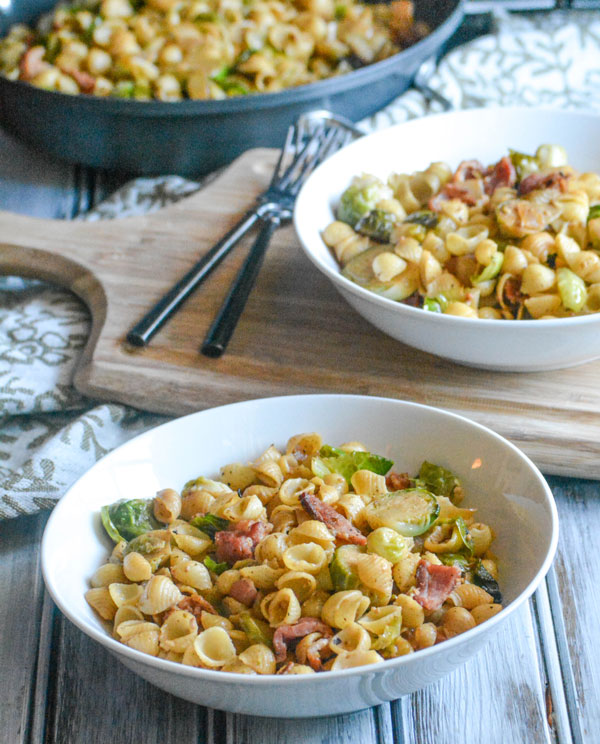 Going by the awesome local produce sales, it looks like the grocers knew it too. I have taken full advantage, especially when it comes to sprouts. We love them so many different way, crispy & Asian-infused, cream braised, cheesy, even sauteed with lemon and garlic. None of those were on my menu plan though.
In light of it being a new year and all, I wanted to try something new-something a little different. Dare I say it? Maybe even a little healthier. However, I'm nothing if not a gal who lives by the phrase, "Everything in moderation."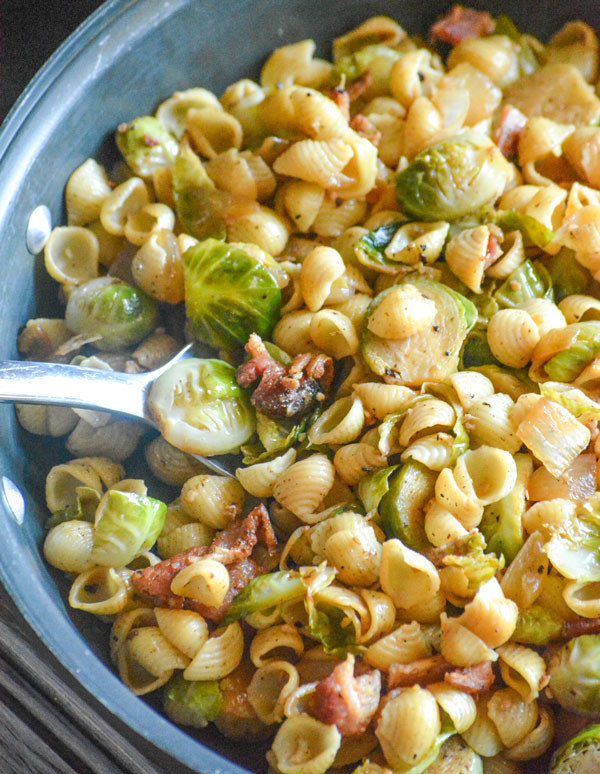 With that in mind, it couldn't be too healthy. More like healthy-ish. That 'ish' is important too. It's where all the best flavor's at. Naturally, I took that to mean I needed to add a little bacon to my sprouts. Everything's better with bacon, right? Nothing quite infuses things with flavor like it either, especially vegetables.
A little bit goes a long way too, so there's that. And pasta. Boy, do I love me some pasta. This dish was shaping up to have all my favorite food groups, and just thinking about the key ingredients had my mouth watering. Magical things were happening, and it was about to go down in my kitchen come supper time.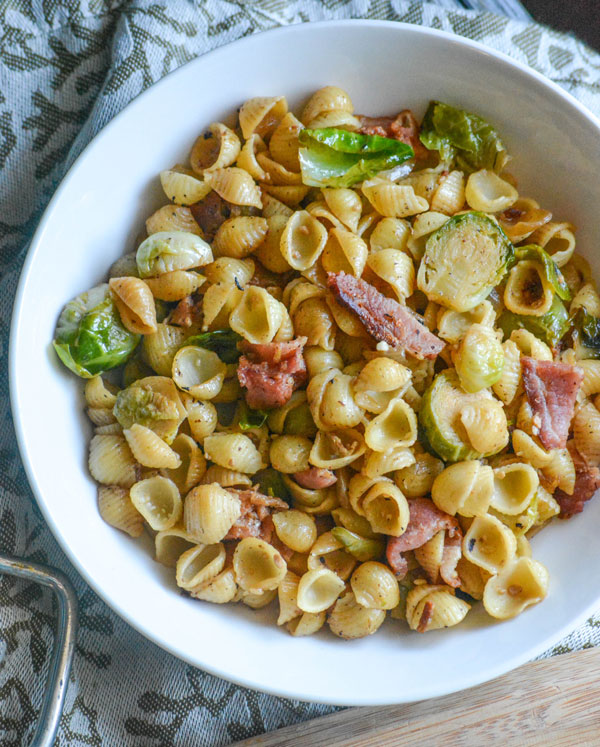 Y'all- this Bacon Brussels Sprout Pasta Skillet was everything I'd imagined and them some! A little bit of bacon (protein folks!), tender slightly caramelized sprouts, and perfectly cooked pasta are tossed in a cream sauce. Served piping hot and sprinkled with shredded Parmesan cheese, it was epic.
Let's talk details, because a recipe this god simply cannot wait.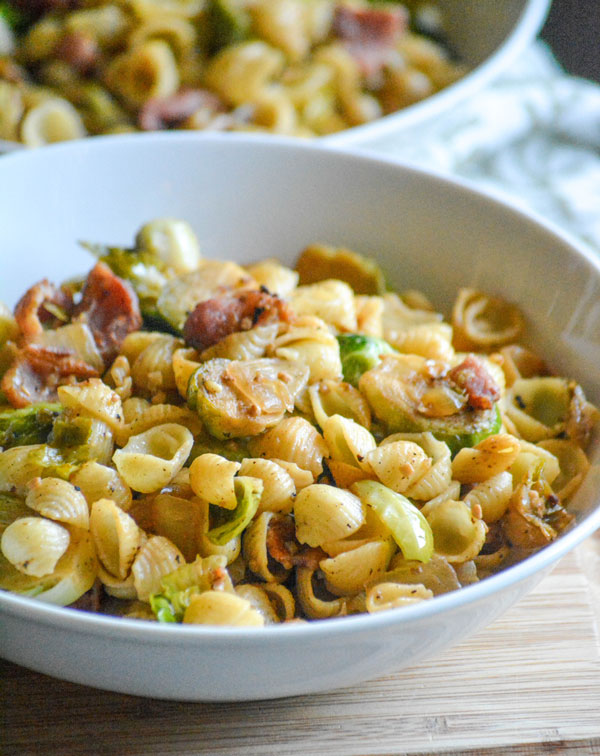 First, gather your ingredients- this recipe moves pretty quickly, and while the pasta's cooking you'll want to be preparing the bacon, sprouts, etc. Also, while we've used small shell pasta here, it's not a necessity. I would recommend a small-shaped pasta though, even if not shells. Mini farfalle, elbow noodles, even ditalini would all work well. The idea's to use a pasta that enables you to get all of the flavors into every bite, and also to have nooks and crannies to soak up the sauce.
Set your water to boil, and salt it. Salt it heavily. We want it salty like the sea. It will mean our water takes longer to reach a boil, but it makes for the most delicious pasta and the dish will probably require a lot less salt overall. When the water's boiling, stir in the pasta. Cook the pasta according to package directions, al dente, and drain- reserving a 1/2 cup of the starchy pasta water. This will help your simple cream sauce come together and thicken.
While the pasta's cooking, proceed with the rest of the recipe. Cook the chopped bacon in a skillet for about two minutes, we want it somewhat cooked but not completely. Stir in the sprouts, and continue cooking the mixture over medium high heat for 8-10 minutes, or until the bacon's cooked through and the sprouts have browned a bit and begun to caramelize. Transfer the bacon & sprouts to a plate, and set aside.
Stir the pasta water into the hot pan, scraping up any browned bits and de-glazing it. Stir in the cream, salting & peppering, to taste. Lower the heat, and simmer the sauce for a minute or two, until it begins to thicken slightly. Add in the pasta, tossing to coat. Serve the pasta right away, topping each serving with a sprinkle of Parmesan cheese.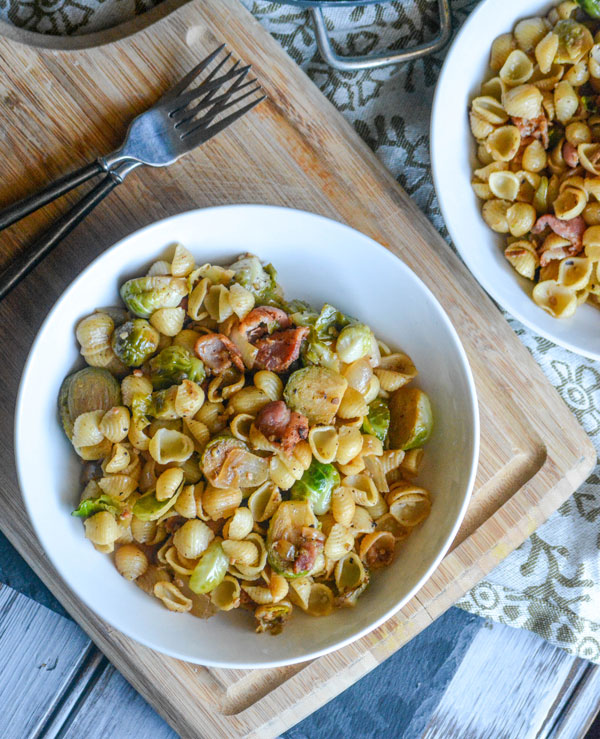 In a somewhat healthy-ish recipe that also includes pasta and bacon, this Bacon Brussels Sprout Pasta Skillet combines several of our favorite flavors into one hearty, Brussels sprout laden, pasta dish.
Other Recipes You Might Also Enjoy: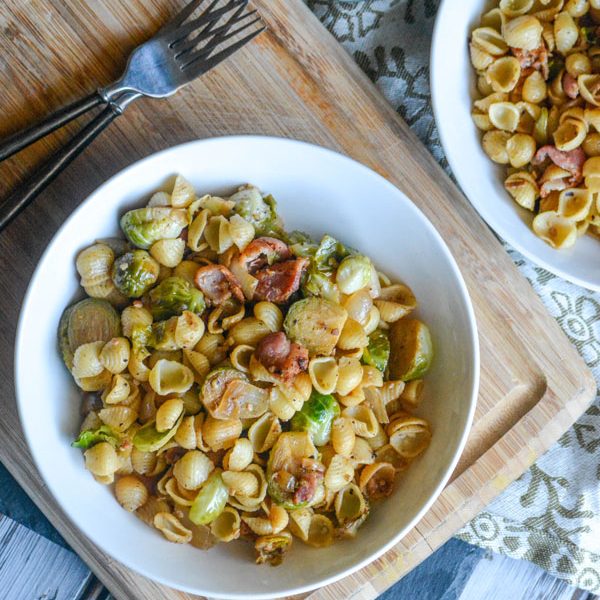 Bacon Brussels Sprout Pasta Skillet
Bacon & Brussels sprouts are cooked in a simple, savory pasta skillet meal with a touch of rich comforting cream and finished off with shredded Parmesan cheese.
Print
Pin
Rate
Ingredients
8

strips

chopped

1

lb

Brussels sprouts, ends trimmed & halved

8

oz

small shaped pasta

1/2

cup

cream

salt & black pepper, to taste

1/2

cup

shredded Parmesan cheese
Instructions
Cook the pasta according to package directions. Drain.

While the pasta's cooking, cook the bacon in a large skillet over medium high heat. Sautee the bacon for a couple minutes, about two, then stir in the brussels sprouts.

Continue cooking the sprouts with the bacon, stirring occasionally, about 10 minutes- until the bacon has fully cooked and the sprouts have browned. Transfer the sprouts to a plate, and set aside.

Add half a cup of pasta water to the skillet, still over medium high heat, and stir to deglaze the pan.

Stir in the cream, and season with salt & pepper- to taste. Lower the heat to medium, and let the sauce simmer for 1-2 minutes- just until thickened slightly.

Add in the pasta, tossing gently to evenly incorporate and coat well. Season with salt & pepper, to taste if needed.

Serve immediately, sprinkled with the Parmesan cheese.