An easy meal with a short ingredient list, this Simple Sausage & Parmesan Pasta Skillet is seasoned to flavor perfection. Keep things light on hot Summer nights with a simple pasta dish for dinner.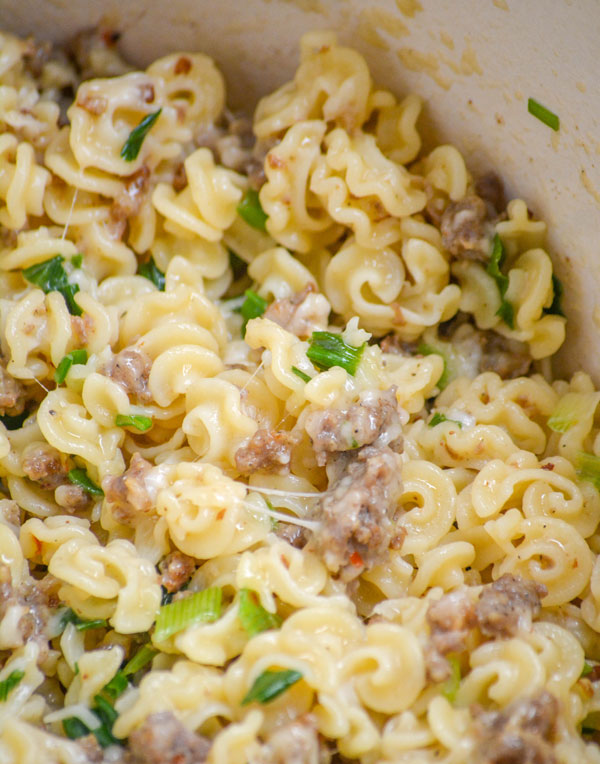 I know, I know, we've talked before about Summer and meals- mostly about how they change. Obvously things get easier, by design, and require a whole lot less heat.
Another thing that changes? My kids' activity level and what they need to eat to accomodate that.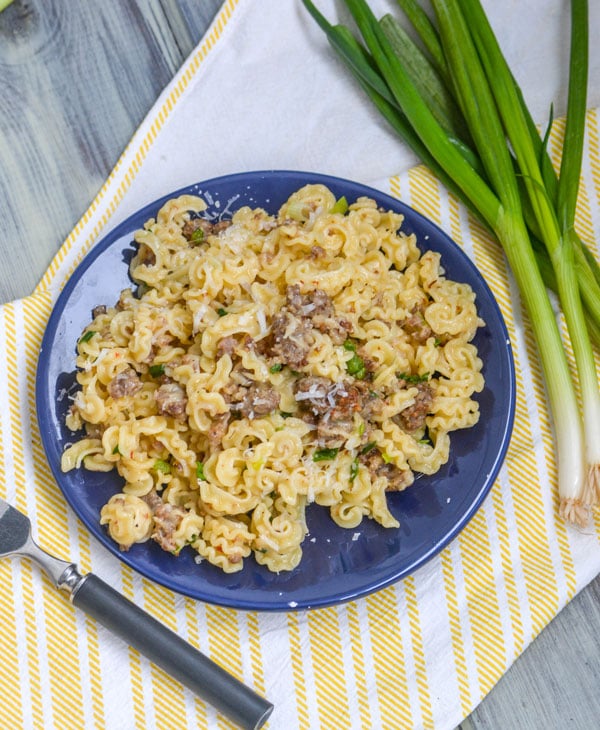 This means a lot more healthy snacks, and honestly- more pasta to give them that energy boost they need.
I kid you not, there are days on end where it seems like all my boys do is run. And run. And run some more.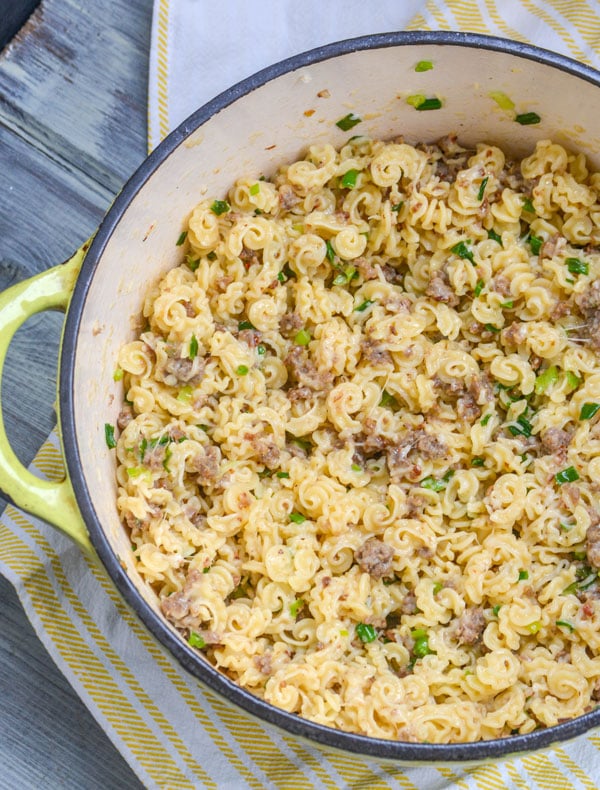 The kids would happily live off of buttered noodles, mac and cheese, and the always popular ramen noodles for lunch and dinner, too.
I just can't handle that much pasta, or the same things day in and day out.
I mean we have spaghetti, and I need a month break in between putting it back on the weekly menu.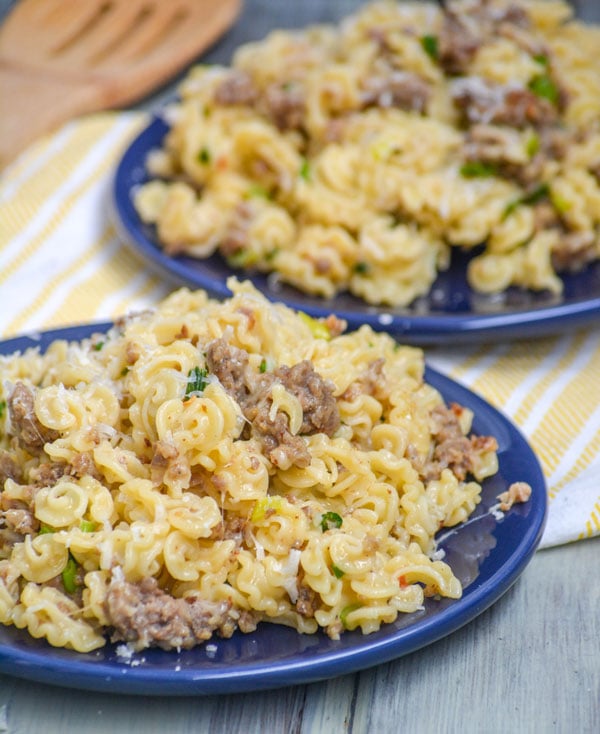 Luckily, we've found lots of different ways to enjoy pasta over the years, and different ways to incorporate it into meals. Meals fitting for different seasons too.
In the Winter, we love heavier pasta dishes. Think things sauce laden and with thick, creamy cheese sauces.
In the Spring & Summer, especially for supper, I tend to keep things lighter. More oil tossed, with just a few key ingredients. Simple, but filling, and something the whole family can agree on.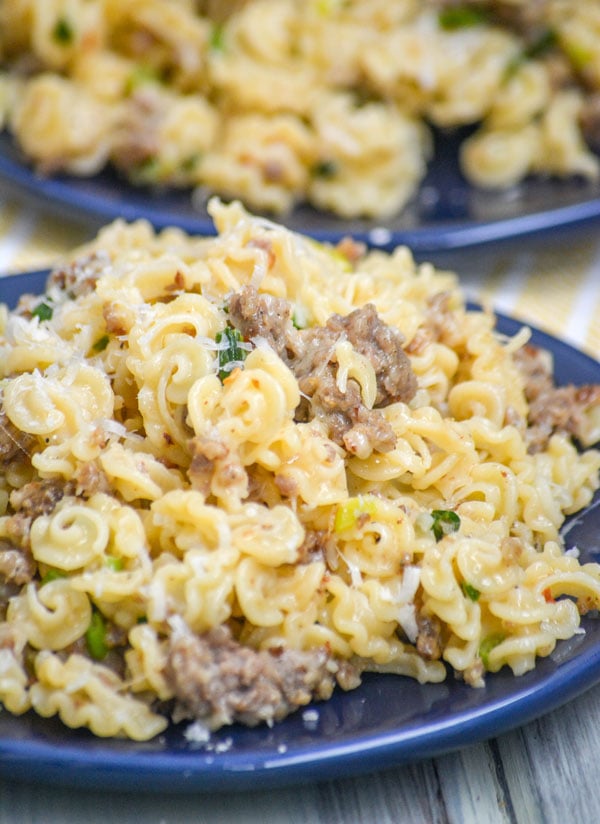 This Simple Sausage & Parmesan Pasta Skillet checks all those boxes. For such a quick and easy dish, with only a few ingredients, our friends are always pleasantly surprised with how much flavor is in each & every bite.
I mean, it only has 7 ingredients + a drizzle of olive oil and some seasonings you're guaranteed to always have on hand.
The title doesn't lie when it says it's 'simple'. Don't let the simplicity deceive you though, or you'll miss out on something truly special.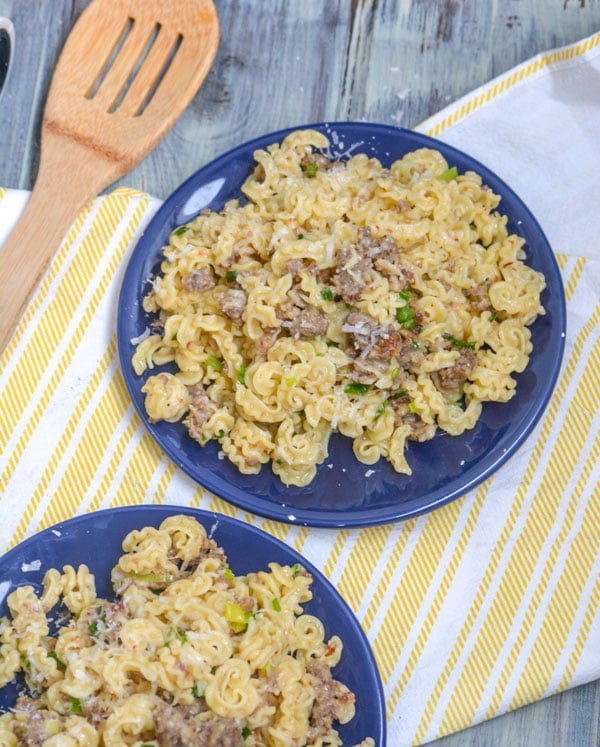 A pound of ground Italian sausage is cooked with some minced garlic, before being drained and returned to the skillet. White wine is stirred in and simmered until cooked off.
Add to that freshly ground black pepper, salt to taste, and a pinch of crushed red pepper flakes. A bunch of thinly sliced green onions is mixed in next, cooking just until wilted.
A pound of your favorite small shape pasta, cooked to al dente & drained, is added to the skillet with a drizzle of olive oil. Stir it all together with a blend of shredded mozzarella and Parmensan, and dinner is done.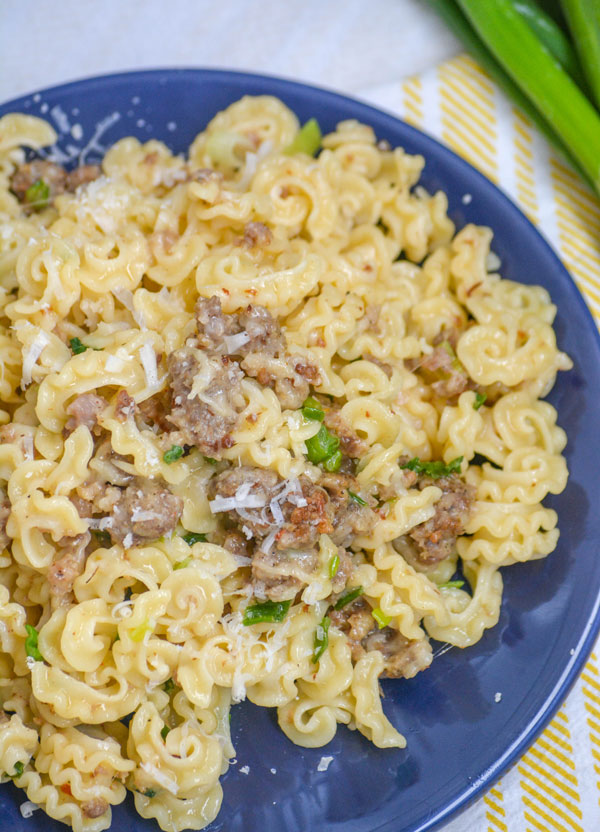 This Simple Sausage & Parmesan Pasta Skillet is meal time magic. It's budget friendly, it's full of flavor, it's quick enough for any schedule.
It's guaranteed to become a new family favorite the first time you make it.
Other easy pasta dishes you might also enjoy: Two Timin' Pasta, Italian Wedding Soup Pasta Skillet, Creamy Taco Pasta, & Cheesy Mexican Chicken Spaghetti.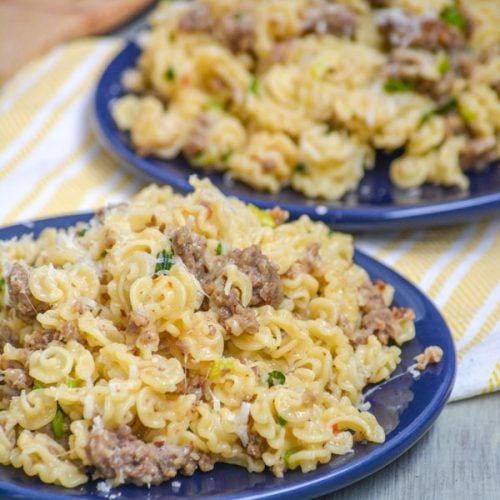 Simple Sausage & Parmesan Pasta Skillet
A simple pasta dinner, this ones features Italian sausage and fresh green onions, seasoned and cooked in a white wine sauce, tossed with a cheesy blend of mozzarella & Parmesan.
Print
Pin
Rate
Ingredients
1

lb

pasta, radiatore, farfalle, pipette all work well

1

lb

ground Italian sausage

2

tsp

minced garlic

1/2

cup

dry white wine

salt & pepper, to taste

pinch

crushed red pepper flakes

1

bunch

green onions, thinly sliced

1

tbsp

olive oil

1 1/2

cup

shredded or shaved Parmesan cheese

1/2

cup

shredded mozzarella cheese
Instructions
Bring a large pot of heavily salted water to a rolling boil. Add the pasta, stirring to prevent sticking, and cook according to the package directions until al dente. Drain the pasta, toss with the olive oil, and return to the pot. Set aside.

While the water heats up for the pasta begin the rest of the meal. Add the sausage to a large skillet, and cook- stirring & crumbling- over medium high heat until cooked through. Drain the sausage and return to the skillet.

Stir the garlic into the meat and saute for a minute, or just until fragrant. Pour in the wine, stirring, and allow it to simmer until almost all of the liquid's cooked off.

Stir in the onions, salt & pepper, and red pepper flakes, and cook just until wilted- about 2-3 minutes.

Transfer the sausage mixture to the pasta. Toss until evenly combined. Add the cheeses, stirring until completely melted and evenly combined.

Salt and pepper again, if desired. Serve the pasta immediately.
This recipe, and other from this week will be shared at some of our favorite link parties, including Meal Plan Monday. Check 'em out for a great collection of easy, yummy recipe ideas.