Quick and easy, but also hearty with plenty of protein and veggies– this meatless Brussels Sprout Fried Rice is a meal parents can feel good about serving, that everyone will love eating.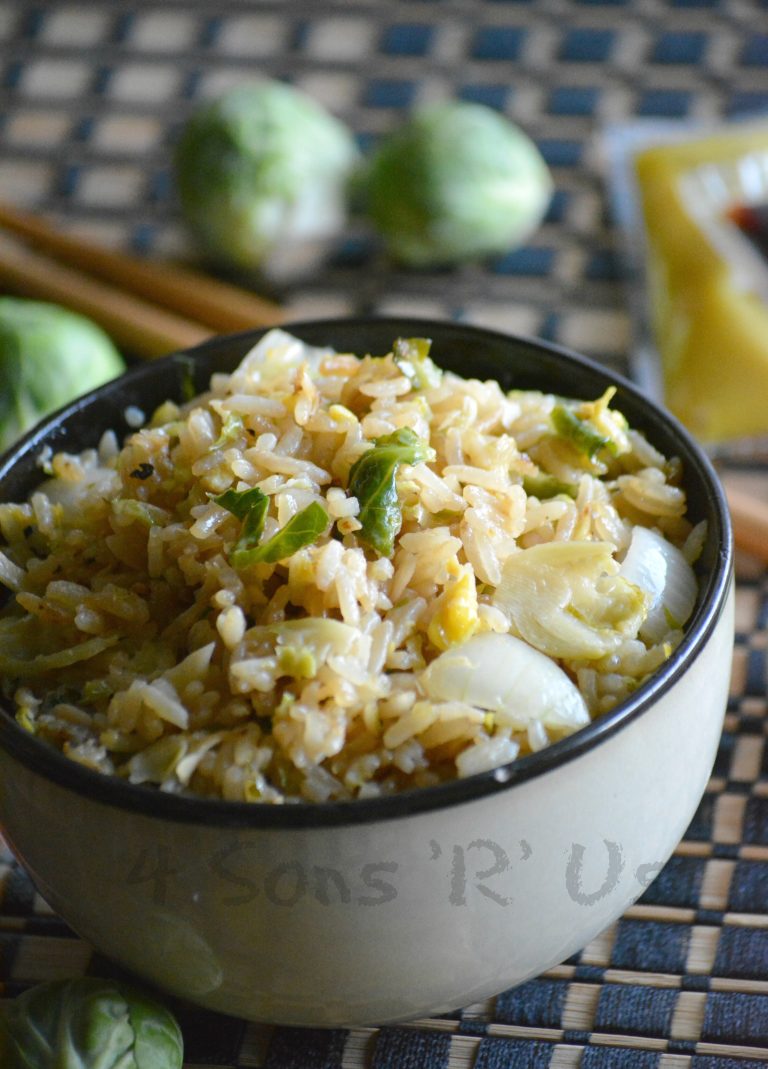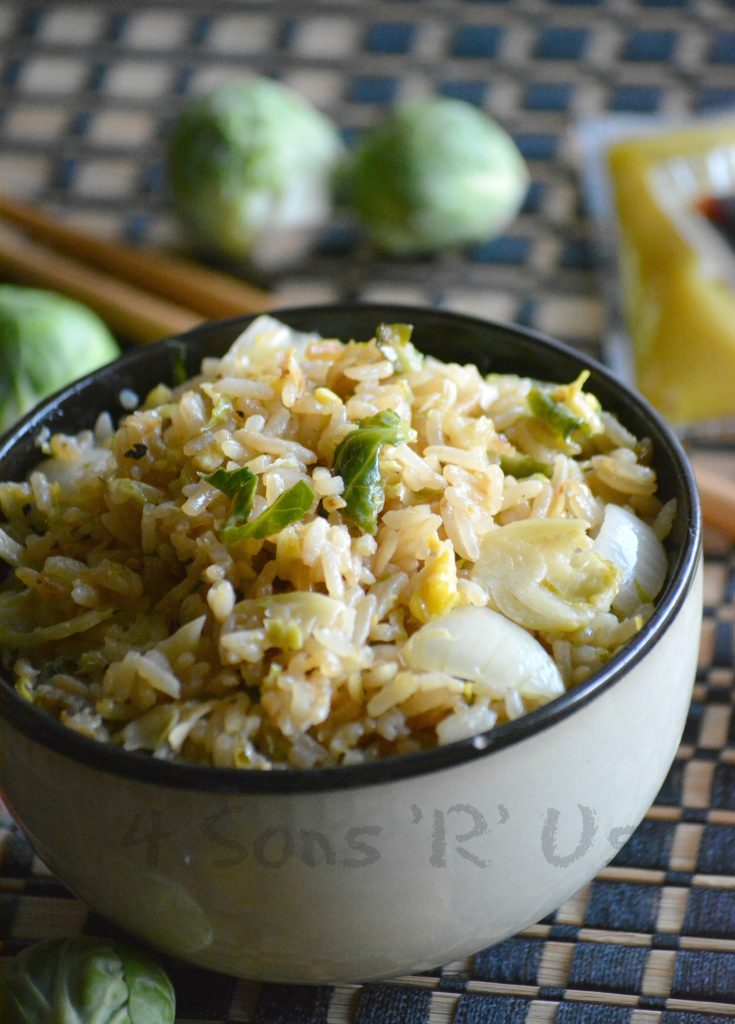 You guys, it finally happened. The day I, and my kids and husband for sure, though would never come– could never come. It finally happened.
I sent a son rummaging around in the chest freezer for a couple chicken breasts to thaw for dinner. Not a single one to be found– and they searched top to bottom to be sure.
That's ok, we'll just thaw out some ground beef and fix an easy family favorite. No worries. Except there wasn't any ground beef either.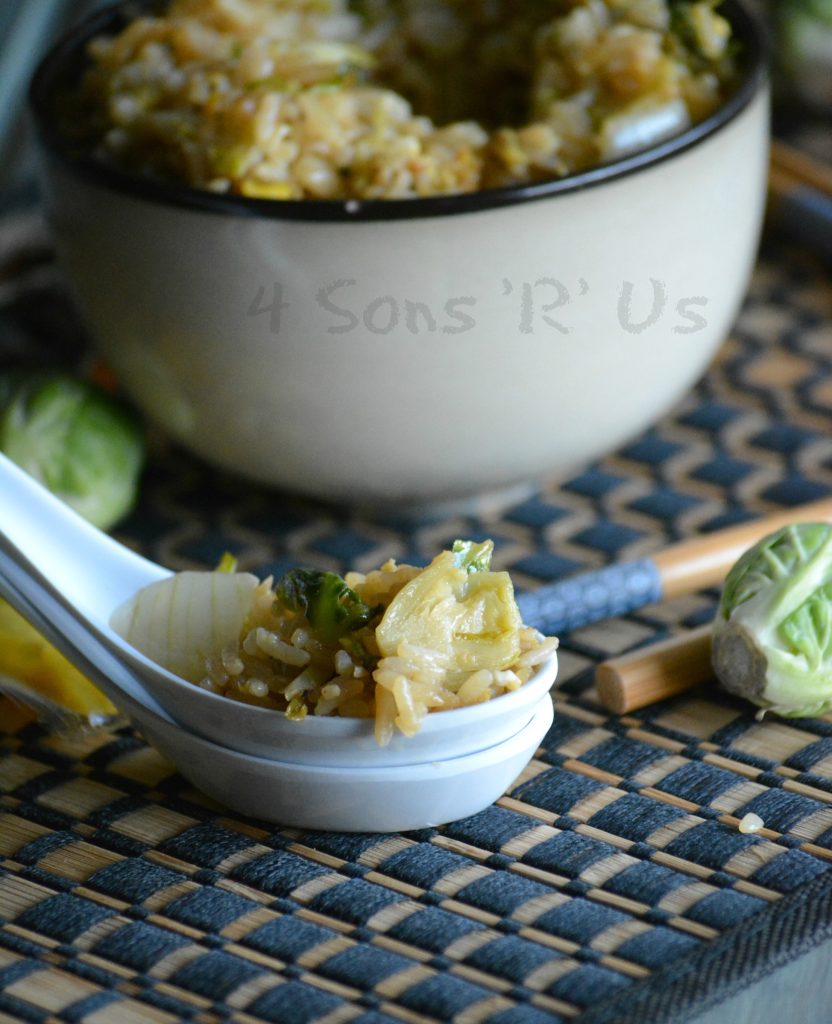 How could this happen you might be wondering? Well I have a few ideas.
First, there was all the whining, complaining, dying that went on every time a kid was sent to pull out meat for dinner. Then there were the pointed comments about how the chore was so miserable because I buy too much. How I buy meats needlessly, frivolously, just to buy them.
Because apparently there were already a zillion packages of each in there.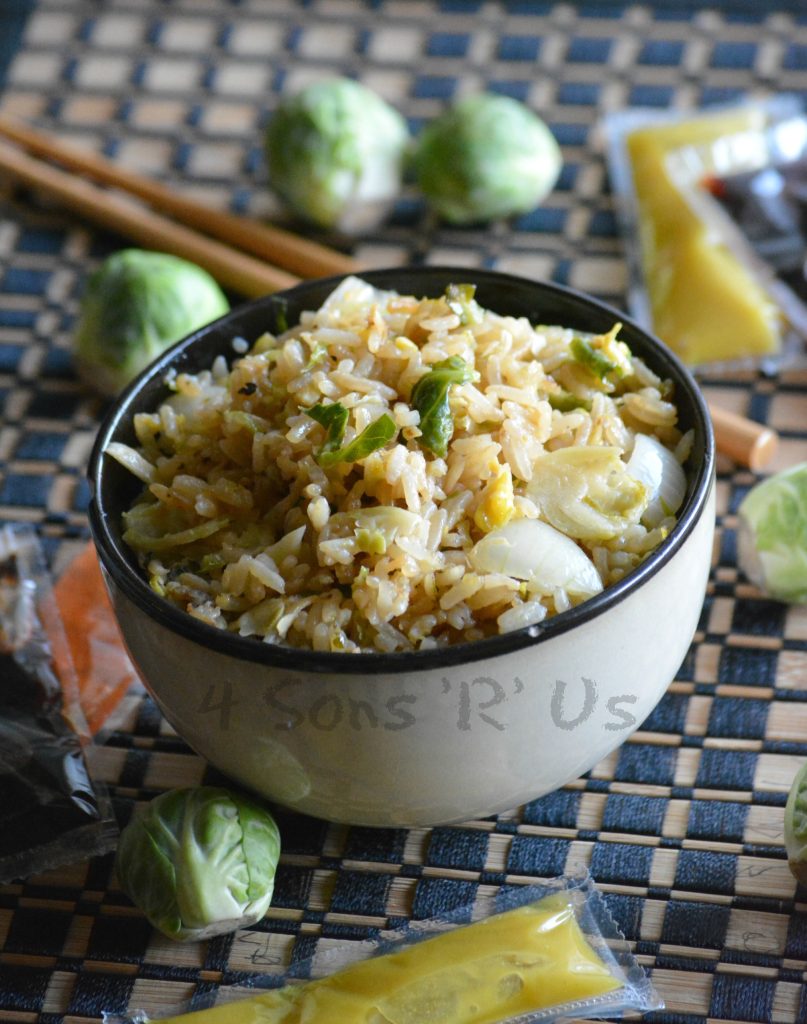 It was all my fault and my poor planning. Oh little children, how I love you– but I will still show you. So I stopped.
Nobody said thank you on grocery day this month when they got a break from pitching in to help re-bag meat into meal-sized portions. Nobody even noticed when I didn't buy chicken or ground beef.
In fact they even seemed to enjoy the added variety when we ran out late last week, and my meals got more creative, incorporating the other meaty options available.
Nobody. Noticed.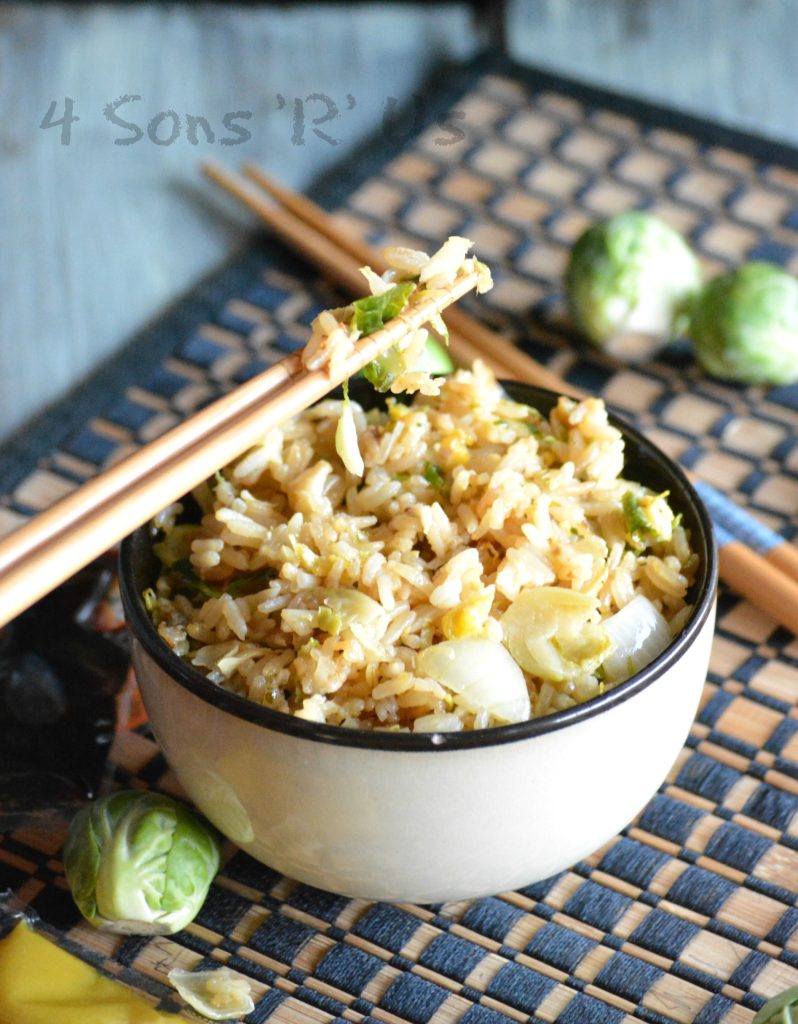 So here the Sons were on their night to cook, and they were panicked.
Panicked because they wanted to get the meal done with the least amount of creativity or work possible involved on their parts. And they had zero clue what they could throw together at the last minute when their hastily laid original plan was derailed.
It didn't help that dinner had to be edible. I grew concerned at some of the snippets I caught from their hushed huddle and whispered ideas.
What can I say? I had to eat too– so I threw them a bone and suggested they look at some recipes for fried rice, sans meat, and see what they could come up with.
I'm proud of them, and proud to announce, that their Brussels Sprout Fried Rice was not only edible– it was a resounding success.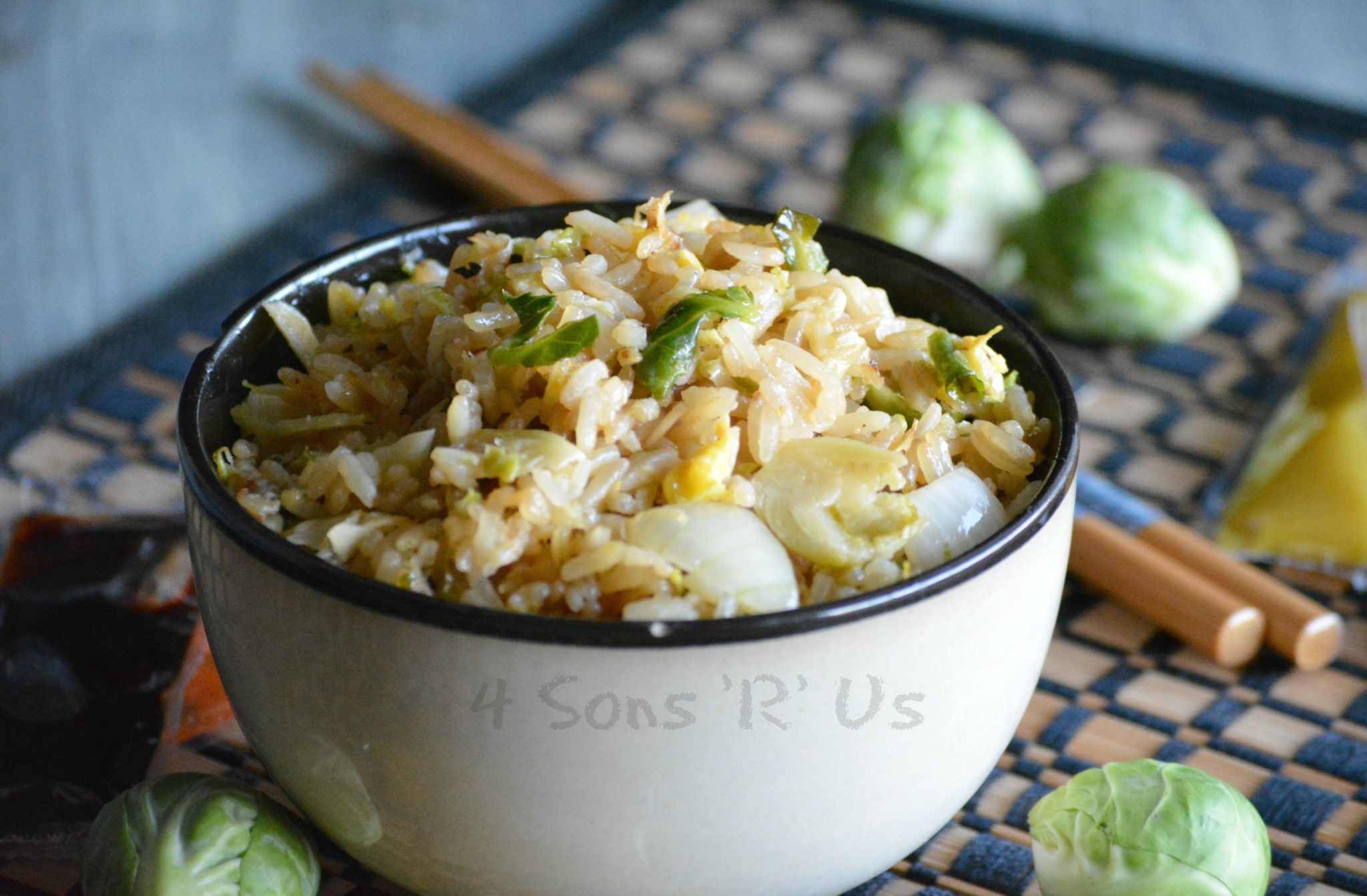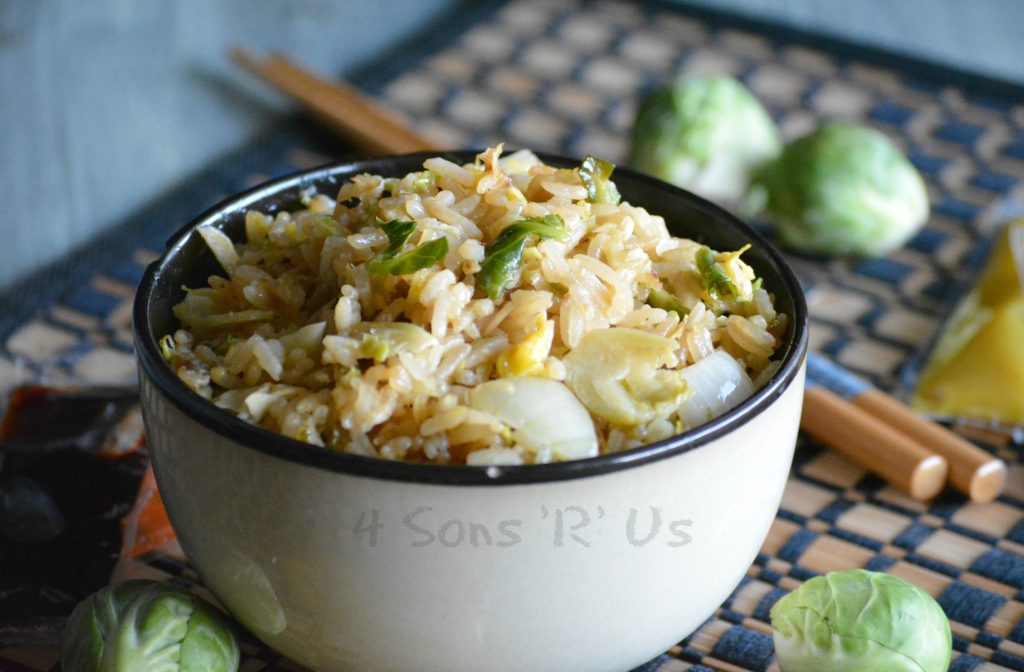 No meat? Dinner can still be a success.
A quick and easy, meatless meal this Brussels Sprout Fried Rice is still a hearty supper time dish. Packed with protein and full of fresh veggies it's also a filling vegetarian option that you feel good about serving, and kids gobble up.
I speak from personal experience when I tell you it's quick enough for even the busiest of work/school nights. And it's easy enough that the kids can help, without adding to your stress level or workload.
Get the kids excited about eating their veggies! Serve them a dish they'll love in the form of our Brussels Sprout Fried Rice.
If you've tried this BRUSSELS SPROUT FRIED RICE, or any other recipe on the site, let me know in the comment section how it turned out, we love hearing from our readers! You can also follow along with me on PINTEREST, FACEBOOK, and INSTAGRAM to see more amazing recipes and whatever else we've got going on!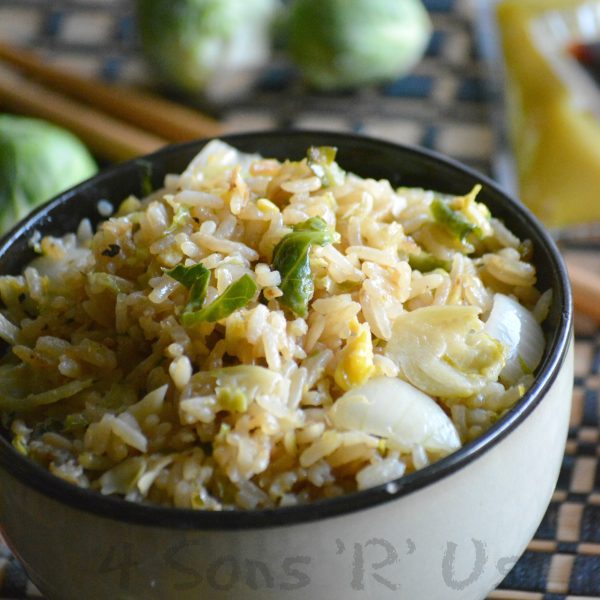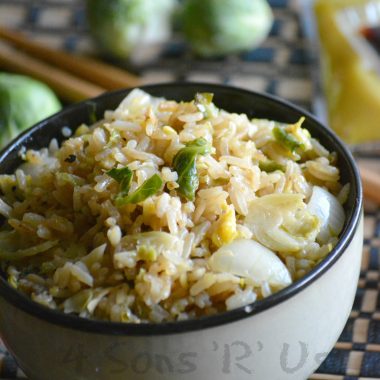 Brussels Sprout Fried Rice
A quick 15 minute meal, this vegetarian version of fried rice is simple, yet super satisfying.
Print
Pin
Rate
Ingredients
2

tsp

minced garlic

2

tbsp

sesame oil

2

cups

cooked

cooled Basmati rice

2

cups

shredded Brussels sprouts

1

small white onion

roughly chopped

2

tbsp

soy sauce

2-3

large eggs

beaten
Instructions
Add the sesame oil to a large wok over medium heat. Add in the garlic and saute, stirring, for about thirty seconds, just until fragrant and no longer bitter.

Stir in the shredded sprouts, tossing them to coat, and allow them to cook-- again for 30 seconds, undisturbed-- so they begin to caramelize/crisp a bit.

Stir in the chopped onion and cooked rice until evenly incorporated. Again let the mixture cook without stirring, for another 30 seconds or so.

Stir the rice well, and then allow it to cook for at least another minute, undisturbed.

Stir in the soy sauce until it's evenly spread throughout the rice mixture, and then let the mixture continue cooking for another 30-60 seconds.

Stir the fried rice, and then push the mixture to one side of the wok.

Pour the eggs into the empty side of the wok, scramble, and then stir them into the rice mixture.

Turn the fried rice out into a serving bowl, and enjoy warm.
Nutrition
Calories:
215
kcal
|
Carbohydrates:
8
g
|
Protein:
16
g
|
Fat:
14
g
|
Saturated Fat:
3
g
|
Cholesterol:
123
mg
|
Sodium:
1199
mg
|
Potassium:
420
mg
|
Fiber:
2
g
|
Sugar:
2
g
|
Vitamin A:
451
IU
|
Vitamin C:
53
mg
|
Calcium:
43
mg
|
Iron:
2
mg
recipe adapted from Maebells