A healthy breakfast or snack, these easy Baby Cereal Pancakes make use of common baby foods that often end up going to waste. They're a perfect first food, or finger food, for hungry babies & toddlers. Something you can feel good about serving, and something they'll love eating!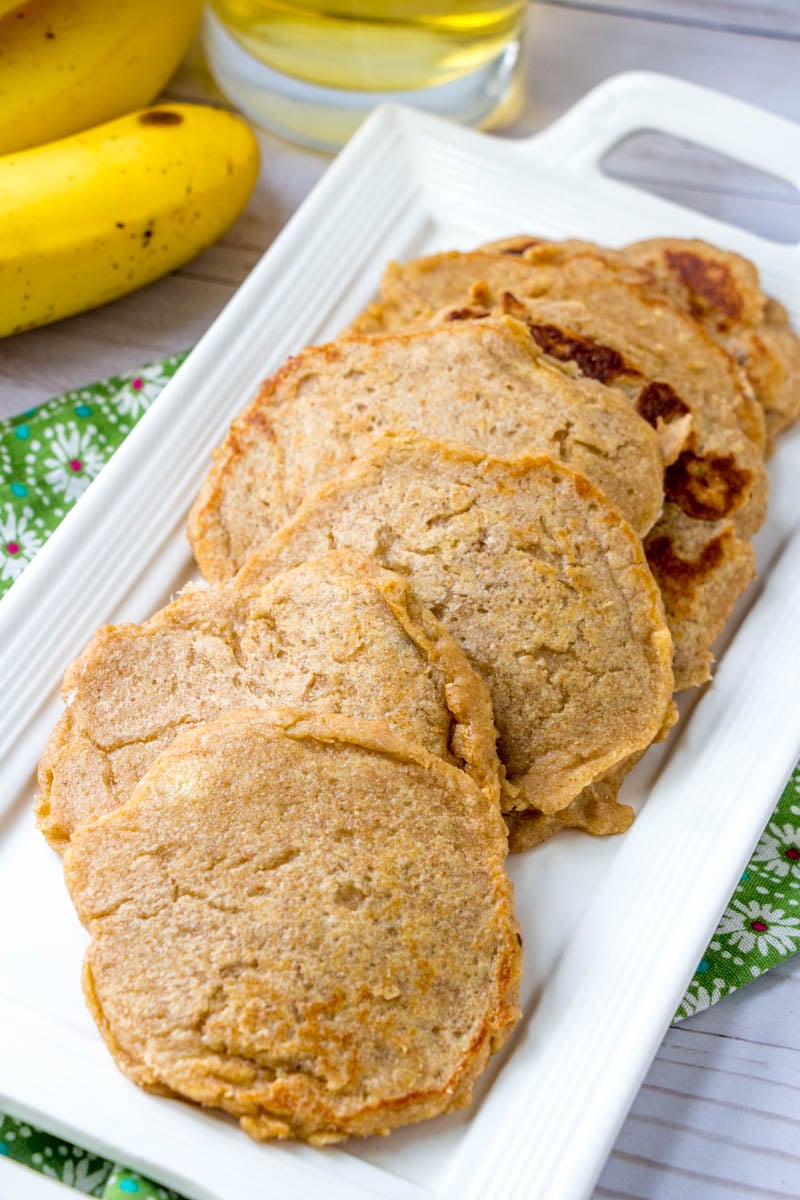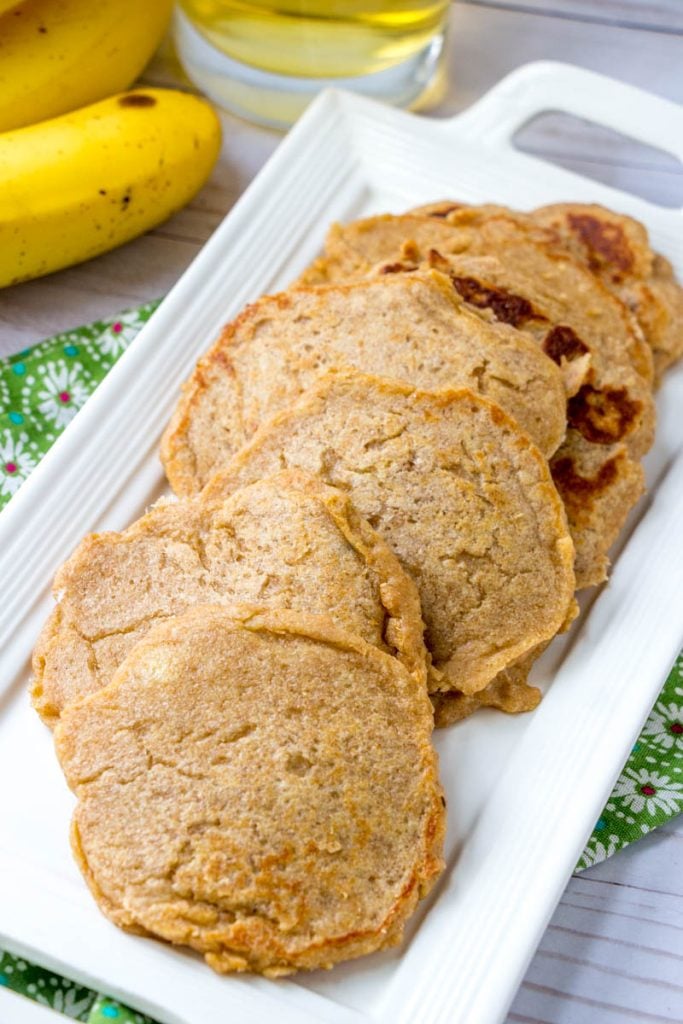 Why is it that every parent seems to find themselves inundated with baby food at some point, and it always seems to be at the point when the babies no longer want baby food?
This was exactly my predicament with several unused boxes of baby cereal.
I couldn't just toss them, and at the time, I didn't have any friends who could make use of them.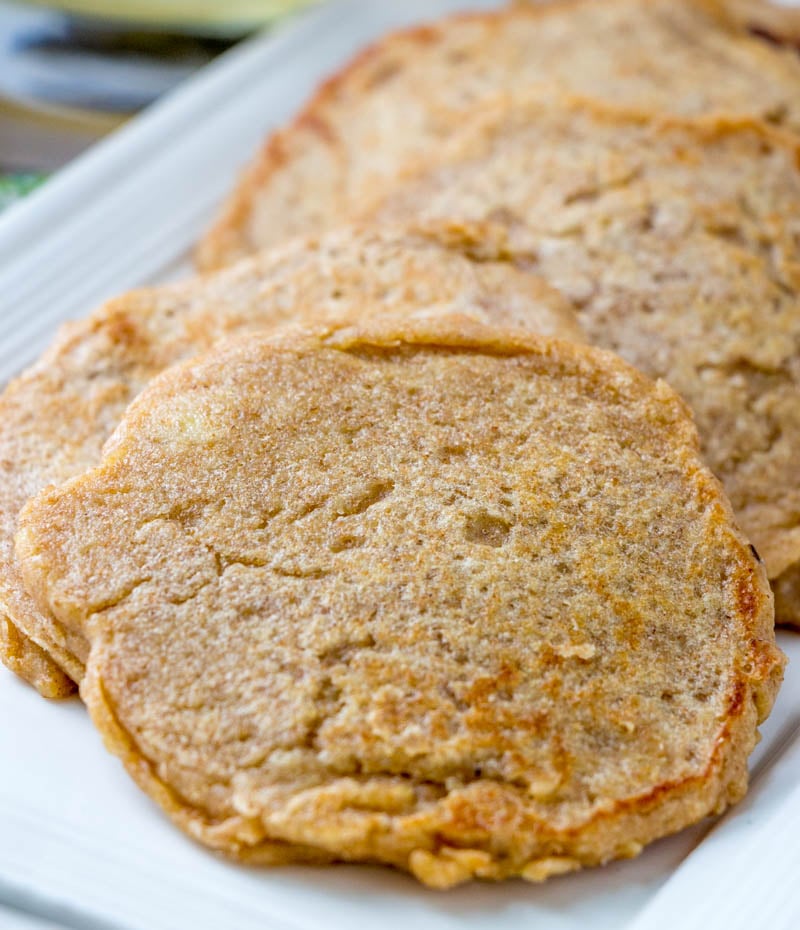 Can You Make Pancakes Out Of Baby Cereal?
When I originally stumbled across this recipe, I thought it would be a perfect way to still use the cereal, but also to help my son continue getting used to 'chewing' with his new teeth.
These were absolutely perfect for us.
It's a denser pancake than a traditional batter, but I found that just helped it cook quicker. Best of all, the recipe made a ton, and it's freezer friendly so I didn't have to do this every day.
Just pull out however many you need for breakfast or morning snack, and let them thaw.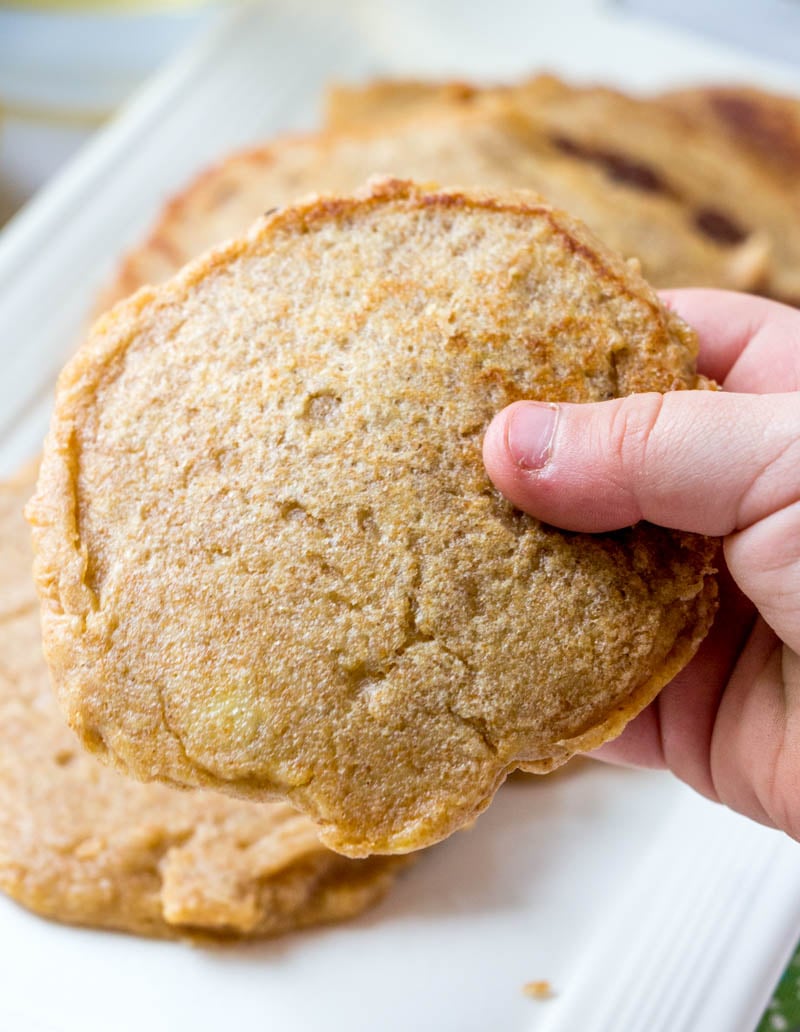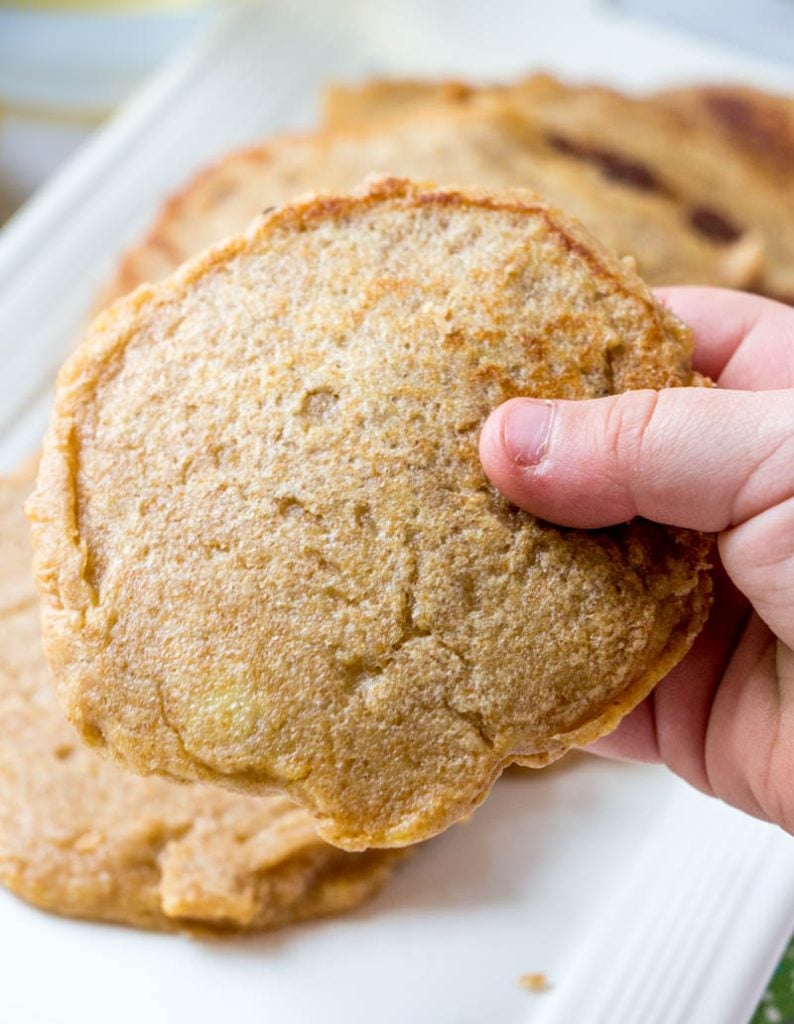 I originally made these for my littlest man when he was just starting to eat and be introduced to table foods. He loved them!
At 3, he still prefers them to 'normal' pancakes.
Why Aren't My Pancakes Cooking Properly?
This seems to be a common complaint, and mostly boils down to one thing. These aren't traditional pancakes- they aren't meant to be.
These won't cook up light & fluffy like the breakfast pancakes you're probably used to, largely in part to the iron-fortified baby cereal in them.
So if a fluffy flapjack is what you're wanting- this recipe isn't going to be for you. Baby cereal is tacky and incredibly sticky, keep that in mind.
These toddler friendly pancakes are going to be crisp on the outside, but still slightly gummy or tacky on the inside when done. They will firm up as they rest and cool post cooking.
TIPS & TRICKS For Best Results
Use a stainless steel pan- it results in minimal sticking.
If that's not an option use your best pan, plenty of non stick cooking spray, and a stainless steel spatula to flip them.
Cook them on lower heat, medium low is what we found best, and watch them carefully.
If the inside's still tacky, but the outsides are nicely done- remove them from the pan and allow them to cool for 5-10 minutes where the cereal filling will finish firming up. Do NOT continue to cook, or over cook, thinking it will cook through.
Can I Freeze Them?
Again, it's important to note that although this recipe will make a lot due to their miniature size, these freeze extremely well.
To freeze, just place completely cooled pancakes into a freezer safe zip-locking bag. Seal and set in the freezer.
When ready to use, just pull out the desired amount, place them on a plate, and allow them to thaw before serving.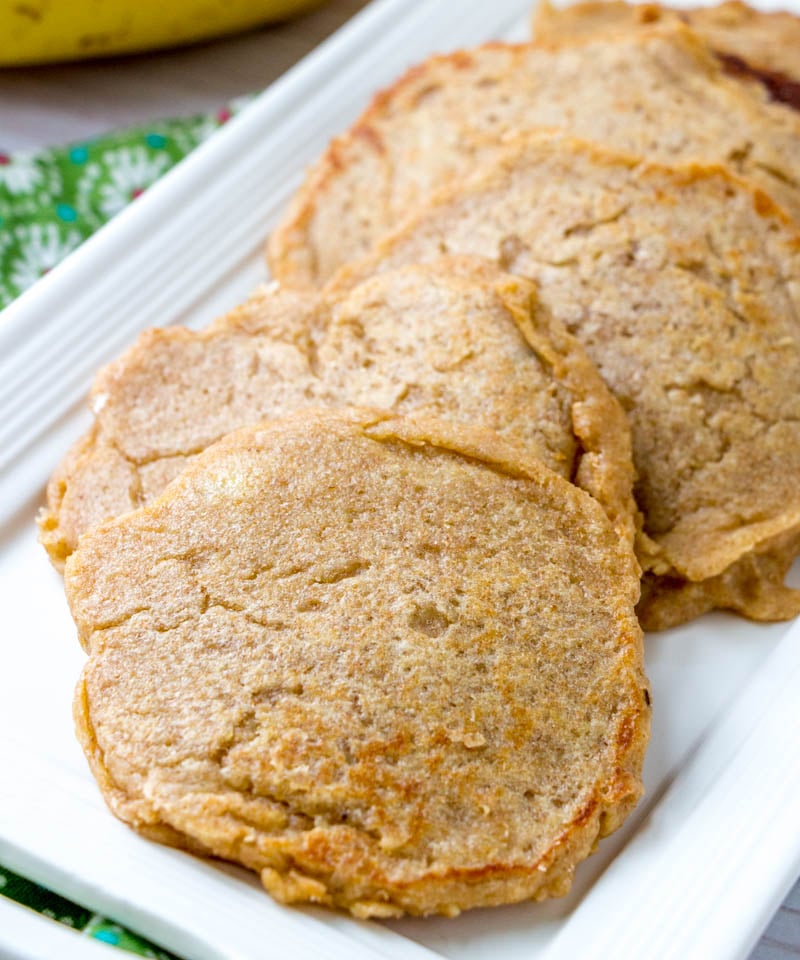 Also, the spices noted in the recipe as optional, like cinnamon and vanilla- you can incorporate those or others as your little one gets older and you want to expand their flavor profiles.
I'm a firm believer that the more flavor profiles you can introduce your children to earlier, the more developed eaters they will become as they grow.
So we don't shy away from spices and seasonings, but if it's not for you- that's ok too!
What If My Pancake Batter Is Too Thick?
You may find that your baby cereal pancakes aren't cooking as evenly as you'd like, which is likely a result of the batter being too thick.
This can happen quickly, especially if you let it set, since the cereal absorbs a lot of liquid even after mixing.
If this happens, simply whisk some extra apple juice (or water) into the batter. We tend to thin with an additional 1/4 cup of liquid at a time.
Can I Use Other Fruits Or Vegetables?
If you don't have a handful of overly ripe bananas lying around, there's several other options that will work well in these baby cereal pancakes.
Mashed pumpkin, for example, makes a wonderful substitution. Applesauce will also work.
We've even used pureed zucchini, just making sure to have pressed out and soaked up the moisture before pureeing.
Other Fun Finger Foods To Try
Baby Cereal Pancakes are a seamless way to get kids used to complex flavors and create a little foodie at heart, while transitioning them from first foods to everyday ingredients and options.
Looking for other easy options they'll enjoy? Try these:
If you've tried these BABY CEREAL PANCAKES, or any other recipe on my site, let me know in the comment section how it turned out, we love hearing from our readers! You can also follow along with me on PINTEREST, FACEBOOK, and INSTAGRAM to see more amazing recipes and whatever else we've got going on!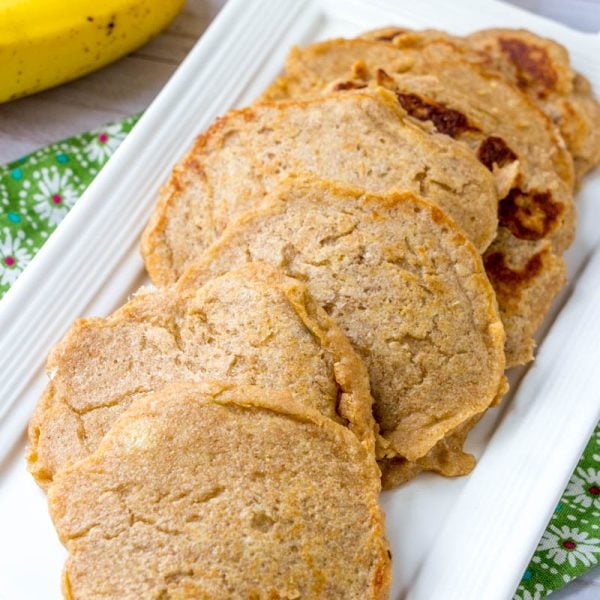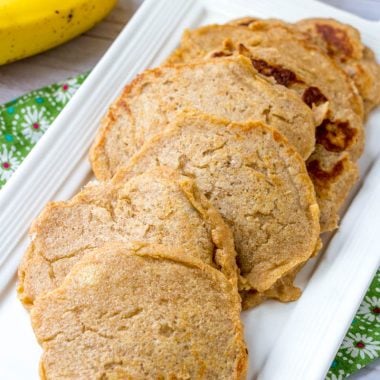 Baby Cereal Pancakes
A healthy breakfast or snack, these easy Baby Cereal Pancakes make use of common baby foods that often end up going to waste. They're a perfect first food, or finger food, for hungry babies & toddlers. Something you can feel good about serving, and something they'll love eating!
Print
Pin
Rate
Ingredients
1

cup

whole wheat flour

or 1 1/2 all-purpose flour

1/2

cup

baby rice cereal

straight from the box

1/2

cup

baby oatmeal cereal

straight from the box

1

cup

formula

or milk, depending upon age

1/2

cup

mashed banana

or other mashed fruit of choice

1

tbsp

melted butter

1

egg

1/2

cup

apple juice

or water

dash of cinnamon

nutmeg, or vanilla (optional)
Instructions
Mix all ingredients together. Add the apple juice, and stir until evenly combined and pancake consistency is reached.

Cook on the stove top in a frying pan just as you would 'regular' pancakes. I used a small spoon to drop small dollops of batter onto the pan.

Let cool and serve.