Oatmeal doesn't have to come out of a store bought packet. Infuse more flavor into your morning meal, and spend only 5 minutes before bed time fixing it. Set it in the fridge, forget it, and in the morning start your day with a healthy bowl of this Strawberries & Cream Overnight Oatmeal.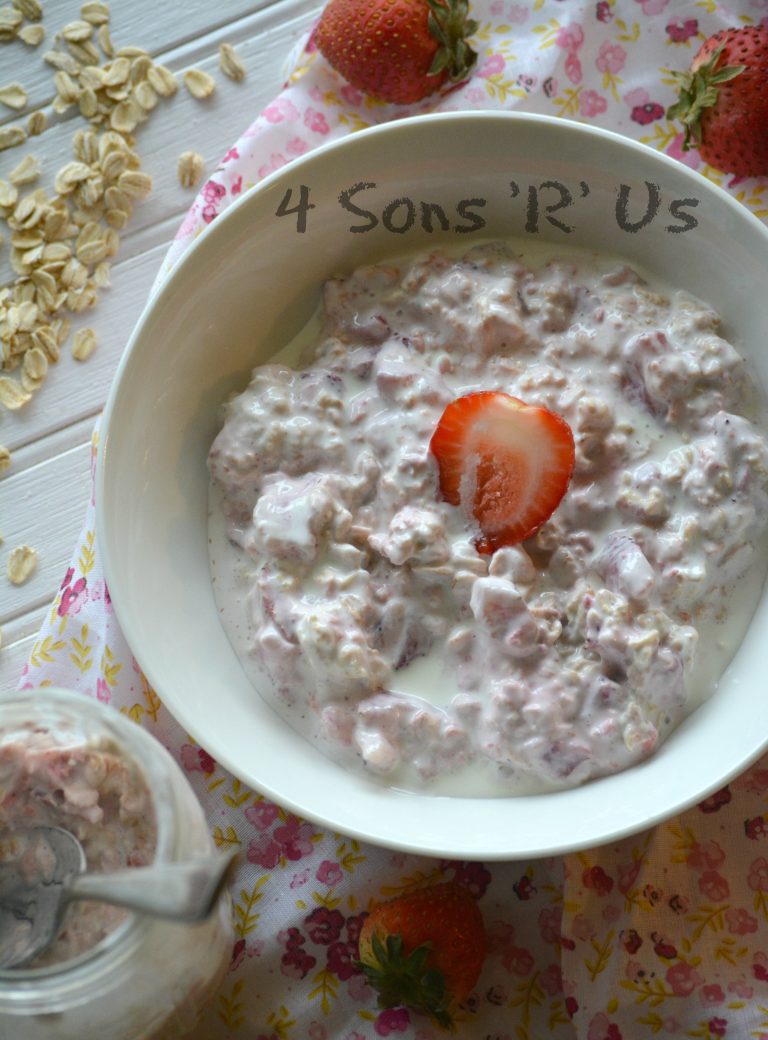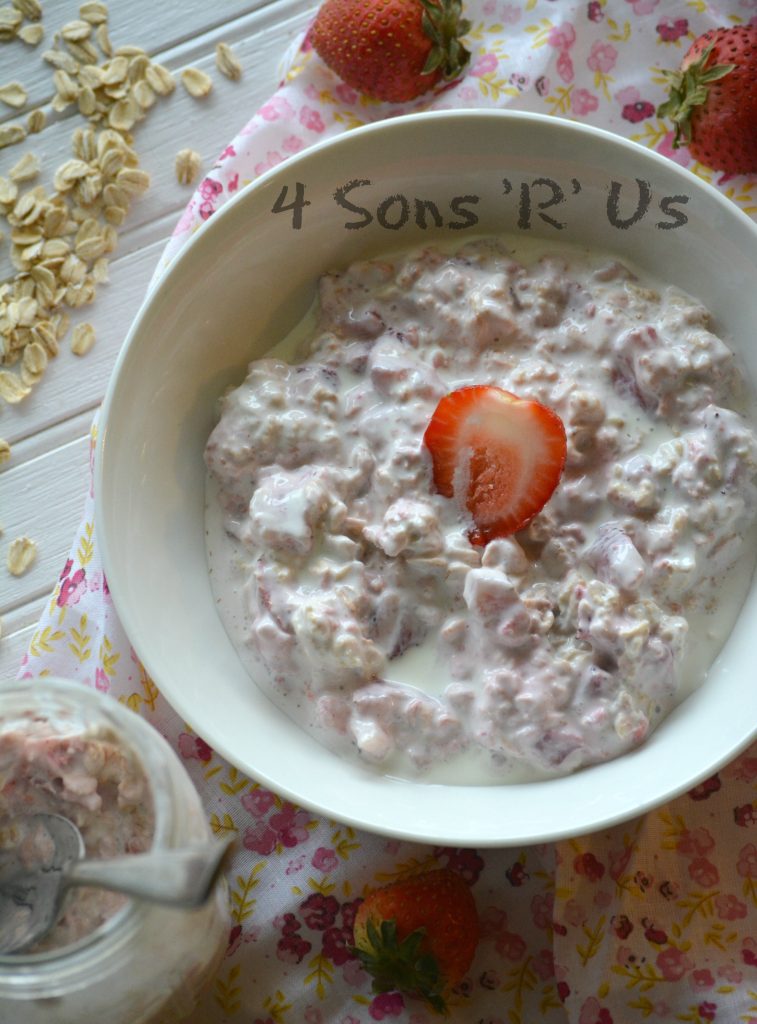 Strawberries are a seasonal favorite around here. I can't get enough of them. My Mama couldn't either when she was pregnant with me. There was no shame in her game. She posted right up in the middle of the patch, plucking the ripest berries from the vine. Everyone else was rushing to bring her the prime pickin's. She was the strawberry queen that day. I don't blame her a bit. It was hotter than heck, and she was midway through her third trimester. Plus, strawberries are just plain delicious.
Literally the same thing happened with her when pregnant with my sister. Both pregnancies, Mama was obsessed with her strawberries. However, it resulted in two opposite outcomes. I love the things. They're addictive. I'm not even pregnant with cravings, and I will happily plant my butt in a row and wait for the sons to bring me the cream of the Spring crop. Juice running down my chin, lickin' fingers the whole way. Ok, well maybe not quite that messily but with just as much gusto.
Sister on the other hand, she can't even stand the sight of the little red things. She hates them that much. You might as well consider her allergic. They may not cause anaphylactic shock, or hives, or any kind of physical reaction. They'll just make her turn green. Her revulsion is palpable. I get it. And I'm so glad I didn't go the same route.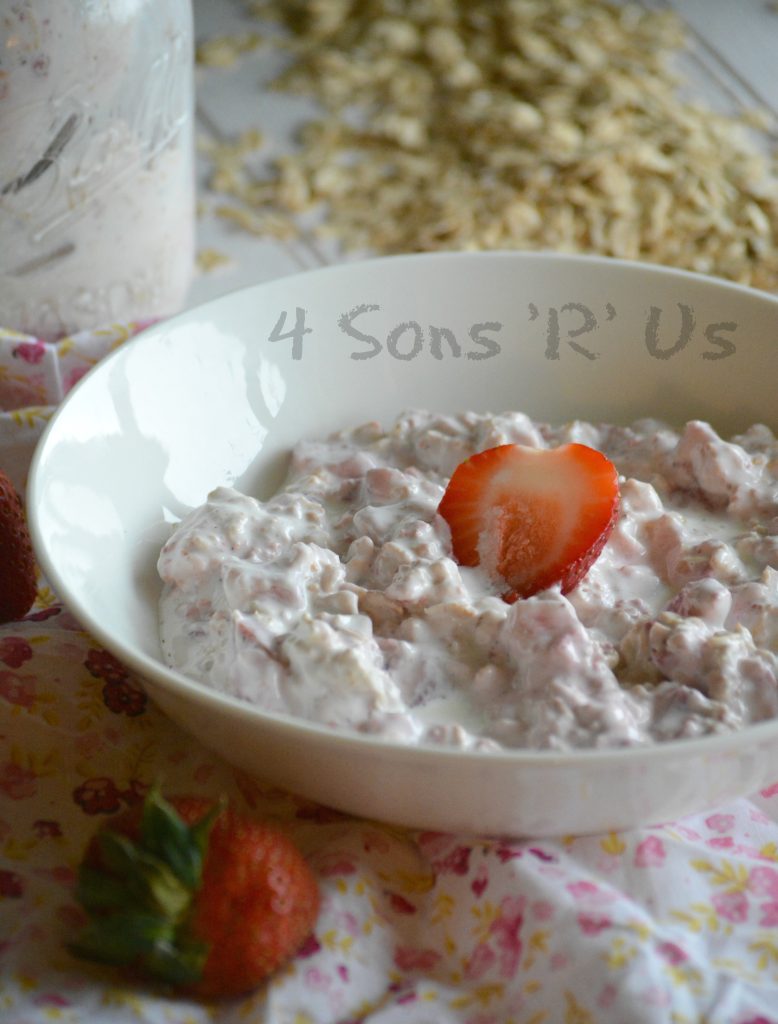 So… strawberries. I love them in pretty much everything. Every incarnation. I've yet to find one I don't like. Of course I like them in my breakfast oatmeal. Oatmeal is delicious. It's even better with add ins. I've always enjoyed my morning meal with a little fresh fruit tossed on top. What I didn't know, is that it didn't need to be cooked or served hot to be amazing. Overnight oats are a real thing. A magical thing. Super simple & easy to throw together before bed; wake up to an amazing breakfast that's relatively healthy but tastes like dessert. These Strawberries & Cream Overnight Oatmeal were originally created to be my morning BFF.
Wondering what overnight oats actually are? Instead of boiling rolled oats in hot water, these are made cold by soaking for an extended period of time in milk. The minimum we've found is a solid two hours, but overnight is ideal. I can prep it on my way to bed, and wake up with breakfast ready to grab and go. That's priceless on busy morning. Let's be honest, I'll be late to my own funeral. Easy, prepped breakfasts are my saving grace.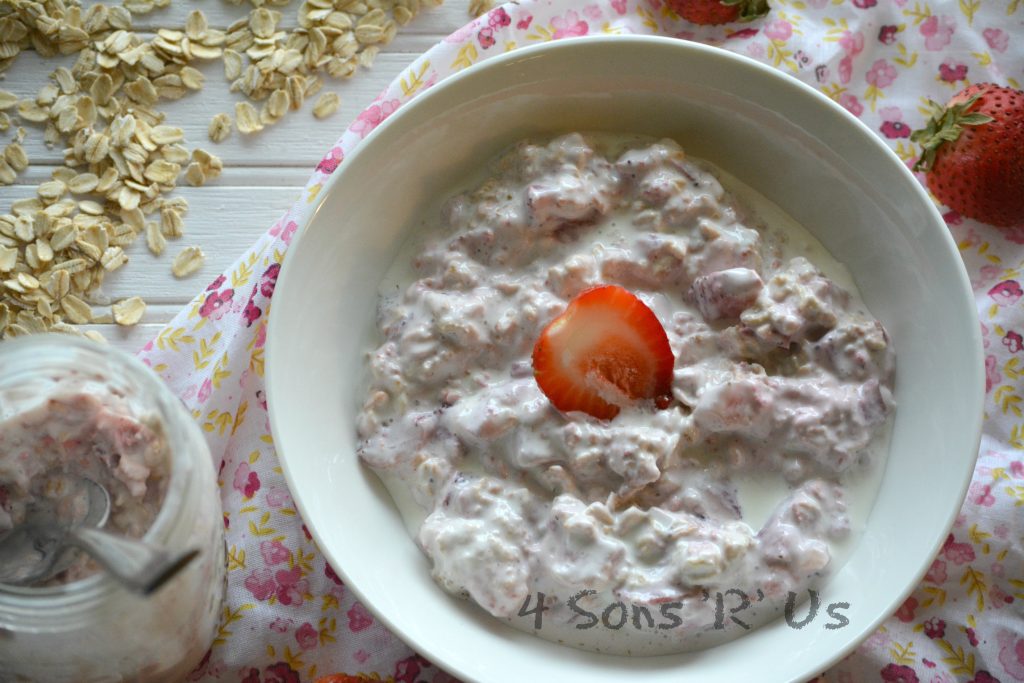 There's a million different recipes out there, and some can get pretty complex. We keep it simple here. The basic recipe for these creamy, effortless oats features a combination of old fashioned rolled oats, milk, and a flavored yogurt of your choosing.
For the strawberries and cream effect, we went with a vanilla yogurt. We added in a teensy bit of strawberry jam. Then we finished it off with some freshly sliced strawberries for added effect, and flavor. It made it so much yummier to get some fresh fruit in early in the morning.
I suggest using 2 % milk, because of it's consistency but you can use any milk you choose. Also, if you like to control your ingredients more- you don't have to use vanilla flavored yogurt. You could also sub plain yogurt and use your favorite vanilla flavoring. This recipe is also written for one full serving, but don't let that stop you. I regularly double, triple, or even quadruple it to feed my hungry crew. How often is that an easy feat?
I'm not one of those Mom's who's up at the crack of dawn crackin' eggs and takin' short orders for first meal. My kids choices are almost always cereal, and … another kind of cereal. Luckily, this Strawberries & Cream Overnight Oatmeal is so easy to throw together- I rarely ever mind. Pack lunches and prep lunches at the same time, then head straight to bed. It's a win for the entire family!
Other Yummy Overnight Oatmeal Ideas: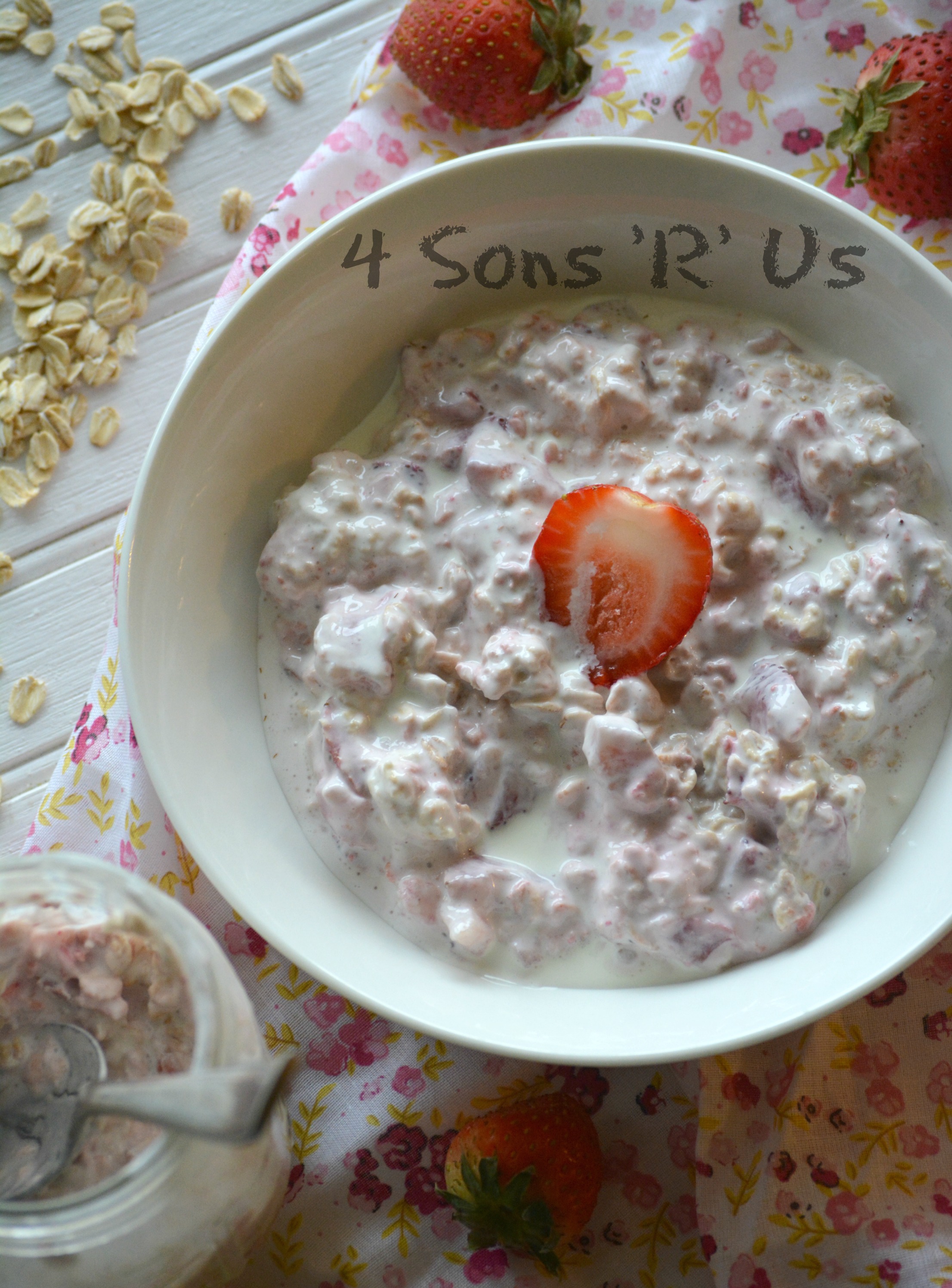 Ingredients
1/2

cup

old fashioned rolled oats

1/3

cup

2 % milk

2

tbsp

strawberry jam

1/4

cup

vanilla yogurt

fresh, sliced strawberries (optional)

for topping
Instructions
In a small jar, add all of the ingredients. Stir together until evenly combined. Seal the jar with a lid.

Refrigerate the strawberries and cream overnight oats for at least two hours, or overnight.

When ready to eat, remove the jar from the fridge. Stir well. Add a few sliced strawberries and dig right in. Or you can transfer to a bowl, heat it, and enjoy it warm.
Notes
If you want creamier oats, you can add a little bit more milk
To reduce the sugar in this recipe, use a sugar free or reduced sugar strawberry jam.
This recipe is written for once serving, but is super easy to double, triple, or even quadruple.
Nutrition
Calories:
356
kcal
|
Carbohydrates:
67
g
|
Protein:
11
g
|
Fat:
5
g
|
Saturated Fat:
1
g
|
Cholesterol:
9
mg
|
Sodium:
92
mg
|
Potassium:
390
mg
|
Fiber:
4
g
|
Sugar:
32
g
|
Vitamin A:
80
IU
|
Vitamin C:
3.5
mg
|
Calcium:
220
mg
|
Iron:
1.9
mg