Eggs and canned tuna are probably not two things you thought to pair together, but one bite of Nonna's tuna frittata and you'll be convinced it was a meant to be brunch combination. This quick and easy frittata recipe is budget friendly, healthy, and filling for the whole family.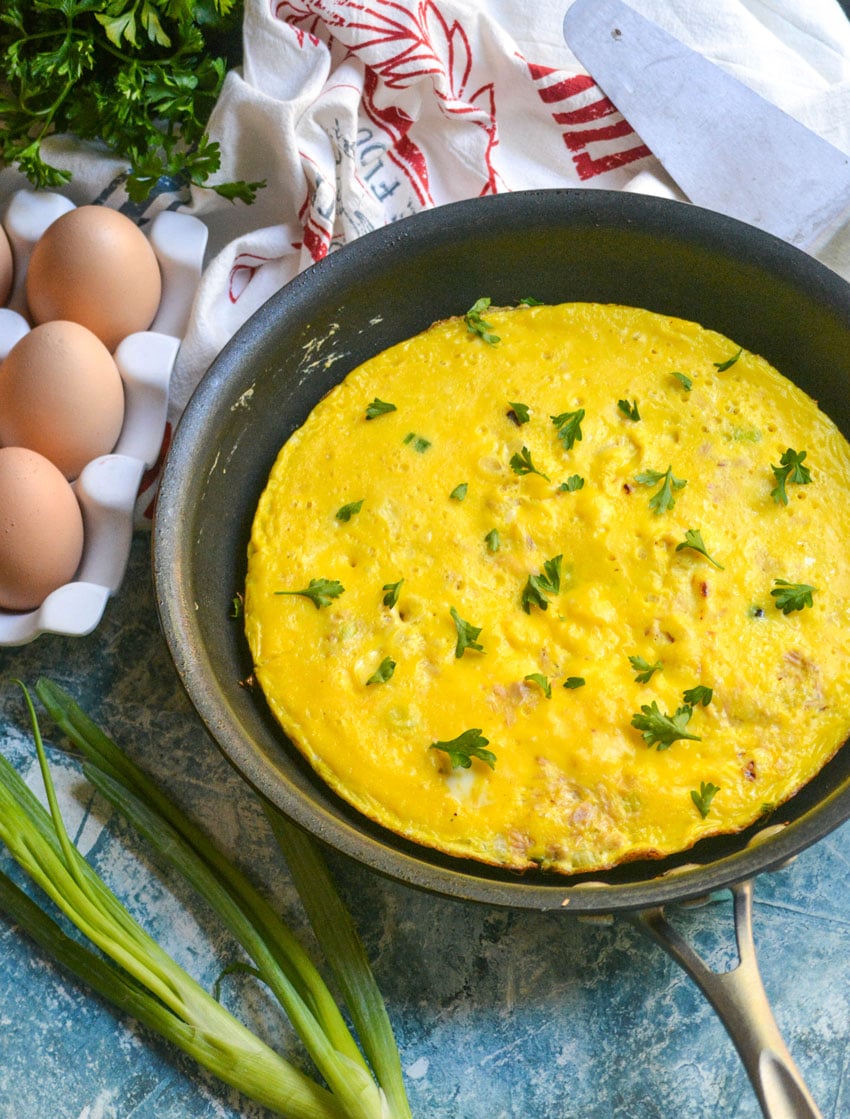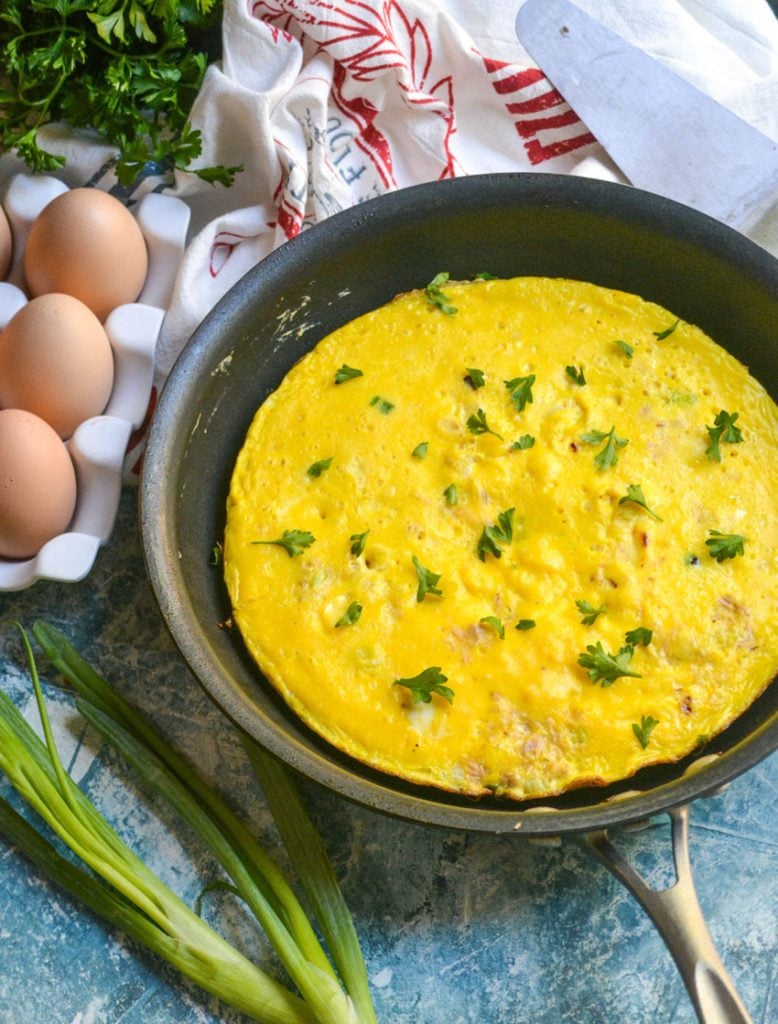 I'm one of those unfortunate people that doesn't believe in a crustless quiche. Sorry. Not really sorry though.
There's either a crust, delicious by the way. Or there's not.
If there's not a crust, then that egg based beauty is a frittata.
There's no wiggle room. At least not in my family's cook book.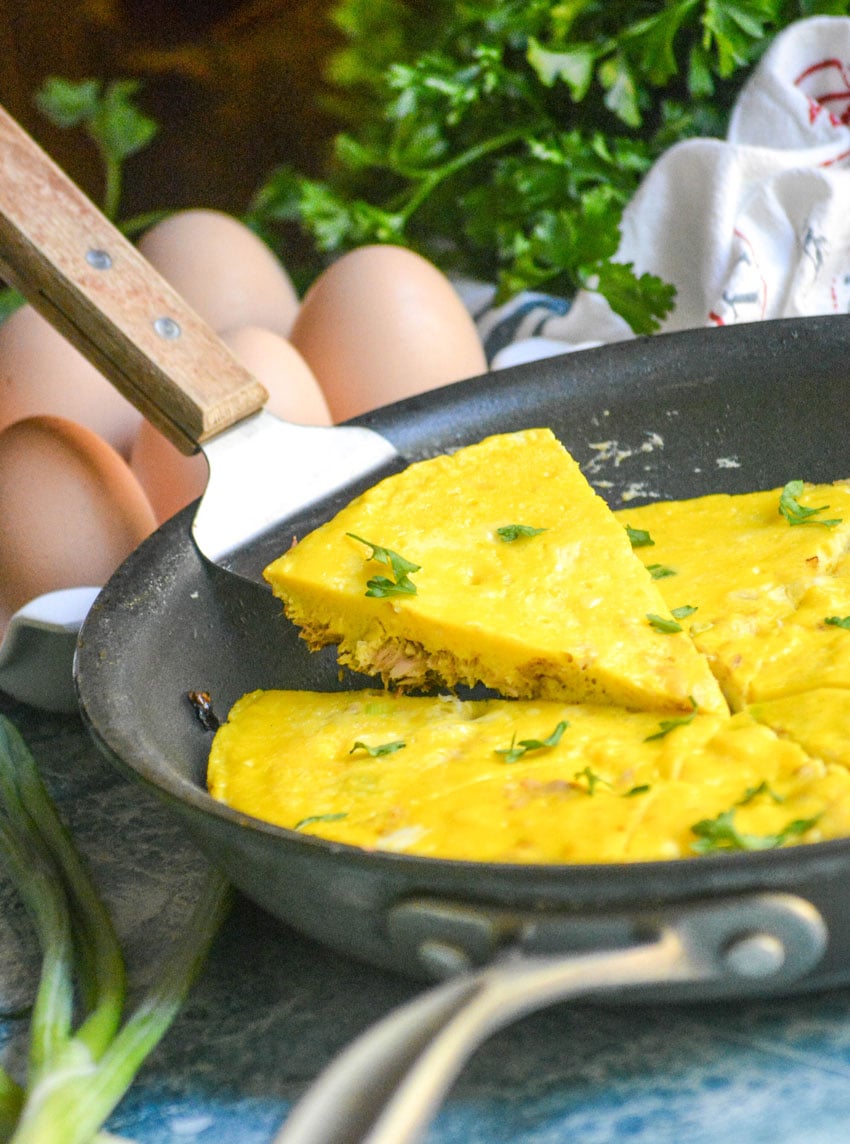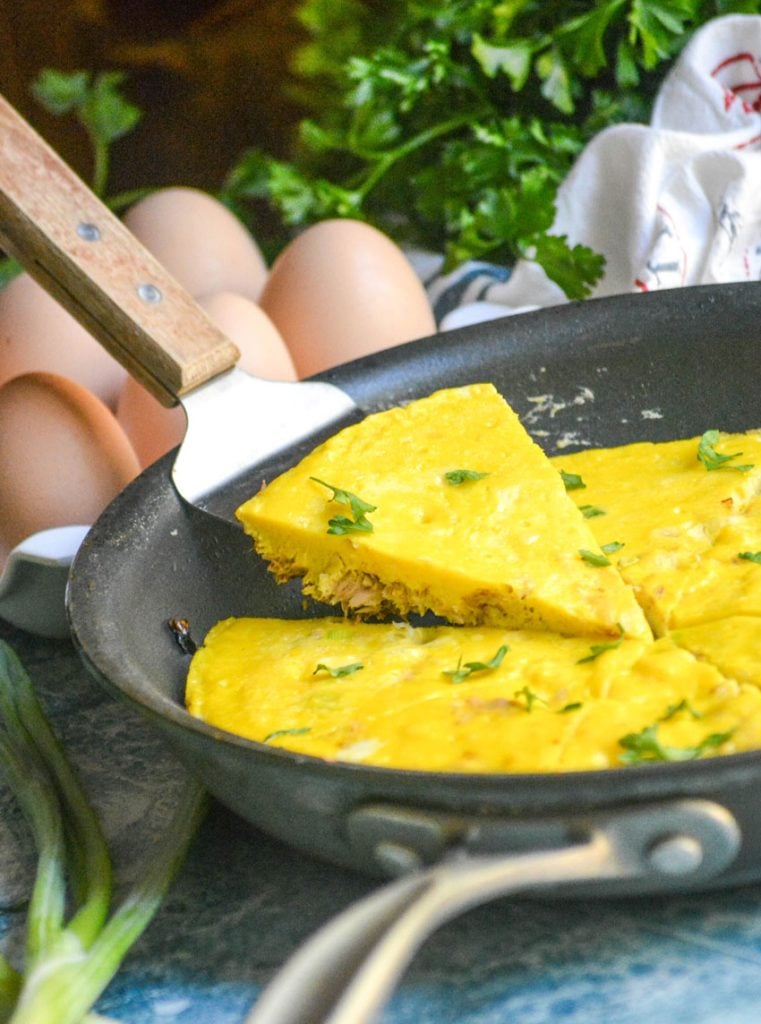 I've always kept canned tuna as a staple in our family's pantry. It's one of those great, shelf-stable options that can go into such a yummy variety of dishes.
We love tuna salad. It makes delicious sandwiches– both for lunch and for sandwich suppers.
We keep chickens too, in case you didn't already know. We don't live on a true farm, but we do what we can on our property.
That being said, I've really become familiar with what you can and can't do with those fresh eggs.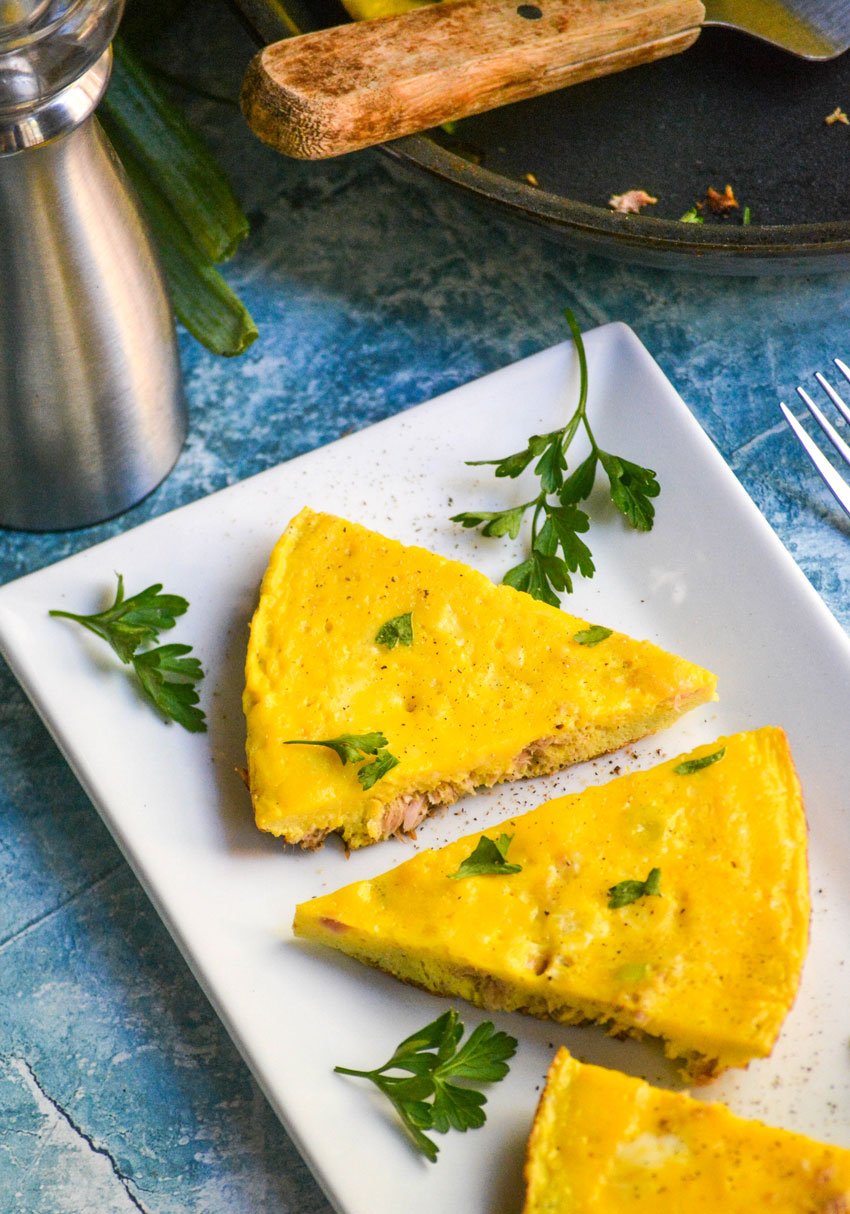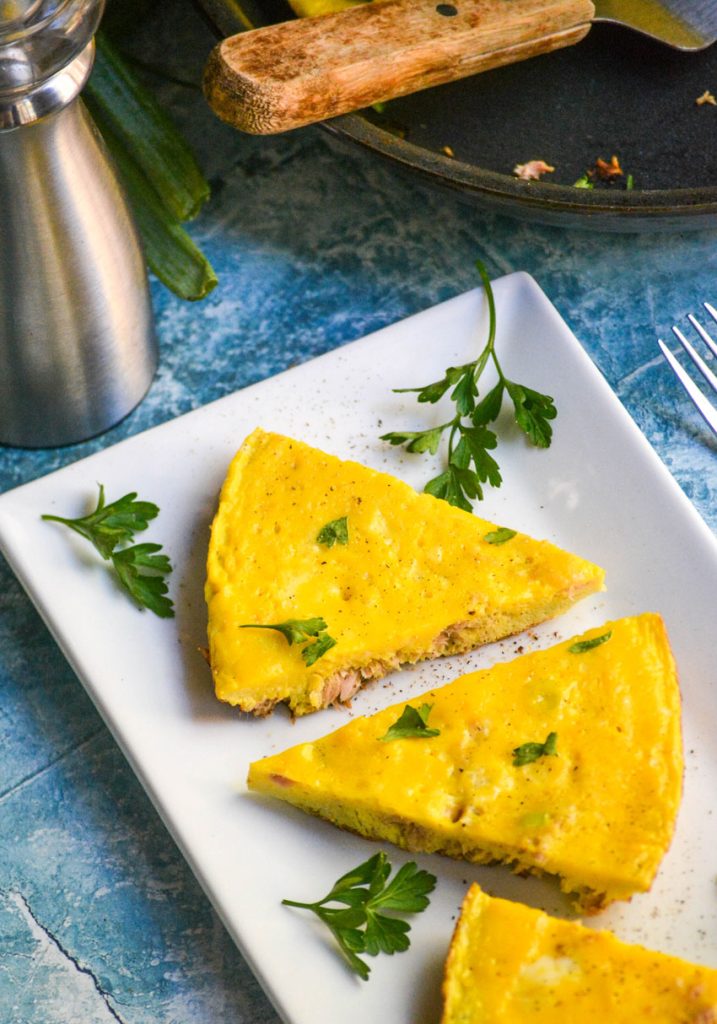 Have you seen the movie Forest Gump? Remember his Army buddy Bubba? How about that montage where he was recounting all the different ways to use shrimp? The different dishes, he list seemed to go on and on.
Well that's pretty much been us over the past several years as we've found all the different ways to prepare and enjoy eggs without getting burnt out on them.
Breakfast favorites are always a staple. Omelets especially seem like an obvious idea. And we've made them aplenty.
With bacon, ham, etc. But canned tuna had never occurred to me!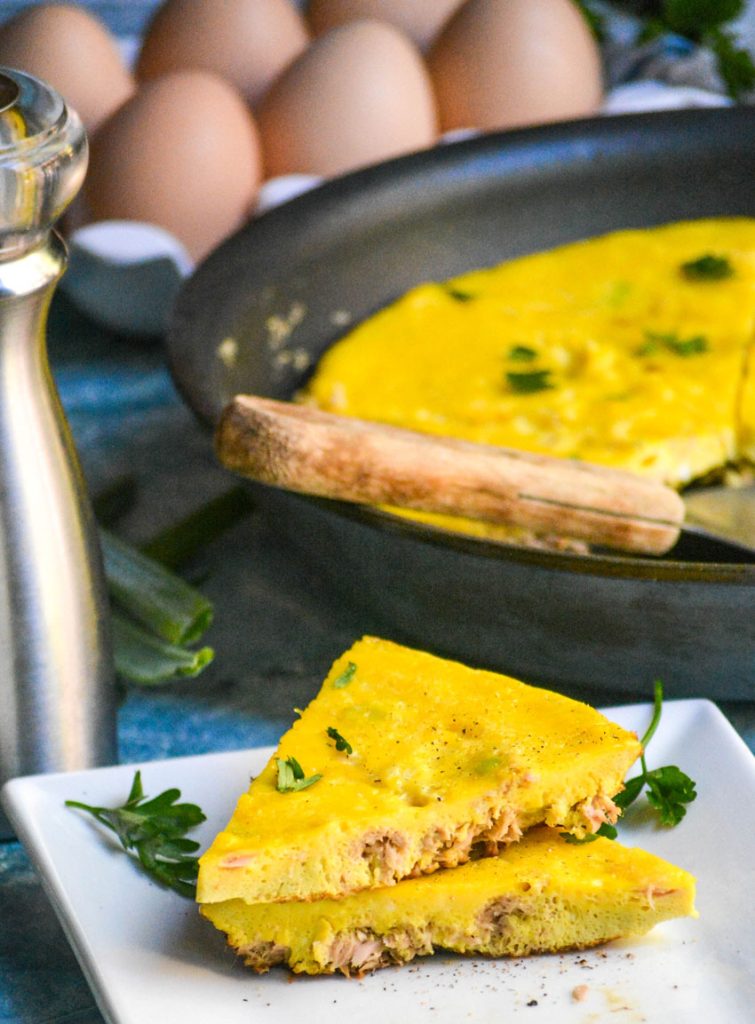 Luckily, my Husband's Italian Nonna was there with a great suggestion from the family cook book.
Growing up trying to make their way in a new country on a frugal budget with four children- they were no strangers to budget-friendly recipes that made things stretch. That included the frittata and a little tin of canned tuna.
Frittatas were (and still are) because their a 'kitchen sink' kind of meal. The egg base easily absorbs whatever veggies and flavors you want to throw at it. I never have met a frittata I didn't meet, even this tuna version.
It's an easy breakfast, brunch, or lunch idea. My kids think it's genius, although they swear great Grandma's tastes better- even though it's the same basic recipe. I'm not surprised though, she is pretty magical.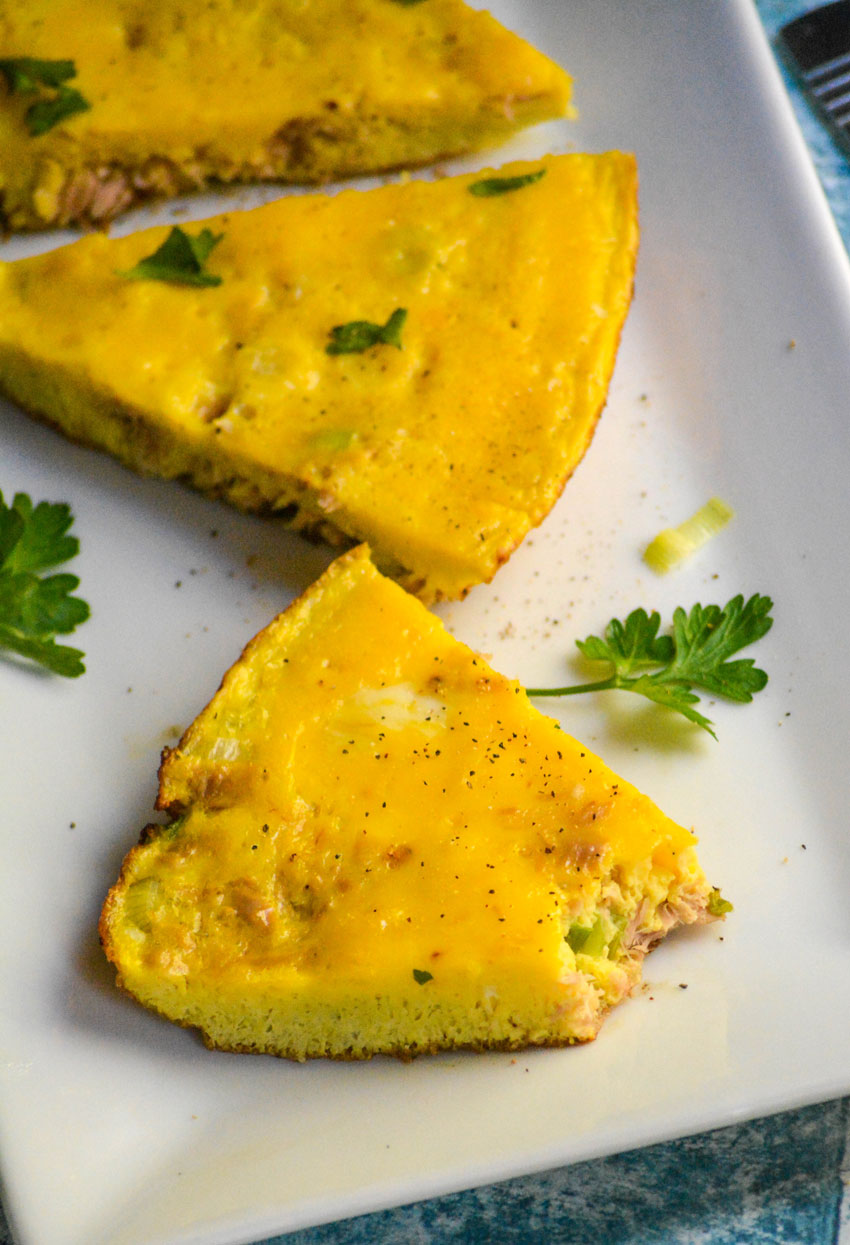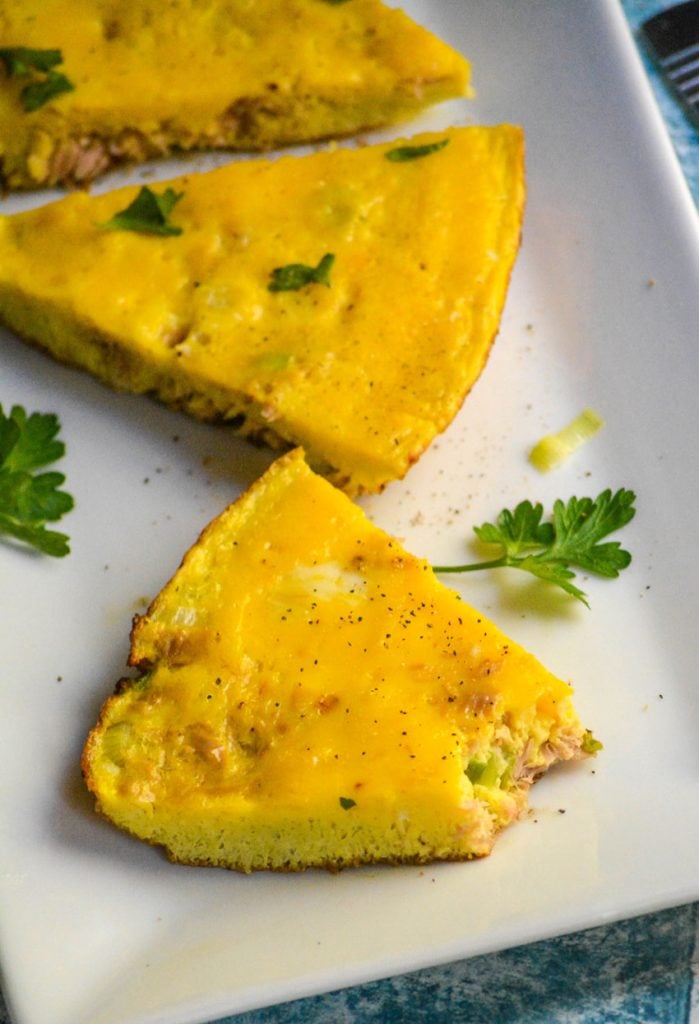 Four simple ingredients are all that stand between you and a delicious, fluffy frittata recipe. The flavors meld perfectly into a delicious brunch-themed skillet dish that may not have been on your radar previously.
Need a little something more? I've always found a bit of garnish can go a long way. I sliver some cherry tomatoes and spoon them out over top of the warm frittata with a sprinkle of Italian seasoning.
This is purely for the Hubs and I as my kids tend to detest any semblance of healthy, but it is so good for more distinguished palates.
From our Nonna's Italian kitchen to yours- our healthy tuna frittata is simple enough for the kids, and flavorfully filling enough for the adults.
Other Frittata Recipes You Might Also Enjoy:
Frittatas are always a delicious option for any meal, and this tuna frittata is always a hit. It's easy, with simple ingredients, but BIG on flavor.
Get some extra protein into your eggs, and check out these other savory options
If you've tried this TUNA FRITTATA, or any other recipe on my site, let me know in the comment section how it turned out, we love hearing from our readers! You can also follow along with me on PINTEREST, FACEBOOK, and INSTAGRAM to see more amazing recipes and whatever else we've got going on!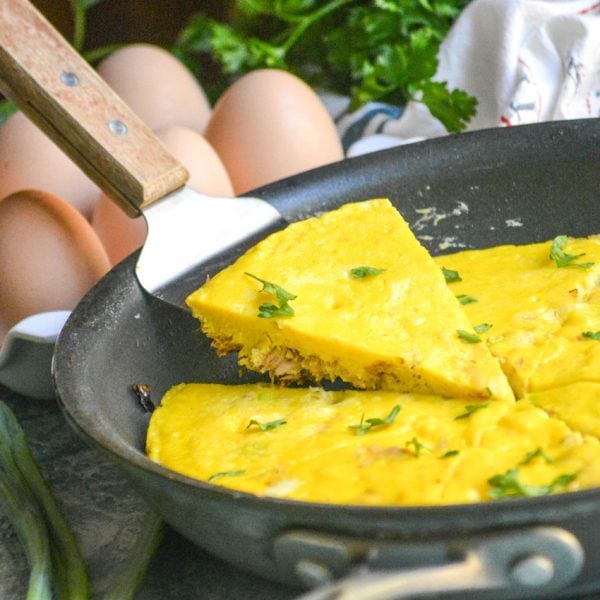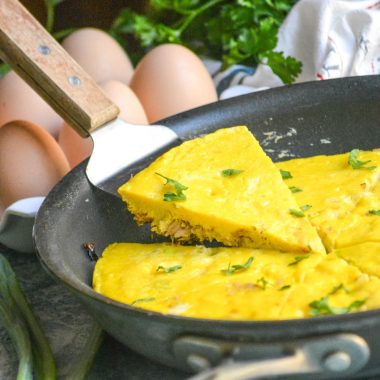 Tuna Frittata
A simple frittata is a great recipe to have on hand for breakfasts, brunches- even for lunch and dinner. This one only needs four simple ingredients including canned tuna for protein. From Nonna's old school Italian kitchen to your table, it is bound to be a hit.
Print
Pin
Rate
Ingredients
1

5 oz can

albacore tuna packed in water

drained & flaked

3-4

green onions

thinly sliced

1 1/2

tsp

minced garlic

8

eggs

beaten
Instructions
Melt the butter in a large non-stick skillet over medium low heat. Once the butter's melted, add the onions and garlic. Saute until they're softened, roughly 3-5 minutes.

Add the tuna, stirring to evenly mix.

Turn the heat up slightly, and pour the eggs out evenly over the tuna mixture.

Allow the frittata to cook for 2-3 minutes until the bottom is set, but the top's still runny.

Reduce the heat slightly, and cover the skillet with a lid. Let the frittata continue to cook until the top's almost set completely.

Run a spatula along the edges to release the frittata from the side of the skillet, and let it sit just until the top's set.

Slice like a pizza, and serve warm.
Nutrition
Calories:
154
kcal
|
Carbohydrates:
1
g
|
Protein:
20
g
|
Fat:
7
g
|
Saturated Fat:
2
g
|
Cholesterol:
240
mg
|
Sodium:
282
mg
|
Potassium:
222
mg
|
Fiber:
1
g
|
Sugar:
1
g
|
Vitamin A:
387
IU
|
Vitamin C:
1
mg
|
Calcium:
45
mg
|
Iron:
2
mg