Fall is a definitive season for many key ingredients and flavors, sweet potatoes chief among them. Our Apple Sauce Sweet Potato Bake is a sweet new spin on a traditional side dish casserole.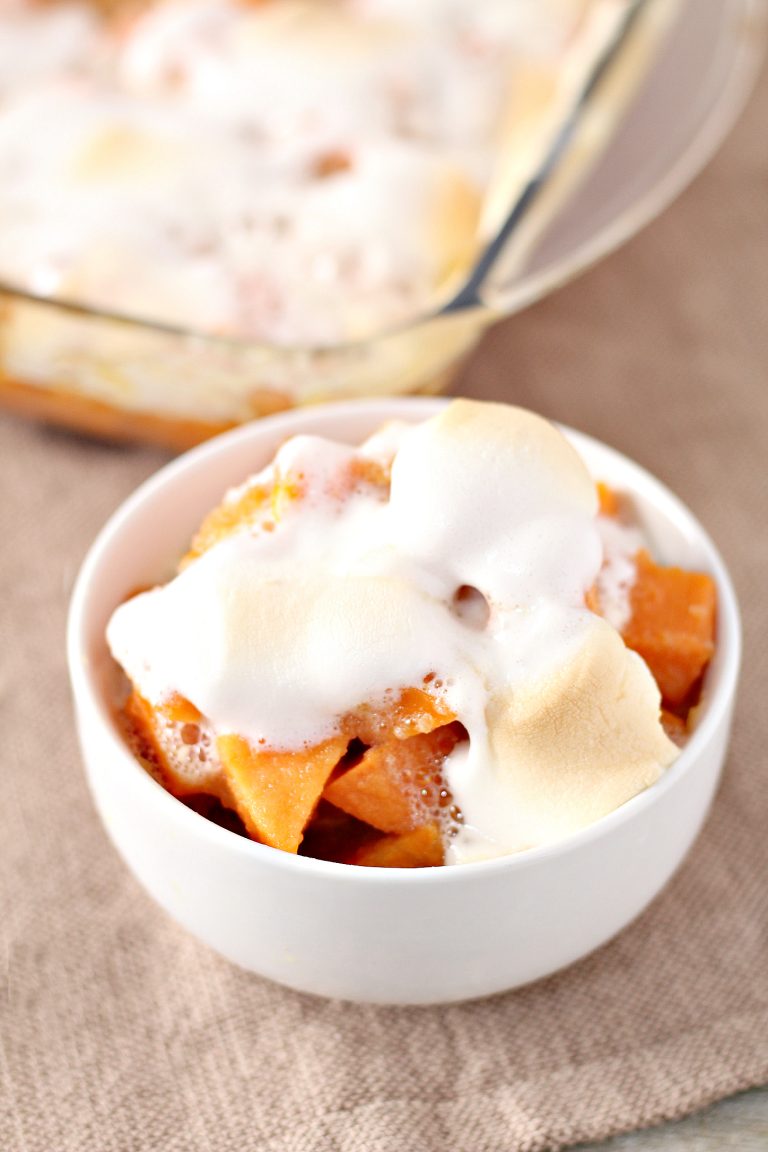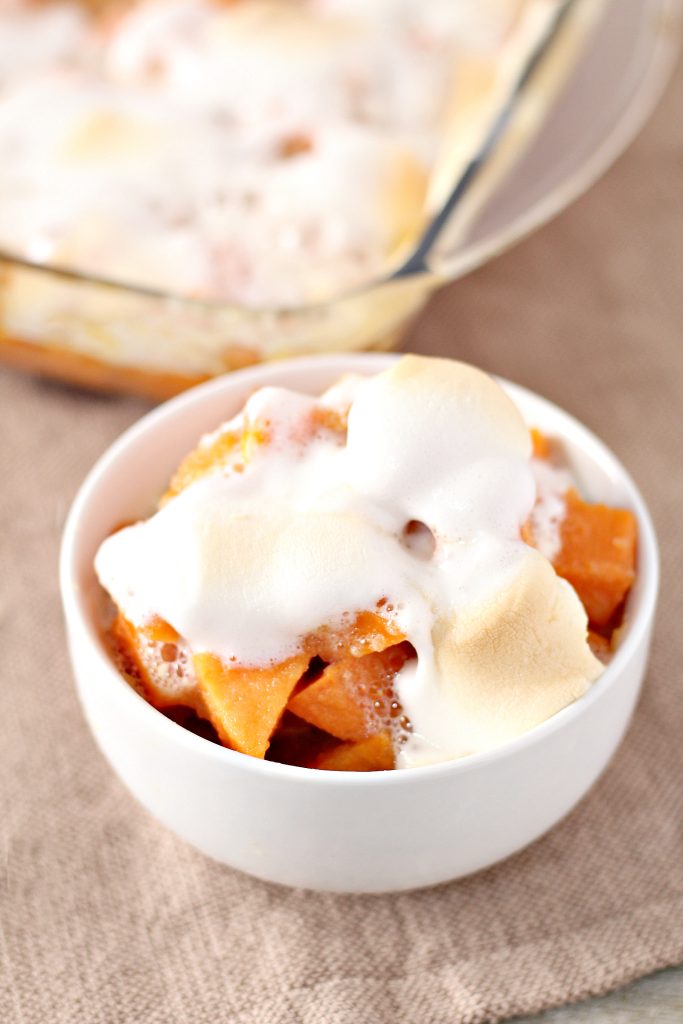 There's so much going on this time of year. I mean, for starters, Halloween just ended.
Unlock the department stores, let the holiday cheer (and cheering) commence. See we, well actually me, have a teensy bit of a rigid code. One that binds us. It won't let us decorate a thing until the day after Halloween.
No wiggle room; not even a smidge.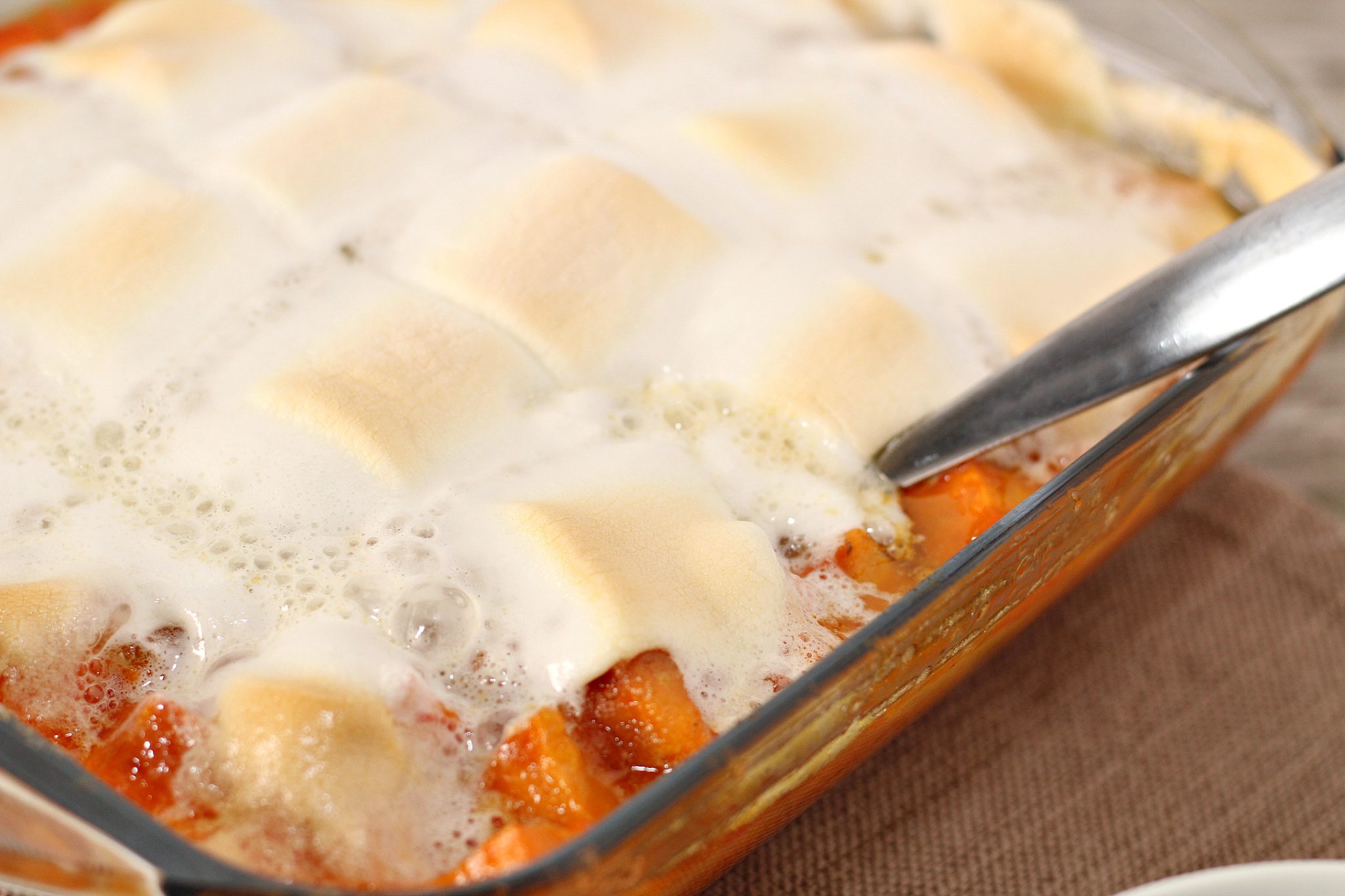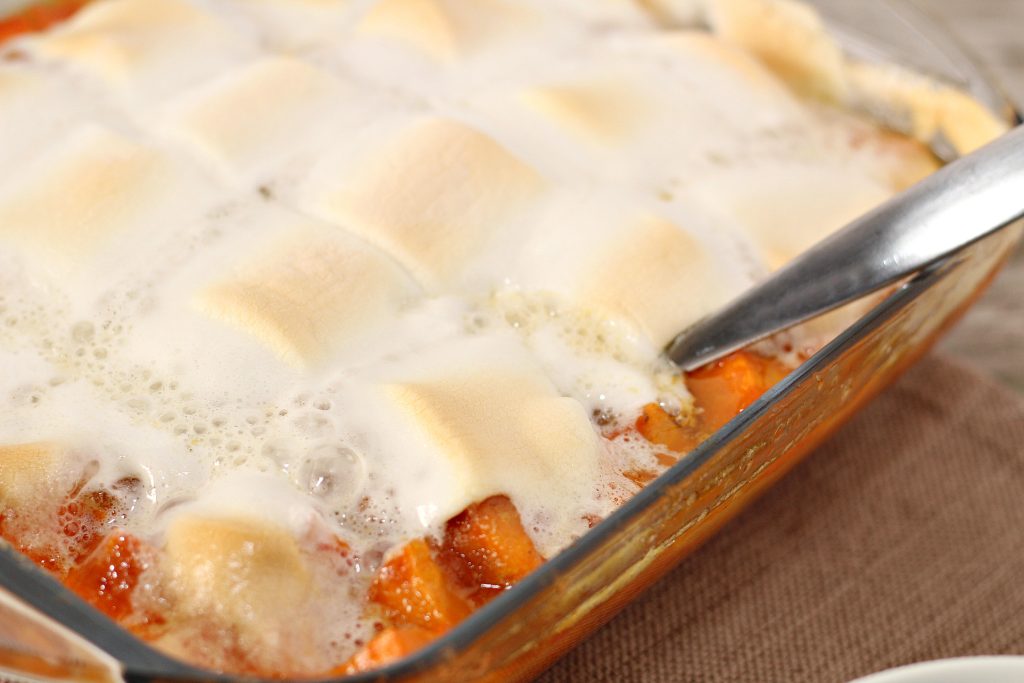 Well it's 2018 and it's also the third of November, and I can tell you that my home is already decorated to the nines.
Actually, that may be a bit of a stretch. My living room and my kitchen are decorated as such. The rest of my home, well that will have to wait until the 'holiday' season gets a little bit closer.
In the meantime, the rest of us- or me at the least- are going to run headlong into the flavors of the season.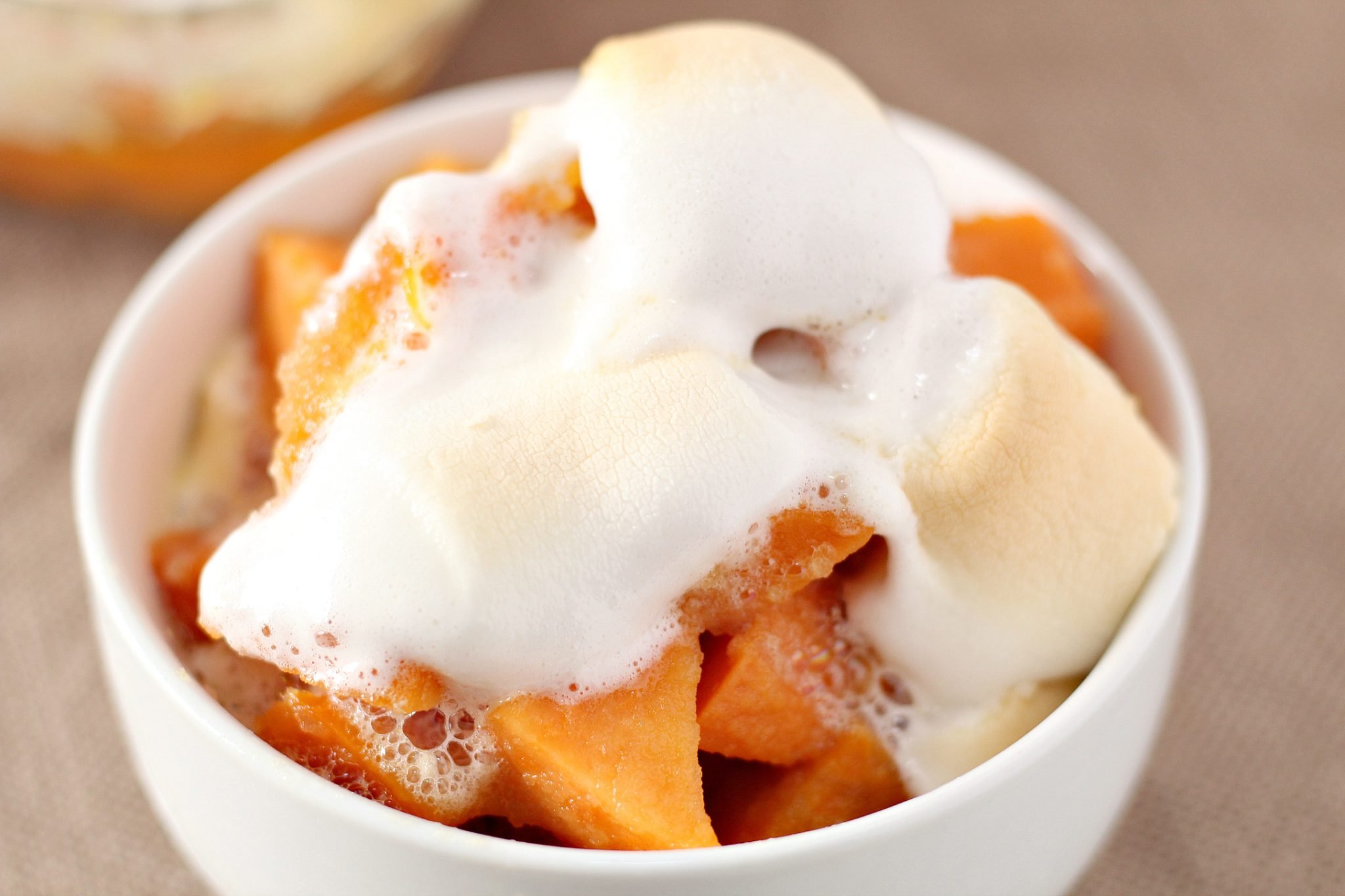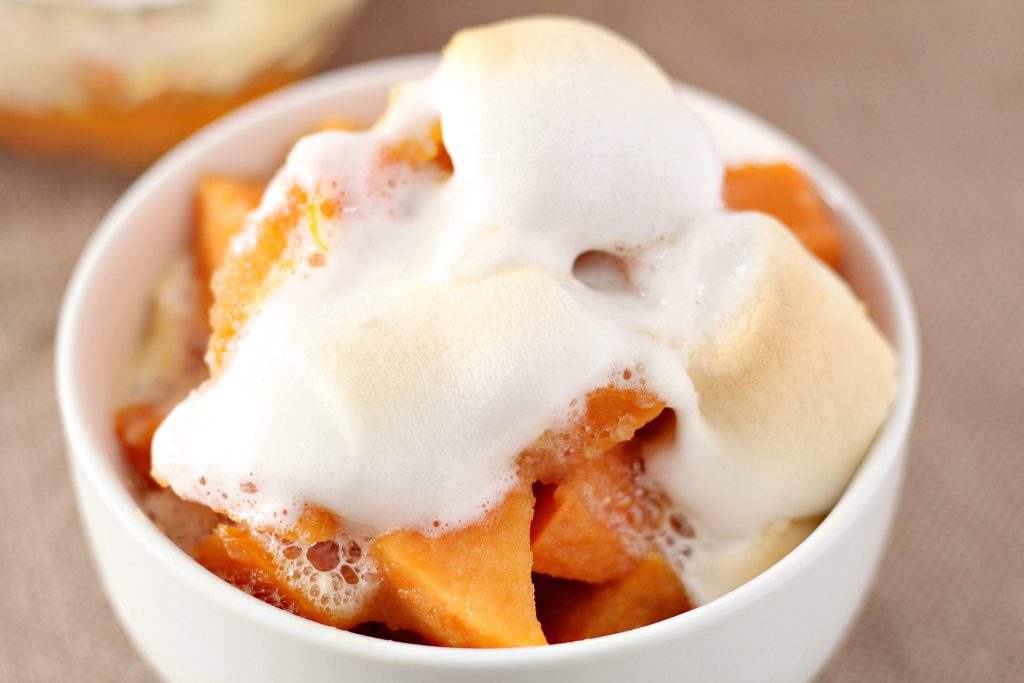 The Hubs even jumped on the bandwagon today at Costco, which would explain why a 10 lb bag of sweet potatoes ended up in my cart. Ya know, uninvited by me, the buyer, and all.
Oh well, at least they're healthy! And in season.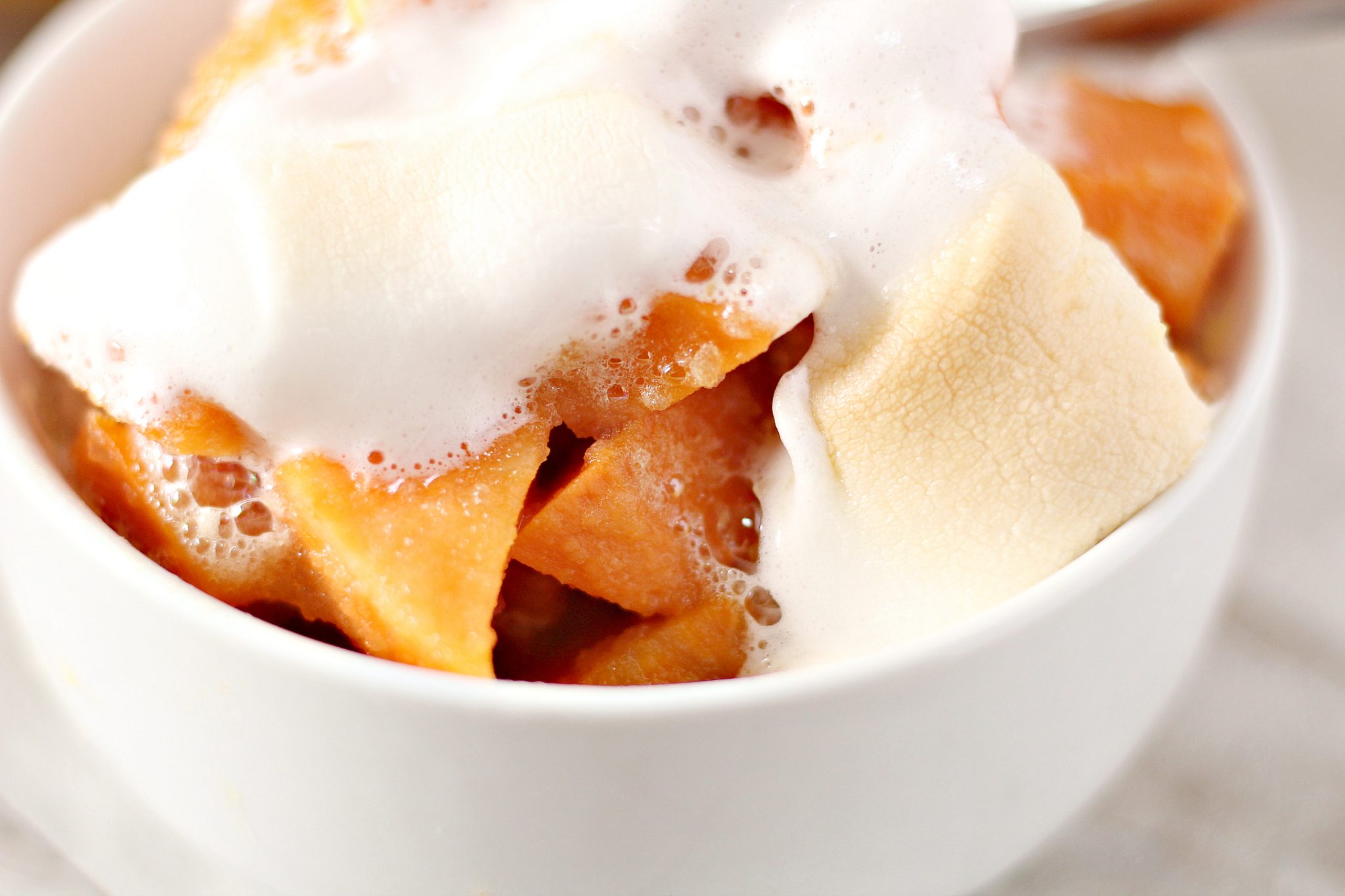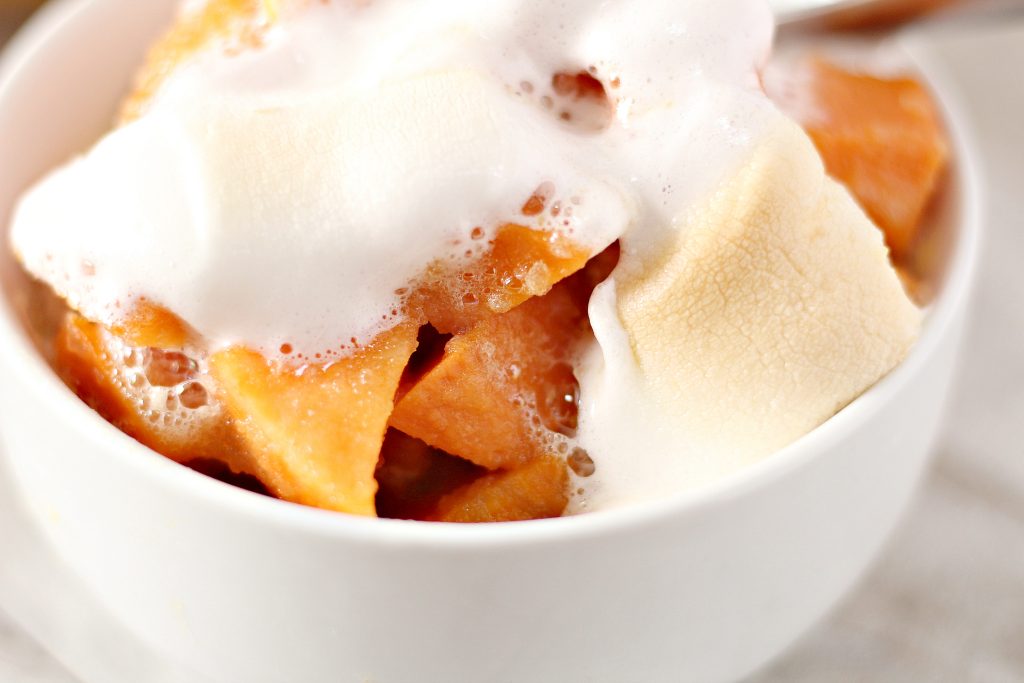 They just fueled my fire to get on the holiday-themed recipe bandwagon. I mean sweet potatoes aren't only a Fall staple, especially when it comes to root vegetables. They're a festive staple too for virtually any, and every, Thanksgiving spread. Sometimes even Christmas too!
Everyone I know tends to mash them, stir them with a ton of melted butter & sugar, put them into a casserole dish, and bake them topped with marshmallows that melt in the oven.
It's good, don't get me wrong- but I wanted a different spin on the classic, tried and true version. I found it and more with my Apple Sauce Sweet Potato Bake.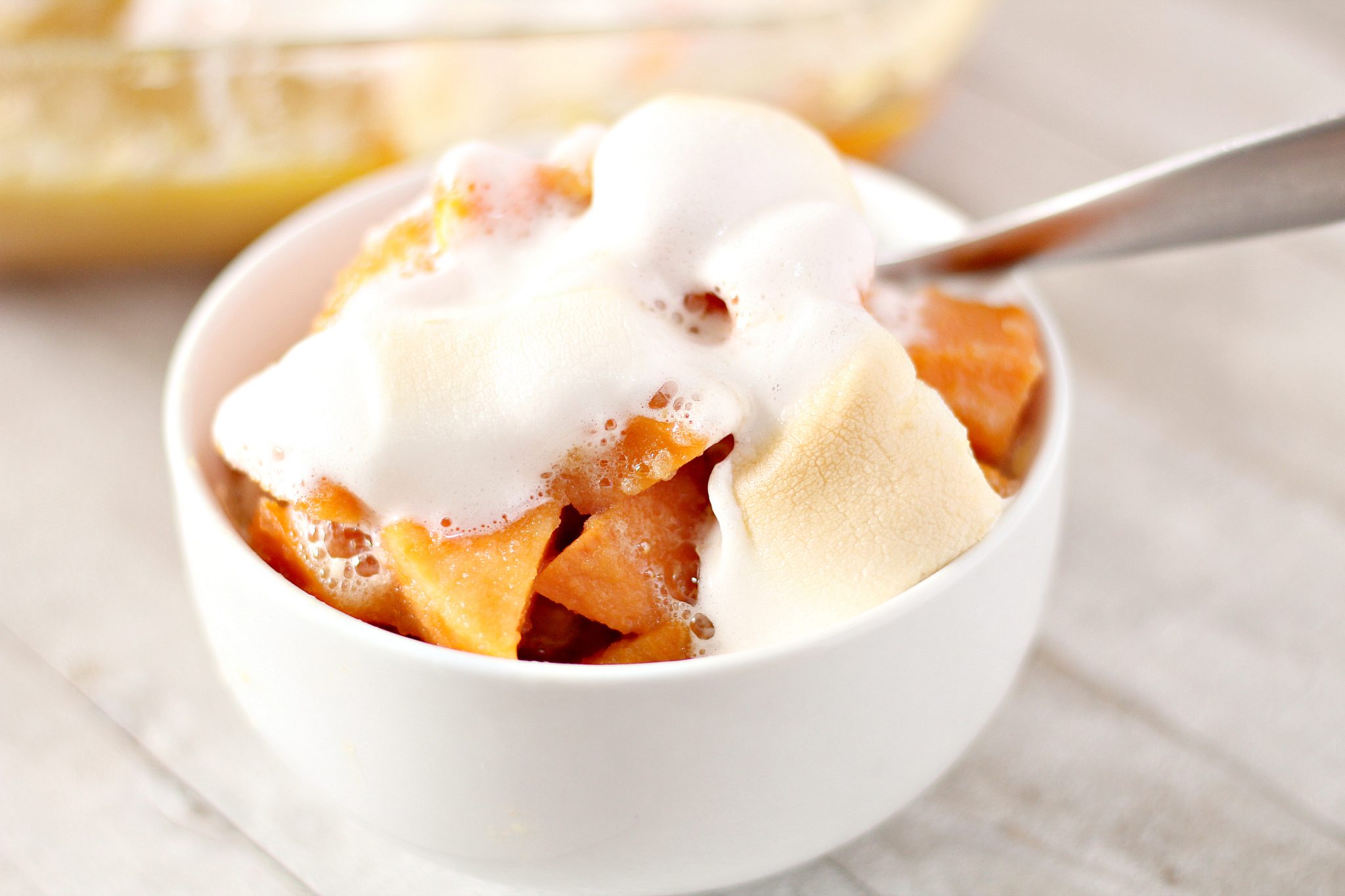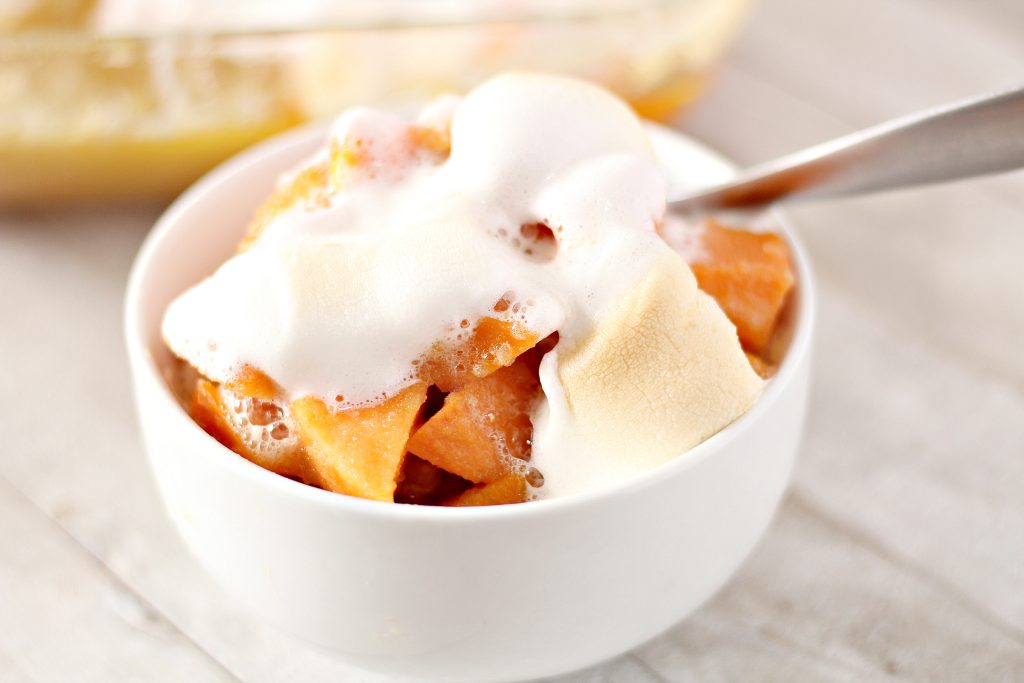 Instead of mashing the sweet potatoes, I opted to soft boil them- just until tender, and then leave them untouched. A little bit of texture alone, albeit in chunky form, can be a great thing to liven things up.
3/4 of a cup of apple sauce is spread evenly out over the bottom of a greased casserole dish. The cooked, and drained, potatoes are then spread out into the dish. Sprinkle a 1/2 cup of brown sugar evenly out over the potatoes, and then pour the remaining applesauce out over top of the dish.
Spoon the melted butter over top of the apple sauce, then the remaining brown sugar. MMM, can you just picture how great this is all gonna come together and taste?! Shoot, I'm not sure I can get through writing it without grabbing another bowl full for myself. Back to the recipe though…
The Apple Sauce Sweet Potato Bake is then baked in the oven at 375 degrees for 30 minutes. The dish is then removed, the marshmallows placed evenly on top, and baked again for an additional 5 minutes. The result is a sweet, savory sweet potato casserole with a smooth, creamy melted marshmallows topping.
Yes, we still use butter, brown sugar, and marshmallows- but a lot less, which allows more of that natural flavor to shine through, just slightly enhanced. This is a dish firmly entrenched in the side dish category, and not so sweet that it could loosely be dubbed dessert.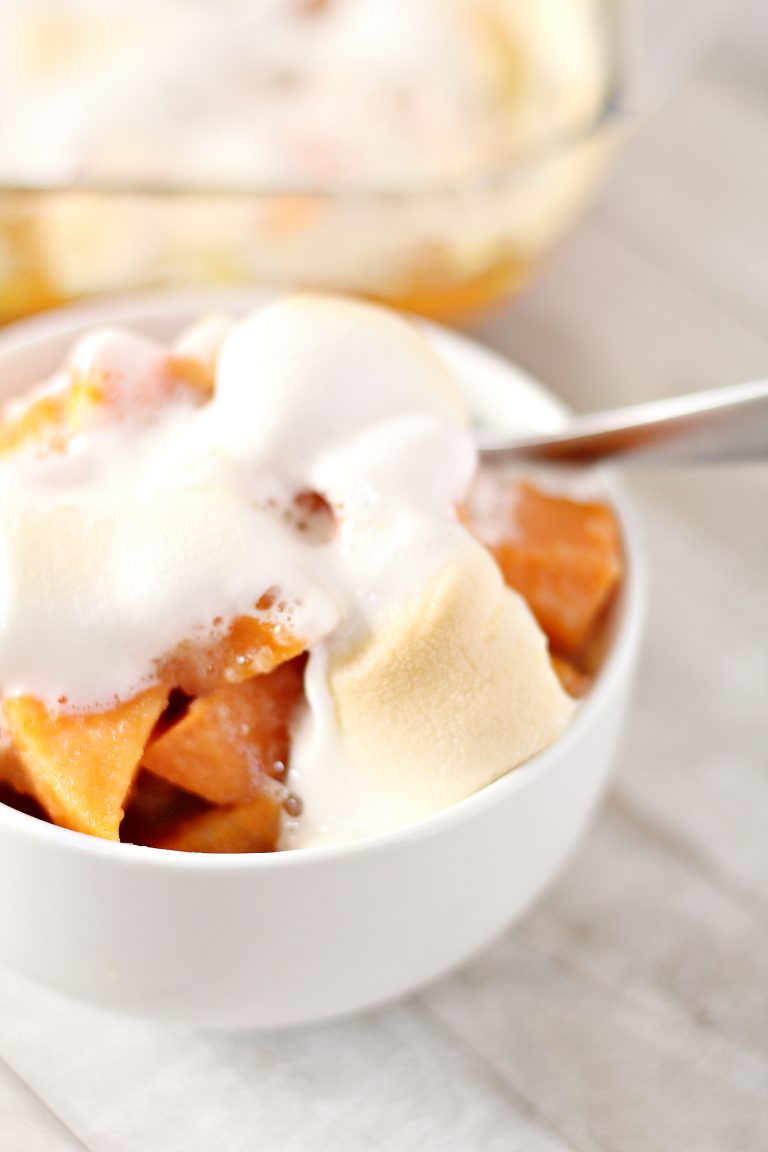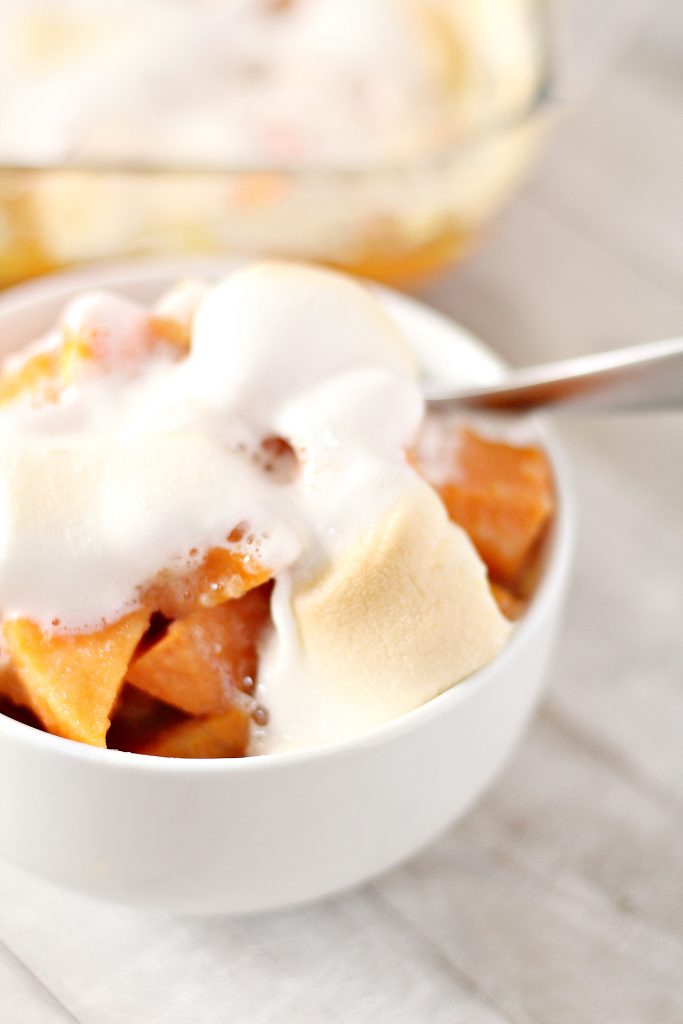 A yummy side dish, this Apple Sauce Sweet Potato Bake features tender, creamy chunks of boiled sweet potatoes bathed in a mixture of apple sauce, brown sugar, and melted butter. Topped with gooey, gooey marshmallows, it's bound to be a new staple at any major dinner event in the cold weather months.
Other Side Dish Recipes You Might Also Enjoy: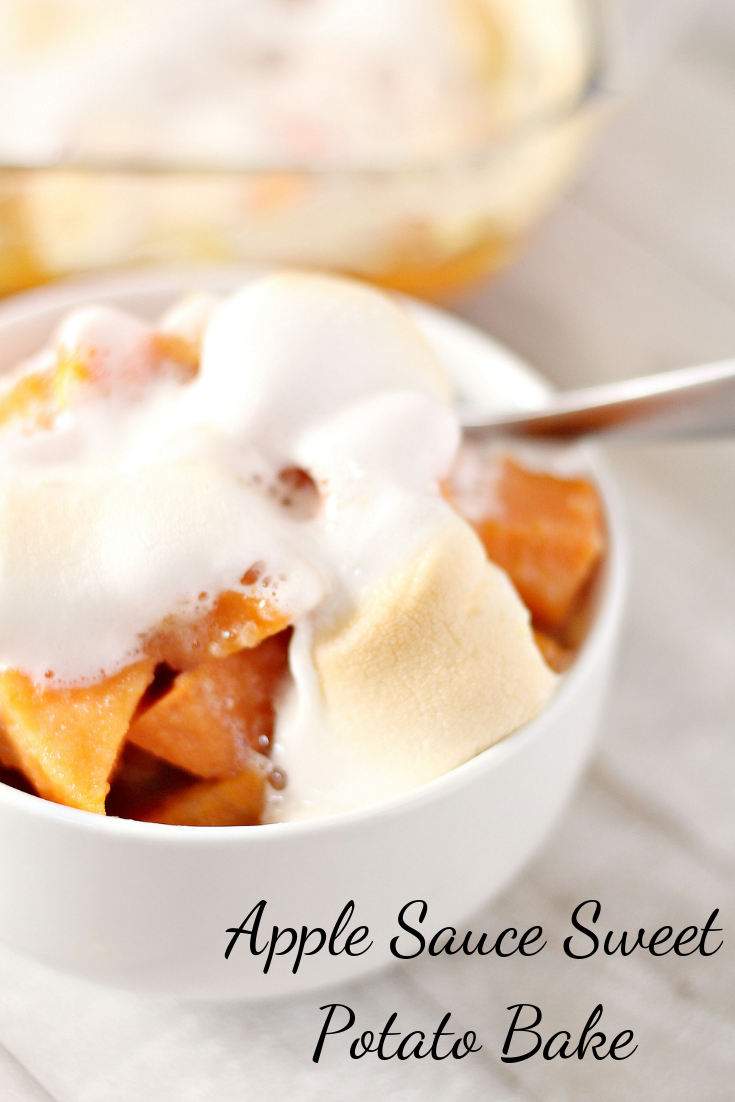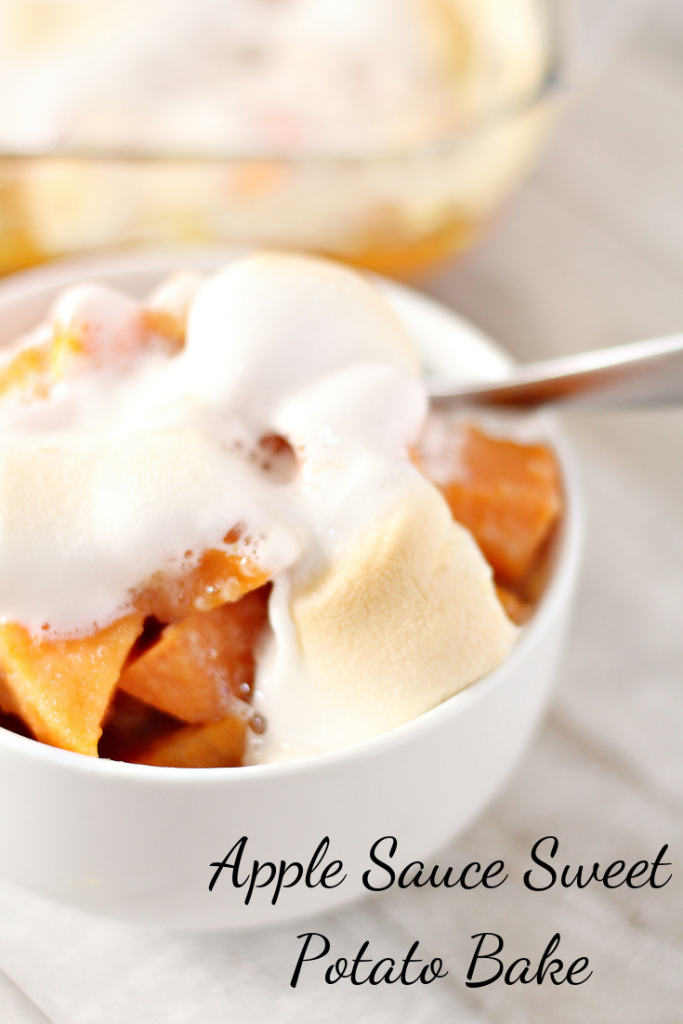 If you've tried this APPLE SAUCE SWEET POTATO BAKE, or any other recipe on my site, let me know in the comment section how it turned out, we love hearing from our readers! You can also follow along with me on PINTEREST, FACEBOOK, and INSTAGRAM to see more amazing recipes and whatever else we've got going on!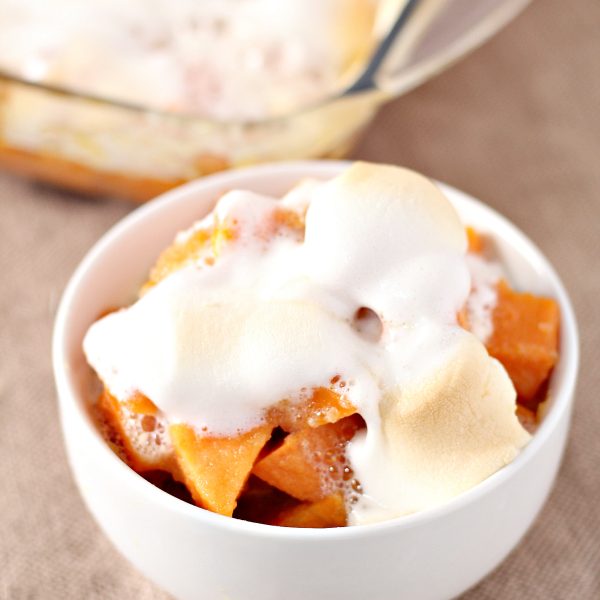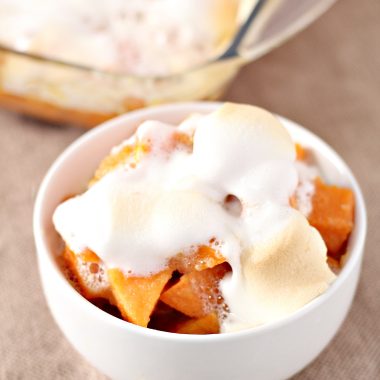 Applesauce Sweet Potato Bake
Fall is a definitive season for many key ingredients and flavors, sweet potatoes chief among them. Our Apple Sauce Sweet Potato Bake is a sweet new spin on a traditional side dish casserole.
Print
Pin
Rate
Ingredients
4-5

sweet potatoes

1 3/4

cups

apple sauce

3

tbsp

butter

1

cup

brown sugar

12

marshmallows
Instructions
Start by boiling your potatoes until tender. Do not let them get mushy.

Let cool and peel.

Dice up peeled potatoes into cubes.

Grease a glass baking dish and pour 3/4 of your applesauce into the bottom.

Place diced potatoes on top.

Sprinkle potatoes with 1/2 a cup of brown sugar.

Pour the remaining applesauce on top, and spoon butter on top of that.

Sprinkle with remaining brown sugar.

Bake at 375 degrees for 30 minutes.

Pull from oven and place marshmallows on top.

Bake for an additional 5 minutes.

Serve an enjoy.
Nutrition
Calories:
295
kcal
|
Carbohydrates:
64
g
|
Protein:
2
g
|
Fat:
4
g
|
Saturated Fat:
3
g
|
Polyunsaturated Fat:
0.2
g
|
Monounsaturated Fat:
1
g
|
Trans Fat:
0.2
g
|
Cholesterol:
11
mg
|
Sodium:
113
mg
|
Potassium:
459
mg
|
Fiber:
4
g
|
Sugar:
42
g
|
Vitamin A:
16178
IU
|
Vitamin C:
3
mg
|
Calcium:
60
mg
|
Iron:
1
mg