Copy cat Panera Bread kitchen sink cookies are a deliciously firm but chewy cookie loaded with salty sweet goodness. This kitchen sink cookie recipe yields cookies that taste exactly like the Panera kitchen sink cookies. Serve them to your friends and family and watch them disappear in a second!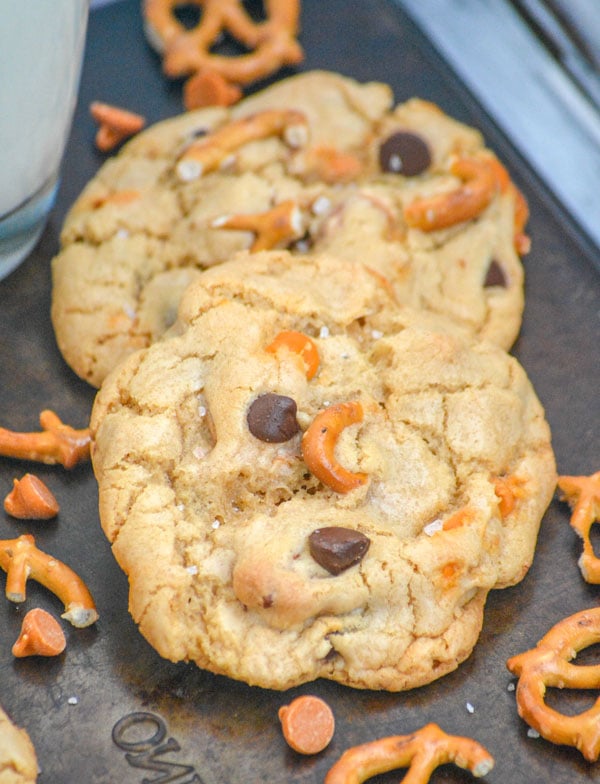 I know I've told you before when I gave you my recipe for copy cat Panera mac and cheese, but I absolutely adore Panera. If it were more budget friendly, my family and I would eat there several times a week.
As it is, I go more than I should. And every time I find myself at Panera, I always buy one of their kitchen sink cookies.
Have you ever had one of their kitchen sink cookies? They are a fantastic combination of flavors and textures.
The outside edges of the cookies are perfectly crisp, but the cookies still have that perfectly chewy center that I love so much. Plus, they are loaded with so many toppings.
As written, this kitchen sink cookie recipe uses broken pretzel pieces, caramel bits, and chocolate chips. It really is a flavor explosion.
Plus these cookies have a lovely mildly nutty caramel background in the flavor from the browned butter base.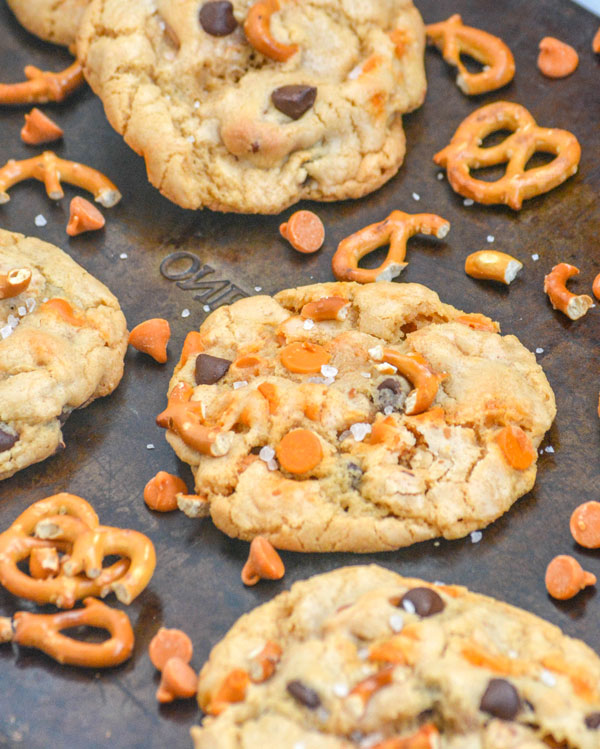 Brown Butter: the Secret to Perfectly Flavored Kitchen Sink Cookies
Yep, that's right, I'm not using room temperature butter here the way you would in most cookie recipes but browned butter.
Have you ever had brown butter? It's absolutely luscious. It becomes nutty and caramely.
You make brown butter by cooking butter over low heat on the stove top.
As the butter melts, the butterfat separates from the milk solids. The solids will drop to the bottom of your skillet and turn into dark yellow to light golden brown as the butter cooks.
Making brown butter isn't hard but it does require a bit of time and attention. It's not something you can walk away from.
You have to be a little careful because if you burn the brown butter the deliciously nutty flavor won't be so delicious anymore. Butter can go from brown to burnt easily, and that's the quickest way to ruin an otherwise delicious dessert recipe.
To make brown butter, slice two sticks of butter into even pieces and put them in a skillet over low heat. Whisk frequently as the butter melts.
Watch for brown bits to form on the bottom of the pan. The butter will be a light golden brown and smelly nutty when it's done.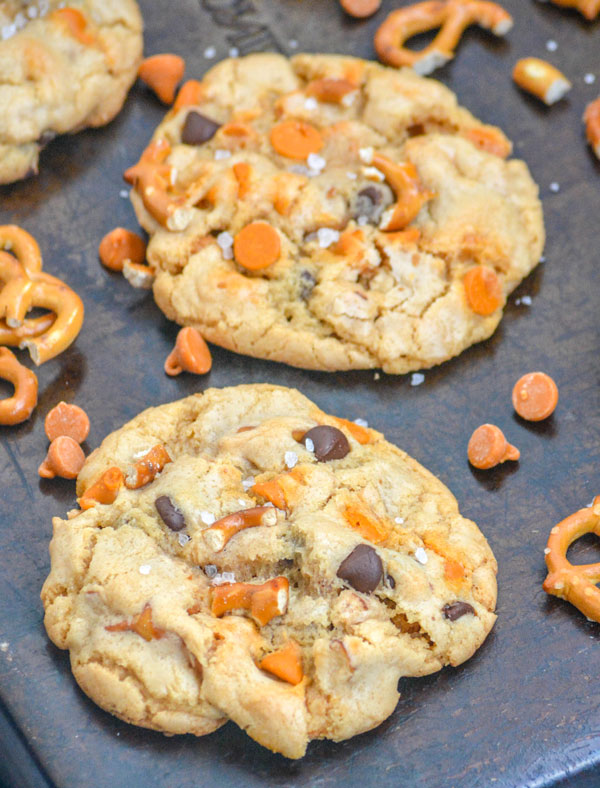 How to Make Kitchen Sink Cookies
Now that you've got your browned butter, you're ready to make your copy cat Panera Bread kitchen sink cookies. Making them at this point is very similar to making other cookie recipes.
You can start by adding the browned butter and sugars to a stand mixer fitted with the paddle attachment. Cream them together until they are smooth, then mix in the vanilla.
Now you can let the mixture rest until it is completely cool. Once the mixture is cool, add the eggs to the mixture one at a time. Beat the mixture after you add each egg.
In a separate bowl, whisk together your dry ingredients. Then you can add them in a little at a time, mixing on low until the dry ingredients are evenly incorporated into the wet ingredients.
Once you've fully incorporated the dry ingredients into the wet ingredients, you can fold in all your toppings.
Now, you can use a large cookie scoop to scoop your dough into balls that you place roughly 2 inches apart on a prepared cookie sheet.
Before you bake the cookies, flatten them slightly and press a few extra pieces of pretzel, caramel and chocolate chips right into the top of each cookie. Then top each with a little flaked sea salt.
Bake the cookies at 350 for 10 minutes. This recipe makes about 2.5 dozen cookies, using roughly 3 tbs of dough per cookie.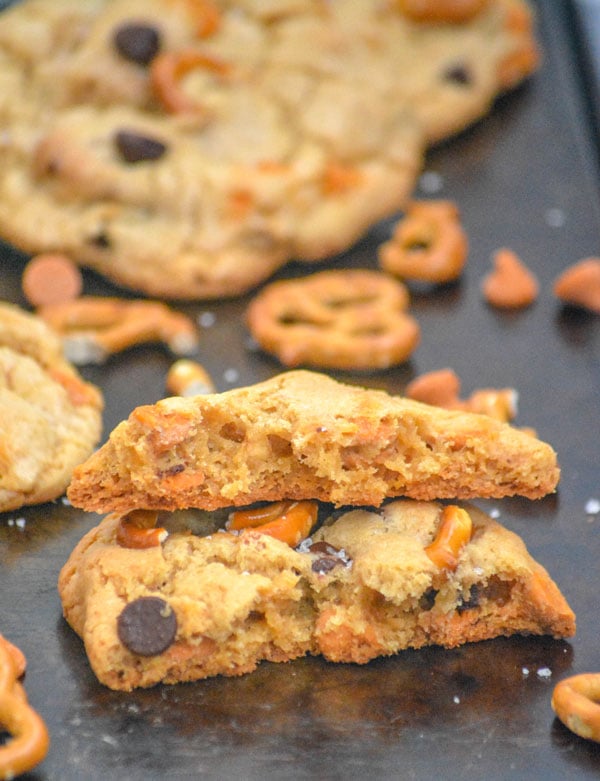 Tips and Tricks for Making the Yummiest Kitchen Sink Cookies Ever
While you can use regular melted butter in place of the brown butter, I highly recommend using brown butter for the extra nutty caramel flavor.
You can definitely change the mix ins if you like. White chocolate chips and dried cranberries would give these cookies a really Christmas-y feel.
While you can just prep your baking sheet by spraying it with nonstick spray, you can also use parchment paper or a nonstick silicone baking mat.
You don't have to press any extra toppings into the tops of your cookies, but this trick does result in really pretty, polished looking bakery style cookies.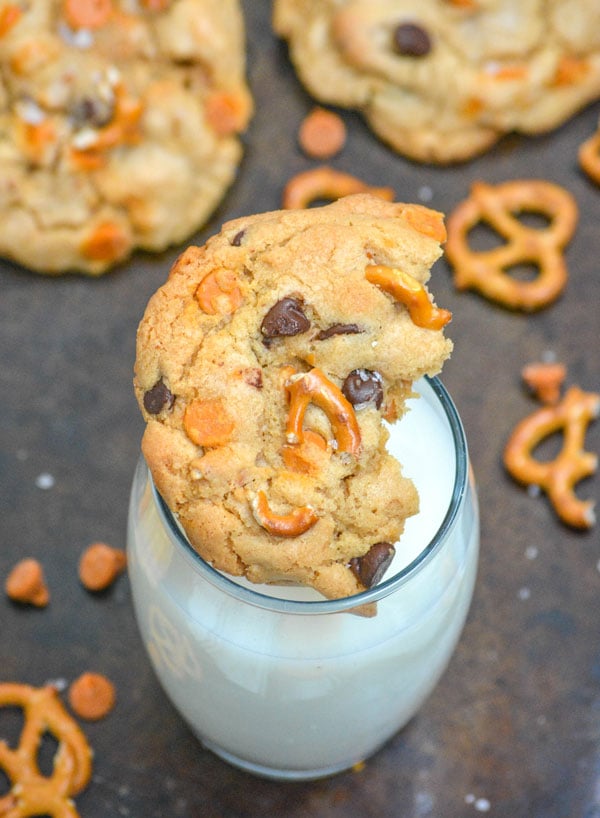 Other Brown Butter Cookie Recipes To Try
These brown butter copy cat Panera Bread kitchen sink cookies are a spot on substitute for the Panera favorite. Make a batch today and see for yourself.
Looking to make a big cookie spread for the holidays? Here are some other brown butter cookies you might love:
If you've tried these COPY CAT PANERA BREAD KITCHEN SINK COOKIES, or any other recipe on the site, let me know in the comment section how it turned out, we love hearing from our readers! You can also follow along with me on PINTEREST, FACEBOOK, and INSTAGRAM to see more amazing recipes and whatever else we've got going on!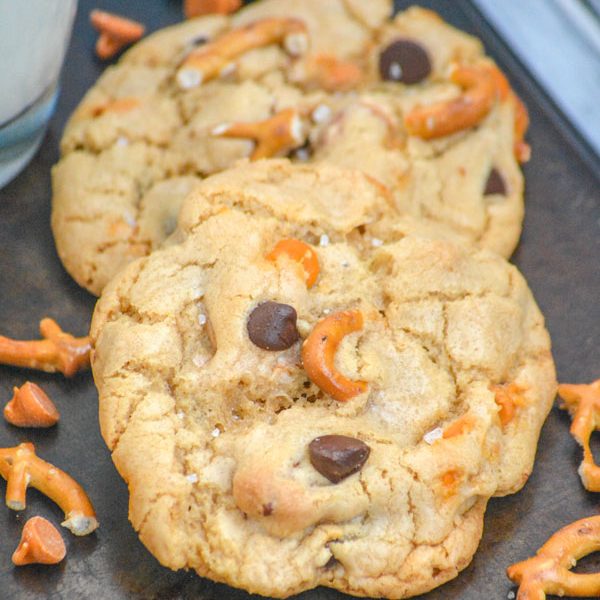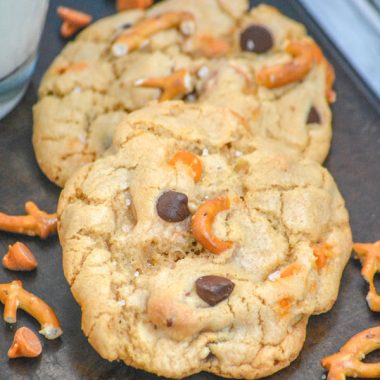 Copy Cat Panera Bread Kitchen Sink Cookies
Firm but chewy, slightly caramelized cookies loaded with sweet bits of caramel and chocolate are given a salty finish with pretzel pieces & a dusting of flaked sea salt. These cookies are an easy spot on copy cat of our of our favorite restaurants best sweet treats
Print
Pin
Rate
Ingredients
1

cup

butter

browned

2

tsp

vanilla extract

1 1/2

cups

packed brown sugar

1/2

cup

sugar

2

eggs

2 1/2

cups

flour

2 1/2

tsp

baking powder

1/2

tsp

salt

3/4

cup

broken pretzel pieces

1

cup

caramel bites

1

cup

semi sweet chocolate chips

sea salt

for garnish
Instructions
In the bowl of a stand mixer fitted with the paddle attachment, add the butter & sugars and cream them together until smooth. Mix in the vanilla extract, and let the mixture rest until completely cooled.

Add in the eggs one at a time, mixing them in until each one's evenly incorporated.

In a separate mixing bowl whisk together the dry ingredients- flour, baking powder, & salt until evenly mixed.

Slowly add the flour mixture into the mixer, beating on low speed until it's all been incorporated.

Using a spatula, fold in the pretzels, caramel, and chocolate chips until all three have been evenly incorporated.

Prepare a baking sheet by lightly greasing it with non stick spray. Using a larger cookie scoop, scoop the dough out onto the prepared pan, leaving roughly 2 inches between each cookie.

Flatten the cookies slightly, and press a couple extra pieces of pretzels, caramel, or chocolate chips into the top of each cookie.

If desired, sprinkle a bit of flaked sea salt evenly out over the prepared cookies.

Bake the cookies at 350 degrees for 10 minutes. Remove the cookies from the oven, and let them cool on the baking sheet for 5 full minutes.

Using a spatula, transfer the hot cookies to a wire cookie wrack to finish cooling completely.

Serve with a cold glass of milk & enjoy!
Nutrition
Calories:
407
kcal
|
Carbohydrates:
58
g
|
Protein:
4
g
|
Fat:
18
g
|
Saturated Fat:
11
g
|
Cholesterol:
55
mg
|
Sodium:
265
mg
|
Potassium:
214
mg
|
Fiber:
2
g
|
Sugar:
36
g
|
Vitamin A:
416
IU
|
Calcium:
72
mg
|
Iron:
2
mg