For years and years the sons and I would painstakingly agonize over and critique cake designs. Flavor combos. You name it, we were on it. Everything had to be just perfect for their big day! (Now they'd say it has to be on 'fleek' which makes me want to pull my hair out. Gah. I miss simpler days.) As they've gotten older, you could say there interest has waned. This past year with both the older boys, they could have cared less what their cakes looked like. They just wanted cake. And frosting. And ice cream. Because, sugar. It's all about the sugar.
What happened to my sugar?!
Well, unbeknownst to my less than interested involved birthday boy, my sugar-a-holic, I decided to meet this challenge head on. You want sugar? Mama's got sugar! Lots and lots of sugar for ya.
And thus the teen dream, the dream he didn't even know he had, the cake he never knew how badly he wanted, cake was born. A heavily frosted two tier cake, studded with heavenly processed creme filled cakes of pre-packaged perfection.
Behold: The Teen Dream Twinkie Cake. With 15 candles for our birthday boy to make a wish on. Yes, you read that right. I don't care how old they get, they're still gonna be my babies. And I'm still going to cover your cake in candles, light them on fire, and with a tear in my eye and a smile on my face take an annoying amount of pictures while watching you blow them out.
So even though your big day's come and gone I'll still leave you with a little note. Just pretend you're back in elementary school and it's a lunchbox note! Except now you're really in Tech Drawing class sneaking a peek and making sure I didn't say anything too embarrassing 😉
Happy, happy, happiest of birthdays to my guy, my picky —–, my original little engineer, our very own little Spider man (or would it be spider monkey?). Neither of us can believe you're 15! This is just crazy. Dad and I have enjoyed every minute of watching you grow into quite the young man, the gentleman, with the equally gentle and generous soul to match. So, go ahead with your bad self (and your suns out guns out tank top) and rock that six pack you've worked so hard for, because your heart of gold outshines it all 🙂 We love you and pray that all of your dreams come true, just like ours did in being blessed to be your parents.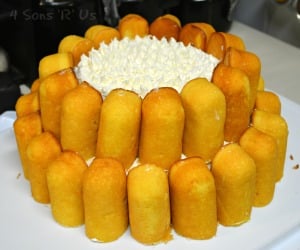 Ingredients
2

boxes of store-bought yellow cake mix

+ the ingredients called for on the box

2

cans of whipped vanilla frosting

4 boxes of 8 Count Twinkies

9

″ baking pans

6″ baking pan
Instructions
Make two 9″ round cakes using one of the boxed cake mixes. Make and bake according to the package directions. From the second box you're going to make one additional 6″ round cake. Make the 6″ cake as tall as you can in your cake pan. You want the extra height to compensate for it being a single layer. There will be some leftover.

After they've baked and cooled, find a base for your cake, such as a cake stand or a cake carrier, and frost one of the 9″ cakes on top and on the sides. Put the second 9″ cake on top of the frosted one and repeat frosting the top and sides.

Now it's time to measure out the Twinkies. We had to trim them each about 1/2 inch to get the layers to match. The cuts also serve as a nice base to keep them standing as opposed to falling off/over. Once you've measured, make sure to trim each one exactly the same.

Gently press the bottom side of the Twinkie (the flat side, NOT the cut end) against the frosting so that it sticks. Be sure to be ready to do the Twinkie step right after frosting so the frosting's still 'wet' and hasn't hardened. Continue until you've covered the bottom layer. Once that's done, repeat the process for the top layer. Start by placing the 6″ cake on top of and in the center of the frosted double layered cake. Frost it on the sides and on top and measure and cut the Twinkies to match up with this layer and repeat the process of pressing them around the sides of the cake. To finish off the cake, I used a star tip to make a simple, accented top. You could opt to just spread on some frosting like with the previous layer or even sprinkle some candy on top. Whatever floats you (and your teen's) boat.
Notes
This cake was originally created by Cutefetti