Fresh jam is easier than you'd think, and by using different flavors customizable to the season. Add some summer flair to yours with this Cherry Habanero Jam. It's the best of sweet and heat coming together for a truly enjoyable treat.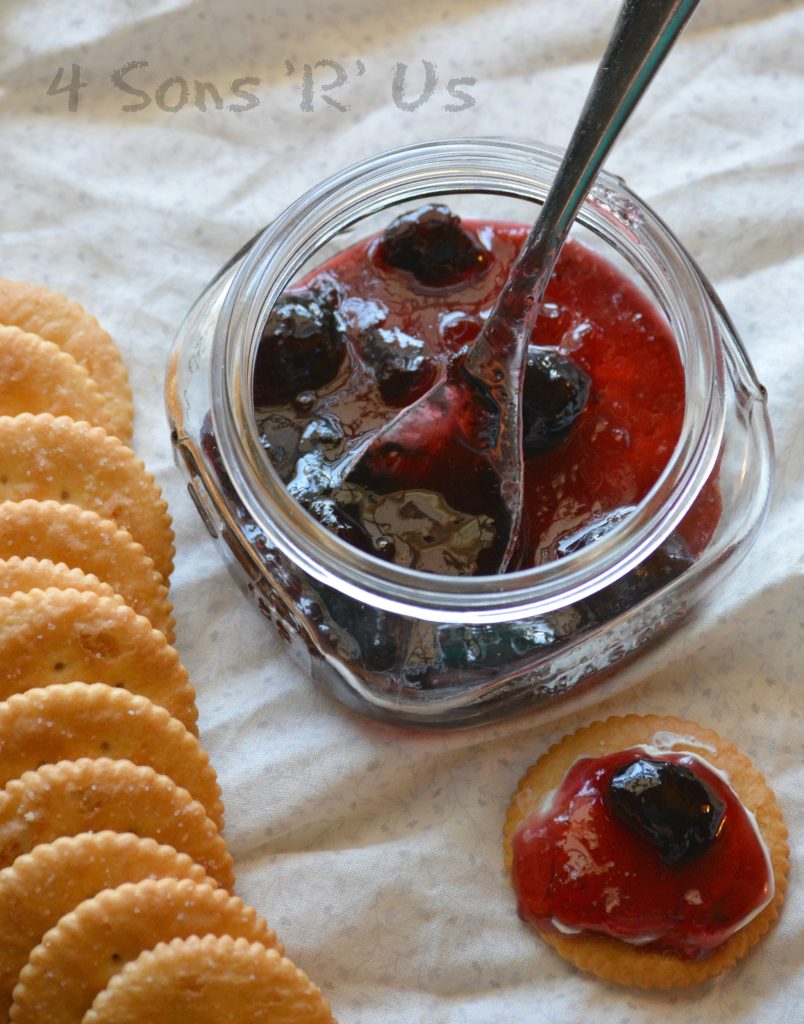 "Sugar and spice and everything nice" that's what we were taught little girls are made of. In this case, it's what some of the best jams are made up of.
I'm sure you've heard of pepper jelly. It's spicy. although the degree varies widely, and is often spread over a sweet counter part- like cream cheese– on crackers.
We took that idea and ran with it, putting a fresh Summery spin on it by adding some extra sweet to that heat with this Cherry Pepper version.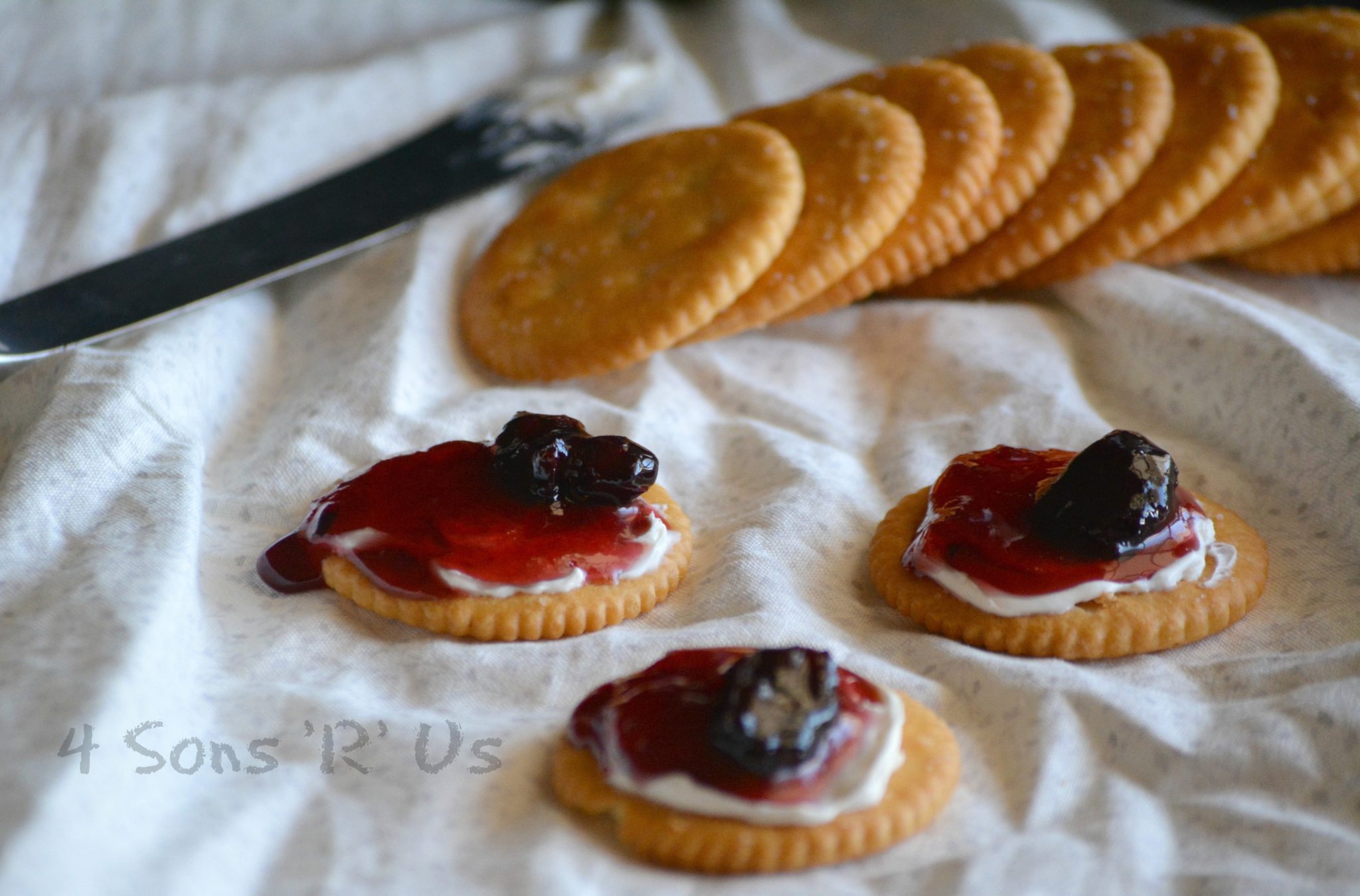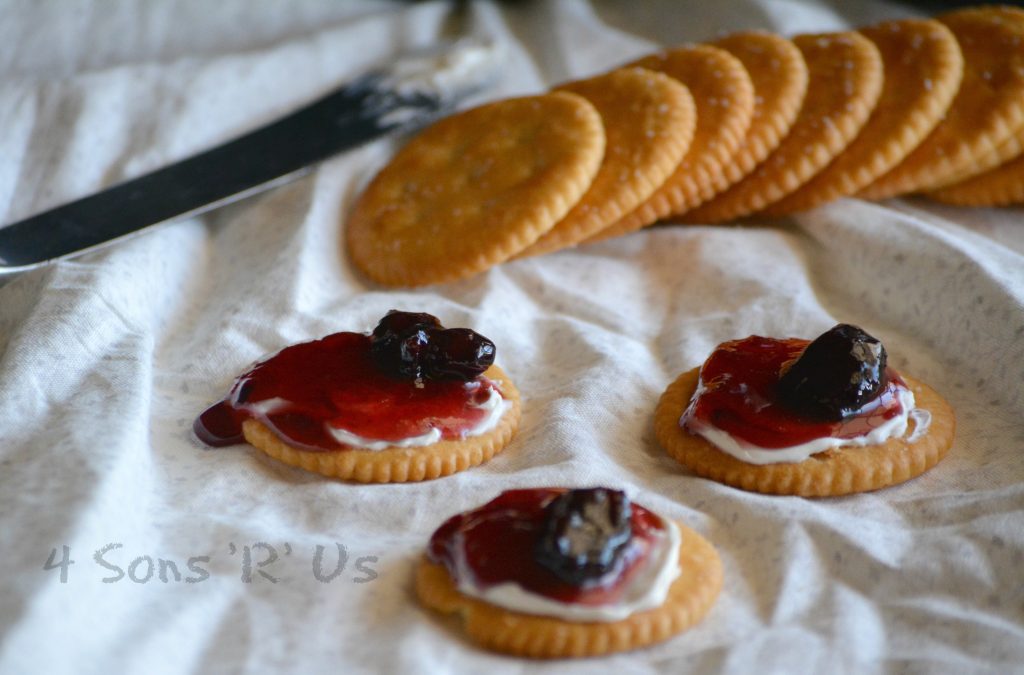 Beginning with a base of sweet dark cherries. We added sweet peppers and for our spice we included some Habanero.
The flavors blended beautifully and the jam had a wonderful depth to it. Just like with traditional pepper jelly it's perfect to serve at parties over cream cheese and crackers.
Since ours were for a snack I did it for the kids, but for a party a softened block of cream cheese on a platter with Cherry Habanero Jam spread over top and dripping down the cream cheese makes a gorgeous presentation.
The fun doesn't stop there though, spread this on toast, out over pancakes, or use it as a marinade for grilled meats like chicken and pork.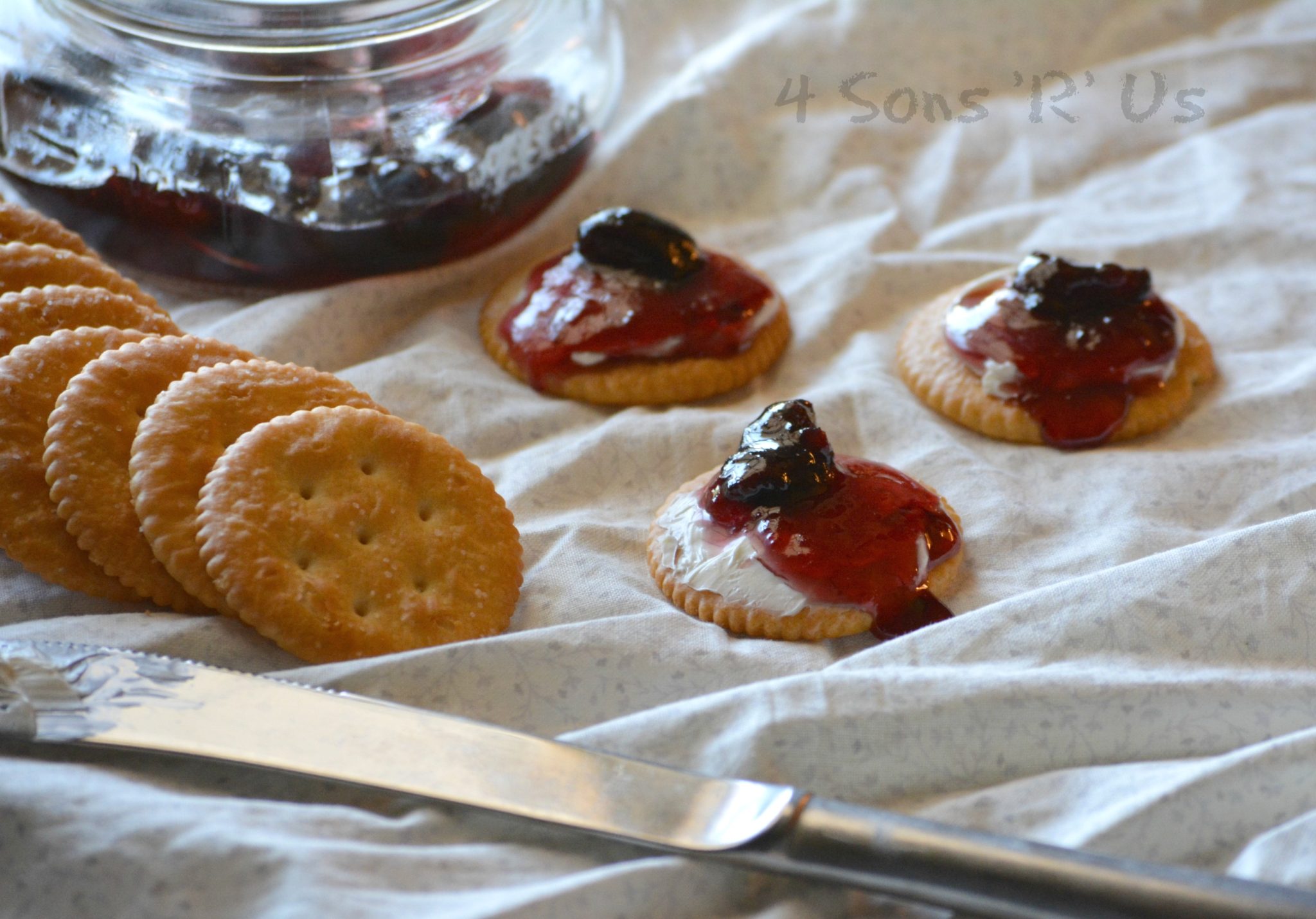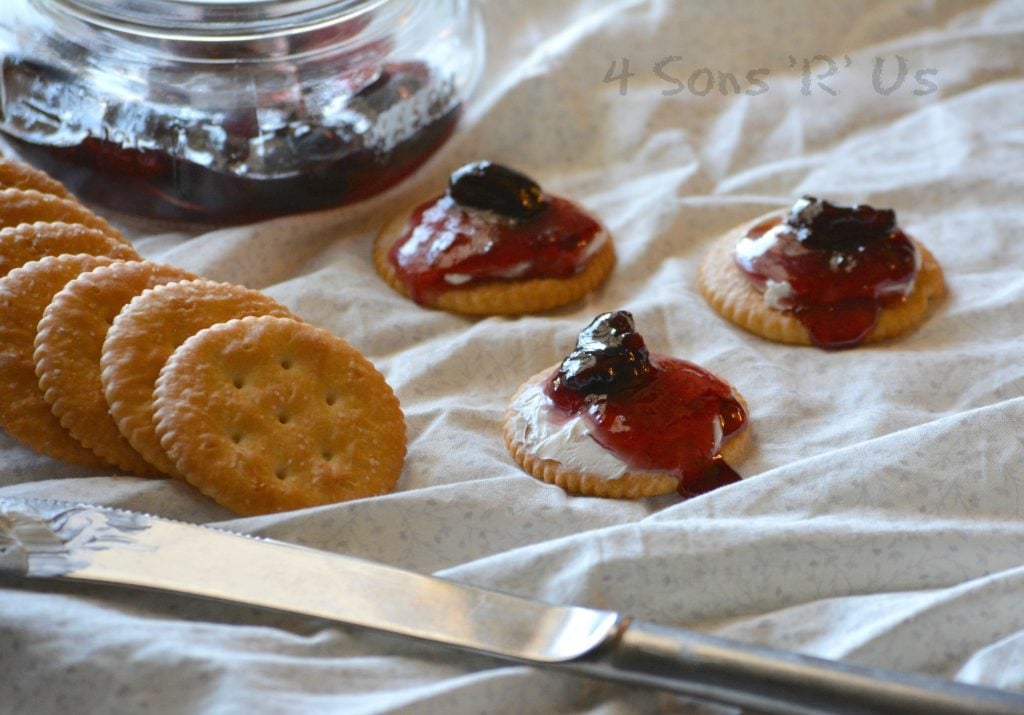 The intensity of the habanero pepper will decrease with cooking, so I'd advise tasting as you go to decide how much you want to add. Including the seeds and membranes will of course increase the heat.
We've found true heat seekers like it best when the hot pepper is stirred in right after cooking, but right before removing the pot from the heat.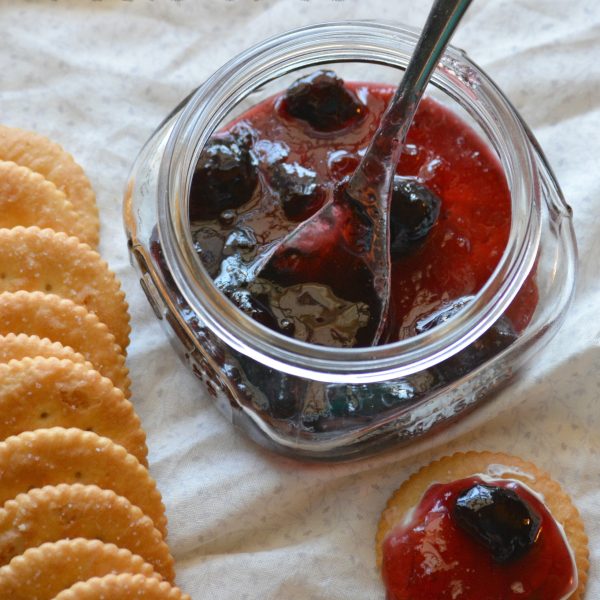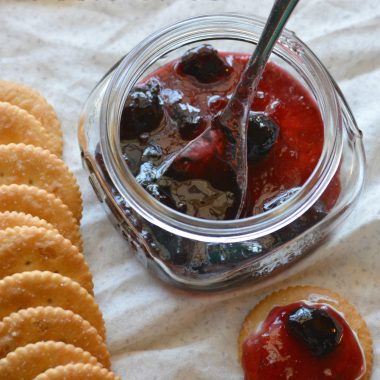 Cherry Habanero Jam
This sweet cherry jam has just the right amount of spicy habanero flair. It's quick and easy, versatile, and a show stopper.
Print
Pin
Rate
Ingredients
4

heaping cups dark red

sweet cherries

1

cup

finely diced red pepper

1

small habanero pepper

4 1/2

cups

white granulated sugar

6

tbsp

Ball Real Fruit Pectin Classic

2

tbsp

lime juice

1

tbsp

butter

optional
Instructions
Wash and de-stem the cherries. Using a cherry pitter, pit them over a bowl so that you lose as little juice as possible.

Stick a knife into the bowl and roughly chop up the cherries before adding them to a large pot.

Sprinkle the lime juice out over the cherries and gently stir them to coat.

Stir the red pepper into the cherries.

Finely mince the habanero pepper. Remember-- the more pith and seeds you keep will increase the heat. Add the pepper to the pot as well.

Stir the pectin into the fruit and heat the mixture on low heat, continuing to stir occasionally, until the pectin's melted.

Turn the heat up to medium-high and bring the mixture to a roiling bowl.

Stir in the sugar until almost completely melted. Allow the mixture to reach a rolling boil again.

If the pot's foaming stir in the butter. If not, you can omit it entirely. Otherwise let the jam boil for a full minute.

Remove the pot from heat. Skim off any excess foam. Let the mixture rest for a minute or two.

Fill canning jars up to a 1/4" from the top.

Wipe the rim of a jar with a damp paper towel, place flat lid on top of jar and place band on screwing until just hand tightened. Repeat for each additional jar until the jam is all canned.

Process your filled jars in a hot water bath for 10 minutes. Then store or gift accordingly.

Notes

To avoid a painful case of Hot Pepper Hands, use a pair of rubber gloves when slicing and dicing the habanero peppers.
Nutrition
Calories:
612
kcal
|
Carbohydrates:
153
g
|
Protein:
1
g
|
Fat:
2
g
|
Saturated Fat:
1
g
|
Cholesterol:
5
mg
|
Sodium:
20
mg
|
Potassium:
64
mg
|
Fiber:
1
g
|
Sugar:
152
g
|
Vitamin A:
853
IU
|
Vitamin C:
36
mg
|
Calcium:
2
mg
|
Iron:
1
mg