There are just some pairings that go hand in hand. Salmon, cherries, and Summer being one of them. This Pan Seared Salmon with Fresh Cherry Almond Sauce is a fresh take on classic flavors that pair together beautifully in a single cast iron skillet.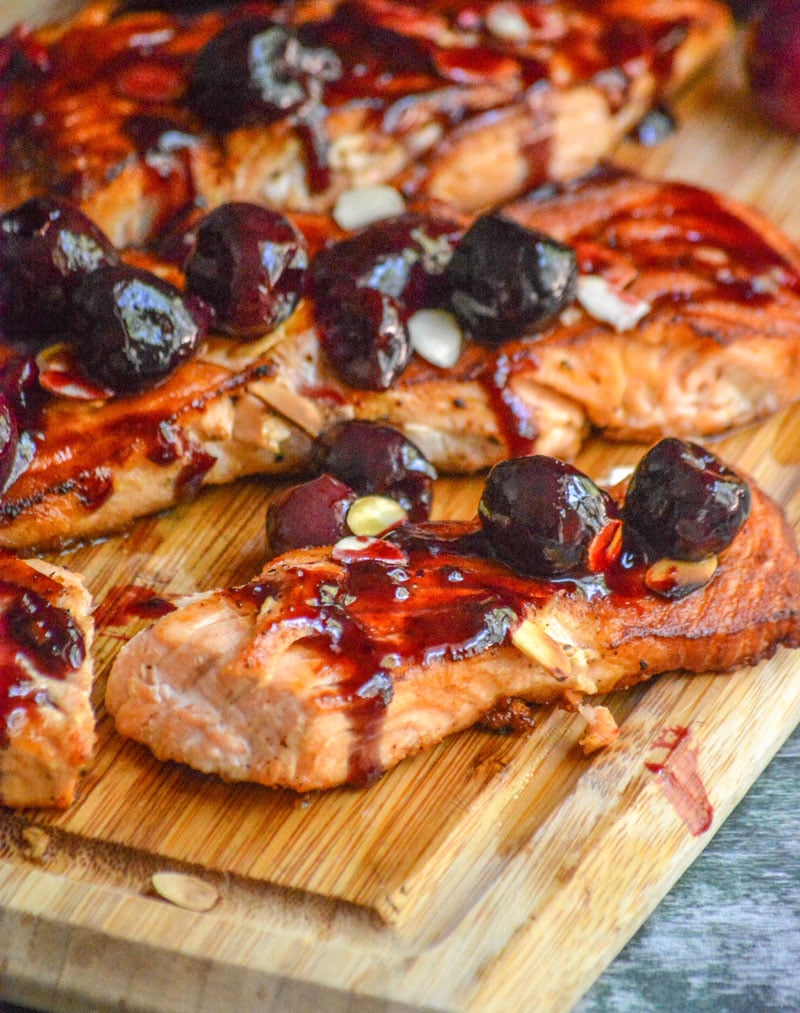 While we're no strangers to cozy comfort foods in this house, I do find that weather really has a huge impact on what I'm able to enjoy & when. For example, when the crazy temps roll in and the heat index goes through the room- heavy food ideas fly out the window.
My ingredients get fresher, healthier which also tends to result in lighter better-for-us meals. I still want all the flavor in my dishes, but I also don't want to need a nap afterwards when an evening full of catching fireflies and sipping sweet tea with the neighbors is in order.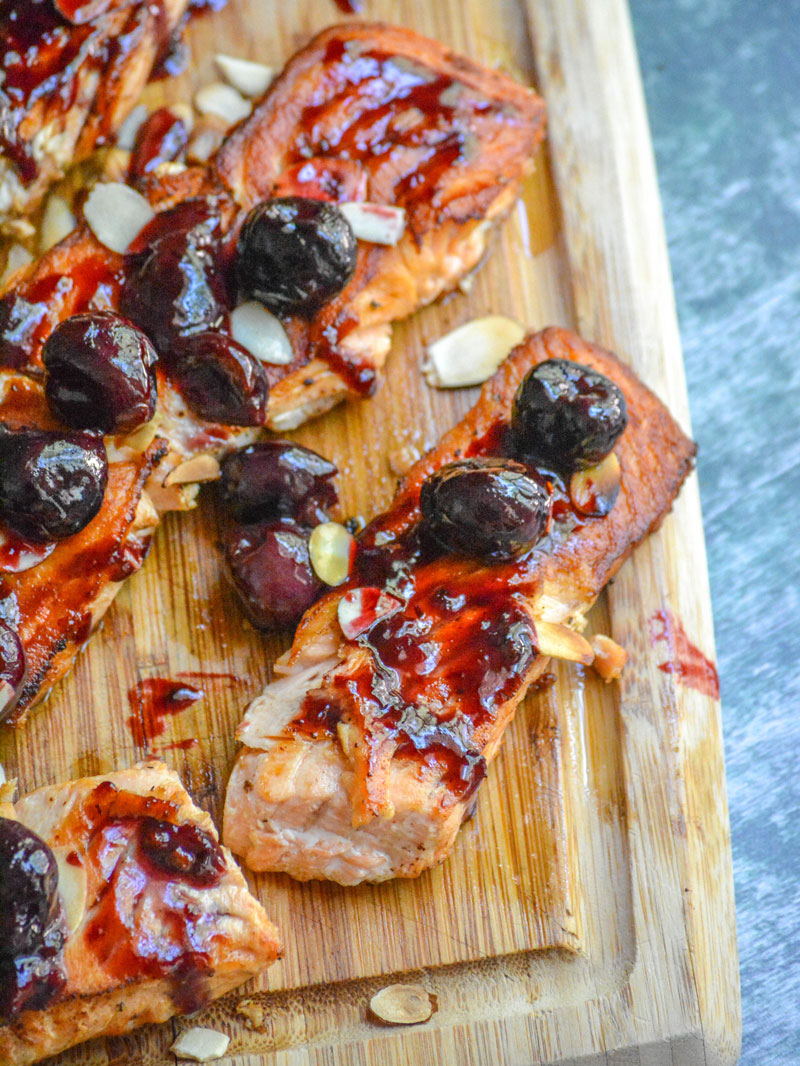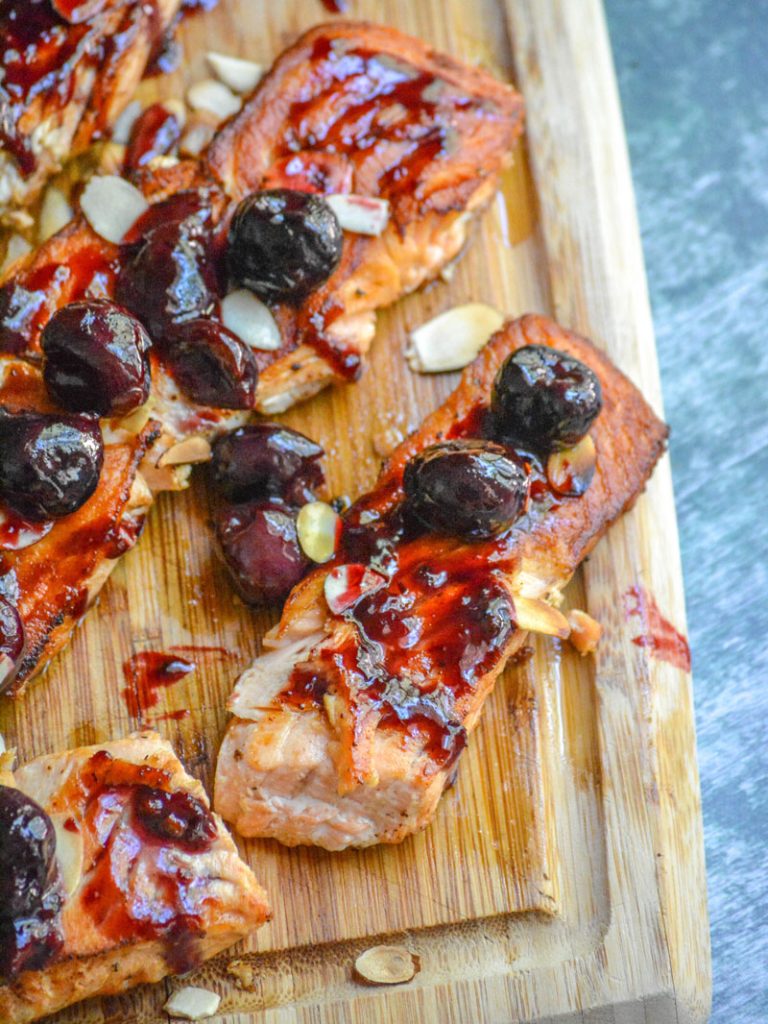 Believe it or not, this often means I opt for fresh fish in the Summer. It's protein and it's filling. It's readily available freshly caught here locally this time of year. Also, at a much lower price point than in other seasons.
Plus, however prepared most fish is excellent at taking on flavors & sauces. Some fish do this better than others. Tilapia, cod, and salmon being my favorites. They're also the least 'fishy' smelling & tasting of all the fishes to me too. I like a lot of seafood, but I am picky. Mermaids are cool and all, but I don't want to feel like I'm eating 1,000 leagues under the sea.
Sometimes I keep it simple, like with this oven baked buttery lemon pepper salmon. Other times I like to shake (err, sauce) it up, like with this baked teriyaki glazed version with a sriracha cream sauce.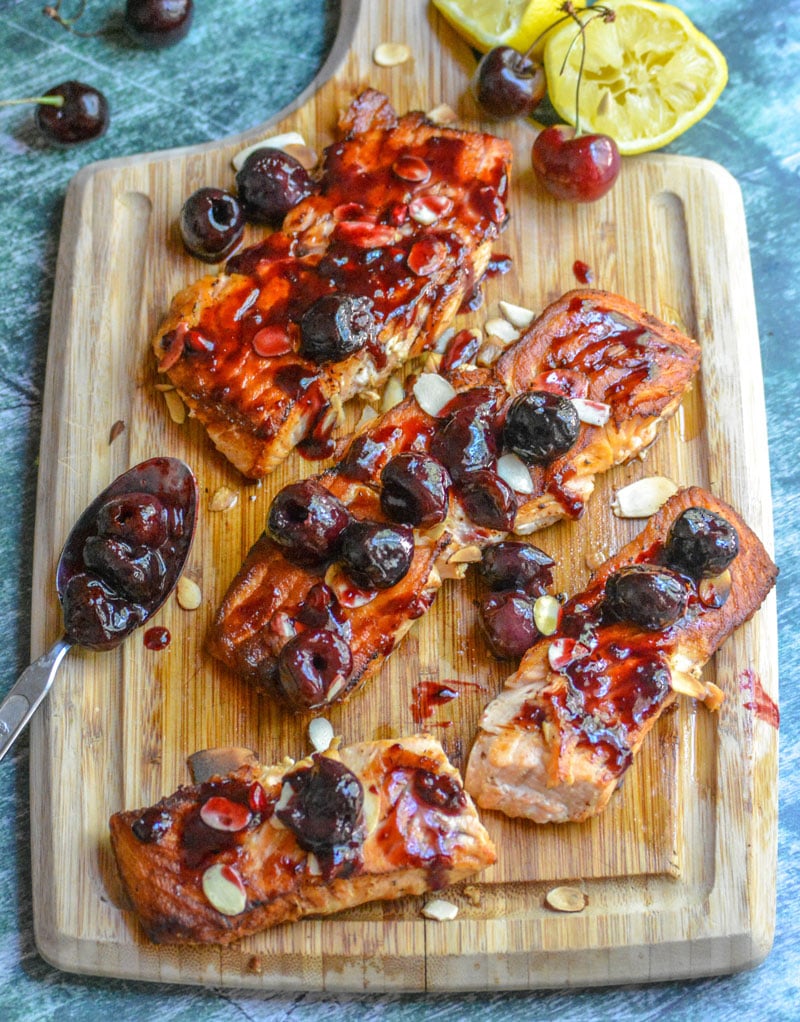 Those are two of my tried and true salmon recipes, but they're evergreen. They didn't embrace the season like I was looking for. They didn't fit the bill so to speak. That all changed though with this dish: Pan Seared Salmon with Fresh Cherry Almond Sauce.
Pan seared salmon is covered with crunchy almonds and topped with a sweet fresh cherry almond sauce. It's the best possibly way to combine fresh fruit, fresh fish, & the flavors of the Summer season into a single sweet and savory dish.
I know when I make any recipe for the first time, I've always got a couple questions. So let's try and answer a couple that you've probably already got.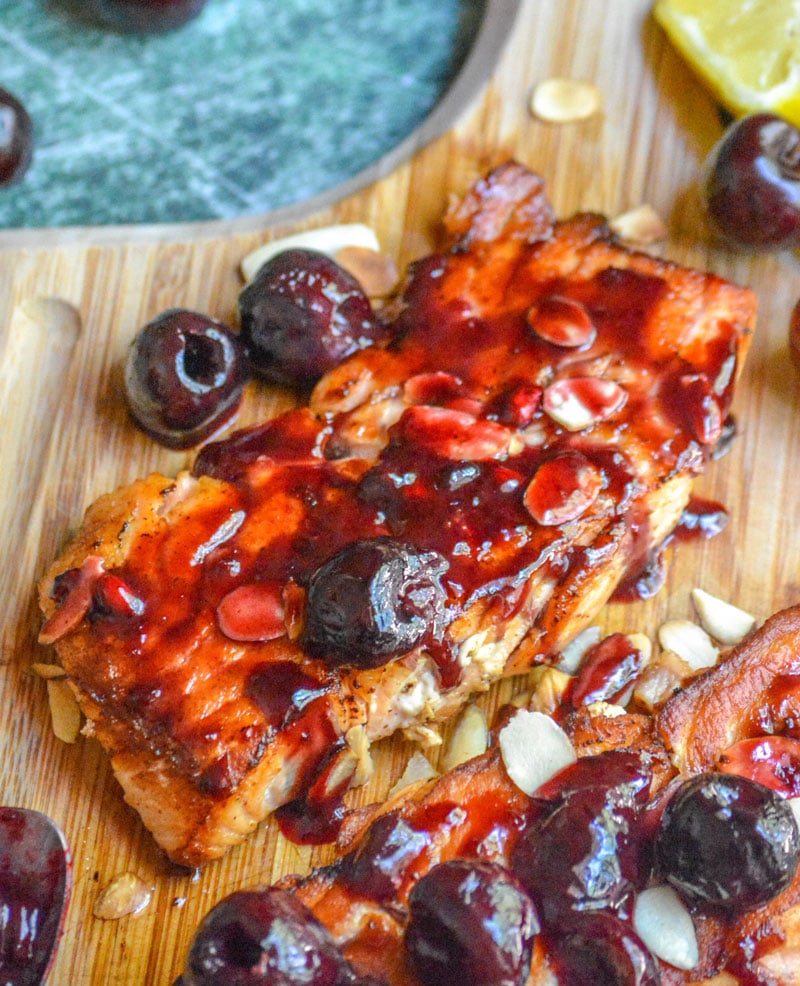 What Kind Of Salmon Is Best?
If you have access to it, fresh is always best. If that's not an option though, you can sub frozen. You'll want to take a few extra steps though. Before marinating, make sure the filets are completely thawed. Pat them dry with paper towels before proceeding with the recipe.
Another thing I care about is the cut of salmon I use. I mean there's no such thing (in my humble opinion) as bad salmon, but I am adamant against farm raised. I will purposely go without or skimp on another meal, in order to be able to spring for wild caught salmon. While I'm not a super crunchy mama, I also don't want all those chemicals and growth hormones in my fish.
In addition to recommending wild caught, did you know there are actually different varieties or salmon? King/Chinook salmon is by far the leader of the pack. It's thick, buttery texture, combined with a high healthy fat content & being rich in Omega-3's make it an ideal choice for many diets. If you can't find king salmon, a bummer for sure, this dish will work just as well with something like sockeye used as a substitute. This one has a bit of a stronger 'fish' flavor, but is extremely hearty- perfect for pan searing and grilling.
What Type Of Cherry Should I Be Using?
You can pretty much use any sweet cherry variety that you like, but I suggest Bing. It's what we used in the pictured recipe. Bing cherries are known for being intensely sweet, with a lasting after taste. This sauce is one you'll want to linger too. They're also a larger variety, with a vibrant, deep red color. Flavor & presentation make them ideal for this seafood recipe.
Bing cherries pretty much have cornered the national cherry market, and end up being the first to make their ways to national grocers due to growing seasons. However, Chelan & Lapins cherries also make great substitutes.
Fresh or frozen seems to be the next logical question. As with most everything, fresh is best but it's not essential. You can totally swap them for frozen cherries. Put the amount needed in a strainer in the kitchen sink. Let them thaw completely, and the excess juices drain away. Just know that the final texture may be a bit different, and if the sauce isn't 'saucy' enough- you may need to add a splash of water to help it along.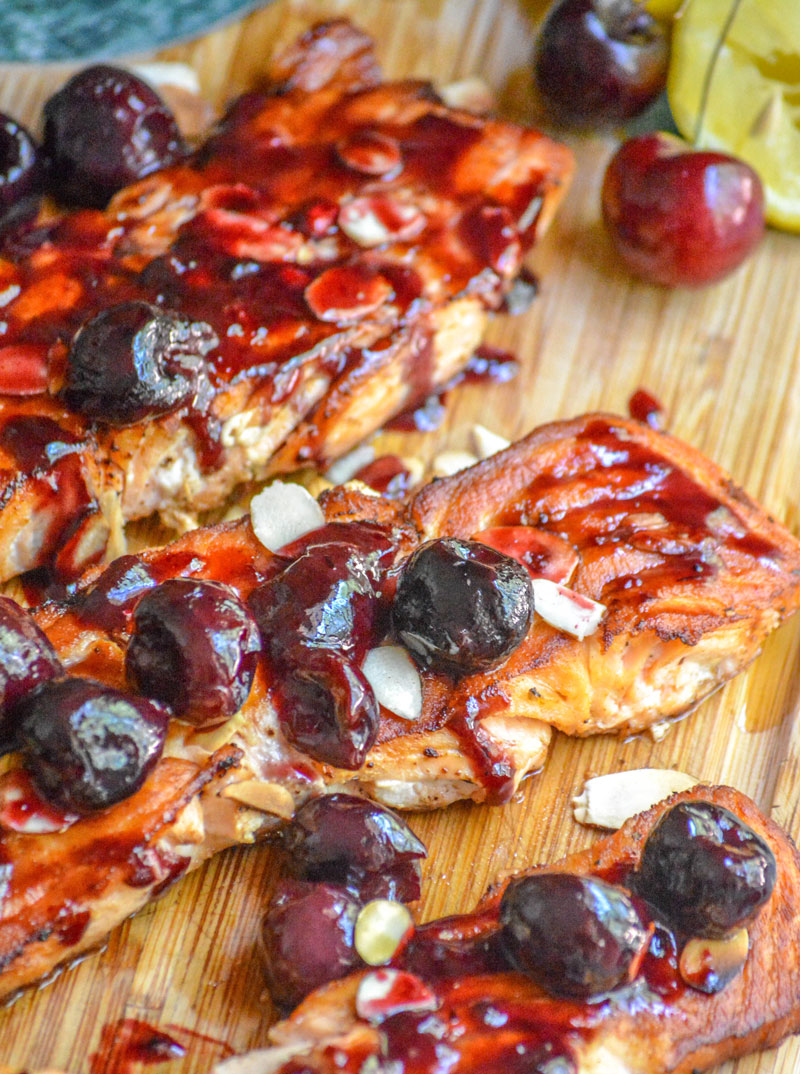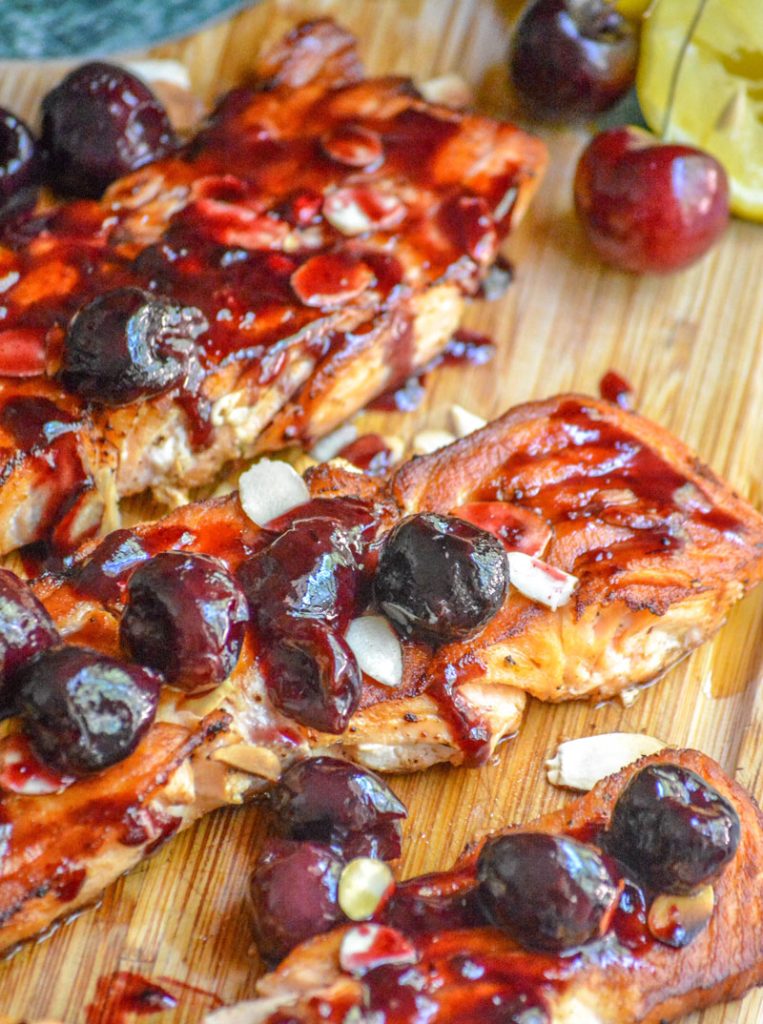 This recipe sure does sound fancy, and it tastes it too. It's really not though. It's gourmet flavor, on a busy weeknight budget. Don't believe me? Let's get into just what's needed to whip up this Pan Seared Salmon with Fresh Cherry Almond Sauce.
The salmon filets are patted dry, and patted dry again. They're then added to a prepared cast iron skillet to sear in a mixture of butter & olive oil. The filets are left undisturbed until the white has reached 3/4s of the way to the top. At this point, using a fish spatula, they're patiently released from the pan and flipped to finish searing.
Once the salmon is cooked through, it's time to make the sauce. Usually, I use the fork test for my fish. When salmon's fork tender and flakes easily with one, it's done. That's a great way to do it at home, but not great if you're serving it to others. If presentation is key- use a meat thermometer. When inserted into the thickest part of the filet, and it reads 145 degrees- you can be 100% sure the fish is cooked.
My Tips & Tricks For Making This Recipe:
I'll stress this again, try to get your hands on fresh fillets. Focus on ones that are from quality lines, like king salmon or sockeye as a back up.
Pat, pat, pat, and pat again. I can't stress the patting of the fish enough. It's essential to a good sear. A good sear is what will help your salmon cook, without sticking to the pan and flaking apart.
Pit your cherries. There's literally nothing worse than biting into a deceptively sweet fruit, and catching a hard pit by the tooth. If you don't have a cherry pitter, you can use a firm straw. Inserted into the bottom center of the fruit, firmly push up and force the pit out of the top center.
Don't have amaretto? Don't like cooking with alcohol? No worries, we've got you covered! Add the same amount of water, a 1 teaspoon of almond extract.
As written the recipe is more saucy. If you want a thicker topping, whisk a tsp or two with equal amounts of water. Whisk that into the sauce, and cook/ stir until thickened.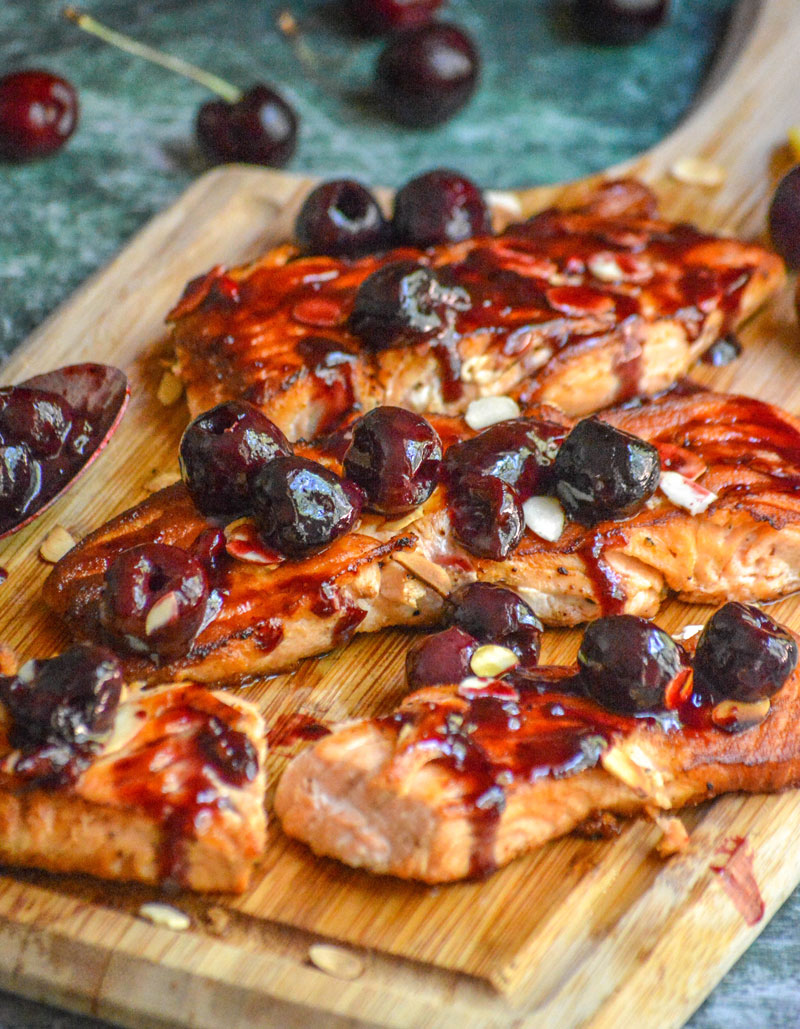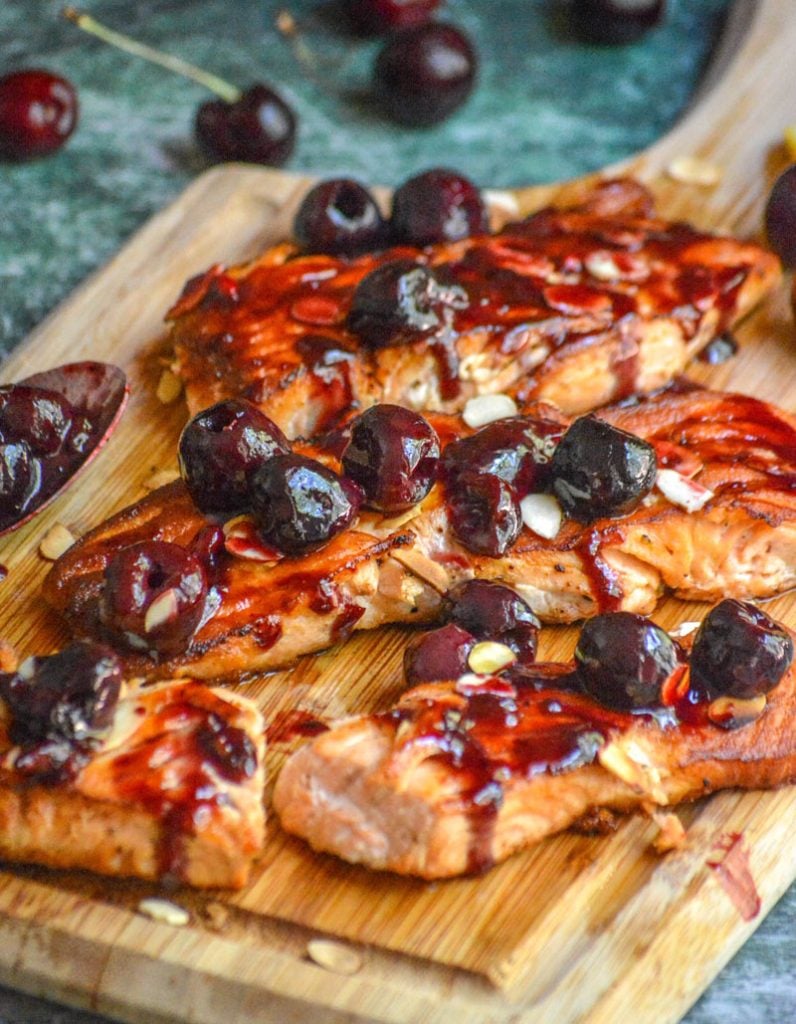 Fresh ingredients really can't be beat, especially when they're at the peak of their season. The same is true for fruits & fish. Combine a bit of both with this recipe for fresh pan seared salmon with fresh cherry almond sauce.
Other Ideas For Fresh Cherries: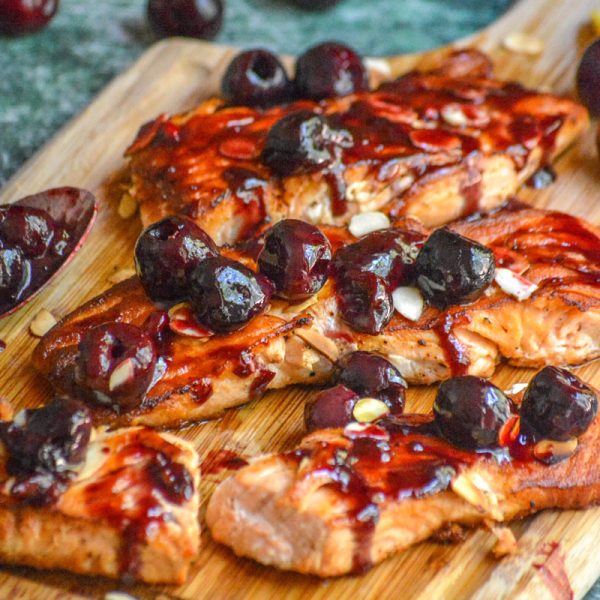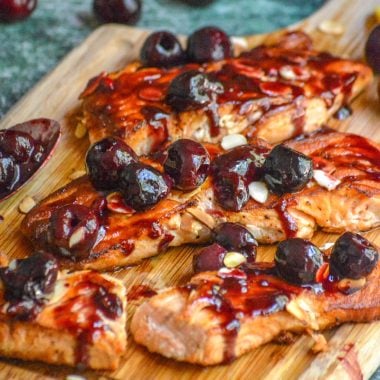 Ingredients
1/4

cup

slivered almonds

2

tbsp

extra virgin olive oil

4

4-5 oz

fresh salmon filets

salt & pepper, to taste

2

lemons, zested & juiced

2

cups

sweet, dark cherries

pitted

1/4

cup

amaretto
Instructions
Heat a large cast iron skillet over medium heat. Add the almonds to the skillet, and cook them for 2-3 minutes- stirring and toasting them as they go. Transfer the toasted nuts to a separate dish, and set aside.

Pat the salmon dry between layers of paper towels. Let it rest and pat it dry again, because wet salmon will not sear. Season each filet with salt, pepper, & lemon zest. Rub it in to ensure a good seasoning.

Return the cast iron skillet to medium high heat, add the butter and let it melt but NOT brown.

Carefully add 2 filets to the pan, working in batches. Cook the salmon for 4 minutes per 1/2 inch thickness, without disturbing. Salmon cooks from the bottom up, when the salmon has gone from pale pink to white 3/4's of the way through- it's ready to be flipped.

Using a thin metal fish spatula, gently release the fish from the pan and flip it. Cook the fish for an additional minute. Remove the fish from the skillet, and place it in an oven safe dish. Keep it warm in the oven while you cook the remaining fish.

When the fish is done, slowly pour the amaretto into the pan. Add in the cherries and lemon juice, stirring well to incorporate. Let the mixture simmer for about two minutes, squishing the cherries with the back of a spoon to release the juices.

Serve the salmon, as is, with the cherry almond sauce spooned generously overtop. A bed of white rice makes a great side to this dish, rounding it out.
Nutrition
Calories:
194
kcal
|
Carbohydrates:
18
g
|
Protein:
2
g
|
Fat:
11
g
|
Saturated Fat:
1
g
|
Cholesterol:
1
mg
|
Sodium:
2
mg
|
Potassium:
216
mg
|
Fiber:
2
g
|
Sugar:
14
g
|
Vitamin A:
45
IU
|
Vitamin C:
10.6
mg
|
Calcium:
27
mg
|
Iron:
0.5
mg