Sometimes it's hard to find something everyone will love when it's crunch time before dinner time rolls around. This 20 minute Spicy Italian Sausage Alfredo Tortellini is a simple pasta dinner in a homemade, zesty garlic flavored cream sauce. It dots all the I's & crosses all the T's for the entire family.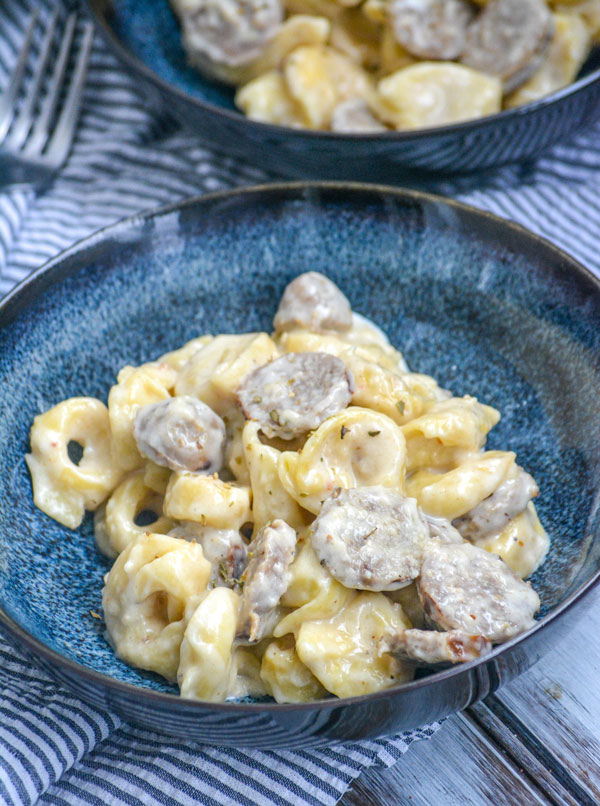 Some days just call for comfort food. Like yesterday. It was quite possibly the world's most Monday-est Thursday in the history of all the Thursdays.
While it started off like any other normal non-first day of the week, it seemed like anything that could go wrong- did go wrong.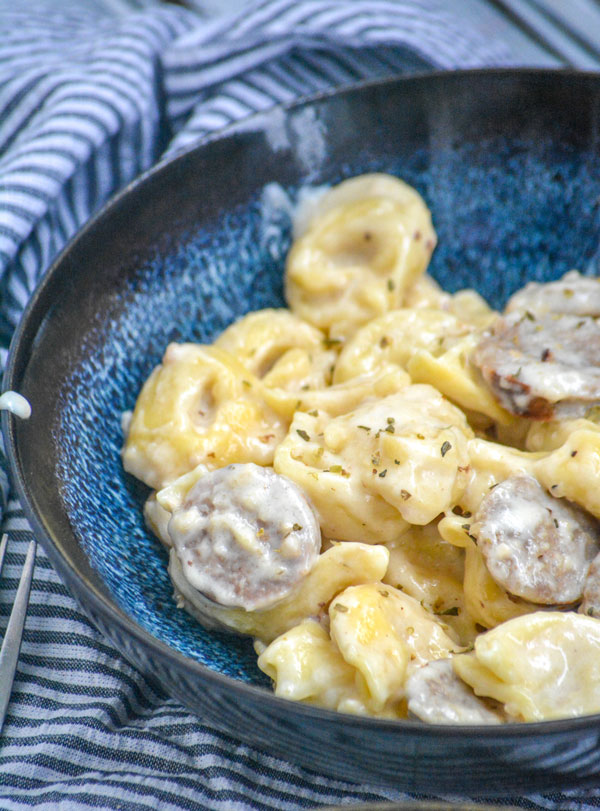 By supper time, things had finally calmed down and seemed to make a return back to normal. It did help that we were all home together, and that we kept reminding ourselves that the next day's Friday.
Something to look forward to always helps!
By the end of the day though, we were all beat and nothing seemed like a better idea to me than family movie night. Time to snuggle up on our giant overstuffed couch all under the jumbo fleece throw blankets.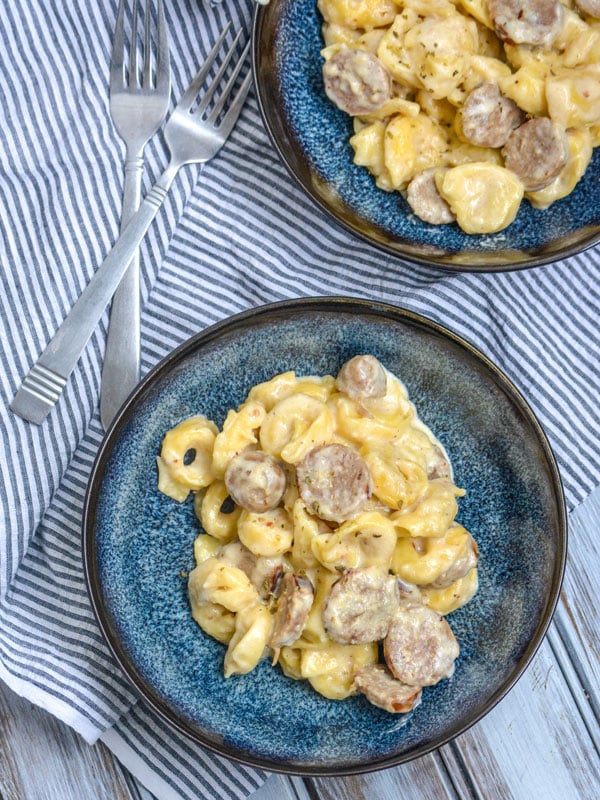 Everyone else agreed with a resounding 'yes'. So I quickly reserved Rampage, a movie we've all been excited to see, and ran up to Redbox to pick it up.
While I'm setting up to throw together a quick meal for supper, I overhear the Hubs telling Son # 4 that he didn't understand how exciting this was for Daddy.
Son # 4: Why?
Hubs: Because I used to play this game all the time after school.
Me: Oh, cool. I had no idea it was based on a video game. What system was it on? Nintendo?
Hubs: The Arcade
Son # 4: What's Arcade?
To which I just hear this audible groan of indignation from the Hubs. I burst out laughing, and the son was just confused as to what was so funny. My poor husband felt so old and outdated, lol.
Luckily, he recovered quickly. He's since vowed to find at least one open arcade within driving distance, and take the son there so he gets the full experience. Ya know, before they're all extinct.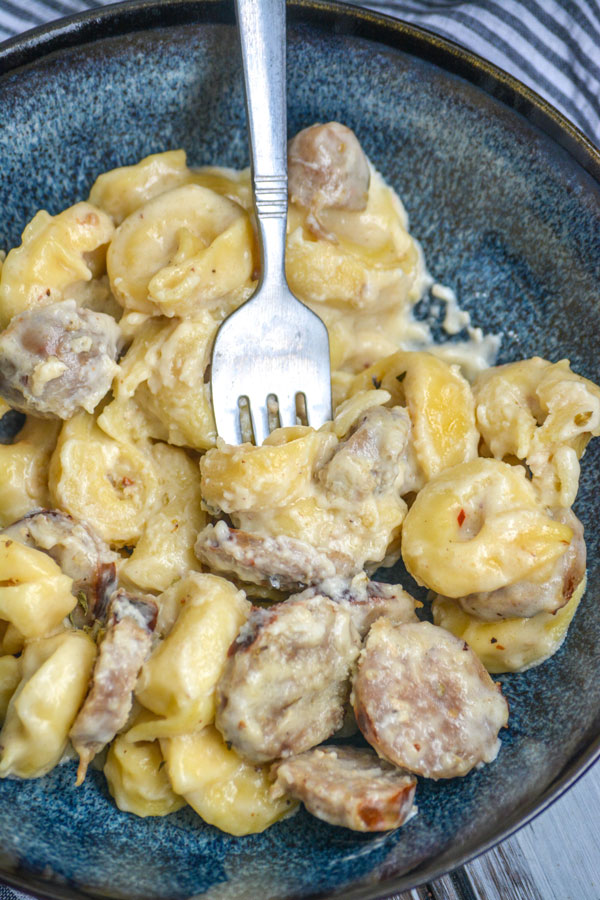 So, back to that simple supper I was talking about before.
When it's been a tough day, and you still have to cook, but all you really wanna do is sit down and just relax- this Spicy Italian Sausage Alfredo Tortellini is there for you.
Cheese tortellini are stirred into a creamy, homemade garlic alfredo sauce with just a bit of kick from crushed red peppers and spicy, sliced Italian sausage.
It comes together in just about 20 minutes total, making it an especially family friendly, stressed parents, hectic nights kinda perfect dinner. One the whole family will enjoy with zero complaints.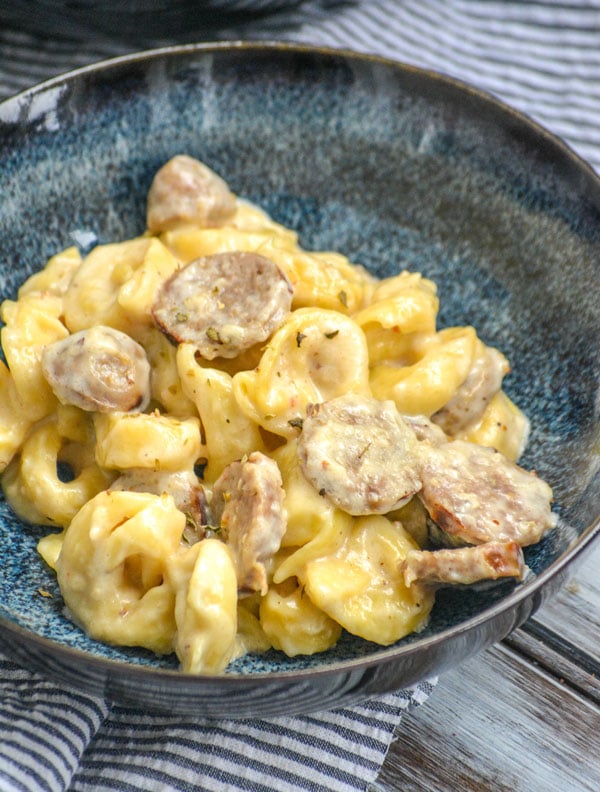 Print this recipe for our Spicy Italian Sausage Alfredo Tortellini and keep it handy in your back pocket, ready to whip out when you need a 5 star dinner, on a Dollar store budget, and ready lickety-split. Hopefully, it'll even leave you enough time to enjoy a family movie before bed time!
Other Alfredo ideas you might also enjoy: One Pot Cajun Chicken Alfredo, Sausage Alfredo Stuffed French Bread Sandwiches, Garlic Shrimp Alfredo Pizza, & Pesto Alfredo Meatball Subs.
One note before getting started, if at the end the sauce ends up being too thick for your liking, thin it to taste by stirring in a tablespoon of milk at a time.
If you've tried this SAUSAGE ALFREDO TORTELLINI, or any other recipe on my site, let me know in the comment section how it turned out, we love hearing from our readers! You can also follow along with me on PINTEREST, FACEBOOK, and INSTAGRAM to see more amazing recipes and whatever else we've got going on!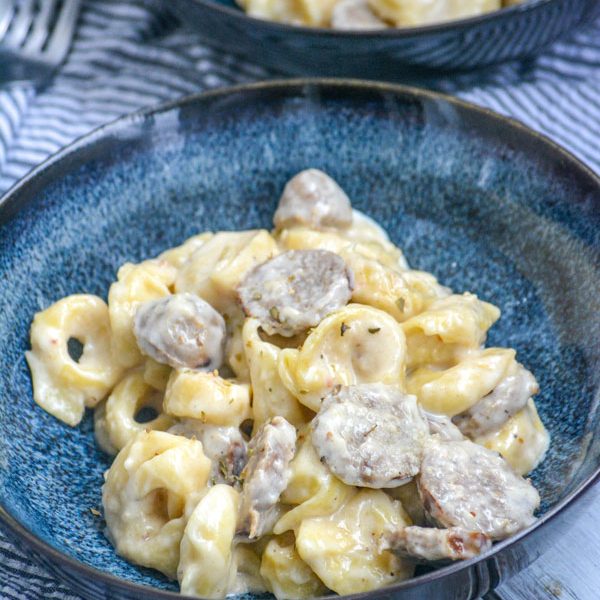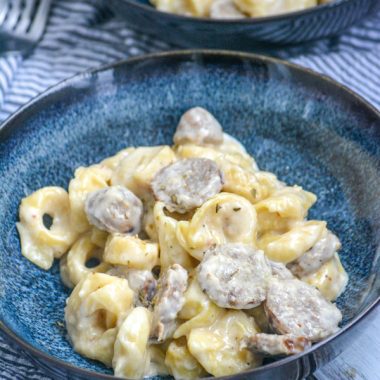 Spicy Italian Sausage Alfredo Tortellini
A quick & easy meal, this 20 minute dish features spicy Italian sausage & cheese tortellini in a homemade seasoned garlic alfredo sauce.
Print
Pin
Rate
Ingredients
1

9 oz pkg

refrigerated cheese tortellini

1

pkg

spicy Italian sausages, thinly sliced

2

tbsp

butter

4

tsp

minced garlic

1/2

tsp

zesty Italian dressing mix

1/4

tsp

crushed red pepper flakes

2

tbsp

flour

3/4

cup

milk

3/4

cup

cream

2

oz

cream cheese, softened & cubed

1/4

cup

shredded Parmesan cheese

salt & pepper, to taste
Instructions
Bring a pot of heavily salted water to a boil. Cook the tortellini according to package instructions. Drain, and set aside.

While waiting for the water to boil, in a large skillet over medium heat, cook the sliced sausages until cooked and nicely browned. Transfer to a plate or bowl.

Add the butter to the drippings, stirring to melt. Stir in the garlic, Italian seasoning, and red pepper flakes until fragrant, about a minute.

Stir in the flour, constantly whisking until slightly browned and the flour taste has cooked out, about a minute or so. A little at a time, whisking constantly-add in the milk and cream, waiting each time until the roux has reformed before adding some more, until it's all come together.

Let the mixture simmer, whisking occasionally, until thickened, about 3-5 minutes.

Remove the skillet from heat and stir in the cheese. When the cheese has melted, add the sausage & pasta to the skillet. Stir until everything's evenly combined. Salt & pepper, to taste.
These pictures were taken the day after the dish was made. The dish is much more saucy when first made. They're just as good reheated the next day, but will require additional liquids as the pasta will soak up the sauce over-night.