Don't dismiss cranberries because of their tough outer shell & tart reputation. A simple syrup bath and a roll in some sugar will give you sparkling cranberries. These candied cranberries are magical. They're a delicious treat all by themselves, as a garnish for festive drinks, and even as part of your charcutterie spread.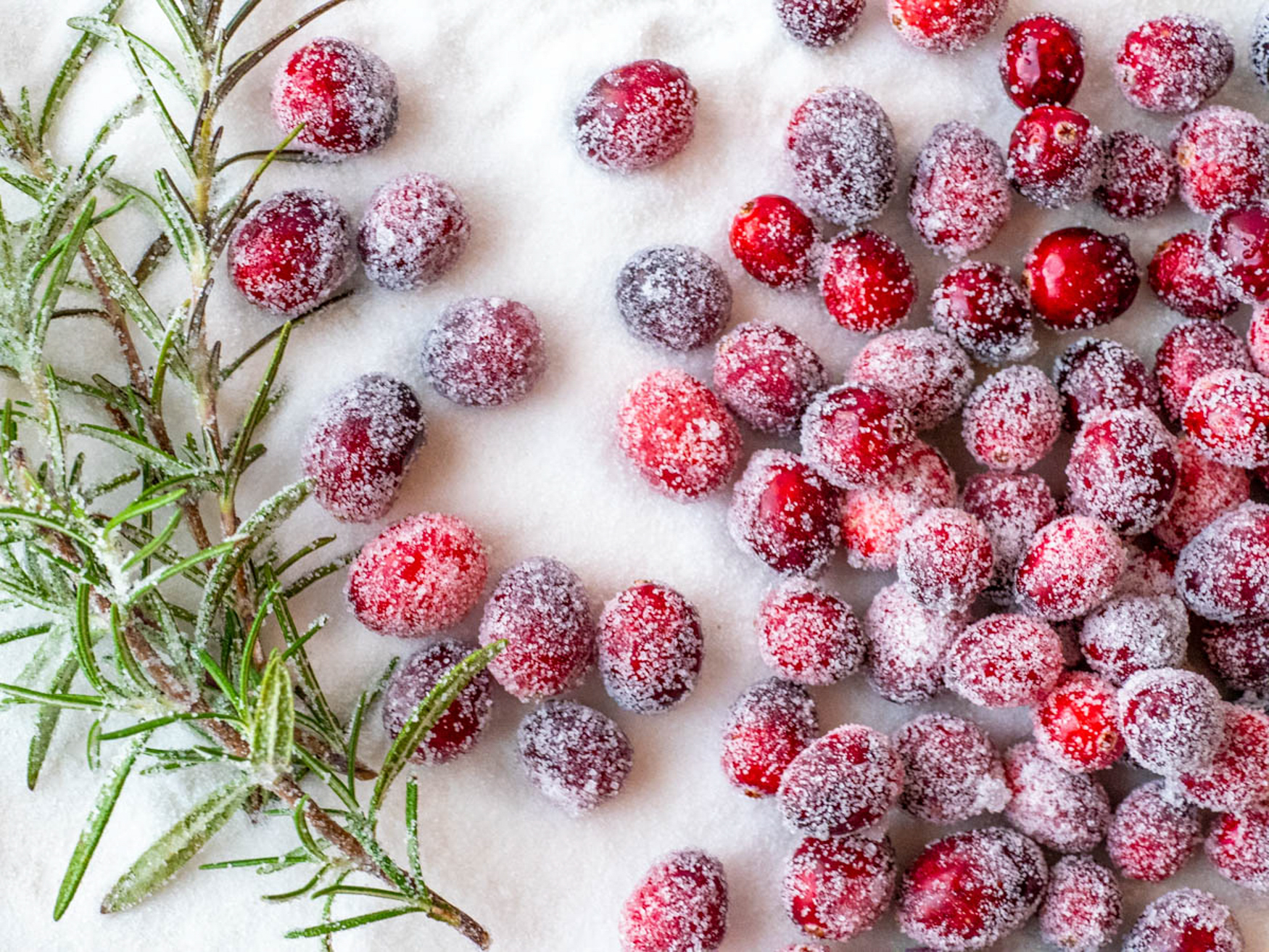 Cranberries are an iconic berry, almost exclusively associated with Thanksgiving & Christmas.
I love them.
They're tart, and perfect for making into tangy sauce that pairs well with just about everything this time of year.
However, I can't just enjoy them like I can with any other berry.
Popping one or two of them into my mouth, would have my cheeks twinging from the tang.
Never one to be deterred, I found a fool proof way to make them pop-able by turning them into sparkling cranberries.
An added bonus? It just enhances their overall festive factor.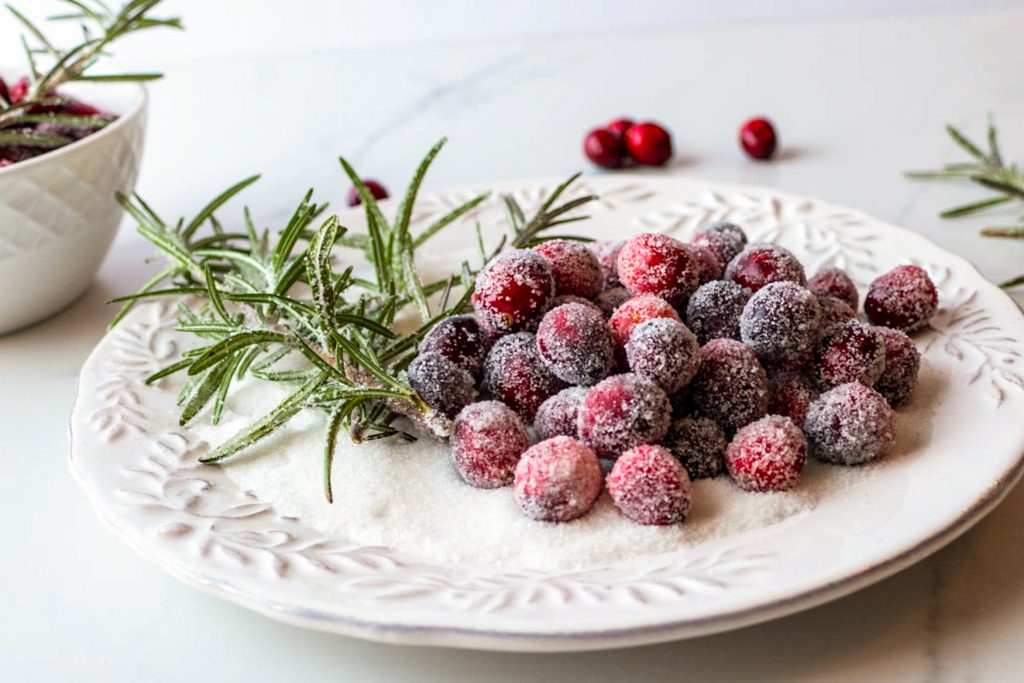 Why Sparkling?
Sparkling can mean so many things, but when it comes to these cranberries it's pretty simple.
The sugar coating on the outside literally makes them sparkle in the light, almost like they're coated in glitter powder.
It makes them extremely festive!
They're also often called sugared cranberries.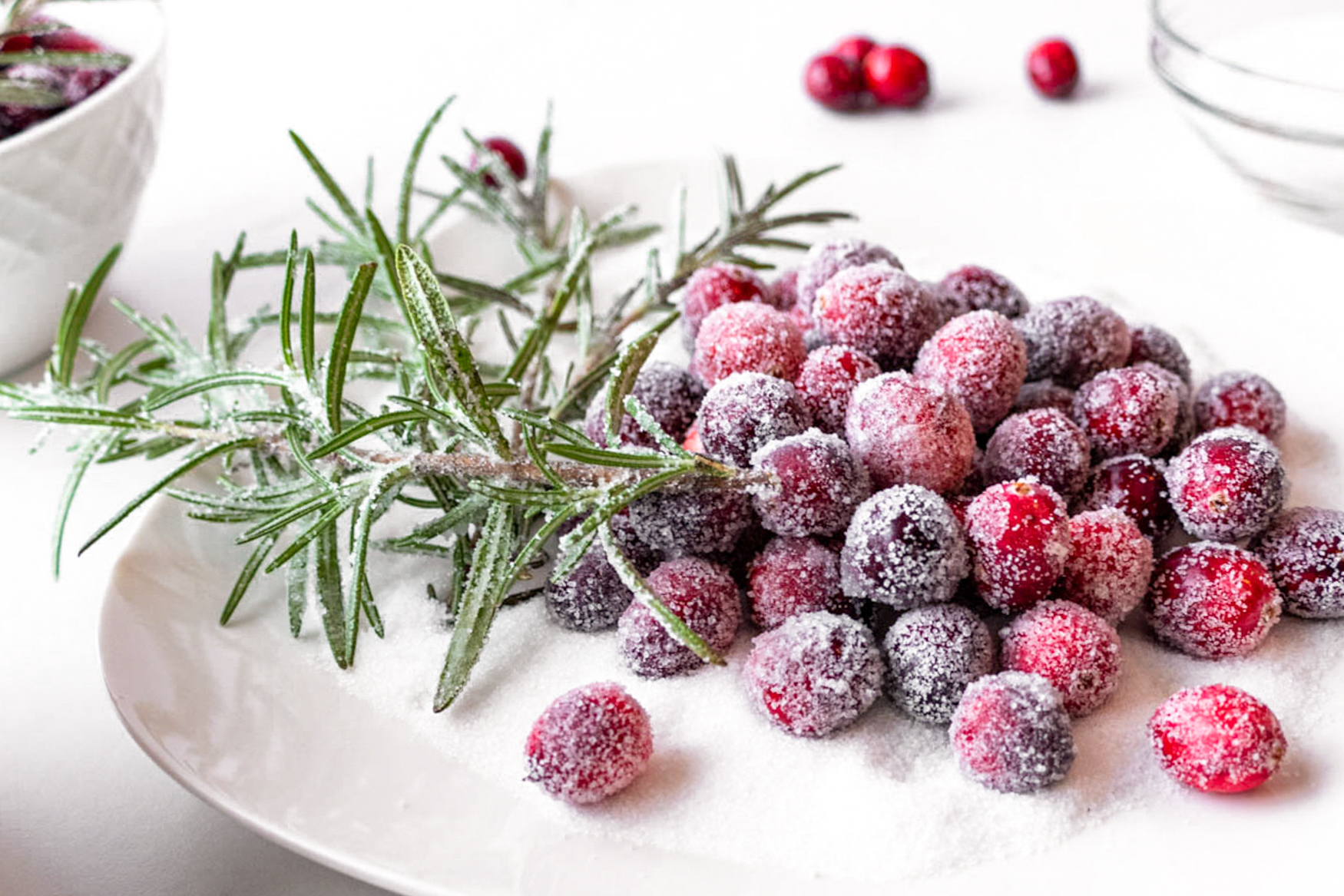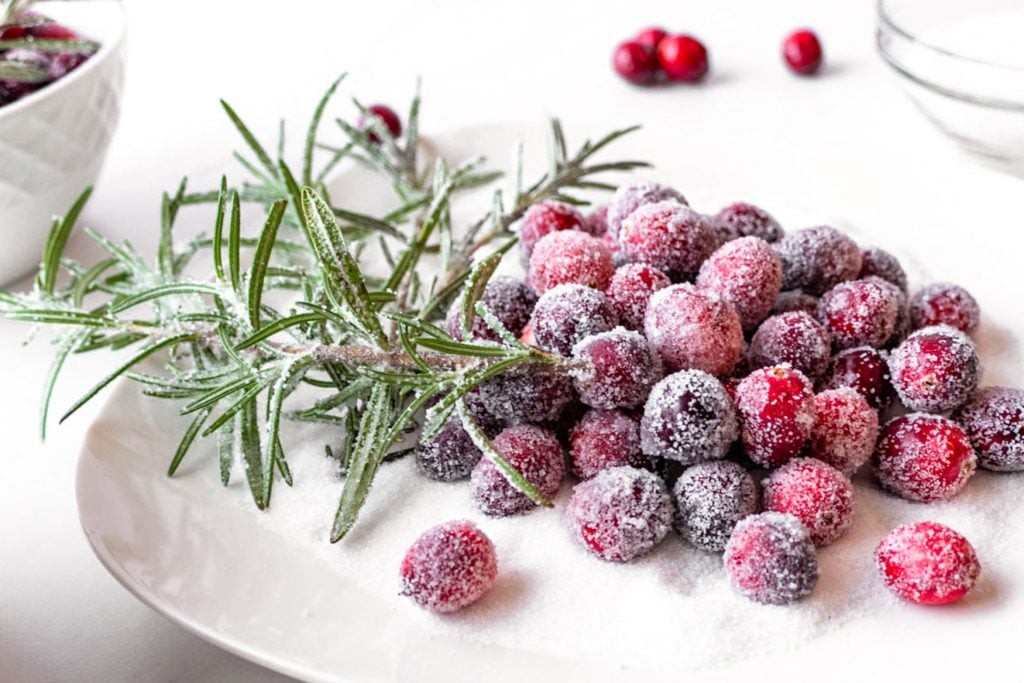 How To Make
While easy to make, these candied cranberries are made in two parts.
First with a simple syrup, and then the sugaring.
So we will break it down into both parts.
The Simple Syrup
Add both 1/2 cup of granulate sugar and 1/2 cup of water to a medium sized skillet.
Bring the mixture to a simmer, stirring often, until the sugar's dissolved.
Once the sugar's completely dissolved, set the syrup aside and allow it to cool significantly.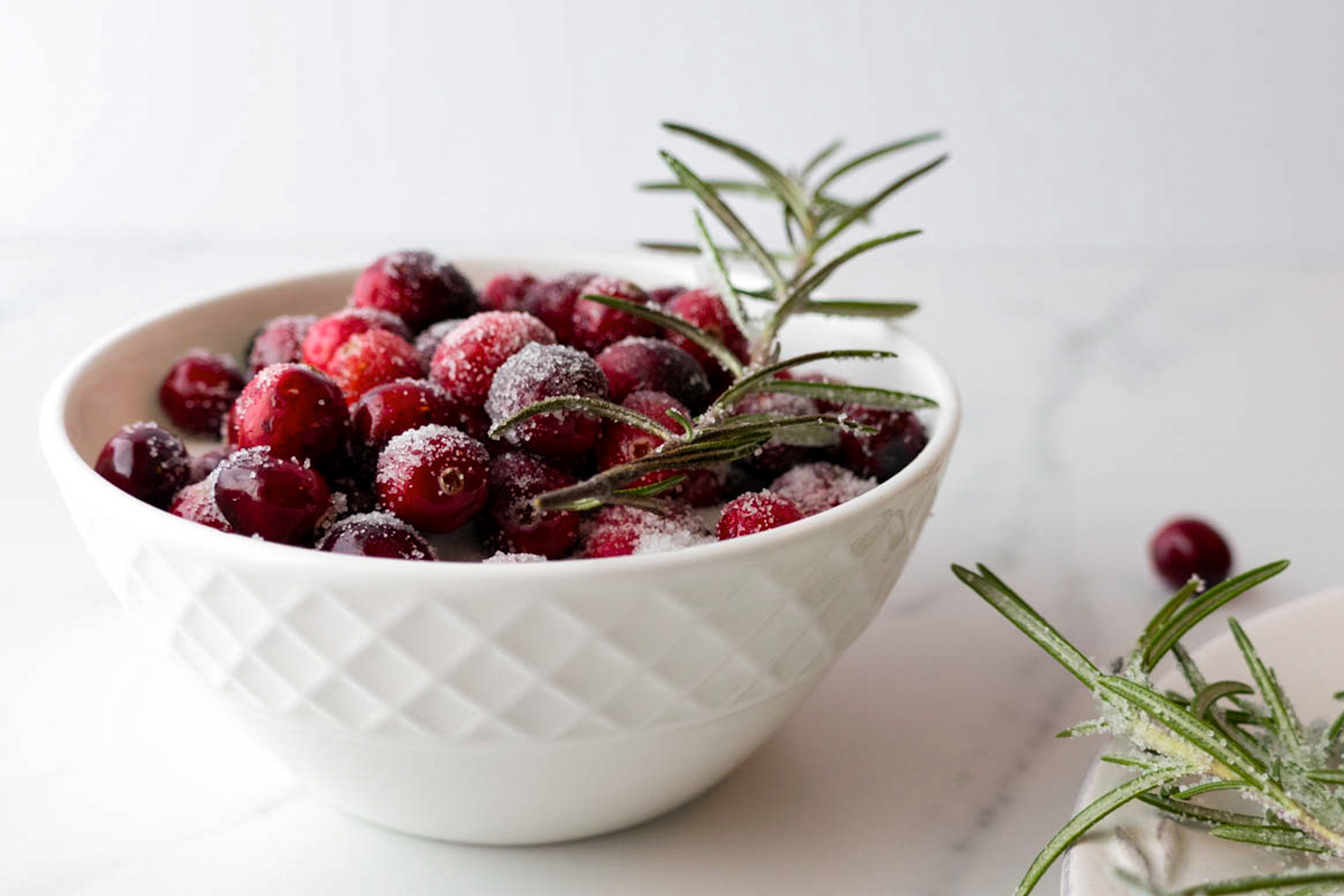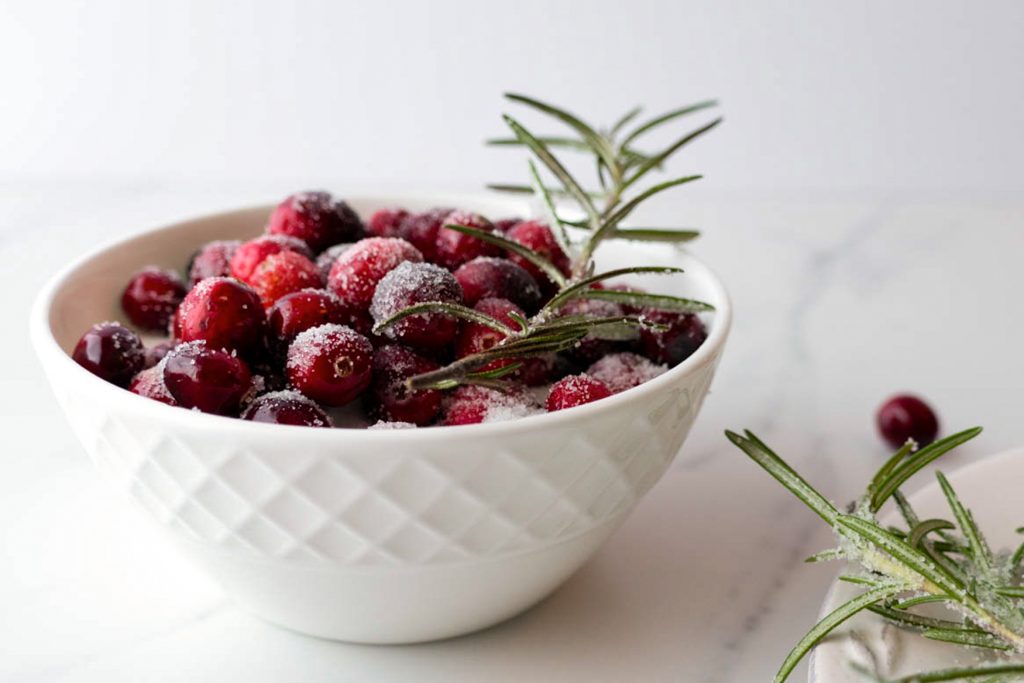 Coating The Cranberries
Add the cranberries and rosemary springs to the skillet with the syrup.
Gently swish them around, and spoon the syrup over top of all the berries.
It doesn't have to be perfect, but try to coat the cranberries in the syrup as best you can.
Using a slotted spoon, transfer the syrup coated berries to a waiting wire rack. The rosemary sprigs too.
To avoid a mess I like to cover a large baking sheet with parchment paper and then place the wire racks on top.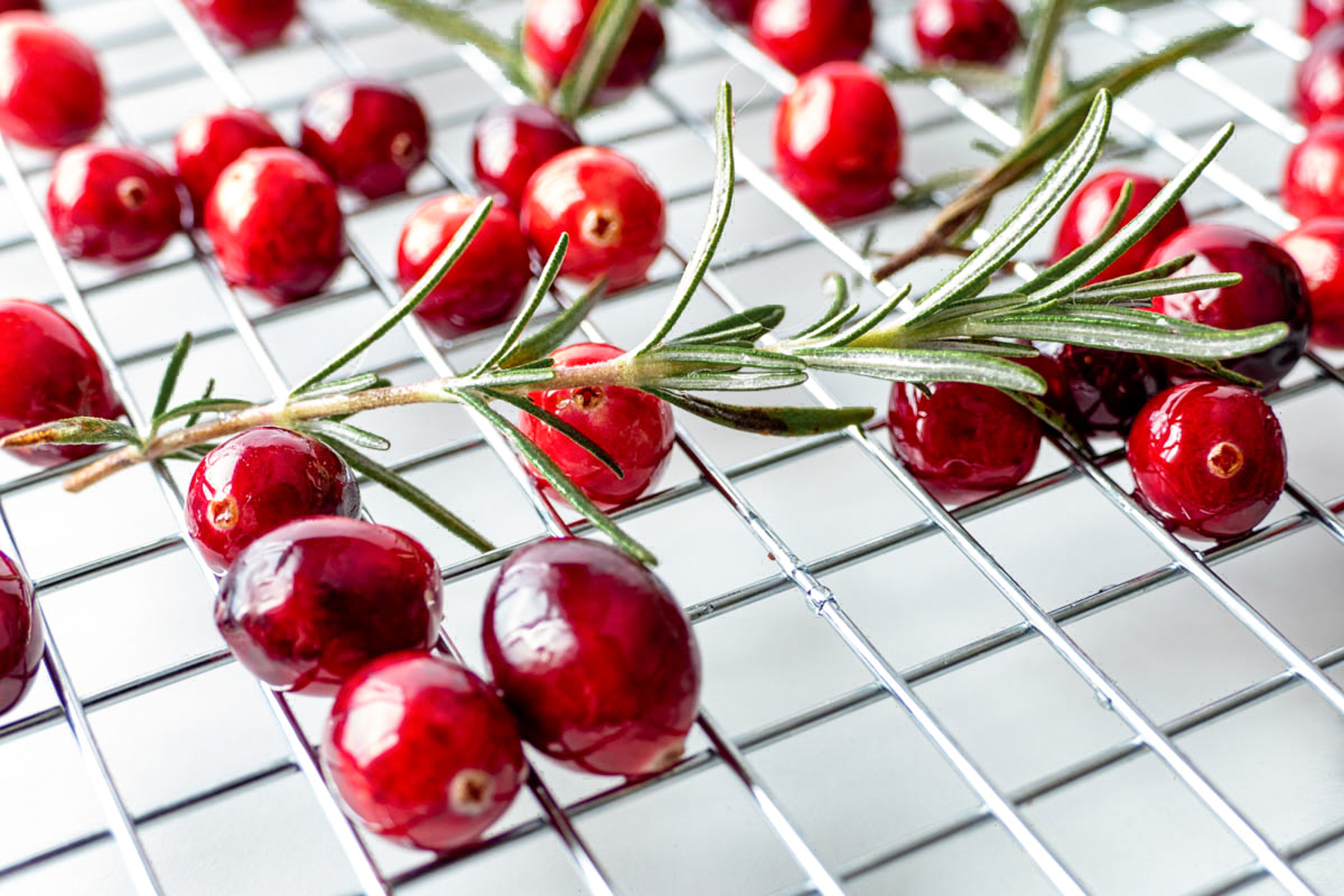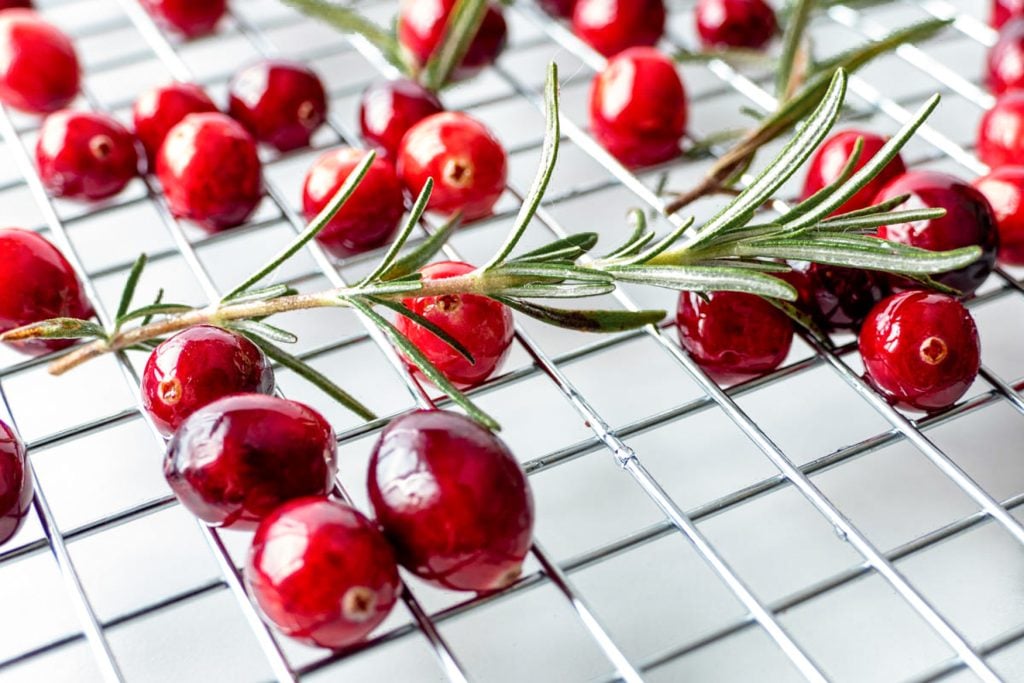 Let the cranberries dry for at least an hour.
Once they're mostly dry, it's time to sugar them.
Spoon the sugar over the cranberries and rosemary until they're evenly coated.
Let the cranberries rest a few minutes, for the sugar to stick.
Then you can remove the messy parchment paper, toss it, and there's no mess left.
Use the cranberries as intended from there!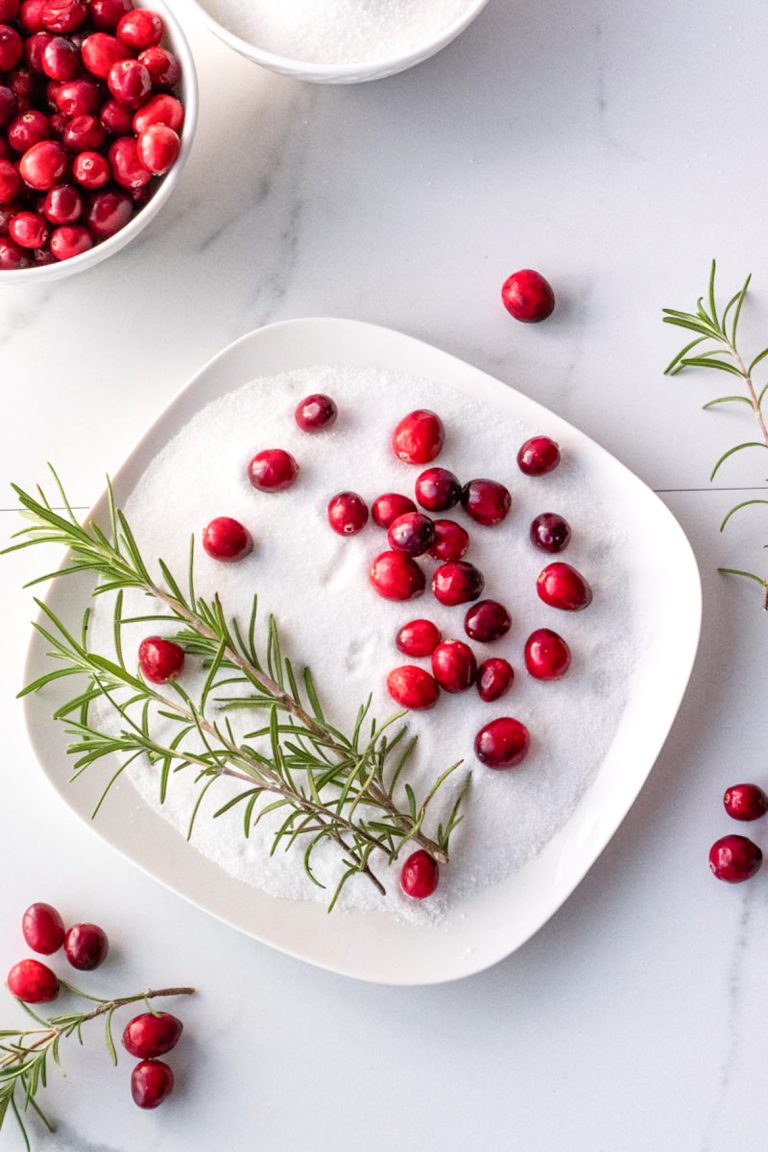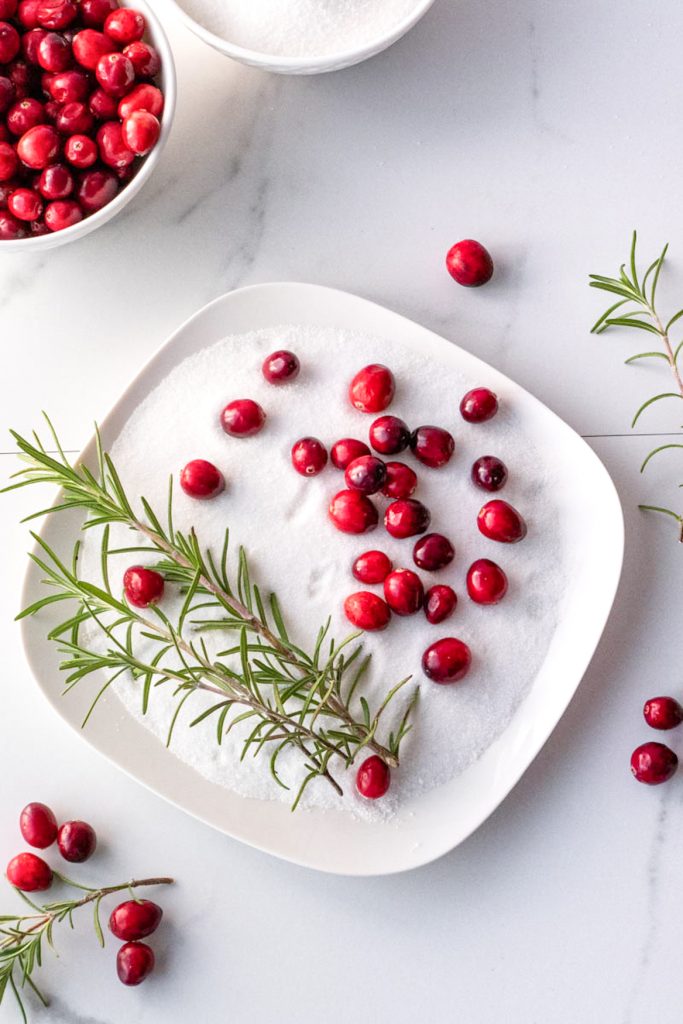 How To Enjoy
We only make these during the Winter holidays, but we've used them as an ice cream topping for scoops of vanilla ice cream.
They make a delicious garnish to cakes and cheesecake.
Even better? They can be threaded on a skewer and served as a garnish with our white Christmas cranberry margaritas!
Otherwise, they're a delicious candied snack.
Serve them accordingly!
I'd only begun making these candied cranberries the past few Christmases and I may now be completely obsessed.
If I indulged in these little bursts of love earlier in life, I was either too young or had consumed one too many mugs of eggnog to remember.
First time or not, I was sold.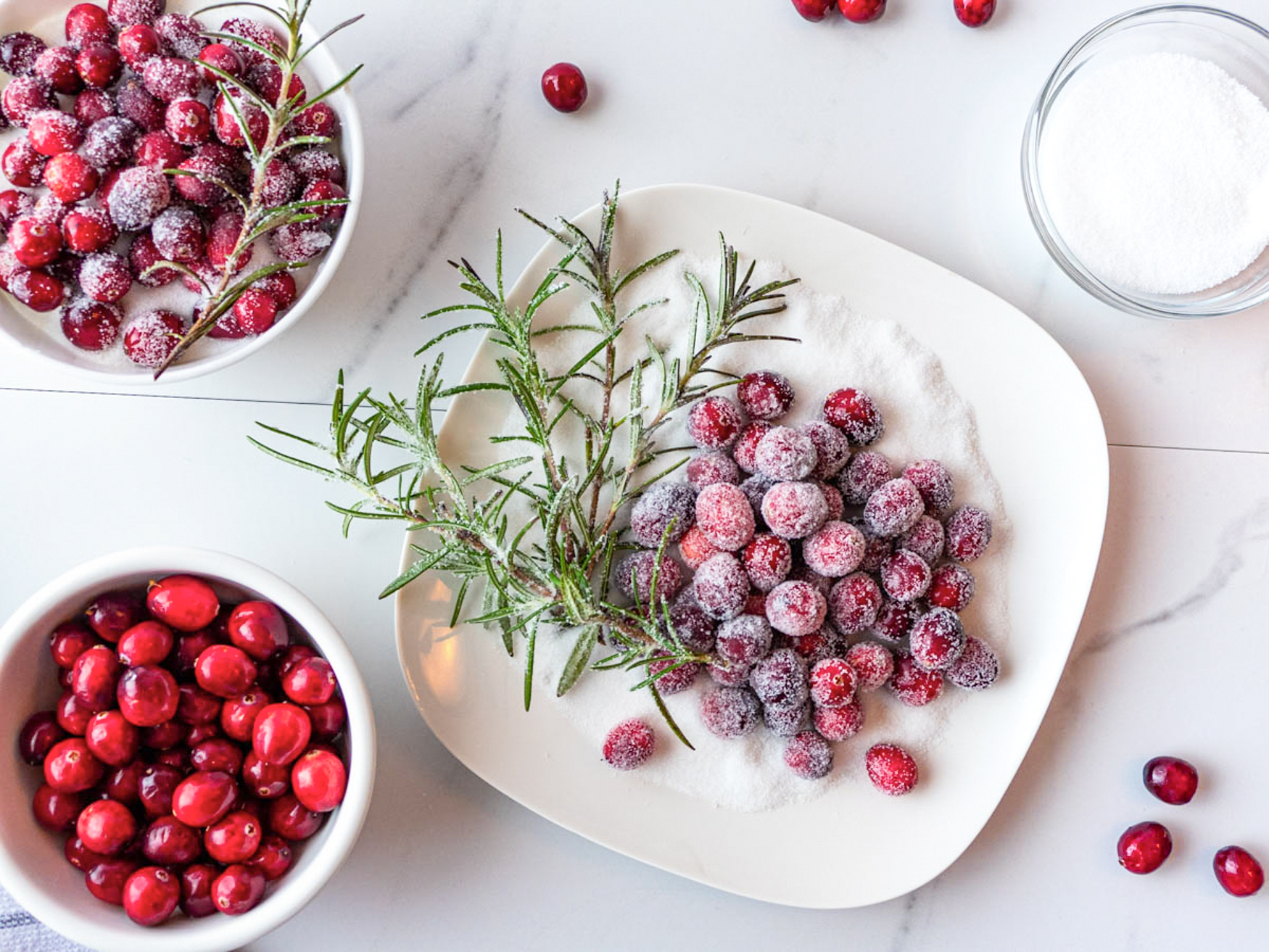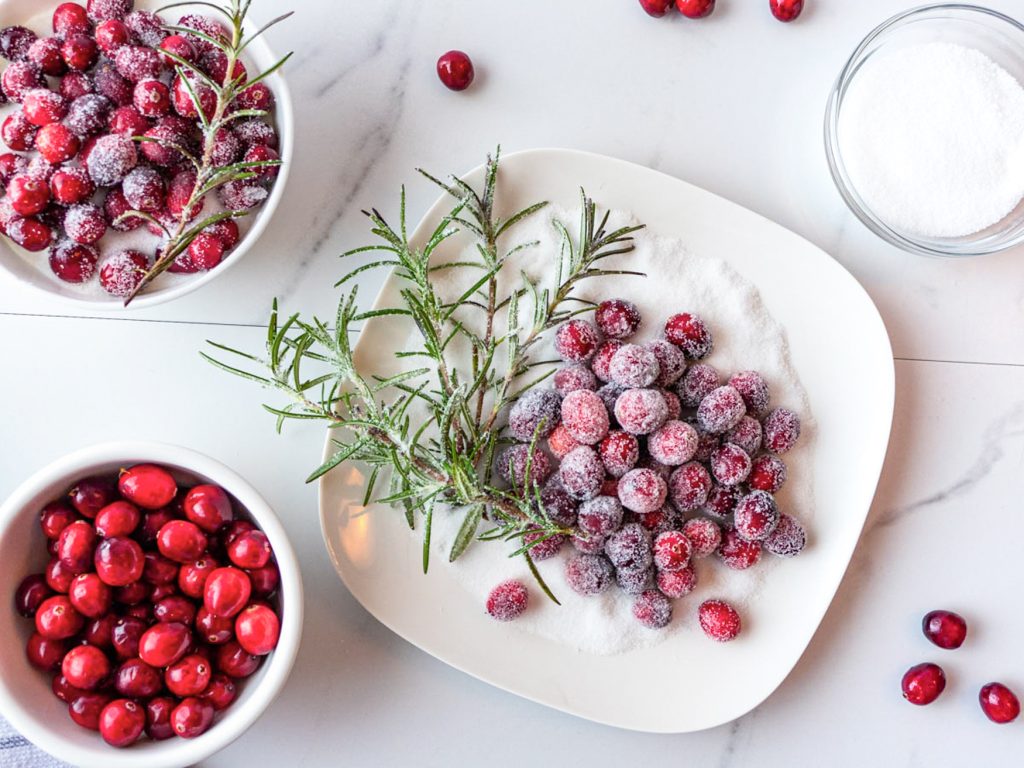 Other Cranberry Recipes To Try:
These pretty cranberries may look like they might be just for decoration, but they're not – they're like eating candy.
Good for you candy!
Put them out as part of your holiday spread this year and surprise your guests with their perfect blend of sweet and a little part tart.
Looking for other ways to use your cranberries?
Try these:
If you've tried these If you've tried making these SPARKLING CRANBERRIES or any other recipe on my site, let me know in the comment section how it turned out, we love hearing from our readers! You can also follow along with me on PINTEREST, FACEBOOK, and INSTAGRAM to see more amazing recipes and whatever else we've got going on!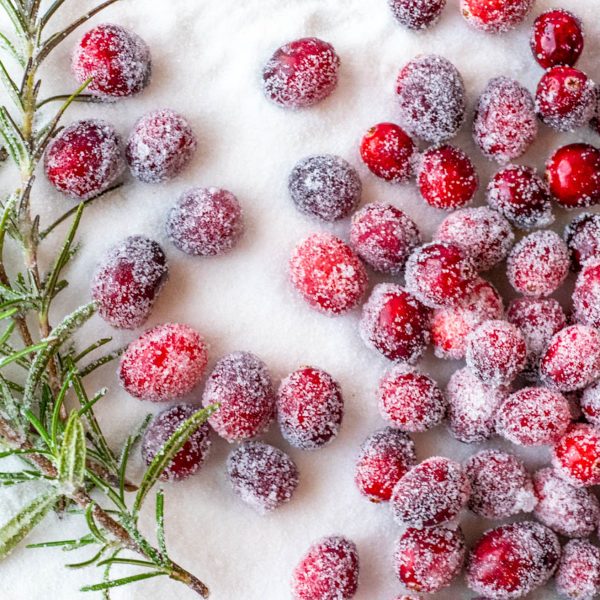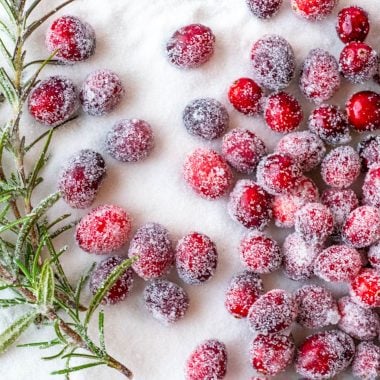 Sparkling Sugared Cranberries and Rosemary
Sugared cranberries and rosemary make a beautiful frosted garnish for cupcakes, cakes and even special drinks. They can be used to brighten a holiday table setting and the cranberries can be eaten right out of the bowl.
Print
Pin
Rate
Ingredients
For the simple syrup:
½

cup

of granulated sugar

½

cup

of water
For sugaring:
1 ½

cups

granulated sugar for sugaring

1 ½

cups

cranberries

3-5

rosemary sprigs
Instructions
Place equal parts of sugar and water in a medium cook pan.

Bring to a simmer until sugar is completely dissolved.

Let the mixture cool a bit before adding the cranberries and rosemary. Gently spoon the sugar mixture over the berries and rosemary sprigs.

Using a cooling/baking rack use a slotted spoon and place cranberries and rosemary onto the rack to dry. I recommend waiting for about an hour.

Then you can put the sugar either on a plate or a shallow bowl. Gently spoon the sugar over the berries until they are frosted to your desire. Use the same process for the rosemary.

That's it, enjoy!
Notes
If the sugar isn't sticking to the cranberries or the rosemary you can gently spray them with a fine mist of water to help adhere the sugar on. The water reactivates the stickiness of the sugar water.
These are beautiful on white frosted cupcakes and cakes.
They will stay fresh in a sealed container for several days.
Nutrition
Calories:
1621
kcal
|
Carbohydrates:
419
g
|
Protein:
1
g
|
Fat:
1
g
|
Saturated Fat:
1
g
|
Sodium:
14
mg
|
Potassium:
128
mg
|
Fiber:
7
g
|
Sugar:
405
g
|
Vitamin A:
178
IU
|
Vitamin C:
20
mg
|
Calcium:
12
mg
|
Iron:
1
mg
post & pictures updated 12/12/2020