Cheesecake is a pretty universal dessert, perfect for anytime of the year. Infuse yours with the flavors of the Holiday season with our Cranberry Sauce Topped Eggnog Cheesecake. It's a little Christmas miracle in every bite.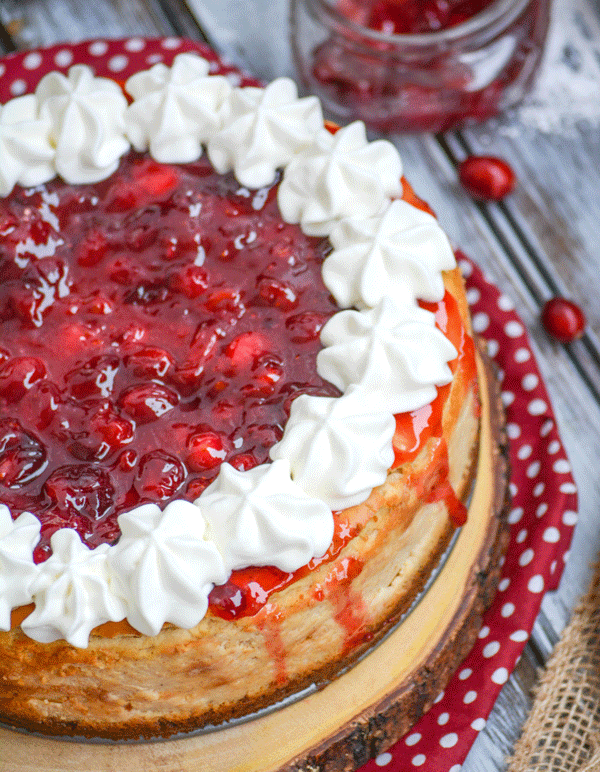 Who here has Netflix? Amazon Prime? Hulu? Or any of those awesome streaming services that allow you to break from cable?
Fun fact, they also allow you to avoid a nail biting week in between episodes, pondering what ifs and over analyzing every little possible detail/maybe easter egg.
We love it and, for our favorite shows, it makes it a more movie-like experience. Cue the popcorn popping, for a TV show!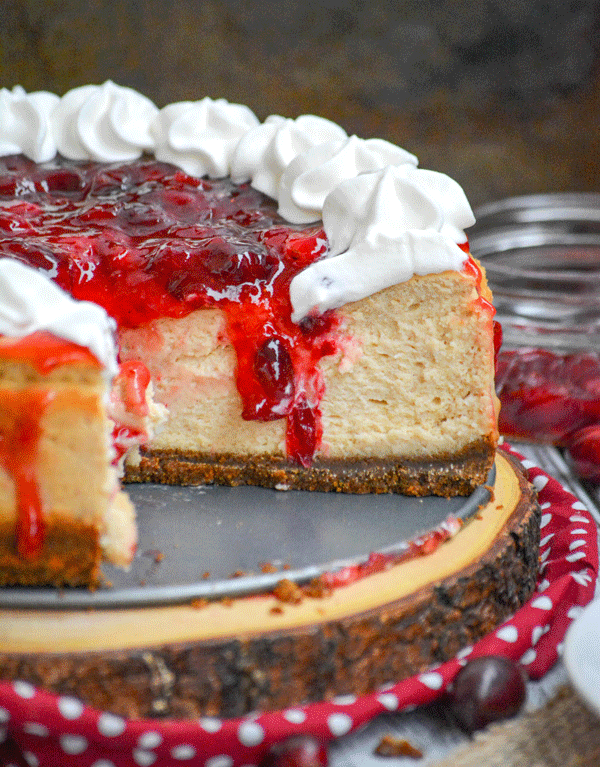 We don't typically consider ourselves 'binge-watchers', but there was no shame in our game this weekend.
Stranger Things 2 dropped at midnight on Friday. Saturday night one episode turned into two. Two turned into three, which is usually where we'd pull the plug.
I mean, my husband has a bad case of ADHD, and I can only take but so long before I need to stretch my legs. Usually.
Before we knew it, it was 3am and we only had one episode left in the season. So, naturally, we went for it.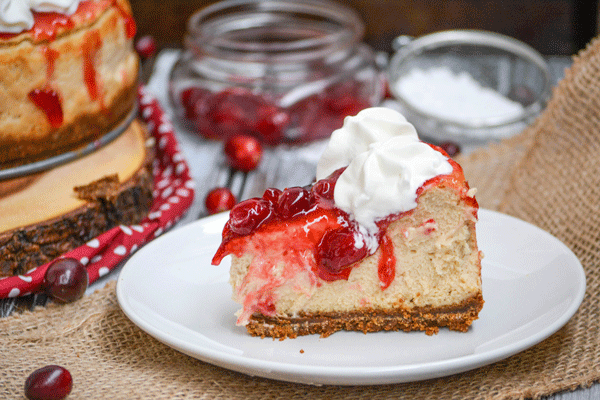 We have zero regrets, other than getting up Sunday morning when the alarms went off was a serious drag, lol.
Halloween is on Tuesday, so a day away, and then it's straight on to the Holidays. Thanksgiving and Christmas everything.
So this was our last big scary show weekend, and it was great family time enjoyed by all.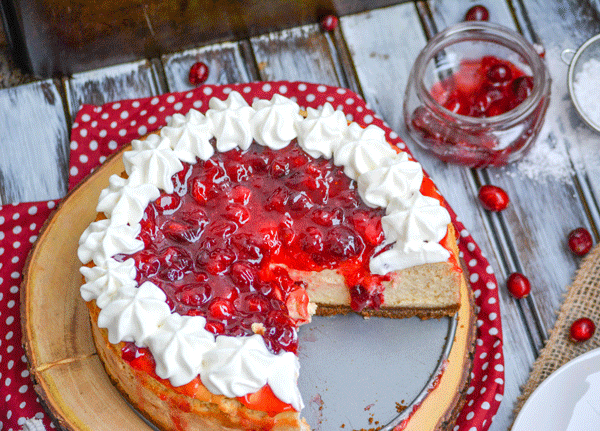 Despite enjoying reliving my childhood through the great 80's vibe, and all the creepy awesomeness- we needed something sweet to ease our transition.
Seriously sweet, in my case.
Luckily for me, even though we aren't chronologically past Halloween, my local grocers already have eggnog aplenty stocked.
So this Cranberry Sauce Topped Eggnog Cheesecake was not only happening- but a necessity.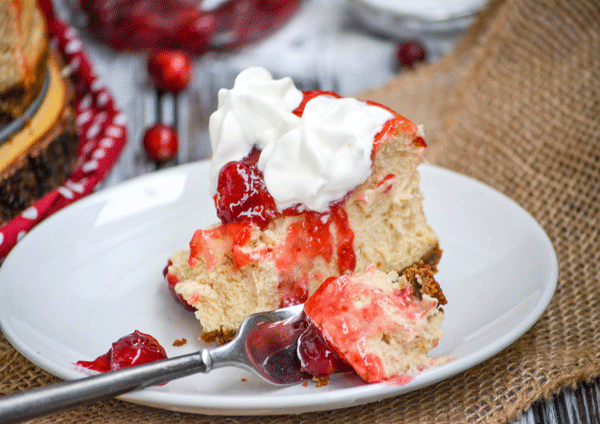 I think it's fair to say, I've gotten Halloween outta my system- at least where programming is concerned. I'm gonna be jumping straight onto to Holiday bandwagon.
We've already got Elf and Christmas Vacation queued up for the next couple days. We're ready to get into the season. Sorry, I'm an early bird- always.
What I'm not sorry about, is already bringing you yummy sweets that you can incorporate into your holiday menu or showcase on your table. Case in point, this Cranberry Sauce Topped Eggnog Cheesecake.
It's the perfect dessert for the season!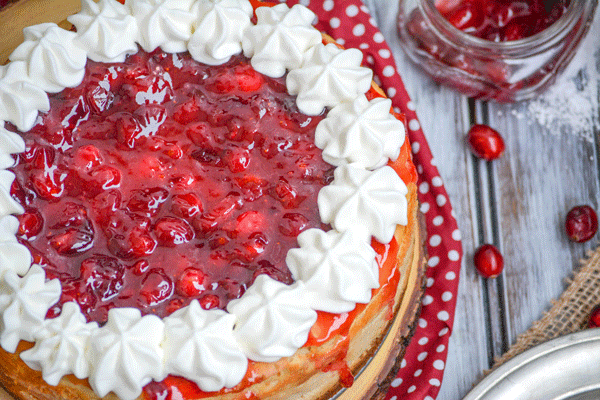 This cheesecake features the holidays in every bite.
A buttery crust made from crushed gingersnap cookies, topped with a creamy eggnog flavored cheesecake filling. It's a Christmas miracle, right there.
Spread with a homemade cranberry sauce, and topped with dollops of whipped cream? I wasn't kidding when I said every little bit is like taking a bite out of the Holidays.
If you've tried this CRANBERRY SAUCE TOPPED EGGNOG CHEESECAKE, or any other recipe on the site, let me know in the comment section how it turned out, we love hearing from our readers! You can also follow along with me on PINTEREST, FACEBOOK, and INSTAGRAM to see more amazing recipes and whatever else we've got going on!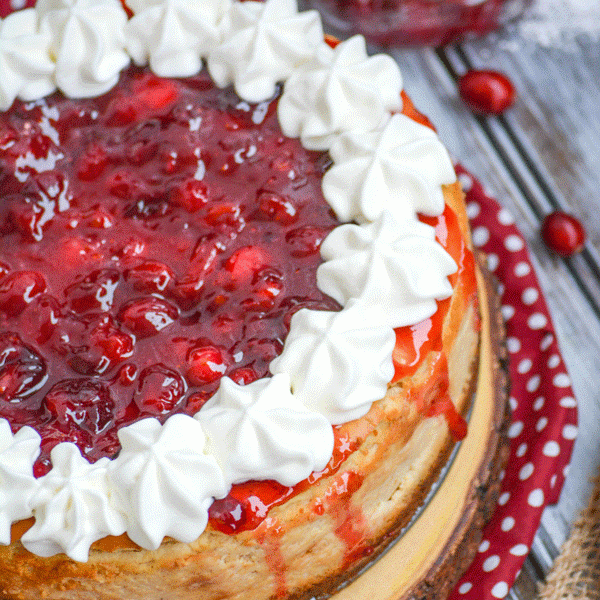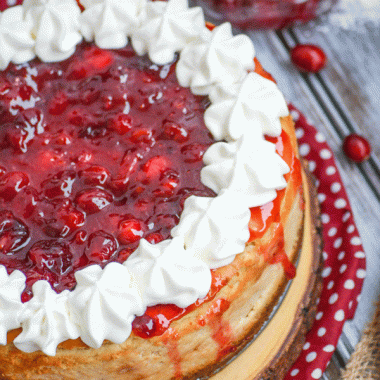 Cranberry Sauce Topped Eggnog Cheesecake
An easy cheesecake where each layer pairs perfectly to embrace Holiday flavors.
Print
Pin
Rate
Ingredients
For The Crust
2

cups

finely ground gingersnap cookie crumbs

1/4

cup

brown sugar

packed

1/2

cup

butter

melted
For The Eggnog Cheesecake Filling
4 8

oz

pkgs full fat cream cheese

at room temp

1

cup

+ 2 tbsp sugar

3

tbsp

flour

4

large eggs

at room temp

1

large egg yolk

at room temp

1

cup

eggnog

at room temp

1 1/2

tbsp

vanilla extract

1

tsp

cinnamon

1/8

tsp

nutmeg
For The Cranberry Sauce Topping
1

cup

sugar

2

tbsp

cornstarch

1

cup

cranberry juice

1 1/2

cups

fresh cranberries

1

can whipped cream
Instructions
To Make The Crust
Line the bottom of a spring form pan with parchment paper. Secure the spring form, closed, locking the paper in place. Spray the inside of the spring form pan lightly with nonstick spray.

In the bowl of a food processor, using the stirring attachment, combine the cookie crumbs, sugar, and butter, just until evenly combined.

Transfer the mixture to the prepared pan. Use your fingers to firmly press them into a packed, even layer.

Bake for 10 minutes, at 325 degrees. Remove the crust from the oven, and let it cool completely.

To Make The Cheesecake Filling
Add the cream cheese to the bowl of a stand mixer, and using the paddle attachment beat the cream cheese until it's light & fluffy- at least 4 minutes.

Add the sugar, and beat again- this time for 5 minutes.

Add in the flour, mixing until evenly incorporated.

Next Add the eggnog, vanilla, cinnamon and nutmeg- mixing just until blended.

One at a time, add the eggs and then the yolk, one at a time and mixing as little as possible after each one- JUST until combined. Pour the mixture into the spring form pan and spread evenly out over the crust.

Lift the pan an inch or two above the counter top and drop it. Do it 2-3 times to remove any trapped air bubbles.

Bake the cheesecake at 325 degrees for 60-70 minutes. Do NOT open the oven before then or you'll cause cracking. Turn off the oven, crack the door, and allow the cheesecake to cool for another hour.

Remove the cheesecake from the oven. Run a hot knife in between the edges of the cheesecake and the pan to 'release' it. Let the cheesecake cool completely, around 2-3 hours. Cover the cheesecake, without touching it, with foil and refrigerate overnight or up to 24 hours.
To Make The Cranberry Sauce Topping
Bring all of the ingredients to a boil, in a large skillet, over high heat. Reduce the heat to medium and let the mixture simmer, stirring often, for 2-3 minutes or until thickened. Remove the skillet from heat and let it cool completely.

Spoon most of the cranberry topping evenly out over the top of the cheesecake, reserving some. Spoon the reserved bit equally over slices just before serving.

Top with dollops of whipped cream, if desired, either in a ring around the actual cheesecake, or just on individual slices.
Nutrition
Calories:
400
kcal
|
Carbohydrates:
63
g
|
Protein:
9
g
|
Fat:
13
g
|
Saturated Fat:
7
g
|
Cholesterol:
107
mg
|
Sodium:
396
mg
|
Potassium:
232
mg
|
Fiber:
1
g
|
Sugar:
48
g
|
Vitamin A:
413
IU
|
Vitamin C:
4
mg
|
Calcium:
162
mg
|
Iron:
2
mg