So remember when we started this whole 12 Days of Christmas thing? Remember my little pre-apology just in case life got in the way of a post or two coming your way? Well, it was bound to happen and it finally did. (Although we did have a solid six day run before that. Yes!)
Long story short: Son # 4's allergies got the best of him. Zyrtec kicked his allergies butt and dried up excessive amounts of mucus. And backed them right up into his ear which culminated in an ER visit narrowly avoiding a burst ear drum. Now that we're all back to normal, we're ready to resume our regularly scheduled programming. And back to the Christmas craftiness we are. In 3 … 2 … 1 …
I'm about to show you something really cute.
Like really, really cute.
And it's so simple! Just a few supplies, and you can have an adorable Winter milk jug ready for the kids, for guests, or even for Santa on Christmas Eve.
Also, it's Christmas time, and that means it's also (unofficially) cookie season. And you can't have cookies without milk. It's just one of the unwritten laws of dessert. So whether you're throwing a Christmas party, hosting the family baking day, or just enjoying some much needed qt with your cuties, having milk on-hand is a must, and what better way to serve it than this?!
If you've made these SNOWMAN MILK BOTTLES or any other recipe on my site, let me know in the comment section how it turned out, we love hearing from our readers! You can also follow along with me on PINTEREST, FACEBOOK, and INSTAGRAM to see more amazing recipes and whatever else we've got going on!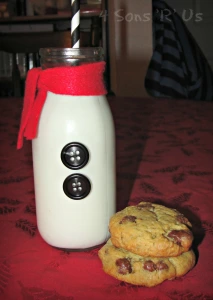 Ingredients
milk bottles

I happen to own a set, but Starbucks Frappuccino bottles would work perfectly too

felt

I used red but any color would work

black buttons

straws

glue gun
Instructions
Cut a strip of felt. Snip the ends of the strip of felt to resemble a scarf.

Tie the strip of felt around the neck of the bottle. Arrange the ends so they both lay flat. If needed apply some glue to the bottom strip and press the top down onto it to secure.

Glue two black buttons onto the midsection of the glass.

Fill with milk, insert a straw, and you're ready to impress!