This Crockpot Ham & White Bean Soup is an easier, set it and forget it, variation of the classic. It's super simple with a very short ingredient list. It makes it quite a delightful surprise when you first dig in and discover just how incredibly flavorful it is.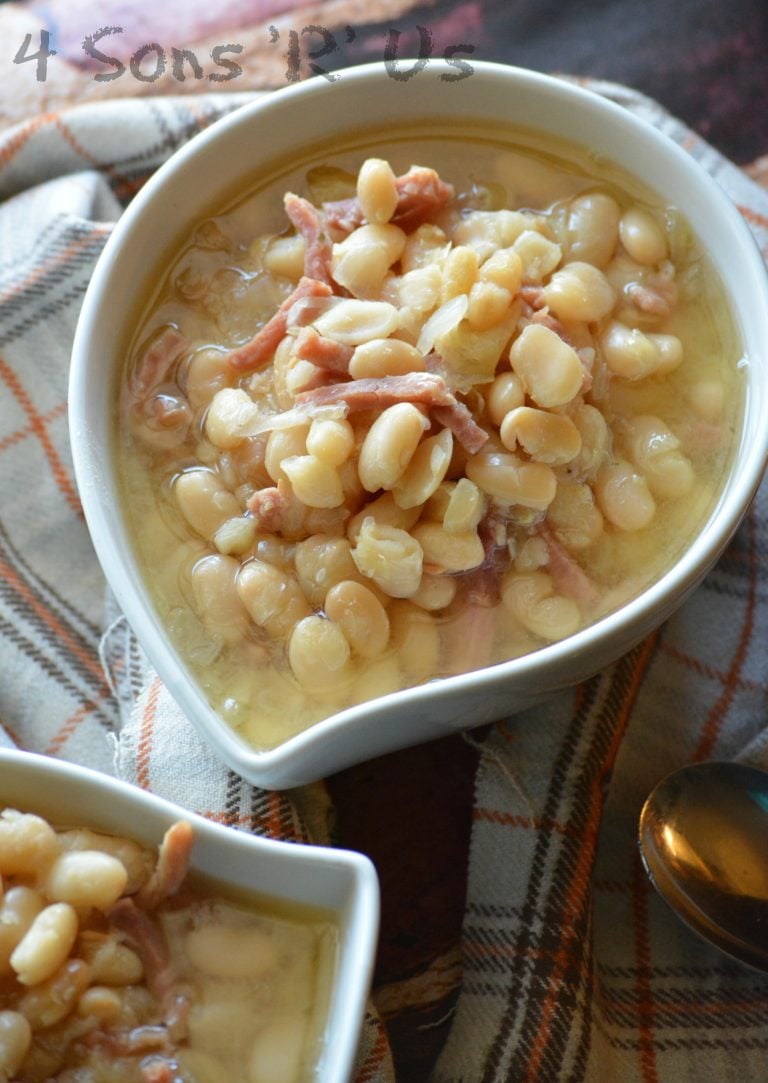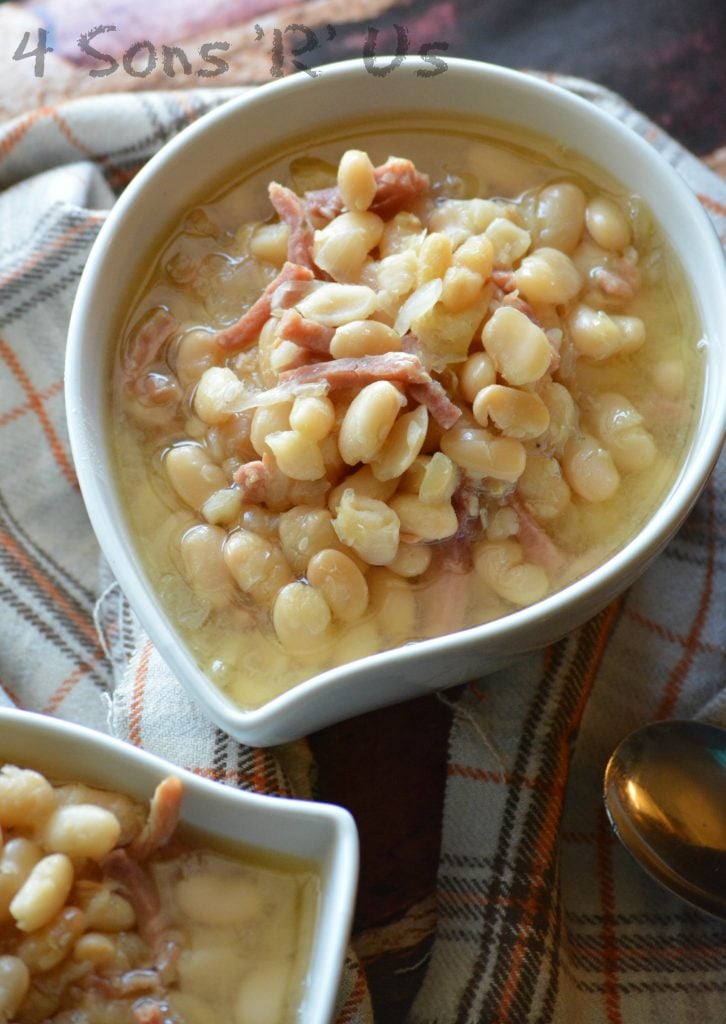 Do any of you other Moms & Dad's make your kids cook?
Because apparently that is listed under to 'cruel and unusual punishment' category on Friday nights.
Ya know, the weekly fend fo yo-self night.
Son # 2 acts like it's just unconscionable that his mother wouldn't want to slave over the stove or toil away in the kitchen for him for one evening a week.
Because apparently that's my job. Ha!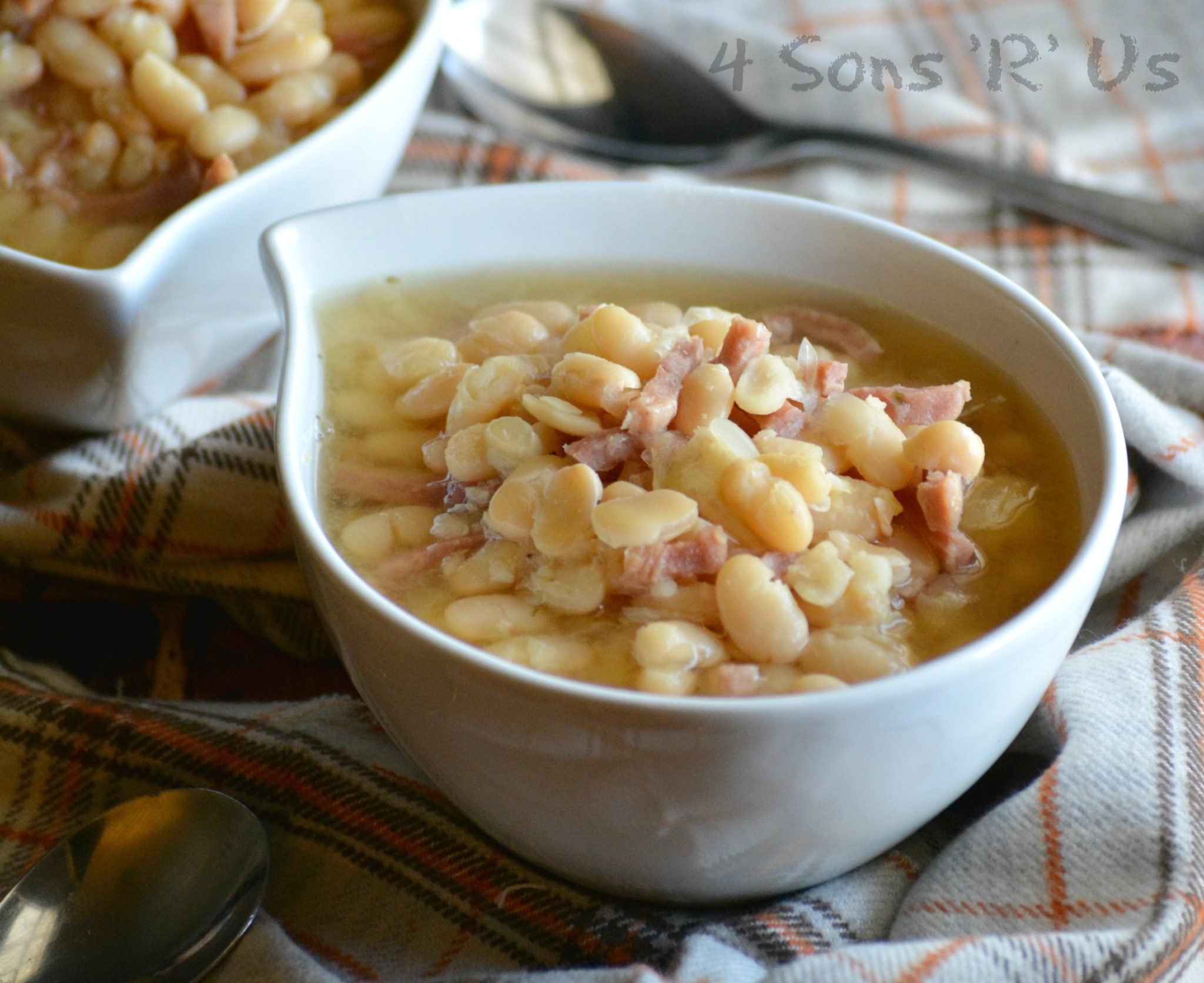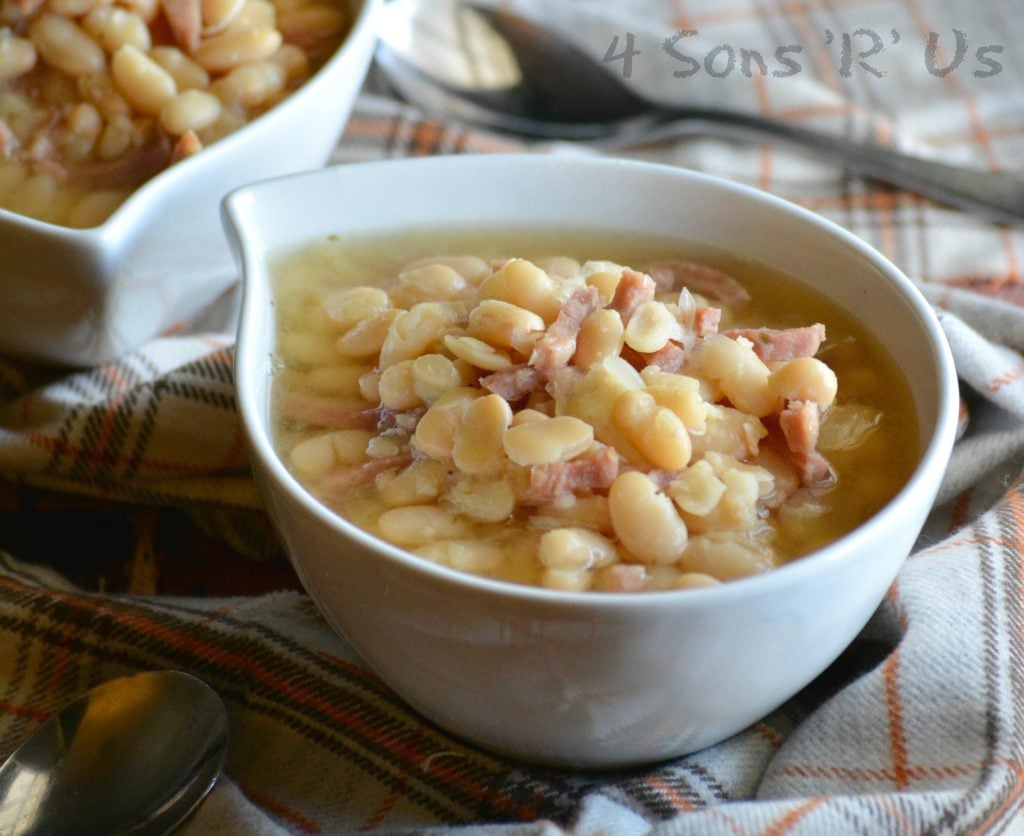 So, fend for yourself night.
Nothing new around these parts, but you'd never know it when listening to the complaining chorus.
Any who, it's pretty simple make what you want, and leftovers are always divided evenly among the boys.
Sometimes though, one son will decide that's not sufficient, or maybe he's just having a golden child moment, and decides he's going make dinner for everyone.
While years ago that would have been boxed mac and cheese (because that's where they were at), it's now an actual meal … something say, like Mom would make.
While I've always been adamant that my boys know there way around the kitchen and be self sufficient, I wasn't satisfied with knowing how to follow the directions on a packet of pasta, or scramble a few eggs.
(Oh, and to make sure we all know/knew what we were doing we took it back to the stone age by deciding against owning a microwave)
Within the past few months or so though, they've caught onto a little piece of meal magic though.
The CROCKPOT.
Turns out I'm not the only one who can throw a few ingredients in that sucker and have dinner ready in a few hours.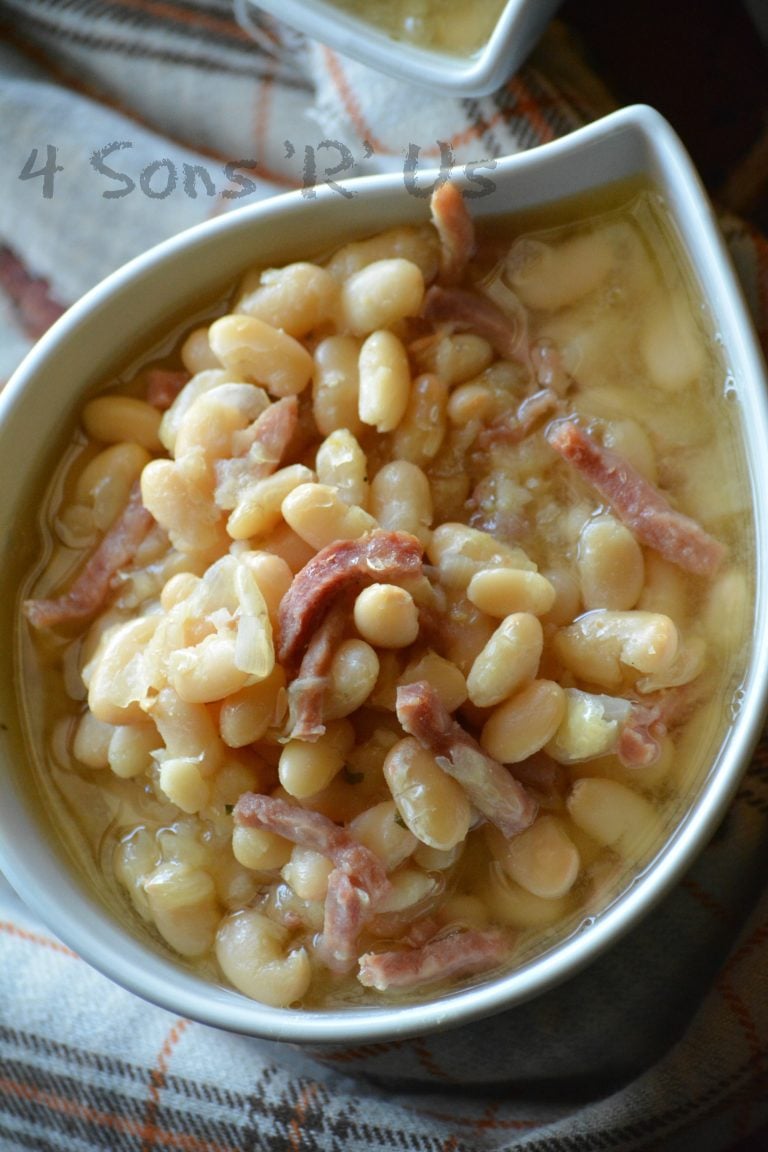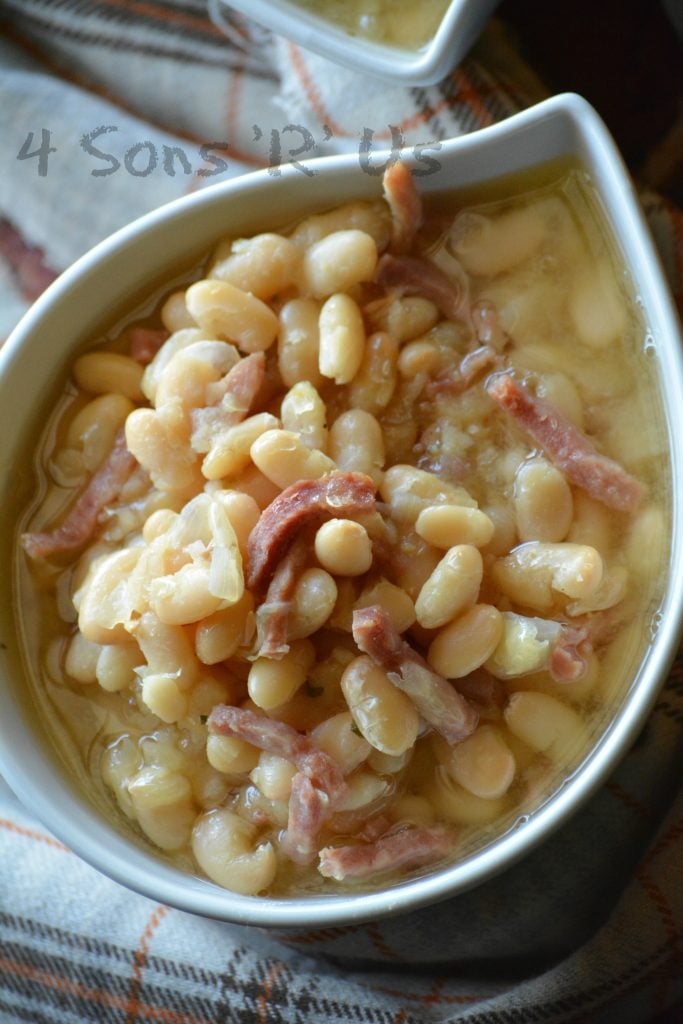 It's Friday?
You know where the family recipe books are. Pick one and work together, or there's always grilled cheese and a can of tomato soup.
Or Ramen noodles.
I did say it was fend for yourself night, didn't I?
Behold!
The sons did not in fact starve this week!! So we're here to share their latest creation … crockpot ham and white bean soup.
And it's good you guys.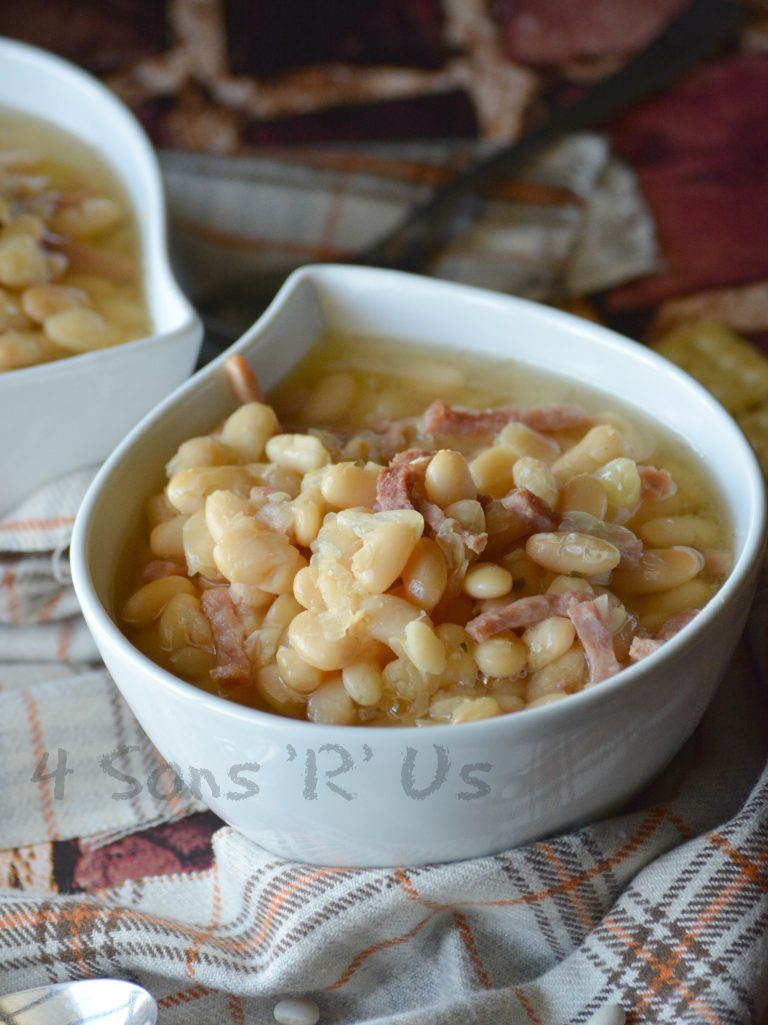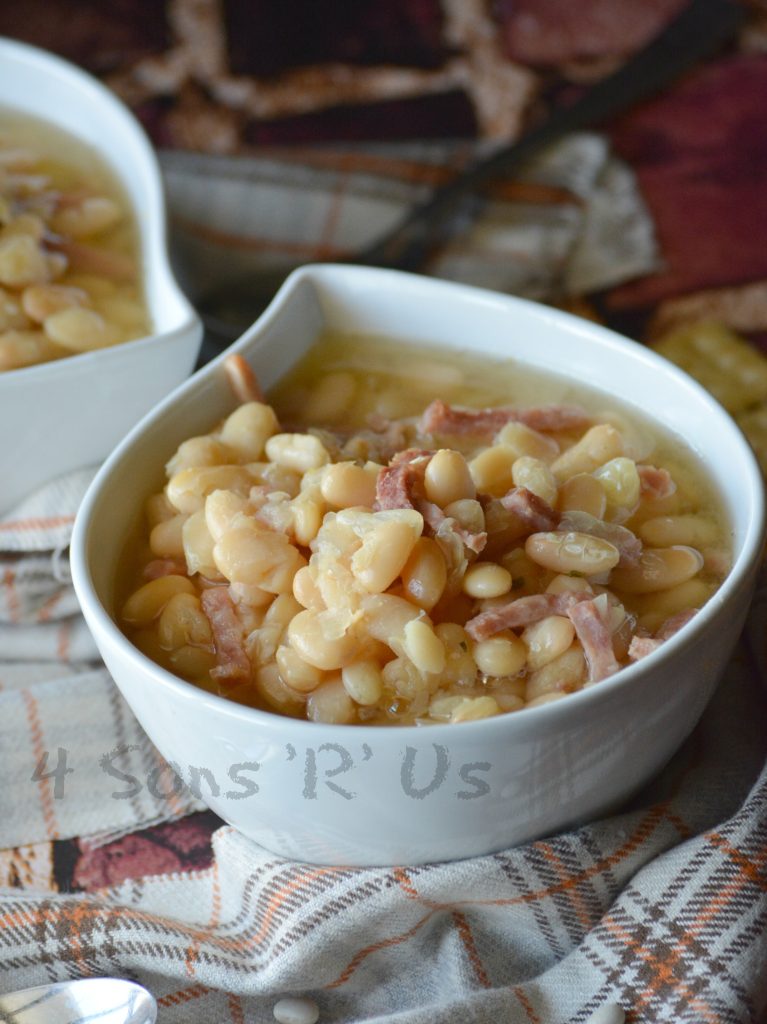 Want to know what's even more ironic?
I made this for them two weeks ago for supper, and you should have heard the resounding complaining chorus.
Because, soup. Of any kind. For dinner.
My, my … how the tables have turned.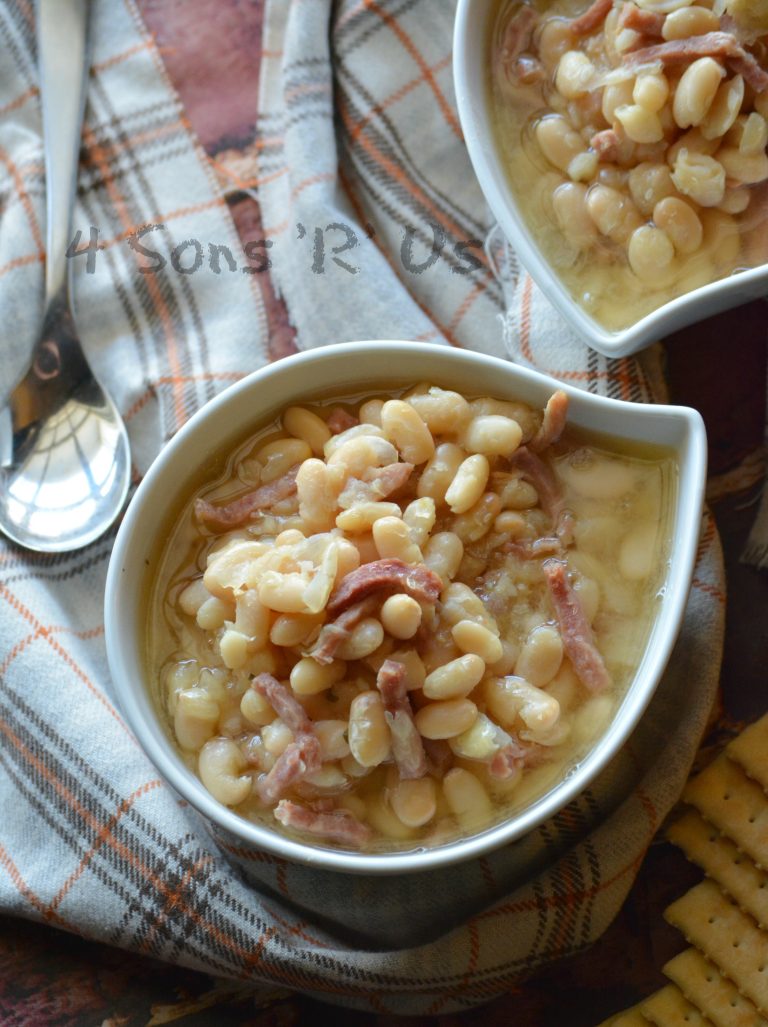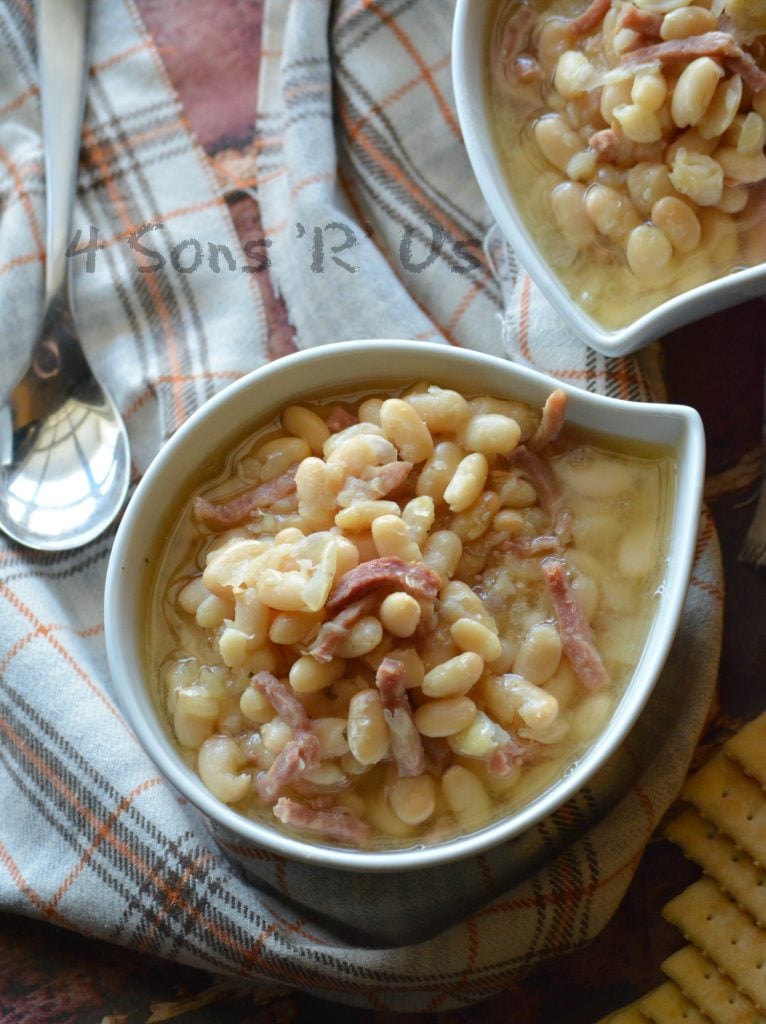 See? So Simple- a child can do it.
Have an Instant Pot? Pressure Cook This Ham & White Bean Soup recipe for quicker results!
This soup was made for both the slow cooker & the pressure cooker.
There's just a couple adjustments to be made when adding it to the Instant Pot.
Add all of the ingredients to the pot, just as instructed for the slow cooker.
Then add two-three additional cups of water.
This is necessary for it to come to pressure and cook properly.
Cook the soup on high pressure for 45 minutes, and allow for a completely natural pressure release.
Once the pressure release is finally done, open the lid & give everything a good stir.
You can serve now, or let the soup rest for 10-15 minutes. It will continue to thicken as it sits.
The soup will be hot, so keep that in mind when serving.
The Beans Shouldn't Have To Soak, How To Ensure They Cook Properly
Whether you choose to make this in the slow cooker or the Instant Pot, the beans should've require a pre-soak to come out perfectly cooked.
To ensure they cook properly, use dry beans that you just recently purchased.
The only time my beans have come out under cooked, it's been because I used beans from my pantry store that had been in there for quite some time.
They're still good, but those definitely require a pre-soak before using in virtually any recipe.
The fresher the dry beans, the better the turn out in this particular recipe.
Other Cozy Ham Soup Ideas To Enjoy:
If you've tried this CROCKPOT HAM & WHITE BEAN SOUP, or any other recipe on my site, let me know in the comment section how it turned out, we love hearing from our readers! You can also follow along with me on PINTEREST, FACEBOOK, and INSTAGRAM to see more amazing recipes and whatever else we've got going on!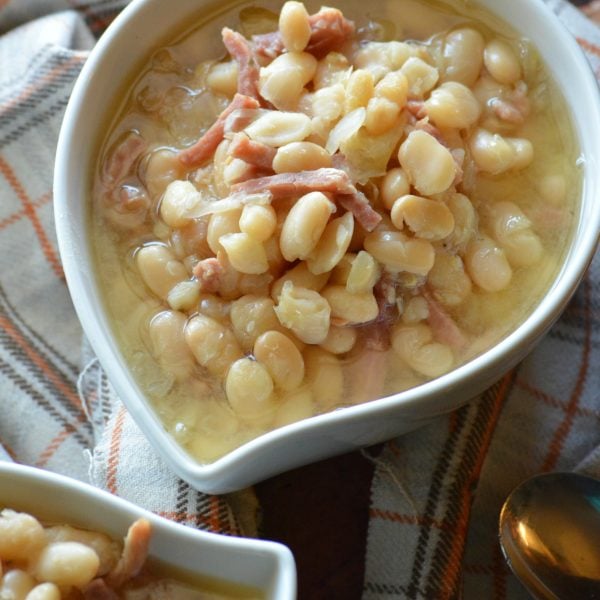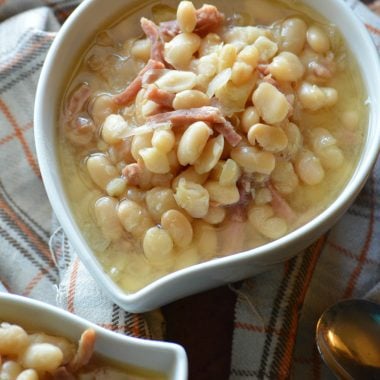 Crockpot Ham & White Bean Soup
A simple but filling soup that's made in the crockpot. With how flavorful it is, your guests will be shocked at how few ingredients it requires.
Print
Pin
Rate
Ingredients
1

lb

of dried Great Northern Beans

rinsed and sorted through

about 1 lb of ham

large pieces

6

cups

of chicken stock or broth

1

medium white onion

diced

salt and pepper

to taste

parsley

to taste

oregano

to taste
Instructions
Place all ingredients in crockpot, and stir them all together.

Cook on low for 8 hours.

Ladle into bowls and serve warm.
Notes
We either serve this soup with cornbread, or crusty dinner rolls. Trust me, you want something to sop up the juices in the bottom of the bowl! This meal can also be made ahead of time, or in a double batch, and frozen until ready to use. Just thaw, reheat, and enjoy!
Nutrition
Calories:
263
kcal
|
Carbohydrates:
43
g
|
Protein:
17
g
|
Fat:
3
g
|
Saturated Fat:
1
g
|
Cholesterol:
5
mg
|
Sodium:
266
mg
|
Potassium:
995
mg
|
Fiber:
12
g
|
Sugar:
5
g
|
Vitamin C:
4
mg
|
Calcium:
108
mg
|
Iron:
4
mg