Cold weather got you feeling down? A heaping helping of this hearty Apple Cider Beef Stew is just the kind of stick to your ribs lunch or dinner to lift your spirits. It even travels well, making it perfect for sharing and ideal for parties & potlucks.
I thought I'd be excited. Excited to have my big ol' king-sized bed all to myself for a night or two. Excited to hog all the cold air from the fan while snuggled up in my favorite Winter comforter, while finally smuggling the Summer quilt back into it's packaging in the closet.
The Hubs is out of town for the next couple days. He went hom with his best friend to see tomorrow night's Steeler's Game at Heinz Field.
I didn't have visions of a wild night or a crazy party in my head. More like being able to let the dishes stay in the sink overnight, the clean laundry sit on the couch without folding it until I felt like it, and reading my book in bed until I fell asleep- without wearing a head lamp for once.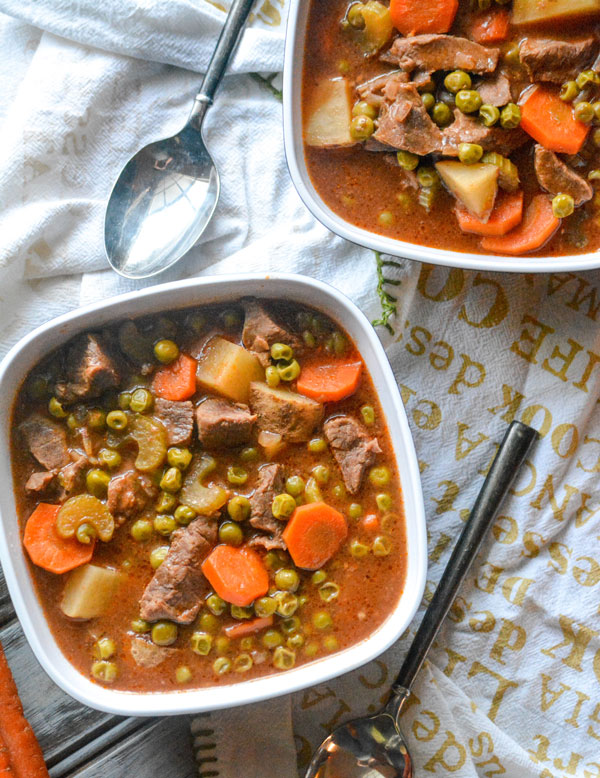 Ya know those little things a 30-something Mom/Wife might envision if she had the bed room to herself. I know, I go hard. LOL.
What I didn't count on was that no matter how much I enjoyed those things on Night 1, was just how much I'd miss my man by Night 2.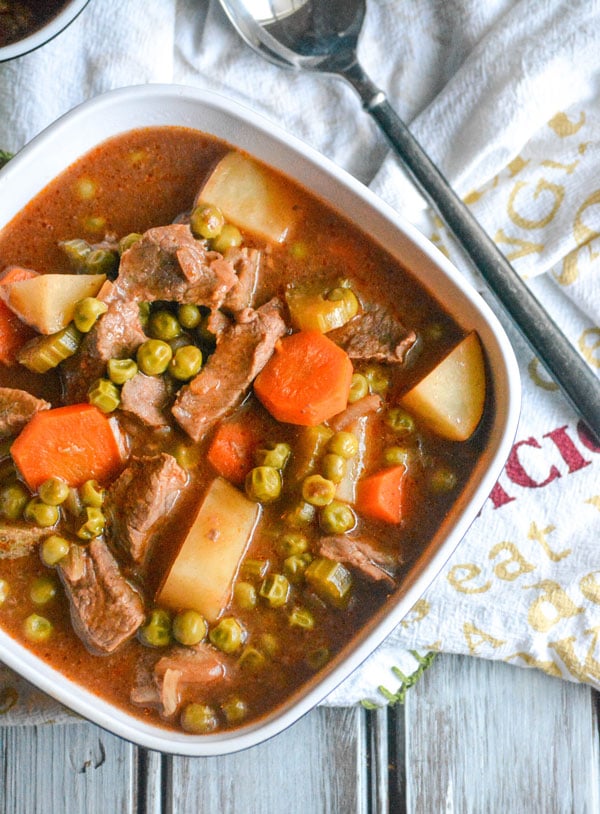 While my comforter was warm and err, well-comforting, it wasn't nearly as cozy and I didn't sleep nearly as well without my husband's heat radiating from the other side of the bed.
And all the pillows? That was just too many pillows, like trying to sleep in a sea of memory foam lumps and bumps.
I ended up doing the dang dishes because they began to irritate me, just sitting their staring at me- silently accusing, judging me and my lazy life choices.
Then I was annoyed and sad that it made me think of that days latest experiment in the kitchen that's been a huge success, and that he hadn't been there to try it and share my enthusiasm.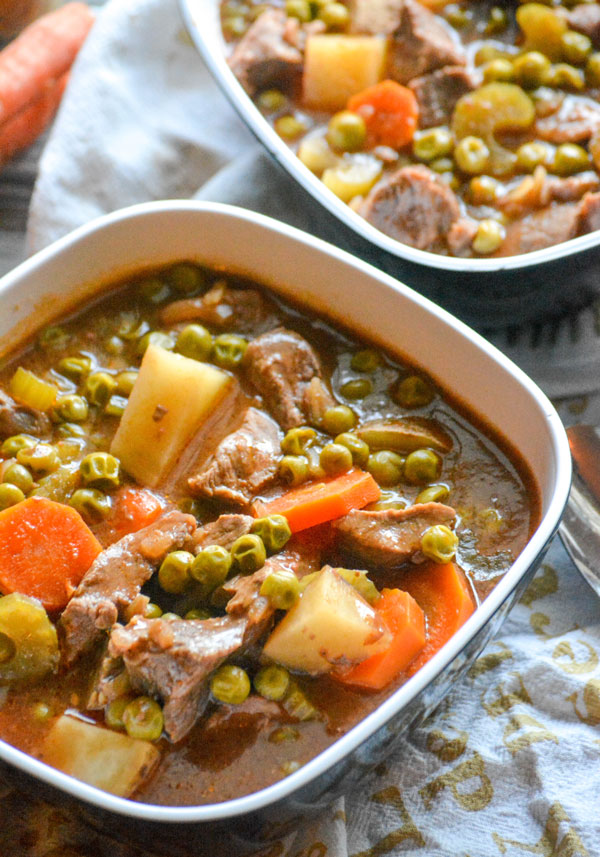 Guess I wasn't ready to be as independent as I thought.
In the meantime, while I count down the days & hours until my husband's home again- I'll content myself with focusing on creating some good old fashioned comfort food.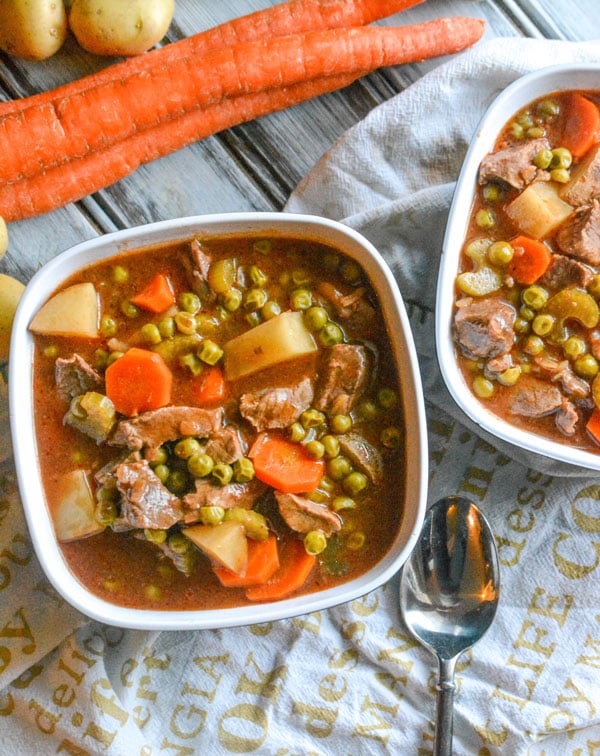 So while the hubs is freezing his butt off outdoors, although all things considered in the tailgating, beer, football, did I mention beer?- he probably isn't feeling a thing, we'll be cozying up to a hearty batch of this Apple Cider Beef Stew.
While I will firmly stand ( and defend my ground ) that soup is meant to be savored and enjoyed allllllllll year long, I realize not everyone shares my viewpoint on this subject. Believe it or not, there are those that feel it's only to be enjoyed in colder weather. Psshh, what do they know?
Well, when it comes to this particular soup, they might have a point. This hearty meat & potatoes version is a dish best enjoyed when the temps are chilly and you want something to stick to your ribs and warm you up, from the inside out.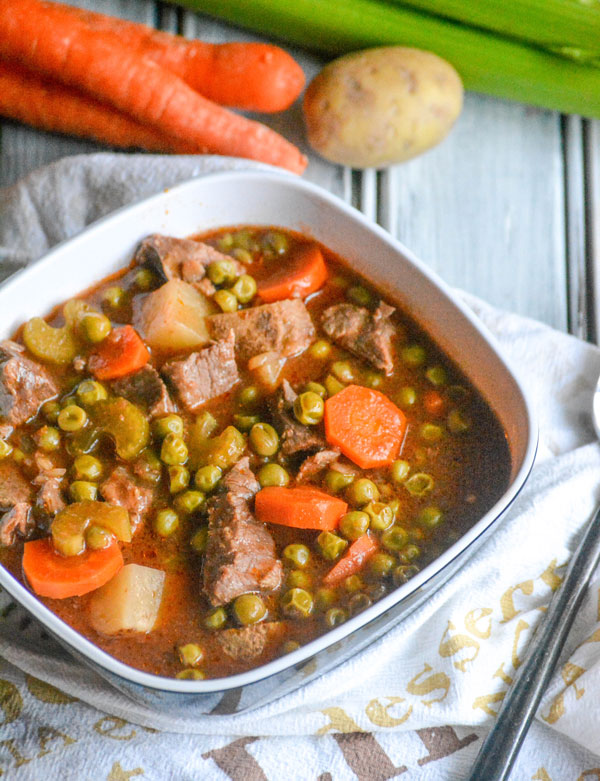 A rich, robust base made up of beef broth, gravy, and tomato sauce is the cornerstone of this flavorful soup. Add to that a sweet hint of apple cider to counter the savory, tender veggies and chunks of tender beef, and you've got magic happening in your slow cooker.
This beef stew may have a sweeter spin that it's more traditional counter parts, one thing's for sure- there's nothing quite like it when you need something to fill you up, warm you up, and cheer you up.
And I promise, after today, no more posts moping about missing The Hubs!
Other Variations On Beef Stew You Might Enjoy
If you've tried this SLOW COOKER APPLE CIDER BEEF STEW, or any other recipe on my site, let me know in the comment section how it turned out, we love hearing from our readers! You can also follow along with me on PINTEREST, FACEBOOK, and INSTAGRAM to see more amazing recipes and whatever else we've got going on!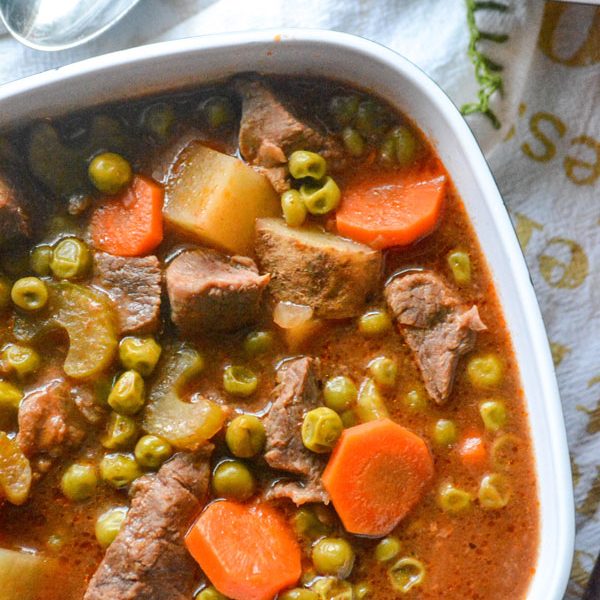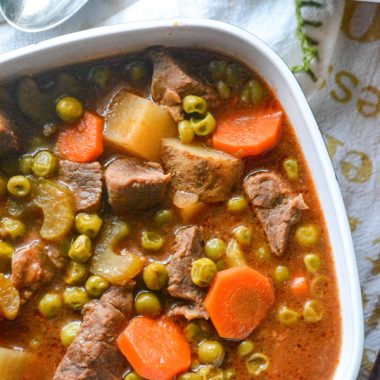 Apple Cider Beef Stew
A hearty meat & potatoes beef stew, with a couple secret ingredients and a surprisingly sweet spin making it a new family favorite.
Print
Pin
Rate
Ingredients
1 1/2

lbs

stew beef, trimmed & cubed

1

cup

thinly sliced carrots

1

cup

frozen green peas

1 1/2

cups

russet potatoes, roughly cut into 1/2" chunks

1

pkt

onion soup seasoning mix

1

pkt

brown gravy mix

1

8 oz can

tomato sauce

2

cups

beef broth

1 1/2

cups

apple cider

3

tbsp

cornstarch

1/3

cup

cold water
Instructions
To the bowl of a slow cooker, add everything but the cornstarch and water. Stir to combine.

Cover and cook on low for 7-8 hours, or on high for 4 hours.

Add the cornstarch and water to a small bowl. Using a fork, stir the mixture until the slurry's smooth.

Stir the slurry into the stew, cover and cook an additional 15 minutes.

Salt & pepper, to taste. Ladle into bowls and serve with a slice of crusty bread.