Homemade donuts have never been easier than with these Quick & Easy Apple Cider Glazed Donuts. Tossed in a cinnamon sugar coating and drizzled with a warm apple cider glaze each bite is melt in your mouth perfection. They're the perfect way to celebrate one of your favorite Fall fruits.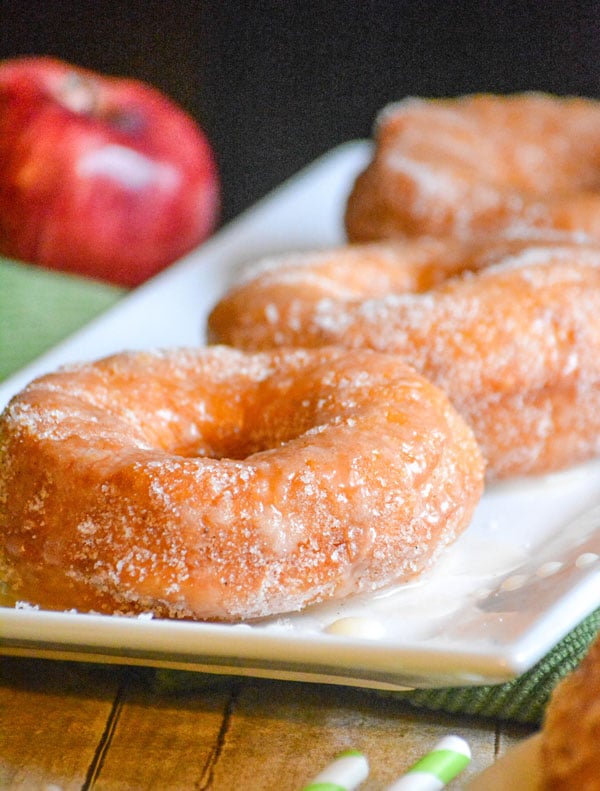 What is it about donuts that makes them so magically delicious?!
And nobody in our family is immune to their allure. Seriously, they have like this Siren song that calls to us. My kid's won't have even been invited to the grocery store with me (it's my only 'me' time somdays, and secretly my happy place- SAHM probs, lol).
Let me come home with them tucked away in my brown paper bags, and my kids are like little bloodhounds on a mission.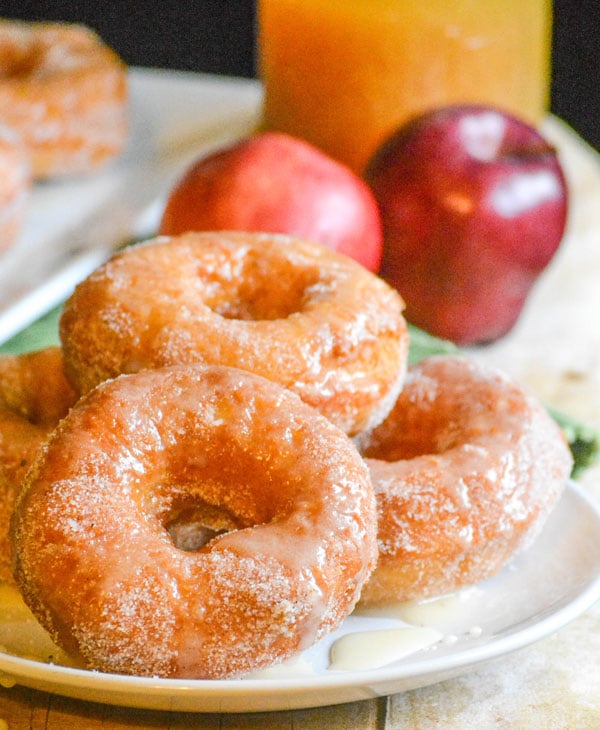 It never fails. It also never ceases to surprise me, even after years and years.
Donuts come in all shapes, sizes, and forms and we don't discriminate. We love em all. However, I don't always have the time, or let's be honest- the energy, to make them from scratch.
The same goes for driving to our favorite sugary 'shack' to get a box of assorted specialty flavors and fun finds.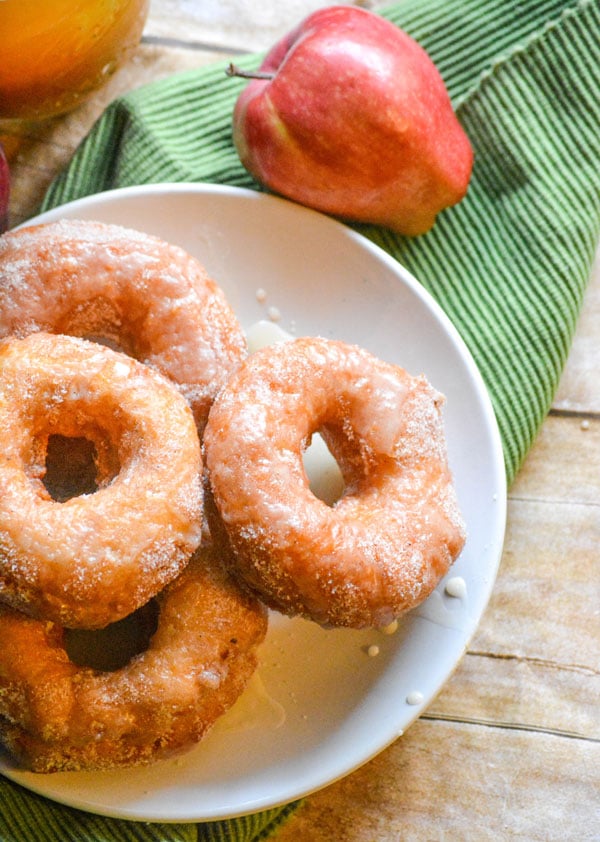 What's a gal to do then to get her finger lickin' fix then?
You have a genius hack on hand for a quick & easy version that's ready in just minutes.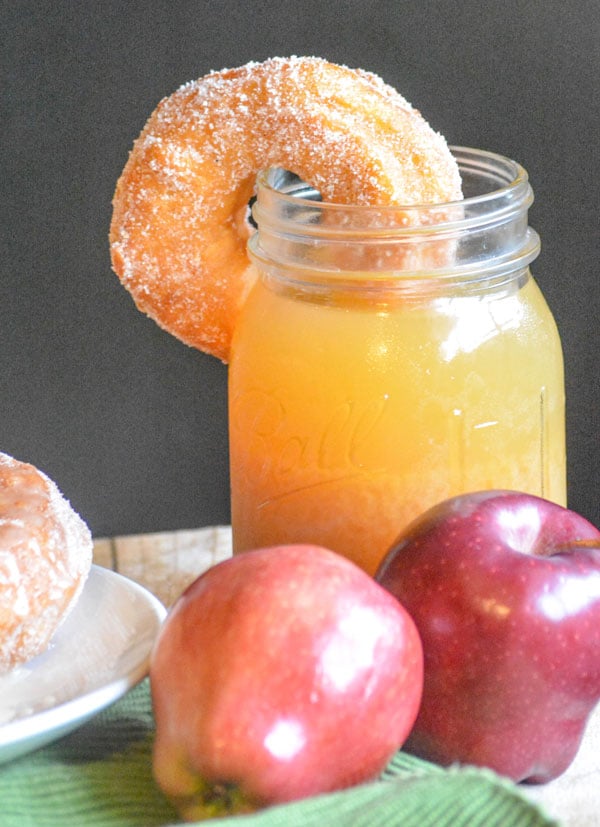 You could call this a 'cheater' version, but cheating is bad and strongly discourage in our house. I'm sure it is in yours too.
What the kids don't know won't hurt them, right? Especially if a delicious pastry is involved? It's all for the love of donuts, so it's all good in my book. Besides, we're not breaking any rules.
I'll just make sure to tuck Grandma's recipe box back up on the cupboard shelf before getting started. Wouldn't want her to think I'd totally lost my way around a from scratch recipe!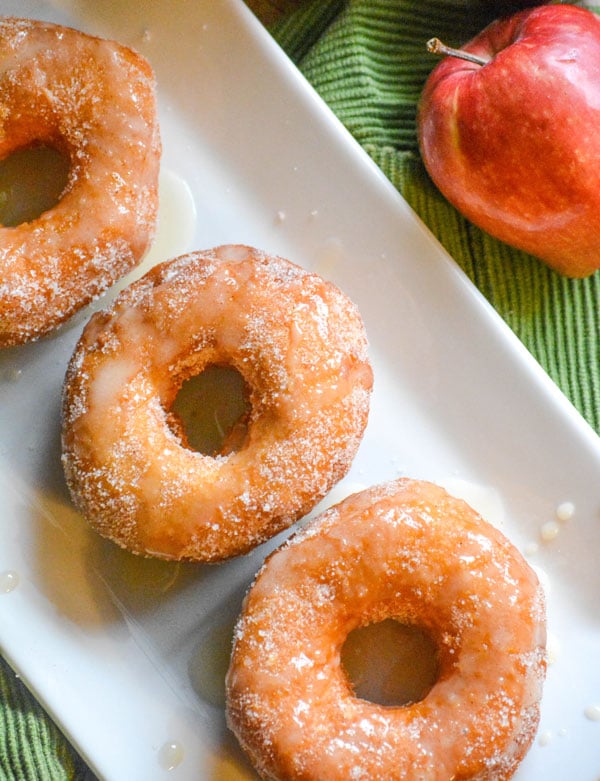 Refrigerated biscuit dough, that's all you need to keep on hand for a quick, tasty donut treat. If only someone had shared this secret with me years ago!
We're here to remedy that though for as many other Moms, kids, people in general as possible.
With a few simple ingredients, not only can you be enjoying freshly fried homemade donuts- but Quick & Easy Apple Cider Glazed Donuts!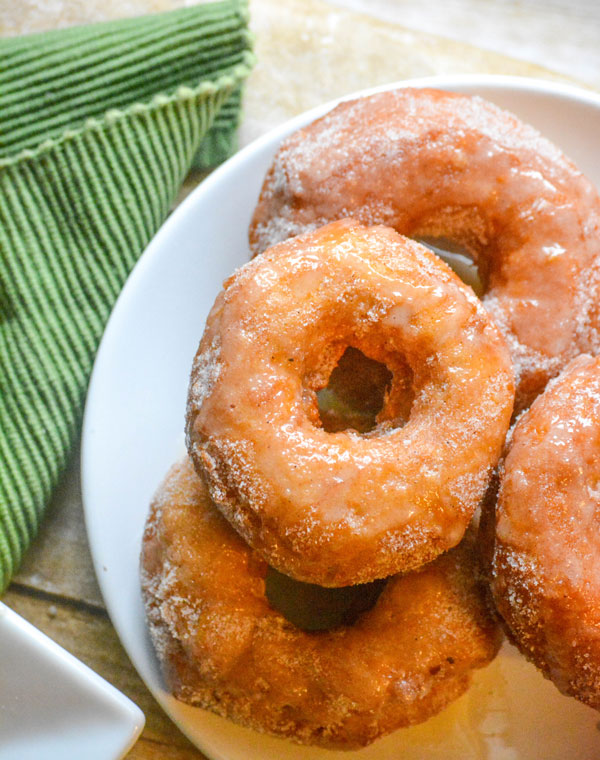 Cut out of canned refrigerator biscuit dough, these Quick & Easy Apple Cider Glazed Donuts fry up into crisp, melt in your mouth donuts that dreams are made of. Dipped in a light cinnamon sugar coating, they're drizzled with a warm apple cider glaze for a Fall donut that'll hit the spot any time of day- morning, noon, or night.
Fresh donuts whenever you want, without ever having to load up the kids or even leave the house. Dreams really do come true!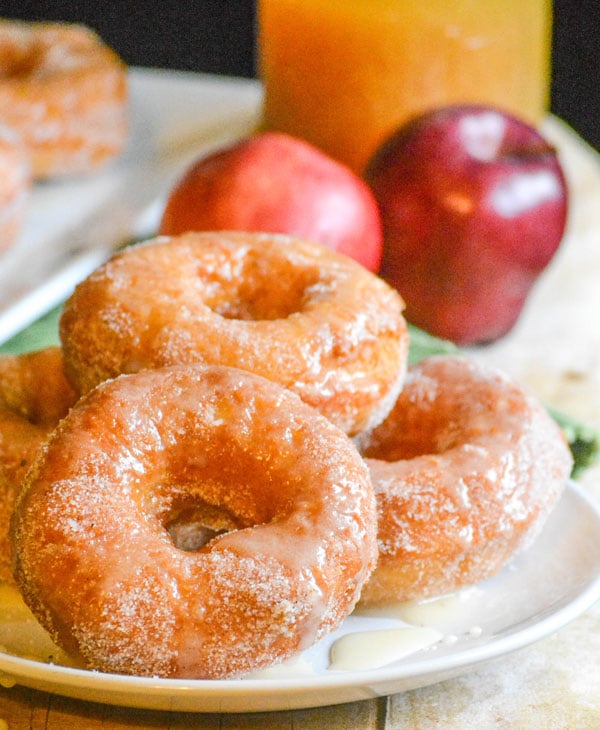 Quick & Easy Apple Cider Glazed Donuts
A simple donut using a kitchen staple with a cinnamon sugar coating and a warm apple cider glaze.
Print
Pin
Rate
Ingredients
1

16.3 oz can

refrigerated biscuit dough, NOT flaky or butter flavored

1

cup

powdered sugar

3

tbsp

warm apple cider

1/2

tsp

nutmeg

1

tsp

cinnamon

1

cup

sugar

canola oil, for frying
Instructions
In a dutch oven, or cast iron skillet, heat the oil over medium heat until the oil reaches 350 degrees.

In a small, shallow bowl, use a fork to whisk together the regular sugar, nutmeg, and cinnamon.

In a separate small bowl, whisk together the cider and powdered sugar until the glaze is smooth and completely incorporated.

Separate the dough into the 8 precut biscuits. Using a small cutter, like a large water bottle lid, cut out holes in the middle. Save the circles for donut holes.

Working in batches of 2-3, add the dough to the hot oil, frying each side until golden brown. Remove the cooked donuts to paper towels to drain excess oil.

Carefully transfer the warm donuts to the cinnamon sugar mixture and gently toss to coat evenly. Transfer the coated donuts to a cooling rack to cool completely. Repeat with the remaining biscuit dough until all the donuts are cooked, coated, and cooled.

Drizzle the warm apple cider glass out evenly over the donuts, and serve immediately.
Let's see what else everyone's brought to the table today:
Apple BBQ Meatballs over Brown Rice from Tip Garden
Apple Butterscotch Crumb Cake from The Crumby Kitchen
Apple Cider Donuts from 4 Sons 'R' Us
Apple Coffee Cake from Bear & Bug Eats
Apple & Fig Flatbread with Goat Cheese from Simple and Savory
Apple Oatmeal Bars from Palatable Pastime
Apple Oatmeal Breakfast Bars from Hezzi-D's Books and Cooks
Apple Pie with Oat Crumble Crust from The Redhead Baker
Baked Oatmeal with Apple Cheddar and Sausage from A Kitchen Hoor's Adventures
Braised Pork Roast with Apples from A Day in the Life on the Farm
Caramelized Apple Hand Pies from Jolene's Recipe Journal
Cheesy Brie and Apple Pull Apart Bread from Family Around the Table
Crunchy Apple BBQ Pork from The Freshman Cook
Easy Fried Apples With Cinnamon from Feeding Big
Fresh Apple Dinner Salad from Cooking With Carlee
Lamb Lolipops with Apple Herb Chutney from Culinary Adventures with Camilla
Roasted Beet and Apple Salad from Amy's Cooking Adventures
Skillet Pork Chops with Apples and Onions from Grumpy's Honeybunch
Slow Cooker Baked Apples from Jonesin' for Taste
Sweet and Sour Apple Cabbage Salad from All That's Jas
Now, remember yesterday I let you know about #AppleWeek? It's still going strong, and you've got time to enter our great giveaway! There's big chances to win some awesome prizes/packs. Scroll through to see what's up for grabs, and enter to WIN!
Prize Pack #1 from Rodelle:
A baker's dream come true! This delicious prize pack includes premium vanilla products, gourmet dutch-processed cocoa and specialty extracts.
Items include:
Pure Vanilla Extract, Gourmet Dutch-Processed Baking Cocoa, Gourmet Vanilla Extract, Madagascar Bourbon Vanilla Beans, Organic Vanilla Extract, Organic Chocolate Extract, Almond Extract, Vanilla Paste, and some fun baking supplies to whip up your next batch of goodies with!
Prize Pack #2 from Dreamfarm and Casabella:
Items include:a 2 'n 1 veggie brush
a clip n strip shears
a set up levups
a set of levoons
A prize pack from
Rainier Fruit
including a box of freshly farvested Rainier Fruit apples, a stainless steel apple slicer, apple corer, "Baked with Love" ceramic pie pan, copper apple loaf pan and a $25 Williams Sonoma gift card!