Love a good dessert, but don't want all the work? This Peach Cobbler Dump Cake Recipe is just the thing you were looking for. It's simple, it's easy, and it embraces one of Summer's richest fruit flavors- no baking experience required!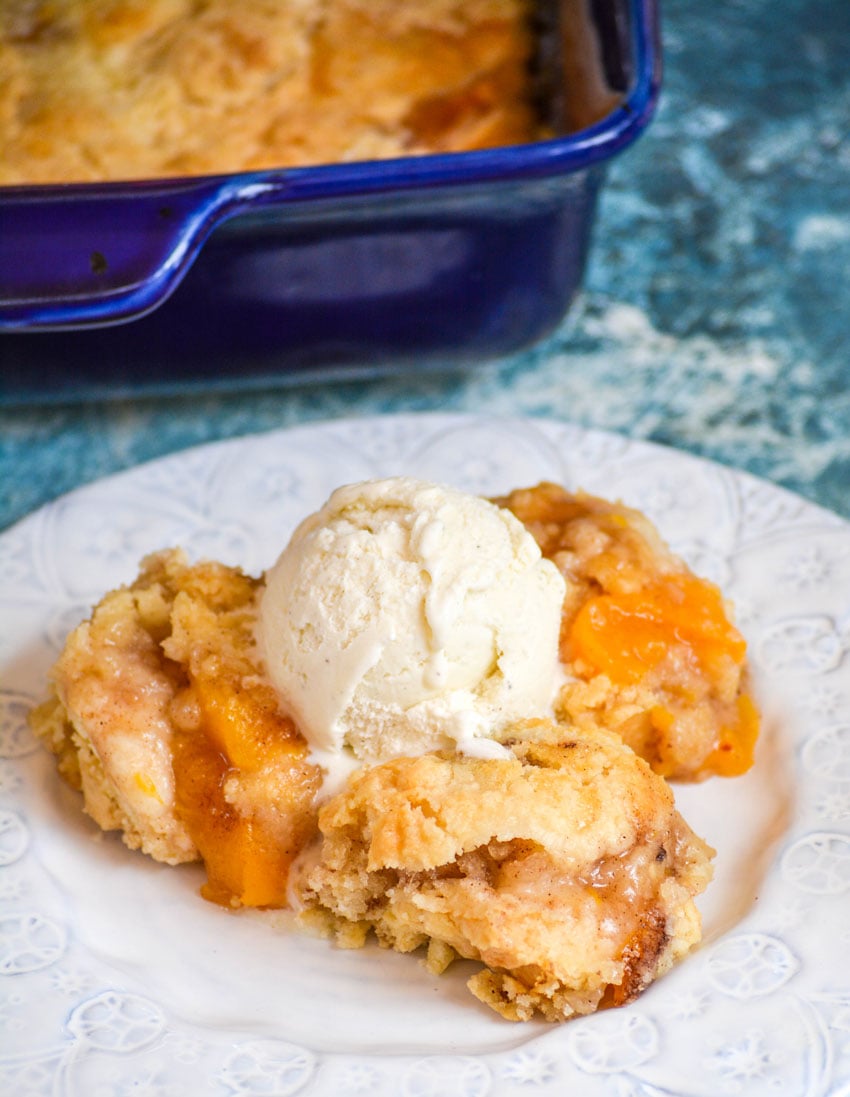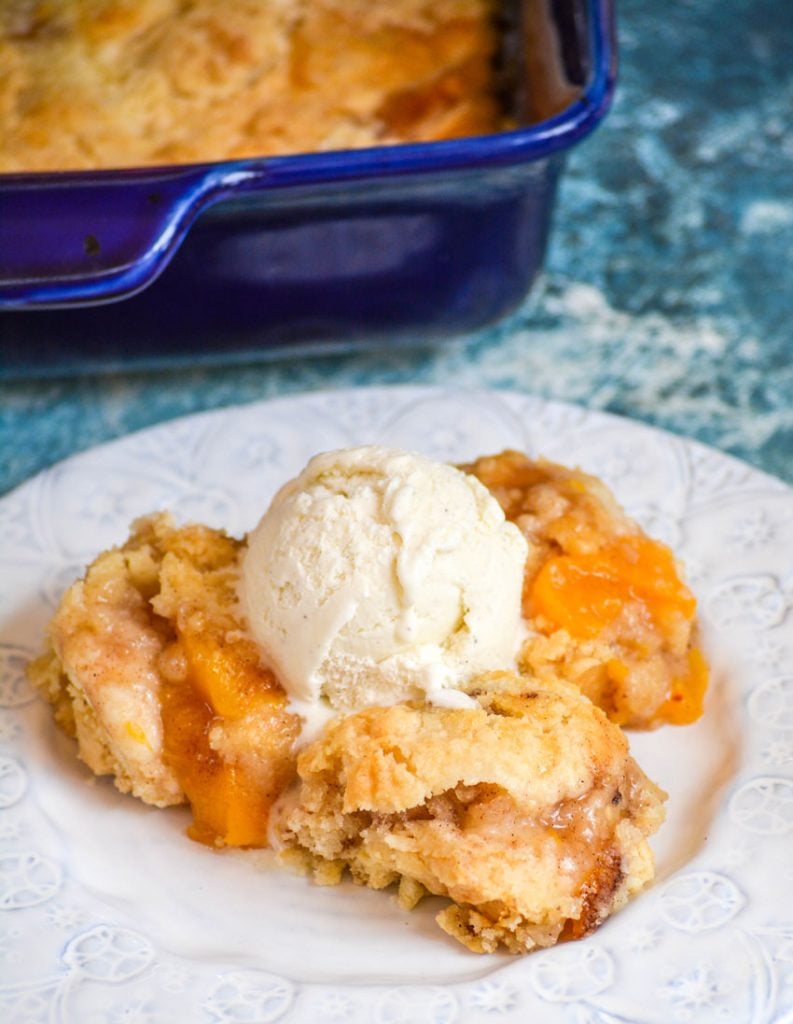 Desserts are a big deal in our house. A year round big deal. While we have our favorites that apply whatever the time of year- there are of course seasonal favs.
Think no bake pie in the Summer, or even a yummy cobbler dessert that tastes just like campfire s'mores! It's a way to still get our dessert fix without the heaviness that tends to find its way into our warmer weather treats.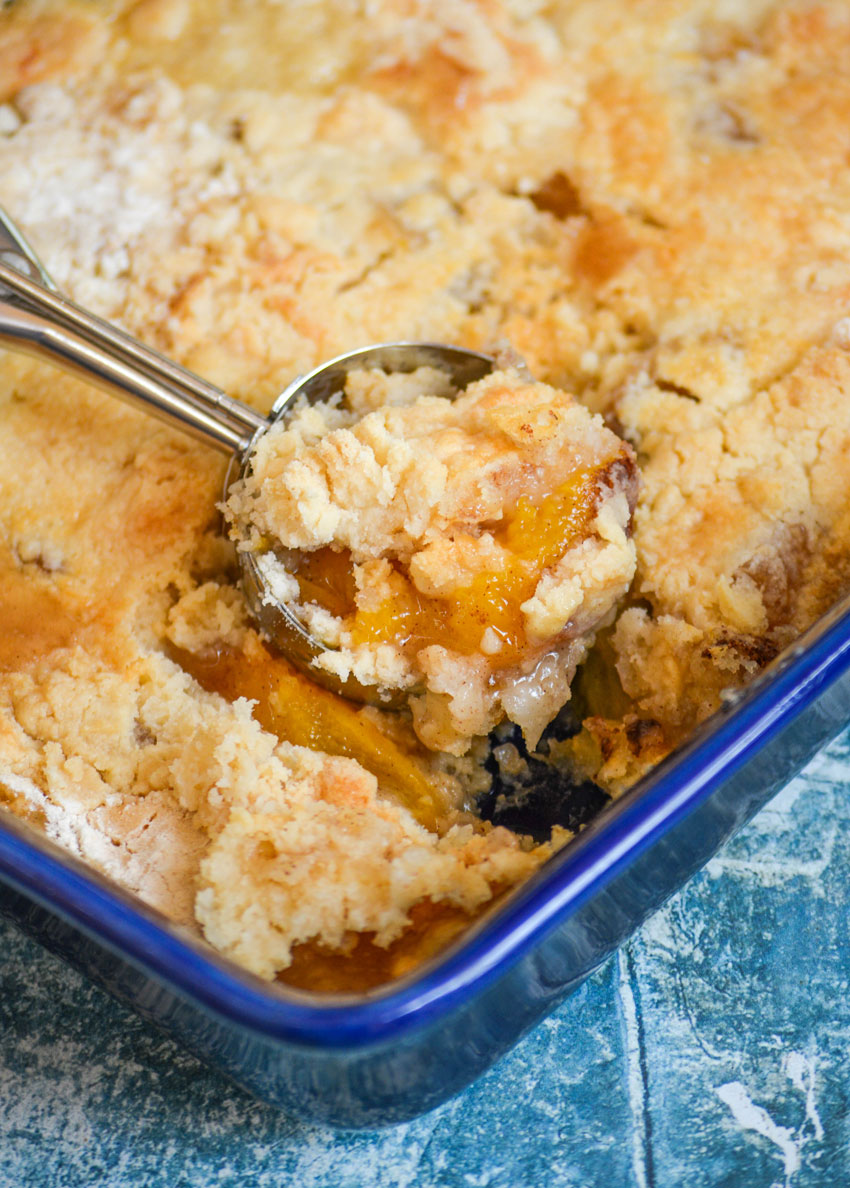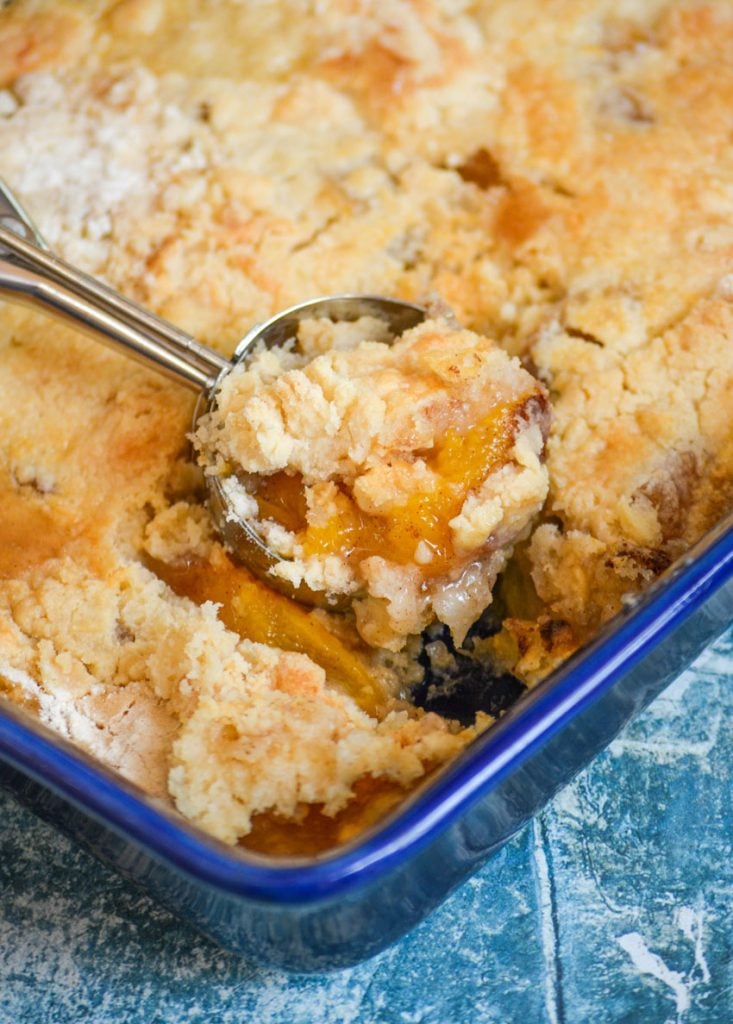 This is where I run into a little dilemma. I mean, I adore a great pie or cobbler, but I don't want all the heavy pastry, the crust, the work… you get it. It's Summer for goodness sake. Things are supposed to slow down & be easier.
Mine & the family's taste buds don't always get the memo though. They want what they want. Which has led to me finding creative ways to find a happy medium. That's exactly how the dump & bake cobbler was born.
Necessity isn't always the mother of invention, sometimes it just takes a solid sweet tooth!
WHAT IS A DUMP AND BAKE COBBLER?
I'm sure by now you've probably seen or heard by now of dump cakes. Dump cakes are one of my favorite new trends specifically because of their simplicity.
A dump cake is basically a cake, that takes half the work, ingredients, and time and bakes up in a single dish. Literally, you dump everything in a dish and it bakes up into a delicious cake. It's basically a fool proof method.
The first to go in the dish is your fruit filling, followed by a cake mix of your choosing. A couple of other things are added to assist with baking, and voila- that's it.
WHY IS IT CALLED A COBBLER INSTEAD OF A CAKE?
Due to the nature of the recipe, all dump cakes have a more cobbler-like consistency. However, this peach cobbler dump cake recipe has a more cobbler like feel than most.
The way it bakes up leads to a 'crusty' cobbler like topping on top with a sticky, sweet peach filling settling on the bottom. The two layers pair together perfectly for a cobbler like cake dessert, with minimal effort required & only one baking dish to clean afterwards.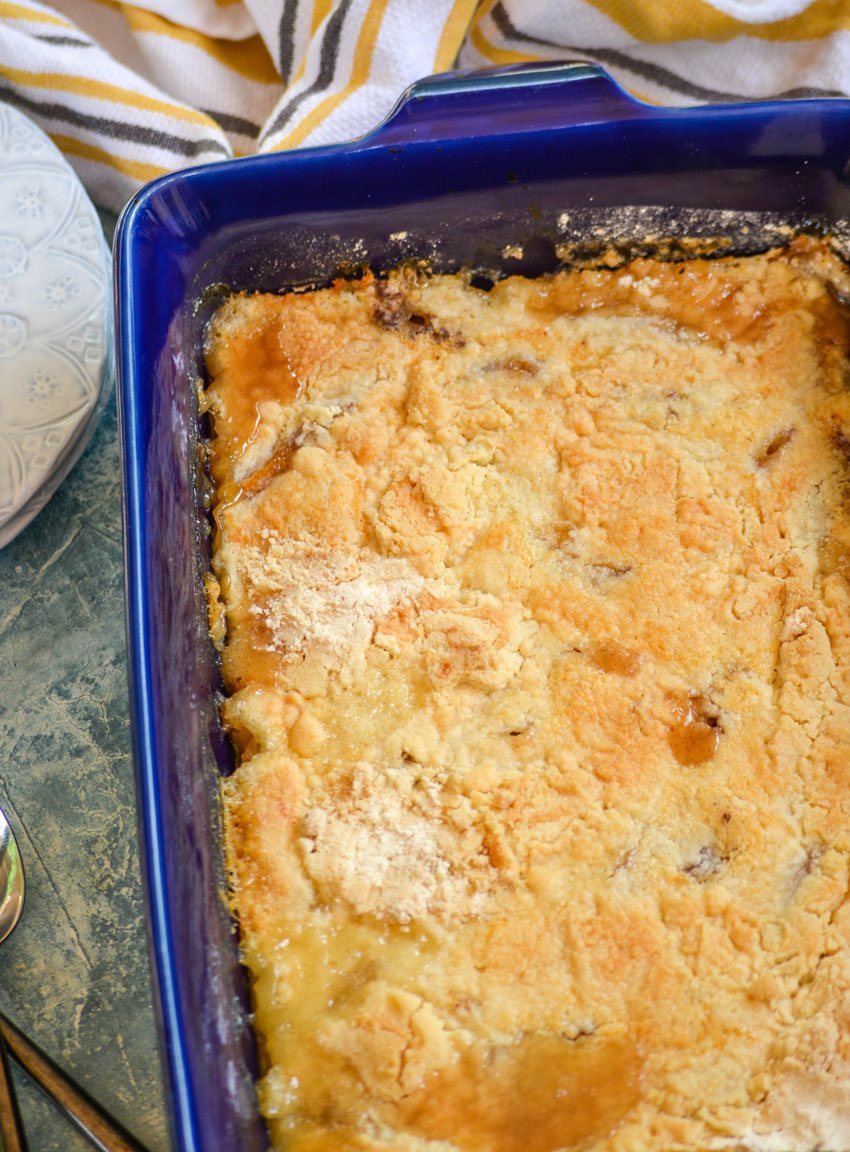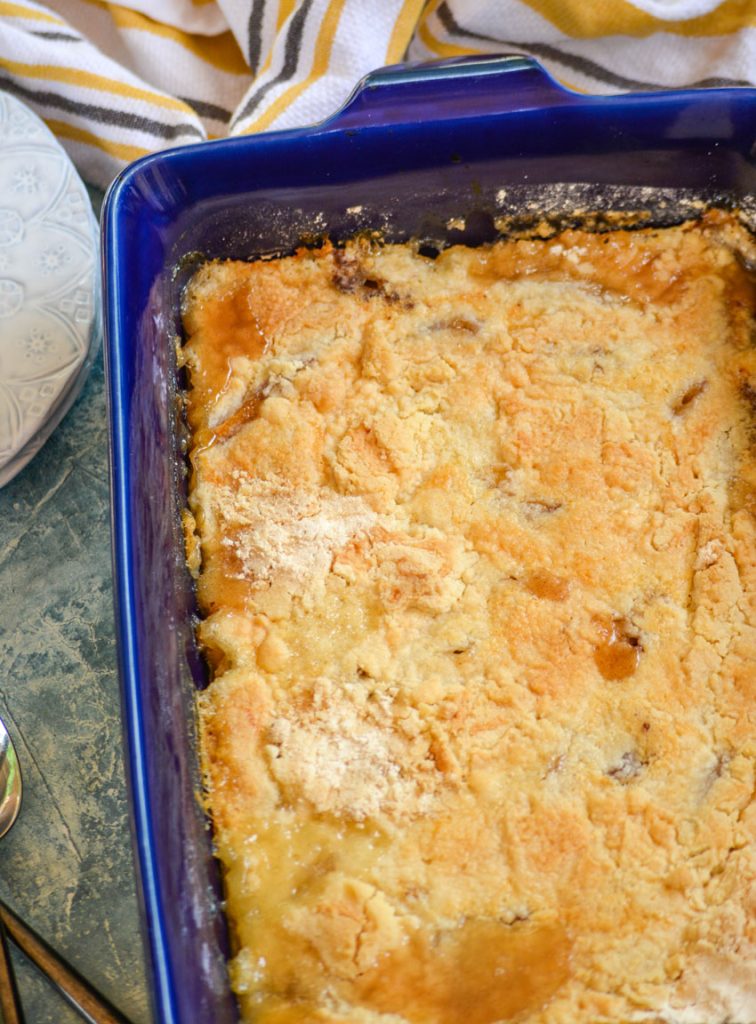 Peaches are a regional, seasonal favorite around here- especially with several very 'fruitful' orchards about forty minutes away. If a trip to the orchard isn't on the agenda, the local grocers always carry a bountiful selection to choose from in mid-late Summer.
Not gonna lie, peach pie is one of my favorite ways to enjoy the quintessential Summer fruit. But peach pie can be a lot of work. Even if using a store bought crust vs. homemade, and subbing canned peach filling for homemade.
It also heats up my whole kitchen, and with my home's open floor plan- the whole dang house. That alone means it out of the cards for me most days. My ac unit doesn't need the extra workout, and I'm not trying to break a sweat in my kitchen during a heatwave just for dessert.
Which is 100 % where this peach cobbler dump cake recipe swoops in from the heavens & saves the day! The best fruit flavor Summer has to offer (at least in my humble Southern opinion), in a snap with only four ingredients needed. Four!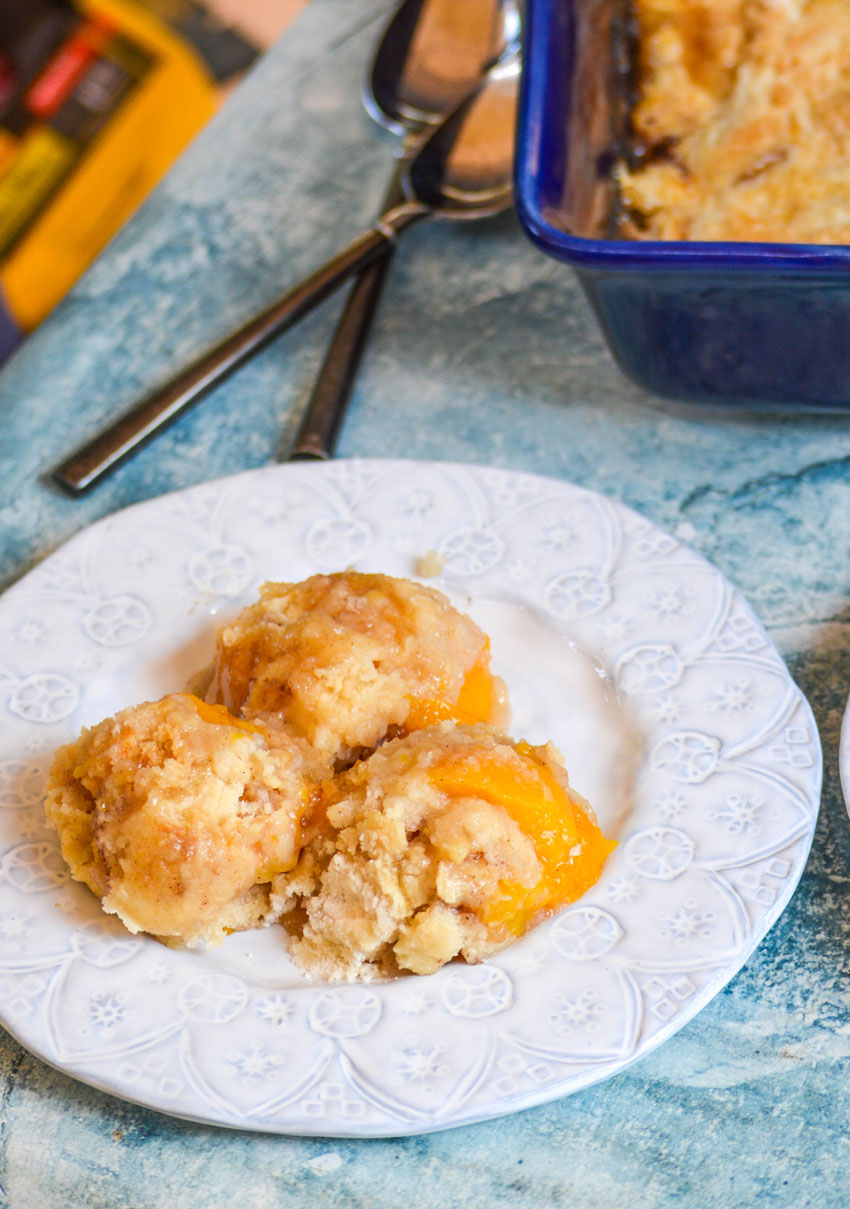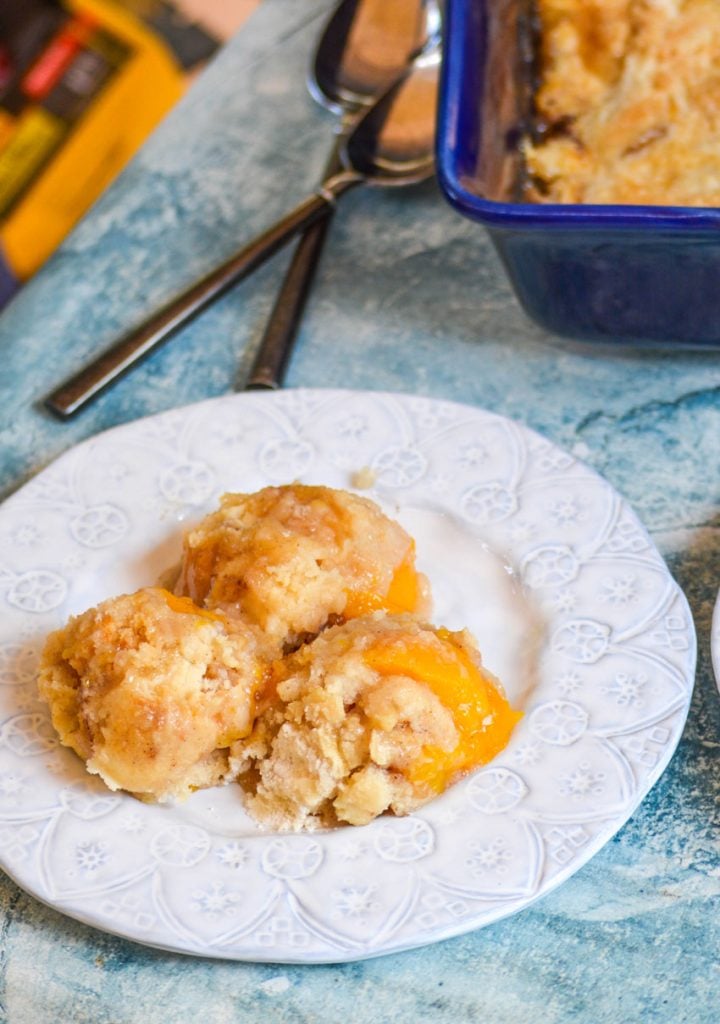 INGREDIENTS NEEDED TO MAKE THIS PEACH COBBLER DUMP CAKE RECIPE:
canned peaches
cinnamon
boxed cake mix
butter
Have you every come across such a simple ingredient list for a dessert before? I mean, sure I've seen simple- but this just takes the cake. Pun totally intended by the way.
One of my other favorite things about this peach cobbler cake recipe, is how easy it is to whip up. Both assembling, and baking. I know, I know- I have already mentioned it, but I really can't say it enough.
HOW DO YOU MAKE A PEACH COBBLER DUMP CAKE?
Start by greasing a roughly 9×13 inch baking dish. You can use butter, or non stick cooking spray. Pour the opened cans of sliced peaches into the prepared baking dish. Spread them out a bit so they aren't clumped up and are evenly dispersed. Sprinkle some ground cinnamon out evenly over top of the peach slices.
Open the boxed cake mix, and sprinkle it evenly over the fruit. Use a spatula to gently press the cake mix into the fruit and canned fruit syrup.
Cut a whole stick of layer into very thin slices. Almost paper thin. Then place these slices out over top of the cake mix layer, roughly covering the whole dish in a single layer.
Bake the cake at 350 degrees for 10 minutes, or until a toothpick inserted in the center comes out clean. Remove the cake from heat, and let it rest for a full 10 minutes before scooping and serving.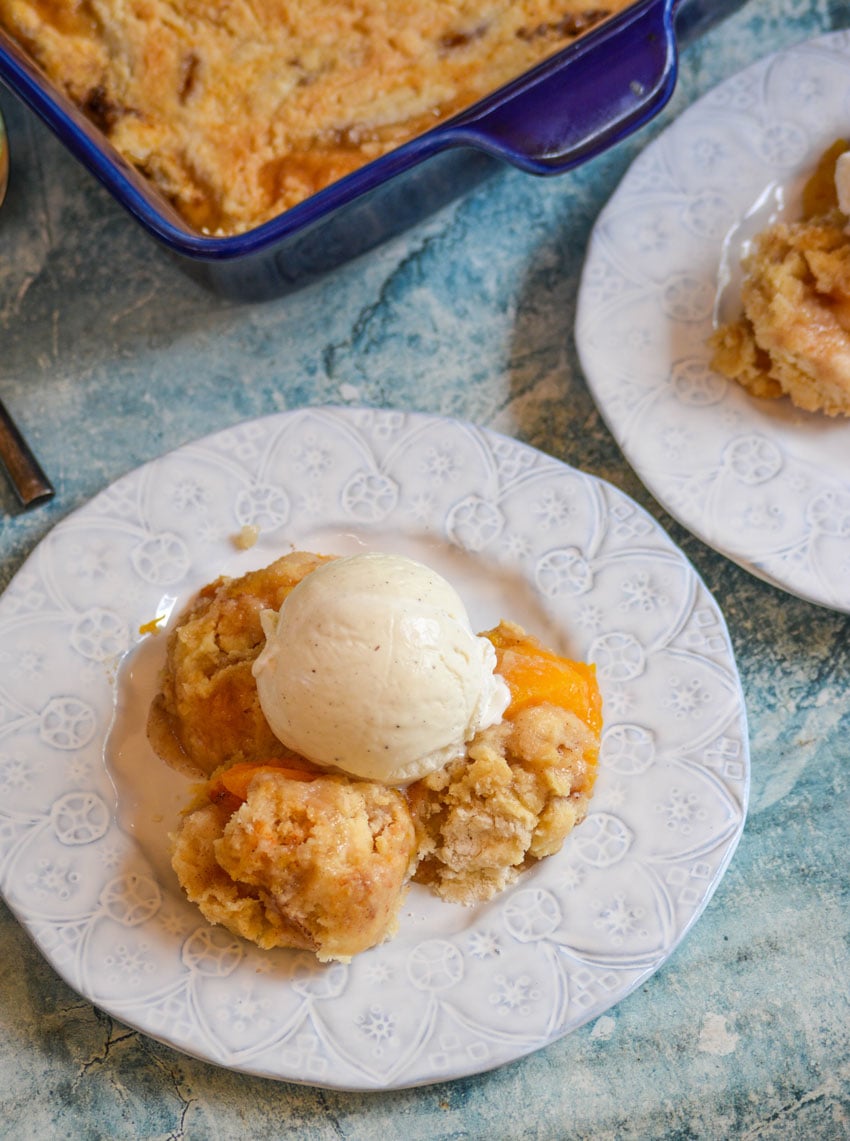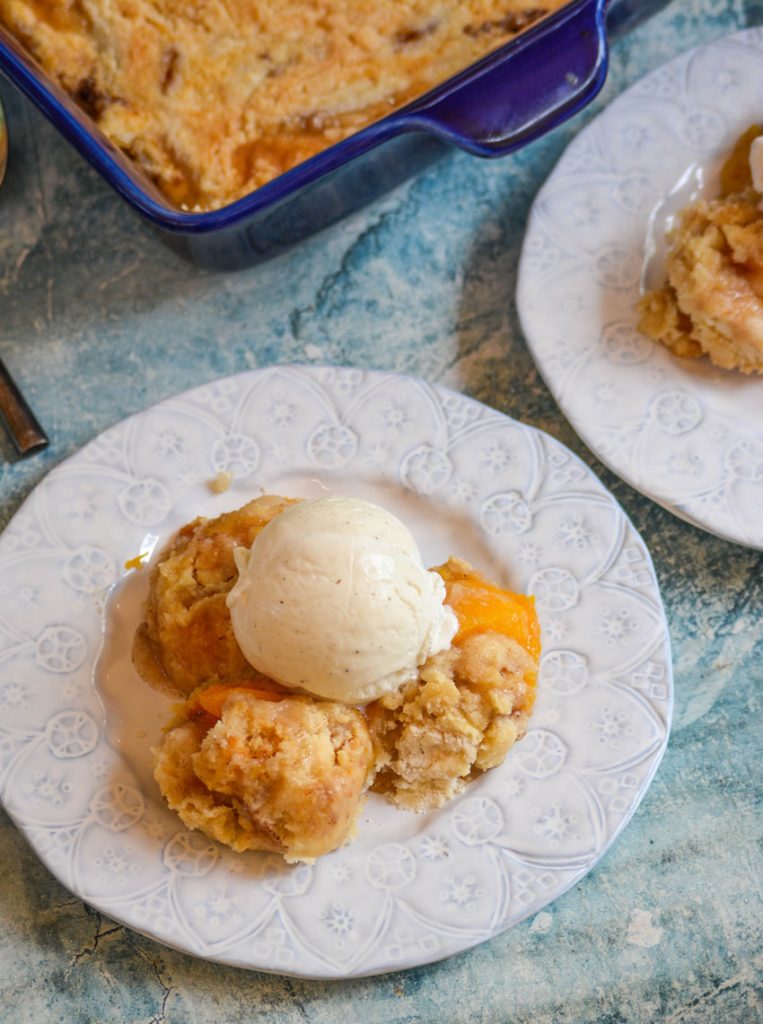 This recipe is easy. E-Z, emphasis on the capital letters there folks. So easy that it's perfect for any level of baker, even the very greenest beginner. In fact, my 8 year old makes it all the time. It's great!
TIPS & TRICKS FOR MAKING THE PERFECT PEACH COBBLER DUMP CAKE:
This cake is delicious as is, but if you really want to boost the flavor a bit- stir two teaspoons of vanilla extract in with the peaches before dumping them. A teaspoon per can I've found works great!
Is your family a little nuts? Wait, I meant do they like nuts? You can add a handful of walnuts or pecans to the peaches when 'dumping' for a delicious, crunchier cobbler.
Don't have vanilla cake mix in the pantry, but you've got another that you love? You can totally sub a different cake mix with just as easy results. Some we've tried with great success are French vanilla, butter pecan, coconut, and even angel food.
While I tend to keep canned sliced peaches on hand (hello, packed lunch brigade!), not having them isn't always a problem. Do you have canned peach pie filling? It makes a great substitute.
Occasionally we will find one, maybe two, tiny dry cake mix patches. Don't worry about those. As soon as the cake's served they absorb into the peach sauce and there's no noticeable texture or taste difference. Again, even butter coverage before baking will help to prevent/eliminate these.
If after reading all this you still aren't convinced, let me reassure you- it's really, really hard (almost impossible) to mess this peach cobbler dump cake recipe up.
That's a great thing for novice bakers, people afraid of/just trying to test out their kitchen, and also busy people like me who tend to rush through things and forget steps or that something's in the oven entirely.
HOW DO YOU REHEAT A DUMP CAKE?
It's not often we finish a whole cake in one sitting, even when company's involved. So reheating instructions are crucial. Nobody wants stale cake.
Ok, a slice of this cake that sat out overnight is actually pretty darn delicious with your morning cup of coffee or tea. But what about the rest of it?
If you have the whole cake, or most of it, to keep. You can leave it in the baking dish, and cover the completely cooled cake tightly with cling wrap. When ready to reheat, put it back in the oven- then heat the oven to 250 degrees.
Check the cake often, and cook roughly 8-10 minutes- just until the cake's warm again & still moist. Don't let it over heat, or just set a timer and let it cook. If the cake get's hot, it will dry out.
Need to reheat a smaller serving? Place a slice on a microwave safe plate, and heat 1-2 minutes. Again, just until the cake's moist & warm, but not hot. If in doubt, I find heating in 30 second intervals to work best.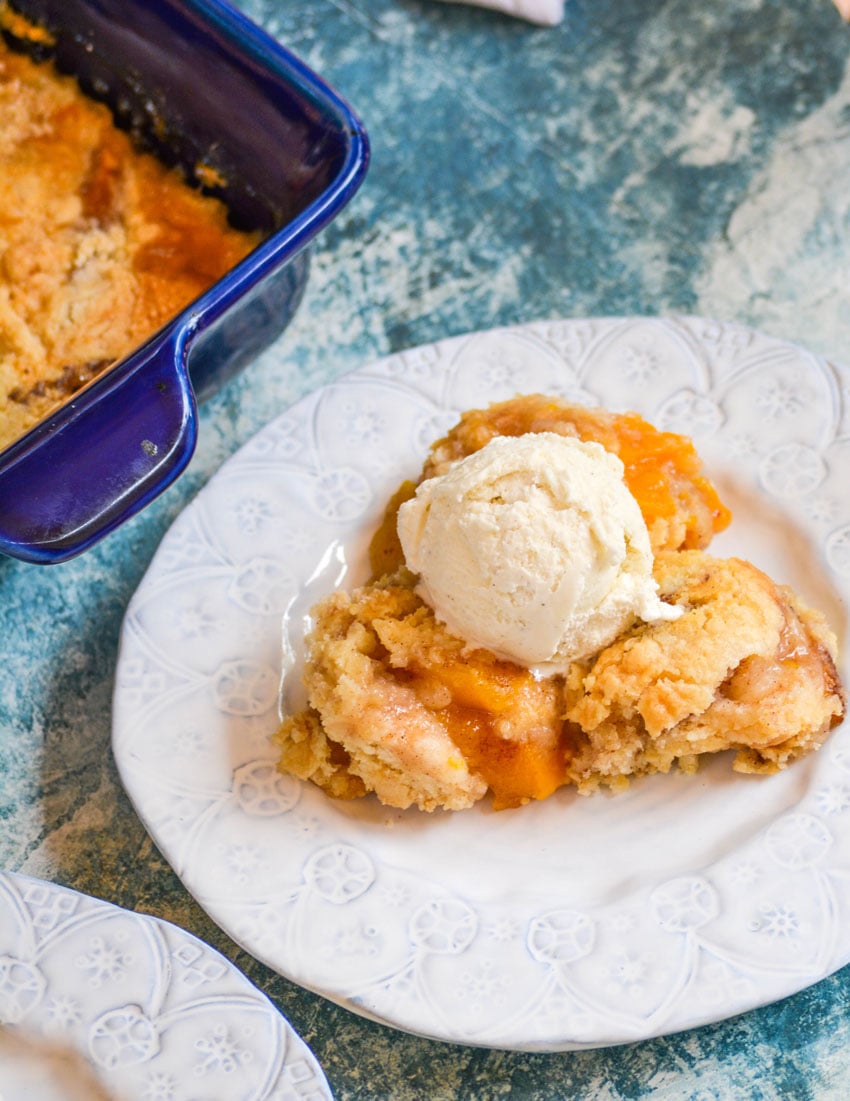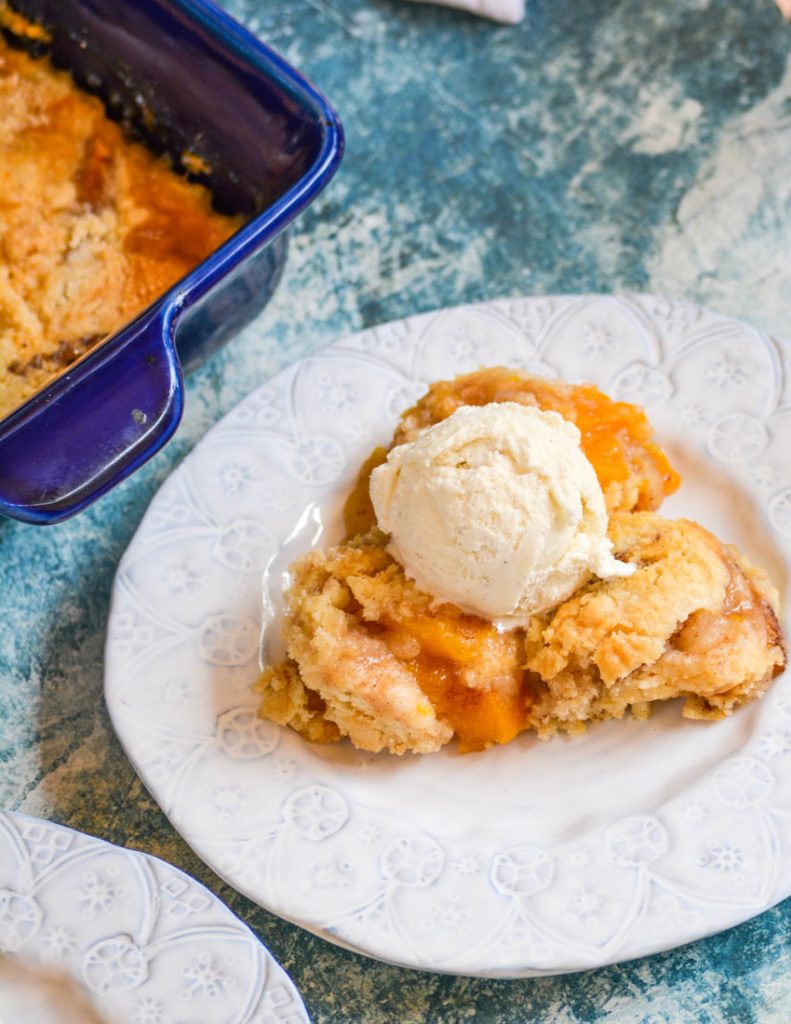 Whip up your own pan of this sweet peach cobbler treat whenever the mood strikes with our easy recipe. Enjoy it as is- I highly recommend hot & juicy, with a spoon straight out of the baking dish. Or turn it into a delectable dessert with a generous scoop or two in a bowl topped with cold, creamy vanilla ice cream. It's the quintessential Summer dessert that totally embraces the relaxed philosophy of the season.
Other Dump-Style Desserts To Try:
If you've tried this PEACH COBBLER DUMP CAKE RECIPE, or any other recipe on my site, let me know in the comment section how it turned out, we love hearing from our readers! You can also follow along with me on PINTEREST, FACEBOOK, and INSTAGRAM to see more amazing recipes and whatever else we've got going on!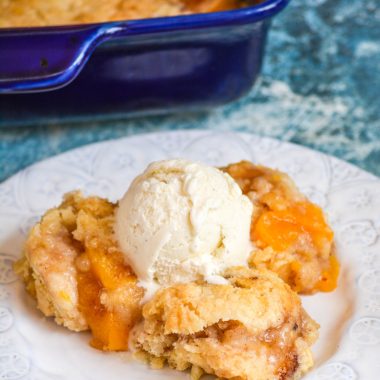 Peach Cobbler Dump Cake
A delicious dessert, this one delivers the classic peach cobbler flavor you crave but with minimal work thanks to the dump & bake method.
Print
Pin
Rate
Ingredients
2

14.5 oz cans

sliced peaches

1/2

tsp

cinnamon

1

box

vanilla cake mix

1/2

cup

butter
Instructions
Spray a 9x13 inch baking dish with non stick cooking spray.

Dump both cans of peaches into the prepared baking dish. Use a spatula to gently spread them out so they somewhat evenly cover the bottom of the dish.

Sprinkle the ground cinnamon evenly out over top.

Sprinkle the cake mix evenly out over top of the peaches. Using the spatula, gently press the cake mix down into the peaches a bit.

Cut the stick of butter into thin slices. Almost paper thin. Layer them in a single layer over top of the cake mix.

Bake the cake at 350 degrees, for 40 minutes. Remove the cake from the oven, and let it rest for 10 minutes.

To serve, scoop the cake onto dessert plates or into bowls. Top with a scoop of vanilla ice cream (optional) & serve immediately.
Notes
The calculated calories are for a single serving of this recipe. They do not include the optional ice cream.
recipe adapted from Together As Family
Nutrition
Calories:
343
kcal
|
Carbohydrates:
53
g
|
Protein:
3
g
|
Fat:
14
g
|
Saturated Fat:
9
g
|
Cholesterol:
31
mg
|
Sodium:
549
mg
|
Potassium:
40
mg
|
Fiber:
1
g
|
Sugar:
27
g
|
Vitamin A:
355
IU
|
Calcium:
147
mg
|
Iron:
1
mg