A solid meatloaf is often the cure for anything that ails you, especially since they're a quick & easy dinner, even on a budget. This one is stuffed with a rich, creamy macaroni & cheese, and topped with a slightly sweet & savory sauce. This Mac & Cheese Stuffed Honey Barbecue Meatloaf is ready in an hour, and the answer to any and all dinner dilemmas where comfort food is a must.
I've said it before, and I'm gonna say it again (and probably a few more times honestly)- moving is hard y'all! I'm wore the hell out and despite countless trips from place to place, there's still more stuff than I ever could've possibly imagined still at the old home.
When is it gonna feel like I'm making progress? Will there ever be a visible dent to where I can 'see' the transition happening, and feel like the end is insight within the allotted time frame?!
Apparently it's so stressful to me, that it's entered into my subconscious. I had a night mare last night about not being out on time and hobgoblins coming after me with late fees and trying to steal my stuff faster than I could grab it. Seriously. This is my life right now, lol.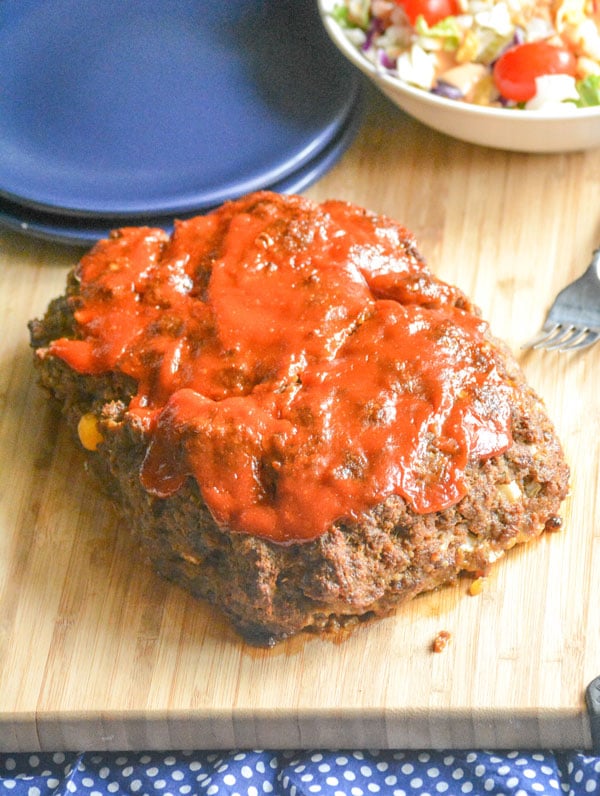 Don't get my wrong, despite my pity party for one, I'm totally stoked to be moving and excited to bid apartment life goodbye and embrace the house with a driveway, huge yard, and backs up to a forest life. The problem is that I was totally unprepared for how taxing of a job this move would be.
I mean, it's been almost a decade since we last moved and we had a whole lot less stuff them. Like just the basics. We'd just gotten married, and had been living with our parents. So we were just starting out.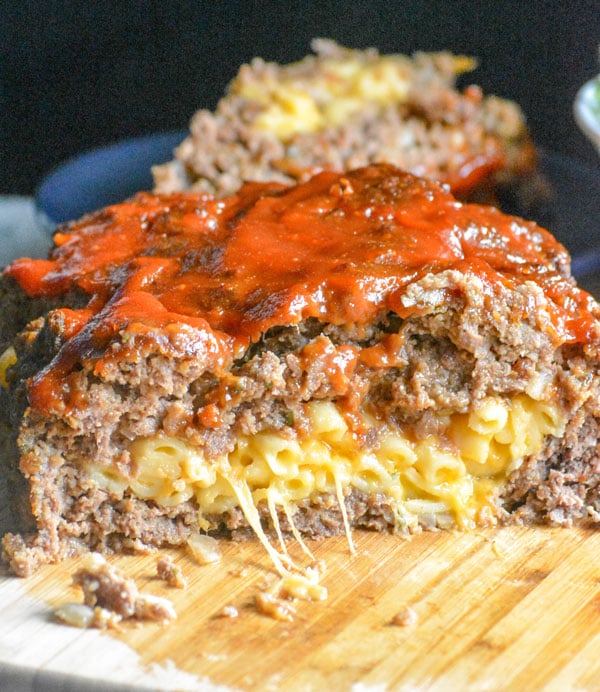 Since then, we've been adult-ing and collecting stuff. Our kids rooms, and all their stuff. The furniture sets, the electronics, the lamps, not too mention all the tools for his job and all the plates, napkins, and appliances for mine. Holy Cow.
It's been two weeks and I'm still only 1/2 done transferring my kitchen and work stuff. I'll get there, but shew- I am worn down and wore out.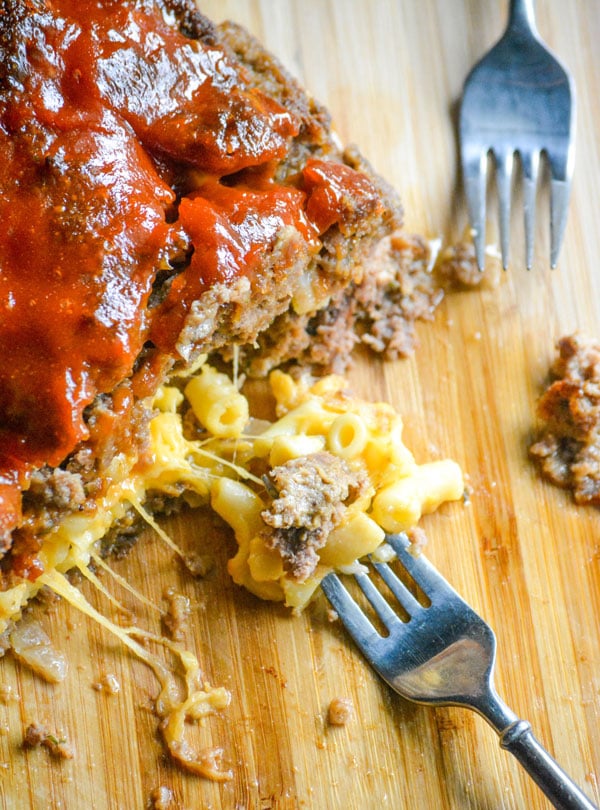 Luckily, I was able to take a night off. And while all I really wanted to do was post up in my brand spanking new jaccuzzi with a bath bomb, some candles, a glass of wine, and one of the books piling up in my 'to read' pile- the troops still needed to eat.
And I'll admit, packing and moving builds up quite the appetite- I was pretty dang hungry myself. But not just anything was gonna do.
I wanted something hearty and filling. Something comfort food-ish to christen the new kitchen, but also something that was quick and easy without actually tasting like it.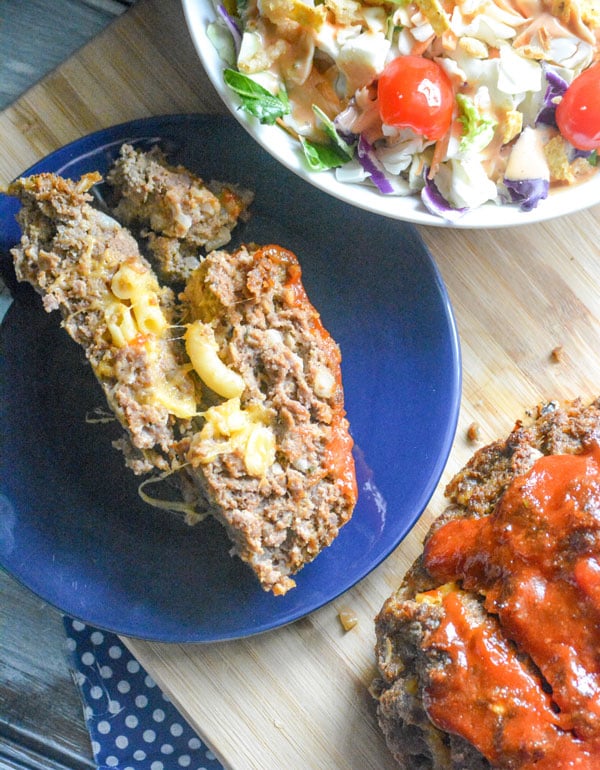 What I finally came up with, was one of the most epic dinners I've ever had the pleasure of tasting AND the perfect dish to serve as the first one in our new home. Let me serve you a big ol' slice of this Mac & Cheese Stuffed Honey Barbecue Meatloaf.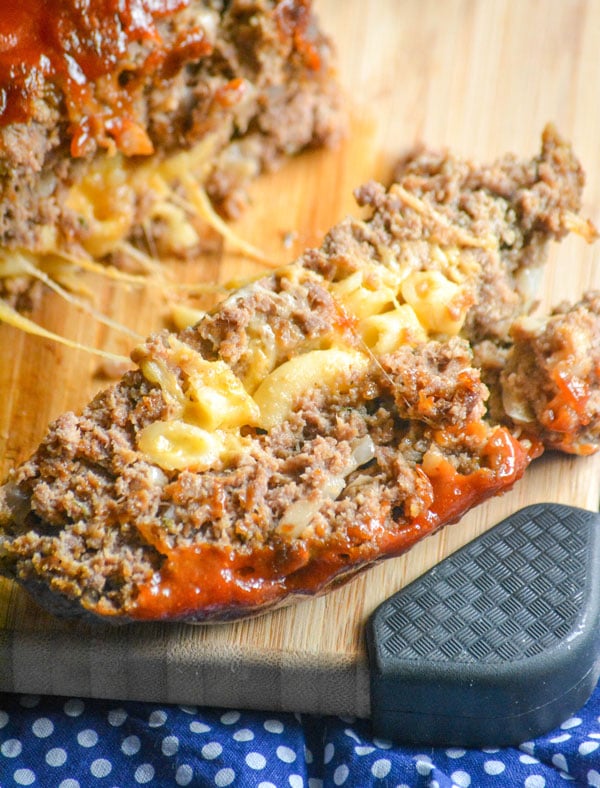 We love Stouffer's creamy mac and cheese, so naturally I had one on hand in the freezer to defrost. The single serve package is perfect for this recipe since you can just serve the remaining portion on the side. Plus, we've added a bit of extra cheese to the mix because there's never such a thing as too much cheese. Promise!
I'm also sharing our trick for grease-free meatloaf that easily comes out of the pan! You'll kick yourself at how easy it was, and for not thinking of it sooner.
This is meatloaf is mealtime magic! Good day, bad day, need a little break from your stressful reality- this is the dinner you need and deserve. The carbs are covered, so serve it with a side salad and a green veggie on the side for a complete dinner the whole family will enjoy.
Other Meatloaf Recipes You Might Also Enjoy
A hearty, seasoned beef meatloaf is packed full with a creamy, extra cheesy macaroni & cheese center. Topped with a sweet & savory sauce, each slice is like a little bit of Heaven on your plate.
Looking for other over the top meatloaf ideas? Check these out:
If you've tried this MAC & CHEESE STUFFED HONEY BARBECUE MEATLOAF, or any other recipe on my site, let me know in the comment section how it turned out, we love hearing from our readers! You can also follow along with me on PINTEREST, FACEBOOK, and INSTAGRAM to see more amazing recipes and whatever else we've got going on!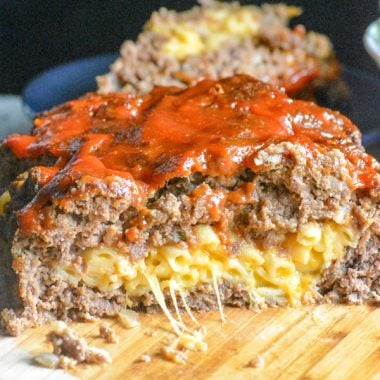 Mac & Cheese Stuffed Honey Barbecue Meatloaf
A slightly sweet, savory barbecue meatloaf is stuffed with rich & creamy macaroni and cheese and topped with a slightly sweet finishing sauce for baked dinner perfection.
Print
Pin
Rate
Ingredients
For The Meatloaf
1 1/4

lb

lean ground beef

1

cup

bread crumbs

2

large

eggs

1

small

white onion, diced

2

tsp

garlic powder

2

tsp

dried parsley

1

tsp

Italian seasoning

1/2

cup

honey barbecue sauce

salt & pepper, to taste

1

cup

creamy mac and cheese

1

cup

shredded mozzarella
For The Sauce
1/3

cup

ketchup

2

tbsp

brown sugar

2

tbsp

yellow mustard

1

tbsp

honey
Instructions
To Make The Meatloaf
In a large mixing bowl, add the beef, breadcrumbs, eggs, onion, garlic powder, parsley, Italian seasoning, salt, pepper and bbq sauce. Use your hands to work/squish everything together until the mixture's evenly combined.

Spray a meatloaf pan with non stick cooking spray. Add two slices of white bread to the bottom of your meatloaf pan, to line it & suck up the grease. Take half of the meat mixture into your hands and shape it into a loaf. Place it on top of the bread in the pan, and press the center down and the sides up against the dish (leaving 1" sides all around) to create a bowl shape in the middle.

In a separate mixing bowl, add the mac and mozzarella. Stir together until evenly combined. Spread the pasta evenly out into the depression in the meatloaf boat. Top it with the remaining meat mixture, spreading until completely covered and using your fingers to pinch close all the way around and seal.

Bake at 350 degrees for 40 minutes.
To Make The Sauce
Increase the oven temp to 400 degrees.

In a small bowl, add all of the ingredients and stir together until completely incorporated and smooth. Remove the meatloaf from the oven. Spread the sauce evenly out over the top.

Bake an additional 15 minutes, or until the meatloaf is cooked through and the sauce topping is bubbling slightly.

Remove the meatloaf from the oven, and let it rest away from heat for 5-7 minutes. Use two spatulas to carefully transfer the cooked meatloaf from the pan to a cutting board. Discard the grease soaked bread. Slice the meatloaf, and serve immediately with a side salad.