Chicken & pasta are two of my favorite ingredients to begin any meal, and they do not disappoint in this Crockpot Cheesy Buffalo Chicken Pasta. Cheesy, chicken pasta is infused with buffalo flavor for a delicious dinner on a budget, and with minimal effort.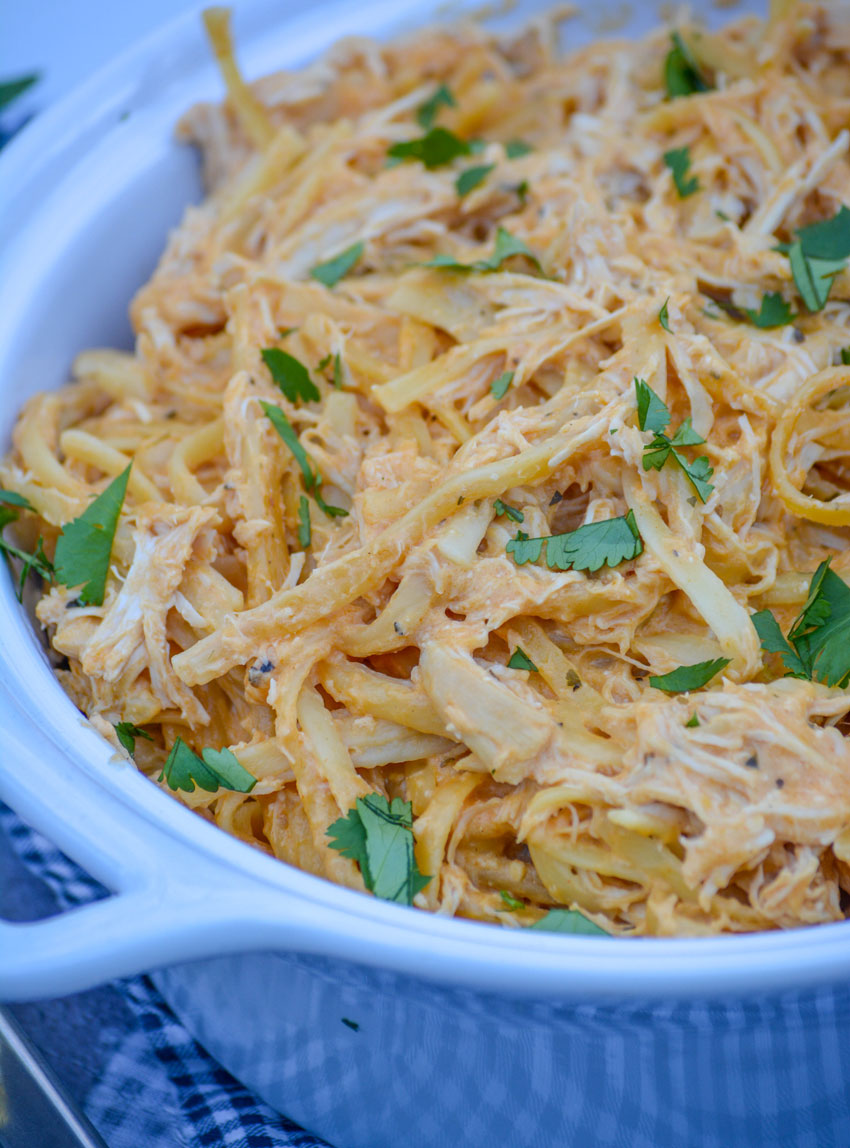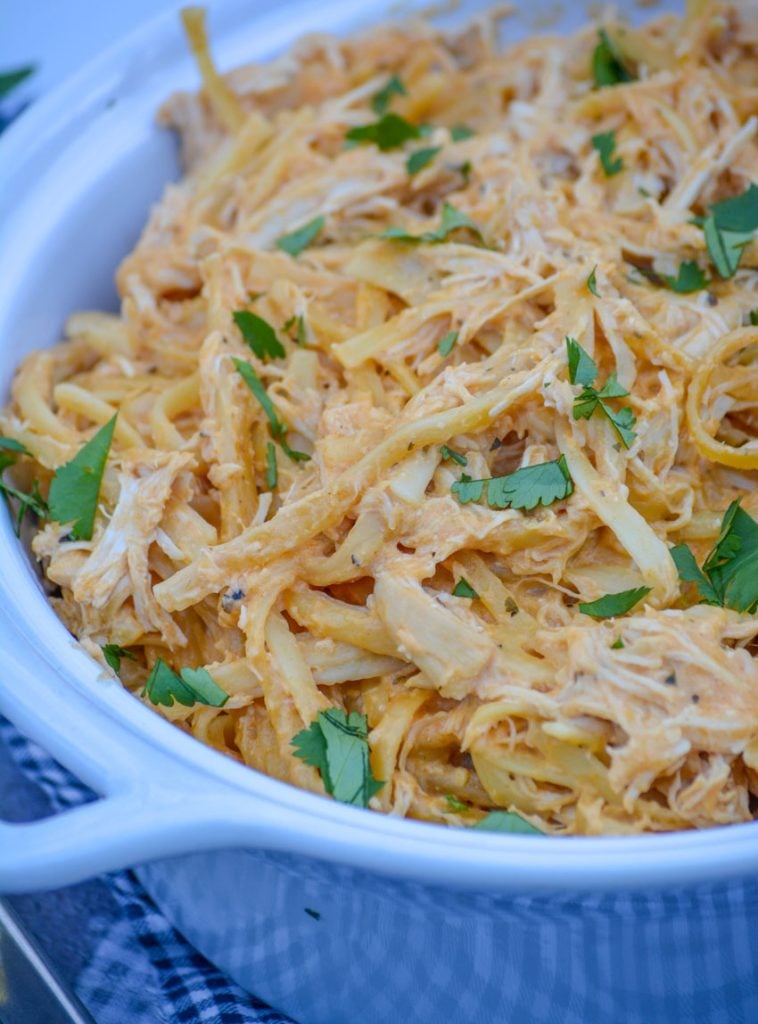 A few months ago, a friend of mine on Facebook posted that they were making this dish for dinner one night. I immediately headed on over to Pinterest and searched stalked her boards until I found the recipe.
Still, it sat all alone and neglected on my own 'to try' board for quite some time.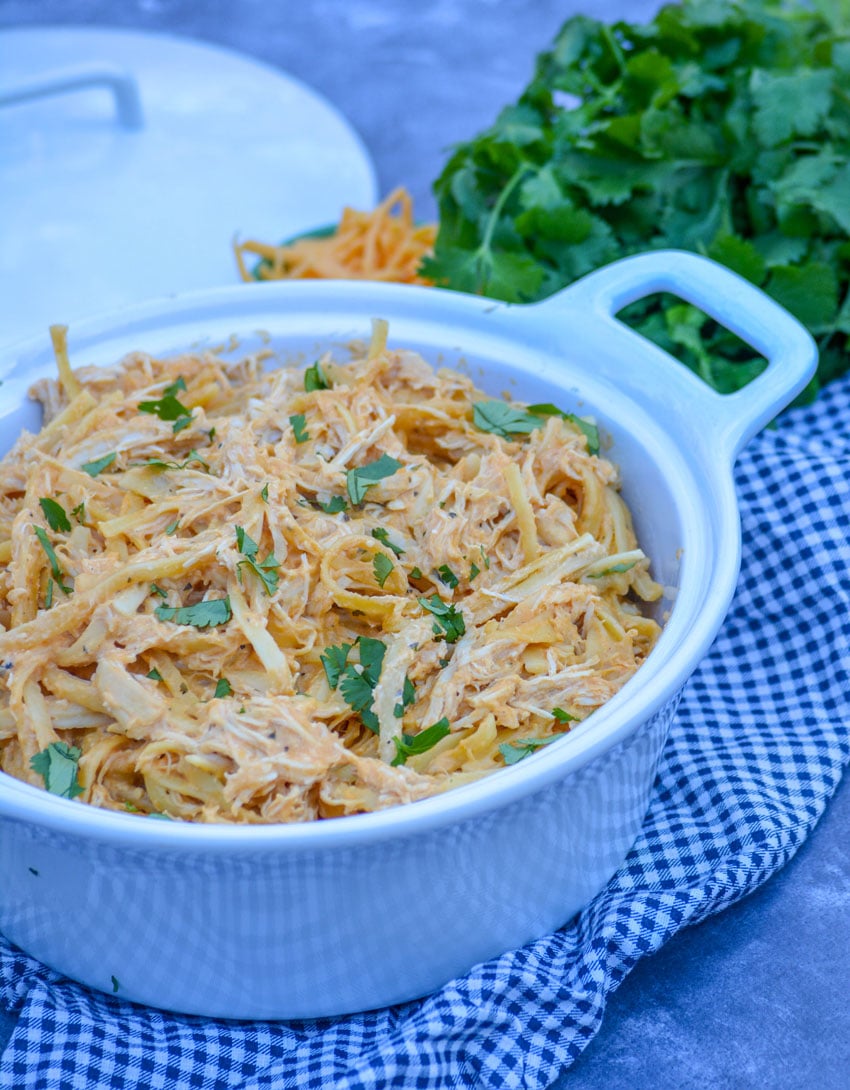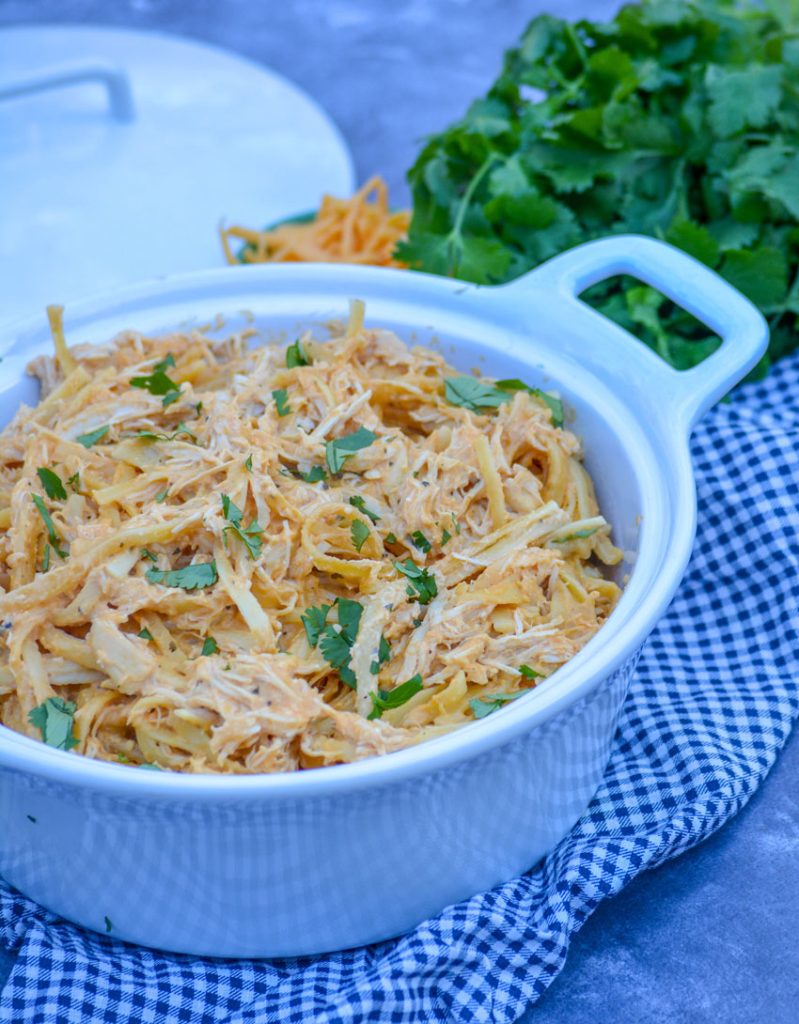 I'd almost completely forgotten about it.
Lucky for me, I was totally un-inspired for dinner a few weeks ago and went through all 1,283 pins on that board looking for a recipe spoke to me. This didn't speak so much as shout, 'EAT ME,' at me.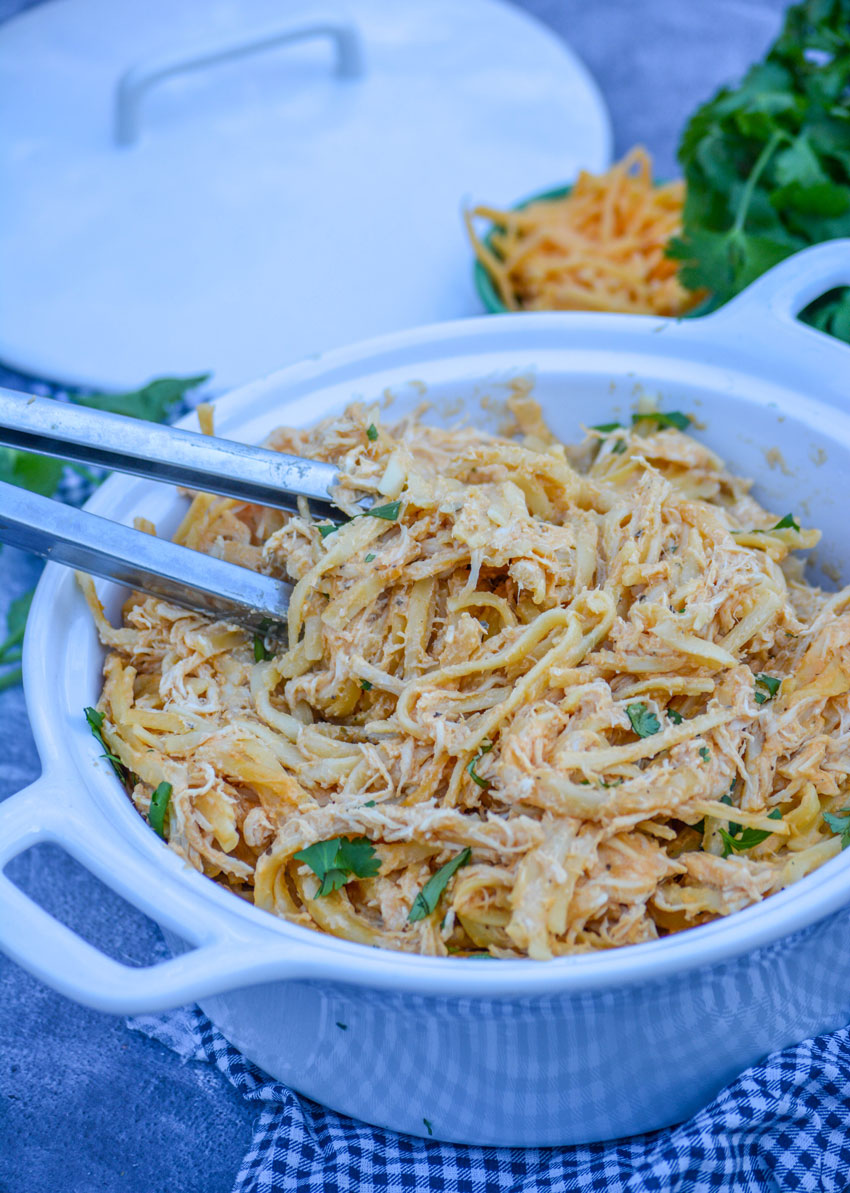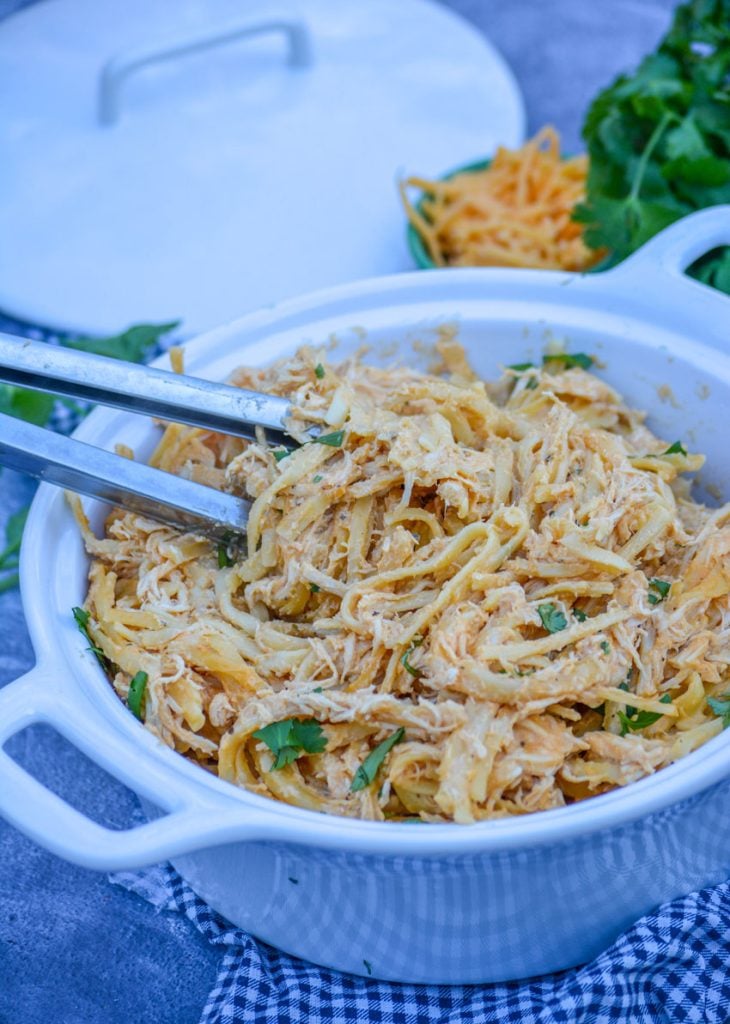 That night, after devouring this amazing Crockpot Cheesy Buffalo Chicken Pasta pasta, the hubs and sons all looked at me like I was insane for not having made then and I just stared back at them innocently, like "I'm not the only one who can search Pinterest and throw ingredients in the crockpot, little sweeties."
Simple, totally indulgent, delicious. You need this in your life.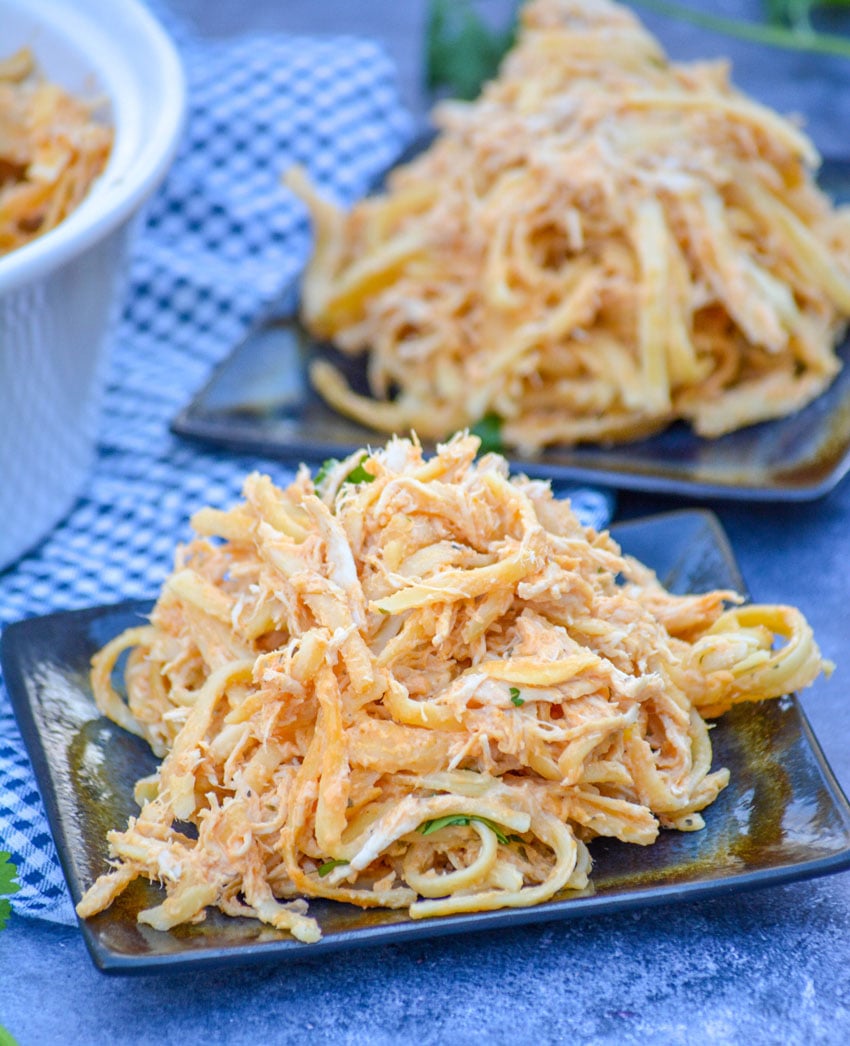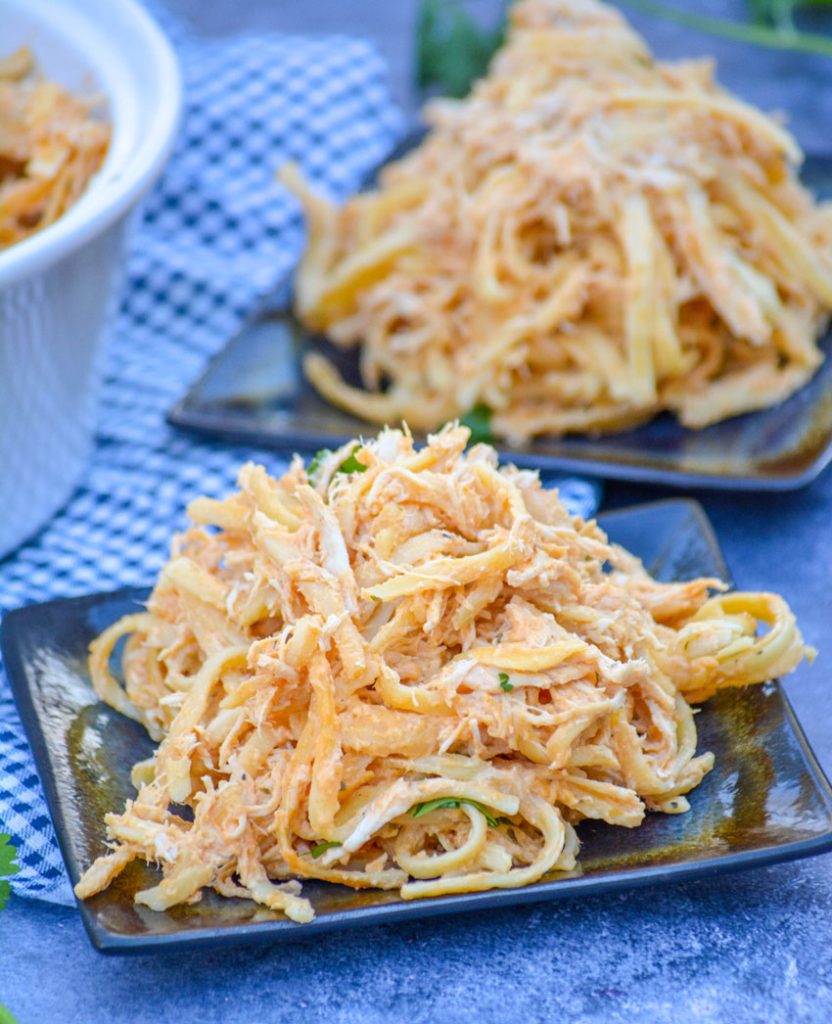 What Do You Need To Make Crockpot Cheesy Buffalo Chicken Pasta:
chicken breasts
chicken broth
buffalo wing sauce
ranch dressing mix
garlic powder
celery salt
salt & pepper
cream cheese
shredded sharp cheddar cheese
pasta
Maybe a little longer of an ingredient list than some of our recipes, but nothing to complicated. Pretty much all things I think most of us have stocked in the refrigerator or kitchen cabinets. Who knew such casual ingredients could combine to form one epic buffalo chicken pasta dish.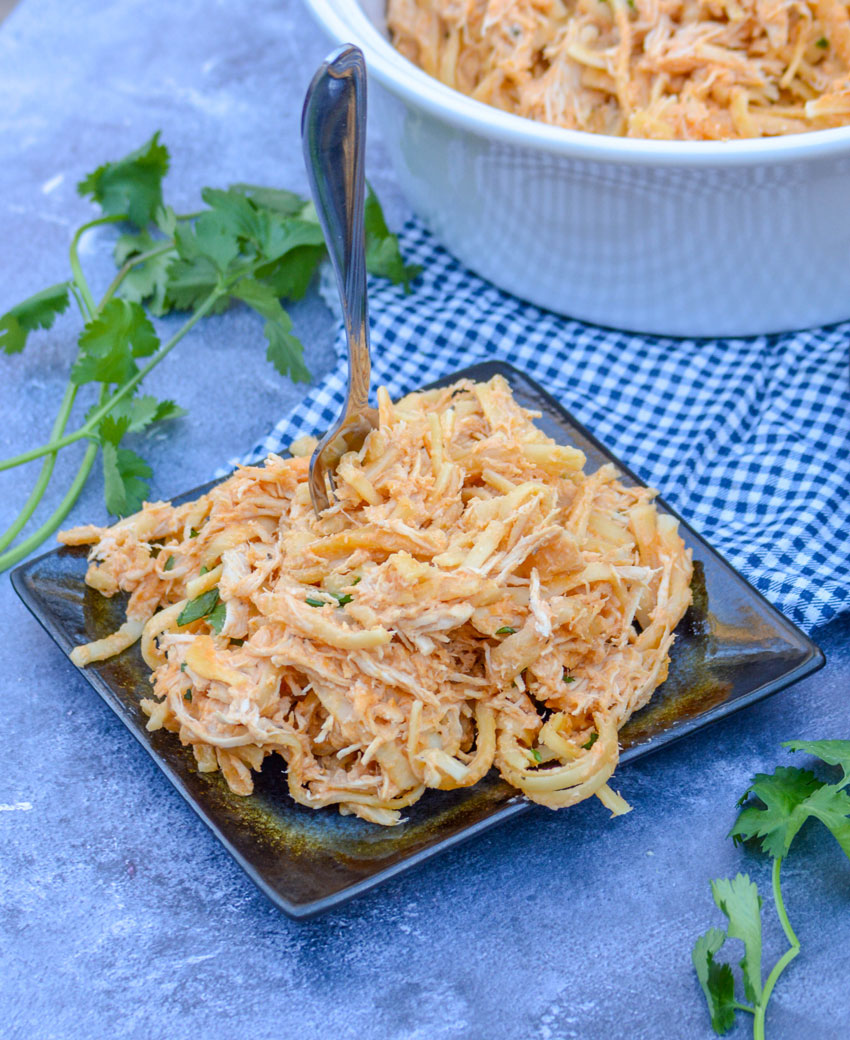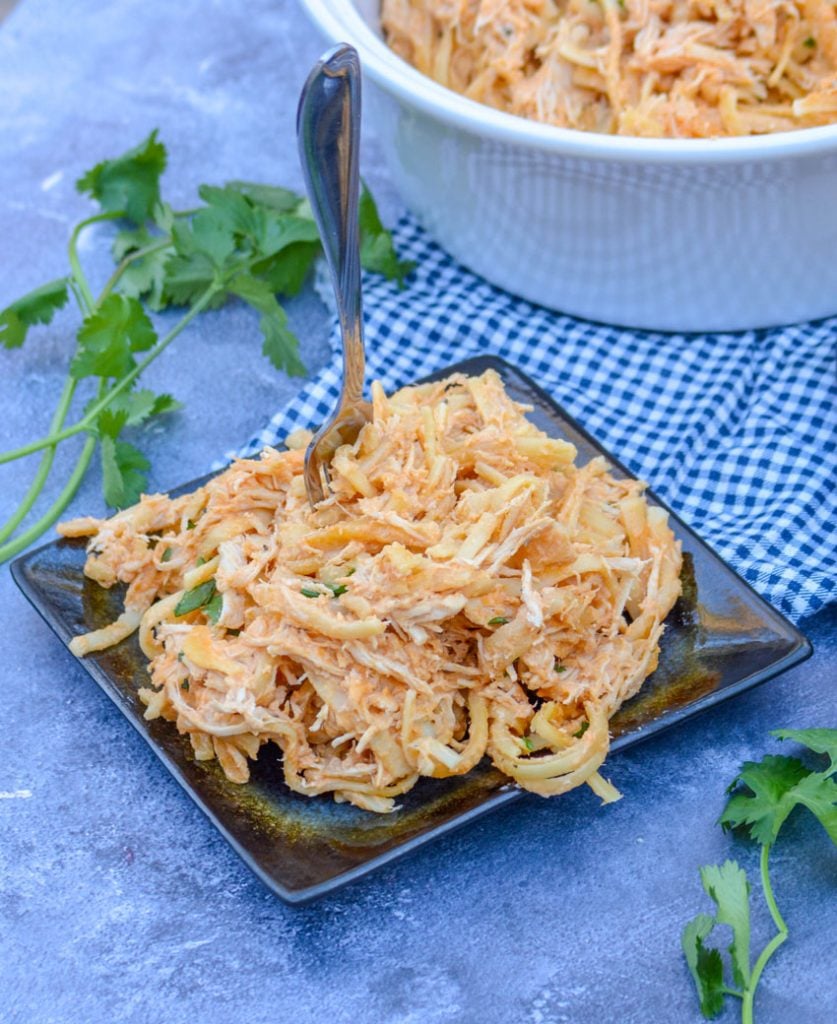 We love this meal because it's easy. Most crockpot meals are, another reason why I love them & my crockpot so much. This recipe is just what a crockpot kinda meal should be, the set it & forget it kind.
To get everything going, add the chicken, broth, wing sauce, and all the seasonings to the bowl of the crock. Give everything a good stir around the edges of the chicken to loosely combine. Cut the cream cheese into cubes, and place it evenly out over top of the chicken. Sprinkle the cheese evenly out over the crock.
Cover the crockpot, securing the lid if that's an option, and let the Crockpot Cheesy Buffalo Chicken Pasta cook for 8 hours on low- or 4 hours on high. My crockpot has a keep warm method, where as soon as it hits the 8 hour mark- it automatically switches to just keep the food warm. If yours has a similar mode, then you can always put this on right before bed. Otherwise, you can get everything ready & cover and refrigerate the crock overnight and then set it in the machine and start it on your way out the door for work.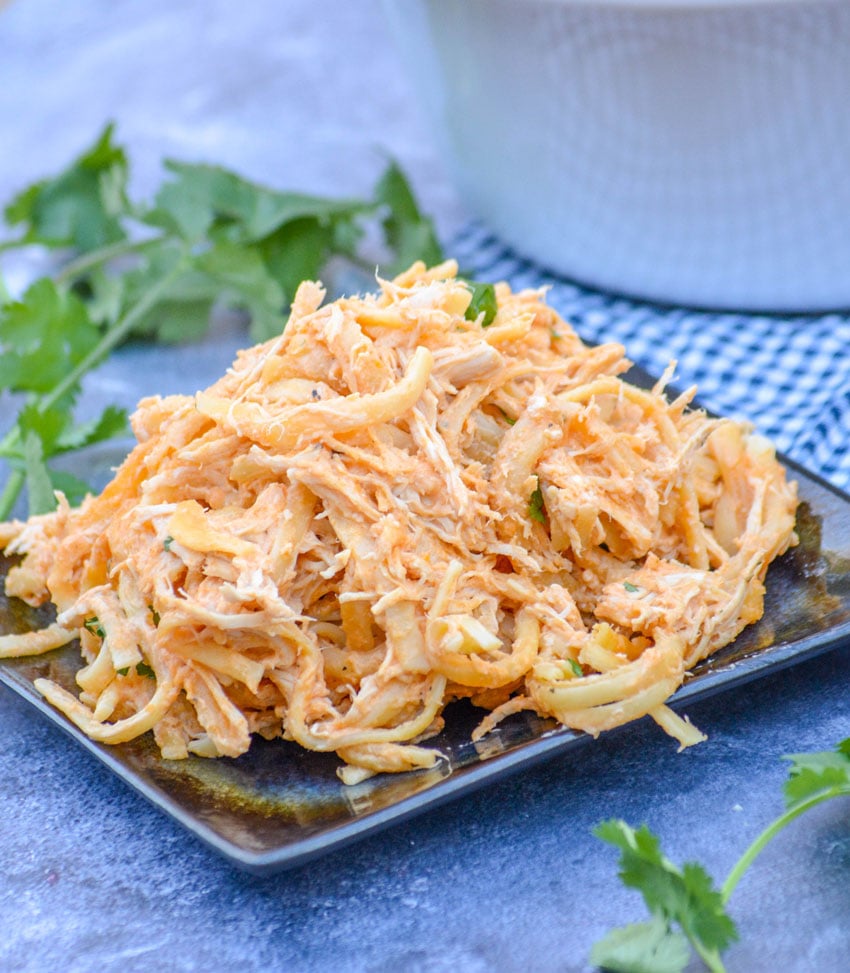 Transfer the chicken to a cutting board and shred using two forks. Transfer the chicken to a mixing bowl. Pour the rest of the buffalo sauce in, and toss to evenly coat. We're gonna set the chicken aside at this point, and go back to the crockpot.
Whisk together a slurry using one tablespoon of cornstarch and one of water. When the slurry's completely smooth, pour it into the juices in the crockpot. Whisk the liquids together until the cream cheese and cheddar have completely melted and the mixture's smooth. Now you add the pasta to the pot. Break the noodles in half first. Transfer the chicken back to the crockpot, scooping it out over the pasta.
Cover the crock, and cook an extra 30 minutes to an hour. Make sure to stir the pasta occasionally so that it doesn't clump together and stick! When the pasta's fully cooked, serve it hot & garnished with freshly chopped cilantro leaves.
Tips & Tricks:
While we suggest using a longer noodle like linguinie, fettucinie, or spaghetti- you can sub smaller pasta shapes like rotini or penne.
How spicy this dish is will totally depend on the type of buffalo sauce you use. I'm a wuss when it comes to real heat, so I buy a mild buffalo sauce. Plus, I want even the youngest son to be able to enjoy it too.
We don't specify a certain type of cream cheese in the recipe for a reason. You can use whichever you prefer. Traditional, light, or even Neufchatel- the results will all be the same.
The recipe calls for shredded cheddar, but you can easily swap mozzarella or Monterrey jack- or use a blend all three. You really can't go wrong with any of those cheeses.
The last 30-60 minutes when the pasta is cooking- don't forget to stir. Not jut once or twice, but often, to prevent the pasta from sticking & clumping together. It's the stirring the accounts for the variation in how long it will take until the pasta is cooked al dente.
I'm always amazed at how surprised friends, family, even readers are when they realize they can use their crockpot's for so much more than meat. Or soups. Step into a new era and use your slow cooker for all the things, even pasta! This slow cooker cheesy buffalo chicken pasta is a meal in one pot, but with the added bonus that you can walk away and it will cook perfectly without you lifting a finger. Well, for the most part. It's a real crowd pleaser, either way. Serve it with a simple side salad, and you've got a complete meal.
Other Tasty Buffalo Flavored Ideas: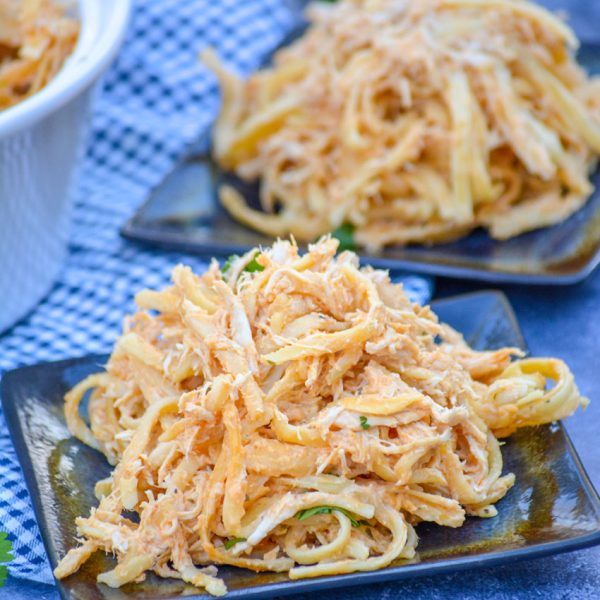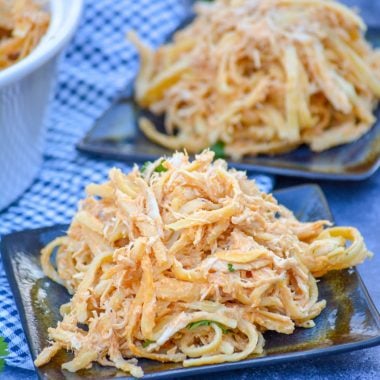 Slow Cooker Cheesy Buffalo Chicken Pasta
Cheesy buffalo chicken pasta doesn't get any easier, or tastier, than when you make it all in the slow cooker. A couple stirs is all that stands between you and a special spicy dinner.
Print
Pin
Rate
Ingredients
1 to 1½

pound

boneless skinless chicken

3

cups

chicken broth

½

cup

buffalo wing sauce

1/4 cup now, ¼ cup later

1

tbsp

ranch dressing mix

dried packet kind

½

tsp

garlic powder

¼

tsp

celery salt

¼

tsp

salt

⅛

tsp

pepper

8

oz

cream cheese

1

cup

shredded sharp cheddar

1

tbsp

corn starch + 1 tbsp water

16

oz

linguine noodles

chopped cilantro for garnish

optional
Instructions
Place chicken, broth, ¼ cup buffalo sauce, and seasonings into the crockpot.

Top with cream cheese and shredded cheese.

Cover and cook on high for 4 hours or low for 8.

When chicken is fully cooked remove to separate bowl and shred.

Add remaining ¼ cup buffalo sauce to chicken and toss to coat.

Set aside the shredded chicken.

Whisk together corn starch and water and add to crock.

Use a whisk and stir until cheese and cream cheese is all combined and smooth.

Break noodles in half and place in crock.

Top with chicken and cover.

Turn crock on high for 30-60 minutes, stirring occasionally so the noodles don't stick together, until noodles are fully cooked.

Garnish with cilantro if desired and serve immediately
Nutrition
Calories:
504
kcal
|
Carbohydrates:
61
g
|
Protein:
17
g
|
Fat:
20
g
|
Saturated Fat:
11
g
|
Cholesterol:
61
mg
|
Sodium:
1667
mg
|
Potassium:
333
mg
|
Fiber:
2
g
|
Sugar:
3
g
|
Vitamin A:
695
IU
|
Vitamin C:
8.3
mg
|
Calcium:
196
mg
|
Iron:
1.5
mg
recipe & pictures updated 5/9/2019