Get the flavors you crave from a family favorite cake, in beautiful single serve form with these Black Forest Cherry Cheesecake Dessert Cups.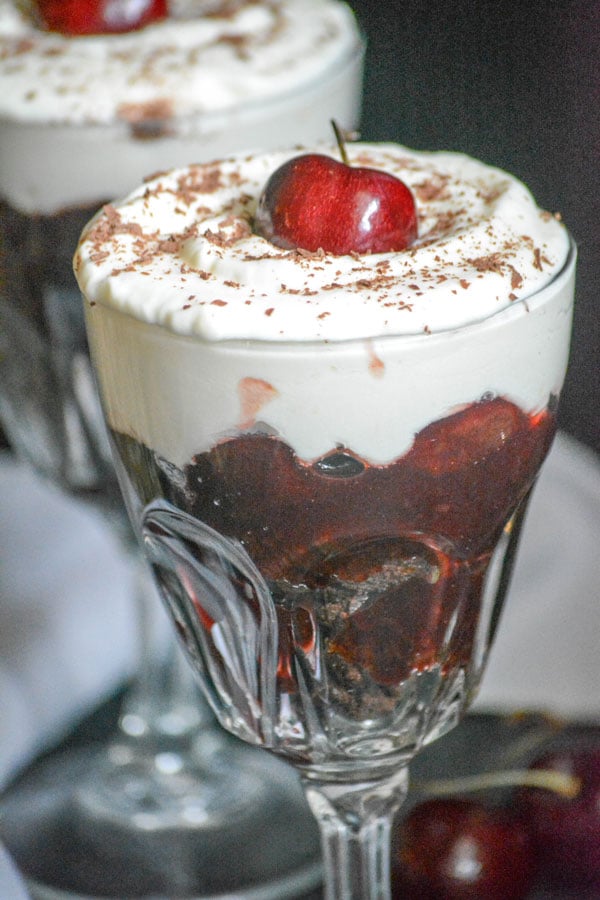 Is it weird that I always feel like we're having an actual conversation? I hope not. I mean I could- and probably should- be labeled a dork/nerd, but I definitely don't think I'm 'weird'.
I guess part of it stems from the fact that I never think we're having a one sided convo. Y'all answer me in comments, and on my social media posts. Leave your thoughts, reviews, adaptations for me to engage with. I love it.
To me it all feels like one long running, ever evolving, discussion about one of our favorite subjects.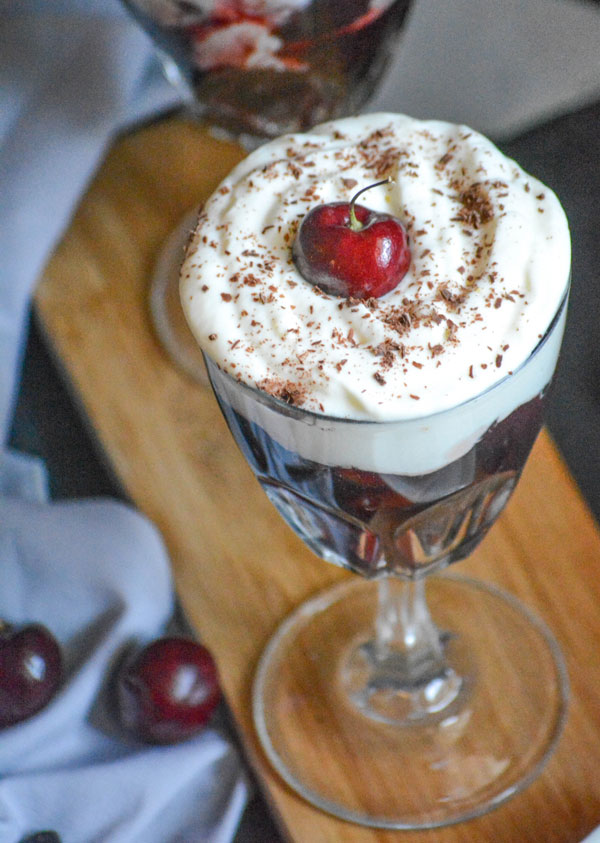 I get that everyone might not feel that way. But I've got to throw this out there: there's no need to be nasty or demeaning if you don't like something (whether it's actually been tried or not), or don't think an idea or ingredient will work.
Do like ya Mama told ya, "If you ain't got nothin' nice to say, don't say nothin' at all."
Sorry. After this past week I just had to throw that friendly PSA out there. Some trolls, y'all. Trolls.
That being said, I love seeing all of your comments and keeping our discussions going. Shoot, I can't count the many tips & tricks I've learned from you guys over the years, just by opening up this dialogue. Let's keep this a place of positivity and encouragement.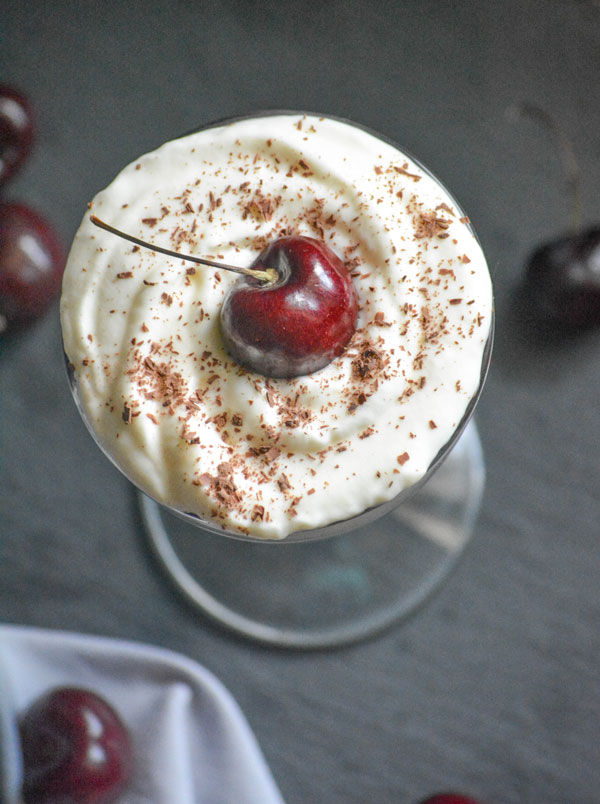 If you've followed along for a bit you know (if you haven't, here's your crash coarse), I'm not the biggest fan of dessert.
Like I like dessert, and if it's put in front of me I'm going to eat it. Duh, who wouldn't? I'm not anti sugar. I mean, I grew up in the South, sugar is a staple.
I was just born with one inherent flaw, that I haven't been able to grow out of or cultivate- I don't crave sweets.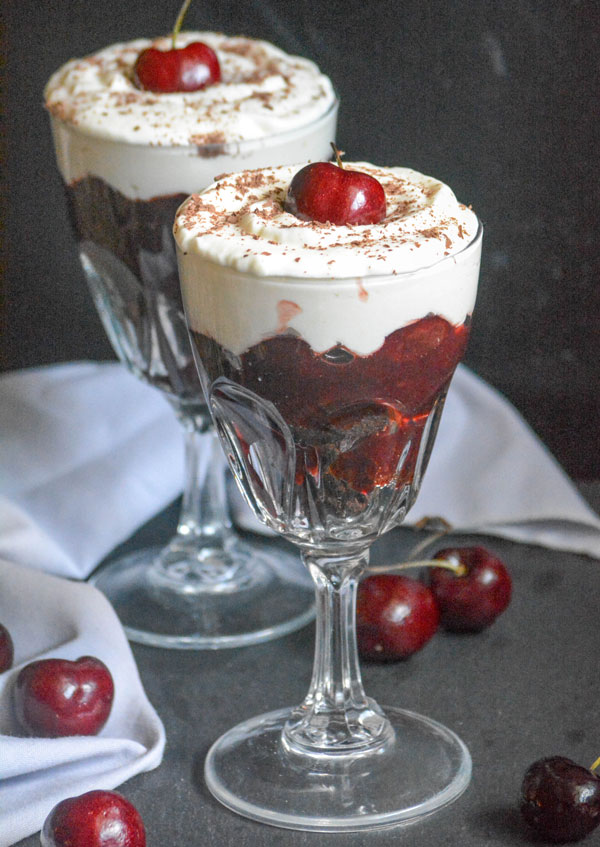 Even I'm not immune to the world of sugar. And on the rare occasions I do get a craving, I tend to do it right.
Go big or go home, ya know?
There's nothing that takes that idea and runs with it quite like these Black Forest Cherry Cheesecake Dessert Cups.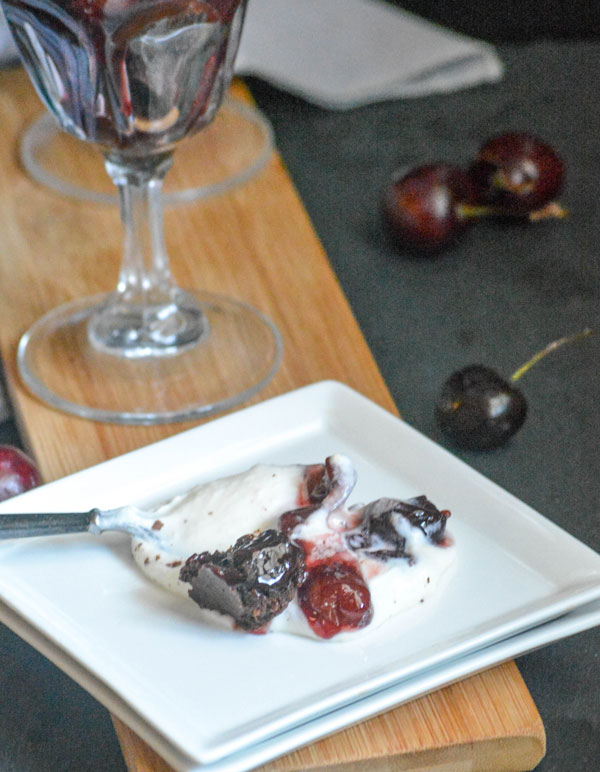 It's rich, elegant, and combines some of my favorite sweet flavors.
From the taste all the way to the gorgeous way it sets itself up for presentation, it's a treat fit for a crowd. Think Thanksgiving, Christmas, or some other special occasion.
Or, if you're like me, share a cup with someone special because a couple of bites is all you need. You'll savor every single second.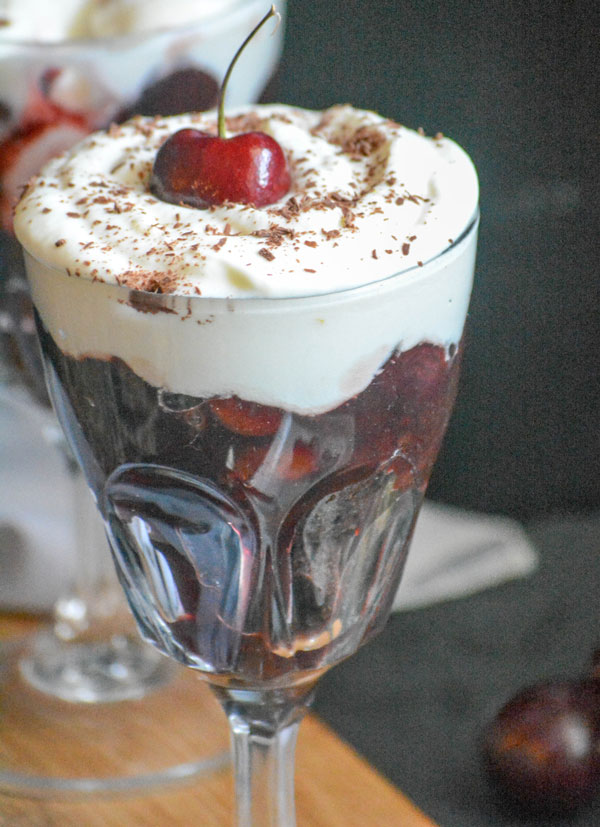 Dessert cups are a great way to layer flavor into a special treat, that also looks gorgeous on your table. Black Forest Cherry Cheesecake Dessert Cups don't disappoint, not even the stiffest of crowds.
A layer of crumbled fudgy brownies is drowning in an easy syrup made from sweet dark cherries, and finally finished off with a creamy layer of luscious sugared ricotta whipped cream.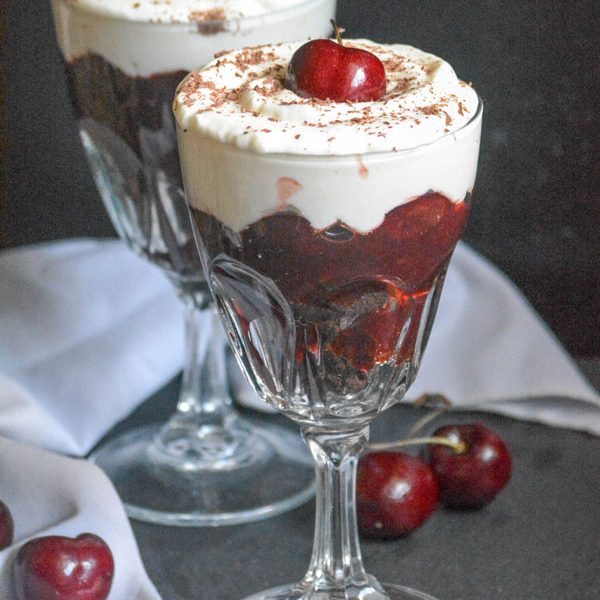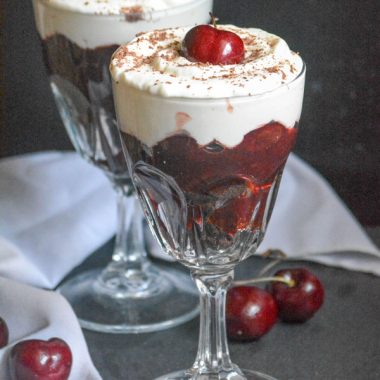 Black Forest Cherry Cheesecake Dessert Cups
A beautiful dessert that deconstructs your favorite flavors in a traditional Black Forest Cake, and serves them parfait style.
Print
Pin
Rate
Ingredients
10

oz

fresh, or frozen, sweet dark cherries

5

oz

cherry preserves

1/2 cup + 3 tbsp

sugar

2

tbsp

lemon juice

1

cup

ricotta cheese

1

cup

heavy whipping cream

zest

of one lemon

several cups

quality fudgey brownies, broken up into large chunks
Instructions
In a large saucepan, over medium low heat, bring the cherries and preserves to a boil, stirring occasionally. Add a few teaspoons of water if the mixture's too thick to stir easily.

Continue cooking the cherry mixture for 5 minutes, stirring occasionally. Remove the saucepan from heat, and let it sit until the mixture's cooled to room temp.

In a medium mixing bowl, whip the 1/2 cup sugar, lemon juice, and ricotta until evenly and completely combined.

Add the remaining sugar, whipping cream, and zest to the bowl of a stand mixer. Whip/whisk them together, on medium speed, until the cream's thickened and stiff peaks form. Don't over mix, or you'll end up with butter.

Use a spatula and fold the ricotta mixture into the whipped cream until evenly combined and smooth. Chill the ricotta mixture for 15-20 minutes.
To Assemble The Dessert Cups
Evenly divide the brownie chunks between 3-4 wine glasses or dessert cups.

Scoop the cherry mixture evenly out over top all of the brownies in the glasses.

Scoop, pipe, or spread the ricotta mixture evenly out between the dessert cups and over top of the cherry mixture making sure to keep the layers as distinct as possible.

If desired, top each cup with shaved chocolate and a sweet, dark cherry. Serve immediately.