This bloody vampire cake is so delicious it's positively scary! Homemade white layer cake with luscious buttercream gets a bloody, Dracula inspired makeover perfect for Halloween. When you serve it up, you won't believe how bloody good it is. Dracula himself would want seconds of this delicious homemade Halloween cake.
This post and recipe was created for #HalloweenTreatsWeek! I was sent samples by some of the sponsor companies but as always opinions are 100% mine.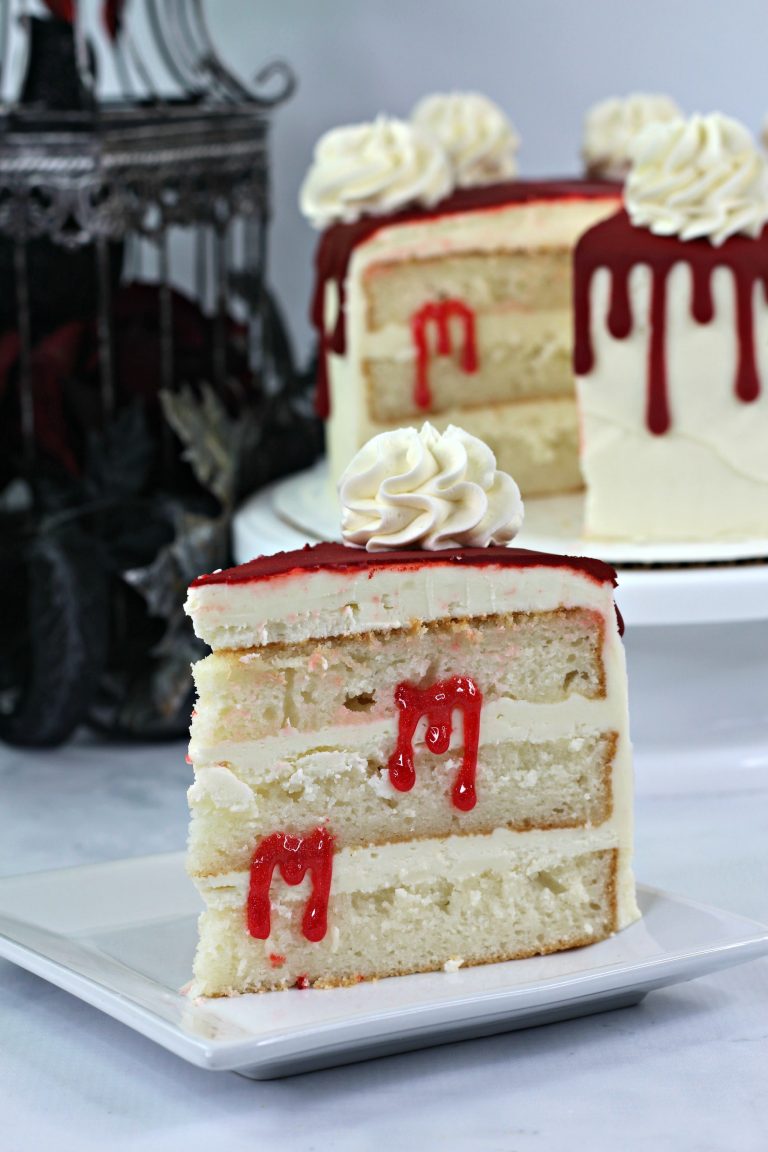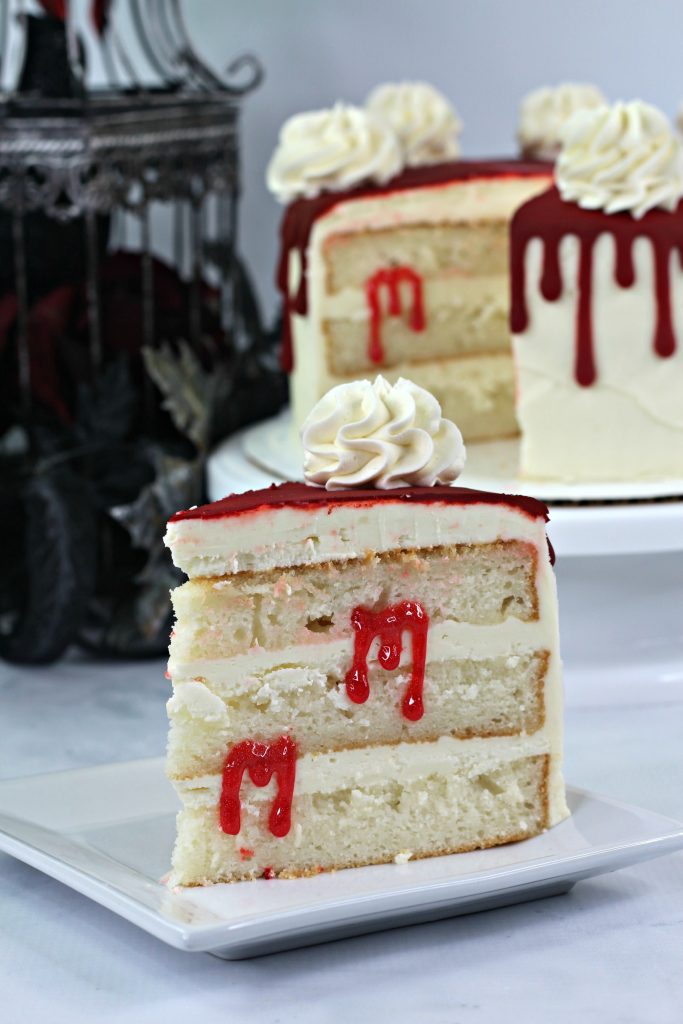 One of my favorite spooky Halloween creatures is definitely a vampire. They are creepy but slick and even disturbingly elegant as opposed to say a mummy or witch. I just love them so I knew I had to come up with a vampire inspired treat for Halloween.
And instead of it being cutesy or playful like my candy corn cookie bars or monster fudge, I wanted to capture that elegant vampire scariness with this vampire layer cake.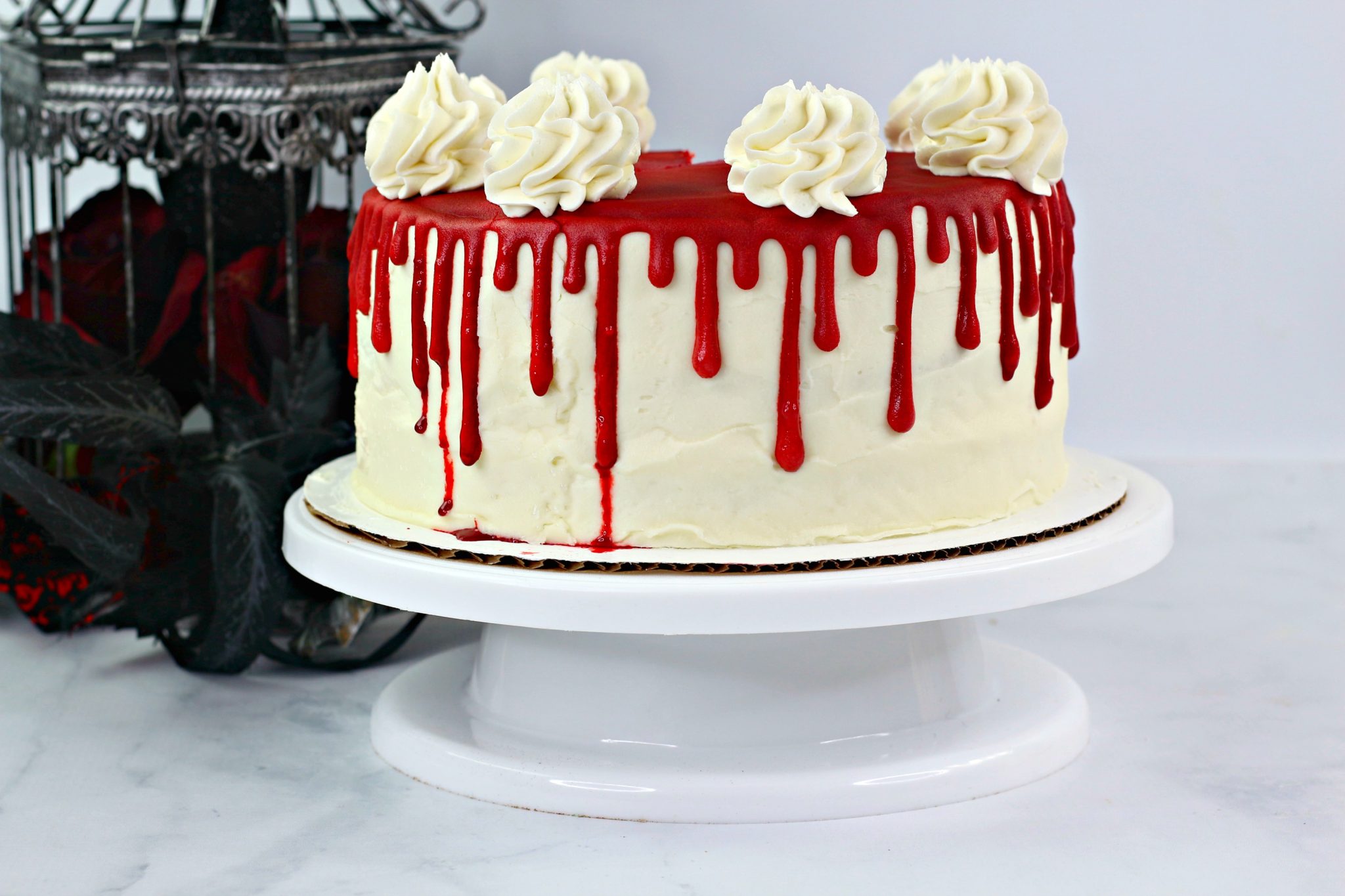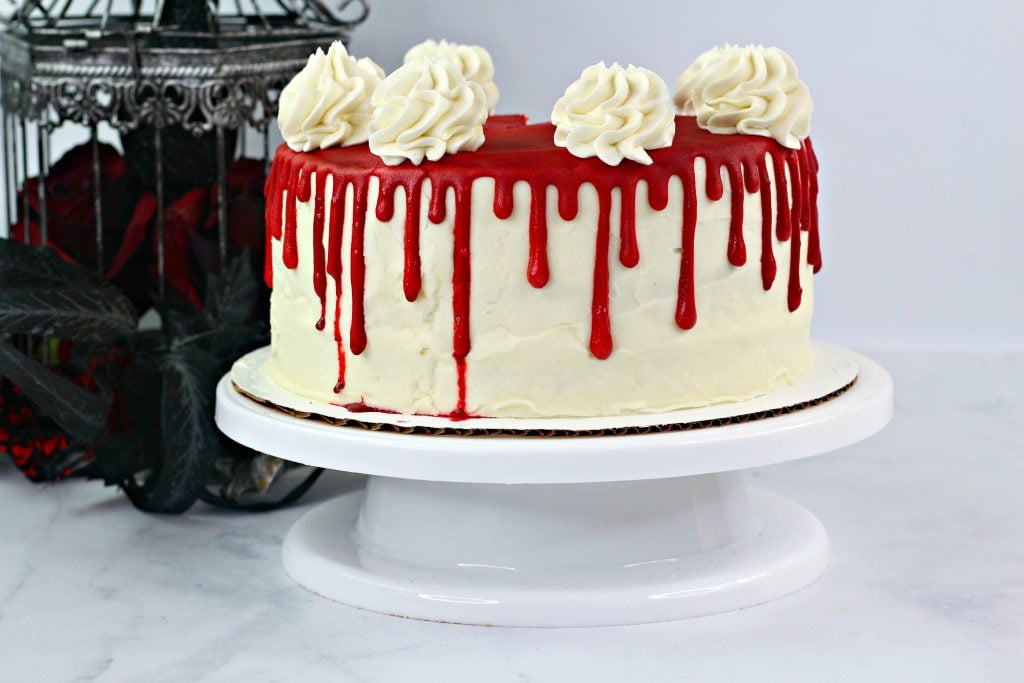 Why use white cake in a vampire layer cake?
When I was coming up with this cake, I knew I wanted to use white cake to really capture the extra paleness of a vampire since they can't be exposed to sunlight or chocolate cake as a play on the black cape you often see them wearing. Yellow cake or other cake flavors wouldn't give me either of those vampire vibes. Ultimately I went with white cake though to really highlight the gory blood-colored icing trickling down this cake.
How to Make White Cake
Instead of taking a shortcut by using box cake mix, I made this white cake from scratch. Making white cake is fairly simple. You need some basic baking ingredients and tools. To make this cake you need some basic cake ingredients:
milk
butter
sugar
flour
vanilla
baking powder
egg whites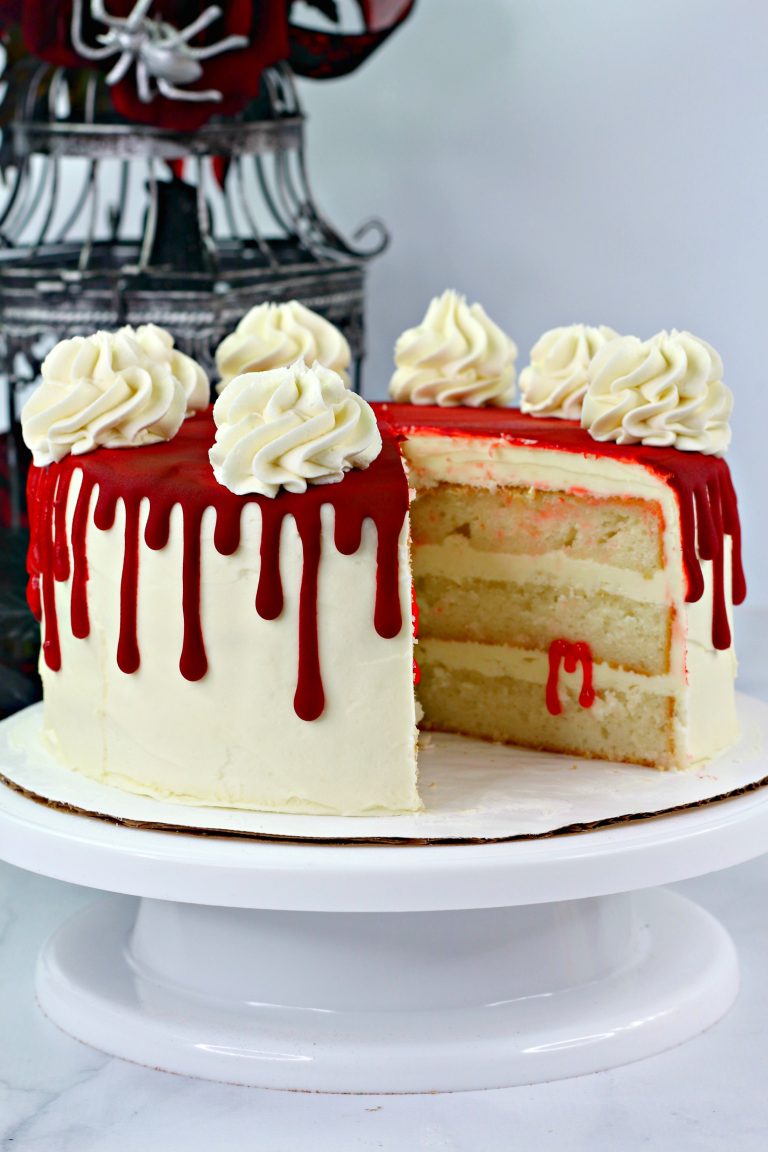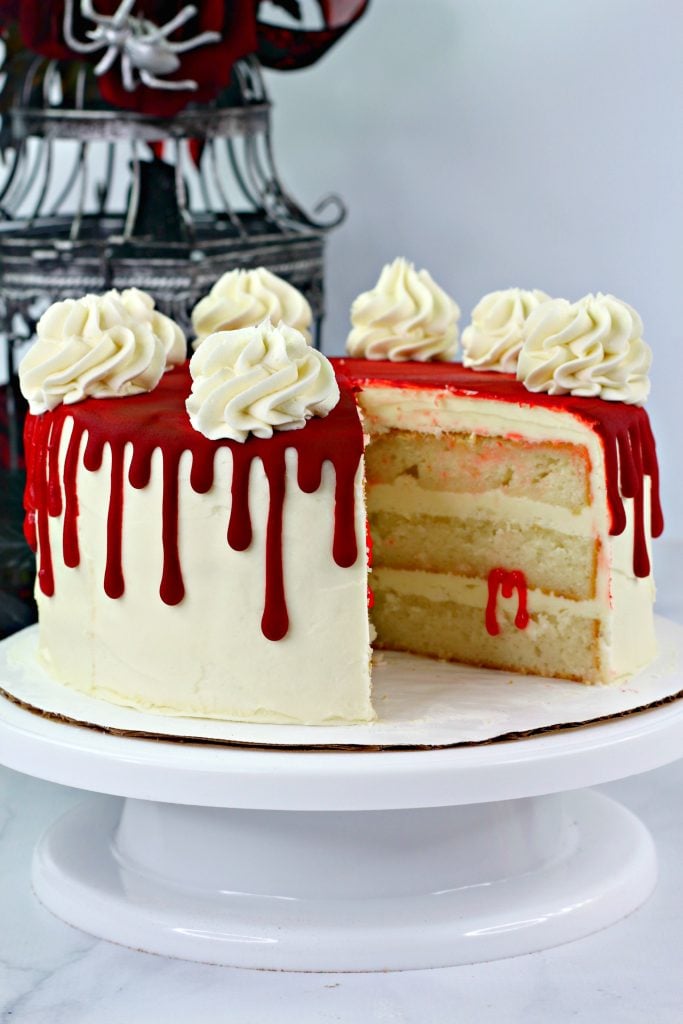 You might notice there aren't any whole eggs in this cake. We aren't using any whole eggs to keep the cake nice and white. The egg yolks will give the cake a yellow tint.
To make the batter, you start by whisking the milk and vanilla together in a medium bowl and setting it aside. Then cream the butter and sugar together in a stand mixer until it is light and fluffy. In another bowl, whisk together the flour and the baking powder.
Now, you can gradually add the milk and vanilla mixture and the flour and baking powder mix to the bowl of the stand mixer. Make sure you alternate between adding the wet and dry ingredients.
While you add the ingredients to the stand mixer, keep the mixer on a low speed so it slowly incorporates the ingredients together.
Once the batter is combined, turn off the mixer. Then in a separate large bowl, beat the egg whites with a hand mixer until they form stiff peaks. When stiff peaks form, fold the egg whites gently into the batter.
Now you are going to pour your batter into 3 round 9 inch cake pans lined with parchment paper. Don't skip lining the pans with parchment paper. It will help the cakes release cleanly from the pans.
Then bake the cakes for 23-26 minutes or until a toothpick inserted into the center of the cakes comes out clean. Let the cakes cool completely. When the cakes are just about cool, you can make your icing.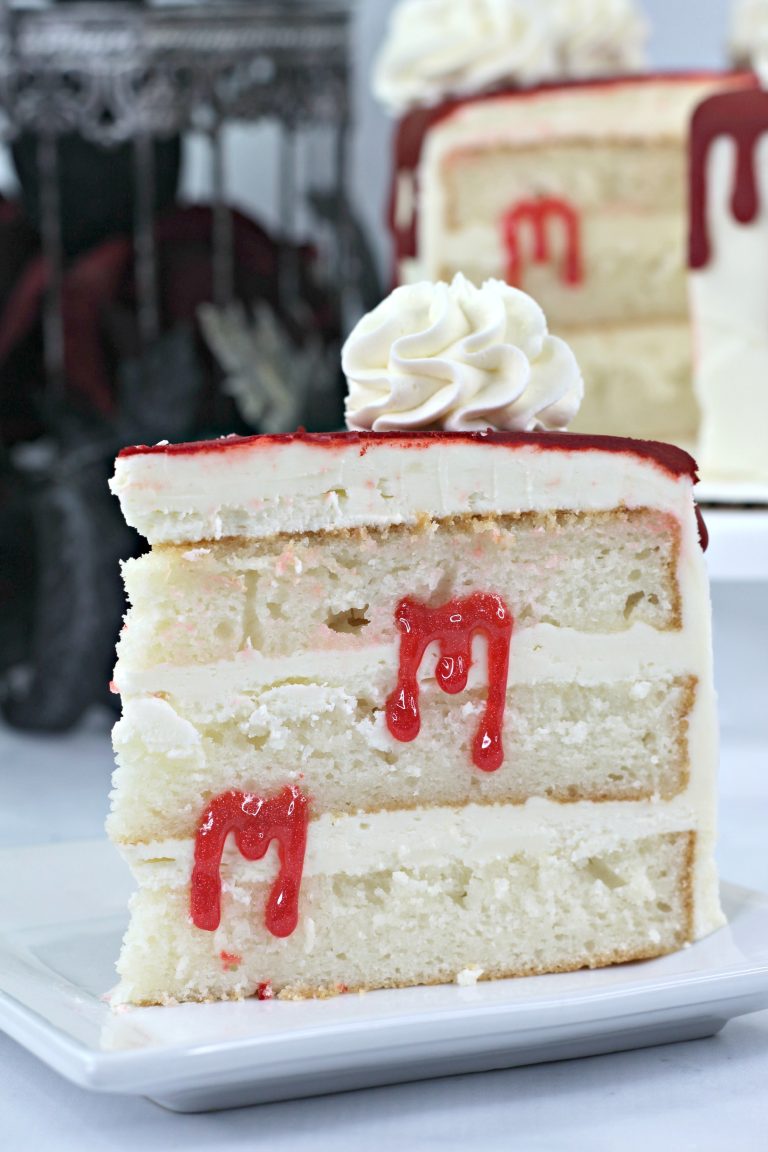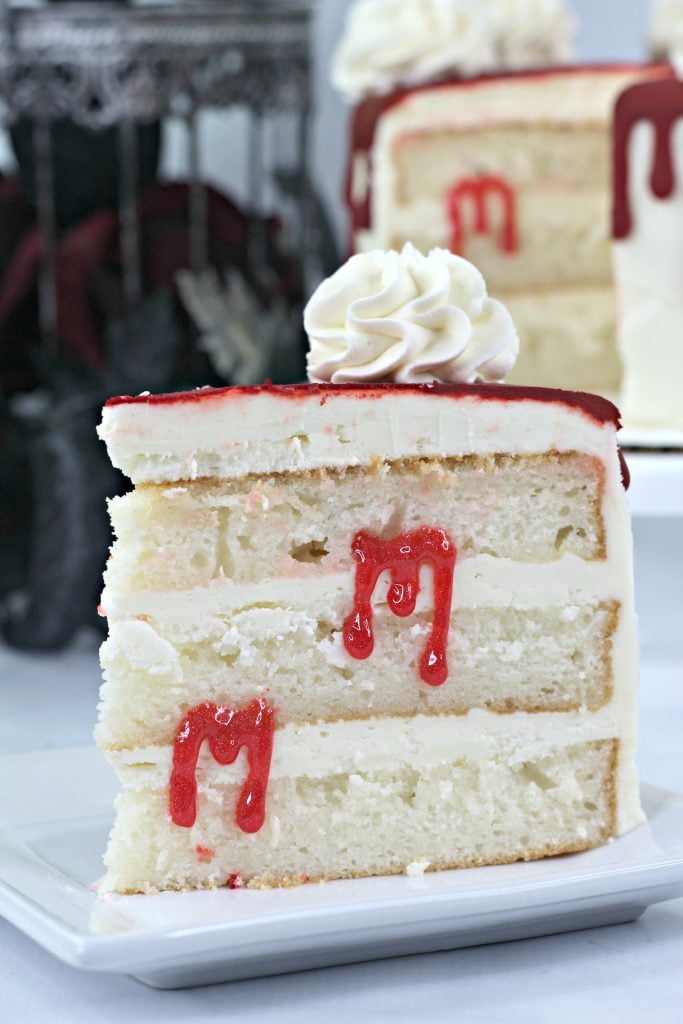 Scary good homemade vanilla frosting!
Whipping up the vanilla frosting is very easy! Homemade buttercream doesn't need much. Just butter, powdered sugar, vanilla, and a few tablespoons of heavy cream.
Follow these simple tips to make homemade vanilla buttercream:
Use room temperature butter. You want the butter to be soft but not melted. If your butter is refrigerator cold, it won't mix with the powdered sugar, vanilla, and cream well. If your butter is melted, you'll get more of a glaze than a frosting. The right butter temperature is key to the best consistency!
Start by combining the butter, powdered sugar, and vanilla. Once you have those ingredients whipped together, add one tablespoon of heavy cream in at a time until it reaches the desired consistency. You may need a little more or a little less heavy cream in your frosting. For this recipe, you want stiff peaks to form.
Once you have made the frosting, you can spoon 1 cup of the frosting into a large piping bag. Set aside the rest of the frosting for assembling your cake.
How to Decorate a Spooky Bloody Vampire Cake
Once your cakes have cooled, carefully remove one from the cake pans and set on the center of a cake board. Then you can put a dollop of icing on the center of the cake and spread it out over the layer carefully using a spatula. Make sure the icing is evenly spread. As a reminder, spread the icing- don't wipe it! Wiping runs the risk of pulling away cake crumbs.
Once you have iced the first layer, take a second cake out of the cake pan and stack it on top of the bottom cake. Repeat the icing process with this layer, making sure the cake layer is evenly covered. Then put the third layer on top of the second and spread that layer with icing.
Now that the top of the cake is frosted, cover the sides with frosting as well, using a spatula to smooth the frosting evenly over the cake. Next use the red cookie icing to pipe blood drips down the sides of the cake. Then fill the top of the cake in with the remainder of the red icing. Let it dry. Finish the cake off by by piping pretty dollops of white icing along the top.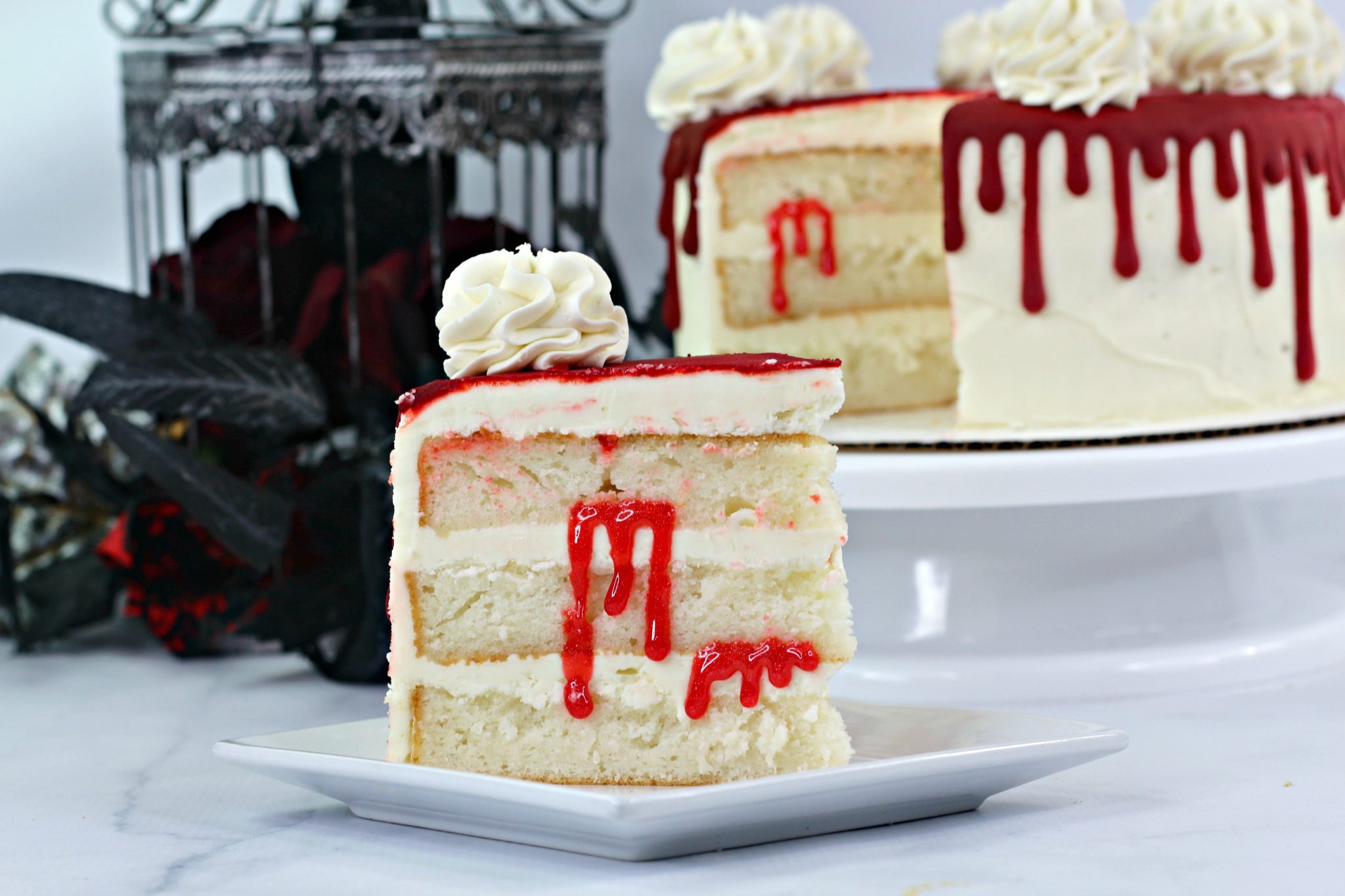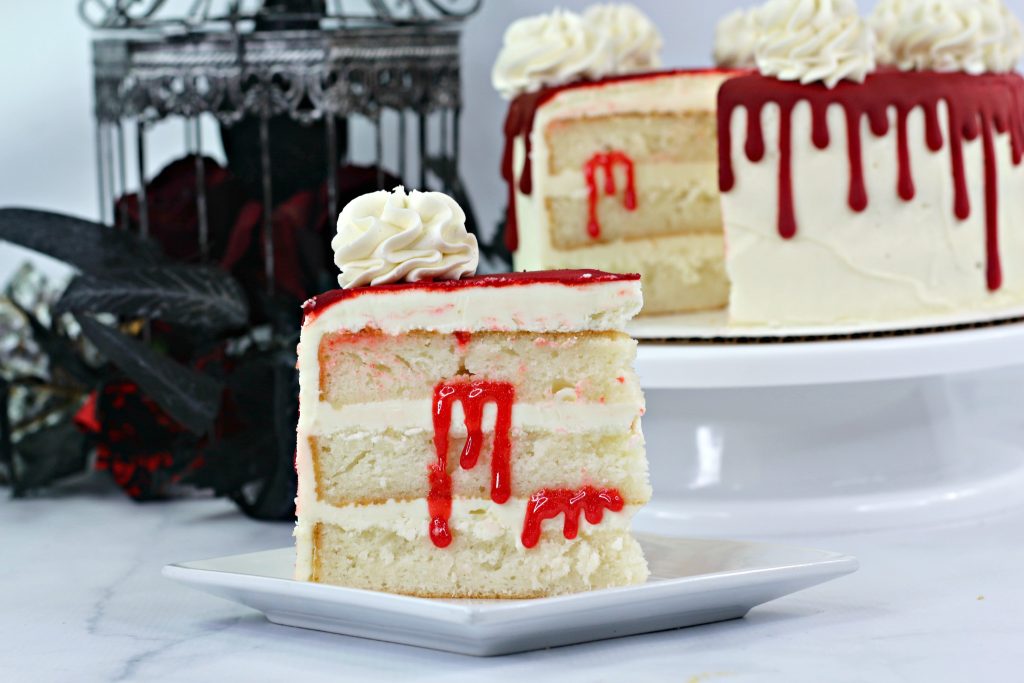 And for something a little extra, when you cut your cake use the red glitter gel to pipe some blood drips on the individual slices.
This cake would be a Halloween dessert that would stop Dracula in his tracks!
Other Vampire Halloween Treats
If you want to have a vampire themed party and are looking for other spooky treats for your guests to sink their teeth into try these: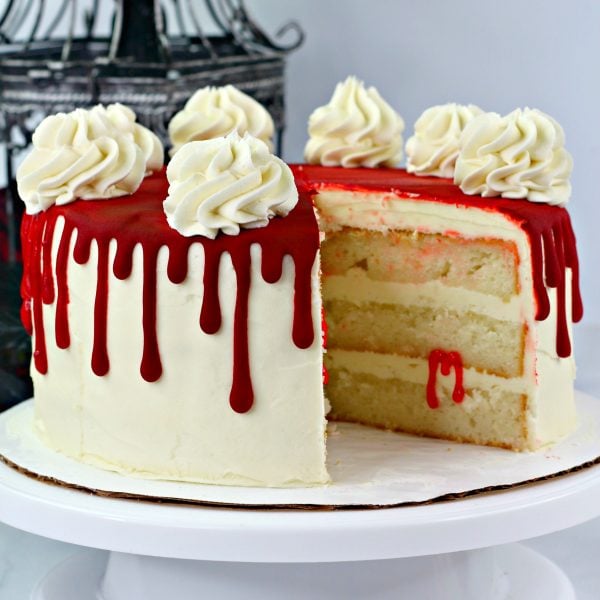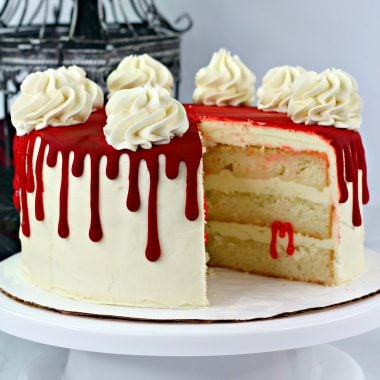 Bloody Vampire Layer Cake
A moist vanilla layer cake is alternated with luscious layers of buttercream frosting, this version is given a bloody vampire spin with a red chocolate drip making it perfect for any spooky celebration.
Print
Pin
Rate
Ingredients
White cake Ingredients
3 9

inch

round cake pans

3

sheets of parchment paper

1 10

inch

round cake board

1

C

whole milk

2

tsp

pure Adams vanilla extract

1

C

unsalted sweet cream butter

softened

2

C

Dixie Crystal's granulated sugar

3

C

flour

1

tbsp

baking powder

5

large egg whites
Vanilla frosting ingredients
3

C

unsalted sweet cream butter

softened

6

C

Dixie Crystals powdered sugar

2

tbsp

pure Adams vanilla extract

5-6

tbsp

heavy whipping cream

1

large piping bag with large star tip

1

small piping bag with a medium round tip

1

tube of red cookie icing

1

tube of wilton red glitter piping gel
Instructions
Cake Directions:
Preheat oven to 350 degree's and spray all 3 cake pan with pam baking spray and set aside

In a medium mixing bowl, whisk together the milk and vanilla and set aside

Using a standing mixer, beat together the butter and sugar until light and fluffy

In a large mixing bowl, whisk together the flour and baking powder

Alternating between the milk and dry ingredients, gradually pour into the butter mixture. Mixing on low to medium speed until combined

Using another large mixing bowl and a hand mixer, beat the eggs until stiff peaks form

Fold into the cake batter

Divide the batter evenly between the three cake pans

Bake in the oven for 23-26 minutes or until a toothpick comes out clean in the center

Allow the cakes to cool completely before removing from cake pans

Place the cakes onto a cutting board

Using a cake slicer, remove the domes from the cakes

Place one layer of cake onto the cake board
Frosting directions:
Using a standing mixer, beat all ingredients together until stiff peaks form. About 5-7 minutes

Scoop about 1 C of frosting into the large piping bag

Scoop about 1 C of frosting onto the first layer and smooth out with a angled spatula

Place the second layer of cake onto the first layer of frosting

Scoop another cup of frosting onto the second layer of cake and smooth with evenly

Place the last layer of cake onto the second layer of frosting

Scoop remaining frosting onto the cake and cover completely

Using the red cookie icing, pipe blood drips along the edges of the cake

Cover the top with the red icing and allow to harden

Using the piping bag, pipe dollops on top of the cake

When serving cake slices, use the glitter piping gel to pipe blood drips along the sides of the cake slices

Enjoy!
Nutrition
Calories:
1068
kcal
|
Carbohydrates:
119
g
|
Protein:
6
g
|
Fat:
65
g
|
Saturated Fat:
41
g
|
Cholesterol:
173
mg
|
Sodium:
44
mg
|
Potassium:
208
mg
|
Fiber:
1
g
|
Sugar:
94
g
|
Vitamin A:
2016
IU
|
Calcium:
94
mg
|
Iron:
2
mg
Check out the amazing #HalloweenTreatsWeek recipes from our bloggers today!
Happy Halloween! It's October which means it's time for Spooky Season and this year's #HalloweenTreatsWeek event! #HalloweenTreatsWeek is hosted by Angie from Big Bear's Wife & its a creepy and haunting week-long event is filled with some amazingly wicked Halloween treats, recipes and some frightfully fun giveaways.
"When witches go riding, and black cats are seen, the moon laughs and whispers 'tis near Halloween."
For the 2nd annual #HalloweenTreatsWeek event we have 41 fantastically talented bloggers that are sharing their favorite Halloween recipes throughout the week! There are going to be over 160 Halloween themed recipes shared during this year's #HalloweenTreatsWeek and we can't wait for you to see them all! Follow the hashtag #HalloweenTreatsWeek on social media and look at the bottom of each post to see all of the Halloween recipes that we're sharing!
Plus, don't forget that we have 6 (six) great giveaways for you this week thanks to our amazing sponsors!
Scroll down to take a look!
Prize #1
Prize #1 — Dixie Crystals is giving away a "Dinner and Dessert Set" – ONE 6-Quart Cook & Carry Programmable Slow Cooker, a Pyrex mixing bowl set plus some fun Dixie Crystals items like a Dixie Crystal Apron and Cookbook!
Prize #2
Prize #2 — Adam's Extract is giving away – 1 Gift Pack – including 4oz Adams Best, 1.5 oz Peppermint, 1.5oz Almond, 1 bottle vanilla cinnamon sugar, 1 bottle pumpkin pie spice
Prize #3
Prize #3 —Wilton is giving away a Texturra 7-Piece Bakeware Set
Prize #4
Prize #4 — Sweets and Treats Shop is giving away a large baking box of goodies! Sweets and Treats will send one lucky winner a large assortment of sprinkles and lines and other samples of their products!
Prize #5
Prize #5 — Treat Street USA is giving away a set of Holiday Treat Decorations (1 Gummy Assortment, 1 Marshmallow Snowman, 1 Toy Solider and 1 Gingerbread Men)
Prize #6
Prize # 6– Litehouseis giving away the following: 1 Litehouse® Honeycrisp Apple Cider, 1 Litehouse® Old Fashioned Caramel, 1 Litehouse® Pumpkin Spice Caramel, 1 Litehouse® Butterscotch Caramel & 1 Litehouse® Chocolate Dip, Snack Packs
Giveaway open to US Residents 18 years or older. All entries will be verified. No PO Boxes Please. Prizes will be sent directly from sponsors to winners, bloggers are not responsible for prizes. This giveaway runs from October 7th – October 13th at 11:59PM EST. Winners will be selected soon afterward and contacted by e-mail. Winners will have 48 hours to respond or a new winner will be chosen. There are a total of 6 (six) prizes and therefore we will have a total of 6 (six) winners. No purchase necessary. Void where prohibited by law.
Disclaimer: These posts and recipes are part of the week-long event, #HalloweenTreatsWeek but all opinions are 100% mine! We would like to Thank our amazing sponsors: Dixie Crystals, Adam's Extract, Wilton, Sweets and Treats Shop, Treat Street USA and Litehouse! These wonderful sponsors provided the prize packs for our giveaways and also sent samples and products to the #HalloweenTreatsWeek bloggers to use in their recipes.