Give a healthier spin to your daily snack with this simple peanut butter apple dip. It's a healthier, protein laden fruit dip alternative that will have very one ready to dip!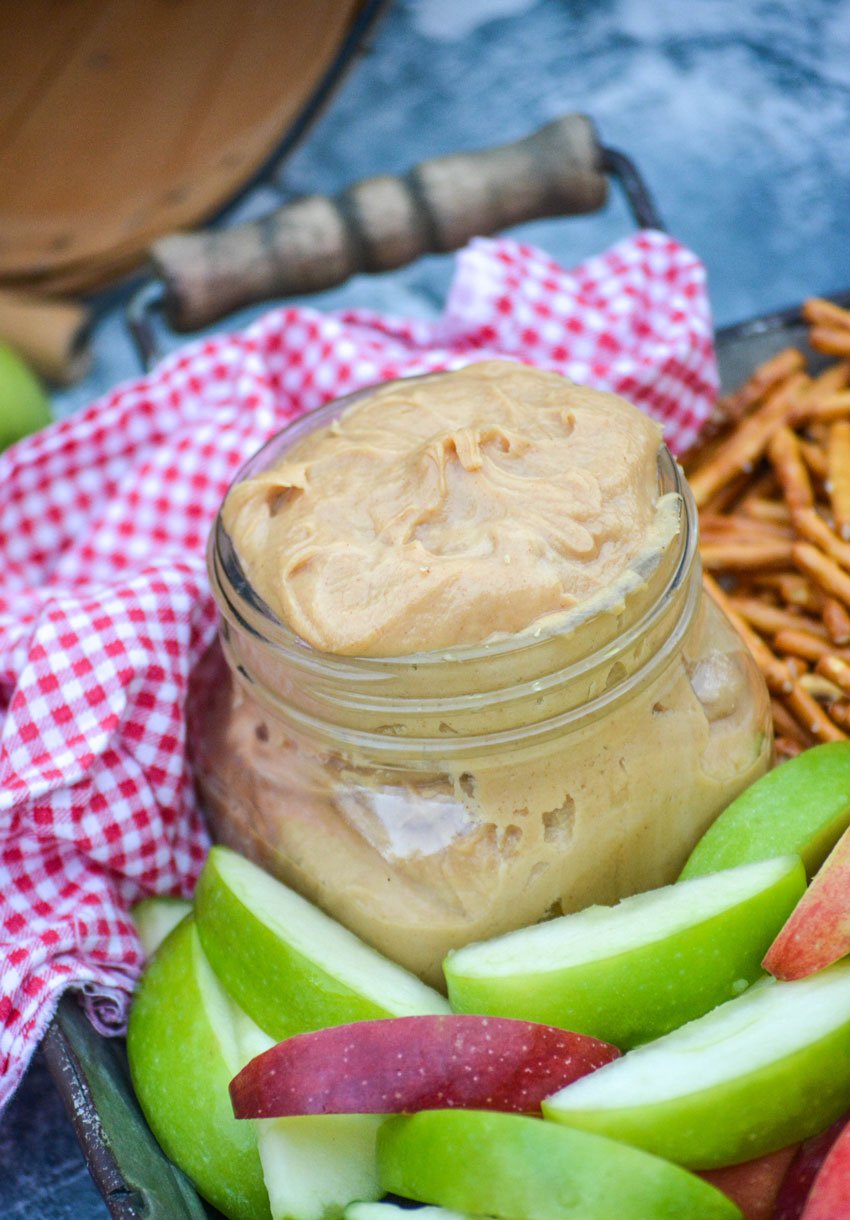 It's that time of year again. No, not the one where the world's dressed in white and everything you hear sounds like Christmas.
The one before that. The one that starts right after Labor Day.
The one that is hearkened by different shades of purple, orange, and black. The one with candy, fruit, and gourds a plenty.
Don't be surprised to see a lot of posts featuring apples and oranges orange.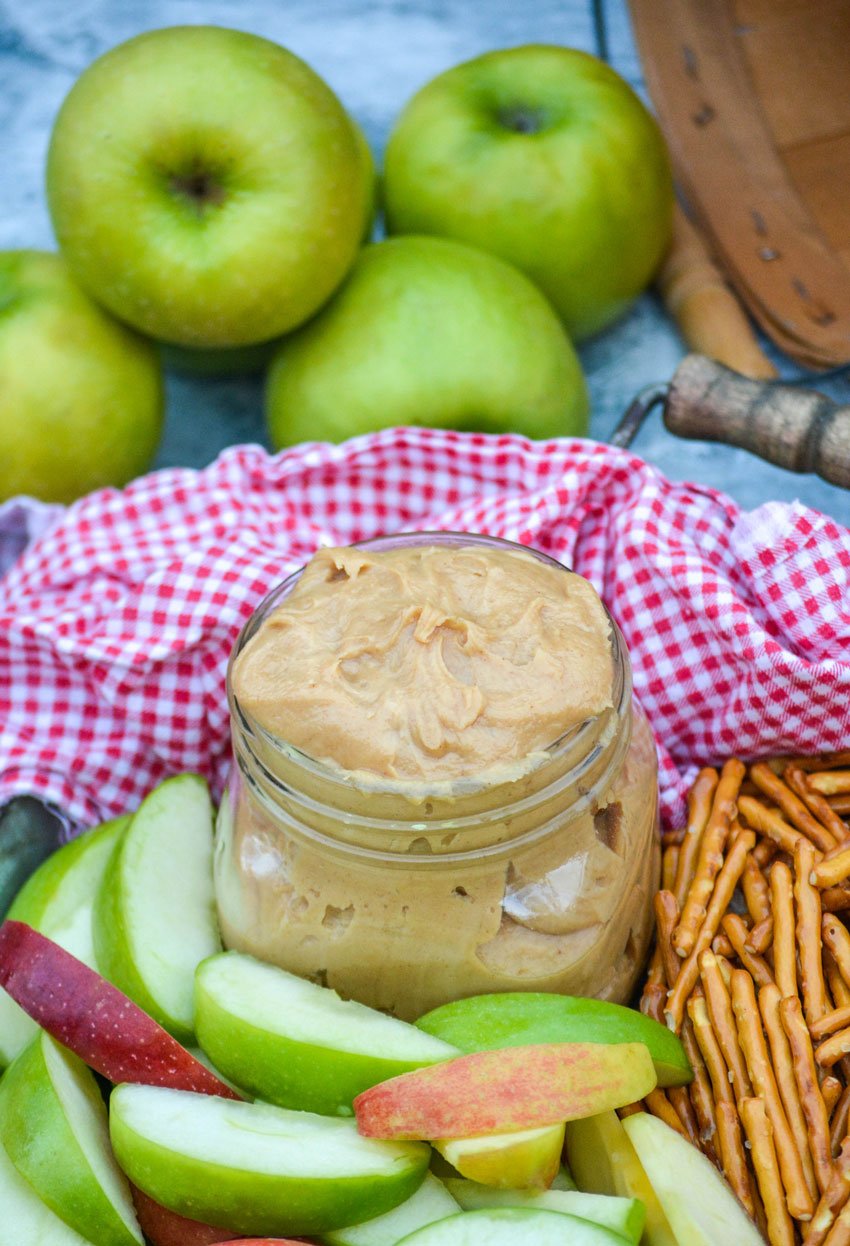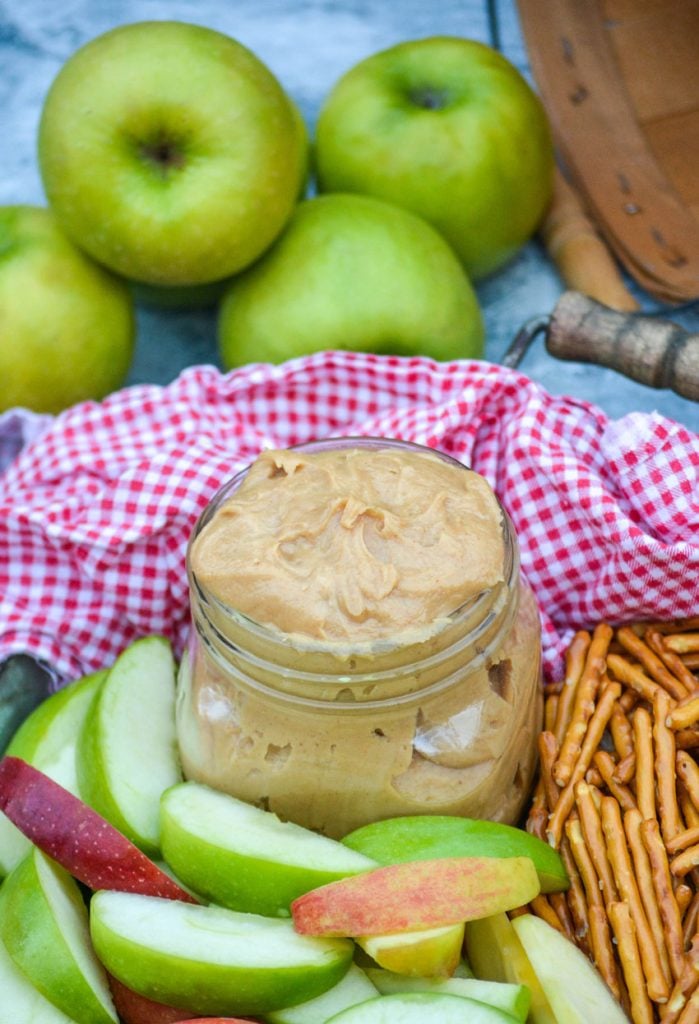 Even when it's not Apple-picking season at our local orchard, we go through *at least* 10 lbs in a regular month.
It's one of the sons' go to after school snacks.
Pair it with a scoop of peanut butter, and they're in heaven.
BUT serve them with this healthy peanut butter apple dip? And you're both going to be feeling great, for two reasons.
A. because it's incredibly delicious, and B. you know that it's as nutritious as it is yummy.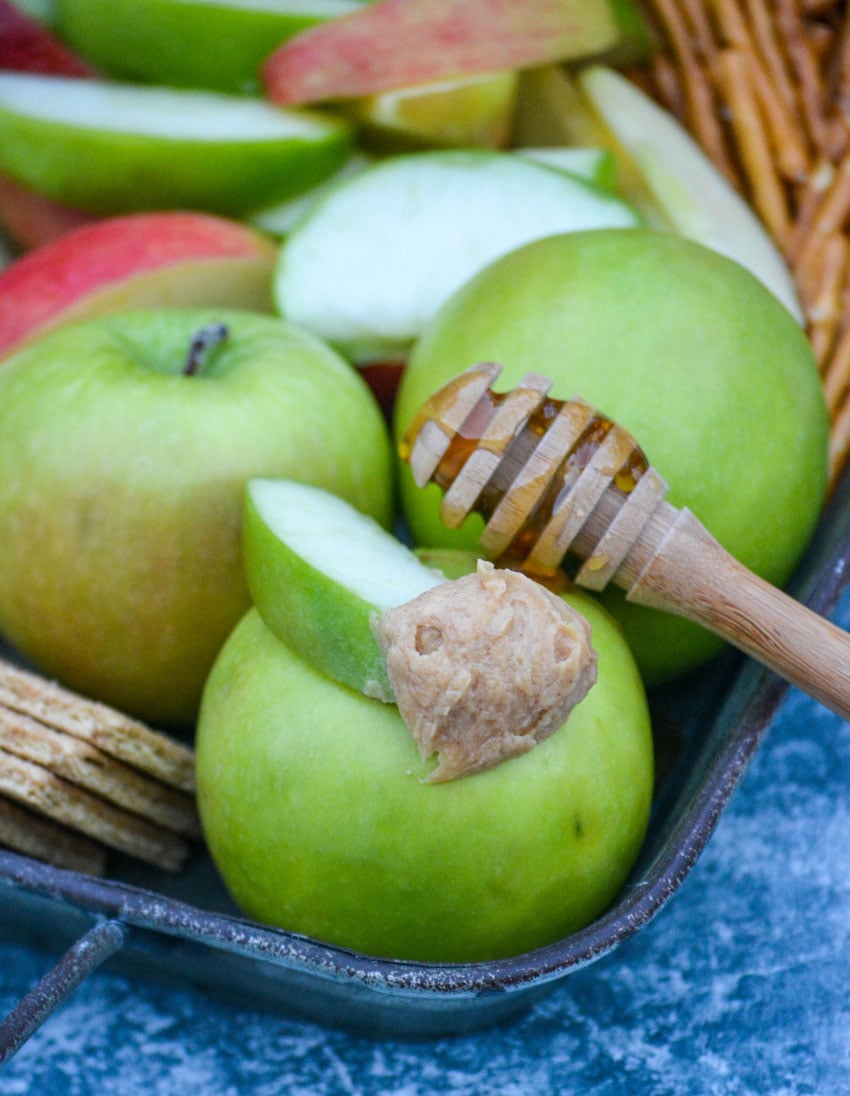 A little peanut butter goes a long way when paired with some fruit, and even other things like fruits and salty pretzel snacks.
But, peanut butter doesn't spread well on it's own. At least not typically, which can pose a problem.
I know especially when my sons were little, if something was hard to spread (or dip) it would lead to messes and frustration.
Or almost all the peanut butter I'd allotted gone in a single bite on a single apple slice.
Which led to tears being shed over the remaining bare apple slices still expected to be eaten, sans additional peanut butter.

How To Make A Spreadable Peanut Butter Dip
This simple fruit dip seriously couldn't be easier to whip up.
For real. You only need three ingredients: peanut butter, yogurt, and honey. Yep, that's it.
It's a 1 + 1 + 1/2 part mixture. Making it easy to make as little, or as much, as you want.
Whip all of the ingredients together until smooth, and then it's ready to serve.
Whip up a batch of this peanut butter apple dip for an after school snack, or a larger batch for a crowd.
What To Serve With A Healthy Peanut Butter Dip
This peanut butter apple dip is obviously meant to be a healthier snacking choice- which makes fruit an obvious pairing.
Apple slices are the obvious choice, and they really do go great with this peanut butter dip.
Other fruits we like to use are grapes, mandarin orange slices, pears, and bananas. So yummy.
I've found this especially helpful over the years when I want to get my kid interested in a great fruit they've otherwise turned their noses up at.
The options don't stop there though!
Salty snacks like pretzels are also a great option. So are graham crackers, both the traditional version and the chocolate kind.
There's even a cinnamon sugar graham cracker we've found that's delicious.
Take it old school and just use a salty cracker, like a buttery Ritz. It's a snack lover's dream!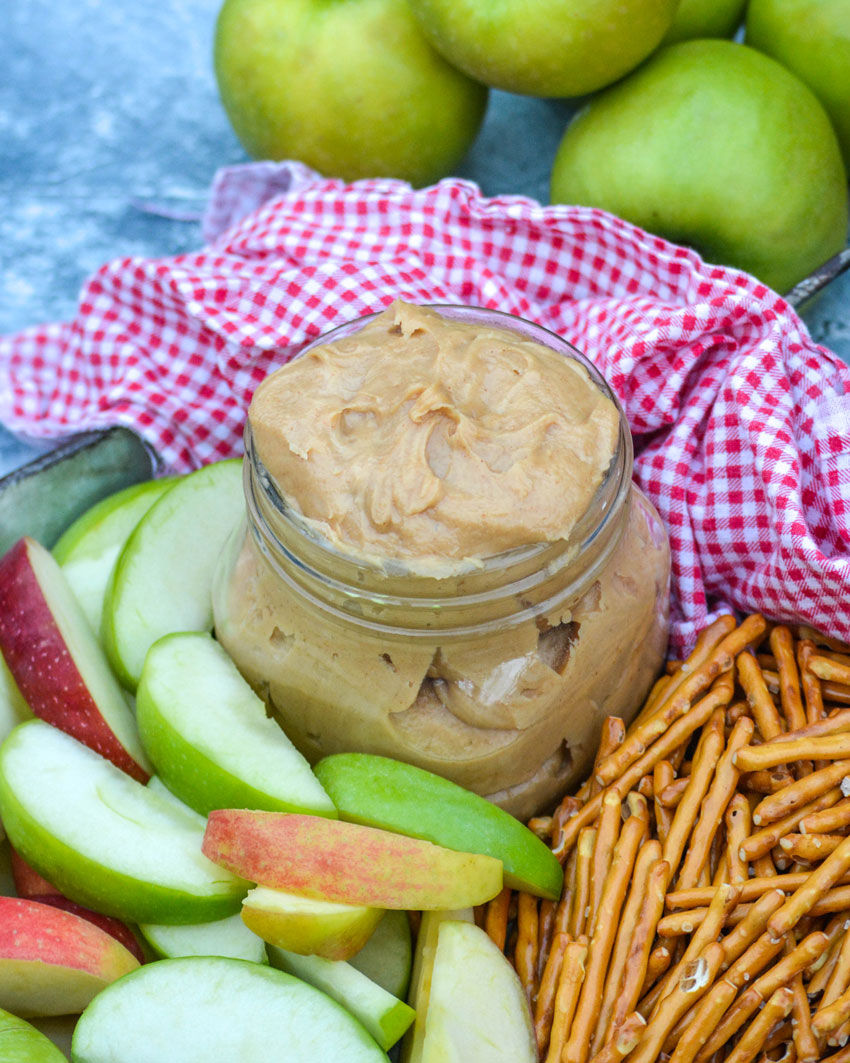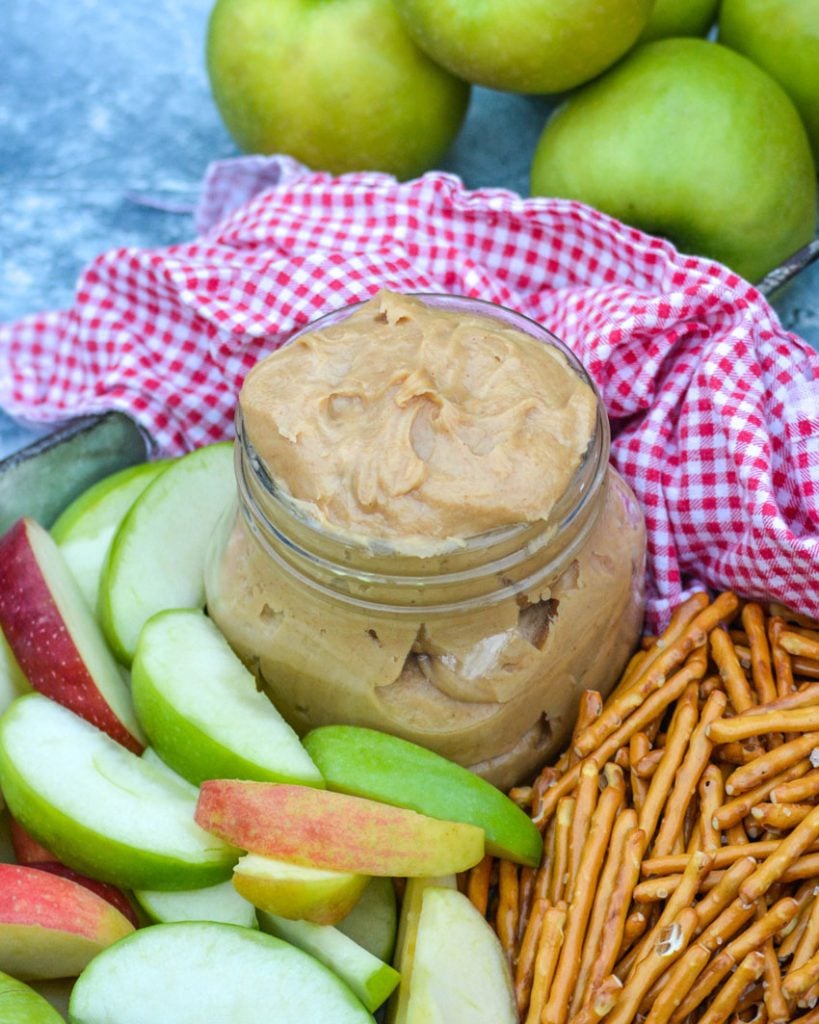 This healthy peanut butter apple dip is the perfect, snackable dip. It's easy to whip up in less than five minutes- making it ideal for both healthy snacking & even for a smooth appetizer or snack tray center piece.
It's only three ingredients and perfect for Fall, but also ideal for any time of the year!
If you've tried this healthy PEANUT BUTTER APPLE DIP, or any other recipe on my site, let me know in the comment section how it turned out, we love hearing from our readers! You can also follow along with me on PINTEREST, FACEBOOK, and INSTAGRAM to see more amazing recipes and whatever else we've got going on!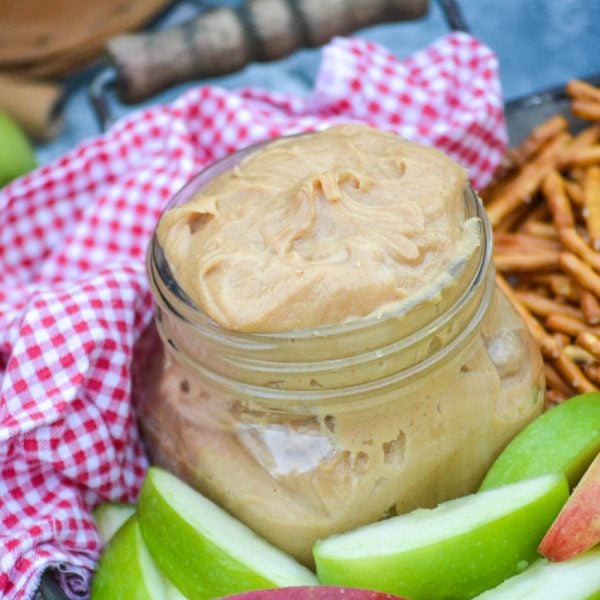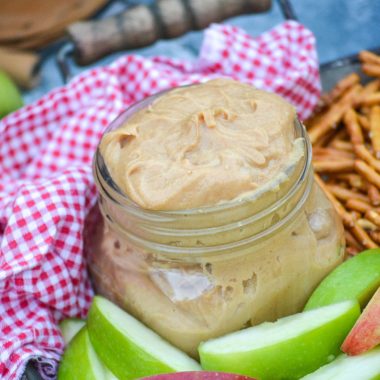 Ingredients
Peanut Butter

we prefer using homemade, organic, or an all natural style since they're of a thinner consistency

Greek yogurt

Honey
Instructions
Mix together 1 part peanut butter, 1 part Greek yogurt, and 1/2 part honey, stirring until smooth and the dip's a uniform consistency.

Serve with sliced apples for dipping. The sons like apples, pretzels, grapes, and even graham crackers with this dip.

It can be stored in the fridge in an airtight container for up to two weeks, just give it a good stir before serving as some separation is bound to happen.