Get ready for game day with the best ever grilled burger recipe, these 'Knock Your Socks Off' Tailgate Burgers. Trust me, they're gonna completely bowl you over with how amazing they are- appetizer, lunch, dinner- they'll be the main event wherever they're served.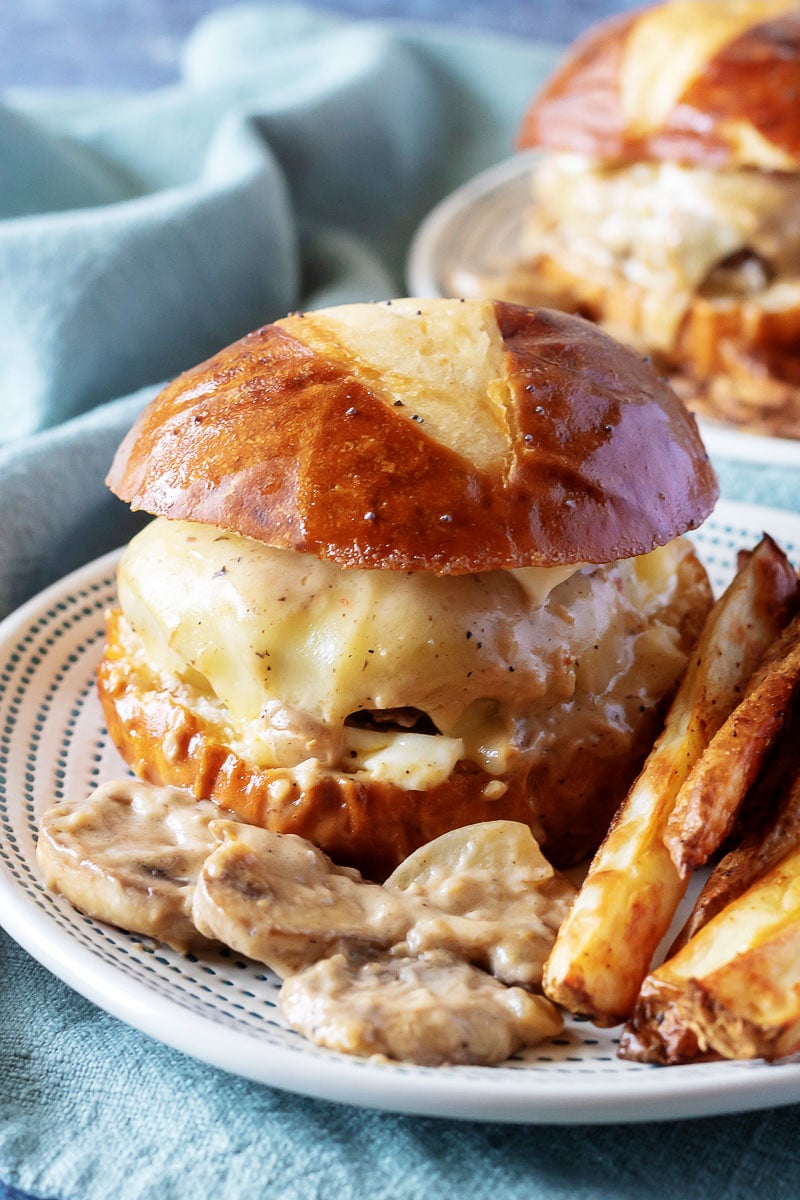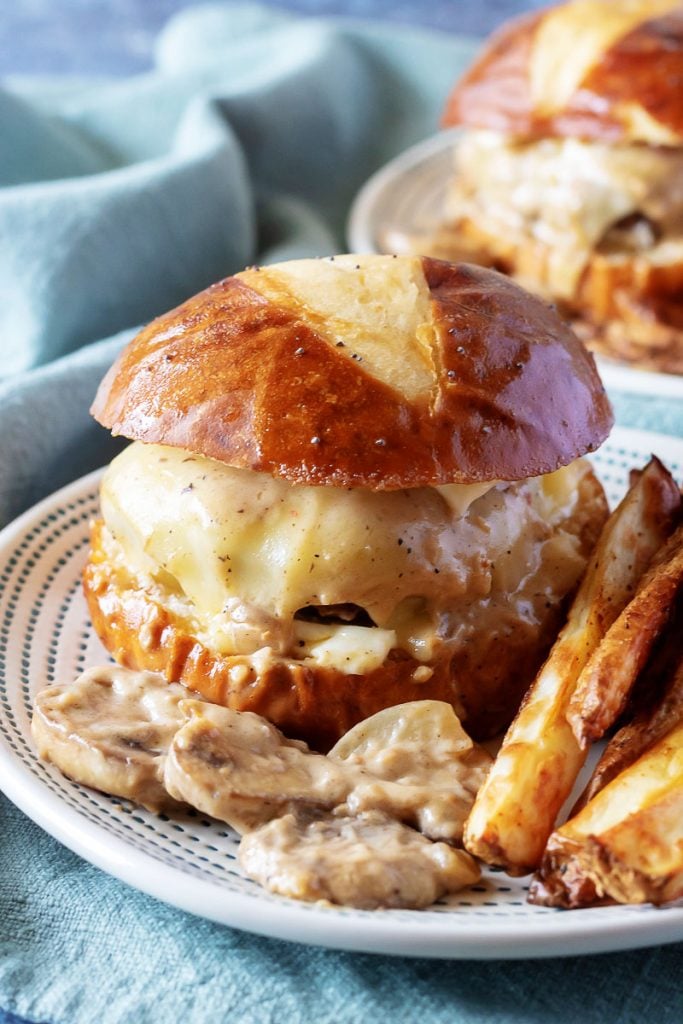 A rich and oh-so creamy mushroom sauce. Pepper jack cheese. A thick, juicy homemade hamburger patty. All sandwiched between a soft pretzel bun, that's been spread with a delicious buttery, Worcestershire, poppy seed topping that's baked right in.
Are you drooling yet?
It's OK, your secret's safe with me.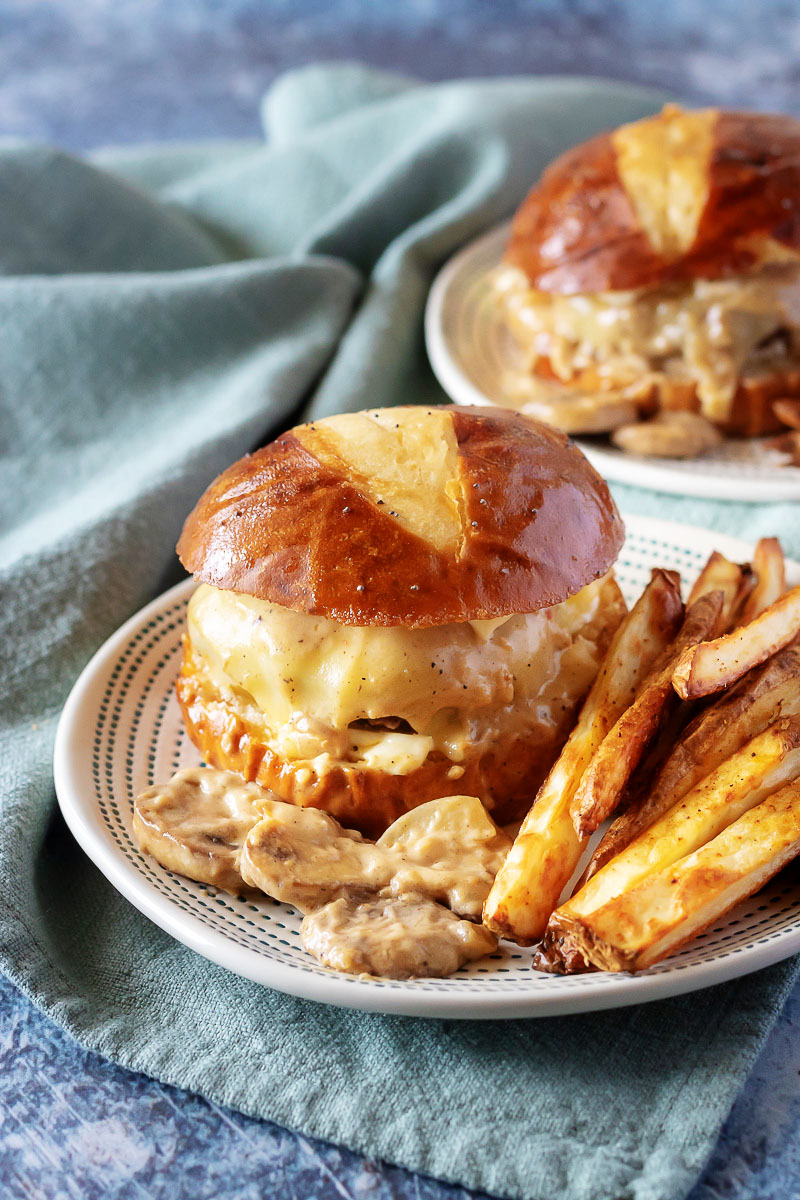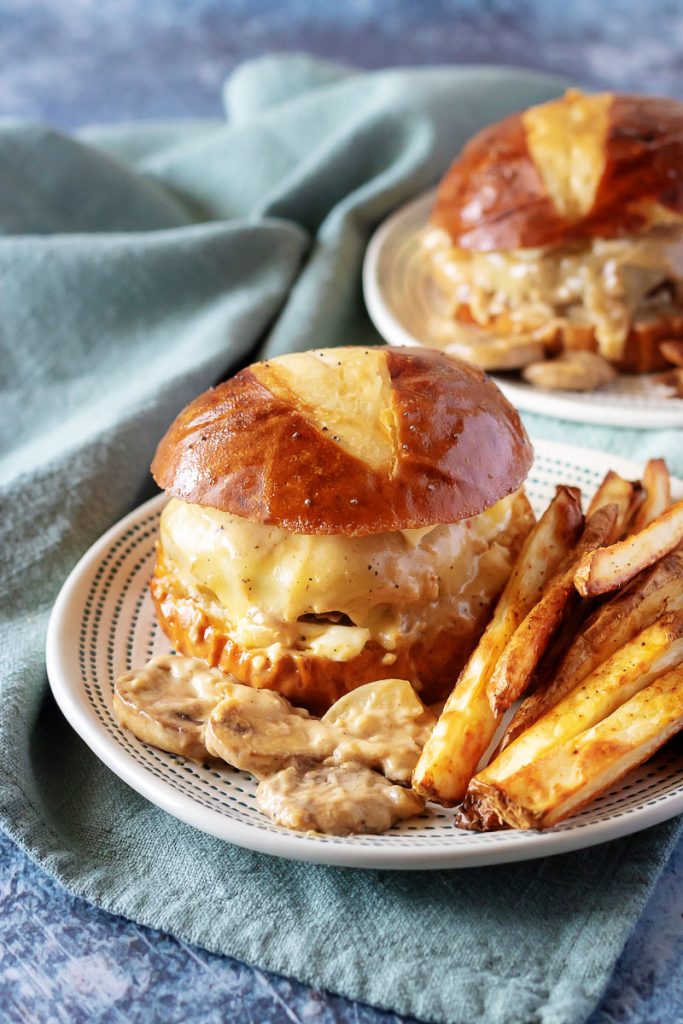 These 'Knock Your Socks Off' Tailgate Burgers, with their amazing mushroom awesome-sauce deserve nothing less. It's the highest compliment this recipe could hope to achieve.
That and plates licked clean. I mean I try to impress manners upon them, and stick to my motherly guns, but even I couldn't really blame them after this dinner was done.
Just one bite, and you'll see. And trust me, these will definitely 'knock your socks off!'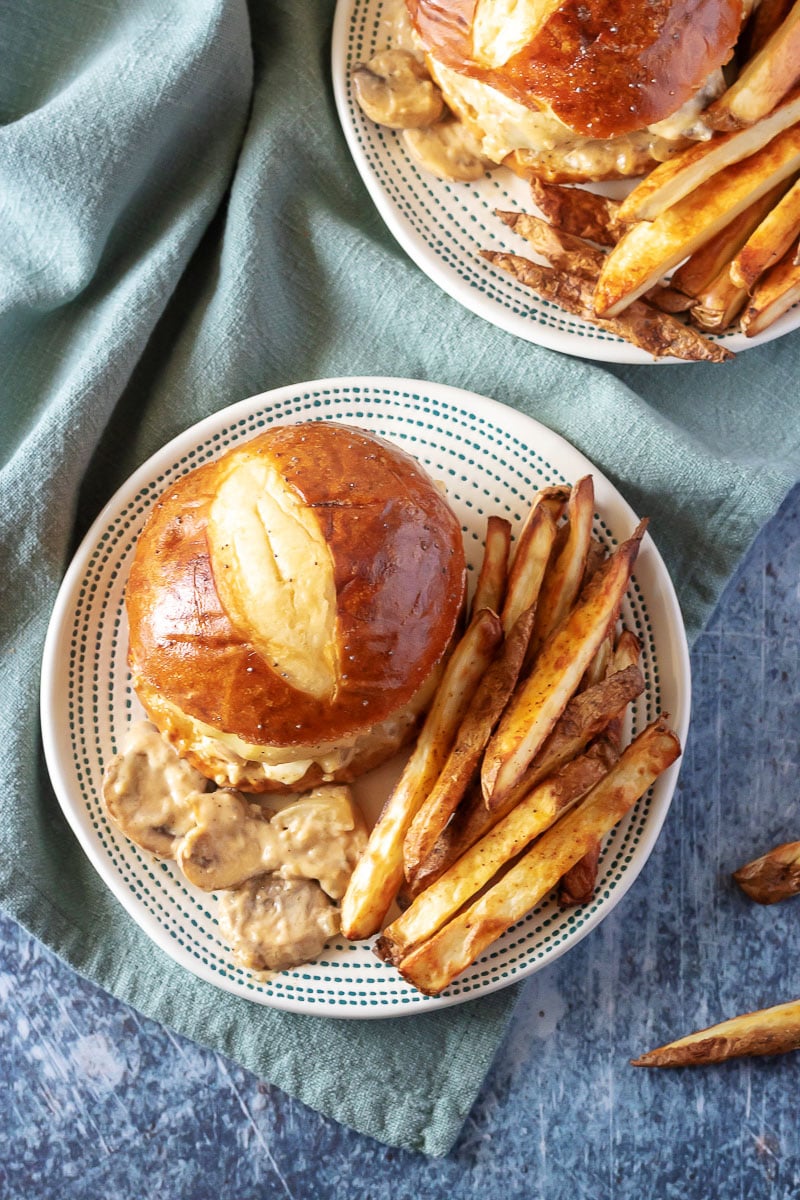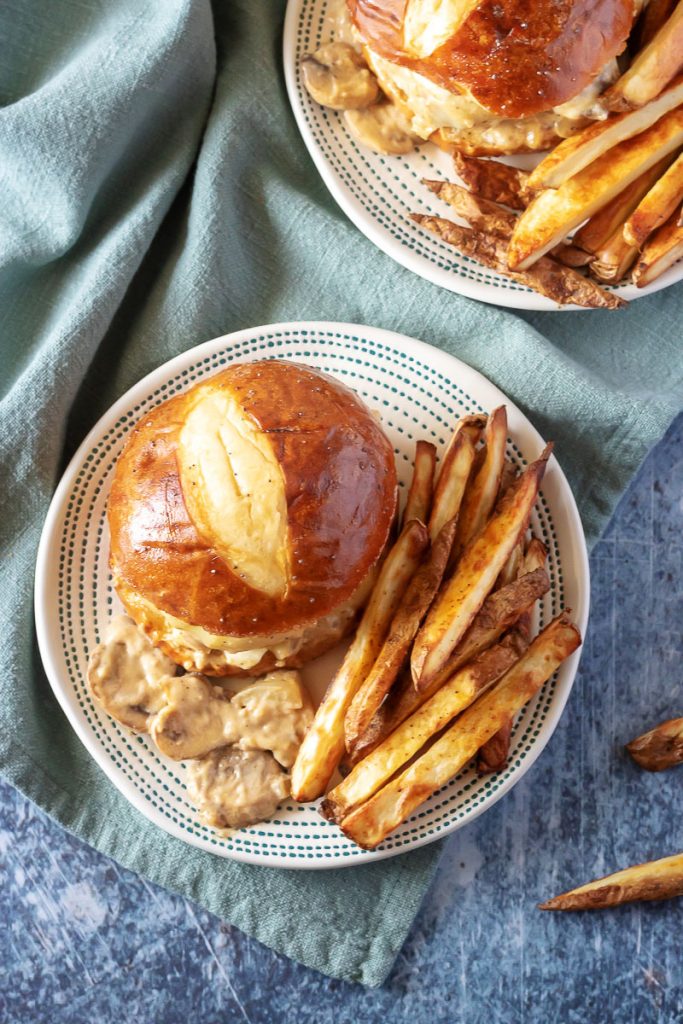 Seriously, what more could you want in a burger? Instead of the traditional combo of mushroom and Swiss cheese, we've opted for a creamy mushroom sauce ladled out over juicy burgers smothered in melted pepper jack cheese.
Do not stop. Don't pass go. Run straight for the kitchen to enjoy this gift from the burger gods.
This is totally indulgent and just screams 'GAME DAY' or 'dude' food. Just be careful not to indulge in them too often, or they might just ruin a burger for you if it's served up any other way.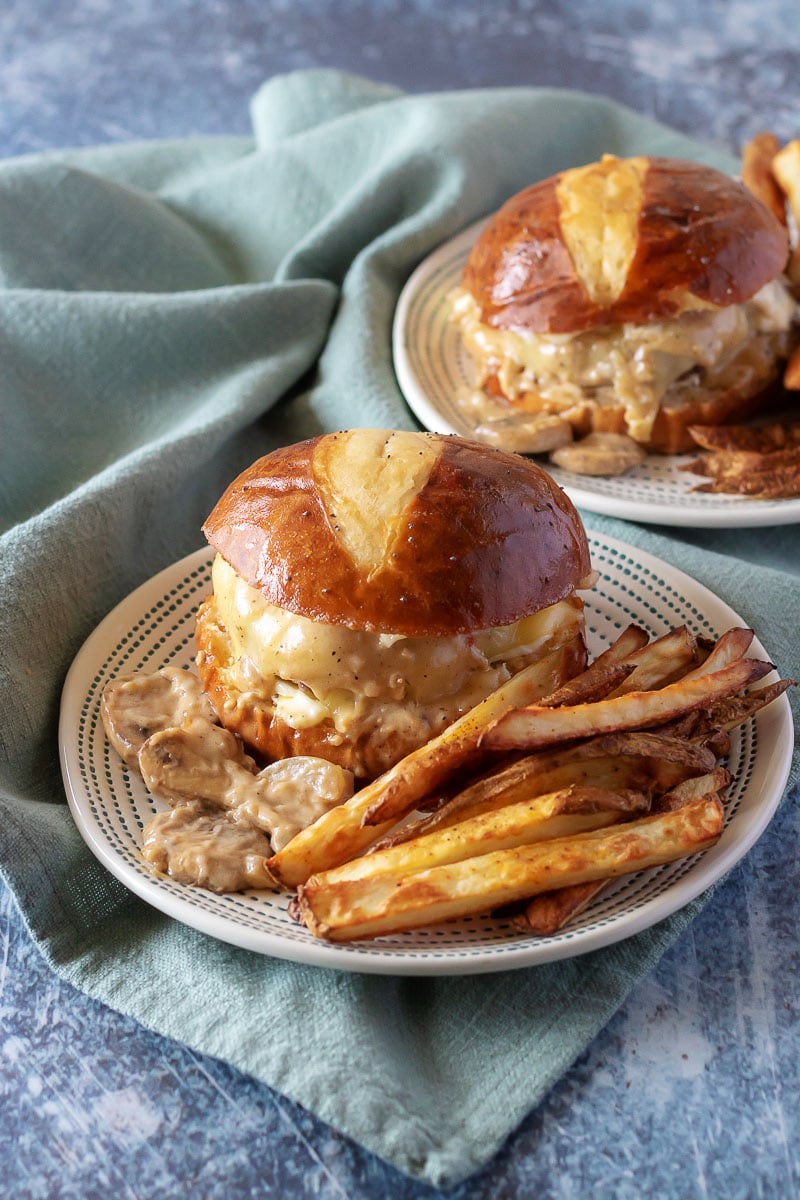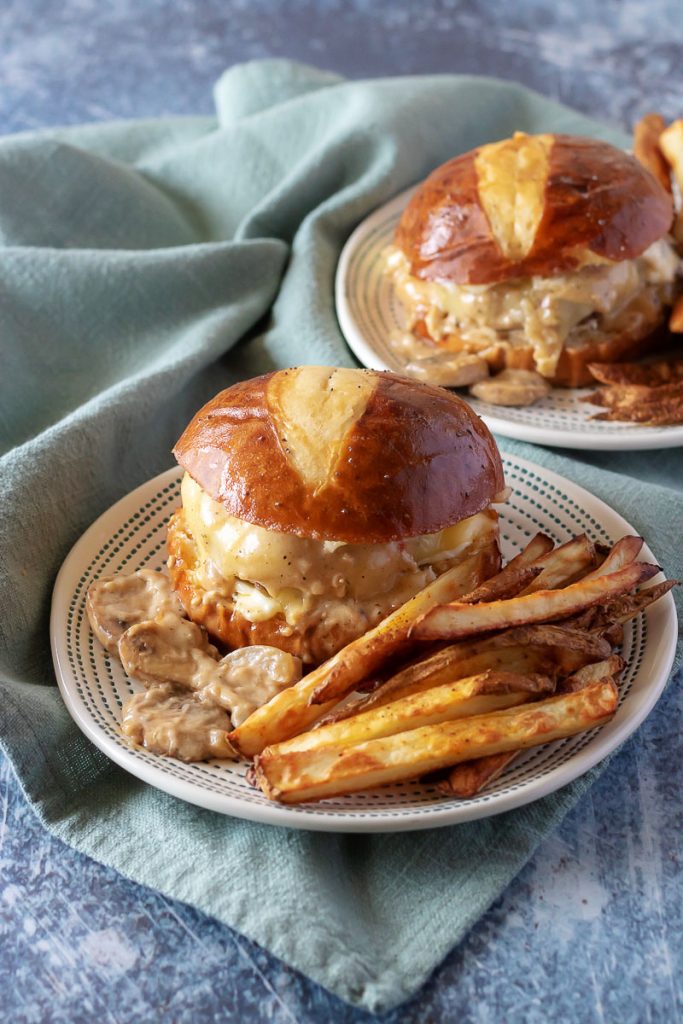 If you're hosting a party, these can easily be made in miniature and the slider version will be every bit as much of a hit.
Otherwise, make these 'Knock Your Socks Off' Tailgate Burgers as is and enjoy while you and your guests take a big ol' bite out of game day- grub that is.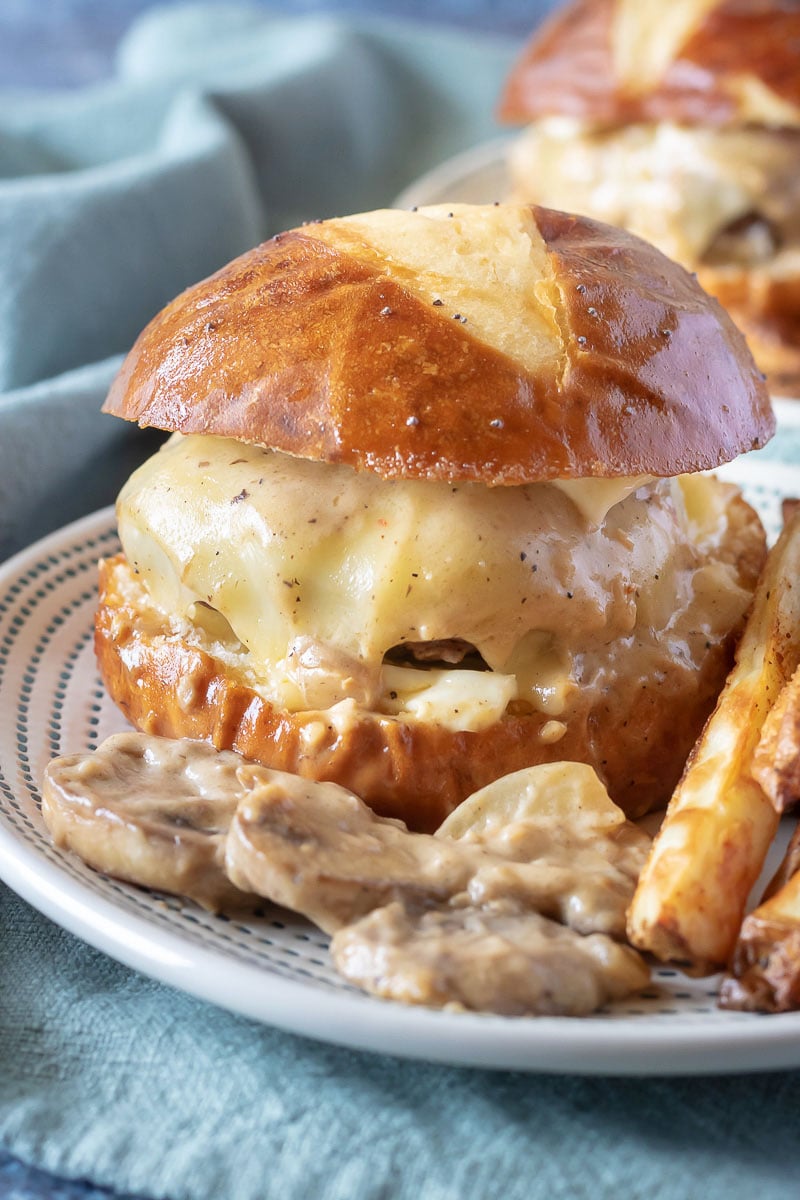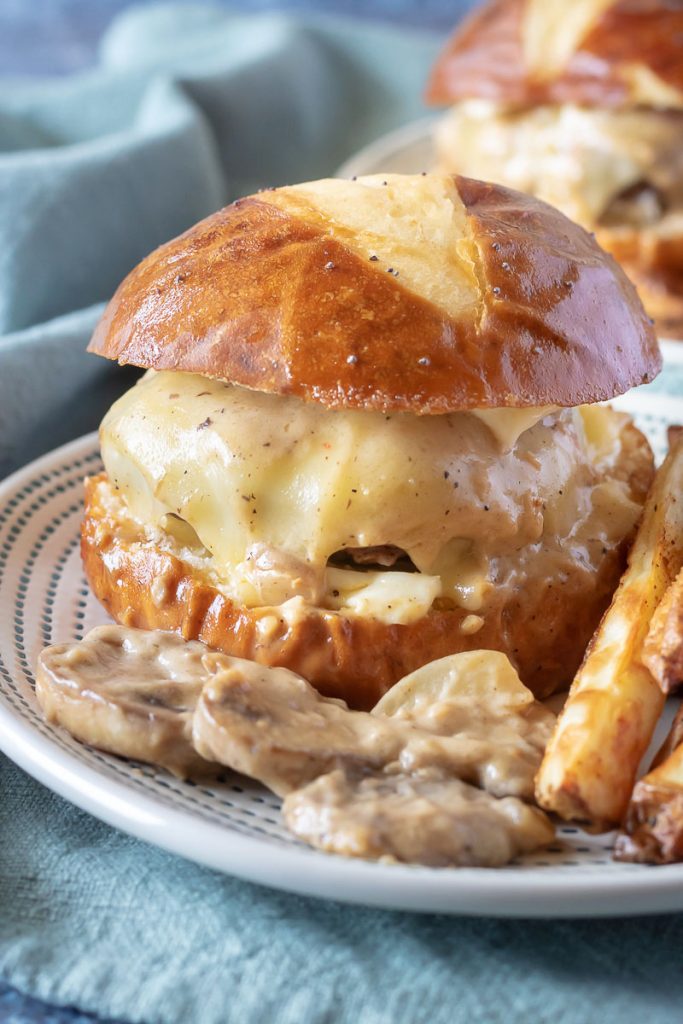 Other Burger Recipes You Might Also Enjoy: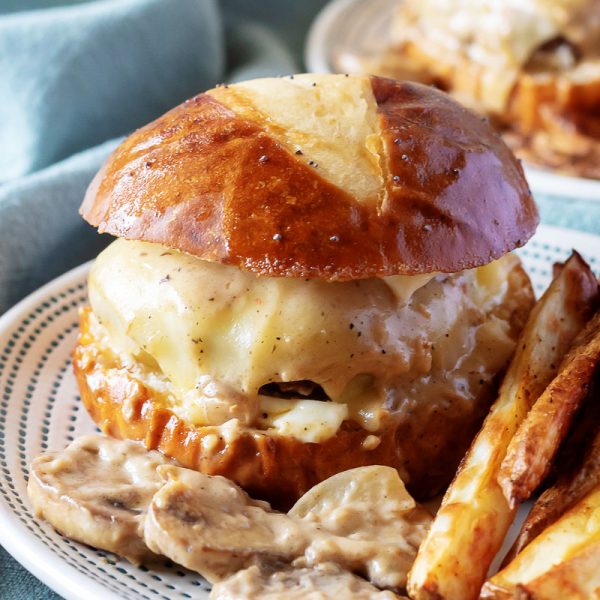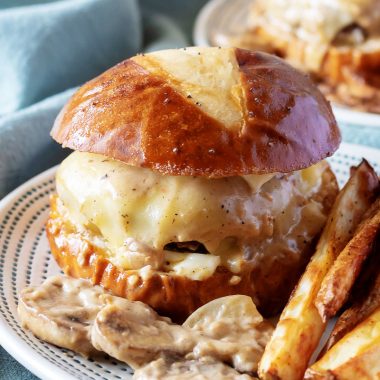 'Knock Your Socks Off' Tailgate Burgers
A hearty burger, this awesome version features a juicy burger on a Worcestershire and butter glazed pretzel roll, topped with a creamy mushroom sauce and smothered in melted pepper jack cheese.
Print
Pin
Rate
Ingredients
For The Burgers
1

lb

ground beef

6

full-size of 12 mini pretzel rolls

6

slices

pepper jack cheese

cut in half to make 12 pieces if using slider-sized buns

mayonnaise to spread over the inside of the rolls
For The Creamy Mushroom sauce
8

oz

thinly sliced mushrooms

3

tbsp

butter

2

tbsp

minced garlic or 4 garlic cloves minced

1/2

cup

diced white onion

1

tbsp

Worcestershire sauce

1/2

cup

heavy cream

or half and half

1/2

cup

beef broth

1/2

tsp

salt

1/2

tsp

pepper

1

tbsp

cornstarch + 2 tbsp cold water

mixed together
For The Bun Topping
1/2

cup

butter

2

tsp

poppy seeds

2

tsp

Worcestershire sauce
Instructions
Divide the ground beef into 6 patties, or 12 small patties if going the slider route. In a large skillet or dutch oven, cook the patties until browned on both sides and cooked completely through. After they're cooked, set them aside, and discard excess grease.

In the same skillet, melt 3 tablespoons of butter. Add in the mushrooms, onions, and garlic, and sauté until the mushrooms are tender. Add in the Worcestershire sauce, cream, broth, salt, and pepper. Bring the sauce to a boil, stirring constantly, and then stir in the cornstarch mixture. Once the sauce has thickened, remove it from the heat and set it aside.

Slice open the pretzel buns and spread some mayo over the top and bottoms of each bun. Place the cooked patties on the bottom of bun and add the pepper jack cheese on top. Spoon a generous amount of the mushroom sauce over the top of each patty and replace the top of the bun. Put the assembled burger in a greased 9 x 13 baking dish. Melt the 1/2 cup of butter for the topping and stir in the poppy seeds and Worcestershire sauce. Spoon the melted butter over the top of the sliders. Cover the dish tightly with foil and bake at 375 degrees for about 15 minutes. Serve hot.
Photos & Post Updated 8/30/18