Gnocchi is even better than pasta, and takes on flavors just as well. Paired with shrimp in a garlic butter sauce, with a teensy bit of cream? You've got this Gnocchi Shrimp Scampi that's a to-die for dinner, even on a budget.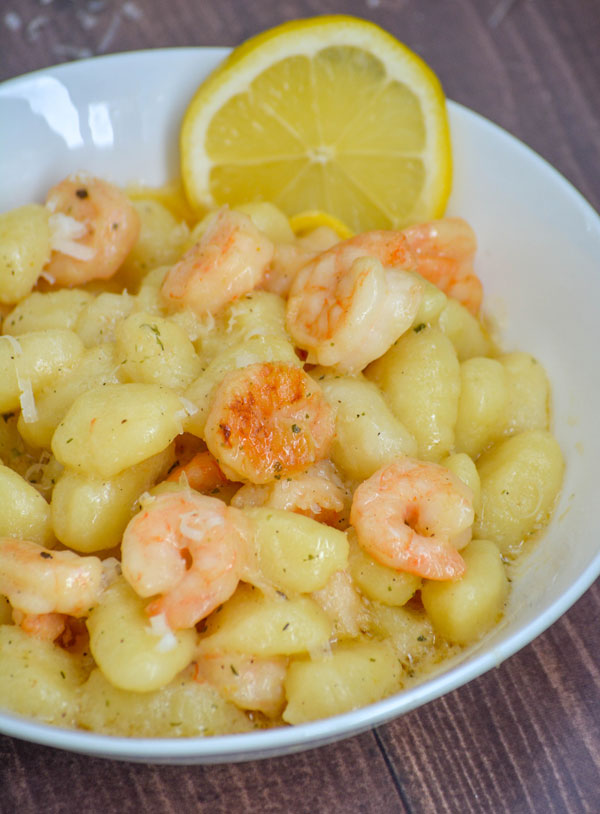 The hubs and I are both super funny about seafood. A lot of our friends, they're all 'we've got a night off from the kids so we're gonna go get a nice seafood or sushi supper'. Not us.
There's a handful of establishments we will go to for a seafood dinner, otherwise that 'ish is being made at home.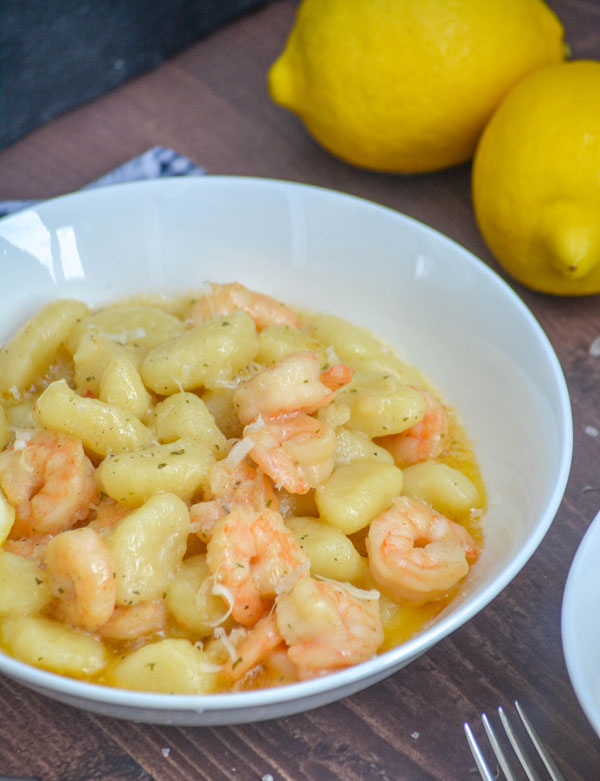 Even then though, we're super particular about type of it that we'll eat and how it's prepared. Hence why it's a bit easier to cook that stuff ourselves.
Also, having an Italian husband- I tend to inherently trust traditional recipes from his side of the family. I mean after generations, they know what they're doing right? Well right, and wrong, when it comes to scampi.
Scampi is actually the name of a crustacean (that loosely resembles a teeny, tiny lobster) that was traditionally cooked up in a garlic butter sauce. As with so many other things though, when they immigrated to the States they shook things up a bit- swapping shrimp for the meat, keeping both names, and giving the dish a delicious American spin.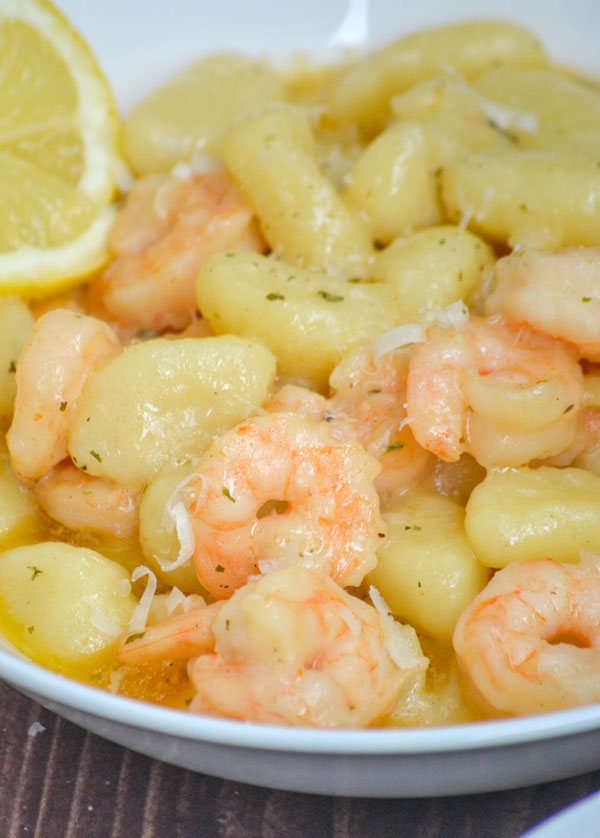 Needless to say, it's become one of my favorite ways to prepare shrimp, and one of my favorite seafood dishes to enjoy. Served over a bed of warm pasta? Consider me in my personal heaven.
Another thing my Italian in-laws know their way around? Those little pillow-y Italian dumplings that are a true gift from the old country, commonly referred to as Gnocchi.
Putting my own spin on things, I decided to combine the two into a single dish called Gnocchi Shrimp Scampi.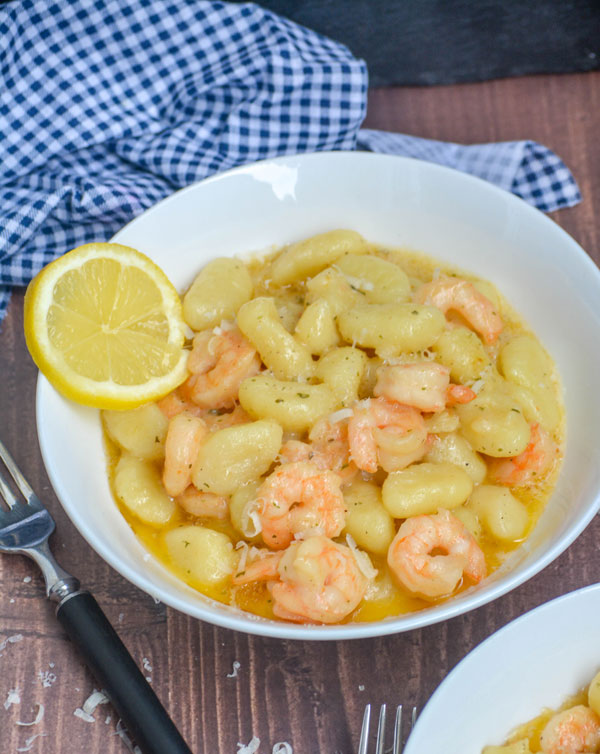 Totally American-ized, total comfort food, and also totally budget friendly- you can't beat this amazing dinner dish.
Other Gnocchi Recipes You Might Also Enjoy
Gnocchi Shrimp Scampi is everything the name implies. Fluffy potato dumplings and seasoned shrimp tossed in a creamy, lemony garlic butter sauce. It's the perfect nod to your Italian heritage while still giving it a newer American twist.
Looking for other new ways to use gnocchi? Check these recipes out: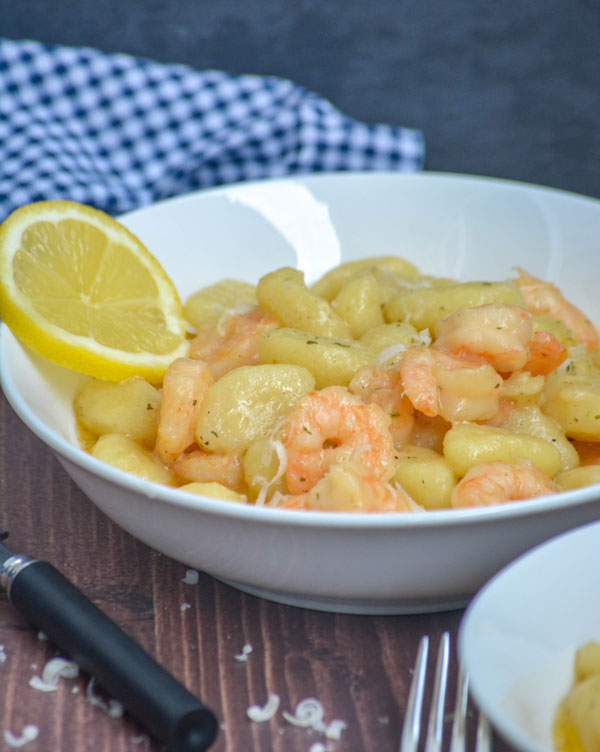 If you've tried this GNOCCHI SHRIMP SCAMPI, or any other recipe on my site, let me know in the comment section how it turned out, we love hearing from our readers! You can also follow along with me on PINTEREST, FACEBOOK, and INSTAGRAM to see more amazing recipes and whatever else we've got going on!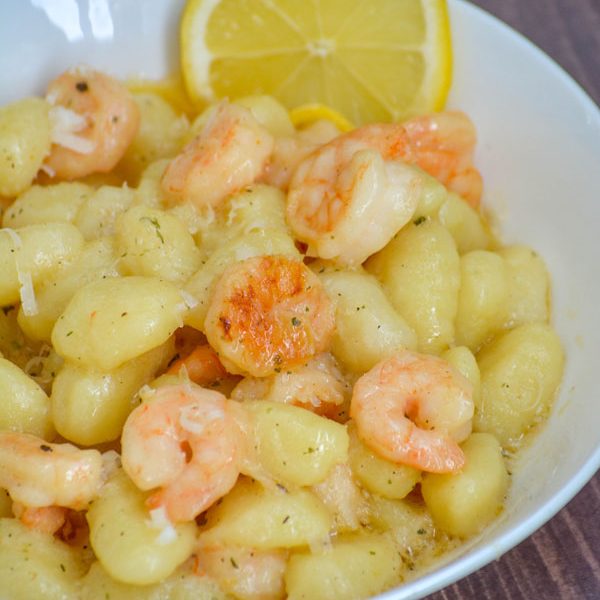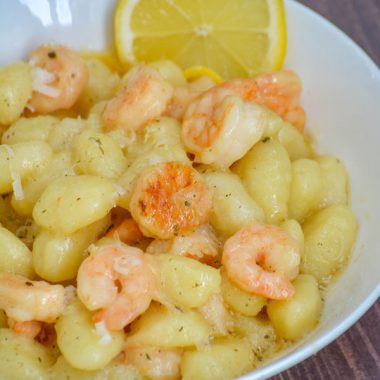 Ingredients
2

12 oz pkgs

frozen shrimp scampi

1

lb

gnocchi

1/4

cup

heavy cream

1/2

tsp

lemon juice

1/4

cup

shredded Parmesan cheese

pinch

red pepper flakes

pinch

dried basil

chopped parsley leaves, for garnish
Instructions
Cook the gnocchi according to the package directions. Drain & set aside.

Add the frozen shrimp to a large skillet, heated over medium heat. Cook 6-8 minutes, or just until the shrimp have thawed and begun to turn pink.

Whisk in the cream and cheese, stirring until evenly combined. Cook an additional 5 minutes, until the cream is bubbling, the cheese is melted, and te shrimp's cooked through.

Season with red pepper flakes, basil, and salt & pepper, to taste. Add the gnocchi to the pan, tossing to coat. Serve immediately, topped with parsley and extra shredded cheese.