Cross the breakfast muffins off the grocery list, because they're easier than you'd think to make from scratch. This homemade English muffins recipe is simple & easy enough for any level of home baker to whip up. Served with butter or jam, they're a delicious breakfast all by themselves.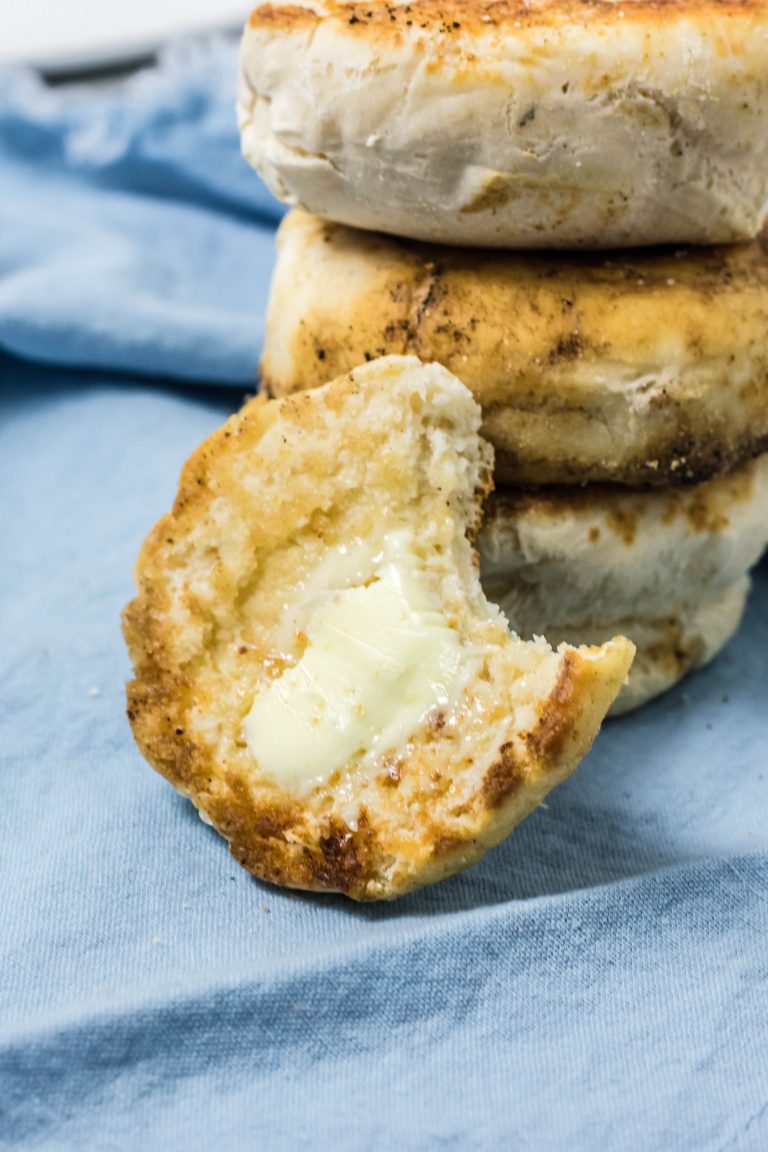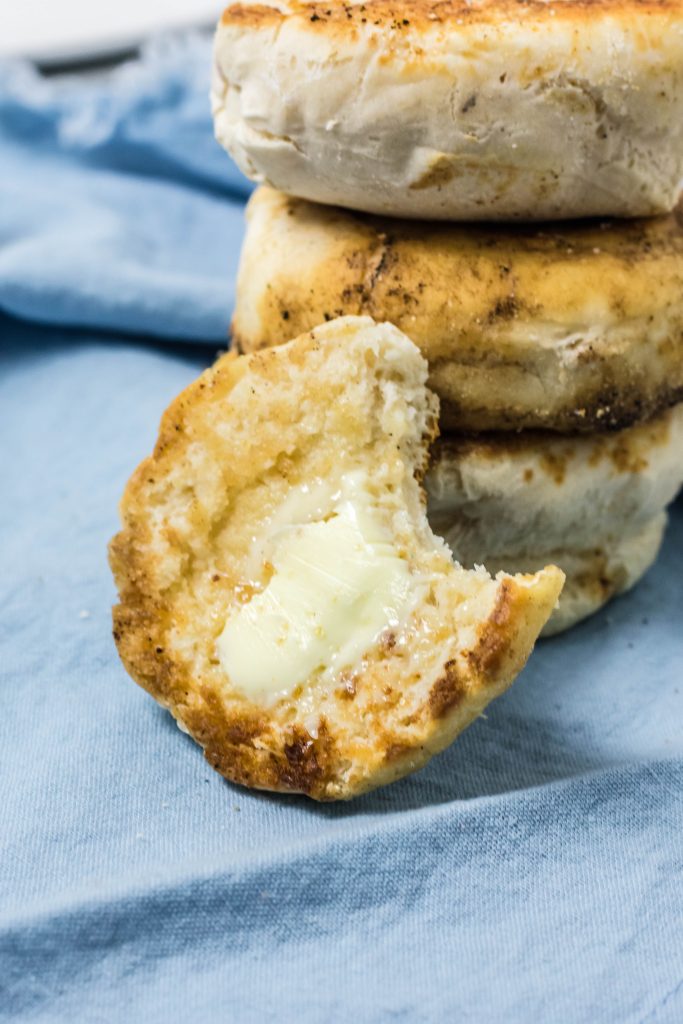 I grew up eating English muffins all the time.
For breakfast, for a quick after school snack. Shoot, I can't tell you how many times my Grandma made us English muffin pizzas for lunch.
Now here we are years later, and I can't even begin to tell you how many times I've made them for the sons for lunches.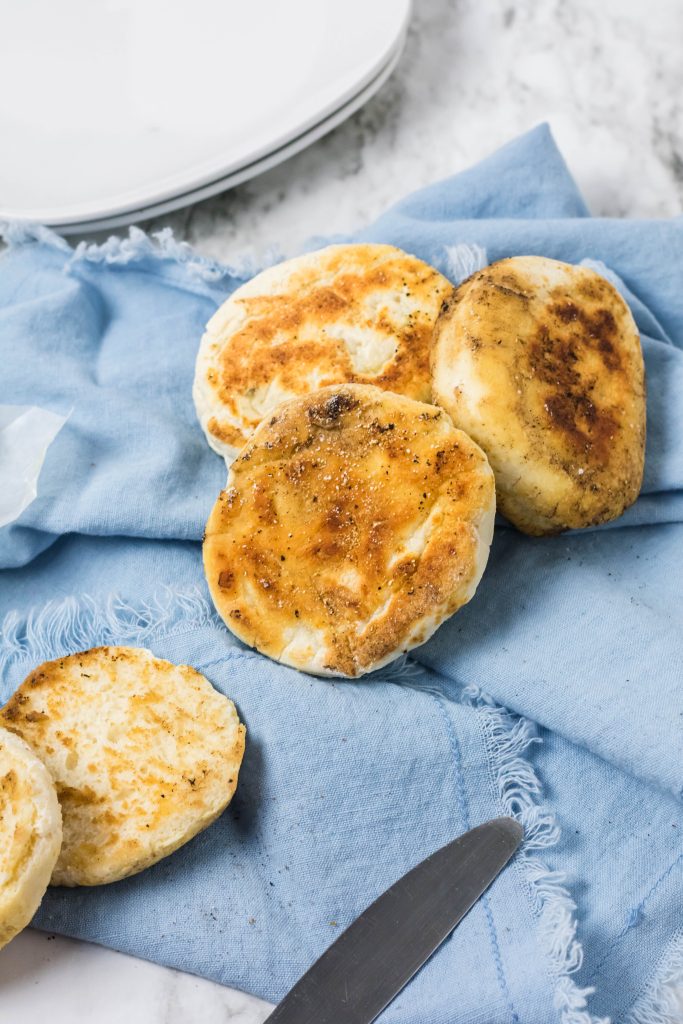 Morning, noon, or night the sons love an English muffin.
They love them for breakfast in our freezer breakfast sandwiches. The love them smothered with jelly. They love them toasted with BLT fixins for lunch. I could even serve them English muffin pizzas for dinner, and they'd be perfectly content.
The possibilities go on and on. English muffins are a beautiful blank canvas to top with whatever you are feeling that day.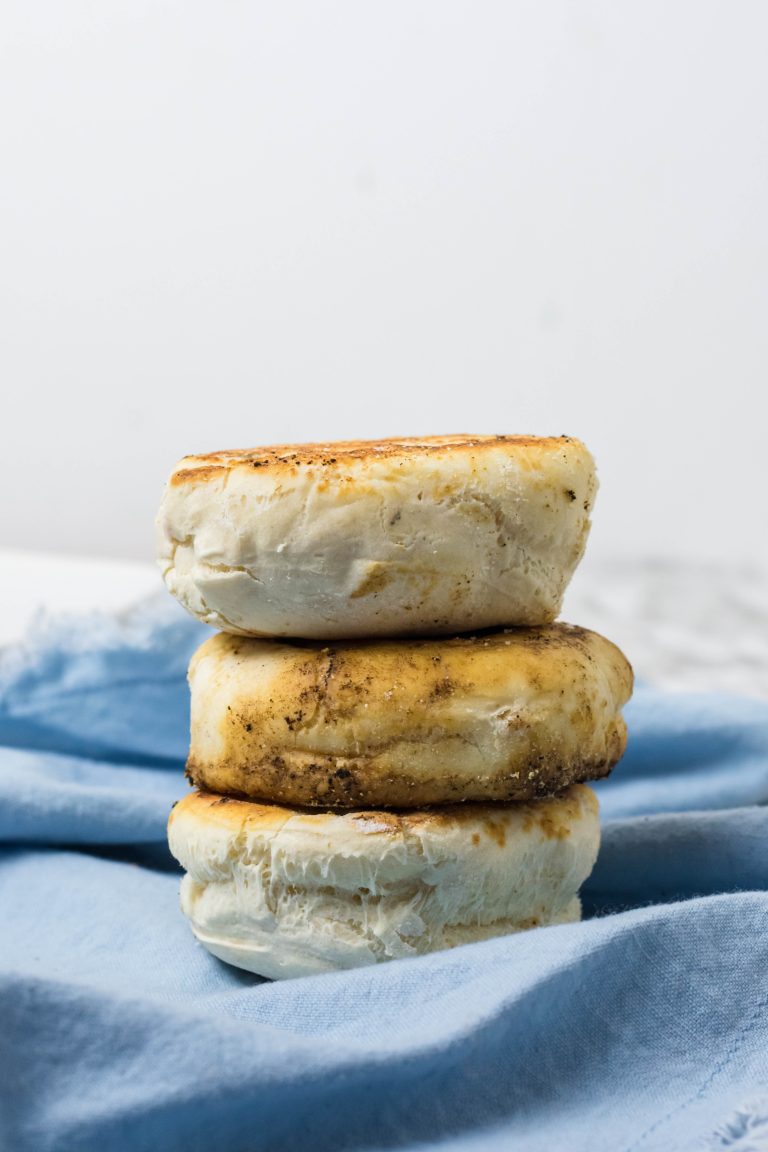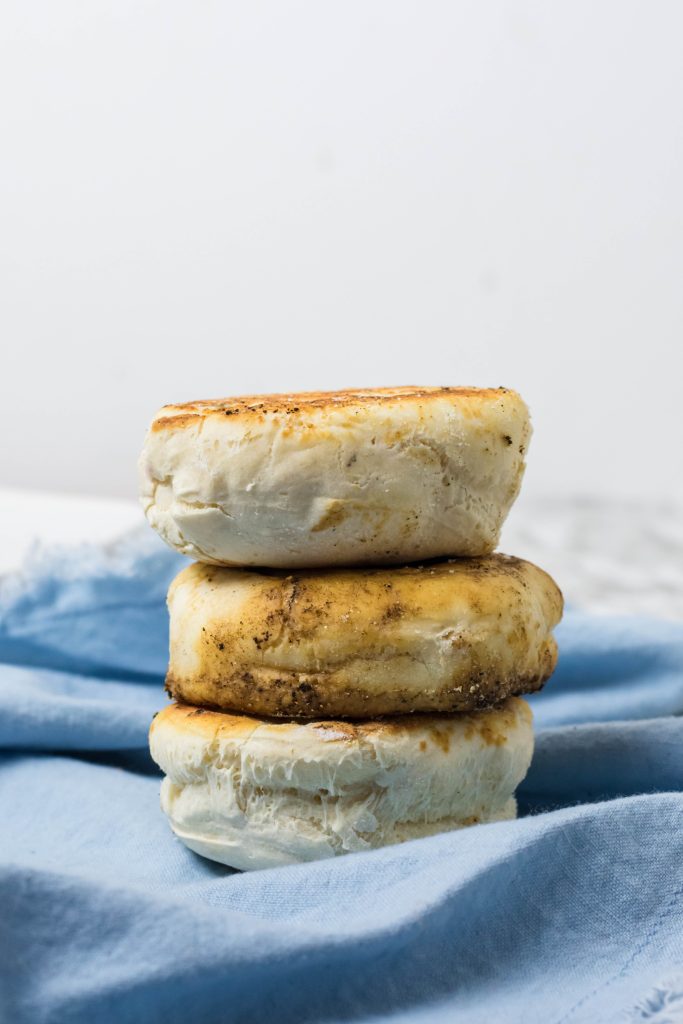 This homemade English muffins recipe couldn't get any easier and is perfect for any would be baker, regardless of their experience level.
I also love that this recipe doesn't have me suffer through long rise times, and before I know it I can be opening one of these, hot off the griddle, with a fork and digging in.
This English muffin recipe does require a few things you may not have on hand if you don't regularly bake bread though. Even then, it may need you to add an item to the weekly shop list.
As long as you've got flour, active dry yeast, plain yogurt, & ground cornmeal- you're good to go. Even if you don't have them on hand, and have to buy them these ingredients are all very inexpensive.
They also last and store well. So one grocery run can mean multiple batches of warm muffins that're easily whipped up in the family skillet. You're gonna be your family's new hero come breakfast or brunch time!
How Do You Make Homemade English Muffins From Scratch?
It's honestly so much easier than you'd think!
In a large mixing bowl whisk together the flour, yeast, salt, and sugar. Whisk them together until evenly combined.
Add in the luke warm water and plain yogurt, mixing just until the mixture's become an evenly incorporated soft dough. Also note the luke warm water. NOT hot.
We don't want to cook the yeast, you want to activate it and get it reproducing. That's what naturally encourages your dough to rise. Cold water, on the other hand, will do nothing.

Knead the dough for 10 minutes, sprinkling more flour on it if it get's too sticky. Too sticky would be when the dough obviously sticks to your hands and isn't pulling away trying to get back to the dough ball.
Let the kneaded ball of dough rest for 5 full minutes. This is another step that may seem trivial, but it's important for the yeast. Unseen it's in there doing it's thing and germinating.
Lightly flour a flat surface, like a clean counter top. We've also done this on our kitchen table when working with large batches. As long as the surface is flat & clean, plus well floured it will work.
Roll the dough out evenly until it's about 3/4″ in thickness. Use a roughly three inch round smooth biscuit cutter to cut out 12 circles of dough.
Don't have a biscuit cutter? A large rimmed glass cup is the simplest substitute. However, make sure to spray the edges of the glass with non stick cooking spray to keep the dough from getting stuck.
Sprinkle a large baking sheet with the coursley ground corn meal.
Add each cut dough round to the prepared baking sheet, turning them so that each side is evenly covered with the corn meal. It doesn't need to be a thick coating, just an even coat.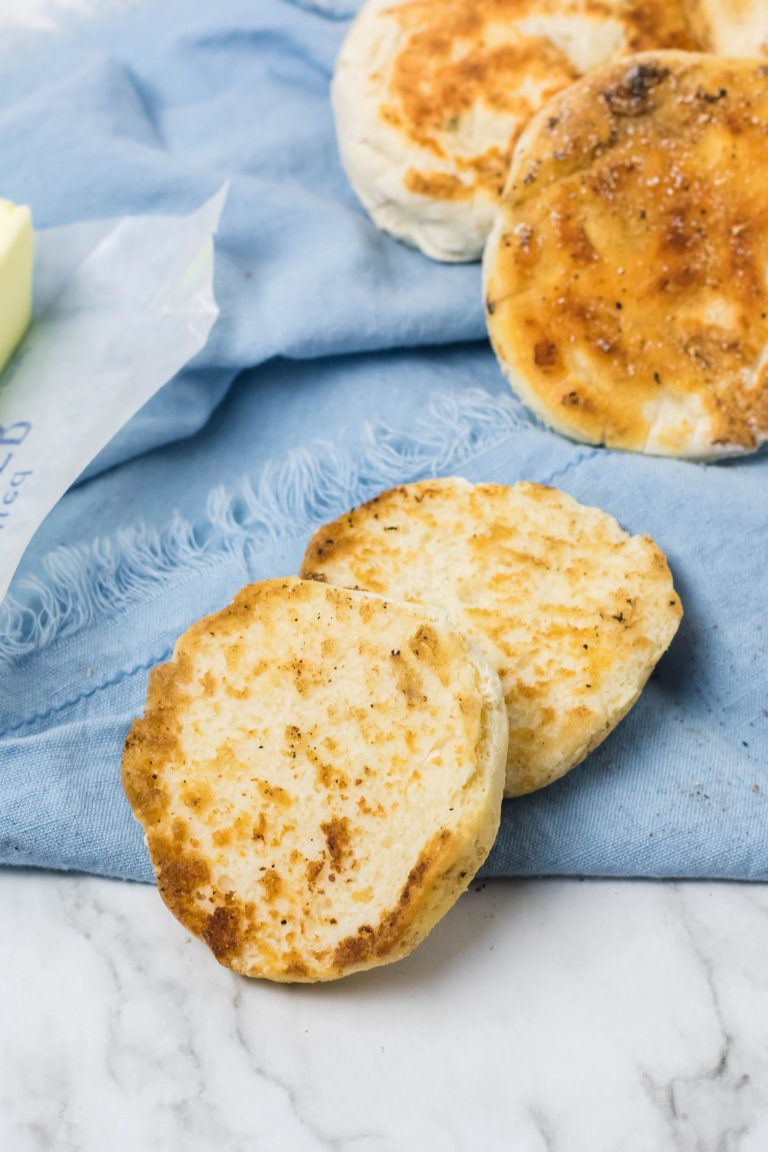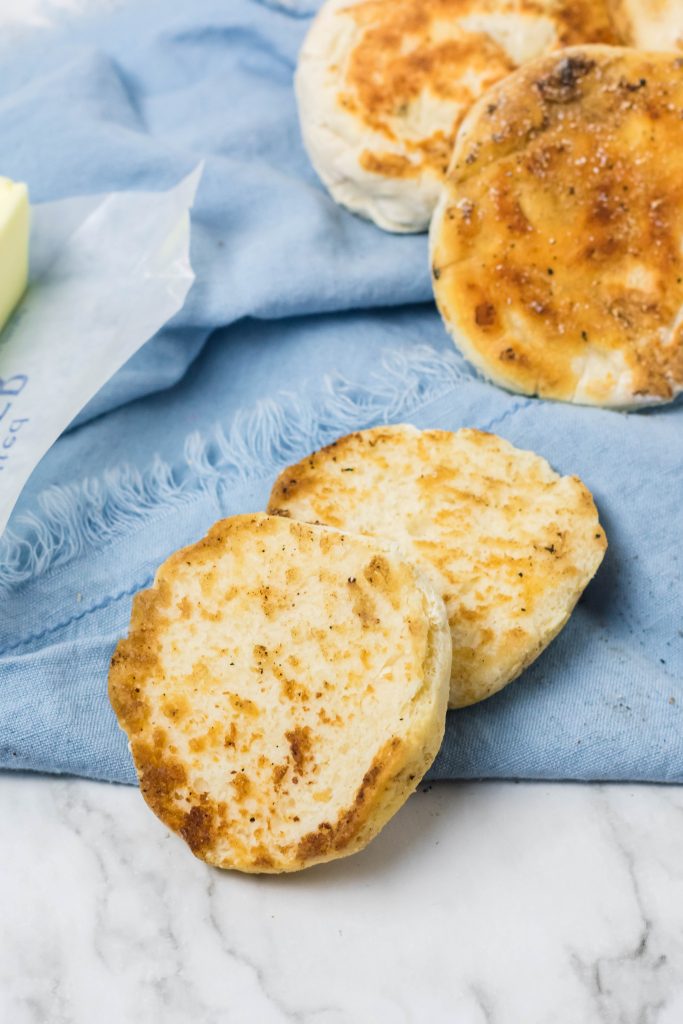 Add all of the dough rounds to the prepared baking sheet and cover them with a damp dish towel. Let the dough rise in a warm place for almost an hour, until doubled in size.
This is where that residual oven heat will come in handy. It's had time to dissipate so it's not too hot, but you can totally take advantage. The room's still perfectly warm in that region!
Heat a flat griddle pan, or a large cast iron skillet, until hot. Brush it lightly with oil and reduce the heat to medium. Add the homemade English muffins, working in batches, of 3 – 4 at a time.
Cook them for roughly twelve minutes, turning only once halfway through, until the English muffins are dark golden brown on the outside and cooked through. Repeat until all the muffins are done.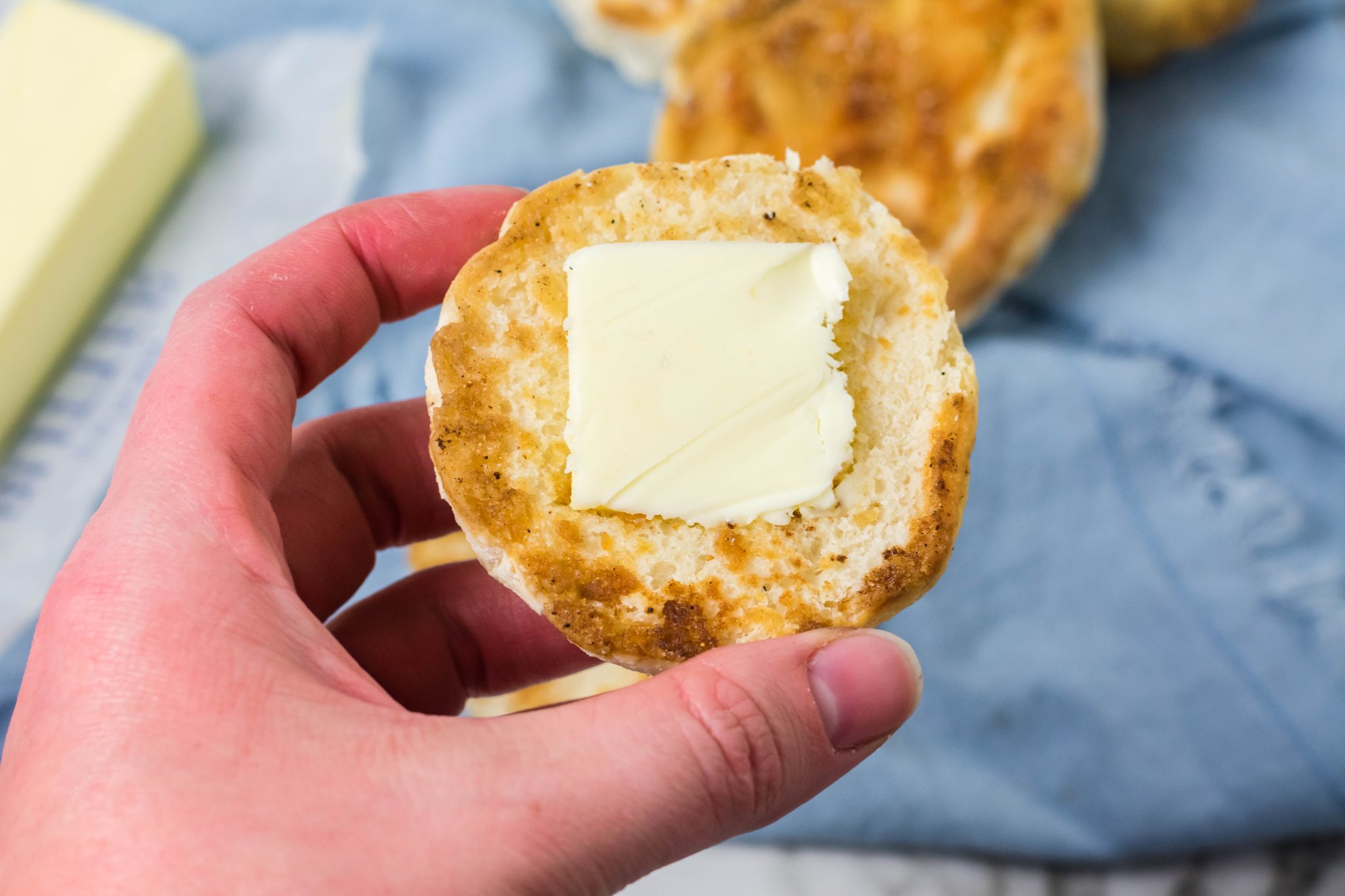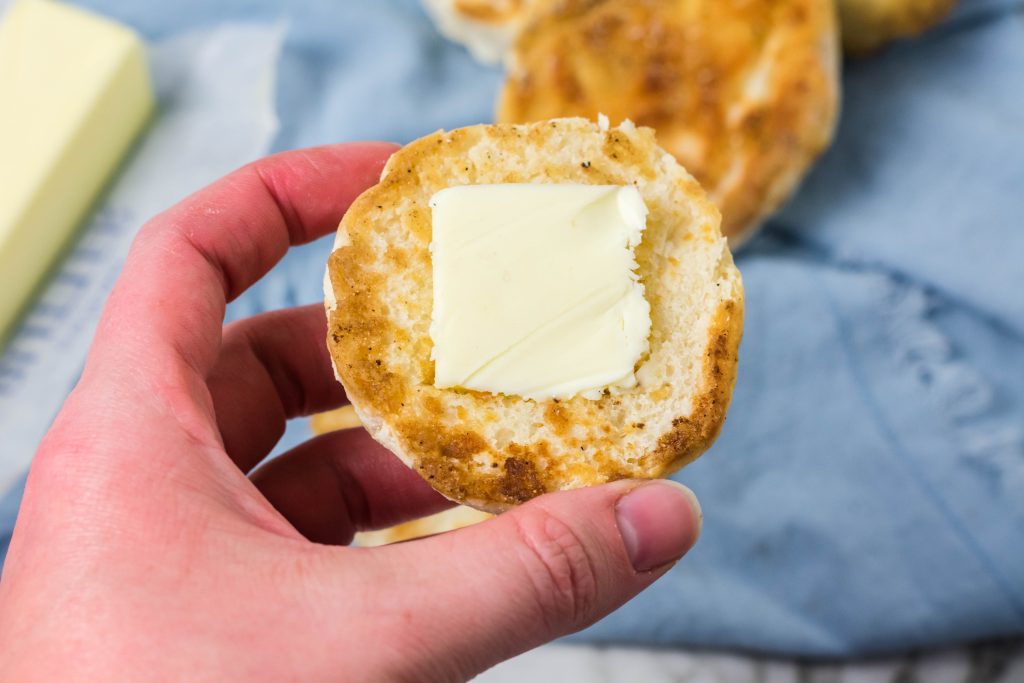 This homemade English muffins recipe serves twelve as written, with each serving being two muffins.
While these English muffins insides aren't filled with all the signature fissures of a store-bought English muffin, their texture is still craggy enough to trap and hold plenty of butter and jam — which is the point, after all.
Other Easy Homemade Bread Ideas To Try:
If you've tried these HOMEMADE ENGLISH MUFFINS, or any other recipe on the site, let me know in the comment section how it turned out, we love hearing from our readers! You can also follow along with me on PINTEREST, FACEBOOK, and INSTAGRAM to see more amazing recipes and whatever else we've got going on!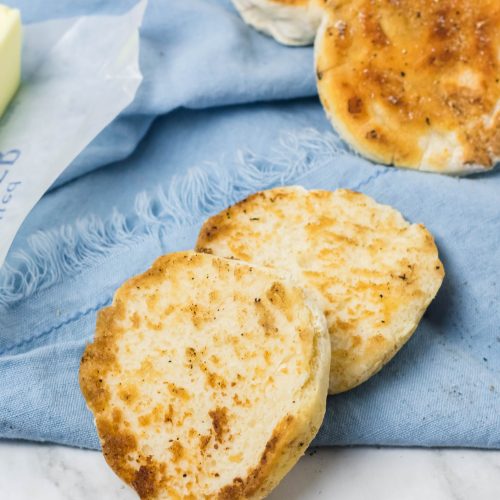 Homemade English Muffin Recipe
The perfect English muffins don't come from the store, instead they're baked up light & fluffy in a skillet on your stove top & served warm with a melting pat of butter.
Print
Pin
Rate
Ingredients
3 2/3

cups

flour

plus more for kneading

1

envelope active dry yeast

or instant yeast

1

tsp

salt

1

tsp

sugar

1

cup

lukewarm water

2/3

cup

plain yogurt

Greek or regular

fine cornmeal

oil
Instructions
Whisk together flour, yeast, salt, and sugar. Add water and yogurt, and mix into a soft dough. Knead the dough for 10 minutes, until smooth, adding more flour if it gets sticky. Let dough rest for 5 minutes.

Roll dough out to a thickness of about ¾ inch. Cut out 12 circles with a 3 inch round cutter. Sprinkle a baking sheet with semolina, and cover each side of muffins with it. Cover with a damp towel and let rise in a warm place for about an hour, until almost doubled in size.

Heat a flat griddle pan until hot and brush with oil. Add the muffins and reduce heat to medium. Cook for 12 minutes, six minutes on each side, until firm and golden brown. Turn only once. Serve with butter and jam.
Nutrition
Calories:
298
kcal
|
Carbohydrates:
60
g
|
Protein:
9
g
|
Fat:
2
g
|
Saturated Fat:
1
g
|
Cholesterol:
4
mg
|
Sodium:
404
mg
|
Potassium:
124
mg
|
Fiber:
2
g
|
Sugar:
2
g
|
Vitamin A:
27
IU
|
Calcium:
44
mg
|
Iron:
4
mg