A sweet treat, perfect for a Holiday themed party, a dessert, or just because you're looking for something different to do with the eggnog, this Eggnog Cookie Dough Bark is a sure fire hit. With a sweet homemade (eggless) cookie dough layer sandwiched between two thin layers of eggnog flavored, white chocolate bark- it's bound to become a new favorite holiday-themed dessert.
This post is sponsored in conjunction with ChristmasSweetsWeek. I received product samples from sponsor companies to aid in the creation of the ChristmasSweetsWeek recipes. All opinions are mine alone.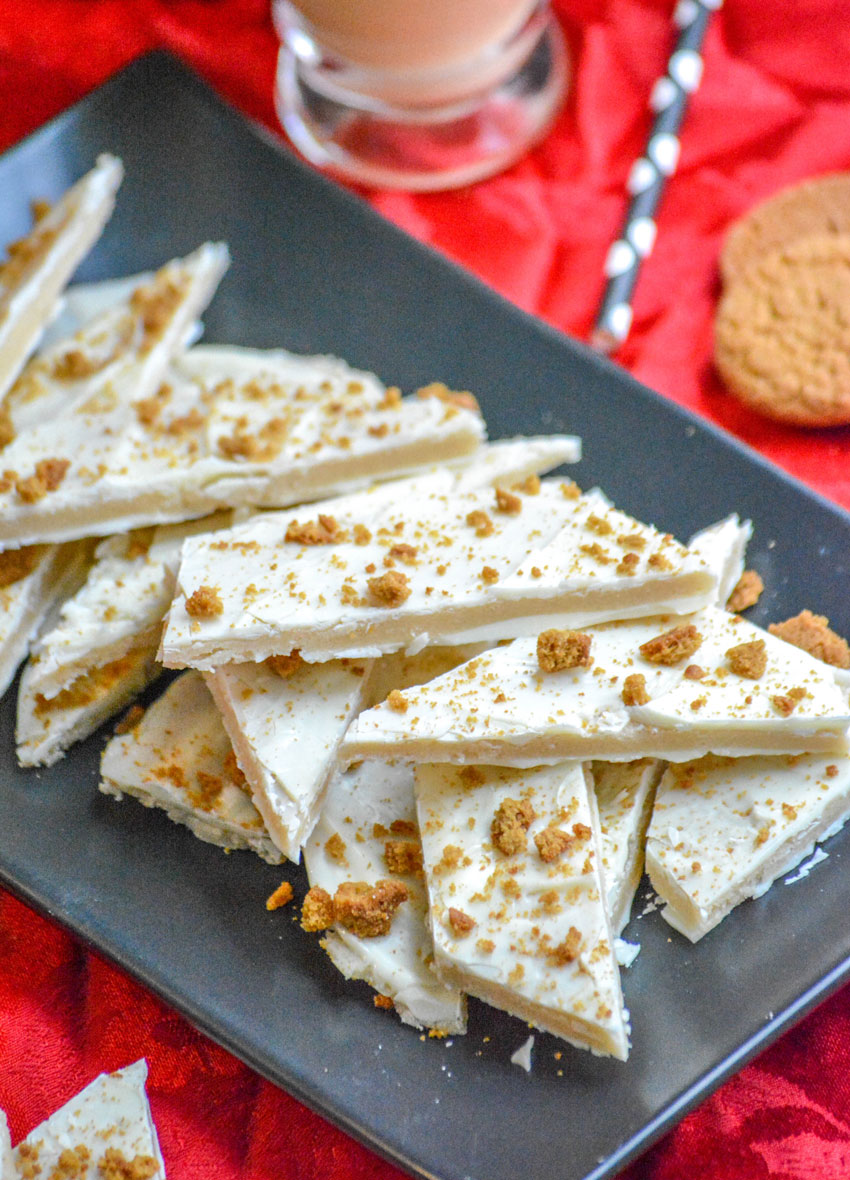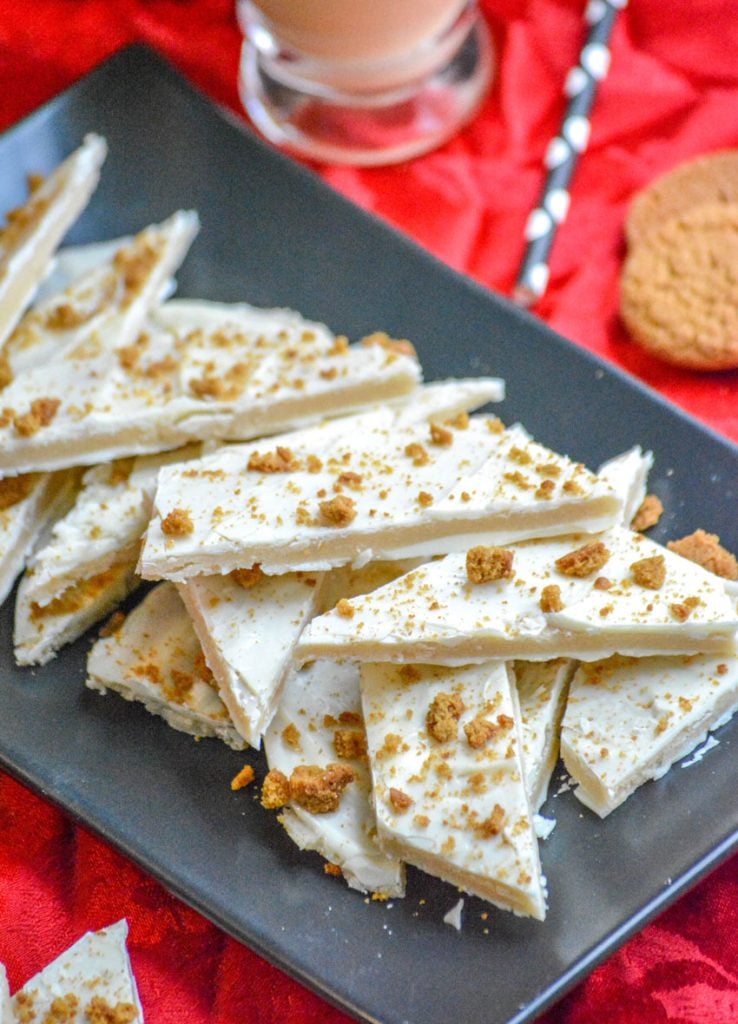 Once upon a time, way back, when a really important someone said that 'a house divided cannot stand'. That person would've been none other than Abraham Lincoln himself.
I'd also grown up hearing that our local suppliers' recipe for eggnog came from the 14th presidents wife herself, but have yet to find anything to substantiate those claims.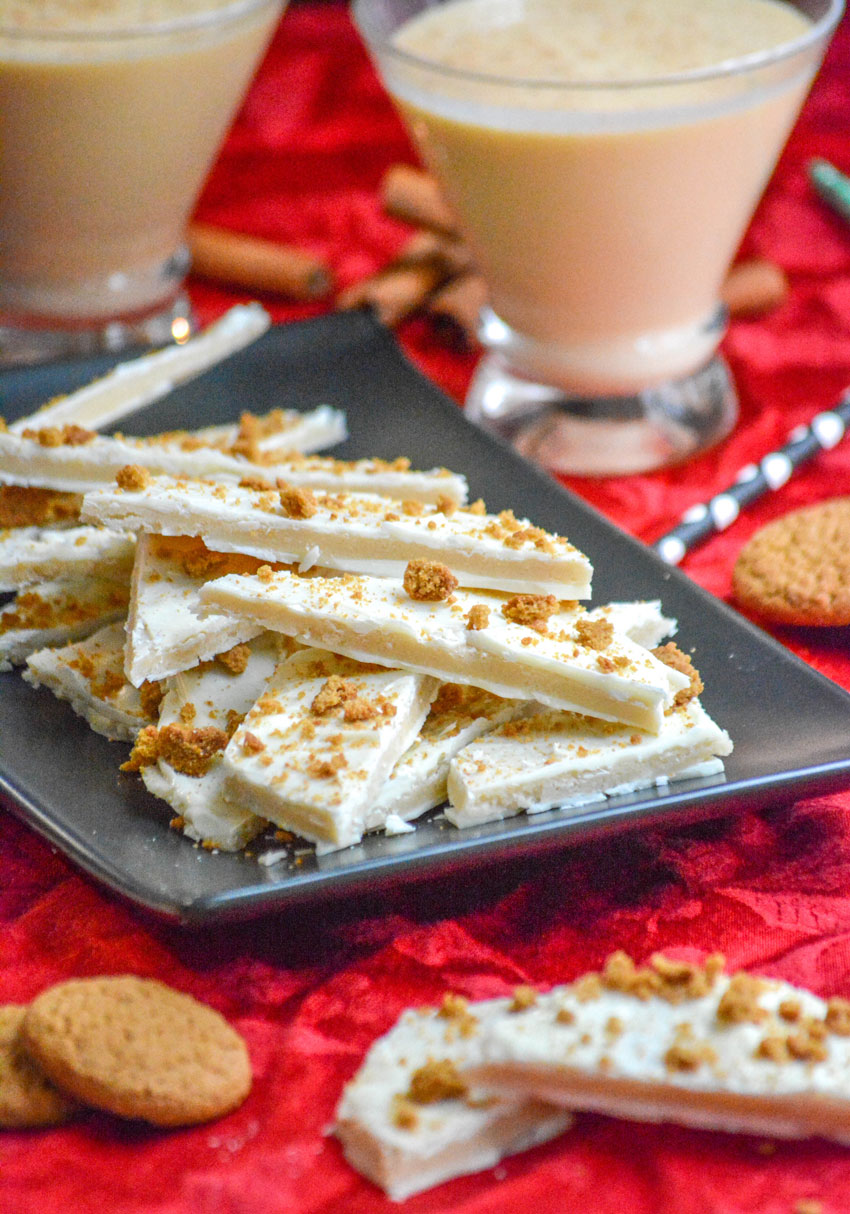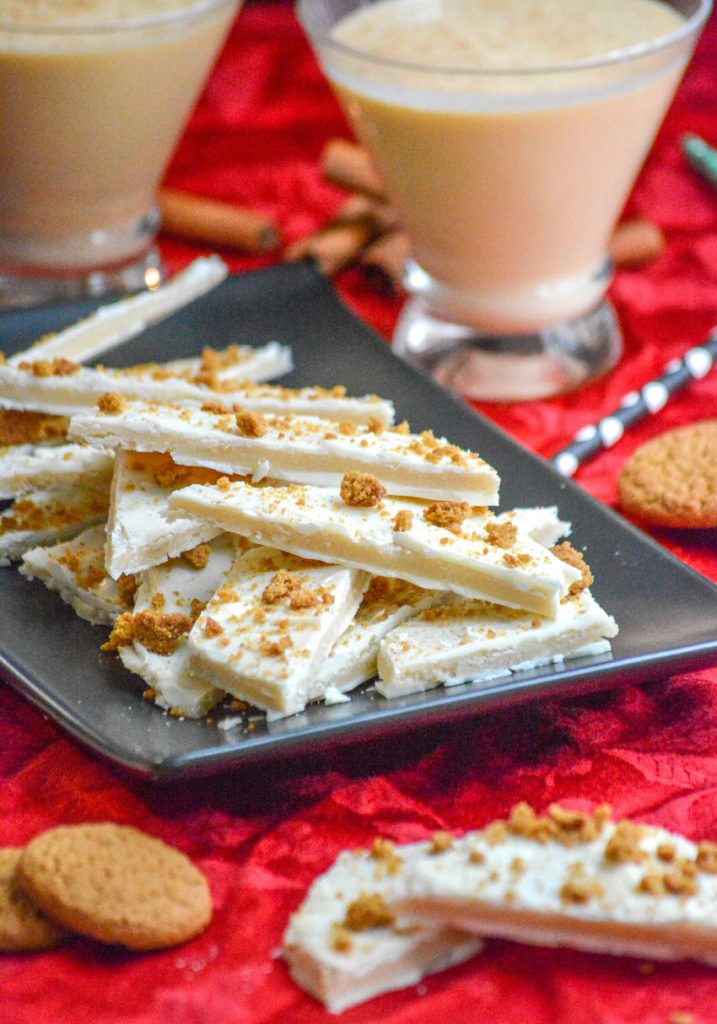 Which led me to the conclusion that our capacity for myth is as bottomless as our capacity for eggnog- sometimes. Either way, eggnog is delicious- at least if you ask me, or 2/4's of the Sons. Hence my beginning quote.
Despite that though, our house still obviously stands. Strongly. Stronger in fact, ironically, in the face of one eggnog-themed dessert in particular.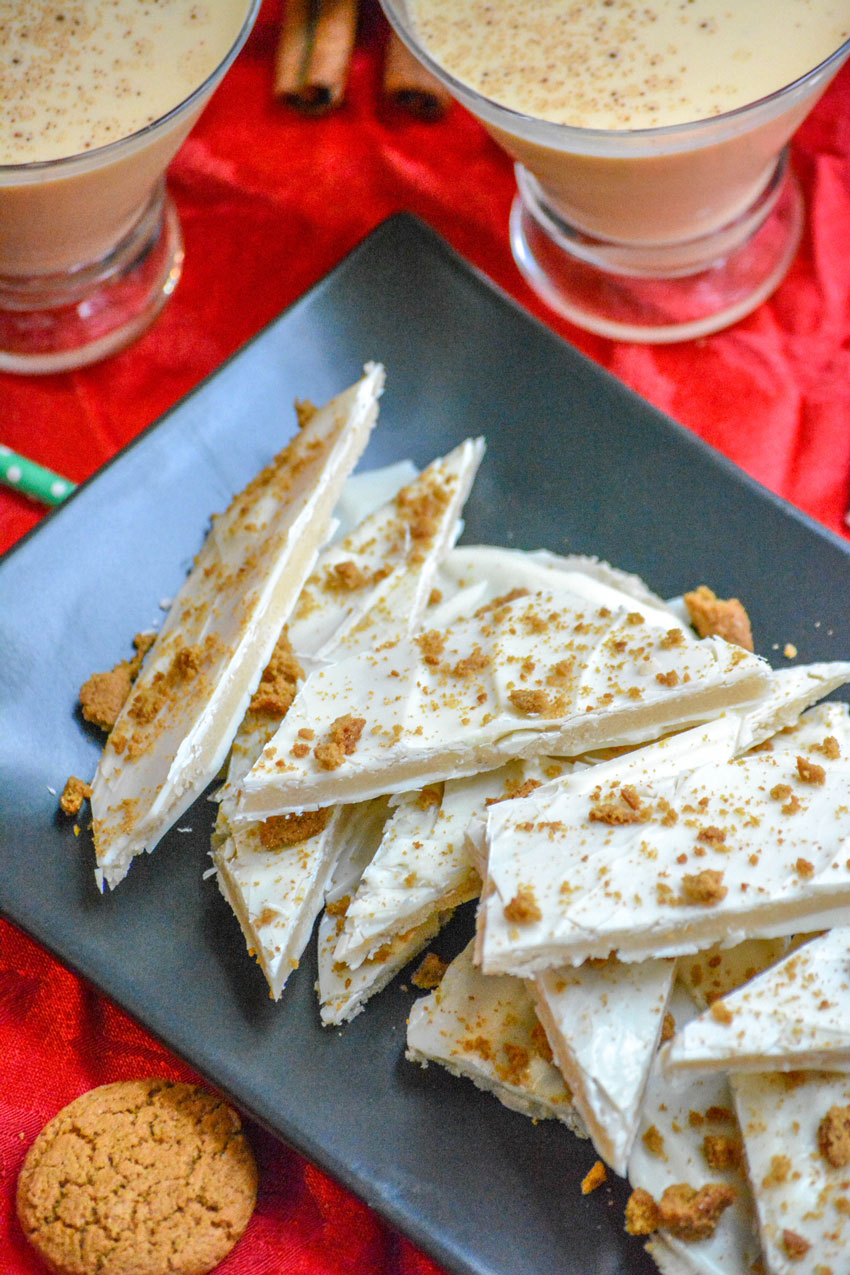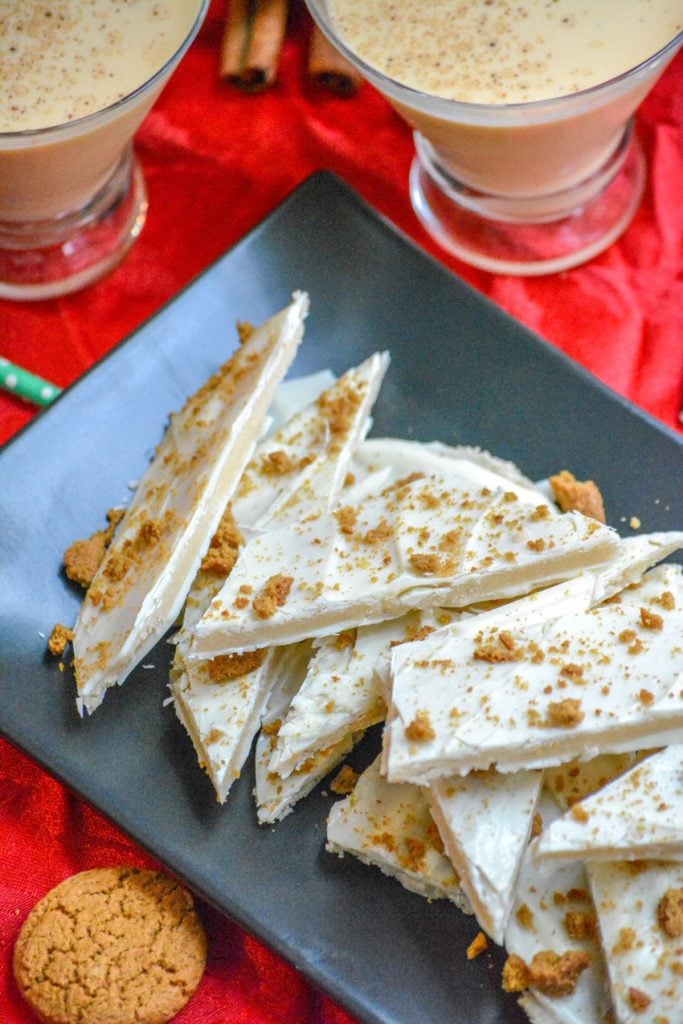 Eggnog Cookie Dough Bark.
Doesn't that just sound delicious? I mean, just in our home, it's brought divided sides together. It's gotten us to acknowledge our differences, and finally find common ground over a single flavor.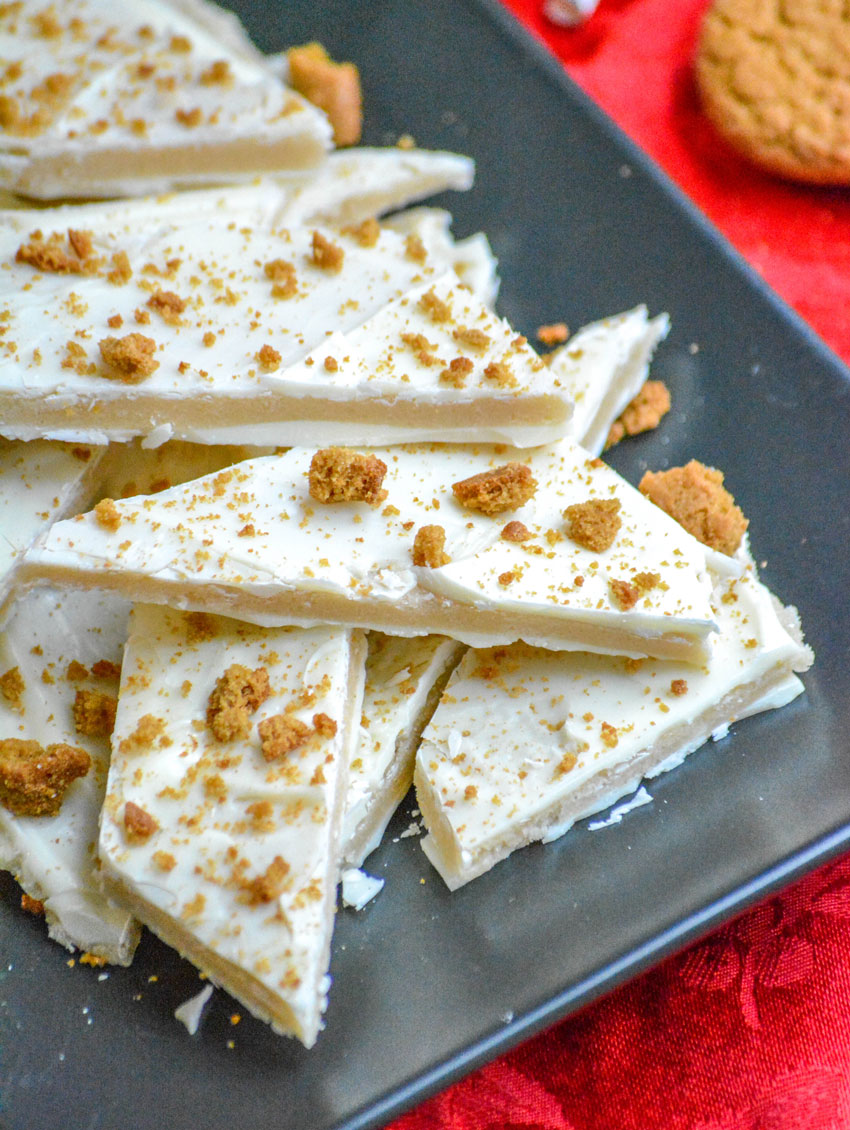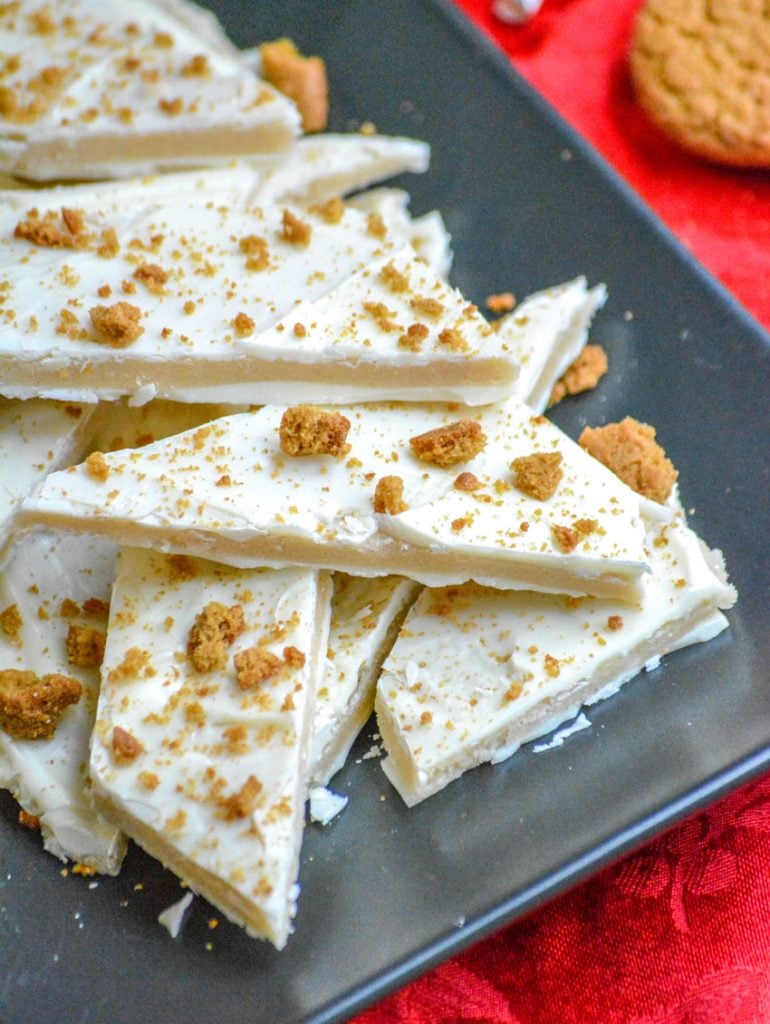 It's all because we took the heat off the main culprit. Instead of putting eggnog in the spotlight, we made it a strong second. We also paired the seasonal favorite with another strong holiday contender- the sugar cookie.
Who doesn't love sugar cookies?!
The texture is honestly what gets to the part of my pack who can't stand the holiday staple. Which I can understand. It's thick, it's viscous, and you're expected to drink it. But what if you didn't actually have to drink it, but could just enjoy the flavor? That might be, no scratch that, a game changer.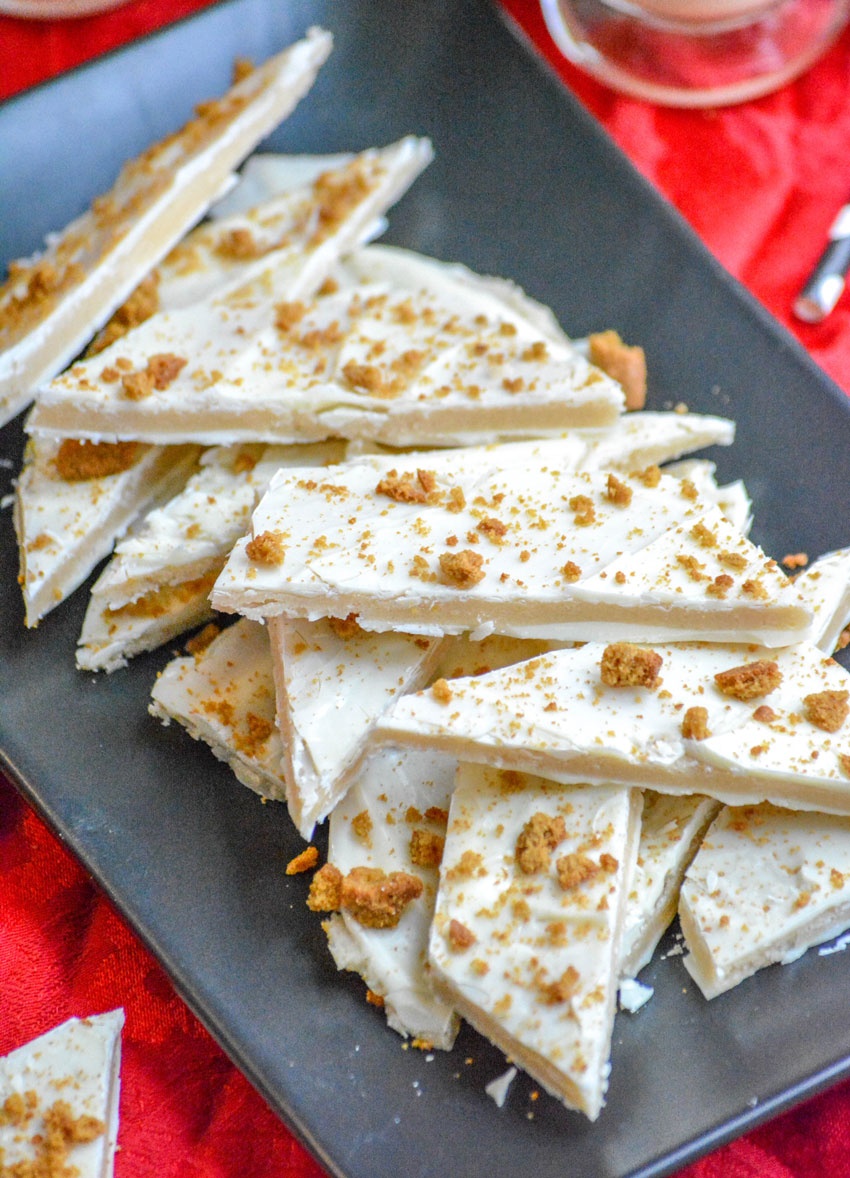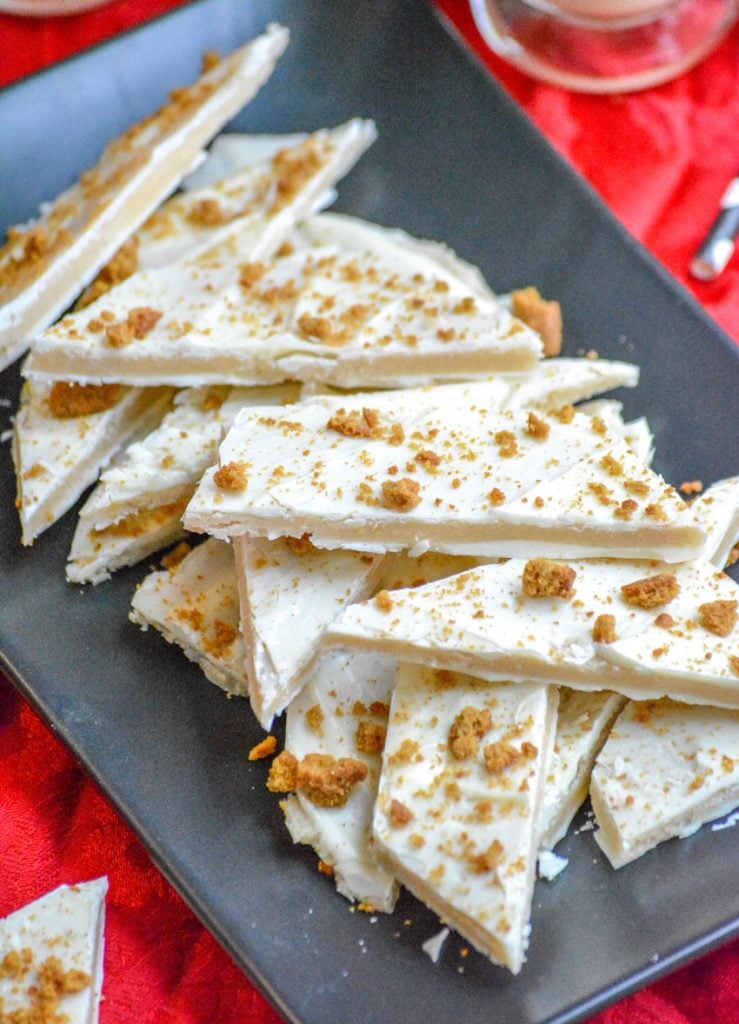 Let's start with everyone's favorite part- the cookie dough. I love this version because even though it's uncooked- it's totally safe to it since it's eggless.
Just like with any traditional cookie dough, butter and sugar are creamed together until smooth. Vanilla and salt are added to the mix. Then the flour's added, a little bit at a time, until completely incorporated. Don't be concerned when it takes a minute to get all that flour in there, or when the dough's extra thick.
Remember, we're leaving out the whole messy egg bit- but everything will turn out just fine. Trust me!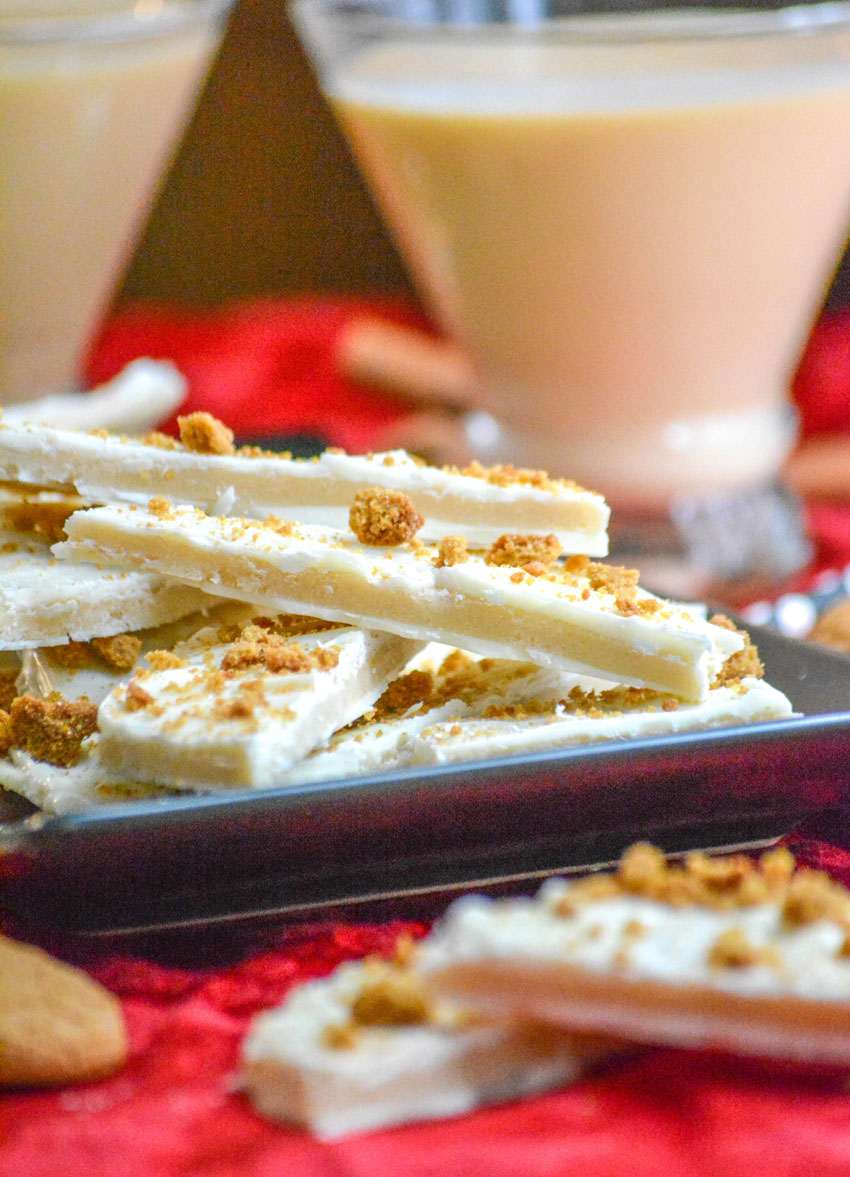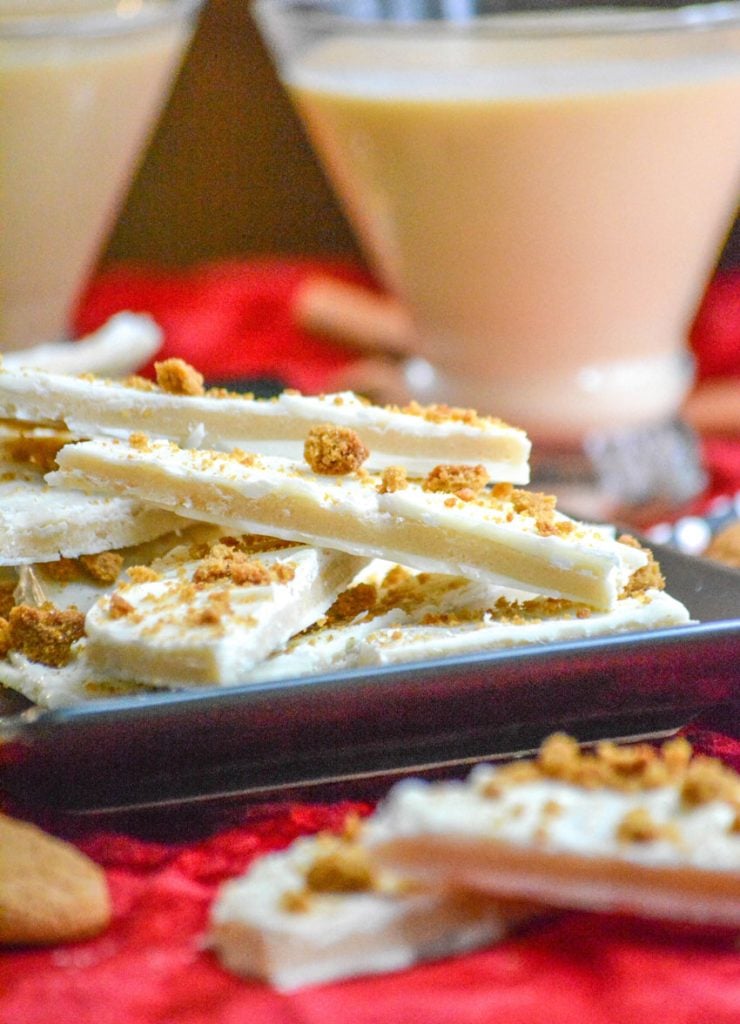 A large cutting board is then covered with wax paper. Transfer your dough ball to that, cover it with another piece of wax paper, and use your preferred rolling pan to roll it out- to roughly an 8×10″ shape. I like to transfer mine to a large baking sheet, then refrigerate it for at least 10 minutes. The optimal time for me though is 20 minutes.
While your dough's chilling, add your gingersnap cookies to a thick zip-locking bag. Smash them. Either with a couple packs with the blunt end of your met mallet, or with a couple good packs with a rolling pin. The holidays are a stressful time, and this is one heck of a great stress reliever. You want plenty of fine crumb, but a couple of bigger chunks too.
Line another sheet pan with wax paper, and prepare the chocolate according to the package instructions.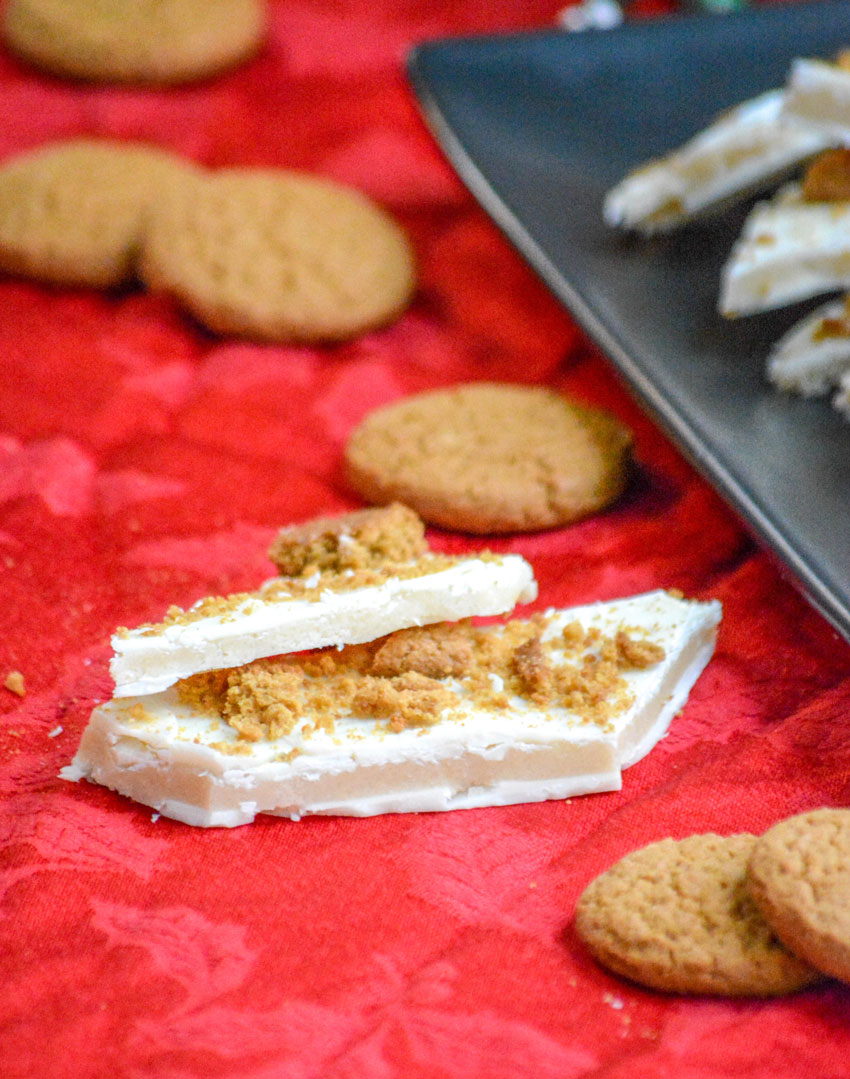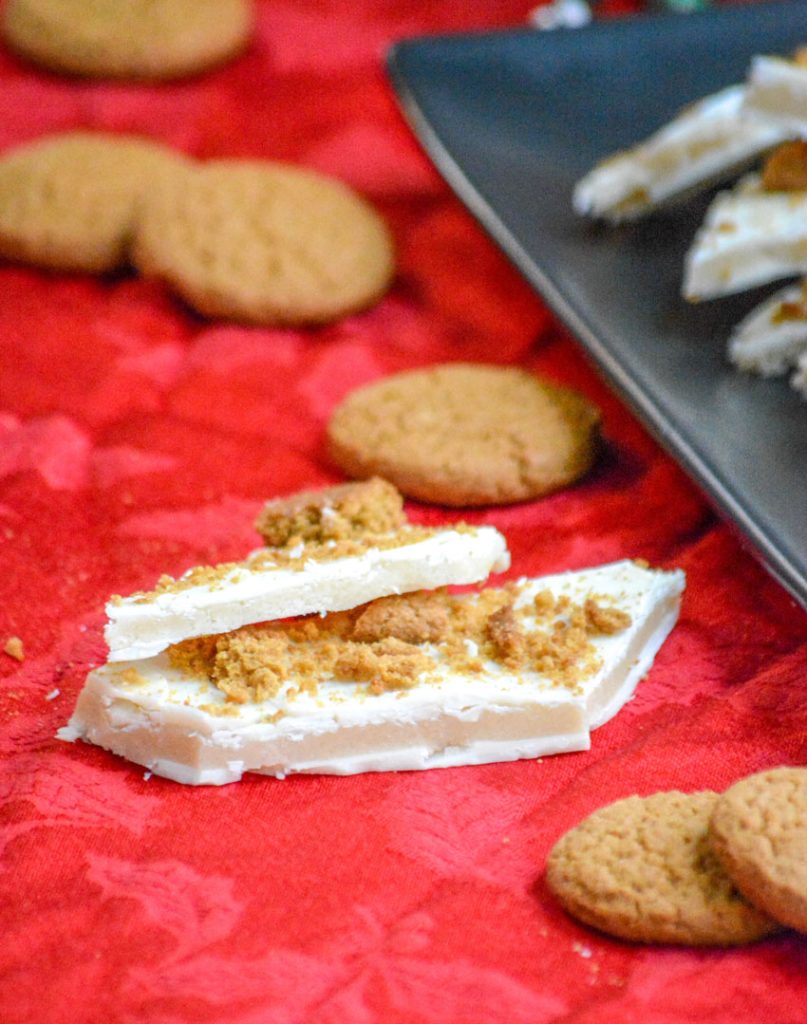 When the chocolate's smooth, pour half out onto the wax paper lined pan. Use an inverted spatula to spread it out in an even layer, around that same 8×10 shape. It doesn't have to be exact though, so no worries!
That chilled dough? You're gonna remove the wax paper for once side, and carefully place it overtop the meted chocolate. Pour the rest of the melted white chocolate out on top of the dough, use an inverted spatula to spread it evenly out overtop of the sugar cookie 'dough'.
Working quickly, before the chocolate sets, sprinkle the ginger snap crumbs evenly out over top of the bark. Chill the Eggnog Cookie Dough Bark for at least 30 minutes, but it can be chilled a couple of hours- if needed.
Other Eggnog Recipes You Might Also Enjoy:
Make sure to stay tuned after the recipe for a list of this week's awesome prizes, and to join the amazing #ChristmasSweetsWeek giveaway, and to see what other yummy treats everyone's brining to today's party.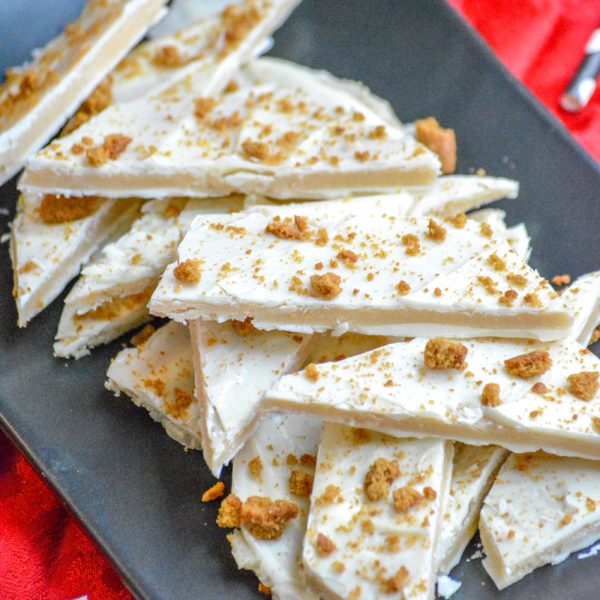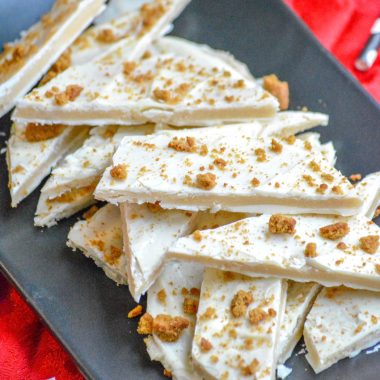 Eggnog Sugar Cookie Bark
A sweet seasonal treat, this one features a layer of eggless sugar cookie dough sandwiched between two layers of eggnog flavored white chocolate topped with crushed ginger snaps.
Print
Pin
Rate
Ingredients
1/2

cup

unsalted butter

softened

1/2

cup

sugar

2

tsp

LorAnn Oils vanilla extract

pinch

of salt

1

cup

flour

1/8

tsp

LorAnn Eggnog baking emulsion

16

oz

white candy melts

6

gingersnap cookies
Instructions
In the bowl of a stand mixer, cream the butter and sugar together. Mix in the vanilla and salt until incorporated. Slowly add in th flour, a little at a time, mixing until fully incorporated. Your dough will be pretty thick (that's OK!), but should be smooth and all the ingredients evenly combined.

Cover a cutting board with a large piece of wax paper. Place the dough in the center, press it down flat, and cover it with another piece of wax paper. Roll the dough into a rectangle (about 8'x10′) between the two pieces of wax paper. I used an acrylic glass to roll mine out, but use a rolling pin if you want to be all fancy and pretty about it. Chill the rolled dough for at least 10 minutes.

Place your ginger snaps in a quart-sized ziploc bag. You can either roll them with a rolling pin to crush, or you could go with a few well-aimed whacks of a mallet. The sons love any excuse to whack something with the meat mallet.

Line a cookie sheet with more wax paper. Melt your white chocolate according to the package directions. Stir in the eggnog emulsion when you stir the melted chocolate.

Pour about half of the melted chocolate out onto the wax paper and use a spatula to spread it into a rectangle a little bit bigger than the dough.

Remove one piece of wax paper from the dough, place that side down onto the spread chocolate, and then remove the top piece of wax paper. Pour the remaining melted chocolate over top of the dough and use a spatula to spread it to cover the dough, making sure to meet the edges of the bottom layer to seal the dough inside. Sprinkle the top with the crushed ginger snaps.

Chill until set, about least 30 minutes, or if you're more patient than we were, leave it on the counter top to set itself. Because the cookie dough is so moist and won't set firm, breaking this bark apart will most likely result in the chocolate separating from the dough. We can't have that, so it's best if you gently cut it into wedge shaped pieces. Store in the refrigerator for up to 5 days, but serve them at room temperature.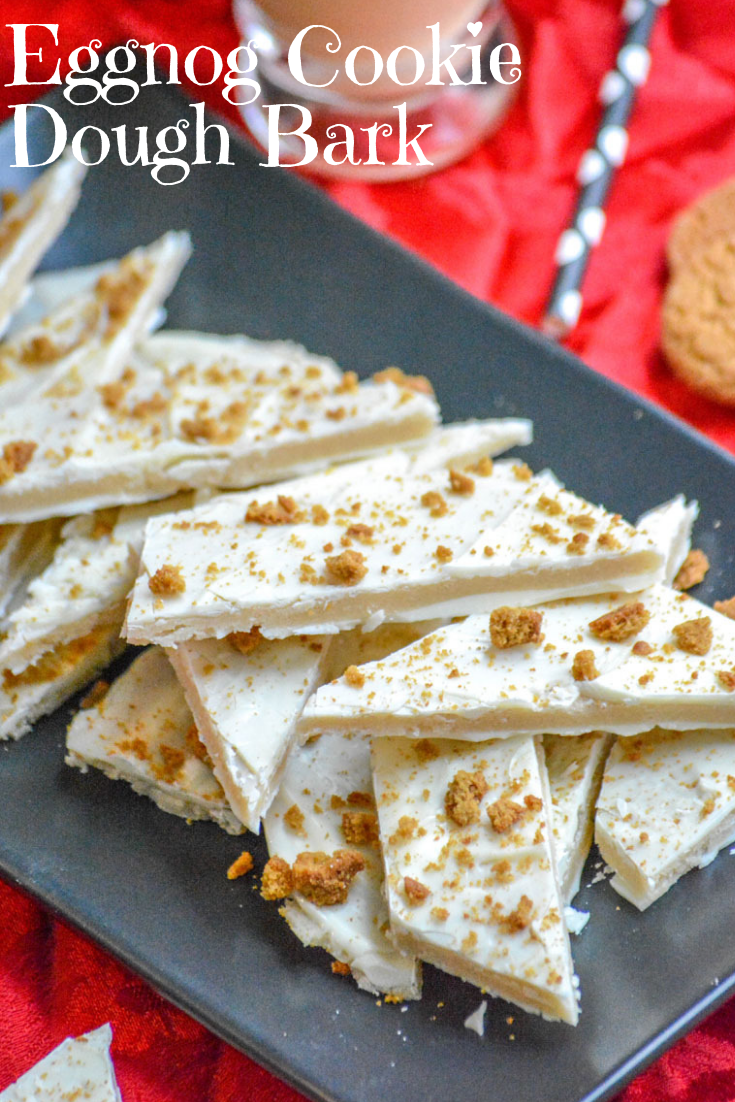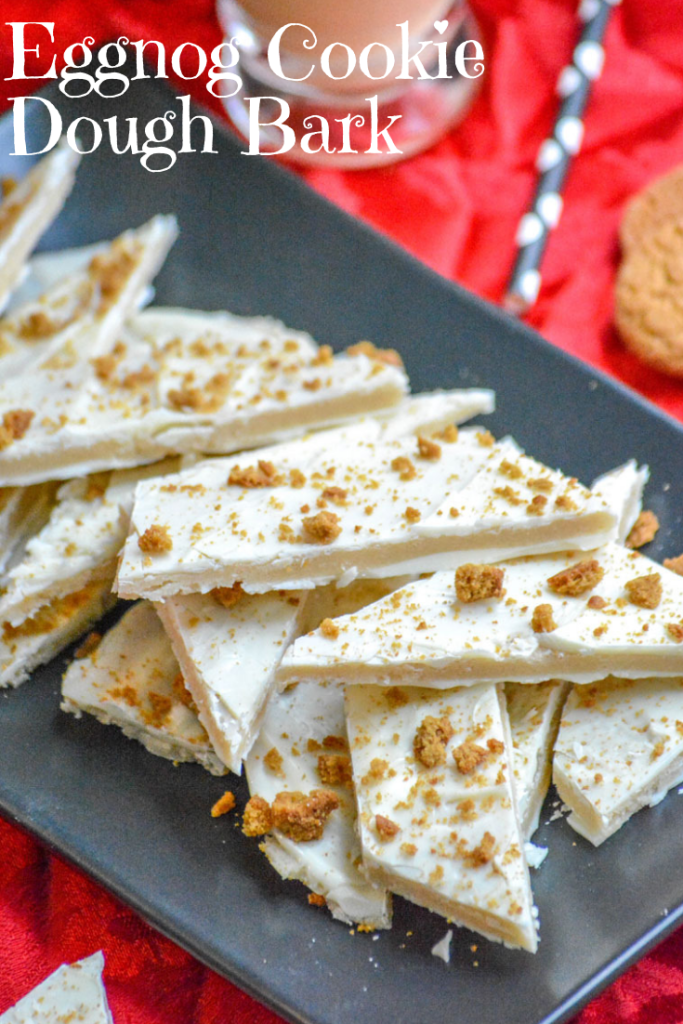 Sponsored Products Used In This Recipe:
JoyJolt glassware (the lovely glasses the eggnog's featured in)
LorAnn bakery emulsions
Dixie Crystal's sugar
Cabot Creamery butter
Welcome to #ChristmasSweetsWeek 2018 hosted by Terri from Love and Confections and Christie from A Kitchen Hoor's Adventures! What better way to celebrate the holidays than with food and a fun giveaway? 44 bloggers from around the country have come together to share over 180 sweet Christmas recipes!! Deck the halls and get ready for very merry sweet treats, like fudge, cookies, Christmas morning breakfasts, layer cakes, martinis, cocoa, and more! Our #ChristmasSweetsWeek sponsors are helping us give away some great prizes. Thank you so much, Sponsors, for your generosity. We have an incredible giveaway below and would love if you would take a moment to read about it and what you can win!
Dixie Crystals is giving one winner a Keurig K-Select Single-Serve K-Cup Pod Coffee Maker.
Since 1917, Dixie Crystals® has been the South's choice for high-quality sugar and sweeteners. For generations, Dixie Crystals has been at the heart of family traditions and celebrations. Our pure cane, non-GMO sugar products guarantee that treasured family recipes will turn out right every time. Bake with love and Dixie Crystals.
Cabot is giving one winner a cheese gift set, including a Cabot Cheese slate cutting board, small cheese cleaver, Cabot custom Bee's Wrap, an assortment of Cabot's finest cheeses.
Cabot Creamery Co-operative, makers of naturally aged, award-winning cheeses and dairy products is owned by 1,000 dairy farm families in New England and New York.
LorAnn is giving one winner a collection of 6 LorAnn Bakery Emulsions, a collection of three LorAnn Oils vanilla extracts, a candy making cookbook, The Sweetapolita Bakebook, and a 12-unit variety pack of LorAnn super-strength candy oils.
Our flavors. Your creations. For over 50 years, LorAnn Oils has been supplying professionals and home chefs with the finest quality candy and baking flavors, essential oils, and specialty ingredients. Visit us at LorAnn Oils & Flavors to shop, learn, and discover new recipe ideas.
Joyjolt is giving one winner an Aurora Whiskey Decanter Set. Our Aurora Whiskey Decanter set has a timeless and sophisticated design that adds both class and style to any table. This set is hand made with top quality lead free crystal glass and cutting edge materials. The sets quality, design and upscale packaging makes the Aurora a perfect addition to your home, bar, hotel, restaurant, club or office. DRINK WITH JOY. ENJOY THE JOURNEY.
Here at JoyJolt we believe that so many of the moments you enjoy most include raising a glass. From the jolt you get from that first sip of coffee in the morning to toasting a milestone with close friends. Thats why we have created glassware equally as special and unique as your happiest moments.
Sweets & Treats is giving one winner the Year of Sprinkles Box at a $150 value. It contains holiday mixes, classic sprinkles, and some of their most popular sprinkles.
Sweets & Treats, a party and baking supplies manufacturer and wholesaler, started out of a baking industry need for truly greaseproof cupcake liners. From there, the company expanded into a handful of specialized categories including the latest, Sweet Sprinkles, their one of a kind sprinkles and sprinkle mix line. With hundreds of truly unique products, they are a one stop shop for your next party!
Torani is giving one winner a year supply of Torani: 12-750ml glass bottles, flavors will be winner's choice, plus pumps for each bottle.
Torani inspires you to taste life, one flavorful experience at a time. Even though people all over the world recognize our iconic Torani bottle, we've remained a family-owned company — adhering to the high quality standards that Rinaldo and Ezilda set over 90 years ago. Each and every syrup, sauce, and smoothie is created with care and pride. Way back we started with just five syrups. Today, you can use more than 100 of our naturally flavored syrups, sauces and beverage bases in coffees, sodas, teas, smoothies, cocktails and more. And we're excited to bring you new taste traditions and flavors as we move forward.
#ChristmasSweetsWeek recipes:
Beverages:
Bourbon Salted Caramel Coffee with Whipped Cream from With Two Spoons
Chocolate Eggnog Pudding Shots from Rants From My Crazy Kitchen
Cookie Butter Eggnog Cocktail from My Suburban Kitchen
Eggnog Martini from Everyday Eileen
Hazelnut Hot Chocolate Drops from Family Around the Table
Mulled Red Wine Sangria from Platter Talk
Red Velvet Hot Chocolate from Live Love Texas
Salted Caramel Affogato from Tara's Multicultural Table
Salted Caramel Apple Cider Martinis from Sweet Beginnings
Salted Caramel Chocolate Martini from The Crumby Kitchen
Salted Caramel Mocha Smoothie from An Affair from the Heart
Salted Caramel White Hot Chocolate from Who Needs A Cape?
Sugar Cookie Martini from Strawberry Blondie Kitchen
Breakfast:
Baked Eggnog French Toast from The Spiffy Cookie
Maple Bourbon Old Fashion Bread Pudding from Cheese Curd in Paradise
Candies:
Almond Butter Rum Toffee from Take Two Tapas
Christmas Eggnog Fudge from For the Love of Food
Christmas Grinch Bark from Blogghetti
Cookie Butter Bark from Seduction in the Kitchen
Eggnog Sugar Cookie Bark from 4 Sons 'R' Us
White Christmas Sugar Cookie Dough Fudge from Hezzi-D's Books and Cooks
Desserts:
Black Forest Cheesecake from Kate's Recipe Box
Butter Rum Cheesecake from Cookie Dough and Oven Mitt
Butter Rum Nutty Biscotti from Love and Confections
Christmas Cornflake Wreaths from The Mandatory Mooch
Cookie Butter Blossom Cookies from The Bitter Side of Sweet
Cookie Butter Shortbread Bars from Eat Move Make
Fluffernutter Truffles from Mildly Meandering
Frozen Mint Meltaway Pie from Cooking with Carlee
Gingerbread Bundt Cake with Butter Rum Glaze from Daily Dish Recipes
Vegan Gingerbread Cupcakes with Eggnog Frosting from The Baking Fairy
Spiced Eggnog Sugarmen from Culinary Adventures with Camilla
Peppermint Mocha Cupcakes from The Beard and The Baker
Red Velvet Cupcakes with Eggnog Butter Frosting from Lady Behind the Curtain
Santa Hat Cupcakes from The Redhead Baker
Slice 'N' Bake Grinch Cookies from Big Bear's Wife
Snowmen Macarons from A Kitchen Hoor's Adventures
Thank you ChristmasSweetsWeek Sponsors: Dixie Crystals, Cabot Cheese, Lorann Oils & Flavors, Torani, Joyjolt, and Sweets & Treats Boutique for providing the prizes free of charge. These companies also provided the bloggers with samples and product to use for ChristmasSweetsWeek recipes. All opinions are my own. The ChristmasSweetsWeek giveaway is open to U.S. residents, age 18 & up. All entries for the winner will be checked and verified. By entering you give the right to use your name and likeness. The number of entries received determines the odds of winning. Six (6) winners will be selected. The prize packages will be sent directly from the giveaway sponsors. The ChristmasSweetsWeek Bloggers are not responsible for the fulfillment or delivery of the prize packages. Bloggers hosting this giveaway and their immediate family members in their household cannot enter or win the giveaway. No purchase necessary. Void where prohibited by law. This promotion is in no way sponsored, endorsed or administered by, or associated with Facebook, Instagram, Pinterest, Twitter or any other social channel mentioned in the ChristmasSweetsWeek posts or entry.