Calling all cinnamon lovers– this Cinnamon Toast Crunch White Chocolate Popcorn has everything your heart desires. A little bit breakfast, a little bit dessert, it's the perfect snack mix to sate your sweet tooth.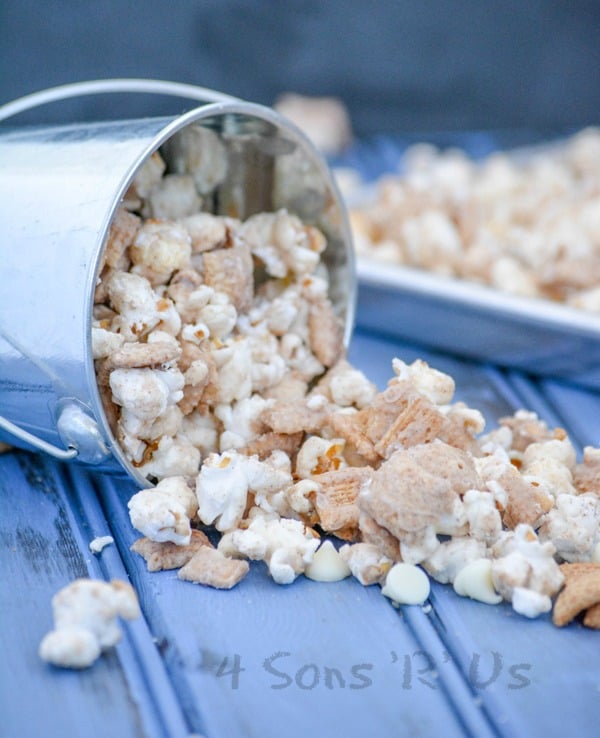 I feel like it's been forever since we talked about dessert. Last month was soooo long ago. And let's be real, that is way to long to go without treating yourself to something sweet.
Dessert isn't the only time to enjoy a bit of sugar though. Snack time can be plenty sweet too.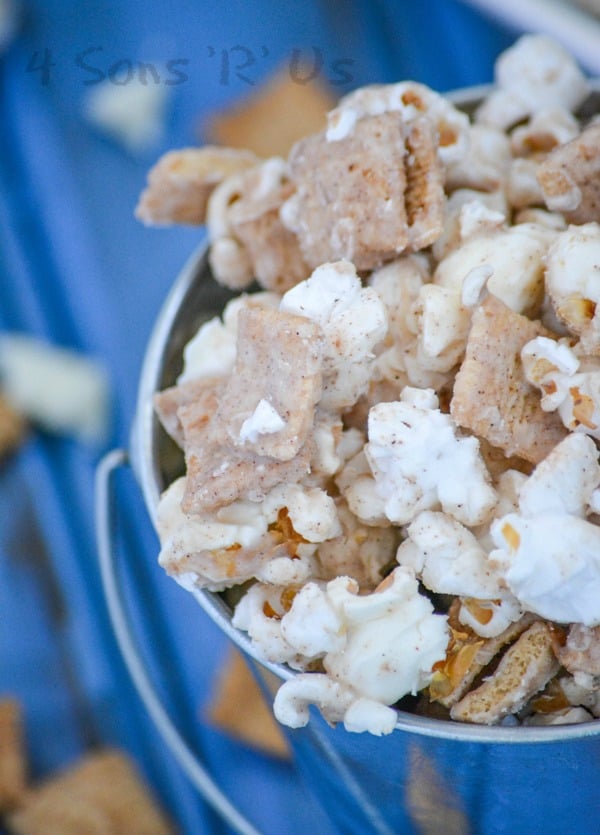 The kids and I all enjoy sharing a big bowl of freshly popped popcorn when a craving hits in the middle of the afternoon. It's quick, it's easy, and it's fairly filling.
Pair it with a decent movie before the evening activities start, and we've managed to squeeze in some q.t. on the d.l. on a school day. Mission: Accomplished.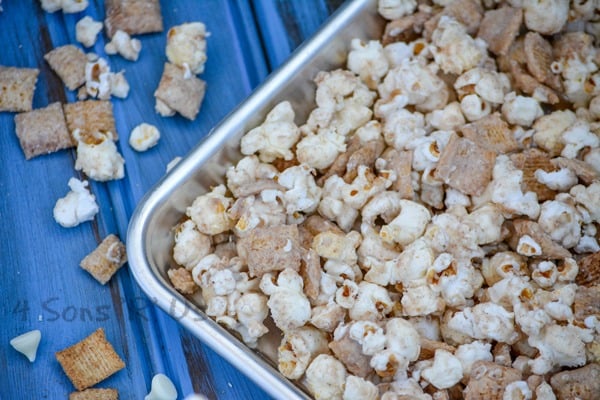 Buuuuuut, in the end you all know I can't leave anything alone– especially something 'plain'. Everything could always use a little something extra. Seasonings. Add in's. You name it, we've probably tried it and quite possibly blogged about it.
We've added some heat with our Buttery Cajun version. And we're no strangers with sweet, just take our Cinnamon Roll Caramel Popcorn for example. So it should come as no surprise that we're back at it again, ready to share with you our favorite new way to insert a bit of dessert into our snack time routine.
Well technically, it's a bit of breakfast, a dash of dessert, all stirred into a snack time mix and it's name is Cinnamon Toast Crunch White Chocolate Popcorn.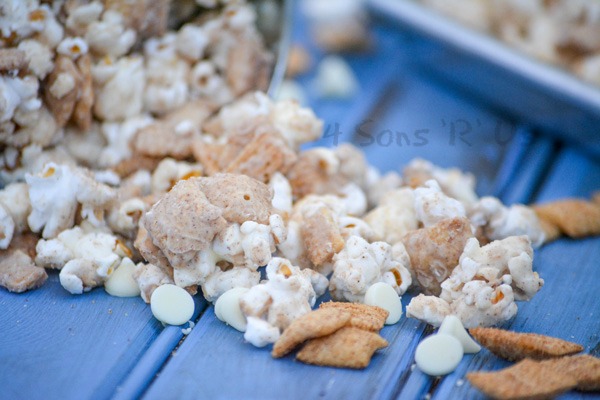 Love cinnamon? Love cinnamon-flavored cereal? Love white chocolate? Love popcorn?Then this Cinnamon Toast Crunch White Chocolate Popcorn is the perfect mix for you.
Snack time, an after dinner treat, it's perfect for all occasions. Shoot, on the weekend or a special occasion you could probably pass it off as breakfast. I know there wouldn't be any complaints around here.
It's quick and easy to whip up, simple enough that the sons' can do it without having to ask for permission. Provided they clean up their mess, but that issue has nothing to do with the snack mix itself. It's so good, that I have been known, on occasion, to clean the mess up afterwards myself- in exchange for a bowl, or two.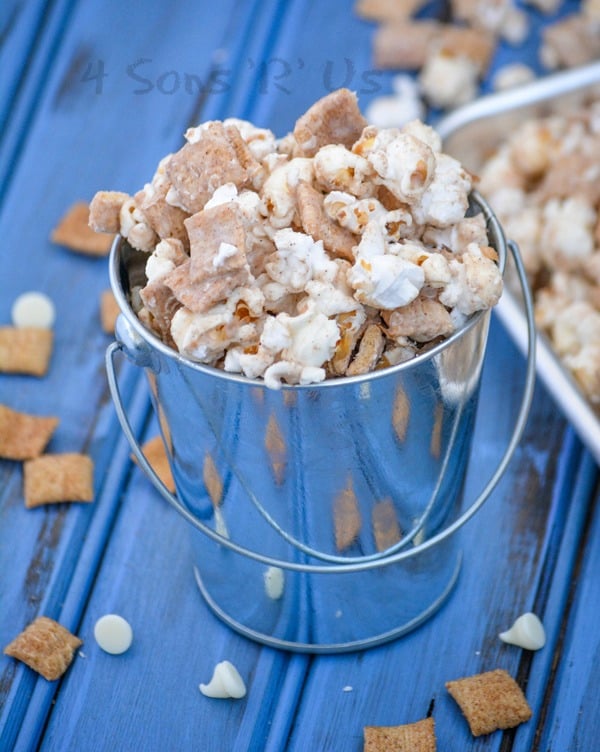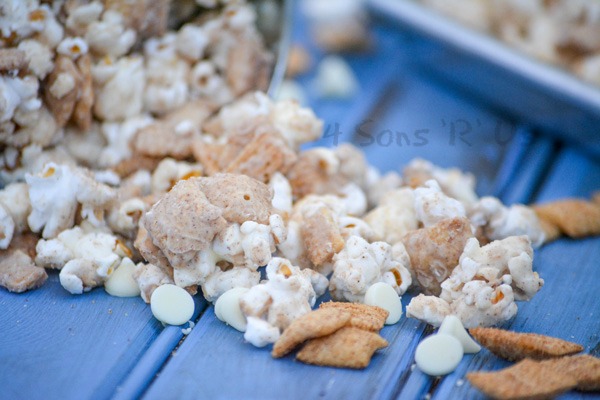 Cinnamon Toast Crunch White Chocolate Popcorn
A quick and easy, snack mix featuring one of your favorite cinnamon-flavored breakfast cereals.
Print
Pin
Rate
Ingredients
8-9

cups

popped white popcorn

1 1/2

cups

white chocolate chips

1

tbsp

shortening

2 1/2

cups

Cinnamon Toast Crunch cereal

2-3

tbsp

cinnamon sugar
Instructions
Add the white chocolate chips and shortening to a prepared double boiler. Melt them together, stirring occasionally, over medium low heat until the mixture is smooth and fully incorporated.

Lightly coat a spatula with non-stick cooking spray. In a large bowl, use the prepared spatula to stir together the popcorn and the white chocolate until evenly coated.

Stir in the remaining ingredients until evenly incorporated.

Let it rest for five minutes, stirring occasionally. Serve.
Notes
Stir the prepared mix in an airtight container to keep it from getting rock hard. Chunks may still form, but they can easily be broken up into smaller, edible clusters.
recipe adapted from Kleinworth & Co