Turn store bought marshmallows into a fun Christmas treat with only a handful of ingredients. These Christmas tree window marshmallows are a hit at Christmas parties and make a jolly hot cocoa topper. Best yet, this is a festive food craft easy enough to do with the littlest family members.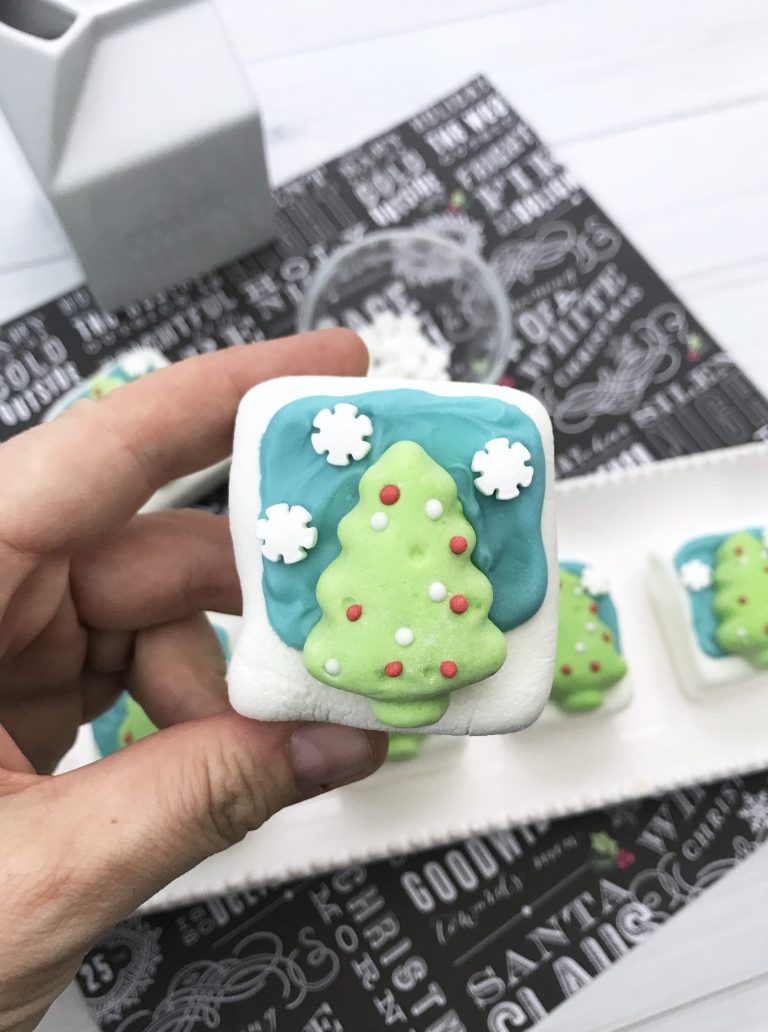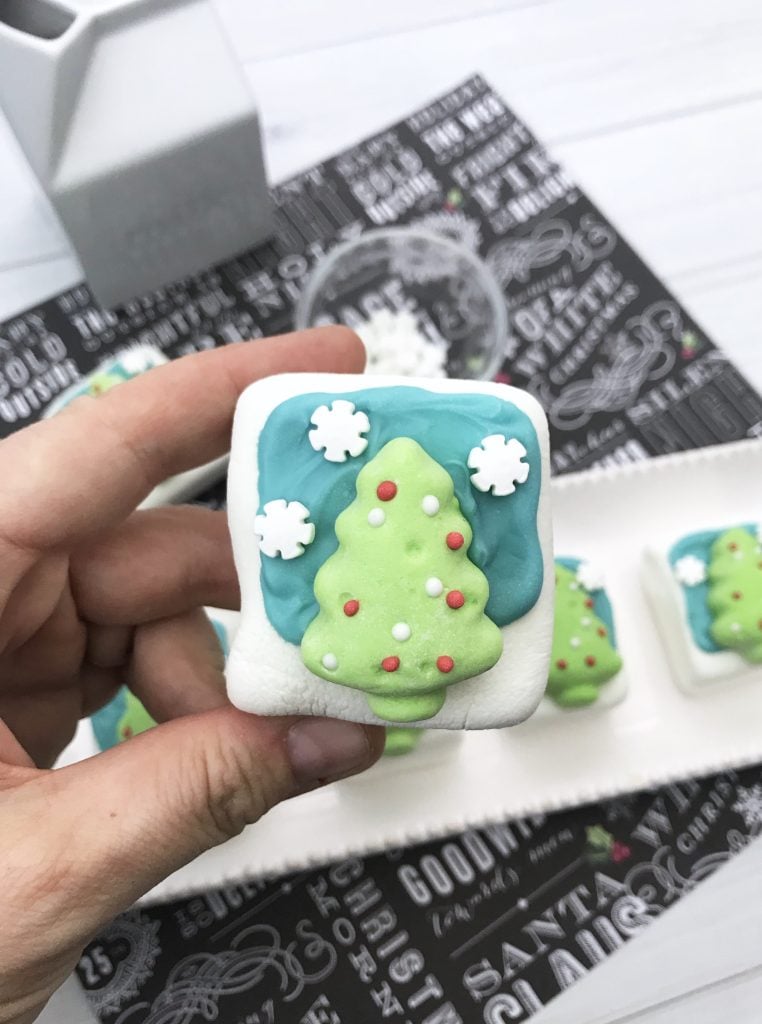 I love to get a little extra during the holiday season, but I hate being too fussy. In other words, I like to decorate everything for the holidays but I like to keep my decorations simple.
Because if I go to overboard, how will I decorate it all and make it all look joyously jolly and magical?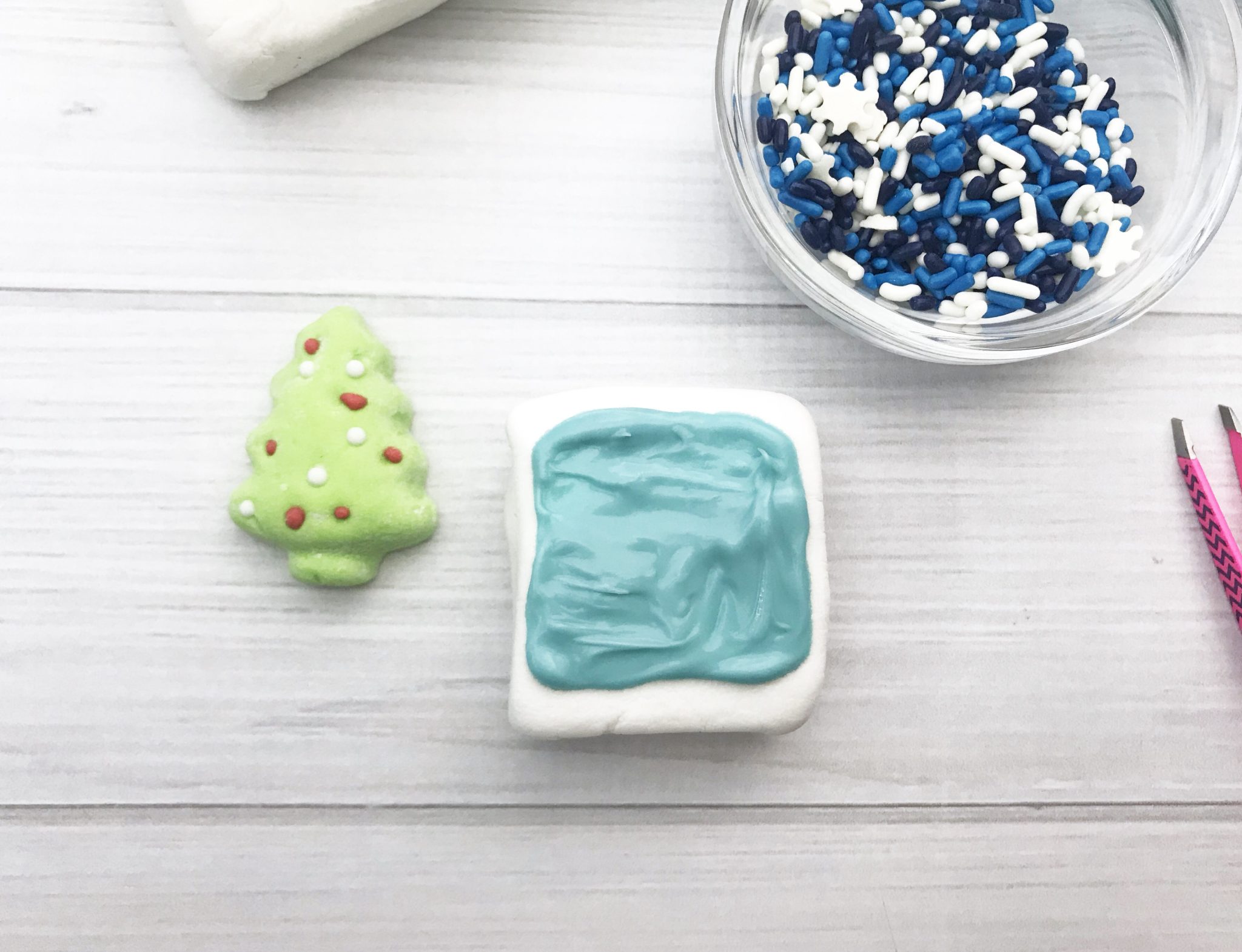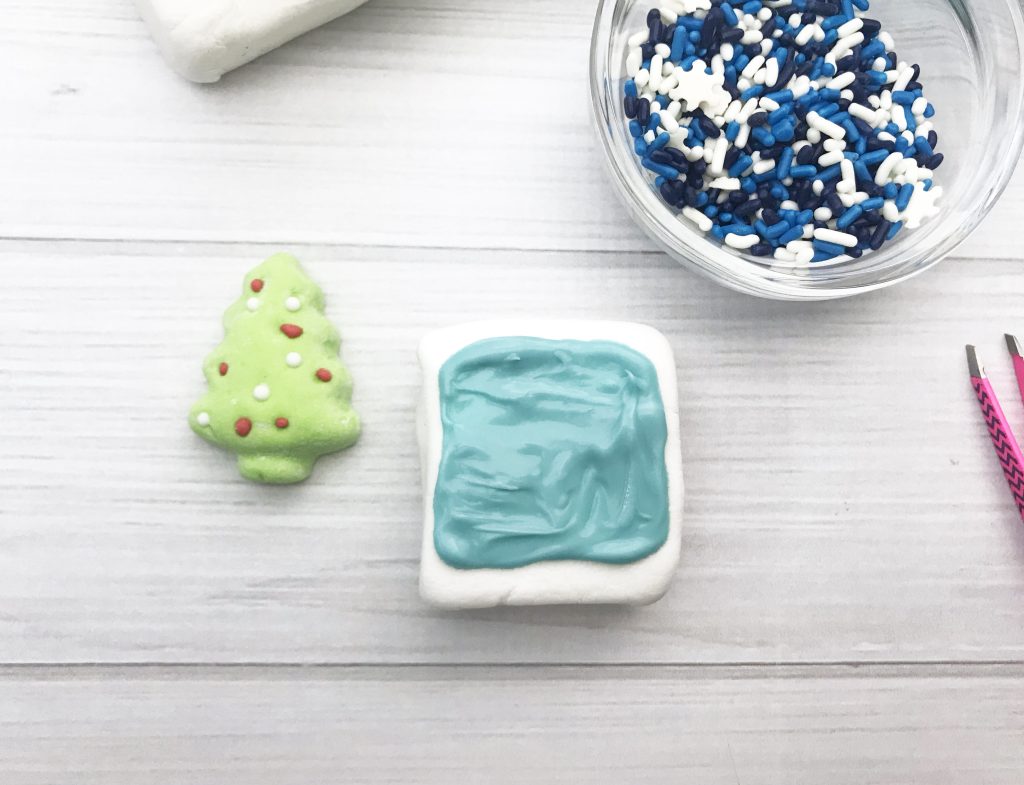 For example, these Christmas tree window marshmallows. They look so much more complicated than they are. In reality, they take only a few minutes to put together. And they don't need many ingredients.
All these Christmas tree window marshmallows need are store bought s'mores marshmallows (the flat marshmallows not the round ones), snowflake sprinkles, candy melts, and Christmas tree icings.
Would you have ever guessed that you didn't need to pipe on a Christmas tree decoration to make these marshmallows without knowing the ingredients?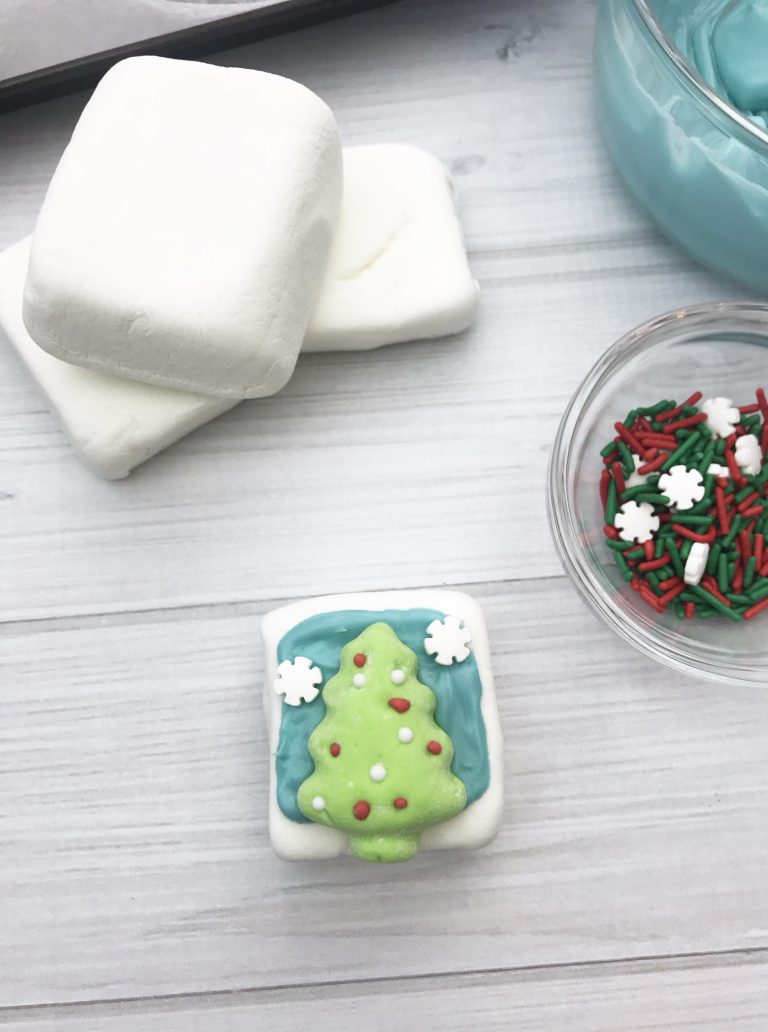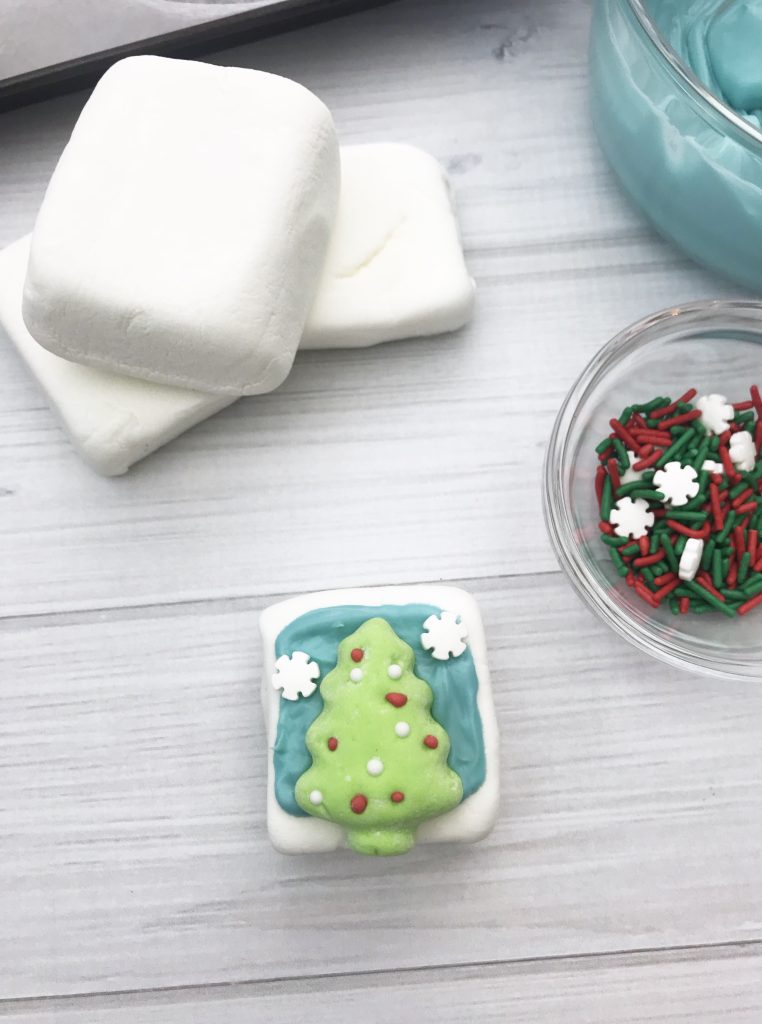 Putting the Christmas tree window marshmallows together is just as easy. Start by melting the blue candy melts. Candy melts behave sort of like chocolate. They are very easy to burn or overcook.
So to avoid doing that, when you melt them in the microwave, melt them in 30 second increments and stir in between. Repeat this until they candy melts are just melted and smooth.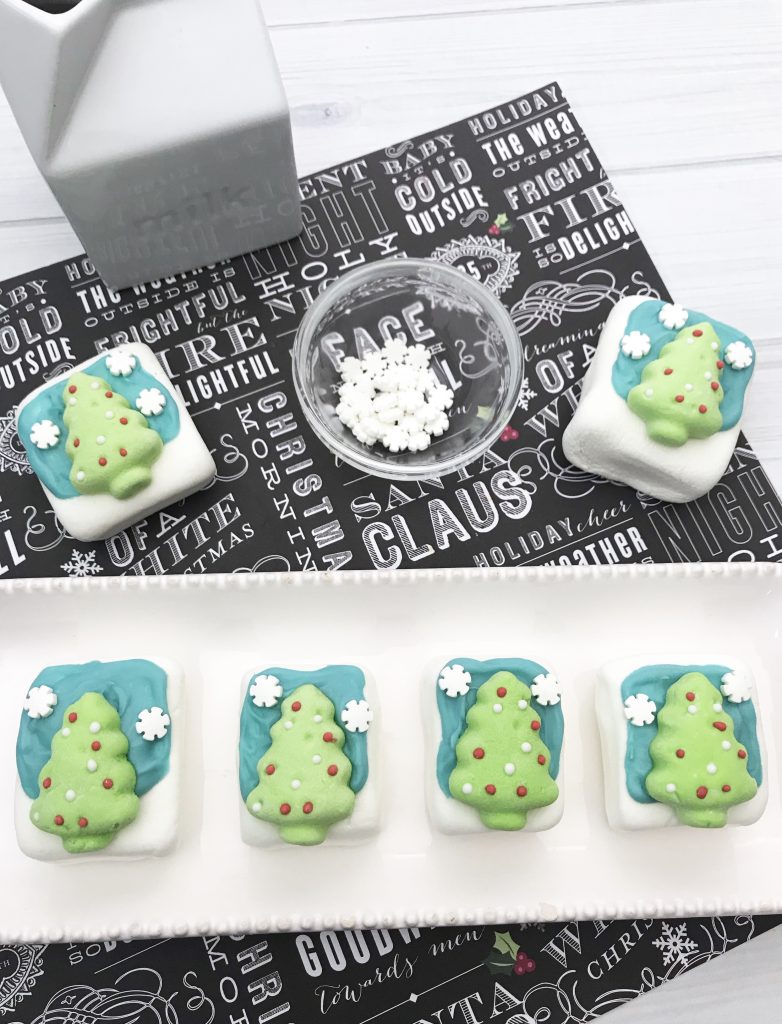 When the candy melts are melted, you're ready to make your Christmas tree window scene. Take a spoon or small spatula and spread some of the melted candy melts on the marshmallows. You don't have to get the candy melts super smooth. A little texture is ok. It adds some movement to the scene. Make sure to leave a little bit of the marshmallows uncovered so it looks like a freshly fallen snow cover.
What's more Christmasy than a freshly fallen snow cover? Ok, maybe the moon on the crest of the new fallen snow… or brown paper packages tied up with strings. I hope you all don't mind I'm mixing my Christmas references.
It's one of those perfectly magical Christmas things, and I love that these marshmallows capture it.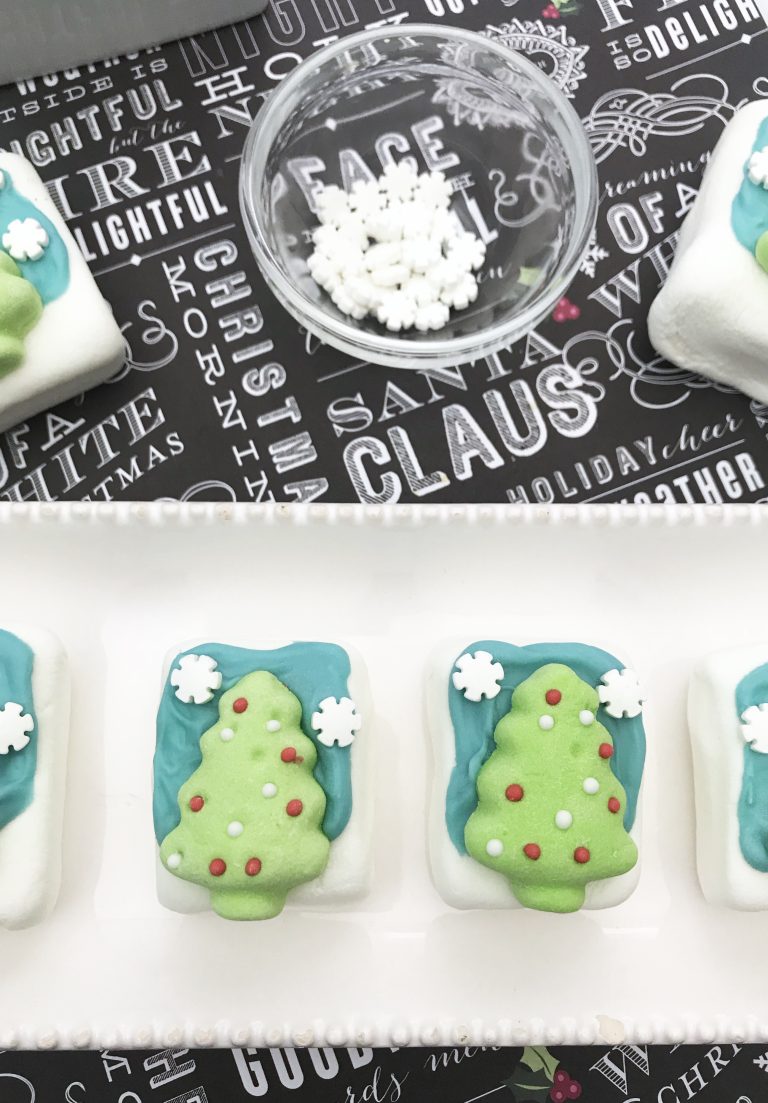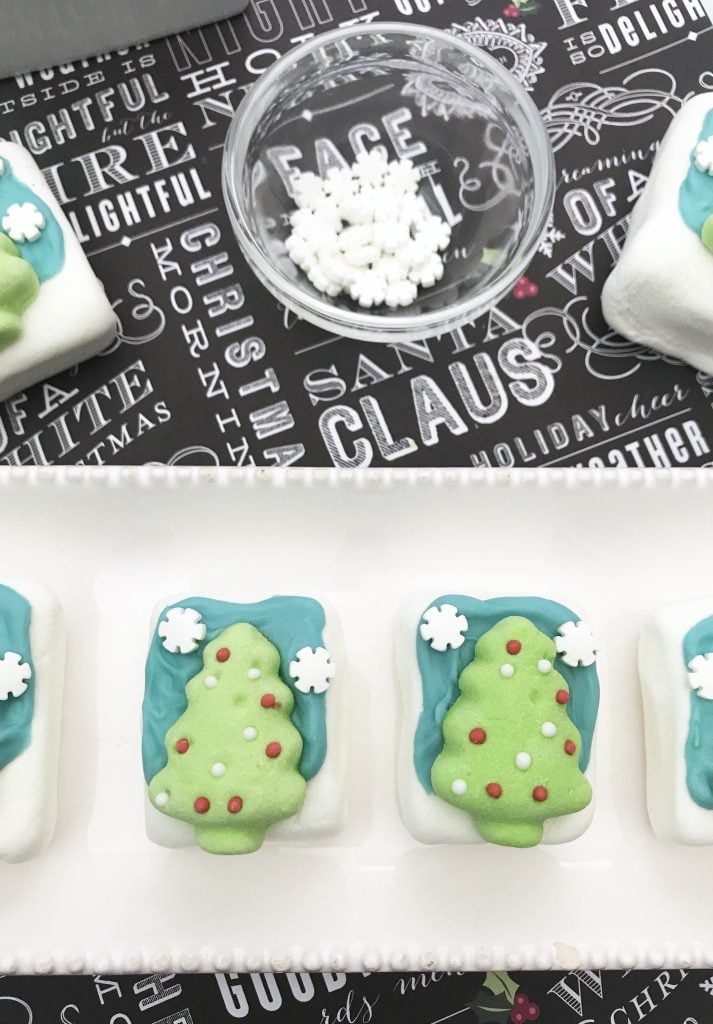 Once the blue candy melts are spooned on to the marshmallows, press the Christmas tree icings on to the candy melts and then finish each off with the snowflake sprinkles. Then, done.
No sweat broken, barely any mess. Just a whole lot of Christmas magic in these Christmas tree window marshmallows.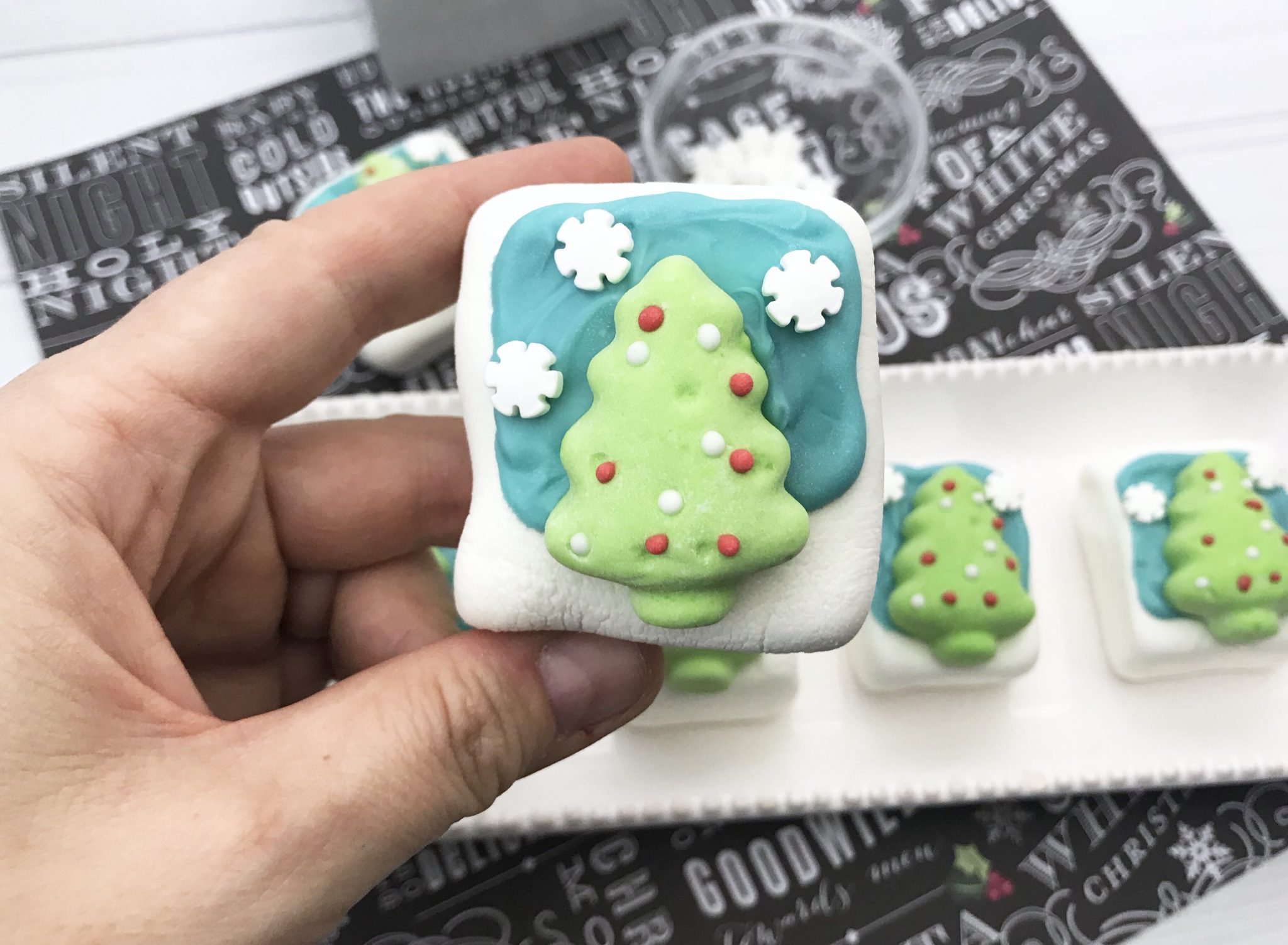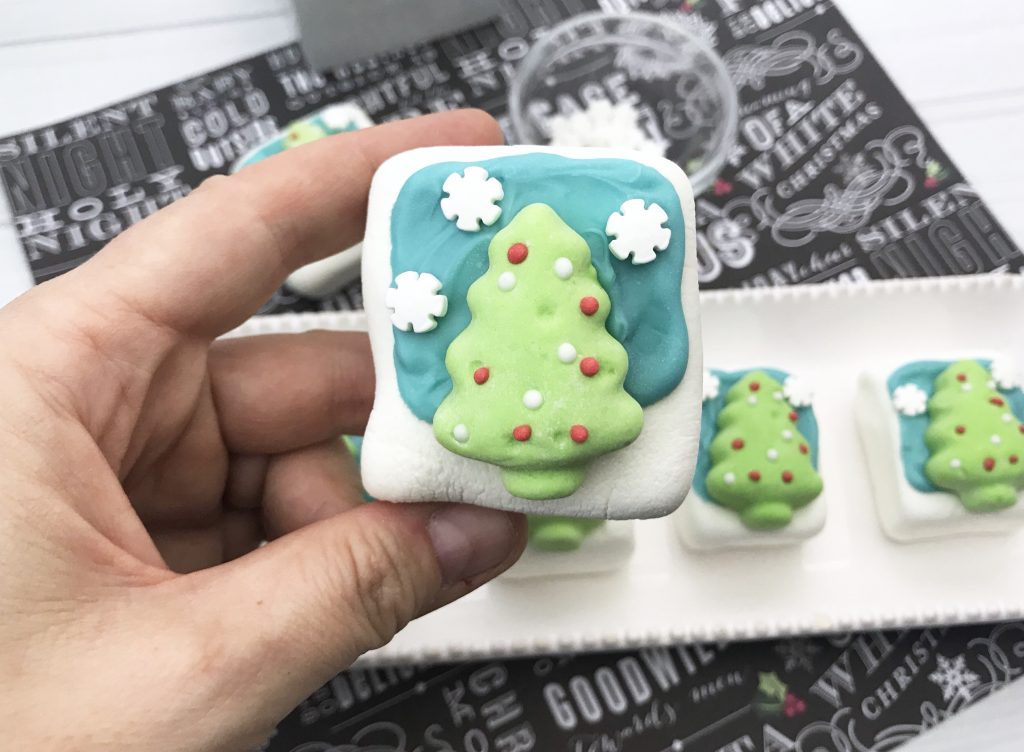 Then enjoy these magical marshmallows alone or serve them as part of a cookie platter. Or for the most magical Christmas experience of them all, make them on a snowy December day and serve them on top a big, piping hot cup of cocoa. Drink it while you watch the snow fall gently outside while Christmas music wafts softly through the air.
Other Christmas Themed Recipes You Might Also Enjoy:
If you've tried these CHRISTMAS WINDOW MARSHMALLOWS, or any other recipe on the site, let me know in the comment section how it turned out, we love hearing from our readers! You can also follow along with me on PINTEREST, FACEBOOK, and INSTAGRAM to see more amazing recipes and whatever else we've got going on!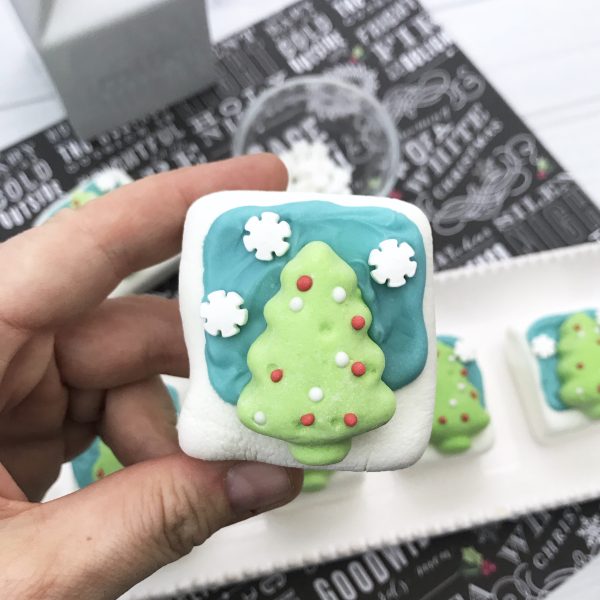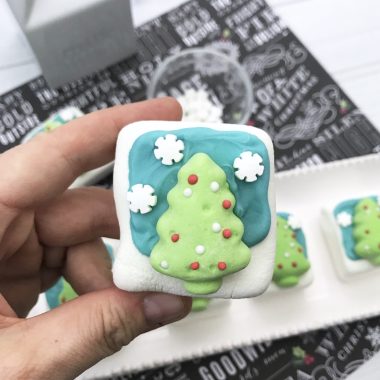 Ingredients
12

Kraft Jet-Puffed S'moremallows

12

oz

package of Wilton light blue candy melts

White snowflake sprinkles

12

Christmas Tree icings
Instructions
Line a large baking sheet with wax paper (easy clean-up).

Pour the Wilton light blue cnady melts into a microwave safe dish and heat in the microwave in 30 second increments, stirring occasionally until melted.

Use a small spoon or spatula to gently spread the melted chocolate on marshmallow leaving a small amount of white at the bottom.

Place a tree onto the marshmallow and melted chocolate.

Add a few snowflake sprinkles around the tree.

Repeat with all the marshmallows.

Enjoy as is OR in hot cocoa.