Love a good burger for a hearty lunch or dinner? Infuse yours with authentic Asian flavor with these easy Mongolian Barbecue Burgers with Asian Slaw. Thick, juicy Mongolian flavored burgers topped with an Asian style slaw are sandwiched between buttery brioche buns, and ready for you to tuck right into.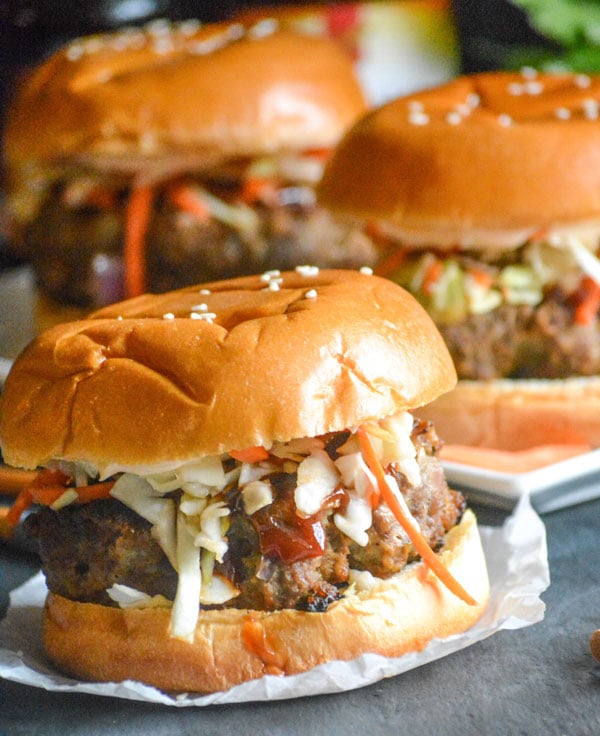 Have you pulled out the big comforter, hoodies, and hot chocolate yet? We sure have!
As soon as the temps drop, we're all about embracing the season. For me, Fall means flavor- specifically savory saucy meaty comfort food.
Usually, that means I conform to one of two flavor profiles- down home Southern style, or saucy Asian flavored dishes.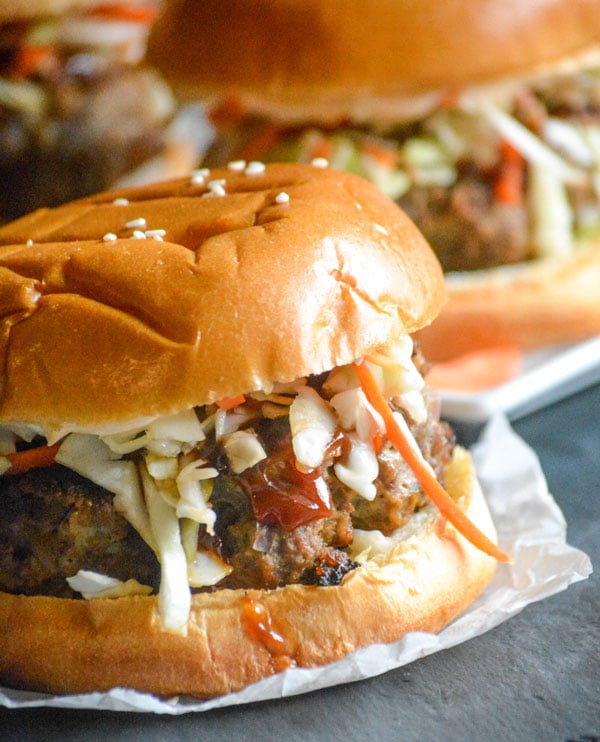 I cannot tell you how stoked I was, when I was in my local Walmart, to discover that P.F. Chang's Home Menu® Sauces had added to their amazing line of sauces.
We've used several of their yummy line before. It includes some of our favorite flavors, specifically Teriyaki, Sesame, and a fantastic Kung Pao. Imagine my delight when we found they'd added Soy & Mongolian versions to the mix.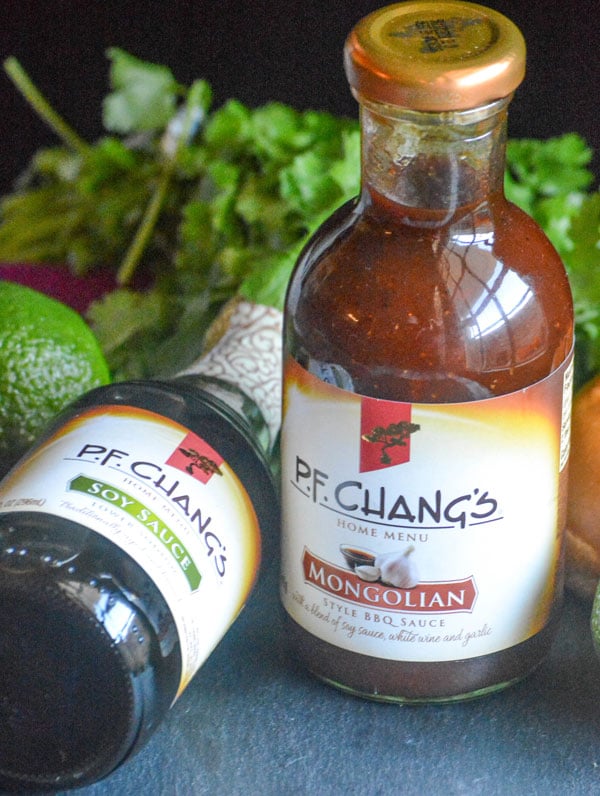 You know one of each was going into my cart- no questions asked. I mean for me it's a no-brainer. In one bottle I get authentic Asian flavor that I can incorporate into any recipe I see fit, without adding any complicated steps for myself.
For me, that's just smart shopping.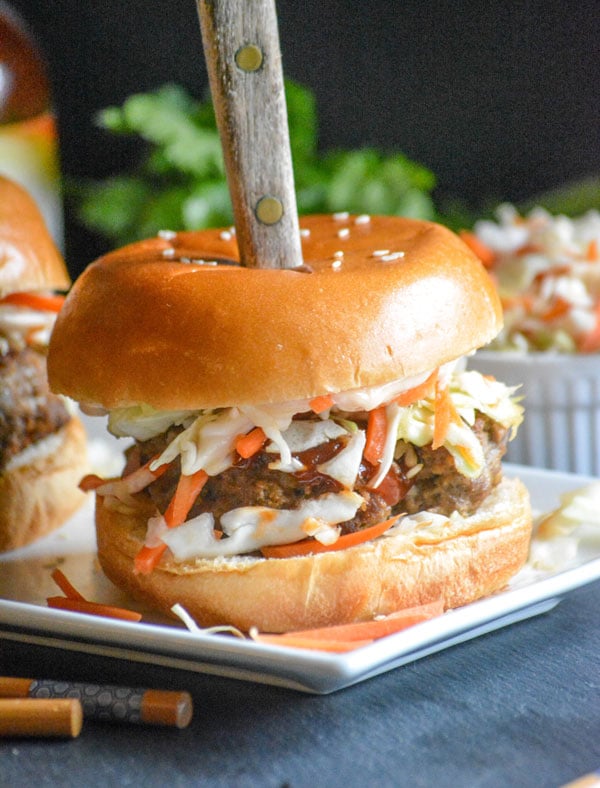 For us, there's nothing better than diving into a hearty burger when it's cold outside. It's just so comforting. It tastes like home, something Mama & Grandma made.
But what about a burger that takes the best of old school, and gives it a new twist? Combining a family favorite with a saucy finish from a few key ingredients and a new marinade.
Luckily, it's easy to get just that (and more) in one burger. A burger that will totally transform your taste buds. The secret ingredient? NEW P.F. Chang's® Home Menu Mongolian Sauce! And, of course, a few finishing touches.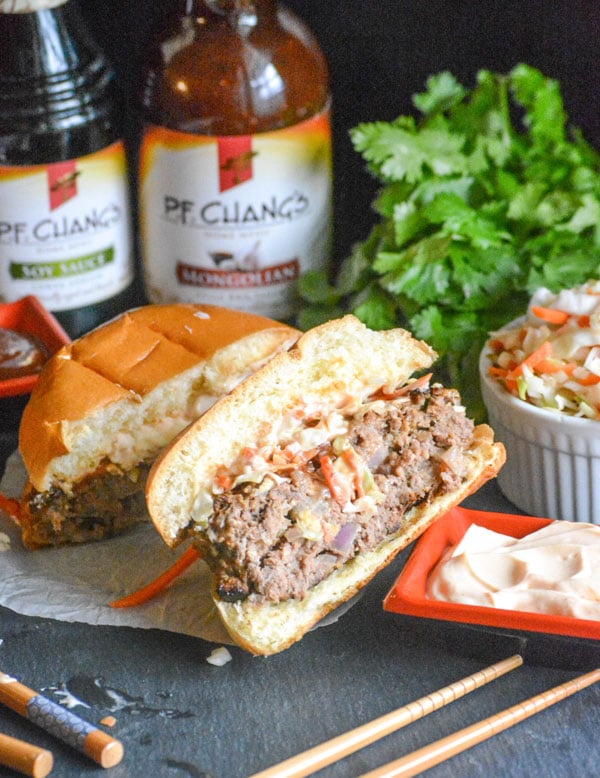 Tender, juicy homemade Asian spiced beef patties are marinated in the Mongolian flavored sauce before being pan fried and placed on a fluffy, buttery brioche buns topped with a sprinkle of sesame seeds.
Topped with a sweet, slightly tangy Asian style slaw, these Mongolian Barbecue Burgers with Asian Slaw are slathered with a hoisin ketchup and sandwiched between buns covered in a garlic chili mayo.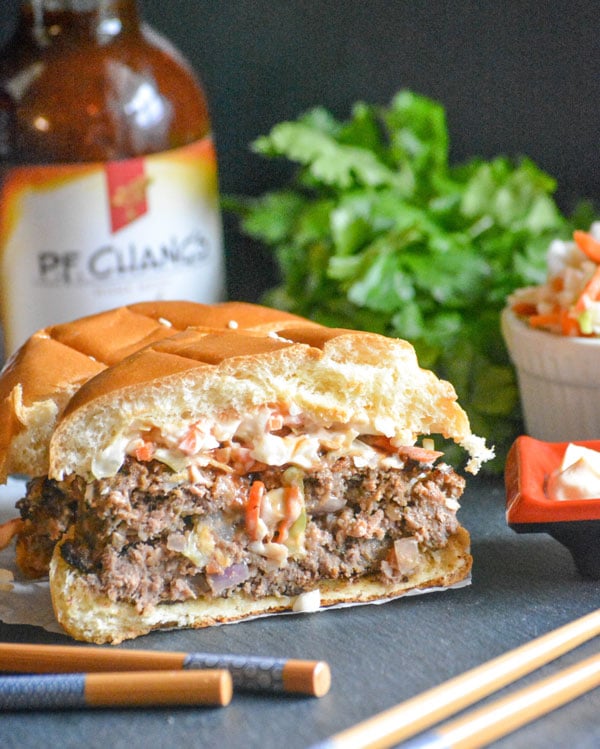 It's a mind blowing flavor combination that makes a filling, cozy burger with a new twist on an old family favorite.
Other Out Of The Box Burger Ideas
These Mongolian Barbecue Burgers with Asian Slaw offer authentic Asian flavor, in easy to enjoy hand held form. Literally, the perfect thing to eat in your hoodie, and to celebrate with a delicious hot tea or chocolate.
If you've tried this MONGOLIAN BARBECUE BURGERS WITH ASIAN SLAW, or any other recipe on my site, let me know in the comment section how it turned out, we love hearing from our readers! You can also follow along with me on PINTEREST, FACEBOOK, and INSTAGRAM to see more amazing recipes and whatever else we've got going on!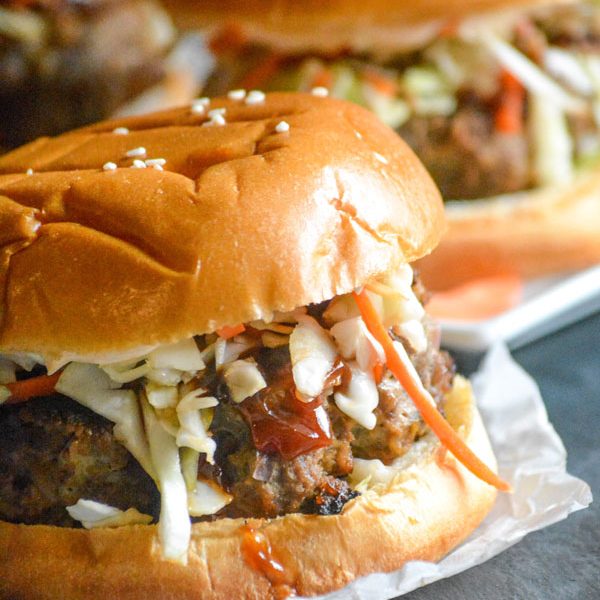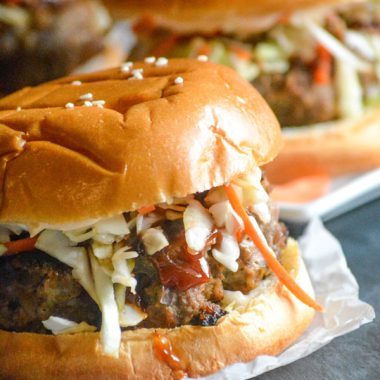 Mongolian Barbecue Burgers with Asian Slaw
The complete oriental burger, this features Mongolian beef flavored, Asian seasoned patties, topped with a tangy Asian slaw, and sandwiched between two buttery sesame seed topped buns.
Print
Pin
Rate
Ingredients
4

brioche buns

1

tbsp

melted butter, optional

sesame seeds

1

tbsp

olive oil
To Make The Burgers
1

lb

lean ground beef

1

large

egg, lightly beaten

1/2

cup

panko bread crumbs

heaping 1/3

cup

PF Changs Mongolian Sauce

1

tsp

hot chili sauce

1 1/2

tsp

garlic powder

1

tbsp

lemon juice

1/2

tbsp

brown sugar

1

tsp

dried basil

1/2

tsp

ground ginger

salt & pepper, to taste
For The Chili Garlic Mayo
1/2

cup

mayo

1

tsp

asian garlic chili sauce
For The Hoisin Ketchup
1/4

cup

ketchup

1

tbsp

hoisin sauce

1

tbsp

soy sauce

1/2

tbsp

lemon juice
For The Asian Slaw
4

cups

coleslaw, large pieces removed

1

cup

matchstick carrots

2

tsp

rice vinegar

1

tsp

soy sauce

1

tsp

lemon juice

1/2

tsp

sugar

1/2

tsp

sesame oil
Instructions
To Make The Burgers
In a large bowl, add all of the burger ingredients and use your hands to mix well. Shape the mixture into 4 patties, roughly the size of your buns. Make a deep thumb print in the middle of each patty (to help them cook evenly), and refrigerate them for 15 minutes.
To Make The Asian Flavored Condiments
In a small bowl, whisk together all of the ketchup ingredients. Refrigerate, covered, until ready to use.

In another small bowl, whisk together the mayo ingredients. Refrigerate, covered, until ready to use.
To Make The Asian Slaw
To a large bowl, add the slaw and carrots. Toss with the remaining ingredients, until mixed well. Refrigerate, until ready to use.
To Fix The Burgers
In a large skillet, over medium high heat, heat the olive oil. Once the oil is hot, add the patties. Continue cooking until they're charred on one side, about 3 minutes. Flip the patties, and char the other side, for the same amount of time.

Cover the pan and cook an additional 3-5 minutes, or until your desired done-ness.
To Assemble
Spread the tops of the burgers with melted butter. Sprinkle with sesame seeds. Let sit.

Spread the inside of the buns liberally with the mayo. Top bottom buns with burgers. Spread the ketchup liberally out over top. Add a generous heaping helping of Asian slaw, top with the other side of the bun, and enjoy!
You can find all of P.F. Chang's® Home Menu Sauces in the Asian aisle at your local Walmart. Be sure to stock up, and if you need some extra inspiration, check out these great ideas.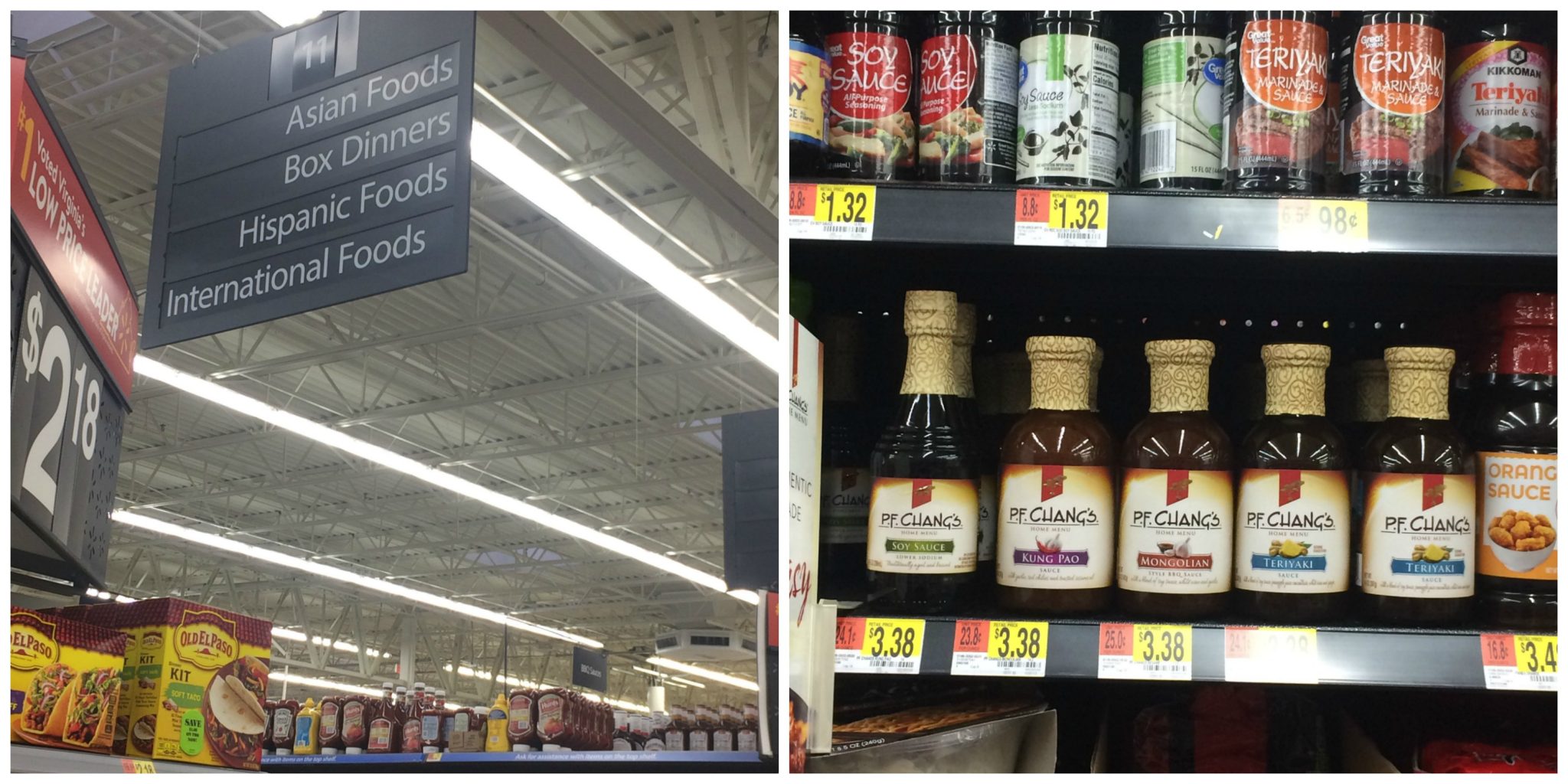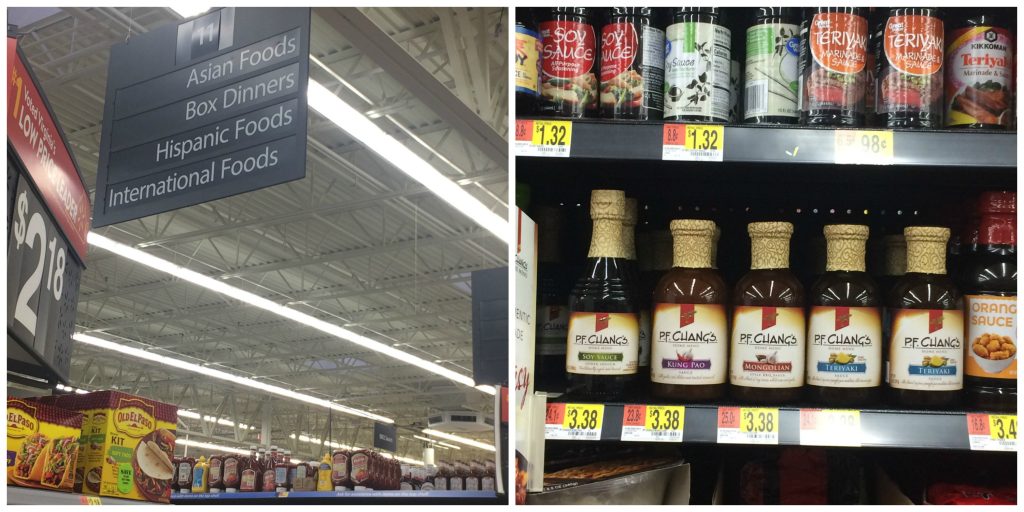 P.F. Chang's and P.F. Chang's Home Menu® are registered trademarks owned by P.F. Chang's China Bistro, Inc. and are used with permission.