A hearty pot pie always seems like a good idea when snow & cold weather are in the forecast. This Cheddar Bay Biscuit Chicken Cobbler is an updated version of the classic dinner recipe.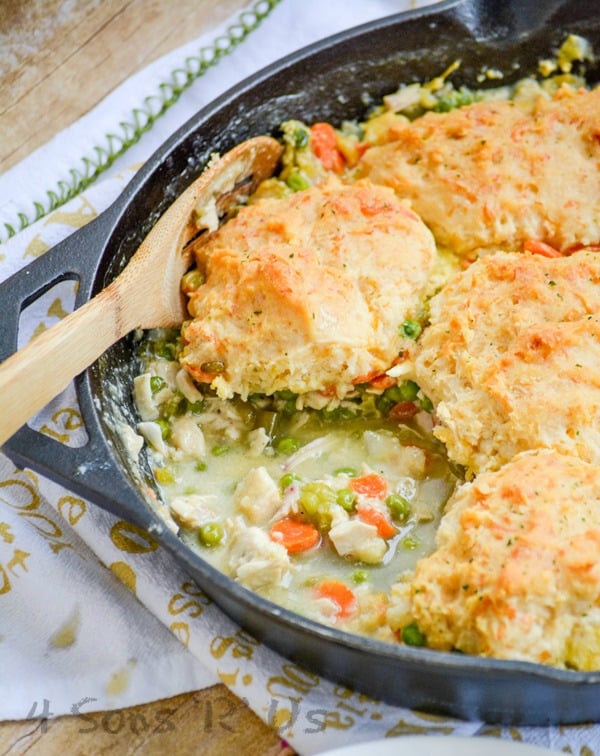 Lawd, have mercy! My kids have all been hit by the struggle bus this week.
I realize Winter break is right around the corner, but it ain't here yet boys.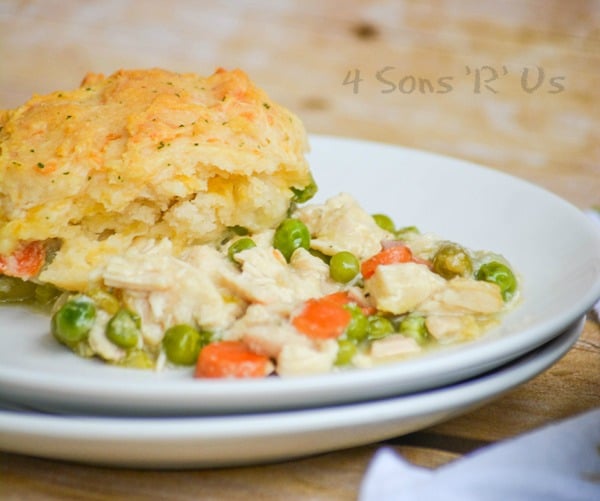 The most menial tasks are difficult right now. From the moment they roll out the bed in the morning, until they're on their way back there in the evening.
It's rough, guys. I'm not even lying. Our morning routine has gone from 30 minutes, to an exhausting hour just to get the same things accomplished. Homework? According to my kids nobody does that anymore or it's a cruel and unusual punishment. Ask me which excuse they give depending on the day, lol.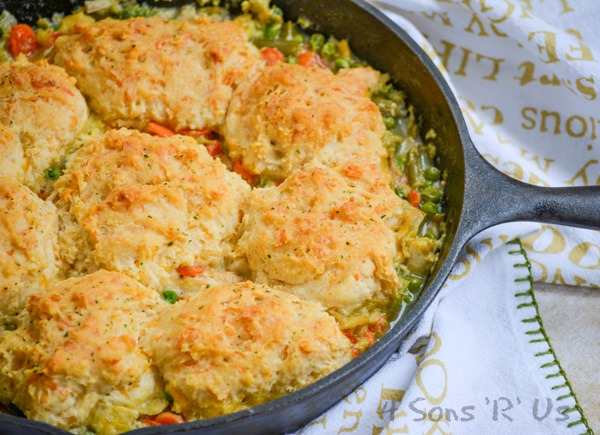 One thing I do know? Snow is in the water. Well, really- it's in the forecast. It's in the forecast for this weekend actually.
Naturally, they're all kinds of excited. Also, let's be honest, who's worried about school work in the face of an impending blizzard?? I get it, I really do. Unfortunately, I still have to be Mama and bring the hammer down and make sure order ensues.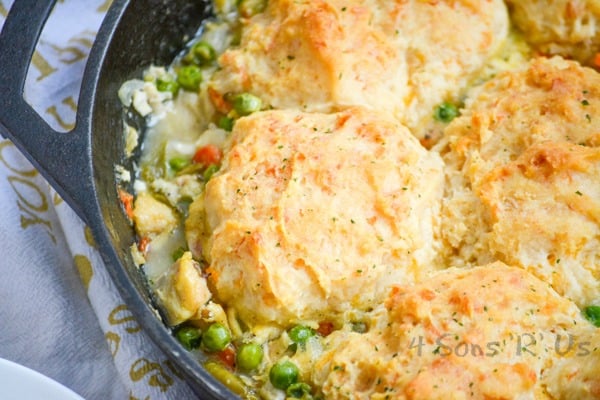 A little birdie told me that an active early December (snow wise) can often be indicative of an active Winter. *Fingers Crossed*
What I do know, is that while we all begrudgingly trudge through this last week of academia before the holidays and vacation hit, I'll keep my boys well fed. Who knows, maybe my yummy Cheddar Bay Biscuit Chicken Cobbler will be a fitting distraction.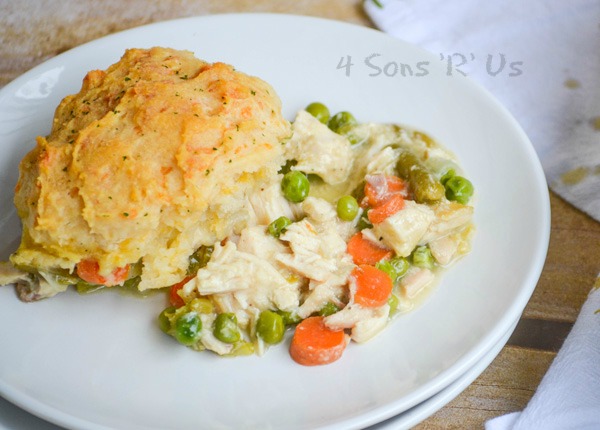 A cream chicken pot pie like filling featuring plenty of healthy veggies is tucked into a cast iron skillet and bubbling under a bed of cheesy cheddar bay biscuits.
Other Pot Pie Style Recipes
Cheddar Bay Biscuit Topped Chicken And Veggie Cobbler is a dish best served hot, and ready for you to sink your fork into. It's down home, comfort food just like Grandma used to make with a cheesy, crumbly biscuit topping instead of a pie crust. Better to saver every bit of juicy sauce with!
If you've tried this CHEDDAR BAY BISCUIT TOPPED CHICKEN COBBLER, or any other recipe on my site, let me know in the comment section how it turned out, we love hearing from our readers! You can also follow along with me on PINTEREST, FACEBOOK, and INSTAGRAM to see more amazing recipes and whatever else we've got going on!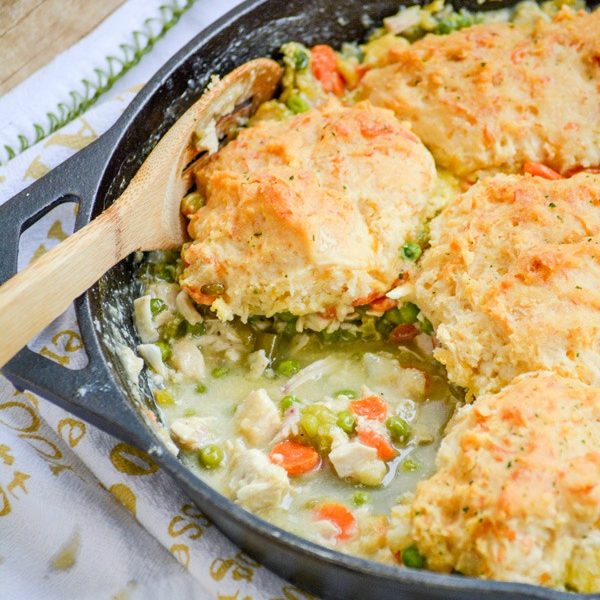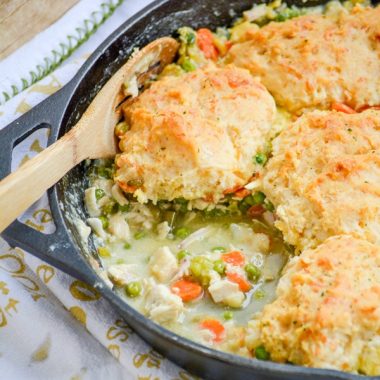 Cheddar Bay Biscuit Topped Chicken Cobbler
A creamy chicken & veggie cobbler, this one's topped with a cheesy biscuit crust for the ultimate comfort food mash up, all in one skillet.
Print
Pin
Rate
Ingredients
For The Chicken & Veggie Cobbler
2

tbsp

olive oil

1

medium

white onion, diced

1

heaping cup

peeled, sliced carrots

1

cup

sliced mushrooms

2

tsp

minced garlic

6

fresh

sage leaves, chopped

1 1/2

tbsp

fresh thyme leaves,

5

tbsp

butter

1/3

cup

flour

1 3/4

cups

chicken broth

1/2

cup

half & half

1

cup

frozen peas, thawed

1

lb

chopped rotisserie chicken

salt & pepper, to taste
For The Cheddar Bay Biscuits
2

cups

all purpose flour

1

tbsp

sugar

1

tbsp

baking powder

2

tsp

garlic powder

1/2

tsp

salt

1/4

tsp

cayenne pepper, optional

1

cup

buttermilk

1/2

cup

unsalted butter, melted

1 1/2

cups

shredded cheddar cheese

2

tbsp

butter

1

tbsp

chopped fresh parsley leaves

1

tbsp

garlic powder
Instructions
To Make The Cobbler
To a large cast iron skillet, add the oil & onions. Stir, cooking over medium high heat, just until the onions begin to turn translucent.

Stir in the mushrooms and carrots, reducing the heat to medium, cooking and stirring again until the become tender.

Stir in the sage, thyme, and butter. When the butter's melted, stir in the flour until it's adhered to everything and no clumps remain. Let it cook, stirring, for one minute more.

Add the broth & milk, a little at a time and stirring constantly, until completely incorporated. Salt & pepper the mixture to taste. Continue cooking until the filling is bubbling and thickened.

Fold in the chicken and peas. Remove the skillet from heat.
To Make The Cheddar Bay Biscuits
To a large mixing bowl, add the flour, sugar, baking powder, garlic powder, salt and cayenne pepper, if using.

In a separate, smaller bowl- whisk together the buttermilk and the half cup of melted butter.

Pour the milk and butter mixture over the dry ingredients in the larger bowl and stir, using a rubber spatula, just until moist. Using the same spatula gently fold in the cheese.

Using a large spoon, drop biscuit sized dollops (about 1/4 cup) of dough onto the top of the cobbler. Remember they will plump up and spread some when baked.

Bake the cobbler at 400 degrees for 20 minutes, or until the biscuits are golden brown and a toothpick inserted in the center comes out clean.

In a small pot, melt (

and stir together) the butter, parsley, and garlic. Brush the mixture out over the tops of the biscuits. Let rest 1-2 minutes, and serve.
Nutrition
Calories:
1255
kcal
|
Carbohydrates:
80
g
|
Protein:
56
g
|
Fat:
80
g
|
Saturated Fat:
42
g
|
Polyunsaturated Fat:
4
g
|
Monounsaturated Fat:
21
g
|
Trans Fat:
2
g
|
Cholesterol:
284
mg
|
Sodium:
1710
mg
|
Potassium:
821
mg
|
Fiber:
6
g
|
Sugar:
12
g
|
Vitamin A:
3153
IU
|
Vitamin C:
14
mg
|
Calcium:
600
mg
|
Iron:
6
mg