A meal made in homemade heaven, this savory Ham & Vegetable Cobbler features a heaping helping of veggies in a seasoned roux- all tucked under a flaky, buttery pie crust. It's a dish your Grandma would be proud of, and one a new generation will rave about.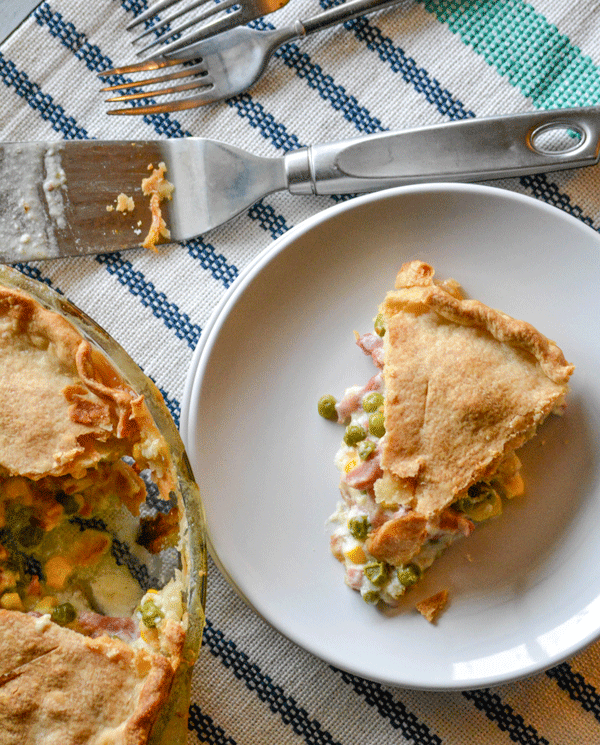 There was always something comforting, growing up with a regular menu. Not that we ate the same thing every night, but it gave us all something to look forward to. Waiting on our favorite dish to reappear on the supper table.
There would be newcomers to the family menu every now and then, but we always held out for the family favorites. These usually consisted of something creamy, possibly cheesy (not a must). Add in any kind of crust, pasta, dumpling, etc- I was sold.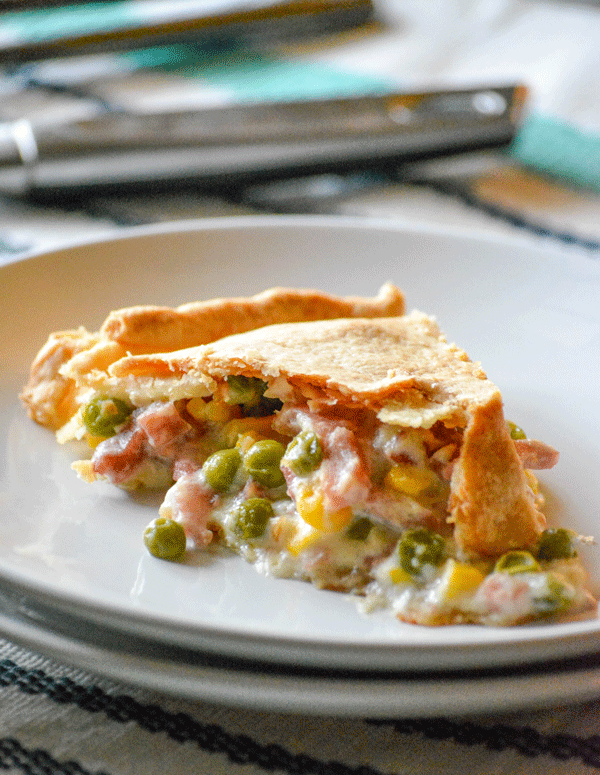 My Grandma was one of those master cooks too. Master cooks, before it became a show or any kind of actually accredited title. She just was.
Grandma was one of those real cooks, that could just peep in the fridge, take whatever was on hand out, and turn it into a phenomenal dish. She had a gift that way.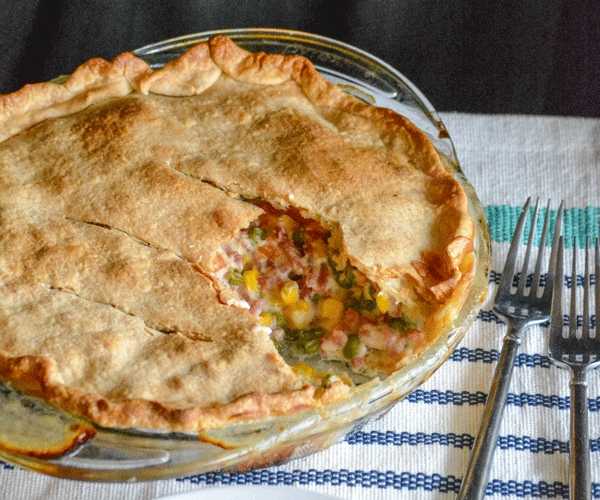 Add a spare pie crust into the mix, and she was in serious business. I can't tell you the things this wizard could stuff with, or find to do, with a pie crust and turn it into a delicacy.
Whether it was turning it into a gourmet quiche or two, or using the leftover scraps to make a real treat for us kids. Don't take scraps to mean we were dirt poor, either. Scraps just meant any leftover meats or veggies in the fridge from the week. There were always many. More after holidays.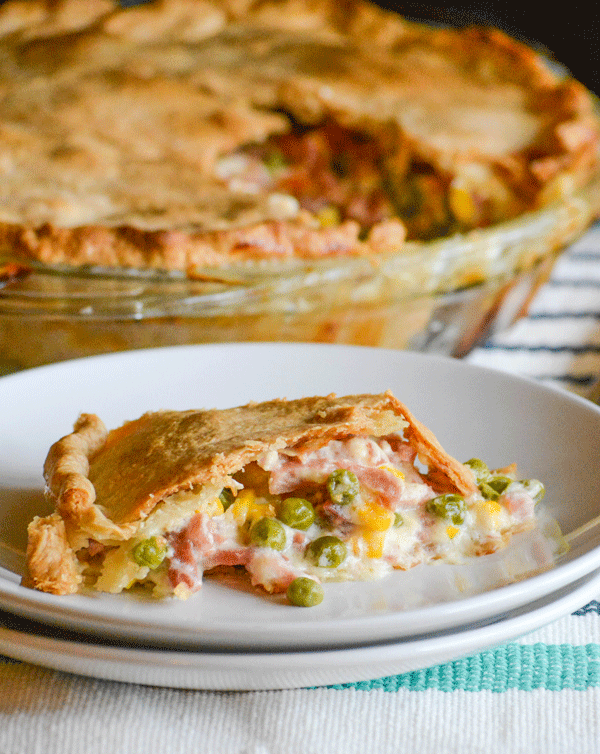 Ham was always one of those things we had a true abundance of. All year long. Not only leftover from Christmas and then Easter, but just because my mother was smart and stocked up after the holidays. Even now, I stock up on hams at Costco when they're on sale right before the holidays.
I keep them in our over stock fridge in the garage until ready to use. Then I use my electric knife to slice them into thin slices. Some of those I bag for sandwiches. The rest I dice up and measure into cup sized servings to freeze and use for recipes. You really can't beat it.
Same thing with pie crusts- I always keep some of those on hand. You never know when a good crust will come in handy, and like Grandma showed me- it makes some magic with just about any kind of filling. Instead of a pot pie, I decided on a cobbler- a Ham & Vegetable Cobbler specifically.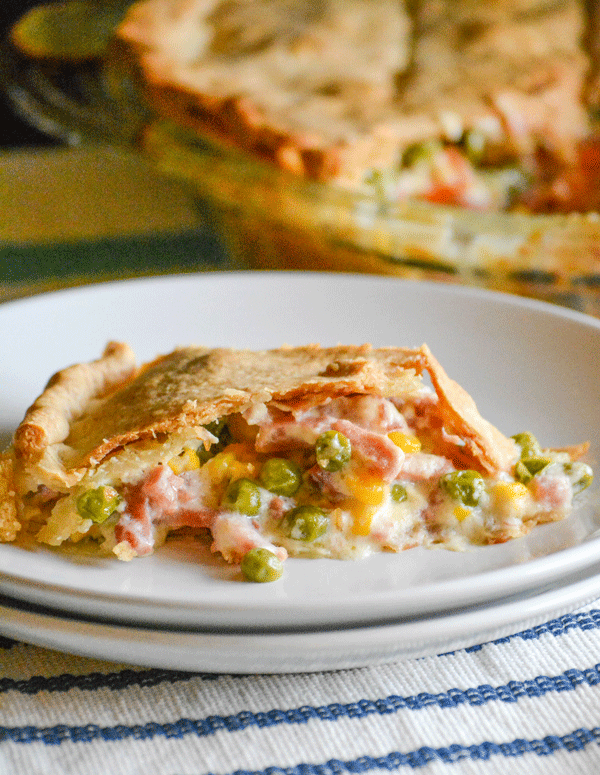 Cobblers & pot pies aren't the same obviously, but they are super similar- like kissing cousins, the pastry version. Instead of a ham and vegetable filling sandwiched between two crisp, flaky layers of crust- a cobbler on has one pastry layer on the top.
Like so many savory pies & cobblers this one also begins with a thick roux. The thickened mixture of flour and butter comes together when whisked with milk & some chicken stock for flavor. A dash of thyme is in there too.
Chopped ham and a bevy of thawed frozen veggies are then stirred in. The filling is then simmered until the veggies are heated, then transferred to a waiting deep pie dish. Topped with a refrigerated pie crust, the edges are pinched against the dish to seal it closed. Three slits are cut into the top to allow steam to escape while cooking.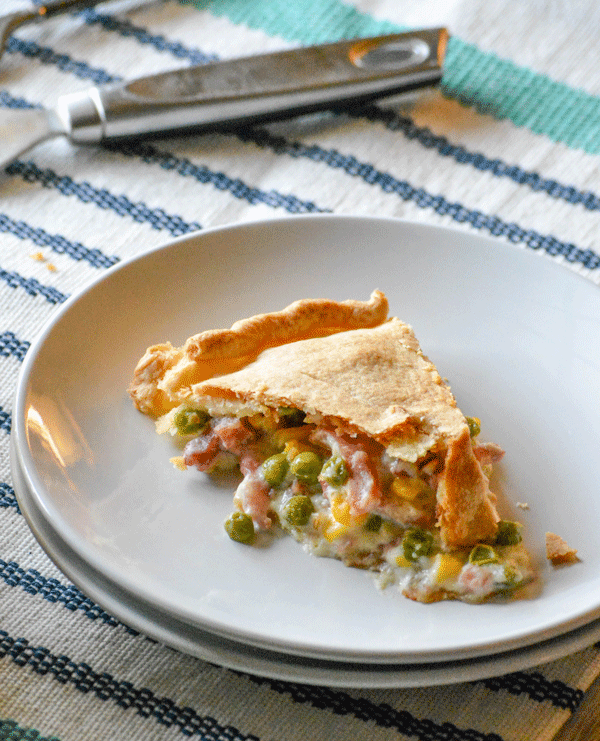 This Ham & Vegetable Cobbler is then cooked at 450 degrees for 35-40 minutes, or until the filling's hot, bubbly & the pie crust is a beautiful shade of golden brown.
Sliced and served steaming hot on a plate, this is the cobbler Grandma would be proud to call her own. Even prouder to know you made it yourself, without the help of the family recipe box!
Other Yummy Cobbler Recipes To Try: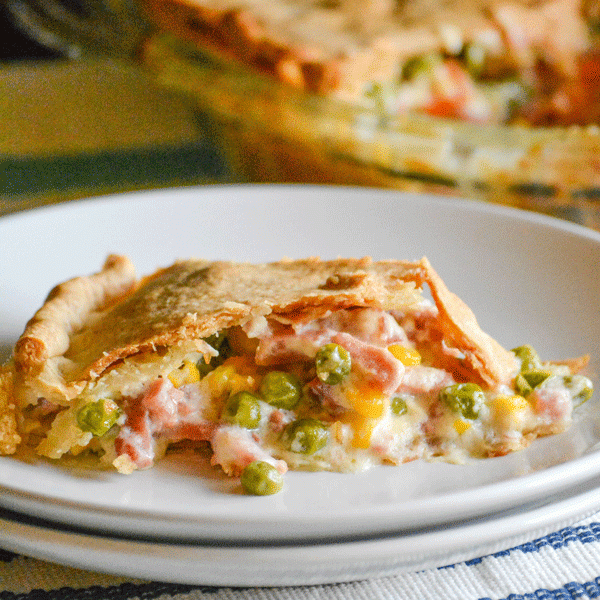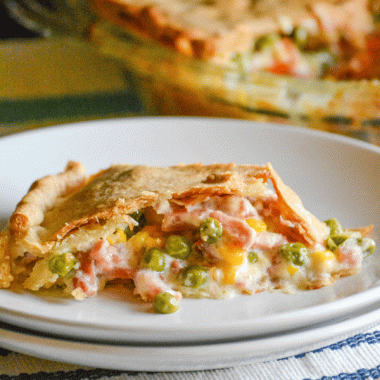 Ham & Vegetable Cobbler
A savory cobbler, this one features a buttery flaky crust over top a creamy bed of chopped ham and mixed vegetables.
Print
Pin
Rate
Ingredients
1/4

cup

butter

1/4

cup

flour

3

cups

whole milk

1/2

cup

chicken stock

1/2

tsp

dried thyme

2

cups

chopped cooked ham

1

10 oz pkg

frozen peas & carrots

1

cup

frozen green beans; thawed

1/2

cup

frozen corn kernels; thawed

1

refrigerated pie crust
Instructions
Heat a large skillet over medium heat, and melt the butter in it. When melted, whisk in the flour until the mixture's uniform and paste like in consistency. Let it cook, whisking constantly for 30 seconds to cook out the floury taste.

Whisk in the milk, a little at a time, then add the broth and the thyme, and whisk the mixture constantly for 6-8 minutes- until it's smooth, bubbling, & thickened.

Add the ham and the veggies, stirring to completely incorporate. Let the mixture simmer for another 5 minutes, until the veggies are heated through. Pour the mixture out into a deep, lightly greased 9" pie dish. Use a spatula to spread it out evenly.

Unroll the pie crust, and spread it out evenly over the top of the dish. Crimp the edges to seal the dish closed. Use a sharp knife to cut three slits in the top of the crust.

Bake the dish at 450 degrees for 35-40 minutes, or until the filling is bubbly & the crust's a perfect golden brown.
Nutrition
Calories:
355
kcal
|
Carbohydrates:
29
g
|
Protein:
14
g
|
Fat:
21
g
|
Saturated Fat:
10
g
|
Cholesterol:
53
mg
|
Sodium:
787
mg
|
Potassium:
267
mg
|
Fiber:
2
g
|
Sugar:
8
g
|
Vitamin A:
575
IU
|
Vitamin C:
2.5
mg
|
Calcium:
152
mg
|
Iron:
1.7
mg