Many stews, soups, and chowders exist, but few hold a candle to a traditional Brunswick stew recipe. This is the ultimate meat & potato dish. It's a one dish meal served in a soup bowl. Unlike other soups & stews though this one's packed full of as much savory meat as it is vegetables for an irresistible result.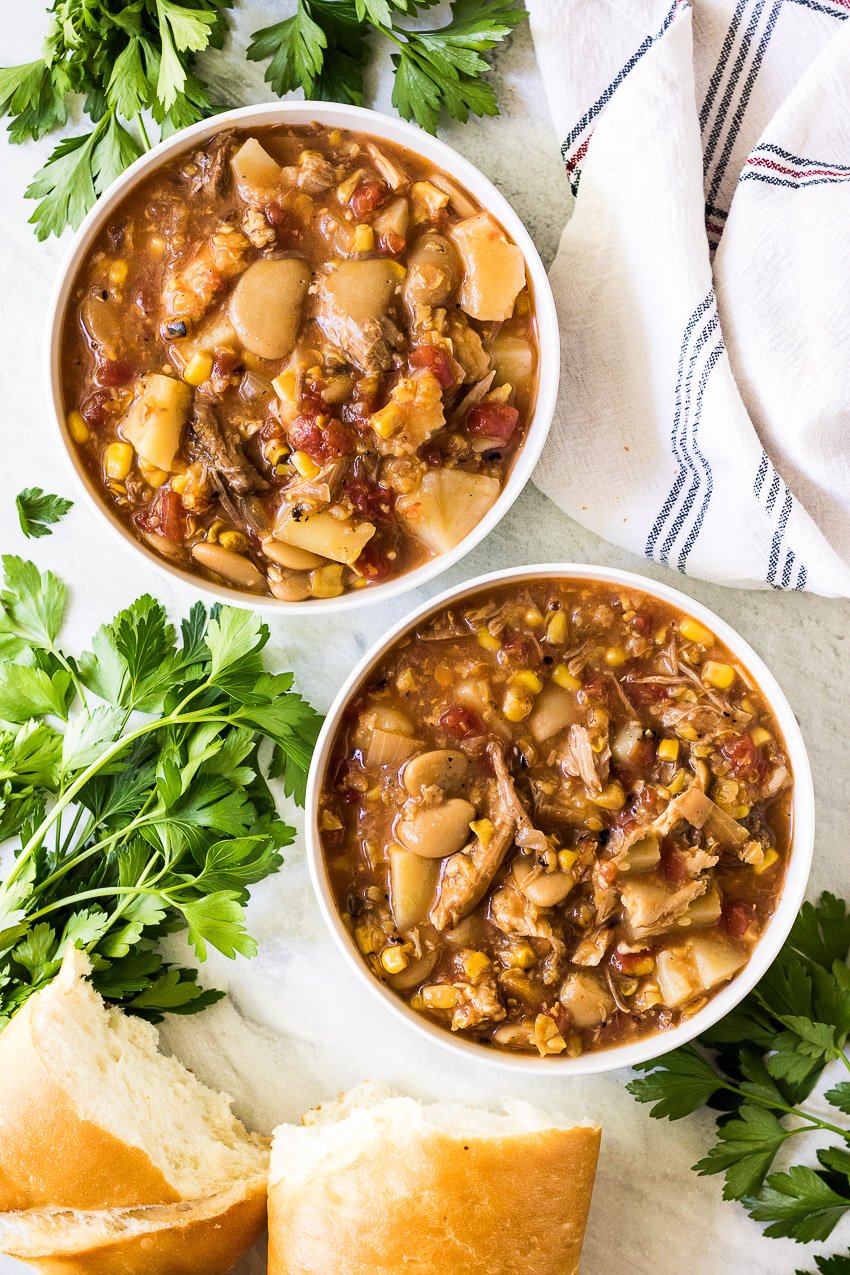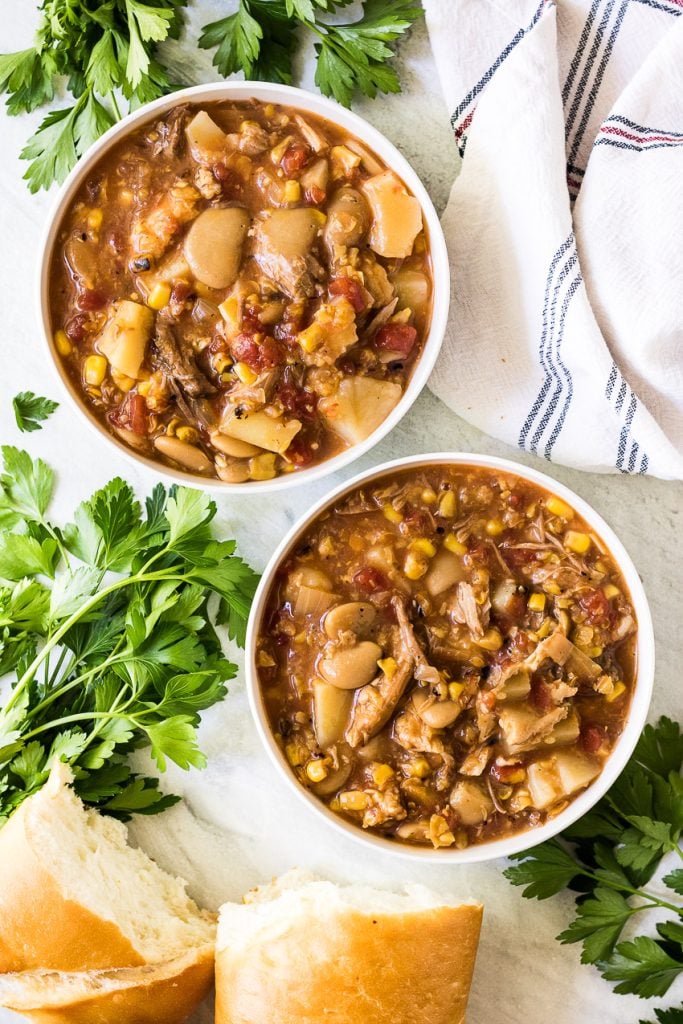 Brunswick Stew bubbling away on the stove just smells like Fall. With snow flurries this week and freezing temps, it was the perfect way to warm up. My family loves Brunswick Stew. It's pretty much the only soup/stew that we all can agree on.
We've had store-bought and boy-scout made, all in search of that perfect version at an affordable cost. Just smelling this recipe while it cooked, and then tasting the flavors after they'd melded… there was no denying that this is now the only version for us.
Not to mention, that while it was definitely cheaper than anything we've purchased so far and the most delicious, it also made enough for a hearty dinner with enough leftovers to freeze for two more meals.
That's what I call efficient! My dutch over was, literally, brimming with awesome-sauce. Is that even a word? If not, it should be, specifically for this recipe.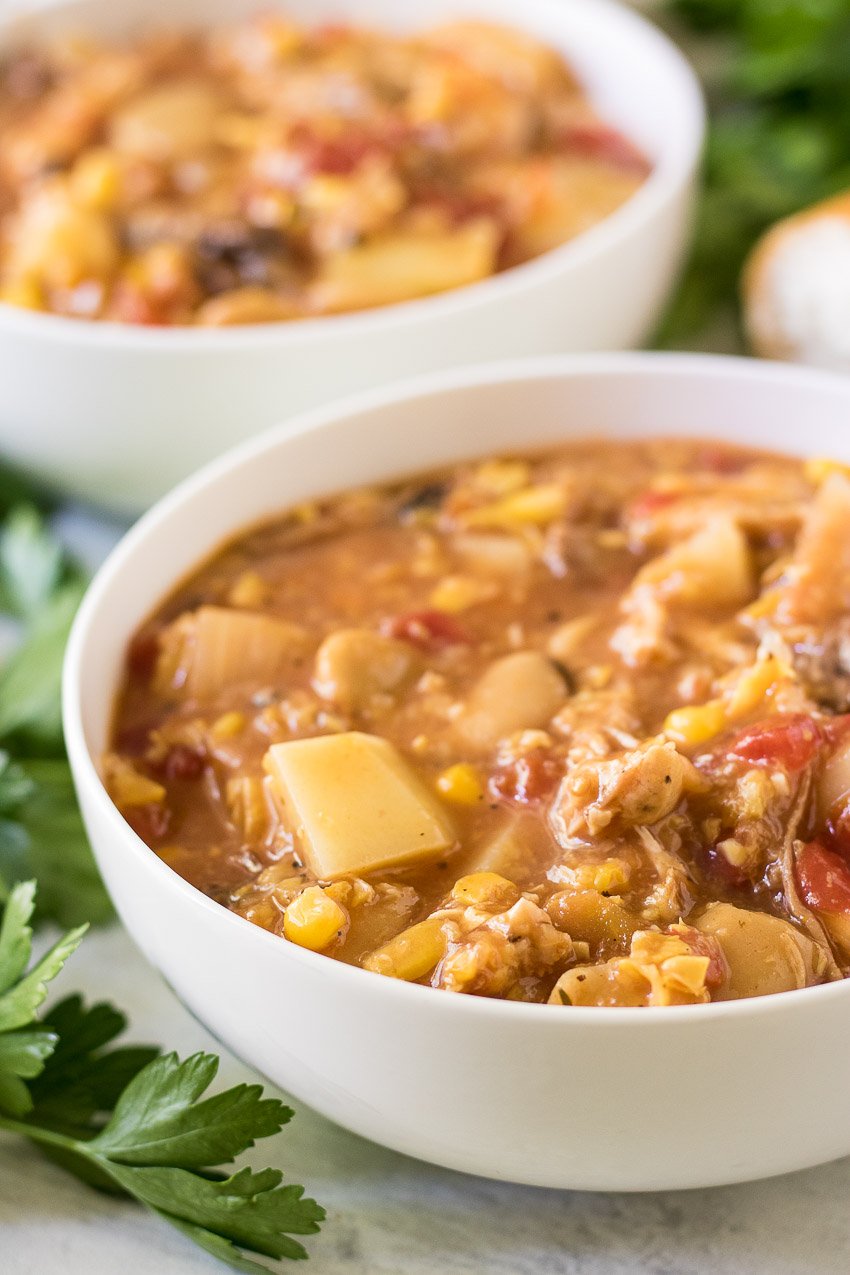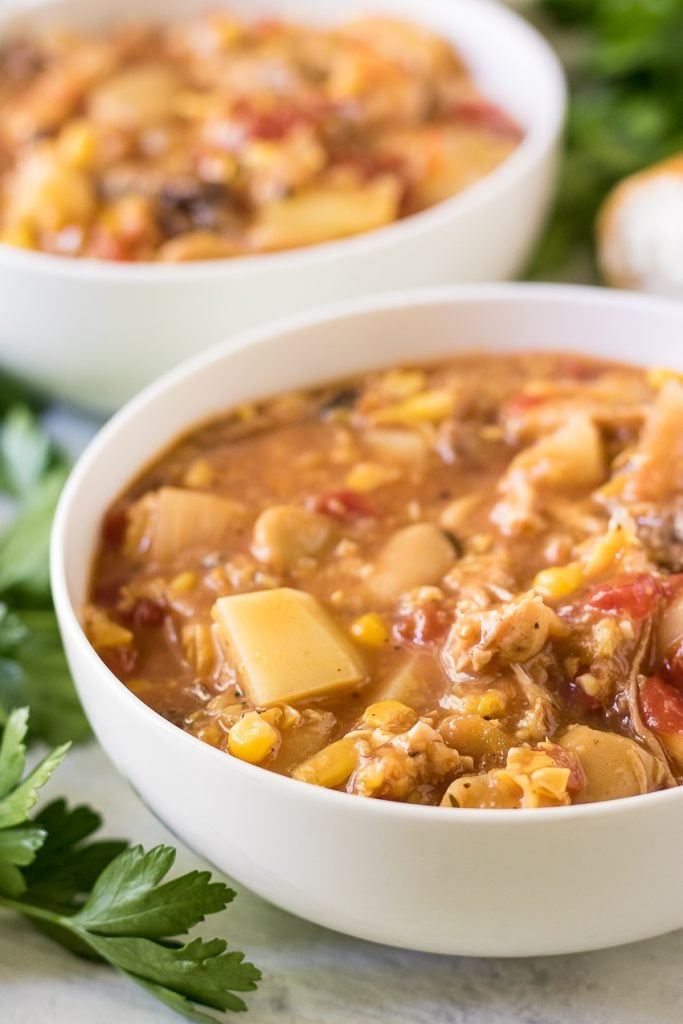 What Makes A Traditional Brunswick Stew?
If you aren't from the Southern United States, you probably just know and love Brunswick stew as a thick, hearty dish chock full of meats and veggies that's perfect for Fall.
It actually originated as a hunters' dish. Meaning that originally you could find all kinds of various meats in it; rabbit, squirrel, and even opossum.
It was an Appalachian mountain staple, and very much a kitchen sink kind of dish. Whatever available meats and veggies on hand were thrown into the family stew pot.
In it's original conception it was very much a 'poor man's' dish. But as with everything else, over time has evolved. We may no longer associate it with game meat, but people knew a good thing when they tasted it. Naturally, it stuck around.
It was a stew that cooked long, and slow. This allowed the tougher, gamier meats to tenderize while flavor was infused into every bit of the pot.
We've kept the traditional slow simmer as a cooking method, but we've long since adapted it to include preferred meats of our time and location- namely beef, pork, and chicken.
Georgia or Virginia, what's the difference & who makes the more authentic Brunswick stew recipe?
If you're not familiar with the area, the Appalachian mountains are big and their range is long. They run pretty much the entire Eastern seaboard, stretching from Maine all the way down into Southern Alabama. That means the cross 18 states.
It's only natural that along the way there would develop different methods for the same recipe. I'm always surprised that it only gained a real foothold in two, Georgia & Virginia.
Everyone pretty much everywhere in the South loves a good Brunswick stew. But in these two particular states- each swears their recipe is the original, the most authentic, and obviously the best.
Probably because whether it's Brunswick, Georgia or Brunswick county, Virginia both have the name. What's the real difference though?
Georgia Brunswick Stew
Georgians claim their original recipe dates back to 1898. It's made in small batches, often as a staple served aside barbecue. Georgia's version tends to feature 'meatier' cuts like brisket and even pulled pork. It's thinner and more soup like.
Virginia Brunswick Stew
In Virginia, making a traditional Brunswick stew is an almost ritualistic like experience involving a whole lot of men, their sons, and a giant cauldron like vat of a pot. In the Virginia version, which allegedly dates back to 1828, shredded or pulled chicken tends to be the primary meat involved.
Here the stew tends to be thicker. The running rule of thumb is you know it's good when the paddle's stuck in the middle and stands up straight. A thing hailing back to when it was made in a giant pot and stirred with an actual oar.
It's served as a meal on it's own, often with a side of crusty bread for sopping up any extra juices.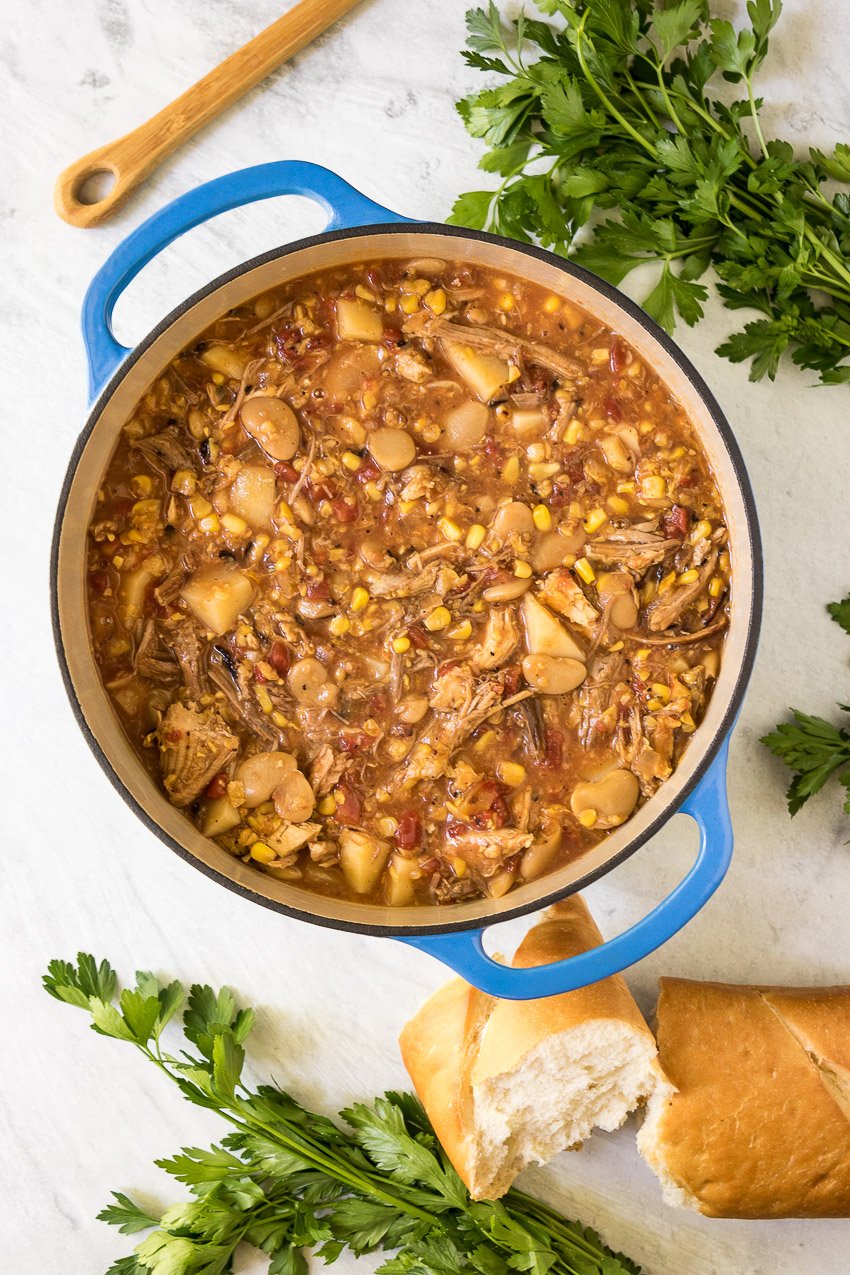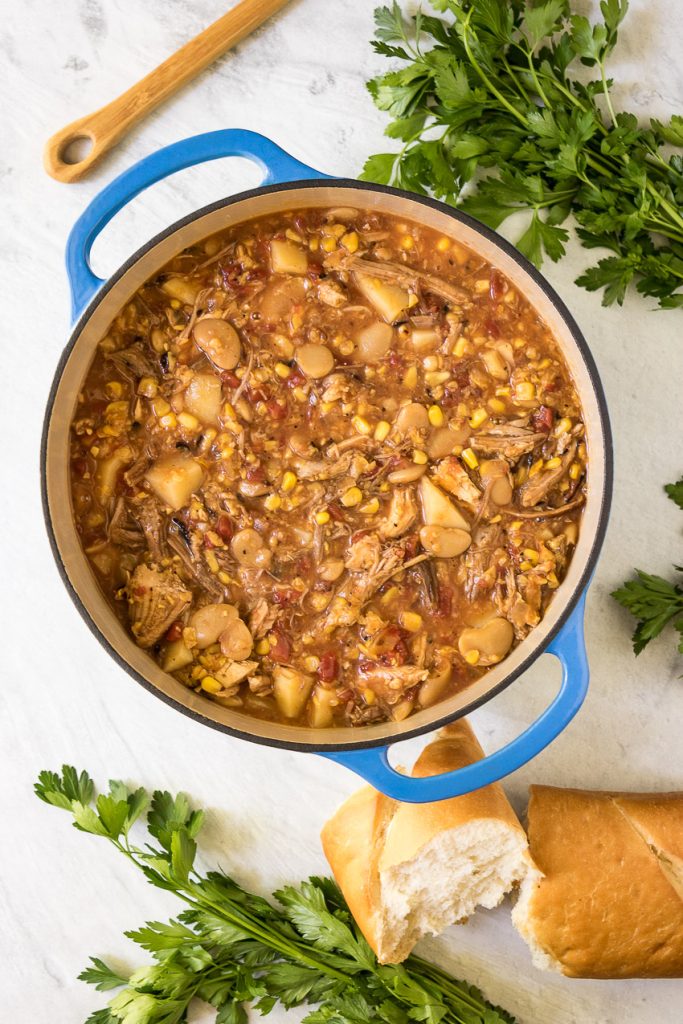 In both versions, the meats are preferred if they've been slow smoked. It's not a necessity, but it does add a real layer of extra flavor that can take a simple stew and make it a star on the main dish menu.
Ironically, both versions do agree on a trio of staples. Whatever the side of the fence their on, cooks all agree corn, butter beans, and tomatoes are a non-negotiable requirement. The secret seasonings used in each version do remain unique to the region the stew's made in.
While the great debate may never be settled, this is our favorite version. It takes both ideas to heart, incorporating a little here a little there. The finished result is a delectable traditional Brunswick stew recipe that comes in somewhere in the middle, and is so good- nobody's gonna argue with where it came from.
What meats do you need for a really good Brunswick stew?
As I mentioned earlier, our family recipe is really a compilation of the best things both versions of this recipe have to offer. That includes the meats. Instead of picking and choosing, we include all three major players- beef, pork, and chicken.
If you have a smoker, I highly encourage you to save any leftovers from other batches for a good Brunswick stew. This was the original smoked leftover recipe after all.
If you don't have leftovers you can easily throw a beef roast, a pork loin, and several chicken breasts in the smoker and cook them until done. Shred all the meats, and go from there. You can use what you need for the stew, and save any leftovers in the freezer for another batch, or to use in different recipes.
I realize everyone doesn't have a smoker, or even a desire to work with one of those cuts of meat. Luckily, this dish is easily adaptable to your kitchen and your tastes.
Don't have smoked brisket? Don't want to cook a roast specifically for this recipe? You can sub either stew beef or even ground beef. Stew beef will lead to a better final texture. If using ground beef, cook the meat and drain it to remove the extra grease before incorporating it into the recipe.
Don't have any pulled pork on hand? You can easily sub store bought pulled pork, just make sure it hasn't been seasoned with barbecue sauce first. Otherwise, you can cook ground pork, draining before using, or even use cooked, cubed pork chops.
This easy Brunswick stew recipe was made to be easy for everyone, and with a couple adaptations it's made perfect for any home cook.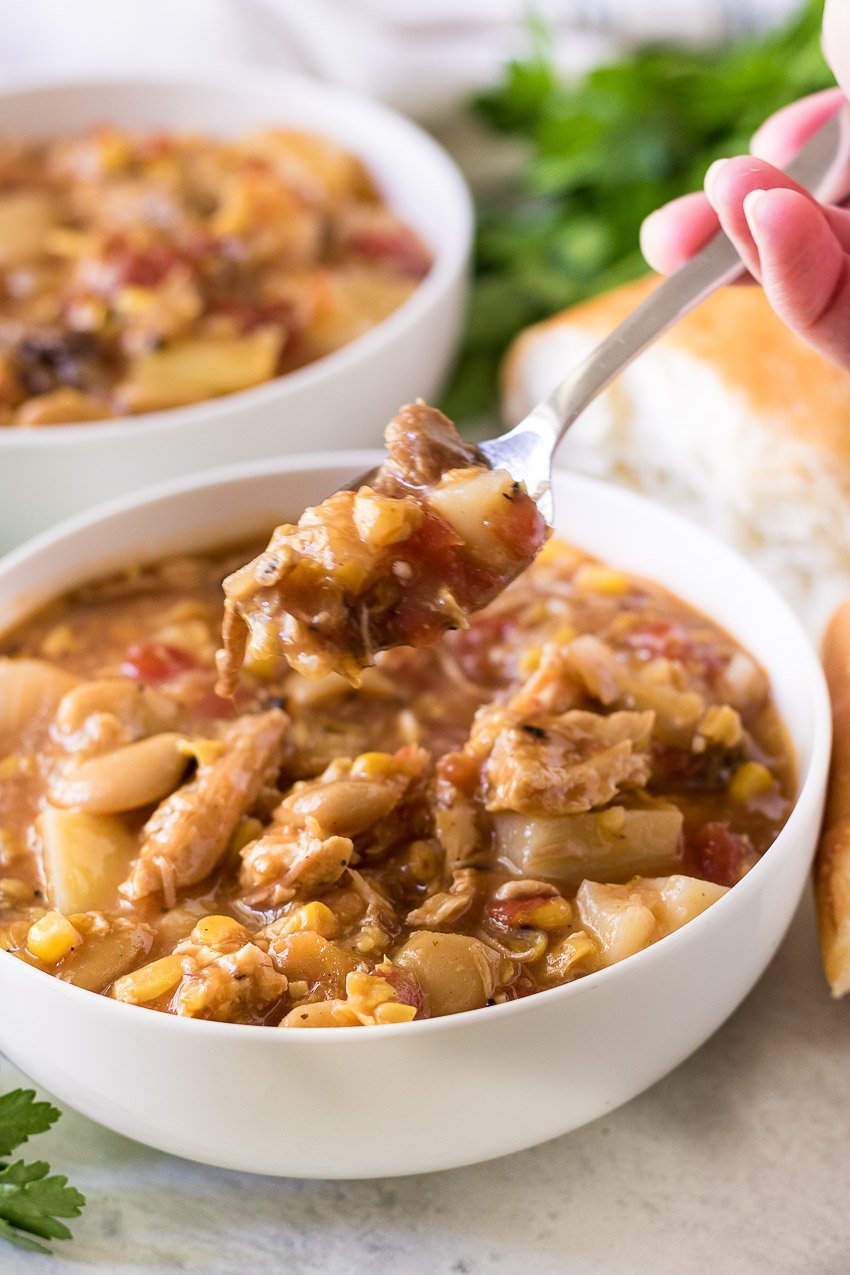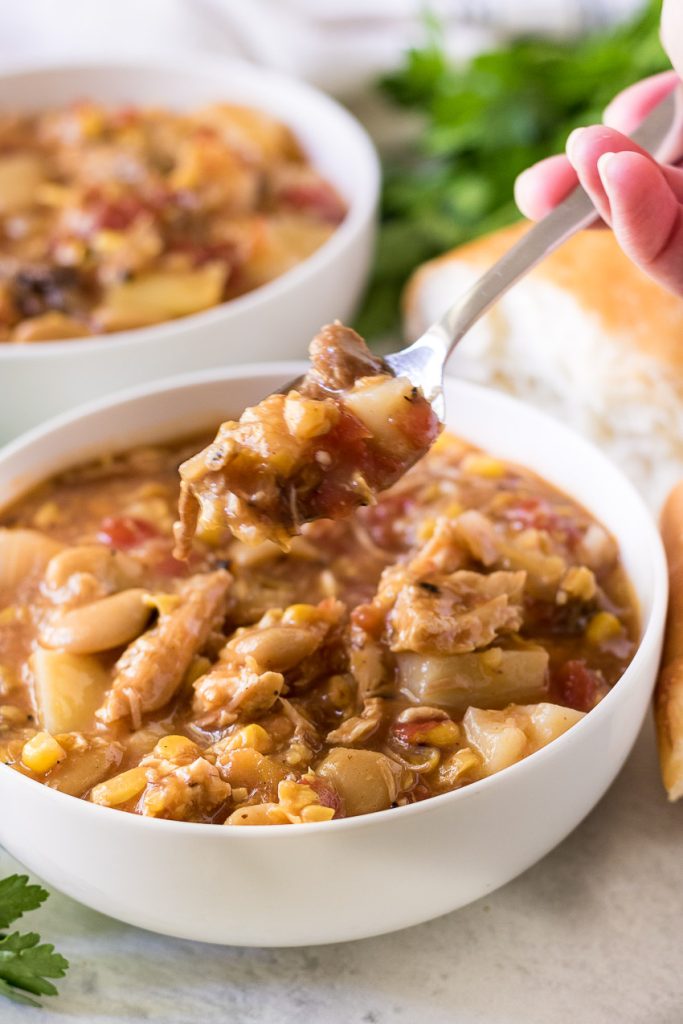 If you love a good, hearty Brunswick stew but didn't think it was for you or your own kitchen- then this recipe is for you. It's easy to throw together, and doesn't require any real babysitting. Sitting on the stove top, on a slow simmer, the magic happens without any extra effort.
It's basically a throw everything in the pot, and let it do it's thing kinda deal. Season with the recommended seasonings and veggies, but it's easily adaptable. You can easily make it your own without any fear of messing it up.
How To Make Brunswick Stew In The Slow Cooker:
To make this Brunswick stew recipe in your slow cooker is super simple. Spray the bowl with non stick cooking spray. This is precautionary. We don't want any bits of meat stuck to the bottom, or burnt.
Place the uncooked cuts of meat on the bottom of the crock. Cover them with the remaining ingredients. Stir them a little bit to combine.
Cover the slow cooker and cook the stew for 6-8 hours, until the meats are cooked through & tender. Remove the meats from the crock, and shred. Pull them apart using two forks or meat claws. Return the meats to the pot, and stir them in to evenly combine.
Ladle the stew into bowls, and serve immediately.
How To Store Brunswick Stew:
This Brunswick stew recipe stores very well. You can make it ahead of time for meal prep, or you can just be safeguarding any leftovers. Add it to an airtight, sealed tuper ware dish and it will keep for 5-7 days in the refrigerator. I do recommend letting it cool completely before storing.
It can be frozen for up to 5 months, in the same way. Just make sure the seal is air tight. It won't go bad, but you will lose taste and texture to freezer burn otherwise. And nobody wants that!
Warn off the Winter weather and warm your own family up tonight with this hearty recipe, or serve this classic at your next gathering where it's sure to be a hit!
OTHER TRADITIONAL STEWS TO TRY:
If you've tried this TRADITIONAL BRUNSWICK STEW RECIPE, or any other recipe on my site, let me know in the comment section how it turned out, we love hearing from our readers! You can also follow along with me on PINTEREST, FACEBOOK, and INSTAGRAM to see more amazing recipes and whatever else we've got going on!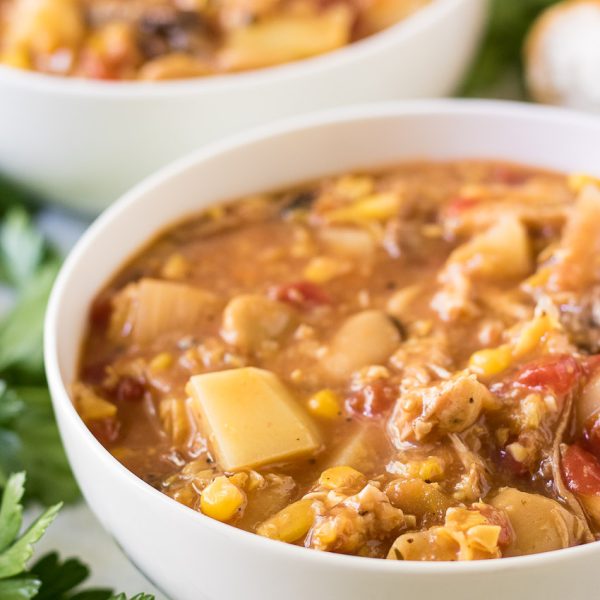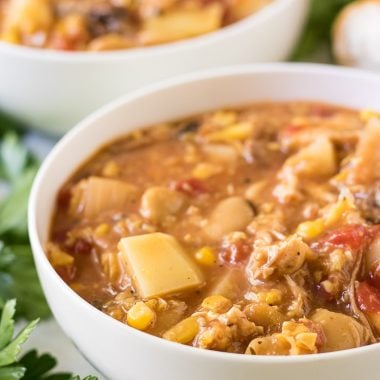 Brunswick Stew
An easy to throw together stew that's hearty enough for any crowd.
Print
Pin
Rate
Ingredients
3

cups

shredded chicken

3

cups

shredded beef

3

cups

pulled pork

4

cups

beef broth

1

medium onion

diced

4

medium russet potatoes

diced

1-2

15 oz can

Lima beans

drained

4

cups

cream style corn

1

cup

frozen corn kernels

1

24 oz can

can diced tomatoes

1/4

cup

ketchup

3

tbsp

brown sugar

2

tbsp

apple cider vinegar

2

tbsp

Worcestershire sauce

1

tbsp

Montreal steak seasoning

1/4

tsp

garlic powder

1/4

tsp

cayenne pepper
Instructions
Add shredded chicken, pulled pork, and shredded beef to a dutch oven or large, heavy-bottomed stew pot over medium-low heat. Add broth, onion, potatoes, beans, corn, diced tomatoes, ketchup, brown sugar, apple cider vinegar, Worcestershire sauce, steak seasoning, garlic powder and cayenne pepper to the meats.

Simmer over medium-low heat until thoroughly heated and all flavors have had time to combine, about 30 minutes.

Serve warm with crusty bread.
Notes
This batch makes more than enough for us. We get one hearty dinner and we package and freeze the rest for another big dinner or into lunch portions. It freezes well.
Nutrition
Calories:
831
kcal
|
Carbohydrates:
52
g
|
Protein:
100
g
|
Fat:
23
g
|
Saturated Fat:
7
g
|
Cholesterol:
280
mg
|
Sodium:
1481
mg
|
Potassium:
1652
mg
|
Fiber:
2
g
|
Sugar:
27
g
|
Vitamin A:
614
IU
|
Vitamin C:
10
mg
|
Calcium:
250
mg
|
Iron:
5
mg
recipe originally posted 11/14/13