Our creamy garlic Parmesan pasta is a quick 20 minute meal. It's fast fix, it's super creamy, and it's just flat out delicious. It's a simple pasta dish perfect for lunch or dinner. Put this on your dinner menu now!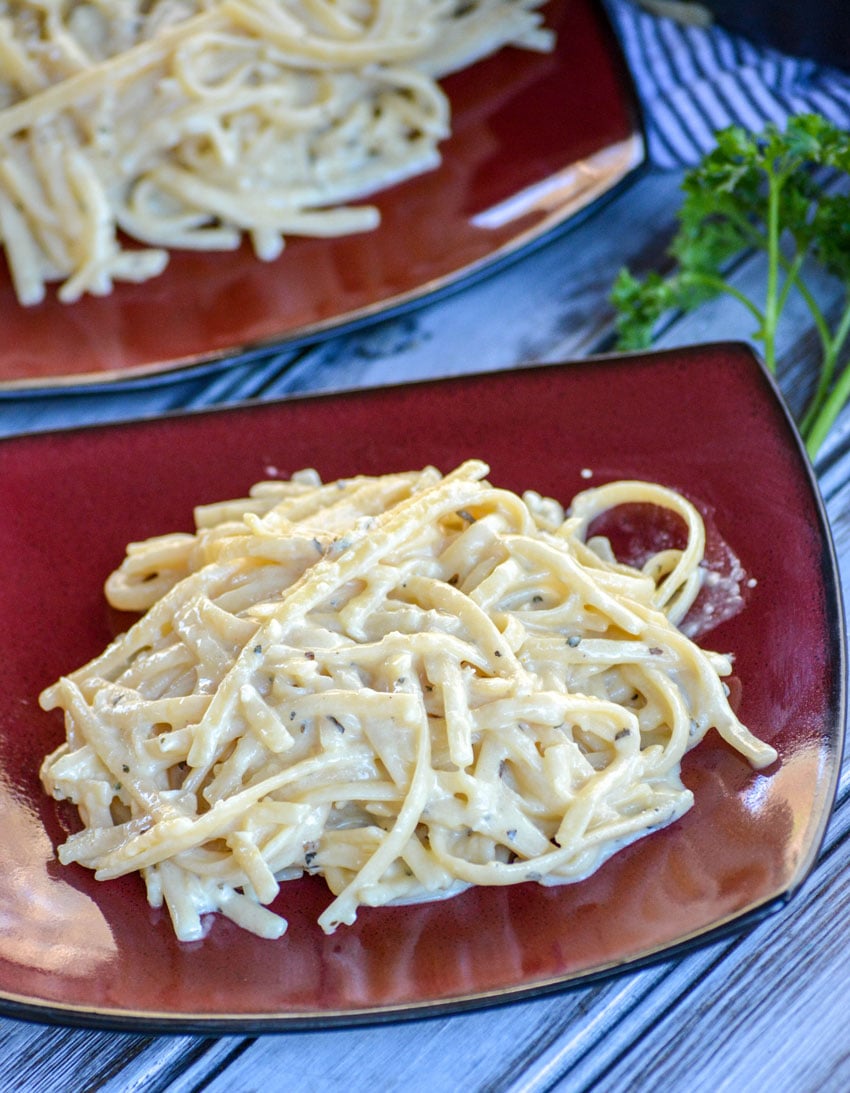 In my little Italian family we love garlic. Before meeting (& marrying) my husband, I would have been stingy about how much I added to a dish.
Now? It calls for 1 clove? It needs at least 3. It calls for olive oil & garlic? I'm also using my garlic-infused olive oil.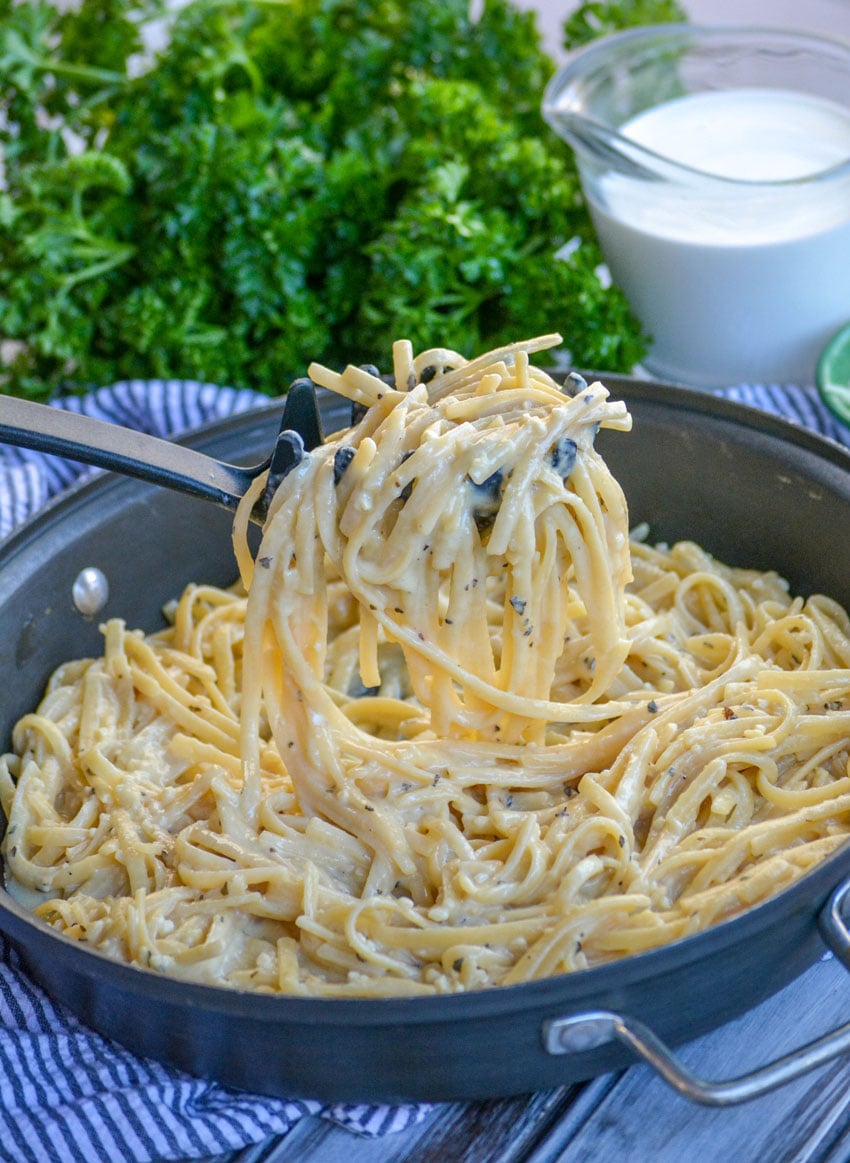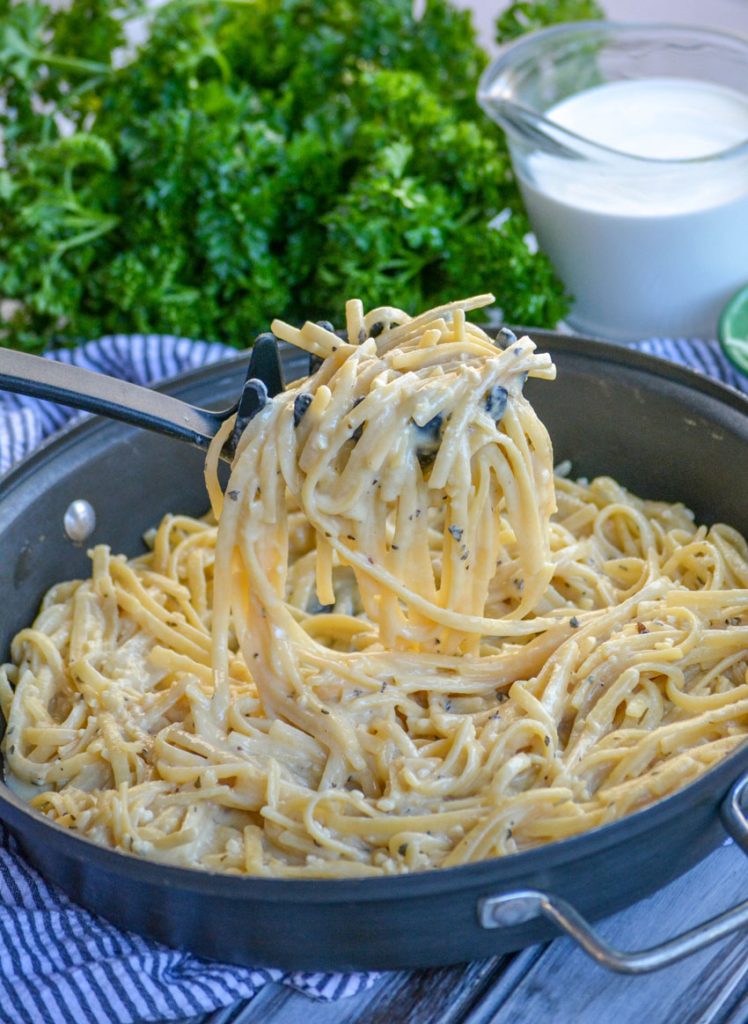 The cardinal rule he taught me: You can never use too much garlic. No such thing. Just take 40 garlic clove chicken as an example. That stuff is so good it's darn near a magical experience.
My husband eats the stuff by the spoonful. While I can't go quite that far myself, I really love the pungent stuff. I'm also a recovering cheese addict. Garlic & Cheese, together? Now that's a beautiful thing!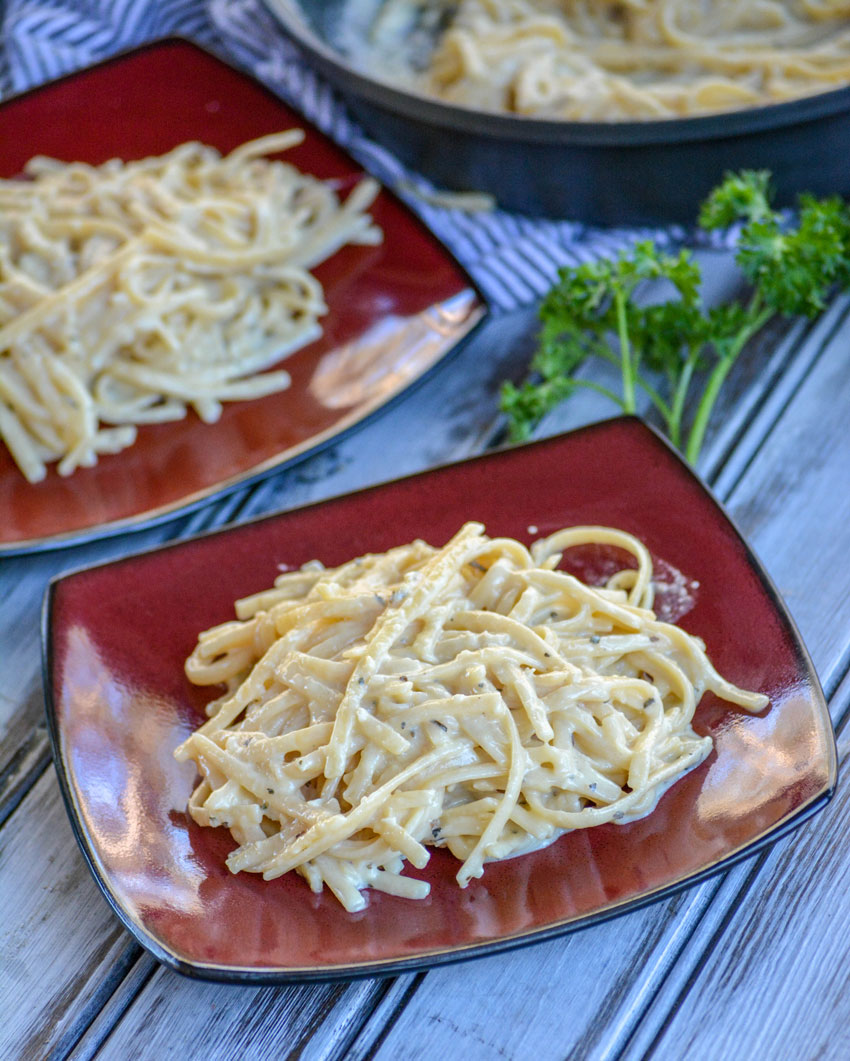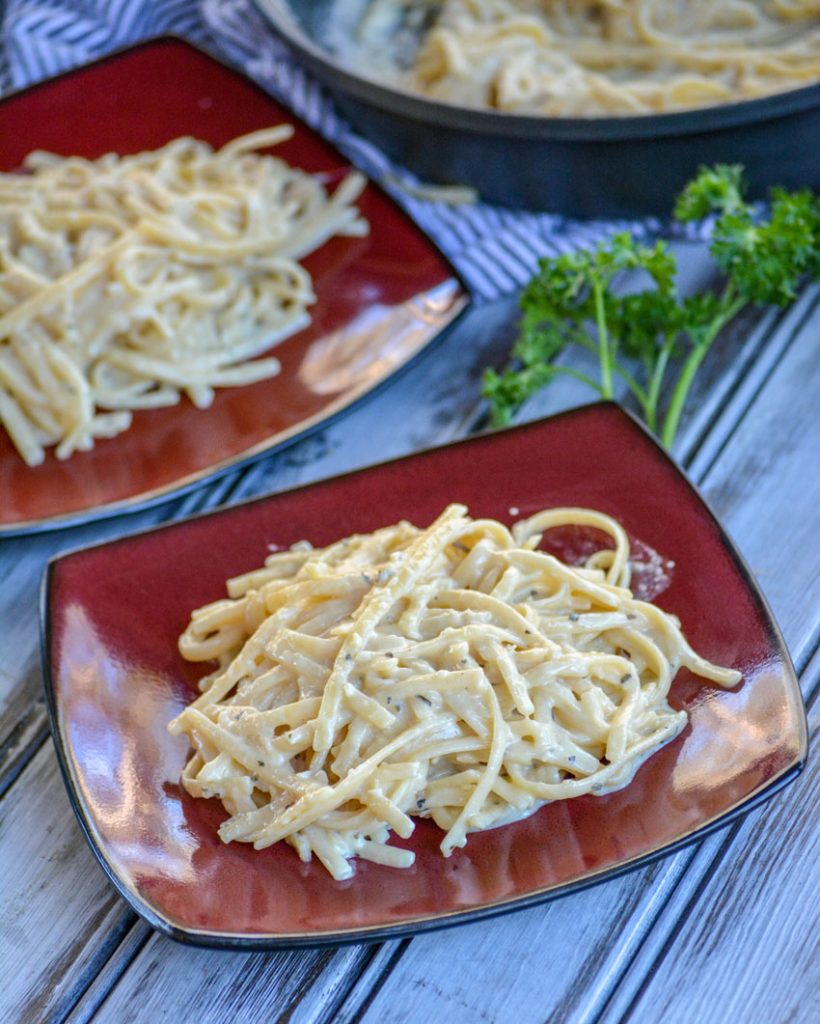 This rich and creamy pasta dish is a match made in heaven. You can be enjoying this delectable pasta dish in a snap, it's that simple to throw together.
The taste is out of this world (and it gives us our garlic fix)! It's gotta have copious amounts of garlic to be a real hit & serious contender in our house.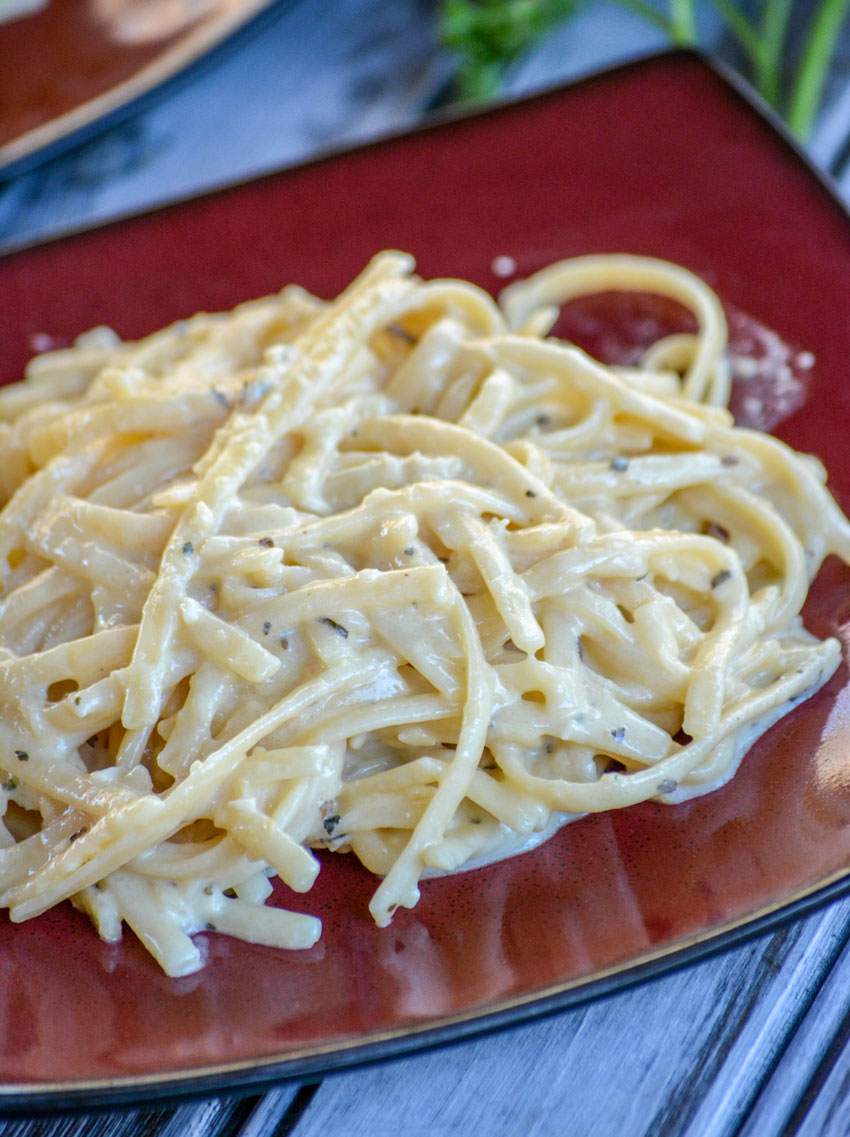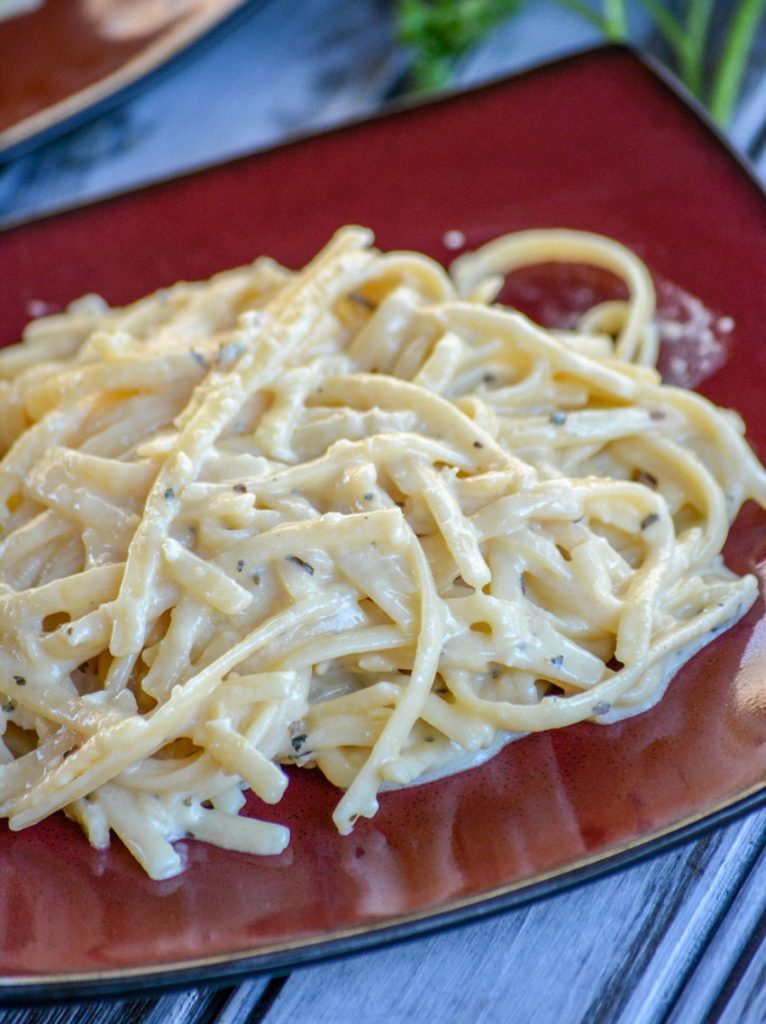 What do I need to throw together a creamy garlic Parmesan pasta?
As I mentioned earlier, this recipe is super simple. Almost deceptively so, and the ingredient list is sweet & short.
olive oil
butter
garlic
stock
pasta
Parmesan cheese
half & half
fresh Parsley
fresh Basil
That it! Of course, a little magic goes on behind the scenes with cooking techniques. Then you're left with a creamy, dreamy garlic based cheesy pasta dish. The only thing left is to season it with salt & pepper, to taste.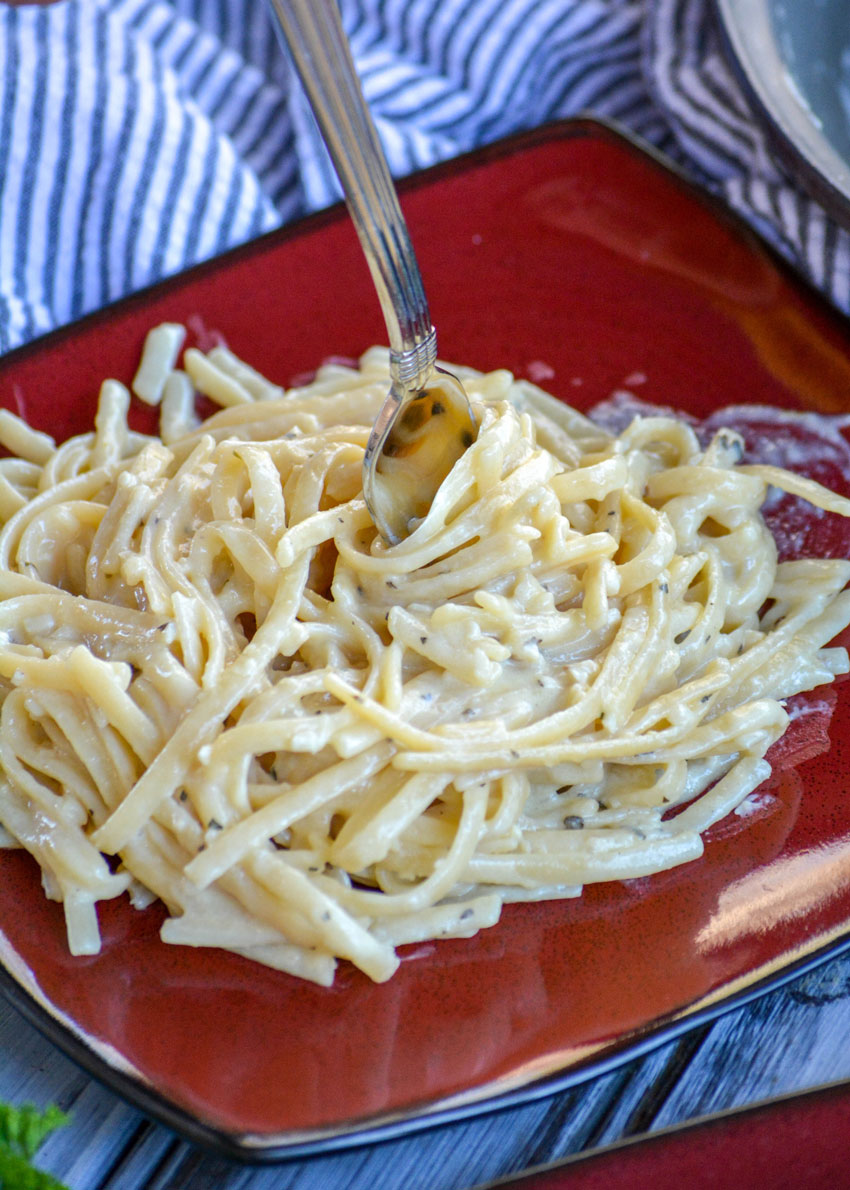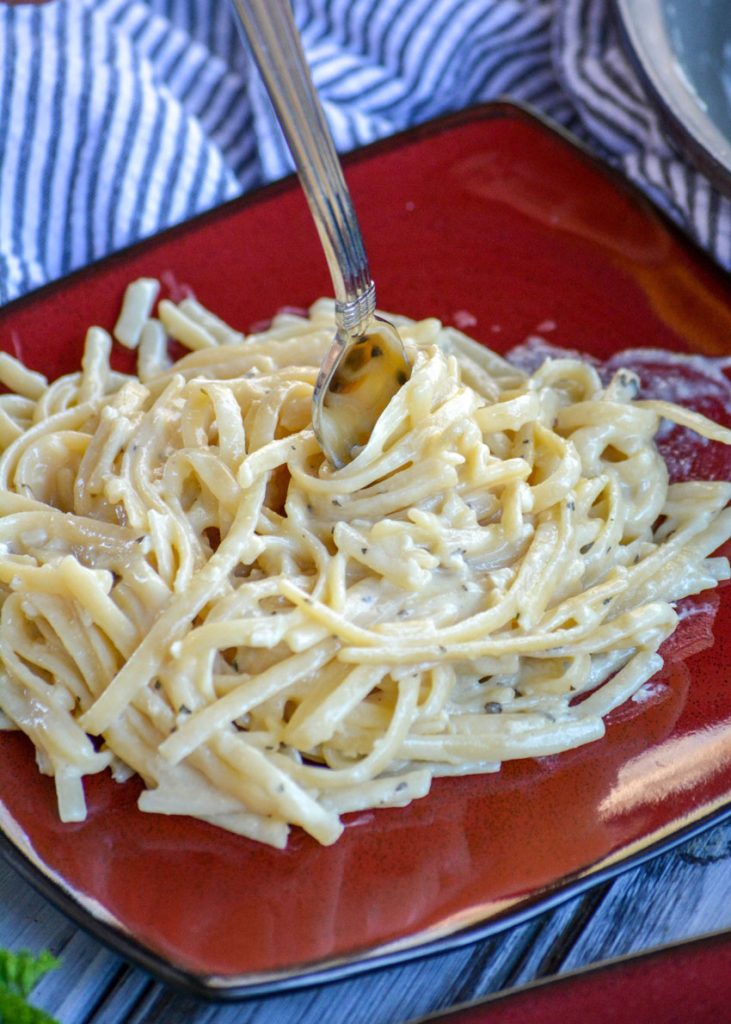 How to make a creamy garlic pasta dish:
Add a large pot to the stove top, then add in the olive oil. Heat it over medium to low heat. You want the oil to heat up, but not get too hot. Olive oil has a lower smoke point than other cooking oils. It can burn fast. The flavor is worth using it though if done right.
Once the oil's hot, you'll know because it will develop a sheen, add in the garlic. Stir it and let it cook for 1-2 minutes, just so that it browns a bit and really becomes fragrant without burning. Add the butter, and stir it in, just until melted.
At this point, pour in the chicken stock and stir again to combine everything. Salt & pepper the mixture to your personal tastes. Raise the heat and bring the mixture to a rolling boil. Not just a couple bubbles, but a real boil.
Now it's time to add the pasta to the mix. Add the pasta to the boiling broth, and cook it according to the packages specific directions.
There's no right or wrong brand of pasta to use, and everyone has slightly varying directions. The one thing to keep in mind, is stir constantly to prevent the pasta from sticking and clumping together.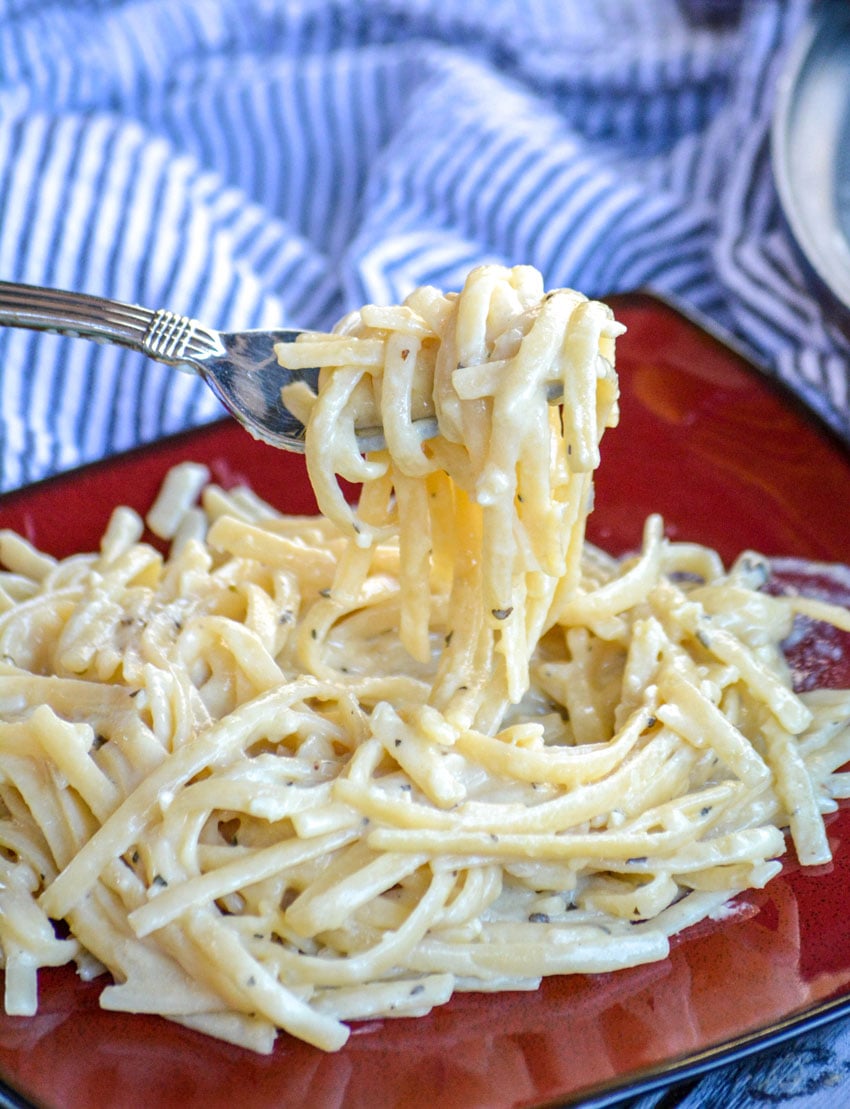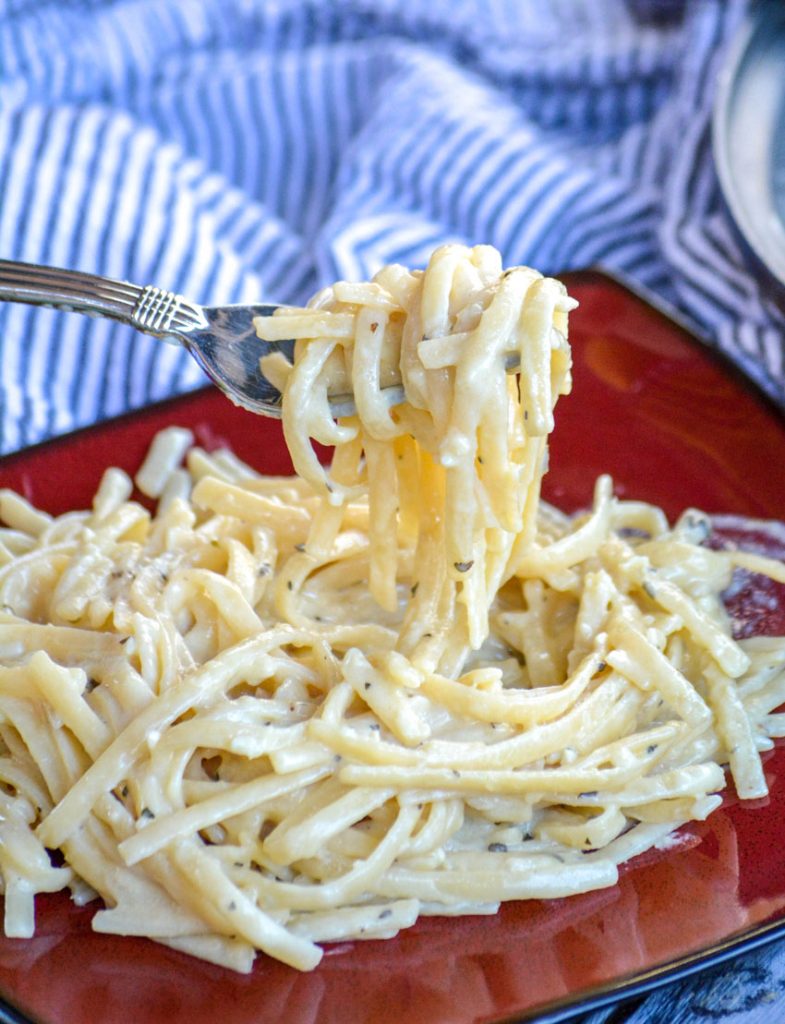 When you think the pasta's done- take a strand out and taste it to make sure. Reduce the heat on the stove top to medium low. Stir in the Parmesan cheese, and keep stirring until it's completely melted.
Remove the pot from heat, and stir in the cream & fresh herbs. You can season again here with salt & pepper, if you choose. We recommend tasting it first before adding any extra seasoning.
Feel free to top this creamy garlic pasta off with as little, or as much, extra Parmesan cheese as your taste buds desire. I won't judge you. Besides, if anyone ever tells you you put too much Parmesan cheese on your pasta, stop speaking to them. You don't need that kind of negativity in your life.
Other Creamy Pasta Dishes To Try:
If you've tried these CREAMY GARLIC PARMESAN PASTA, or any other recipe on my site, let me know in the comment section how it turned out, we love hearing from our readers! You can also follow along with me on PINTEREST, FACEBOOK, and INSTAGRAM to see more amazing recipes and whatever else we've got going on!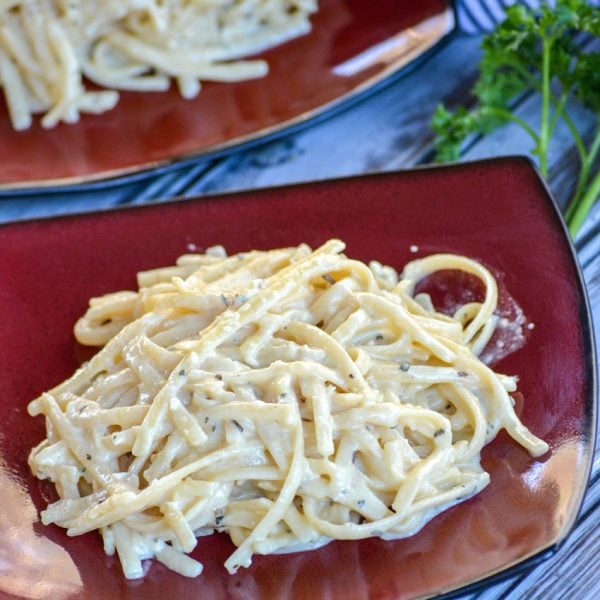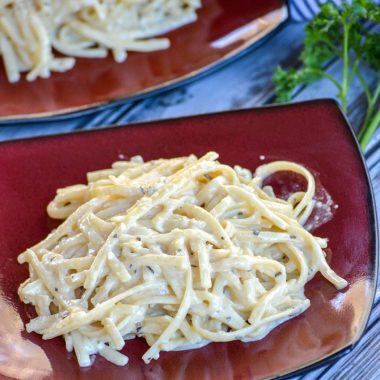 Ingredients
2

tsp

olive oil

4

cloves

garlic

minced

2

tbsp

butter

¼

tsp

salt

½

tsp

pepper

3

cups

chicken stock

½

lb

spaghetti or angel hair pasta

1

cup

grated Parmesan cheese

¾

cup

half & half

2

tbsp

chopped fresh parsley

or 2 tsp dried

1

tsp

chopped fresh basil

optional
Instructions
In a pot, bring the olive oil to medium-low heat. Add the garlic and stir, allowing it to cook for 1-2 minutes. Mix in the butter until melted. Add the salt, pepper and chicken stock. Raise the heat to high and let it come to a boil.

Once it's boiling, add the pasta and cook for as long as the box's directions indicate. Reduce to medium heat and mix in the Parmesan until completely melted. Turn off the heat and stir in the cream and parsley. Serve immediately.
post & pictures updated 9/13/19 from 12/10/13