A sweet snack or a delicious dessert, these Fall – themed pumpkin cake pops are the fun finger food every festive table was destined to show case.
This post and recipe was created for #HalloweenTreatsWeek! I was sent samples by some of the sponsor companies but as always opinions are 100% mine.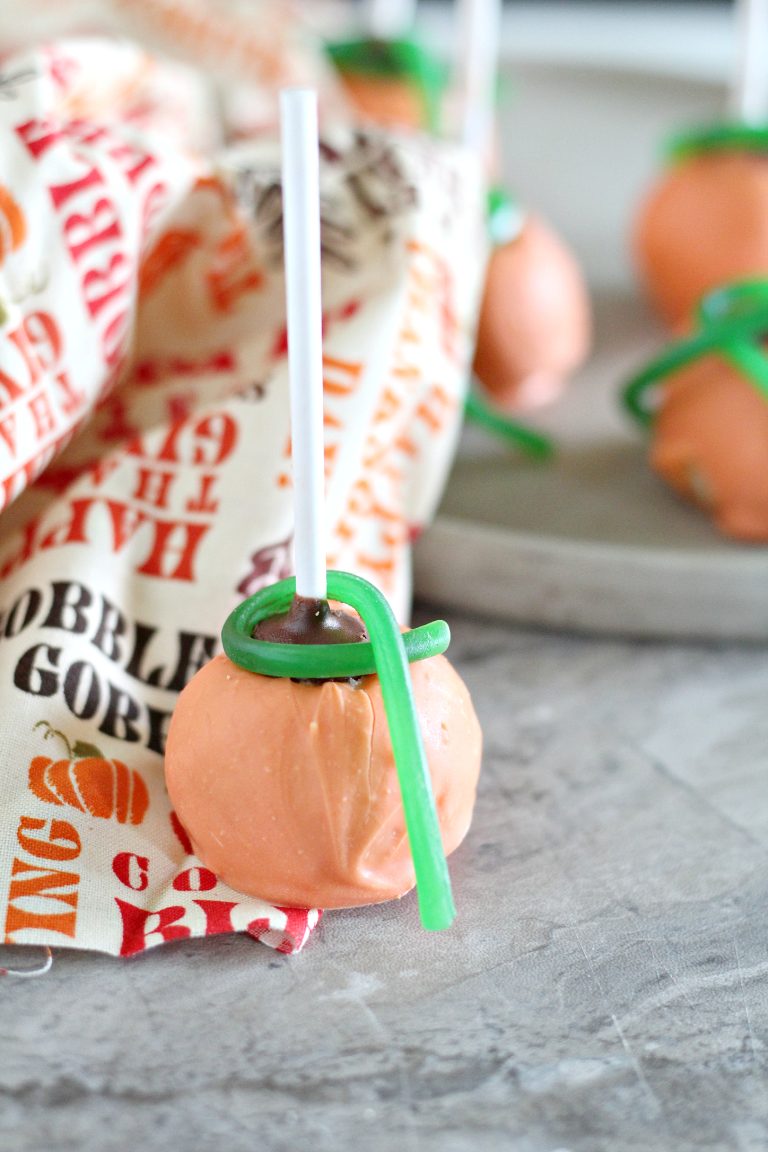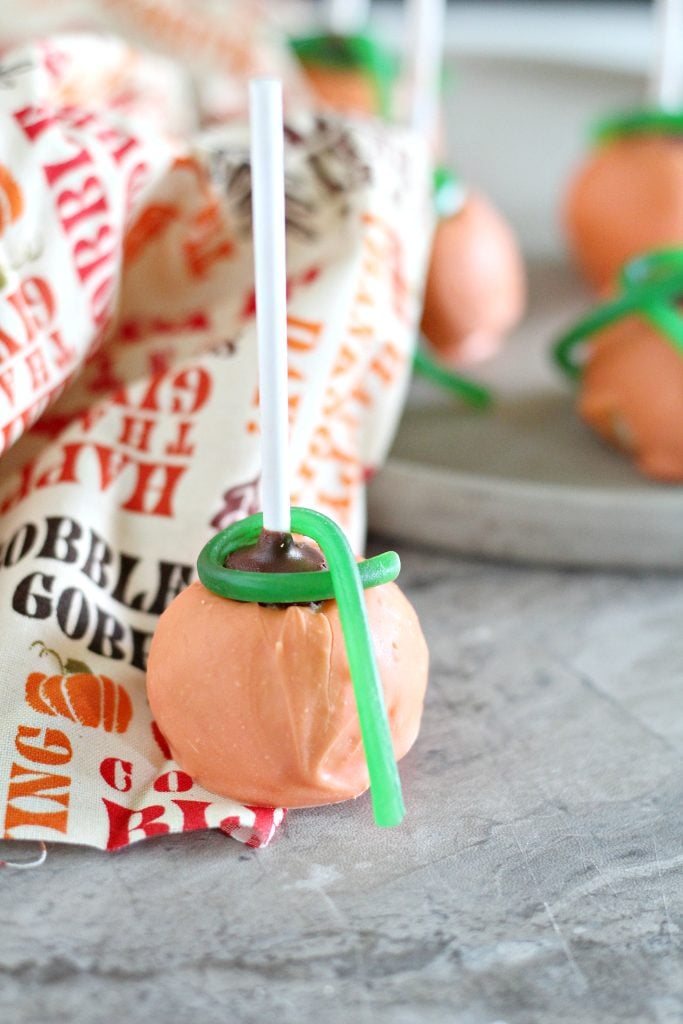 Cake pops are one of my absolute favorite things to make, for virtually any occasion. They are really a very simple dessert, but they're so customizable- they're a dream to work with. I still can't believe it took my so long to begin making them myself!
I'm not the kind of Mom who makes daily visits to coffee shops, but I will splurge on the rare occasion. Especially on days when all the sons were younger and I'd be dragging them all kicking & screaming behind me through the grocery store. Or clothes shopping, God forbid!
I needed a caffeinated pick me up, and for mostly keeping their you-know-what together so did my boys. Coffee shop snacks can be pricey though. Luckily, they always had pretty little cake pops sitting in the window priced quite nicely at a dollar a pop.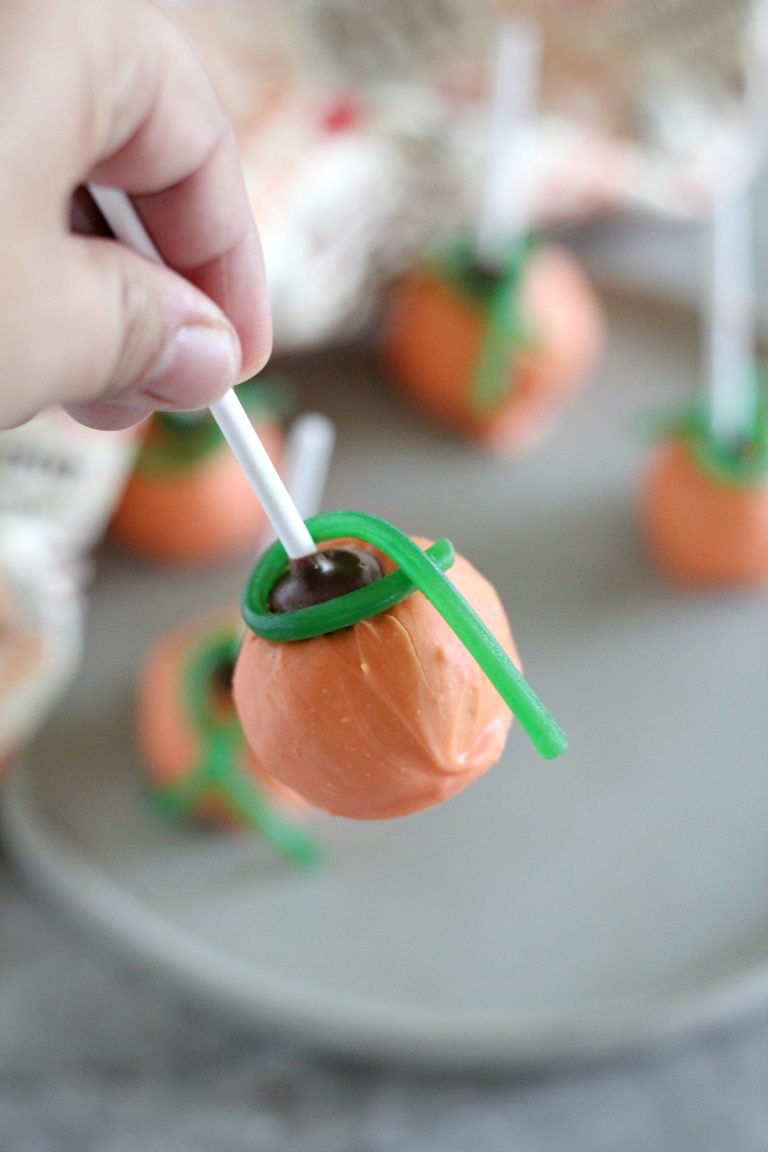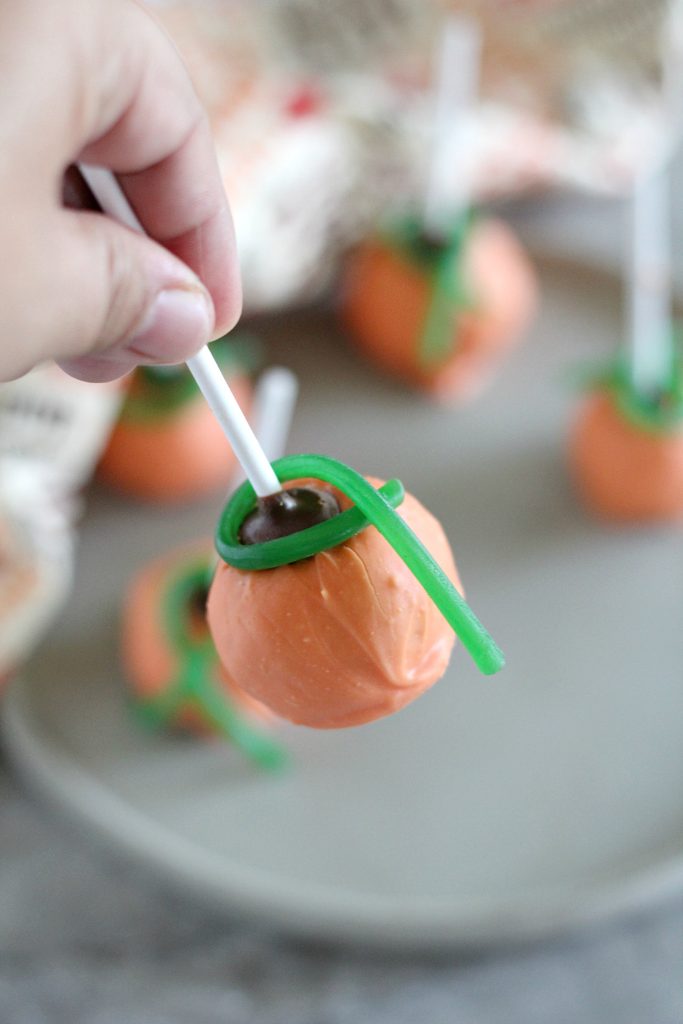 That is how our family first discovered and came to love the cute little cake pop. It was another year or so before someone told me how simple those suckers were to make at home.
Cake pops are basically a for of cake that's been styled onto a stick. What isn't more fun when it's served on a stick? Single serve desserts are always a hit.
A mixture of cooked crumbled cake and frosting forms the basis of any good cake ball. The ratio's important because you don't want it too crumbly, but with enough frosting so that it sticks together nicely without falling apart.
A Couple Tips For Making The Best Cake Balls:
Let your cake cool completely before attempting to crumble. Hot cake, even slightly warm cake will keep frosting soft and will lead to a mixture that falls apart when formed, and won't stick together once dipped and decorated.
The finer the crumble, the better the mixture will be for molding and holding its shape. To get the finest crumble, place chunks of the cooled cake into a food processor and pulse a few times until finely crumbled.
Use a quality frosting, like a butter cream. This is probably the one time where I will tell you the jarred stuff on the aisle shelf is not the short cut you want. If you don't want to make homemade frosting, you can buy quality buttercream for cheap from the bakery section of your local grocers. Don't see it out and ready for purchase? Just ask!
Once you've got your cake mix/frosting mixture in a bowl, mix it well. Don't be afraid to get in there with your hands and knead it together like you would bread dough.
At this point a lot of people would probably go full steam ahead into cake pop territory, but this would be a big mistake. Once your mixture is evenly combined, seal it either in a tupperware or with cling wrap and refrigerate it for at least an hour. You want it cold!
Now you can roll the mixture into cake balls of 1 to 1 1/2″ in diameter. Set them aside on a piece of parchment or wax paper.
If you were making a simple cake ball, you would then proceed to coating and decorating. But we want cake pops. All guests, especially the younger crowd will adore the difference in simple dessert balls and those stuck on a stick. Who knew something so simple could up the ante on a prepared dessert?


To turn the cake balls into cake pops, you first formed the cake mixture of the right consistency into tight balls. Now it's time to add sticks to our pops. We need to make sure those sticks stick though.
To ensure they're secure, dip one end of each popsicle stick into melted chocolate chips before carefully inserting it into the top center of a cake ball. Pierce each ball with a popsicle stick. The chocolate that sticks out the top will help form the 'stem'.
Return each newly formed cake pop to the piece of parchment or wax paper. Let the cake pops set for at least 5 minutes for the chocolate to harden inside and out, forming a nice 'glue' between the stick and the cake.
Now it's time to decorate this dessert and turn them into Halloween cake pops. The first step is to melt orange chocolate candy melts. The easiest way to do this is to add the candy melts to a microwave safe bowl, and microwave them at 30 second intervals, stirring in between and continuing until they're completely melted and smooth.
Stirring in between is an important skip not to step. Otherwise some of the chocolate may scorch before it all melts, resulting in an ultimately sludgy, unusable mess.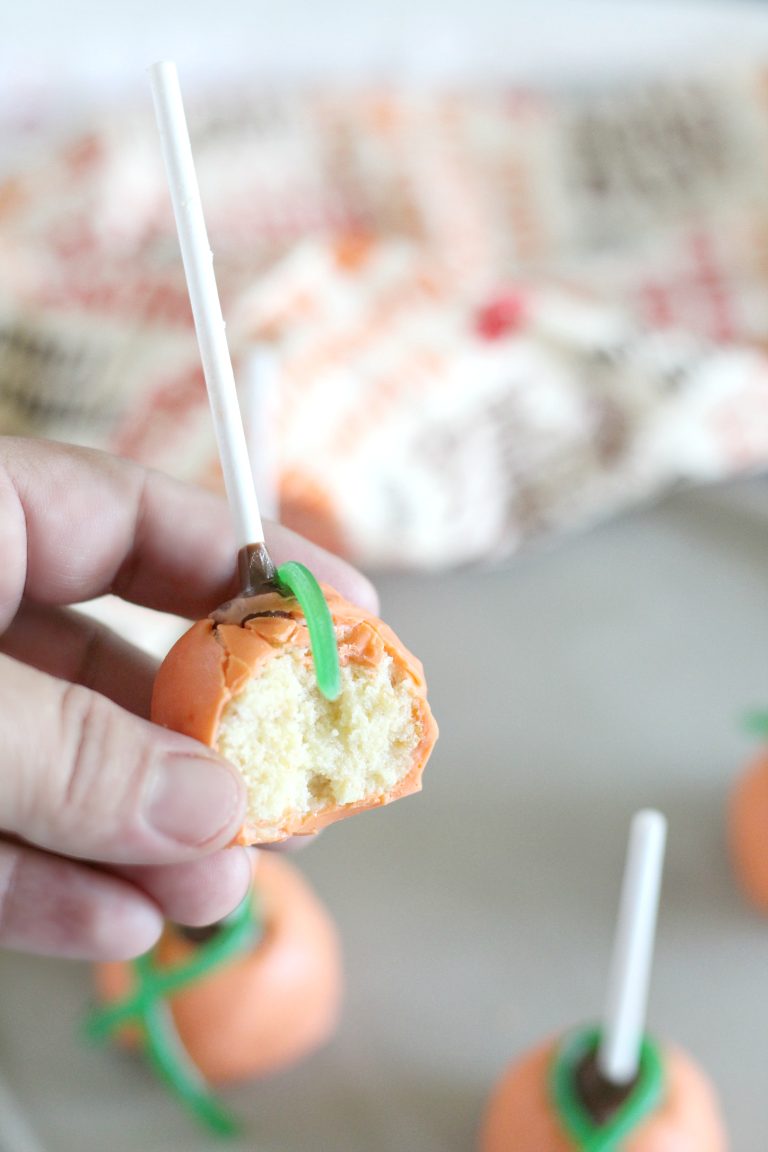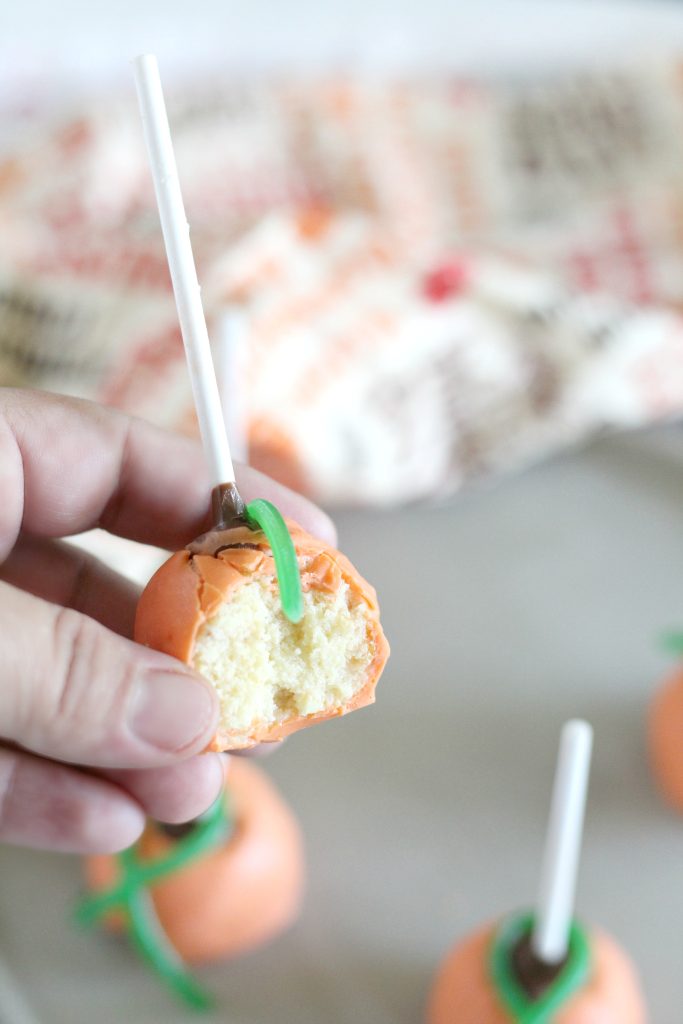 Dip each prepared cake pop into the melted orange chocolate. With one hand holding the popsicle stick, use a fork in the other to carefully drain the excess chocolate away.
Transfer the coated cake pop to a fresh sheet of wax paper or parchment paper. Either will work, so long as it's non stick once the chocolate's set.
Once the orange chocolate coating has set on all the pops, unwrap a green twizzler. Cut the strings to an appropriate size, and wrap one around the top of each cake pop to make a 'vine'.
That's it, your Halloween cake pops are ready to serve to guests, to set out on your part table and wow your crowd.
Can Cake Pops Be Made In Advance?
That answer is an absolute yes! But there are some things to keep in mind. So let's go over them briefly:
The cake can be made up to a day ahead of time. Keep it covered tightly so it doesn't go stale, and keep it at room temp.
Un-dipped cake balls can be stored in the refrigerator to up to two days, or frozen for up to 6 weeks.
Whichever method you use, allow the cake pops to thaw to room temperature before coating.
They're pretty much the perfect thing to prep and serve as part of your dessert or party spread. These Halloween cake pops are one of my favorites for the season.
They're perfect to serve at Halloween parties. They're a perfect dessert to take to Thanksgiving dinners & even Christmas spreads. It's hard to go wrong with something to versatile.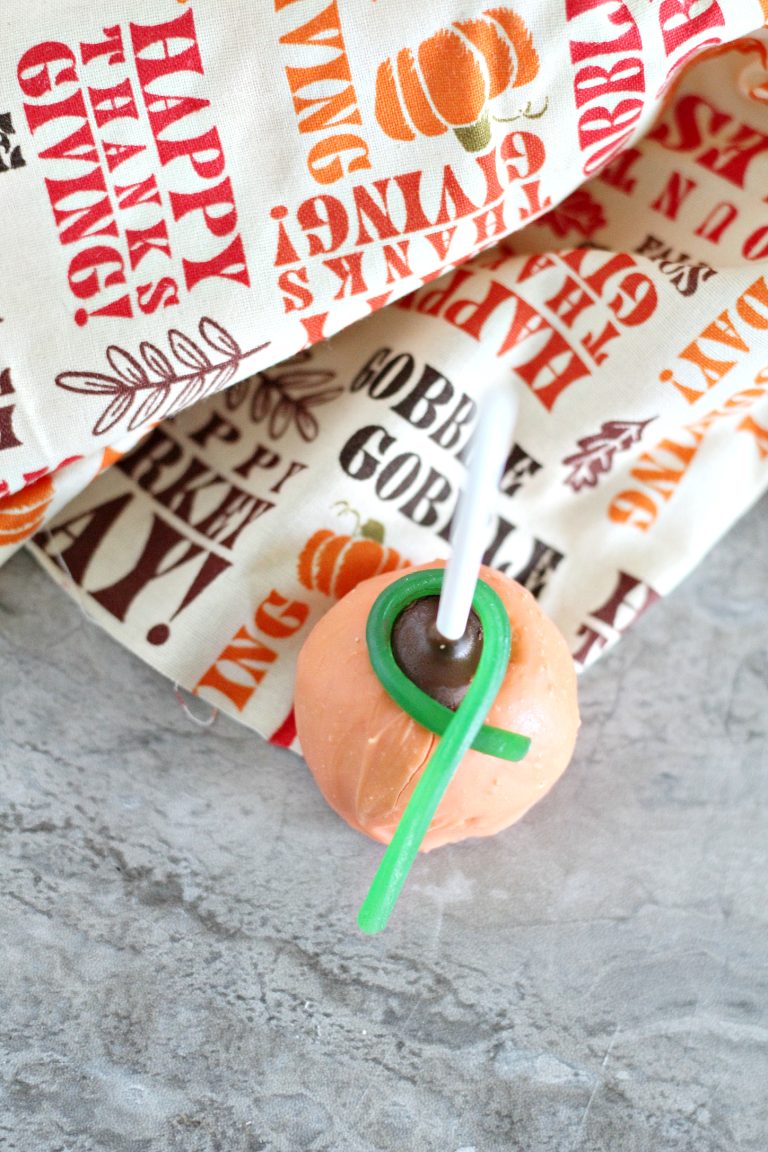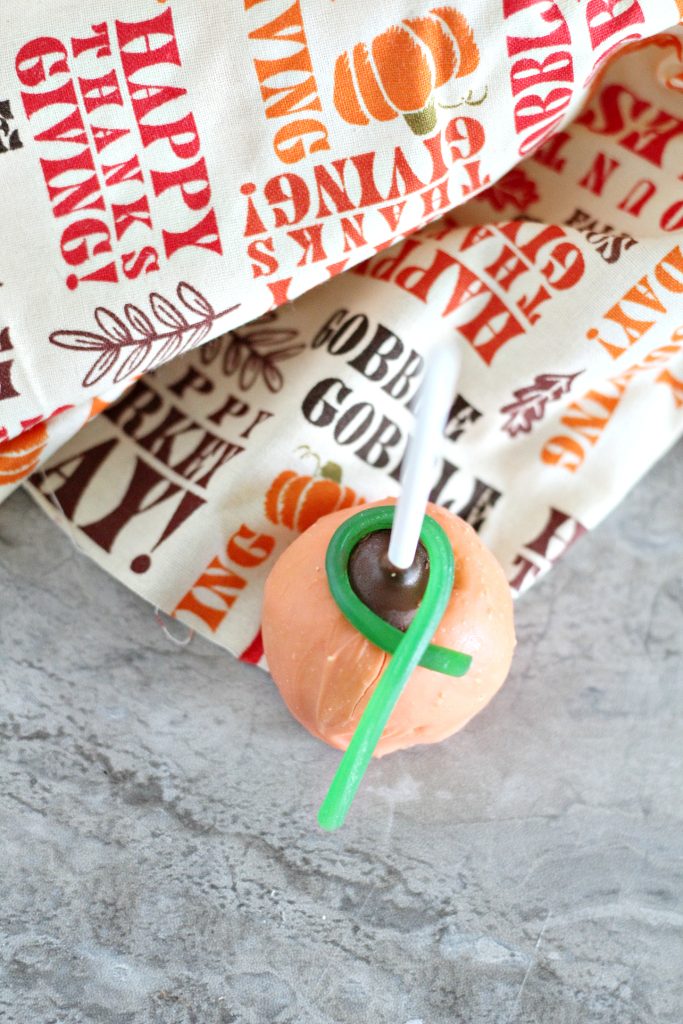 Wondering what to take to your next Halloween party? These Halloween cake pops are just the thing. They're the perfect dessert finger food. Grab one & get in the mood for some festive activities!
If you've tried this easy PUMPKIN CAKE POPS, or any other recipe on my site, let me know in the comment section how it turned out, we love hearing from our readers! You can also follow along with me on PINTEREST, FACEBOOK, and INSTAGRAM to see more amazing recipes and whatever else we've got going on!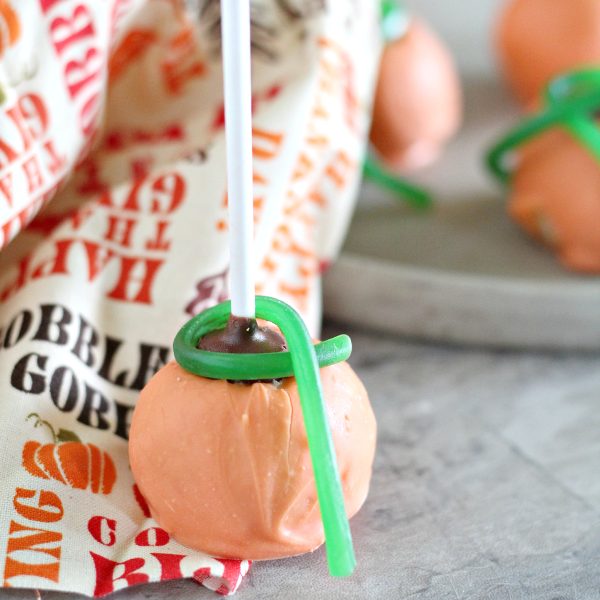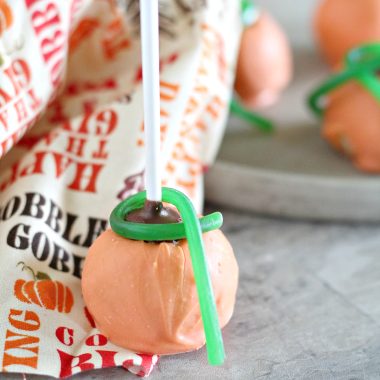 Ingredients
1

box of White Cake Mix

3

Eggs

1

cup

of Water

1/2

a cup of Oil

1/2

a cup of Vanilla Frosting

2

cups

of Chocolate Chips

1

bag of Orange Melting Candies

Cake Pop Sticks

Green Pull and Peel Twizzlers
Instructions
Start by placing your cake mix, eggs, oil, and water into a large mixing bowl.

Mix until smooth.

Place in a greased 13x9 inch baking pan.

Bake at 350 degrees for about 34 minutes, or until toothpick comes out clean.

Let cake cool completely, and crumble up (until fine) into a mixing bowl. You can also run it through a food processor.

Mix with your frosting until well combined. Refrigerate for one hour.

Remove and roll into 1 to 1 and 1/2 inch balls.

Place your chocolate chips into a microwave safe bowl and microwave in 30 second intervals until melted. Stir frequently.

Place one end of your cake pop stick into the melted chocolate and then push through cake ball.

Let chocolate harden and cake ball set.

Melt down your orange melting chocolate with the same process you used for your chocolate chips.

Dip each cake pop into the melted chocolate, leaving some of the milk chocolate showing for your "stem".

Remove carefully with a fork.

Once the chocolate has hardened, wrap the top of each cake pop with a green twizzler.

Serve and enjoy!
Nutrition
Calories:
281
kcal
|
Carbohydrates:
48
g
|
Protein:
4
g
|
Fat:
8
g
|
Saturated Fat:
5
g
|
Cholesterol:
39
mg
|
Sodium:
288
mg
|
Potassium:
36
mg
|
Fiber:
1
g
|
Sugar:
32
g
|
Vitamin A:
109
IU
|
Vitamin C:
1
mg
|
Calcium:
116
mg
|
Iron:
1
mg
Check out the amazing #HalloweenTreatsWeek recipes from our bloggers today!
Happy Halloween! It's October which means it's time for Spooky Season and this year's #HalloweenTreatsWeek event! #HalloweenTreatsWeek is hosted by Angie from Big Bear's Wife & its a creepy and haunting week-long event is filled with some amazingly wicked Halloween treats, recipes and some frightfully fun giveaways.
"When witches go riding, and black cats are seen, the moon laughs and whispers 'tis near Halloween."
For the 2nd annual #HalloweenTreatsWeek event we have 41 fantastically talented bloggers that are sharing their favorite Halloween recipes throughout the week! There are going to be over 160 Halloween themed recipes shared during this year's #HalloweenTreatsWeek and we can't wait for you to see them all! Follow the hashtag #HalloweenTreatsWeek on social media and look at the bottom of each post to see all of the Halloween recipes that we're sharing!
Plus, don't forget that we have 6 (six) great giveaways for you this week thanks to our amazing sponsors!
Scroll down to take a look!
Prize #1
Prize #1 — Dixie Crystals is giving away a "Dinner and Dessert Set" – ONE 6-Quart Cook & Carry Programmable Slow Cooker, a Pyrex mixing bowl set plus some fun Dixie Crystals items like a Dixie Crystal Apron and Cookbook!
Prize #2
Prize #2 — Adam's Extract is giving away – 1 Gift Pack – including 4oz Adams Best, 1.5 oz Peppermint, 1.5oz Almond, 1 bottle vanilla cinnamon sugar, 1 bottle pumpkin pie spice
Prize #3
Prize #3 —Wilton is giving away a Texturra 7-Piece Bakeware Set
Prize #4
Prize #4 — Sweets and Treats Shop is giving away a large baking box of goodies! Sweets and Treats will send one lucky winner a large assortment of sprinkles and lines and other samples of their products!
Prize #5
Prize #5 — Treat Street USA is giving away a set of Holiday Treat Decorations (1 Gummy Assortment, 1 Marshmallow Snowman, 1 Toy Solider and 1 Gingerbread Men)
Prize #6
Prize # 6– Litehouseis giving away the following: 1 Litehouse® Honeycrisp Apple Cider, 1 Litehouse® Old Fashioned Caramel, 1 Litehouse® Pumpkin Spice Caramel, 1 Litehouse® Butterscotch Caramel & 1 Litehouse® Chocolate Dip, Snack Packs
Giveaway open to US Residents 18 years or older. All entries will be verified. No PO Boxes Please. Prizes will be sent directly from sponsors to winners, bloggers are not responsible for prizes. This giveaway runs from October 7th – October 13th at 11:59PM EST. Winners will be selected soon afterward and contacted by e-mail. Winners will have 48 hours to respond or a new winner will be chosen. There are a total of 6 (six) prizes and therefore we will have a total of 6 (six) winners. No purchase necessary. Void where prohibited by law.
Disclaimer: These posts and recipes are part of the week-long event, #HalloweenTreatsWeek but all opinions are 100% mine! We would like to Thank our amazing sponsors: Dixie Crystals, Adam's Extract, Wilton, Sweets and Treats Shop, Treat Street USA and Litehouse! These wonderful sponsors provided the prize packs for our giveaways and also sent samples and products to the #HalloweenTreatsWeek bloggers to use in their recipes.