This easy homemade foot scrub is a 5 minute DIY recipe that requires only two ingredients. It's a perfect way to pamper yourself while it exfoliates and refreshes tired feet.
You know what's fun?
Going to pull measuring spoons out of the drying rack only to have something jump out at you.
Something small.
Something insect. Then, after the heart palpitations stop, you're finally able to get your stuff together to call for a son or two to come help you remove the offending cricket.
And you're all like what the fork just happened, while they're all what'sthebigdeal AND laughing at you, and then you tell another son, and they're just like oh, yeah … i knew there was a cricket … but when i looked again I didn't see it and forgot about it.
Glad you finally found him.
This is something you tell me, little people!!
This is not something I need lying in wait to surprise me with ninja like skills when I'm in the kitchen, in my zone, and couldn't be less prepared for some life or death, instant reflex situation.
And to put the cherry on the top of my Tuesday cupcake, son # 3 then says offhandedly an hour later that if somebody really wanted me to have a bad day, they'd go buy a cheap-ass bag of crickets from the Pet Store and leave them somewhere for me to find, or wrap them up and put a bow on them.
Not cool, boys. Not. Cool.
BUT, this does bring me around to the whole point of this post.
Being a parent is a full-time job, it cane be non-stop and there's not always a lot of 'down' time.
Most days we've always got something going on, and it's go go go.
Sometimes in multiple directions at once trying to get everyone where they need to go, keep em all entertained, their bellies filled up, and little heads and hearts full.
One thing I don't always have time for? Me.
All this time spent doing for everyone else, and by the end of the day the thought of doing something for myself just seems to foreign to even wrap my head around.
But it's a shame really.
Those few extra moments spent pampering myself? They should really be considered an investment.
Especially when considering how much better my whole attitude is afterwards.
So for a busy parent, constantly on the go, what do you think the most neglected part , and the one most used and in need of a little extra TLC would be?
The feet!
And that's why I love this easy homemade foot scrub so much. It takes no time to whip up, or to use and it's the perfect way to tickle and tantalize tired tootsies in need of a pick me up with.
If anybody saw, and tried, the Pinterest idea for a Listerine foot bath/soak, I'm truly sorry.
I hope your feet weren't stained blue for too long, and that no one mistook you for a smurf.
Still, while a whole foot bath full of listerine may have been to much, a little bit does go a long way. Pair it with some Epsom salt and you're in business.
Epsom salts are well known for their all natural detox, and stress relieving ability, ie. helping you relax and gain energy!
They're also a great exfoliant, helping to easily remove dead skin along with any foot odor that may or may not be hanging around. (It was a long day, ok?)
The little bit of Listerine this scrub uses will leave your toes feeling tingly clean (and germ free!) while leaving a light, fresh scent behind without tinting your skin.
Be prepared to be amazed, and refreshed.
So if you have tired toes, have dry feet, and/or just enjoy a little bit of frugal, DIY pampering– then the Tired Toes Foot Scrub is for you.
If you've tried this HOMEMADE FOOT SCRUB FOR TIRED TOES, or any other recipe on my site, let me know in the comment section how it turned out, we love hearing from our readers! You can also follow along with me on PINTEREST, FACEBOOK, and INSTAGRAM to see more amazing recipes and whatever else we've got going on!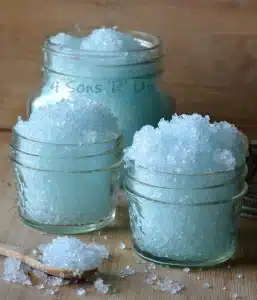 Tired Toes Foot Scrub
This easy homemade foot scrub is a 5 minute DIY recipe that requires only two ingredients. It's a perfect way to pamper yourself while it exfoliates and refreshes tired feet.
Print
Pin
Rate
Ingredients
2

cups

Epsom salt

1/4

cup

Listerine
Instructions
Add the ingredients together in a bowl, stirring until evenly incorporated. Apply a generous amount to your feet and gently rub/massage into the skin. Rinse off and enjoy the pampered feel of your refreshed feet.

Use right away, or store until ready to use. The listerine won't dissolve the epsom salts, but if storing it will settle to the bottom of the jar/storage container, so be sure to give everything a good stir together before using.