S'mores Dip, you wouldn't think it'd be a big deal- but it really is. This recipe combines all things chocolatey, creamy marshmallow, and makes them dippable. With a side of graham crackers for scooping, or even a bit of fruit, you can't beat this recipe for an appetizer or a dessert.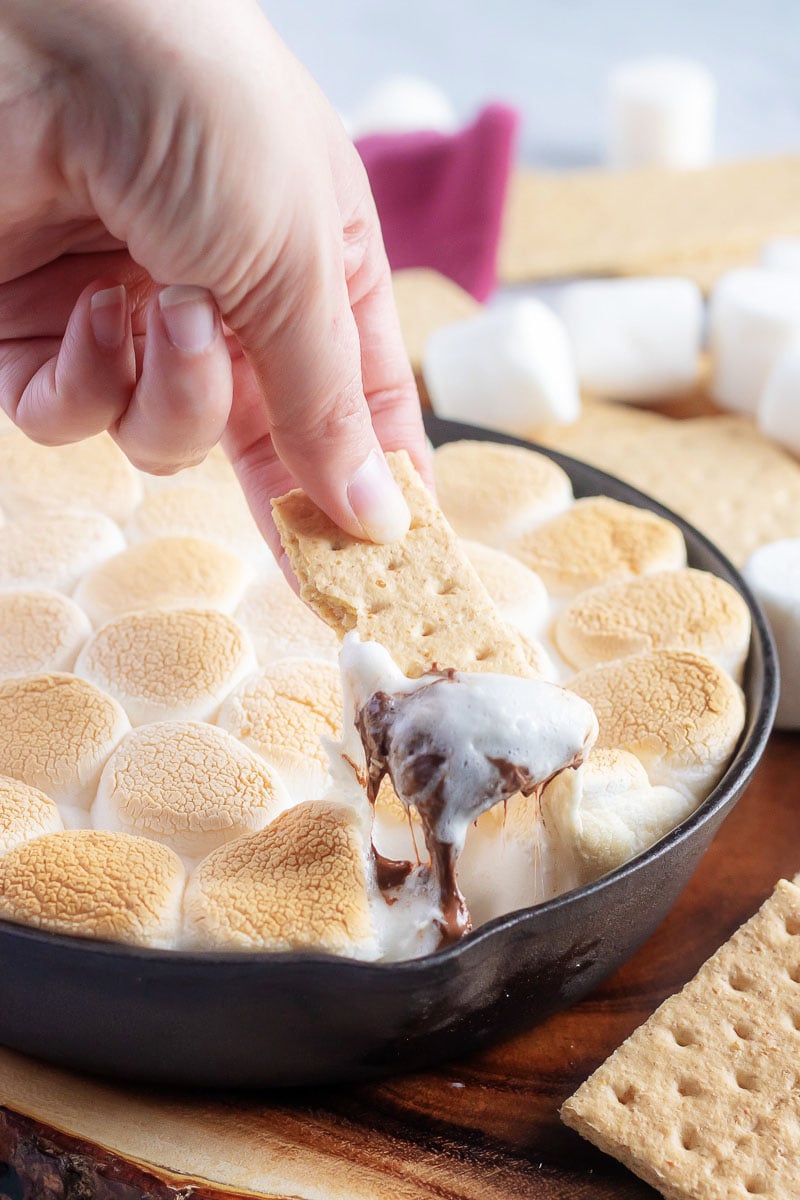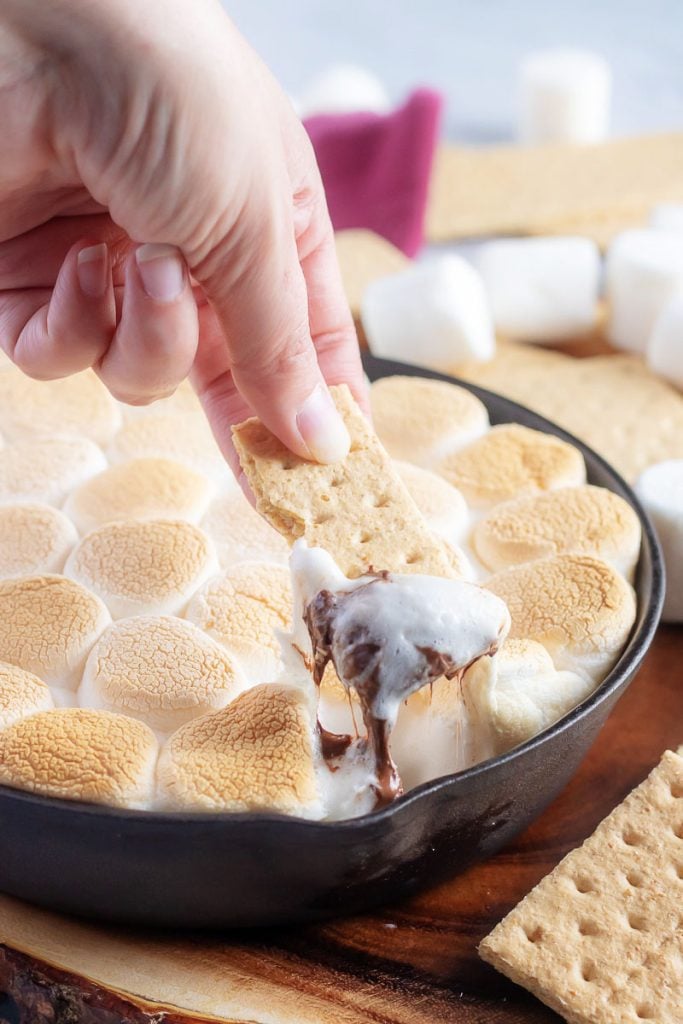 Do you ever have that magic 'moment'?
No, I'm not talking about that special incident or the first time you actually realized you were in love with your spouse or SO (although that is a pretty special one).
Or even any of the magical moments that followed.
Fast forward several years, and I'm talking about that magic (mom) moment where you put something so extremely awesome in front of your kids, that you've actually made, that they actually look at you like you're magic (protection from closet monster & healing boo-boo kisses aside)!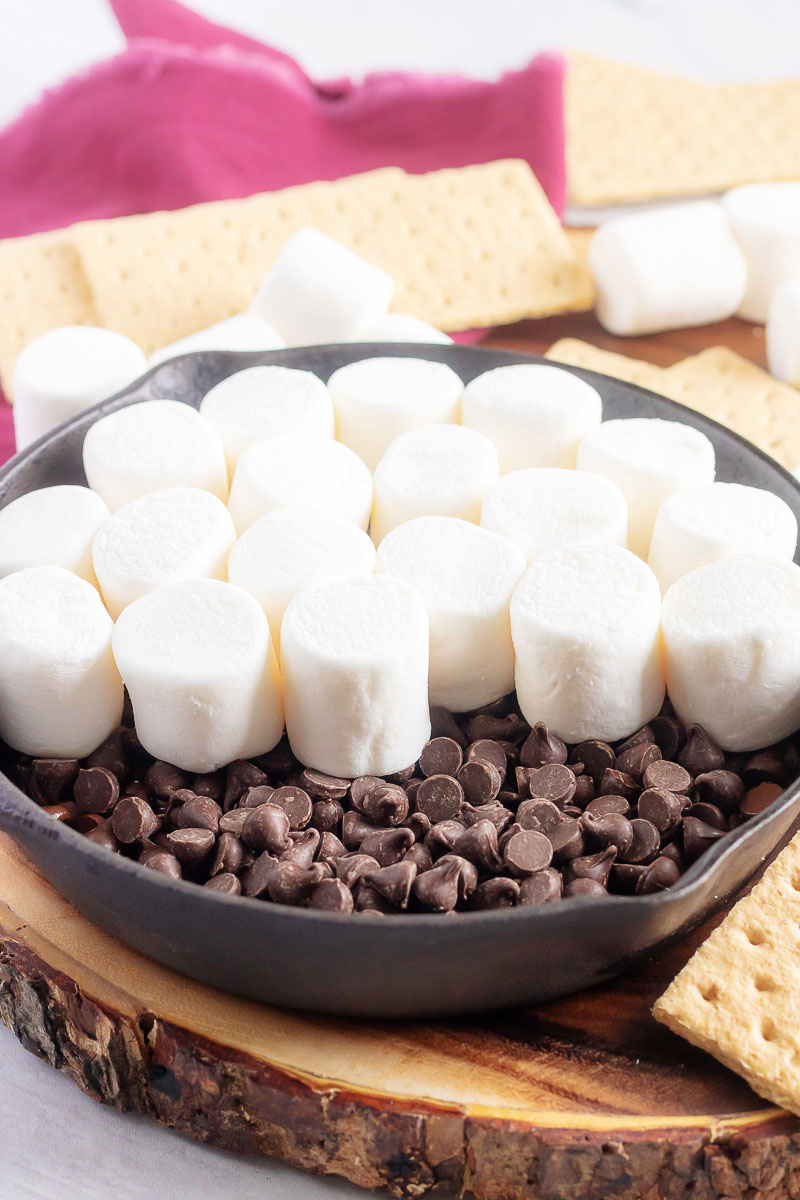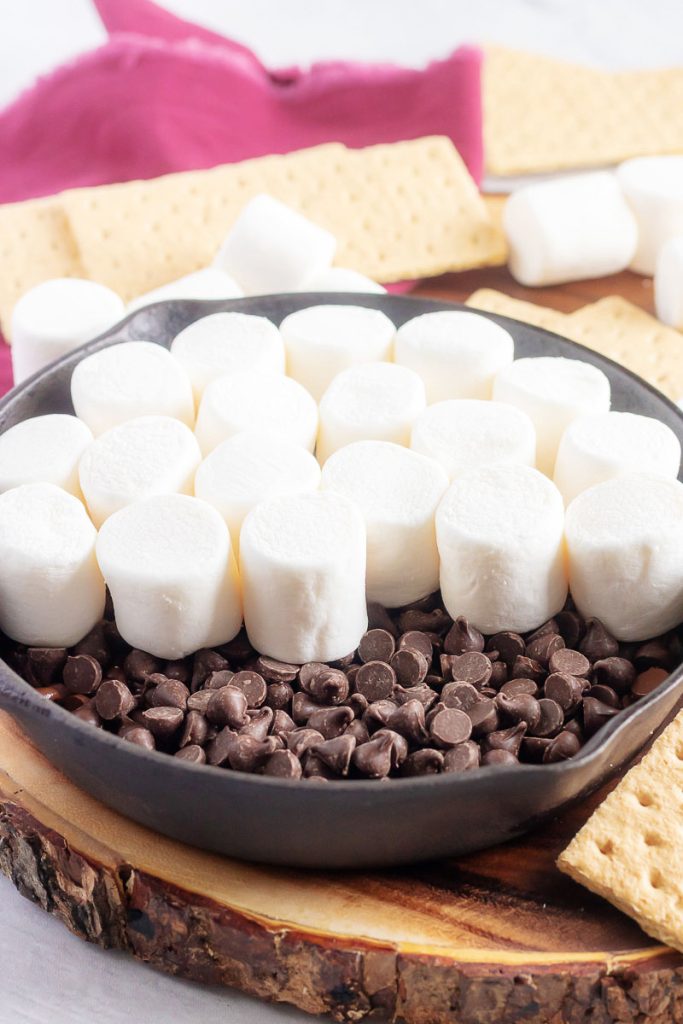 S'mores Dip does it.
Every. Single. Time.
All the mystic powers of the s'more, and all that obey, gooey melted chocolate, toasted marshmallow, graham cracker magic, without any of the fire power.
If you want to 'wow' your crowd, this is most definitely the way to go!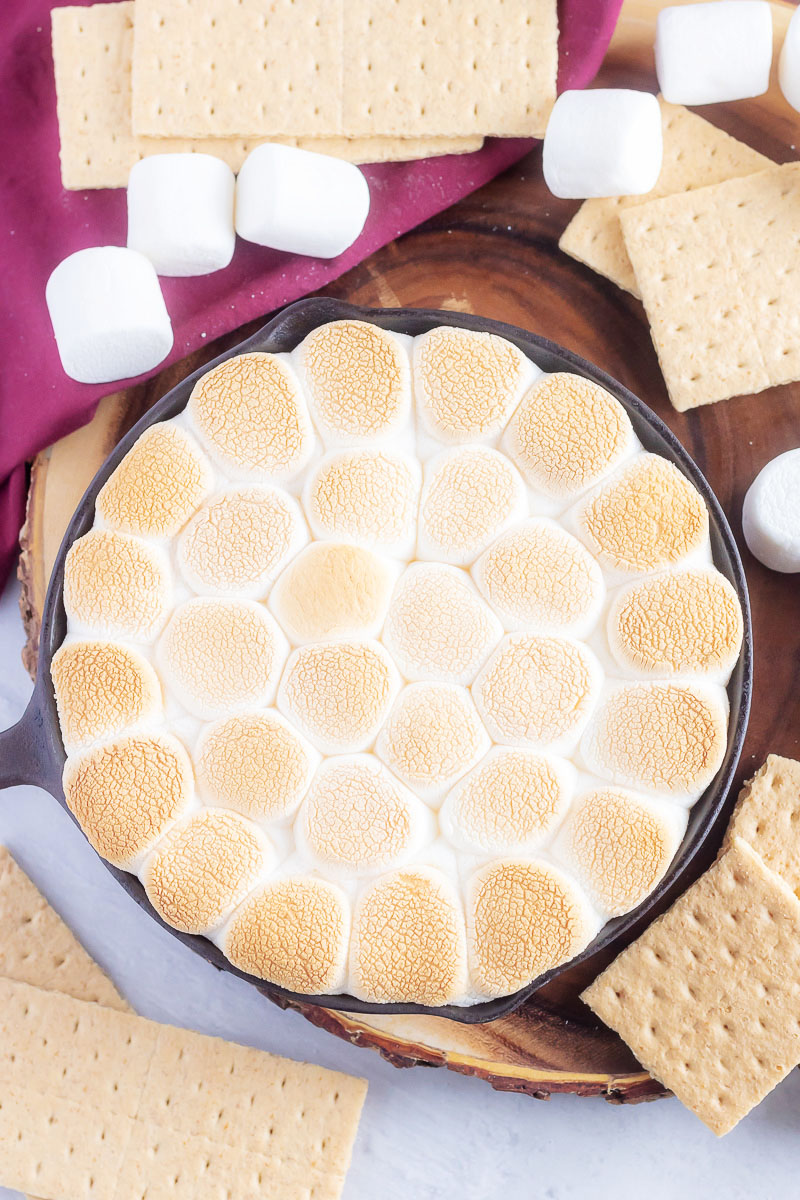 I love to use a cast iron skillet, mostly because it keeps everything nice and hot after it comes out of the oven-without overheating it.
Chocolate can be a very fickle thing!
However, you don't have to use a cast iron skillet, you can use an aluminum pan.
Either way- this S'mores Dip will be an amazingly delicious crowd pleaser.
Whatever pan you're using, add the healthy layer of chocolate chips.
Top them with a layer of large, evenly placed, marshmallows.
Bake the dish until the chocolate is melted and creamy, and the marshmallows on top are crisp, golden brown on top- but melted and ready to be scooped underneath.
Have graham crackers on hand to dip/ 'dig' in, and enjoy.
I also enjoy this S'mores Dip with sliced apples.
Then there's my weird son, who drains a can of mandarin oranges to enjoy with it.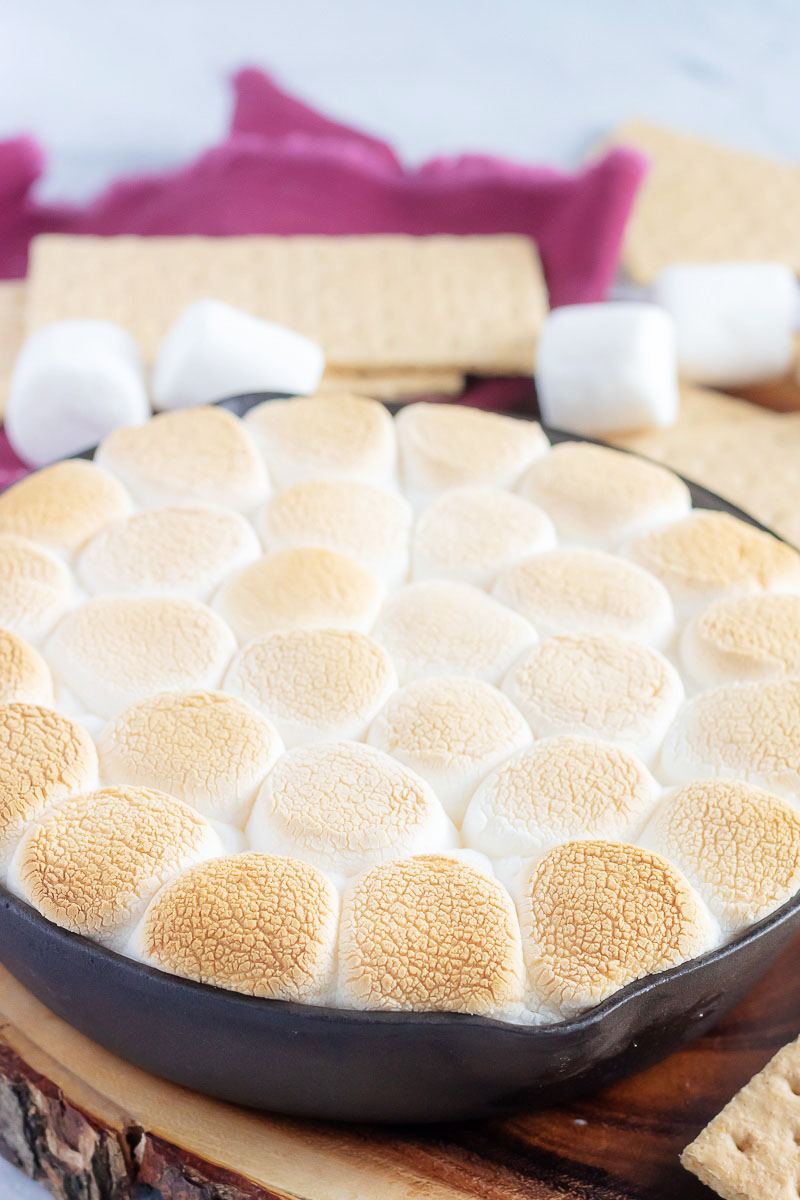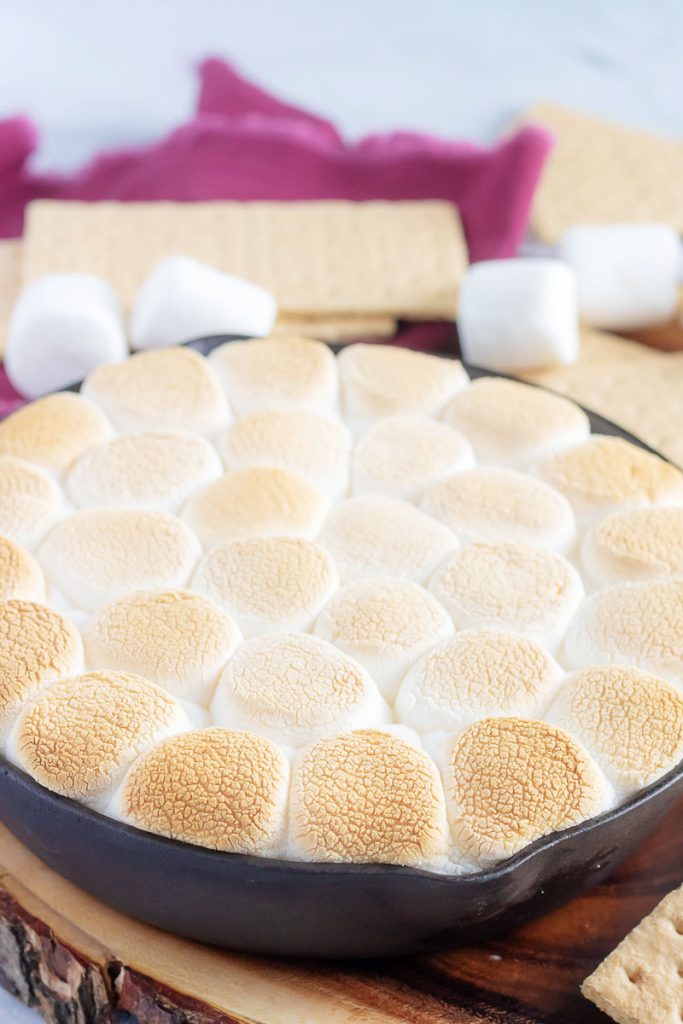 Other Dessert Recipes You Might Also Enjoy: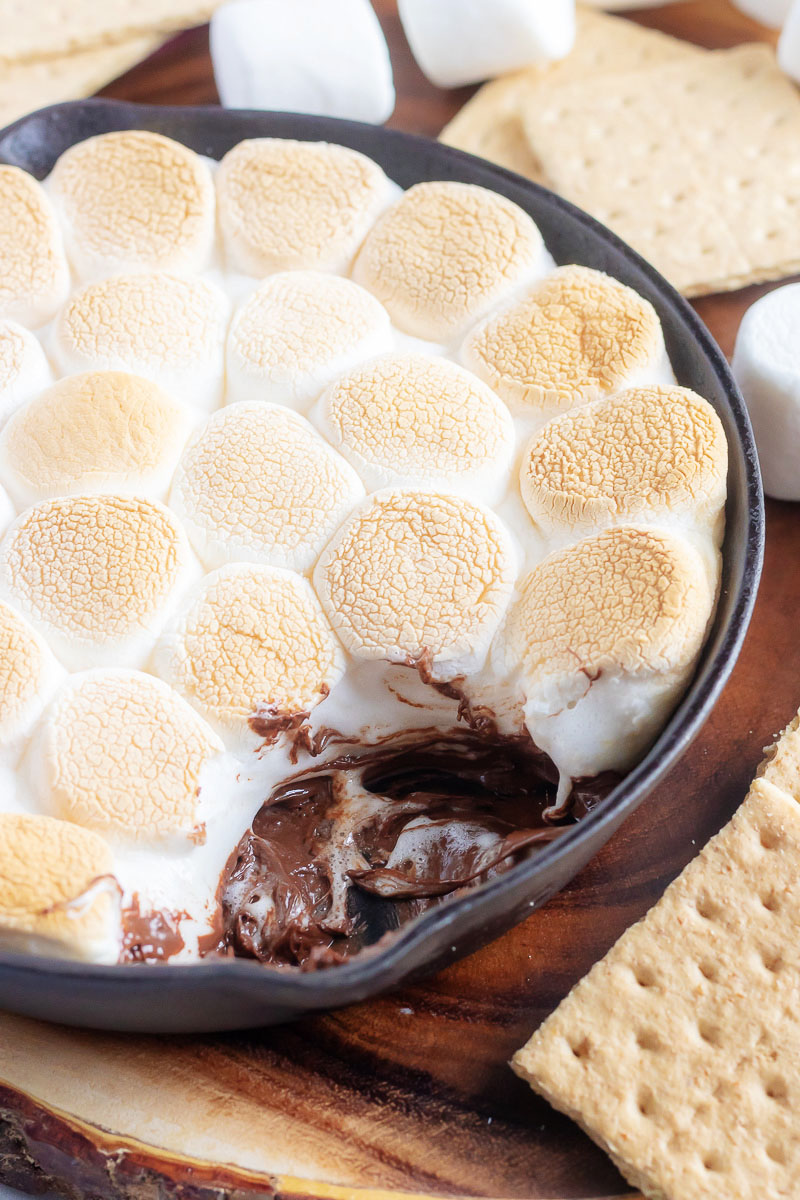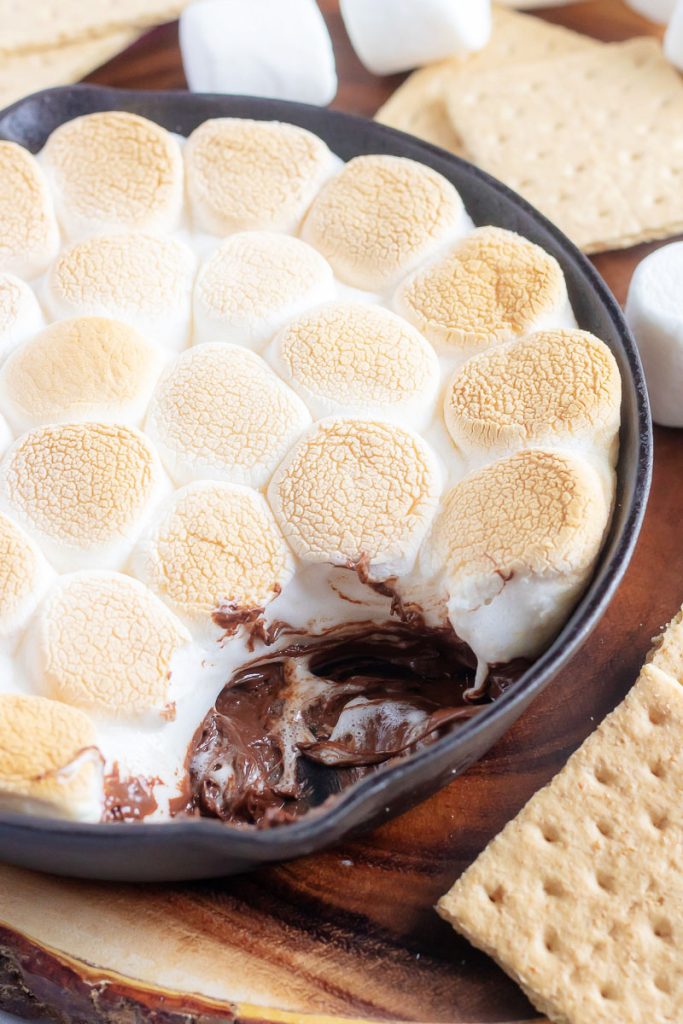 If you've tried this S'MORES DIP, or any other recipe on the site, let me know in the comment section how it turned out, we love hearing from our readers! You can also follow along with me on PINTEREST, FACEBOOK, and INSTAGRAM to see more amazing recipes and whatever else we've got going on!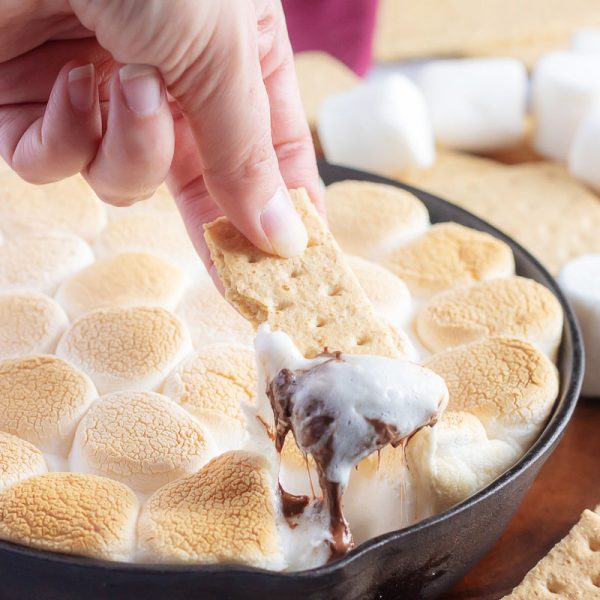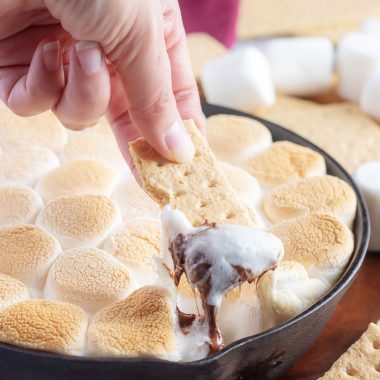 S'mores Dip
All the flavor you crave in a campfire s'more, but made in your oven instead and in dippable form- this dessert is a hit with all ages, all through the year!
Print
Pin
Rate
Ingredients
1/2

tbsp

salted butter

1 1/2

cups

chocolate chips

semi-sweet, milk chocolate, or a combo

jumbo marshmallows

or minis work fine too

graham cracker squares
Instructions
Adjust rack to center position of oven and place 8-inch cast iron skillet on rack. Preheat oven to 450 degrees with skillet inside.

Once oven is preheated, use a pot holder to remove hot skillet from the oven. Place pat of butter in the skillet and use a pot holder to hold the handle and swirl the skillet so that the melted butter coats the bottom and sides.

Pour chocolate chips in an even layer into the bottom of the skillet. Taking care not to burn fingers on the sides of the skillet, arrange the marshmallows over the surface of the chocolate chips, covering the chocolate completely.

Bake for 5 to 7 minutes or until marshmallows are toasted to your preference (watch closely!).

Use an oven mitt to remove the skillet from the oven and allow to rest for 5 minutes. Serve immediately with graham cracker squares or sticks…but be careful, because the dip (and the skillet) will be very hot.

Alternatively, use a microwave, or a double boiler, to melt the chocolate chips and butter, and stir together until evenly combined. Pour the chocolate out into an oven safe baking dish. Arrange the marshmallows over the surface of the melted chocolate. Place the dish under the broiler, just long enough to toast the marshmallows to your preference (watch closely!) Serve immediately with graham cracker squares, or sticks. This dip also pairs well with fresh strawberries!