Fresh green beans are a perfect side dish to brighten any dinner plate, but they can be tricky to cook. Even trickier to infuse with just the right flavors. With these garlic teriyaki green beans, you get perfectly tender beans every time that are infused with the perfect blend of Asian flavors making all of our side dish dreams come true.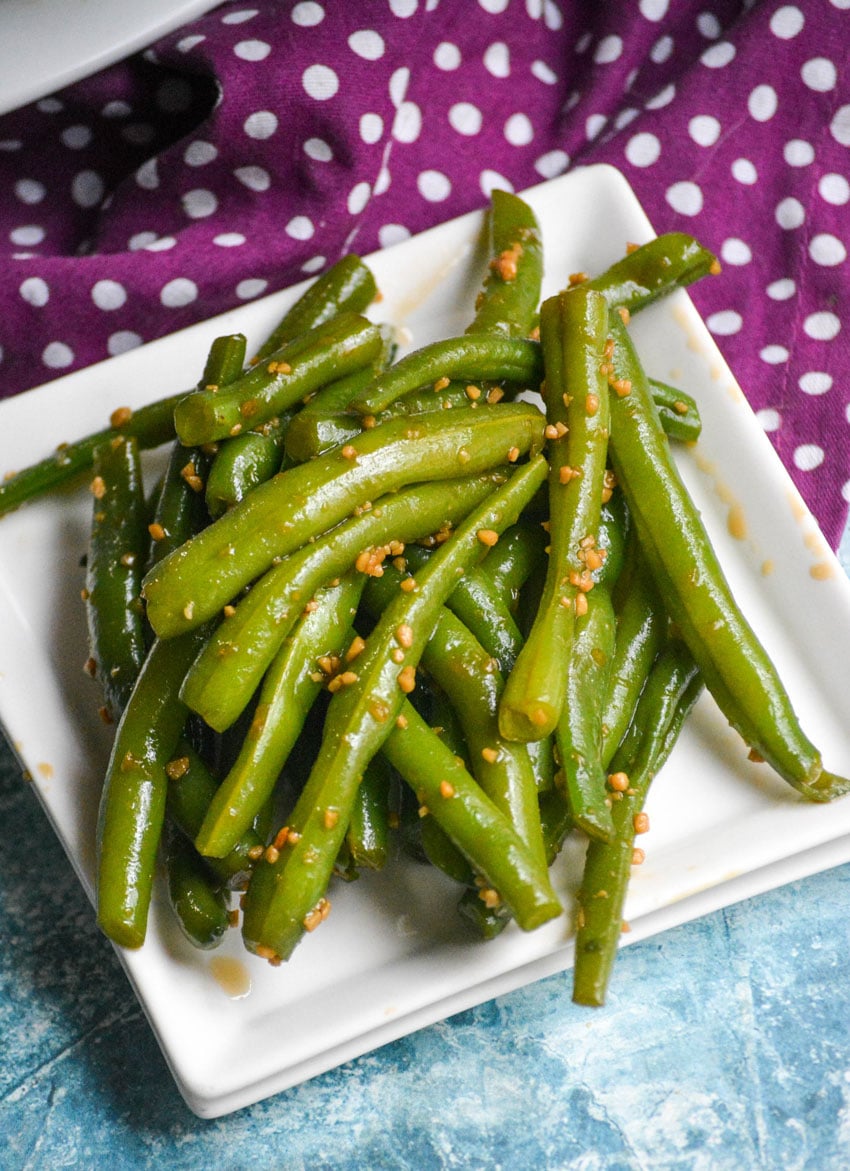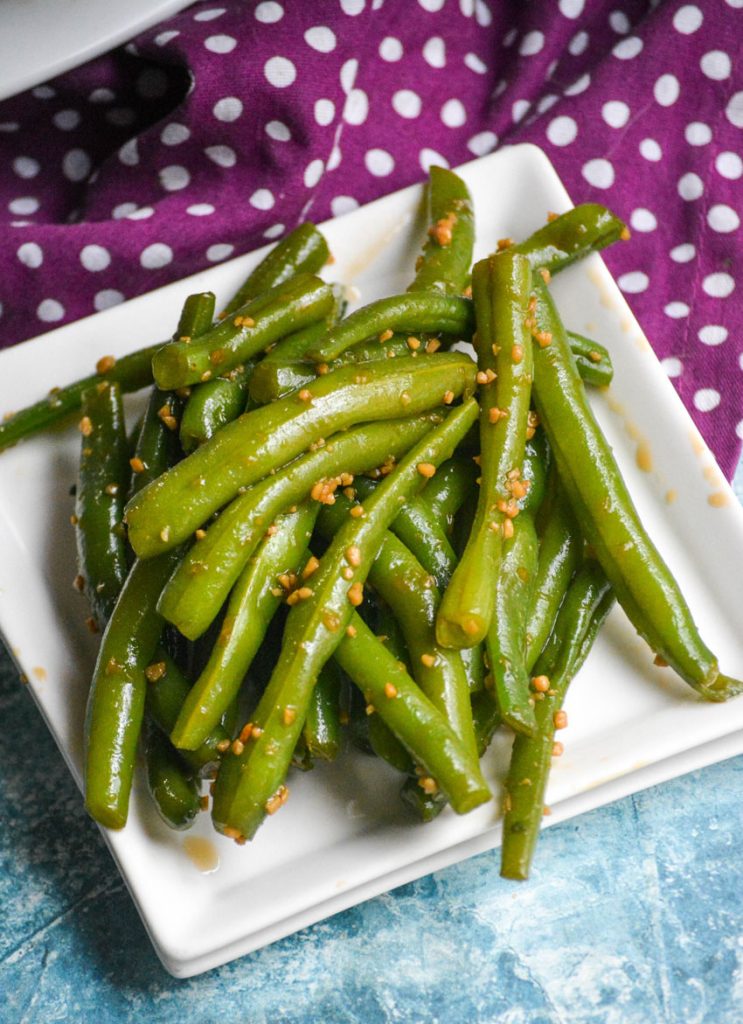 I can't get enough of fresh veggies.
There's something soooo satisfying about the crunch they make.
I like them so much, I usually prefer them raw or very simply seasoned.
I was iffy when the hubs began insisting I try this recipe he'd seen. But, what the hubs wants the hubs gets. Haha.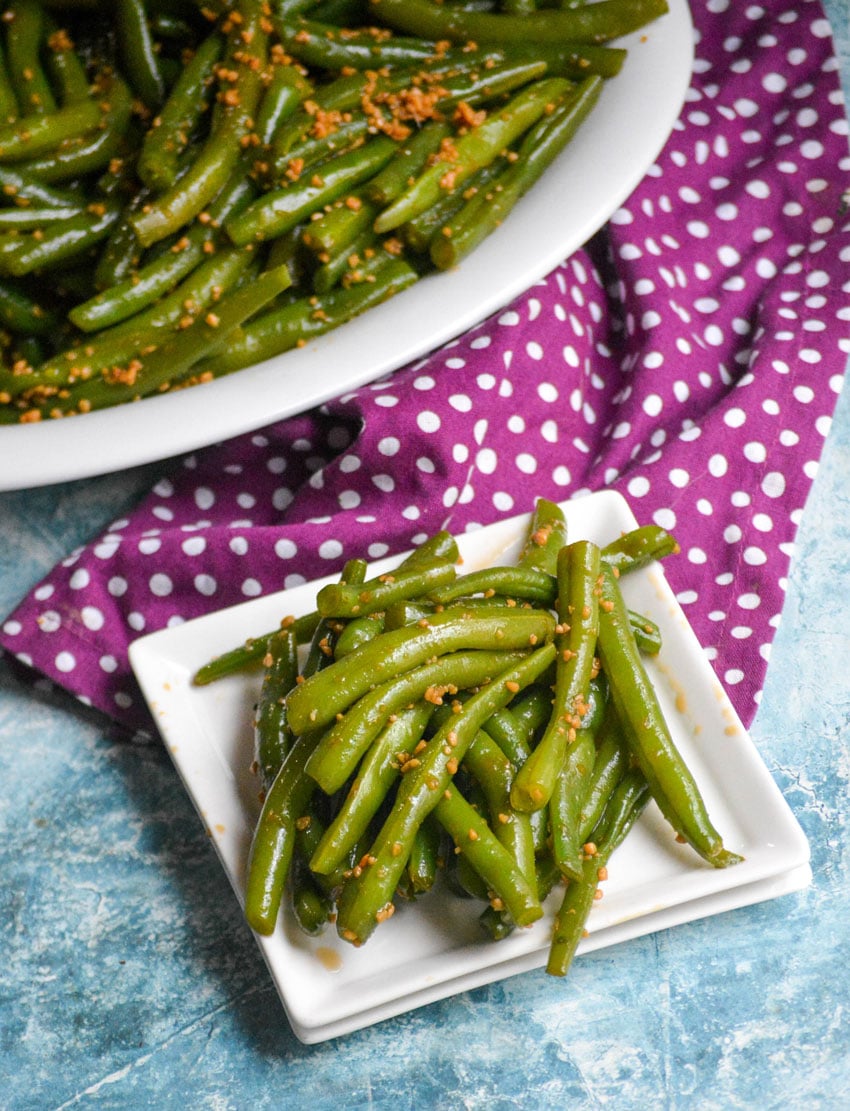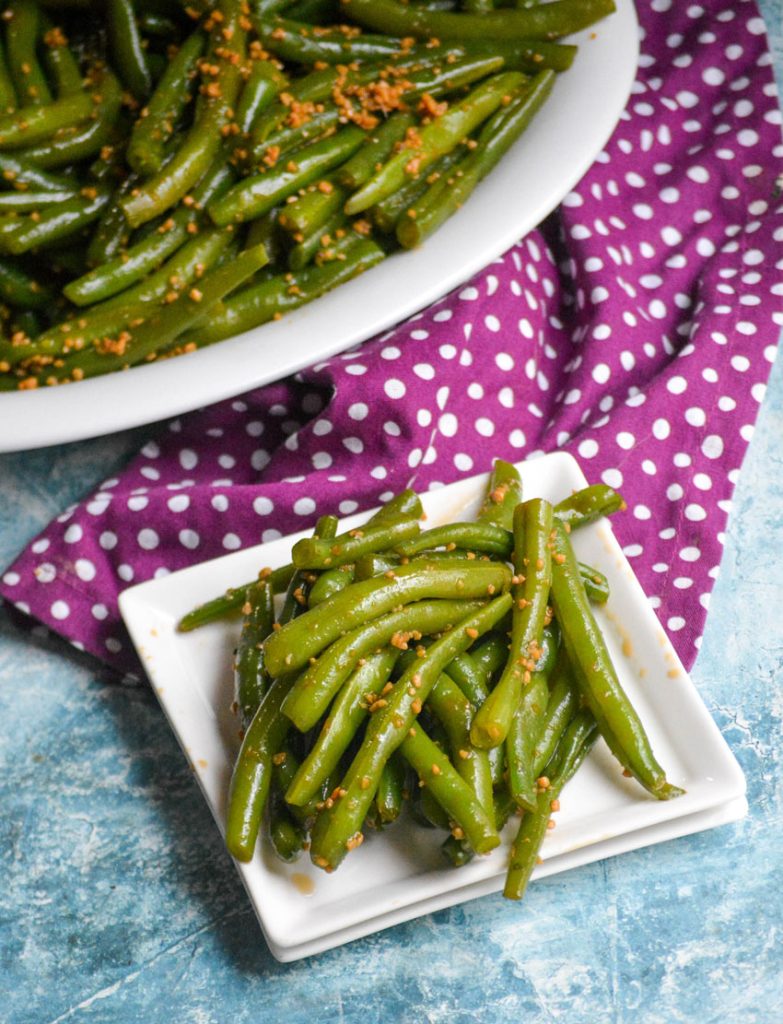 Yeah right, but in reality he rarely begs or even asks for a specific thing for supper so I despite my internal reservations, I jumped at the chance to do it for him.
I just didn't think I'd actually like it.
Asian-style green beans just didn't sound like my kind of thing.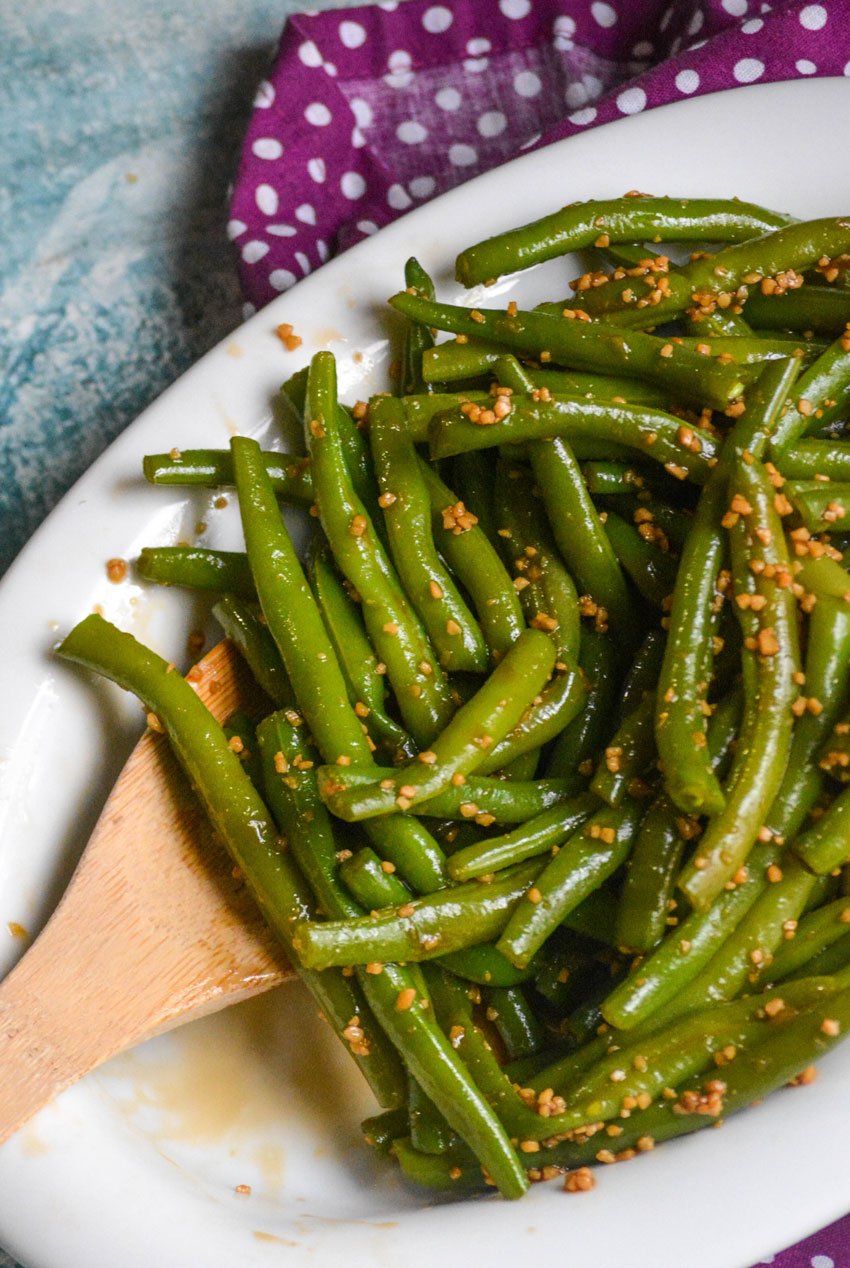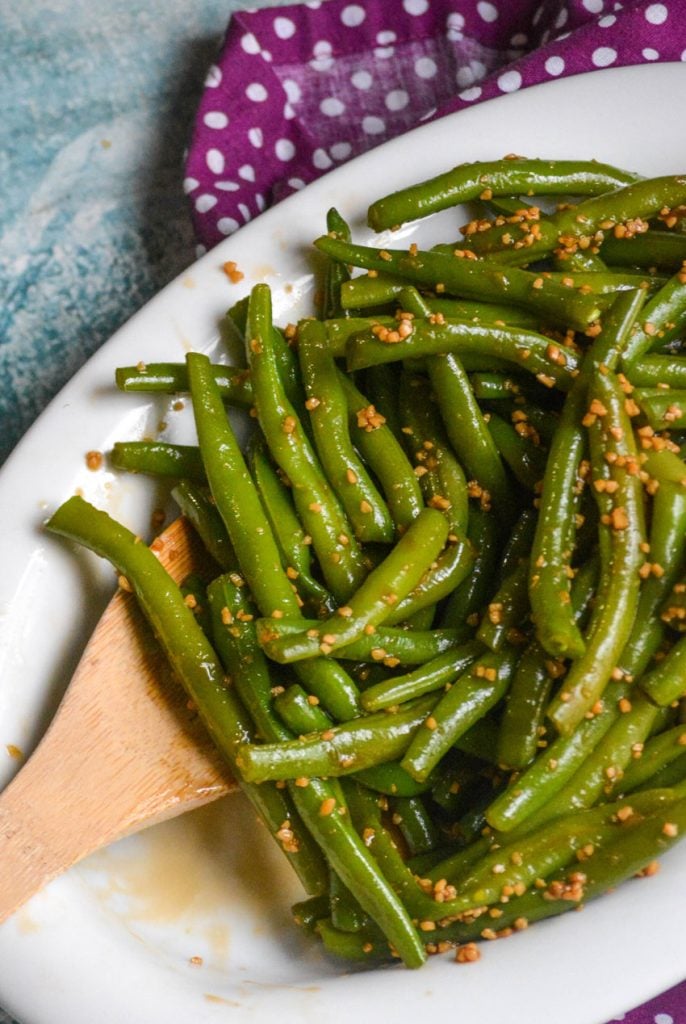 I wish I'd had a camera to record his looks over dinner.
First, the look on his face when he tasted them and confirmed they were everything he'd thought they'd be.
Second, the look of smug satisfaction directed my way across the table as I wolfed my own serving down. What can I say? The man knows me.
He also knows food. And he was spot on with this recipe.
I should have known better to doubt him.
I hate being told, 'I told you so,' but for once I was happily wrong.

Since green beans are the whole star of this dish, make sure you purchase the freshest ones you can find in your grocer's fresh produce section.
You'll know they're fresh if they're firm to the touch, have a great green color, and snap when bent in half.
Refrigerate your beans until ready to use.
How To Trim Fresh Green Beans
Trimming fresh beans is always a first step in any recipe using them.
If you didn't grow up doing this task at your Grandma's knee in the evenings, it's really very simple.
You don't want to trim them too far in advance though, as the cleaned ends are prone to drying & shriveling up rather quickly.
I recommend doing this step just 20-30 minutes in advance of your planned start time.
If you're prepping a small batch of beans, snap the ends of on both sides with your finger tips. You can then leave the beans long or cut them in half.
If you're working with a bigger batch of beans, like the pound this recipe calls for- then I have a short cut for you.
Gather a large clump of beans together, and line up all the ends evenly- not necessarily facing the same way.
Using a sharp knife on a cutting board, cut the ends off- only about a quarter of an inch. Flip the bundle and repeat on the other side.
Wash your beans thoroughly, and then they're ready to use in this sauteed garlic teriyaki green bean recipe or any other.
Making Asian Flavored Green Beans On The Stove Top
Fresh green beans are super easy to make, and even easier to infuse with great flavor!
To make these beans, melt butter & olive oil in a large skillet over medium heat.
When the butter's melted and has just begun to bubble, whisk in the garlic, pepper, and salt.
Add the green beans to the skillet, gently tossing to coat. Cook the beans for roughly 10 minutes.
Next add to the skillet teriyaki sauce, white wine, onion, paprika, and garlic powder. Gently toss again to combine.
Continue cooking the beans while the liquid simmers for another 20-25 minutes until the beans have come tender and soft, but still have a slight crunch.
Serve & enjoy!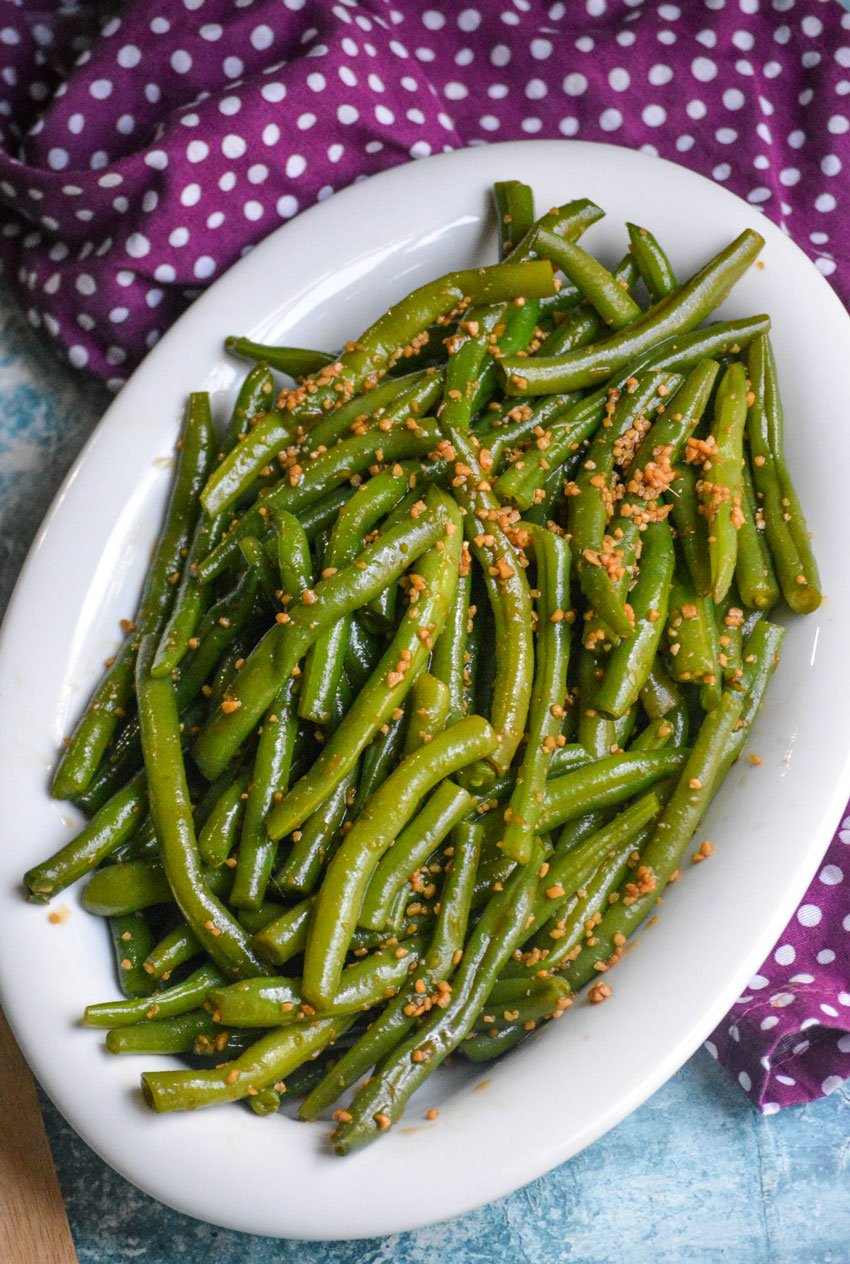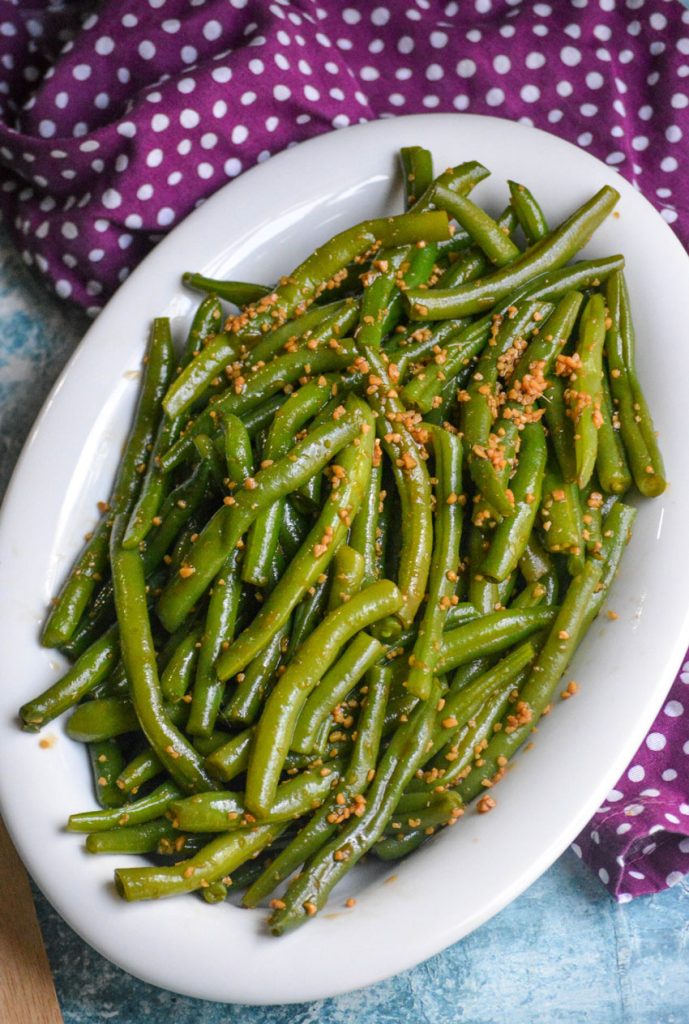 Can I Substitute Canned Green Beans?
While I love canned green beans, especially with their quick cooking time- this is one recipe that they simply won't work in.
Canned green beans are already completely cooked, and very soft. It makes them a great option for just heating up on busy nights.
In this recipe they will turn to mush, falling apart without taking on any of the desired flavors.
If you haven't discovered how great cooking with fresh green beans can be, I highly encourage you to try this recipe.
It's the perfect recipe to get the whole family excited about eating their green veggies.
Serve these garlic teriyaki green beans over rice for an awesome Asian-style vegetarian option, or serve them as a satisfying side with pork or chicken.
Other Asian Style Side Dishes To Try
If you've tried these GARLIC TERIYAKI GREEN BEANS, or any other recipe on my site, let me know in the comment section how it turned out, we love hearing from our readers! You can also follow along with me on PINTEREST, FACEBOOK, and INSTAGRAM to see more amazing recipes and whatever else we've got going on!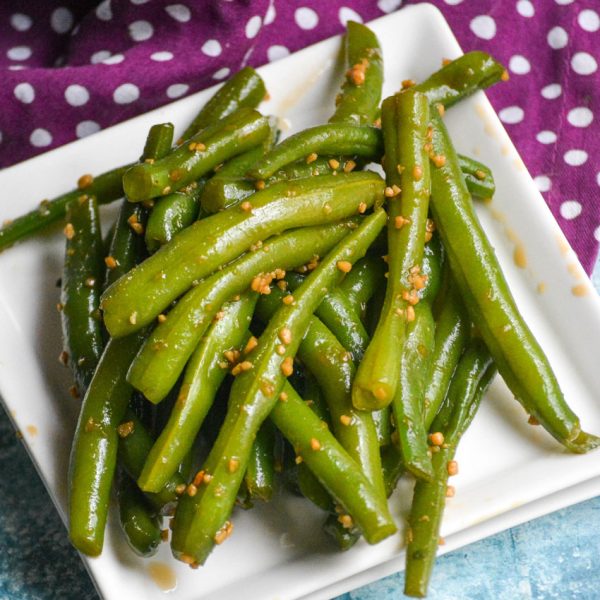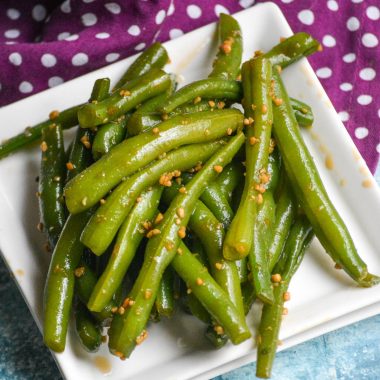 Garlic Teriyaki Green Beans
Fresh green beans are flavored with a little Asian flair and sauteed in a skillet until tender, but with a slight crunch. Infused with rich flavor these beans make a perfect side dish to virtually any main meat to round out a dinner and make it a meal.
Print
Pin
Rate
Ingredients
1

tablespoon

butter

2

tablespoons

extra virgin olive oil

3

tsp

minced garlic

crushed red pepper

to taste (optional)

1

lb

fresh green beans

trimmed

1/4

teaspoon

salt

1

tablespoon

teriyaki marinade or sauce

1/4

cup

white wine

authentic or cooking wine, either is fine or 1/4 cup chicken broth

1/4

cup

medium red onion

chopped

1

teaspoon

paprika

1

teaspoon

garlic powder
Instructions
Heat the oil & butter in a large skillet over medium heat until melted and begins to bubble.

Add the garlic, pepper, beans, and salt. Cook for about 10 minutes.

Add the teriyaki sauce, wine, onion, paprika, and garlic powder and keep cooking the beans for an additional 20-25 minutes until the beans are mostly soft, but with a slight crunch.
Nutrition
Calories:
100
kcal
|
Carbohydrates:
8
g
|
Protein:
2
g
|
Fat:
7
g
|
Saturated Fat:
2
g
|
Cholesterol:
5
mg
|
Sodium:
235
mg
|
Potassium:
203
mg
|
Fiber:
2
g
|
Sugar:
3
g
|
Vitamin A:
744
IU
|
Vitamin C:
10
mg
|
Calcium:
31
mg
|
Iron:
1
mg