Some of the most gorgeous food presentations are often the ones that feature food served in other, edible food 'dishes'. And that's certainly true in this case with these Chicken Teriyaki Pineapple Rice Bowls. Easy teriyaki chicken is served with fluffy, steamed white rice in a hollowed out pineapple bowl infusing everything with slightly sweet flavor. They're perfect for Summer suppers.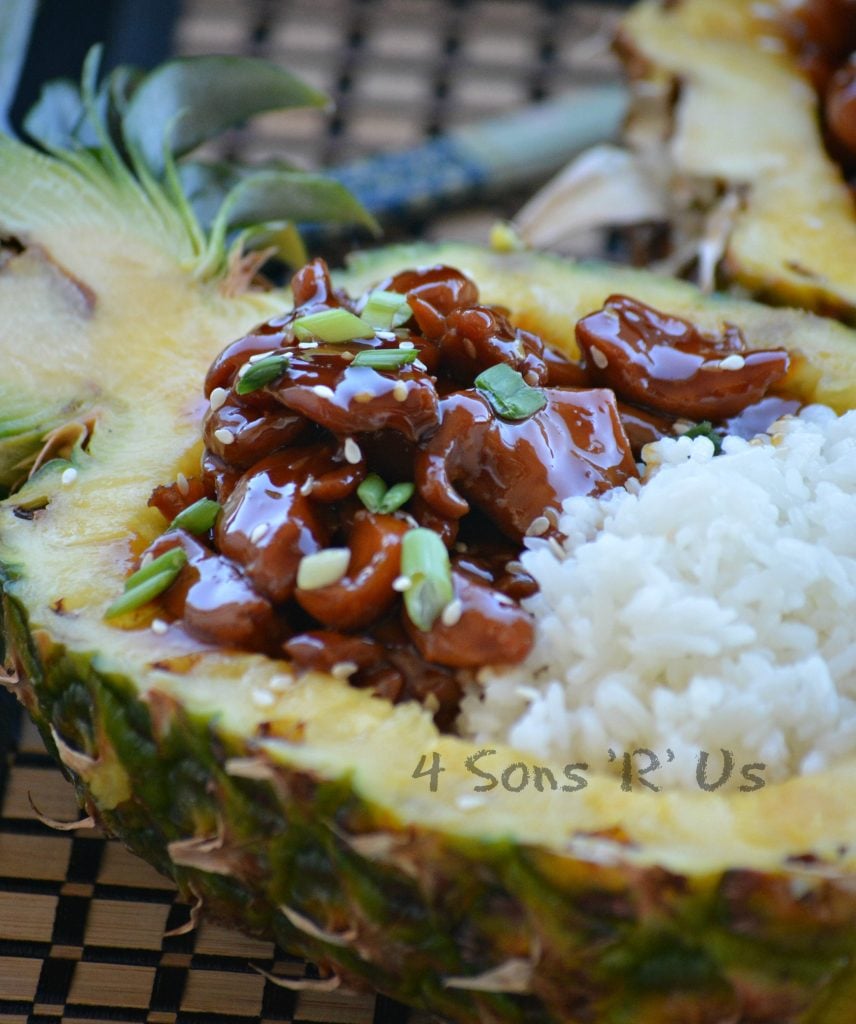 Juicy chunks of chicken are slow simmered in a homemade teriyaki sauce. Serve them with a generous scoop of pineapple infused rice in a hollowed out pineapple bowl for a meal that's as easy on the eyes as it is on the palette.
Pineapples just seem summer-y to me. Combined with a little meat and a few other veggies (although the veggies are totally optional) they make a mean kebab.
Throw a few slices on the grill for a real treat. Or you could go the sweet, oh so simple route and just eat it by the slice or scooped fresh from the hull.
You really can't go wrong there, and it is totally acceptable if you need to lick the juice off of your finger tips. No droplet should be spared.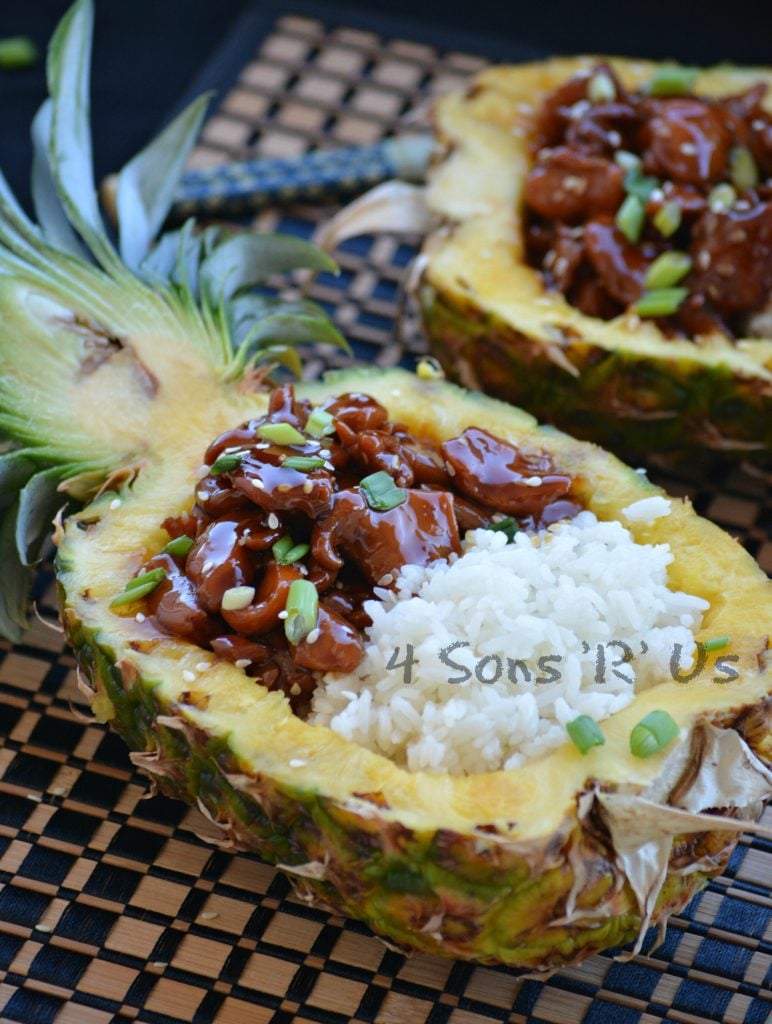 Do you know something else the sweet, sticky fruit pairs perfectly with? Asian food and Asian flavors. Especially with rice.
Rice can be sooo plain– often seeming so boring and played out, but add a bit of fresh pineapple juice to it and you've given it some zing.
But, but , but buuut– don't stop there.
Keep on eating that pineapple and hollowing out it's shell as you do so.
It makes one heck of a serving dish and doubles as a conversation piece.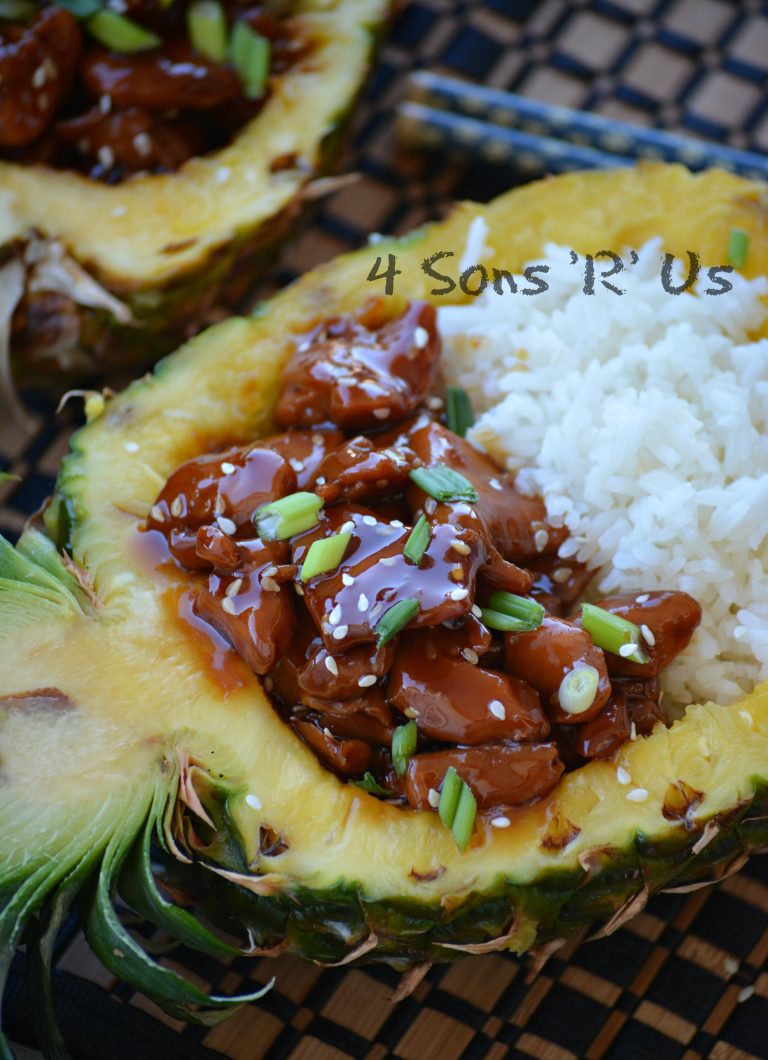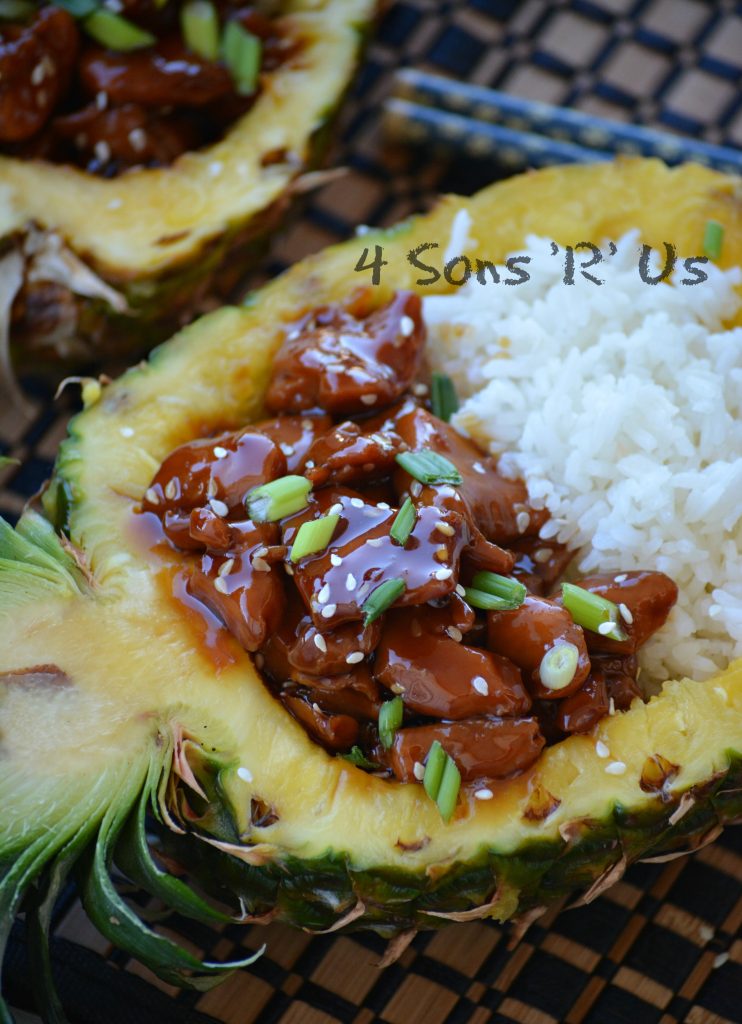 Delight your senses– taste and sight alike will be dazzled by this dinner of chicken teriyaki and rice in fresh pineapple bowls.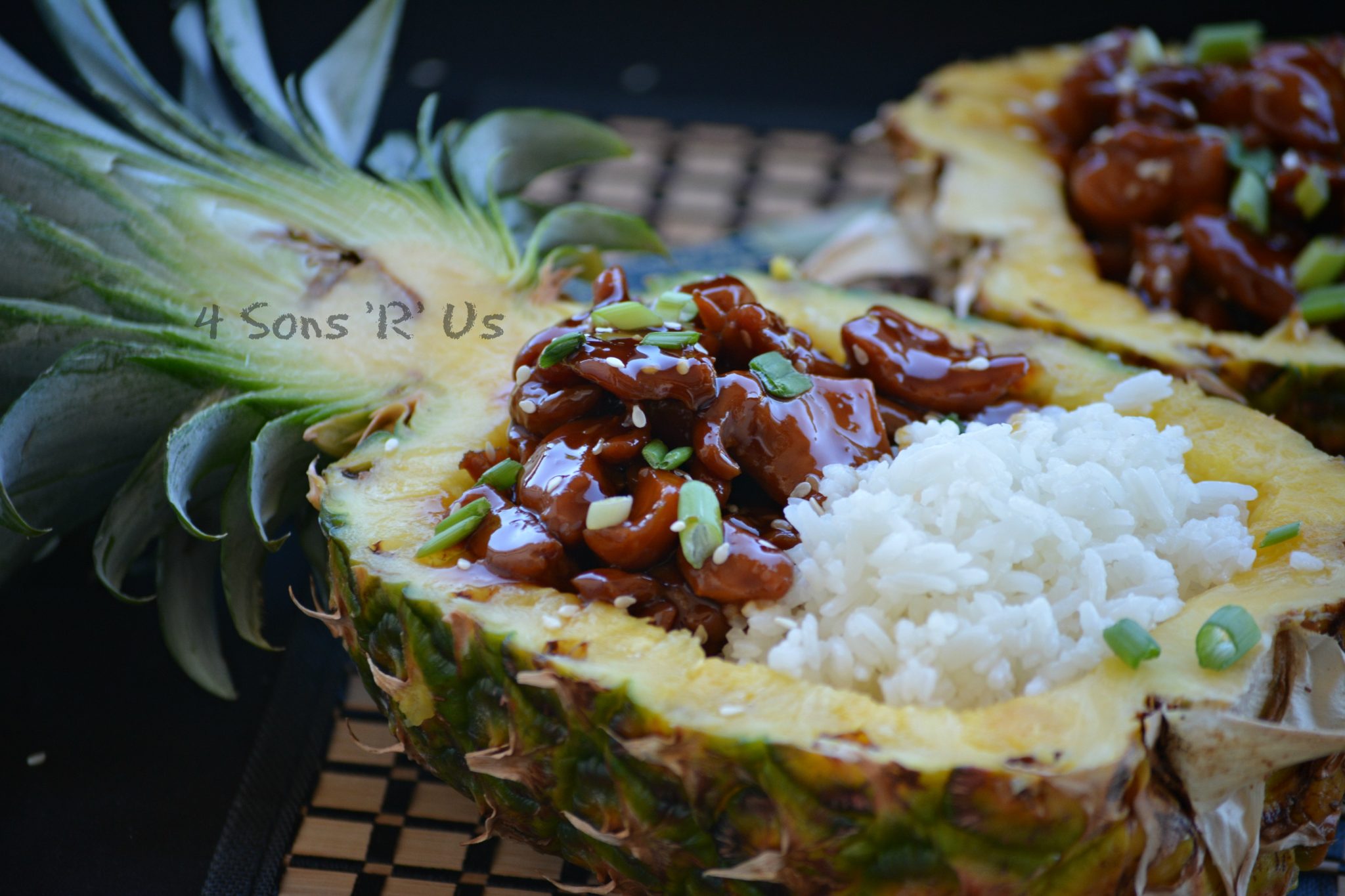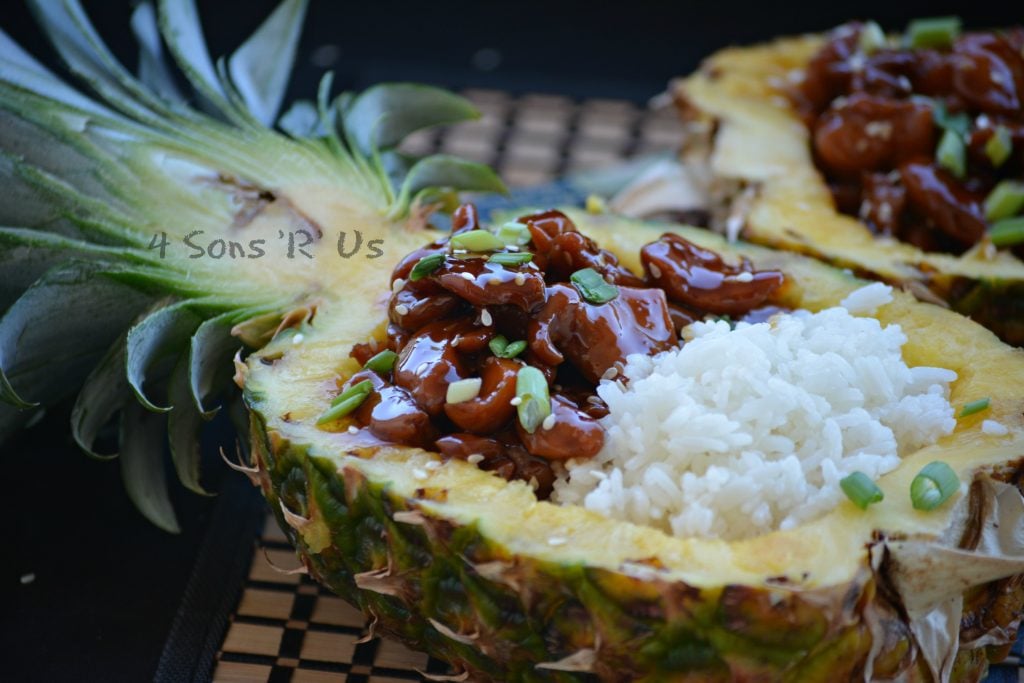 If you've tried these CHICKEN TERIYAKI PINEAPPLE RICE BOWLS, or any other recipe on the site, let me know in the comment section how it turned out, we love hearing from our readers! You can also follow along with me on PINTEREST, FACEBOOK, and INSTAGRAM to see more amazing recipes and whatever else we've got going on!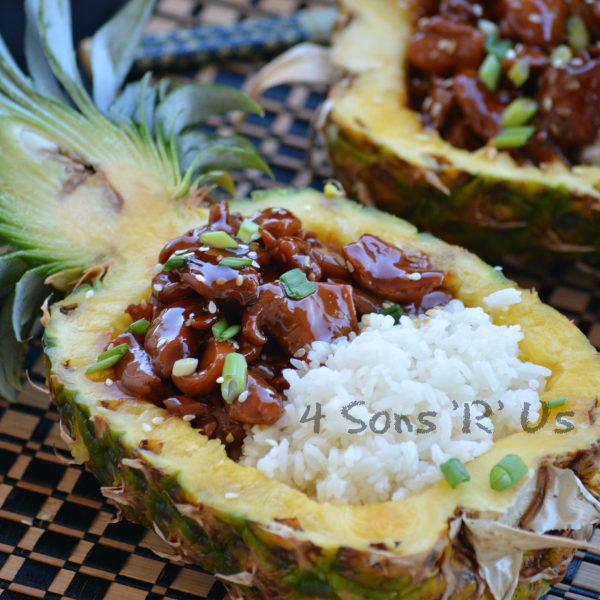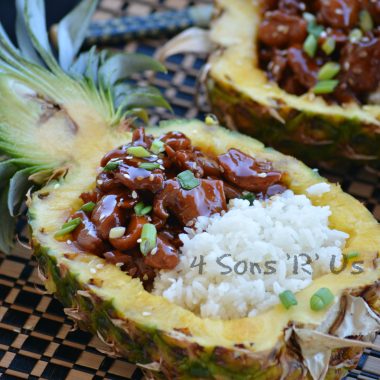 Chicken Teriyaki Pineapple Rice Bowls
An easy recipe for teriyaki chicken, served in fresh pineapple 'bowls' alongside a heaping helping of white rice infused with sweet pineapple flavor.
Print
Pin
Rate
Ingredients
1

large pineapple

1

tablespoon

canola oil

1

lb

boneless

skinless chicken thighs, fat trimmed off and cut into 1-inch pieces

3/4

cup

soy sauce

1/4

cup

packed brown sugar

1/4

cup

honey

1/2

tsp

ground ginger

1/4

tsp

garlic powder

2

cups

cooked white rice

1

green onion

thinly sliced

sesame seeds
Instructions
Cut a ripe pineapple in half, lengthwise. Use a small pairing knife or a spoon to carefully hollow out the flesh of each half, leaving about a half-inch on the sides to make sure the pineapple bowls and leak-proof. Scoop out the excess pineapple and set it aside to use/eat later.

In a large pan, heat the oil over high heat. Add in the prepared chicken. Cook the meat about two minutes, stirring regularly so that it browns on all sides. Next stir in the soy sauce, brown sugar, honey, ginger, and garlic until they're evenly incorporated. Bring the teriyaki sauce to a boil, then immediately turn down the heat and let the sauce simmer, stirring occasionally, until it's dark and nicely thickened and the chicken is cooked through. I'd say about 8 to 12 minutes of cook time. Remove the pan from the heat, and set aside.

Use a spoon to scoop about 1-2 tbsp of expressed pineapple juice from the innards we set aside earlier. Add it to the cooked rice and stir to make sure it's spread throughout. Divide the rice in a half and add 1/2 to one side of each of the pineapple bowls. Divide the teriyaki chicken in half and add 1/2 to the other side of each pineapple bowl.

Top the chicken with a sprinkling of sesame seeds and green onions before serving.
Notes
The longer the cooked rice sits in the pineapple the more it will absorb the sweet flavor. For more, let the rice sit and just keep the teriyaki chicken warm until ready to serve and eat.
Also, this recipe serves two but can easily be doubled to accommodate a larger crowd.