Caramel and smooth milk chocolate combine in the bowl of your slow cooker to create a rich creamy hot chocolate base that's sure to thaw any freeze. Finished off with a dollop of fresh whipped cream, a drizzle of caramel, and a pinch of sea salt to really make that flavor 'pop'- this salted caramel crockpot hot chocolate is a cozy drink to sink into a chair with and just savor every single sip.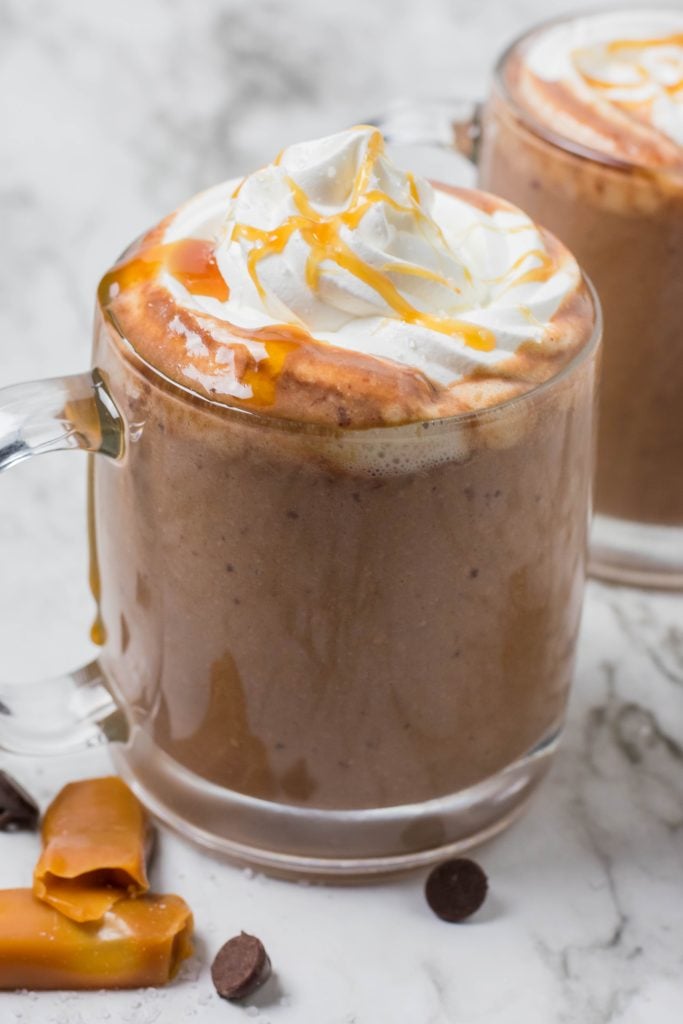 Does anybody else remember where they were and what they were doing in the Blizzard of '96? I was 9 and in 5th grade.
We'd just barely returned to school from Winter Break, and a snow storm hit most of the East Coast (arguably one of the top 3 worst in a century), dropping 8-10 inches of snow on Central Va in less than one day, followed by several inches of sleet, before finishing with another 8-10 inches of snow over the next two days.
Everything shut down.
A few days later, another system dropped another 6 inches on us. I thought it was great. It was magical. Snow as far as the eye could see.
I remember walking with my parents and all of our neighbors to the Elementary School in our neighborhood where we spent every day and most of the evenings sledding down the hills behind it.
It was the first, and last time, the snow was so thick that it was safe to ice skate on the lake we lived on.
I remember walking up to the neighborhood convenience store with my Dad pulling one of our sleds behind us, to re stock on bread and batteries.
School was out for almost another two weeks, before life began to return to normal.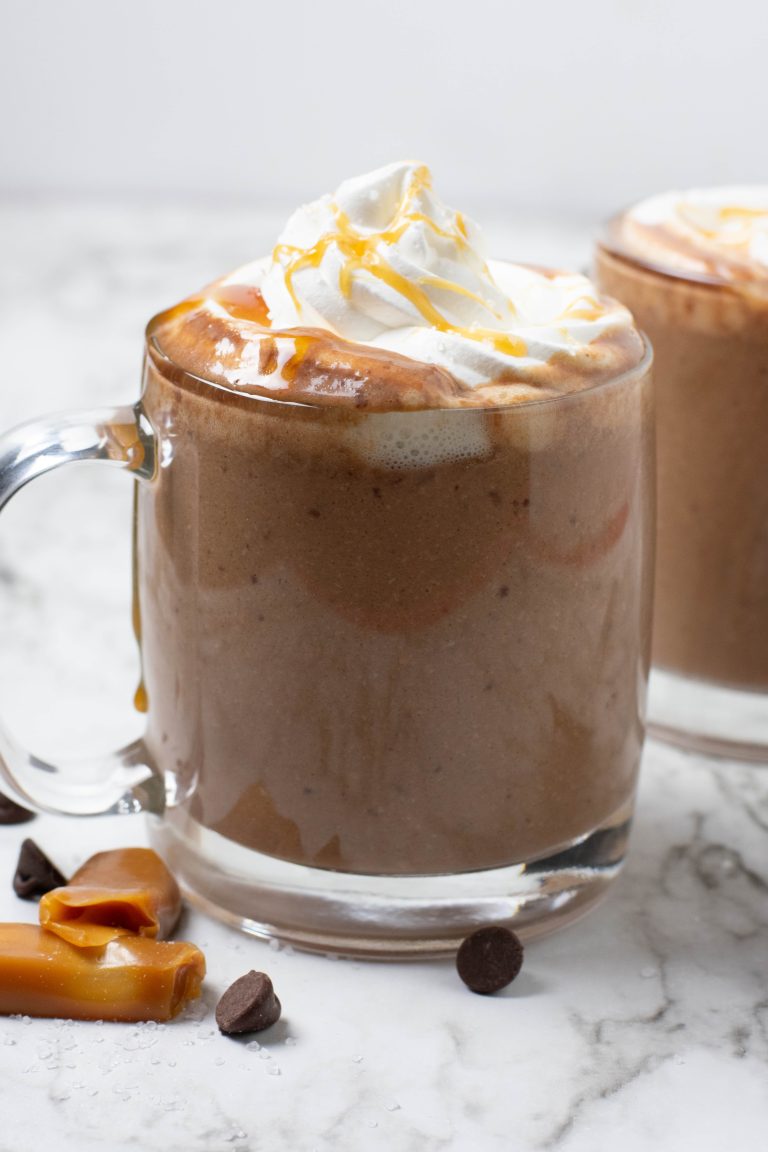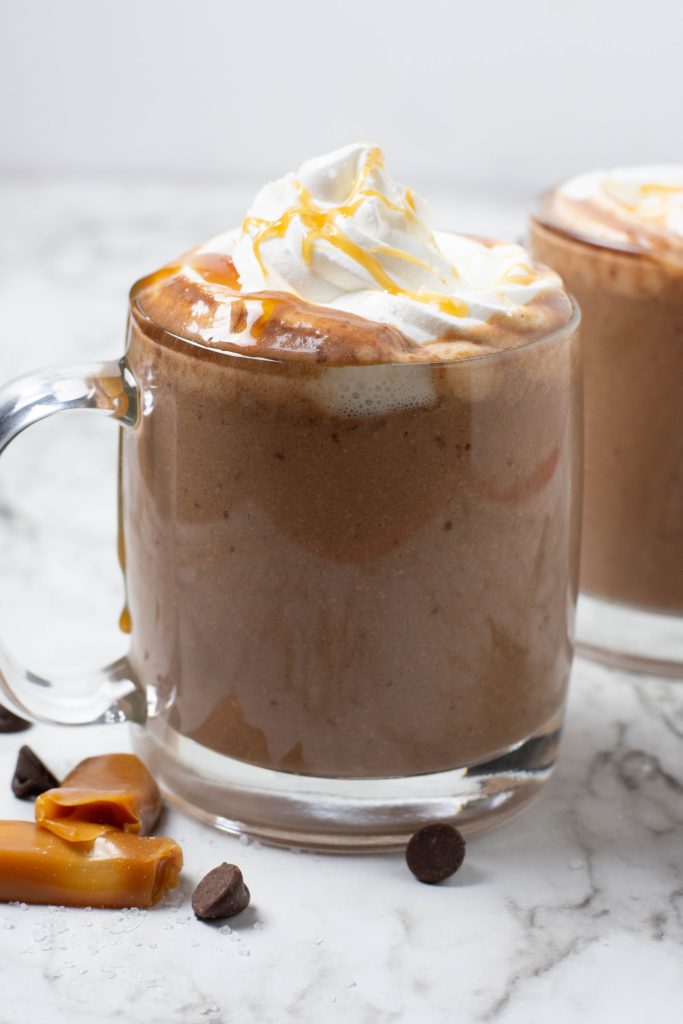 And through it all, there are two things I remember becoming a ritual before out parents tucked us up into sleeping bags, for our 'camp out' in our living room, each night; steaming cups of hot cocoa and a roaring fire going in the (rarely used) fire place.
It was the first time I'd ever seen my Dad bring in wood from the wood pile he kept and maintained, but had never before needed to use.
I remember him coming in from the back yard with arms full of logs, shaking snow off his boots, and eagerly sipping his own cup of piping hot cocoa.
Did I mention it was magical?
I'm sure part of this was due to the fact that I was obsessed with the Little House On The Prairie series at the time, but a lot of it was my age and also the overwhelming feeling of love and family.
Being snowed in and 20 years of reminiscing will do that!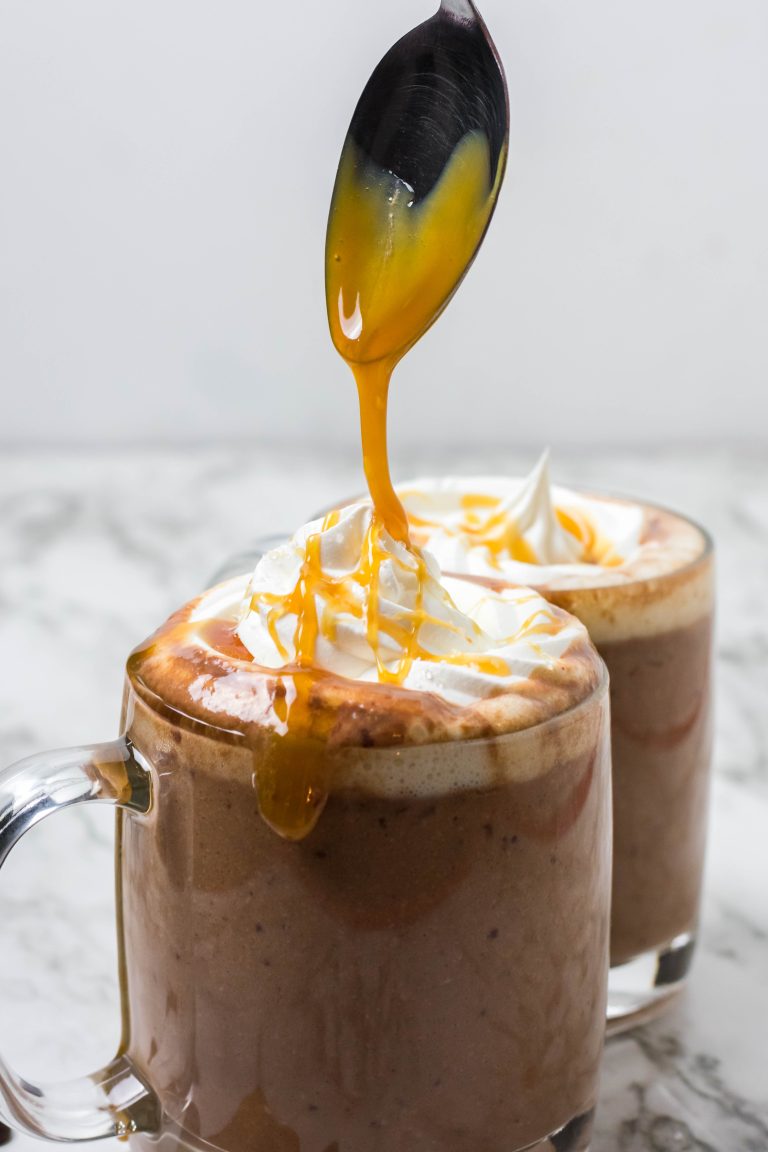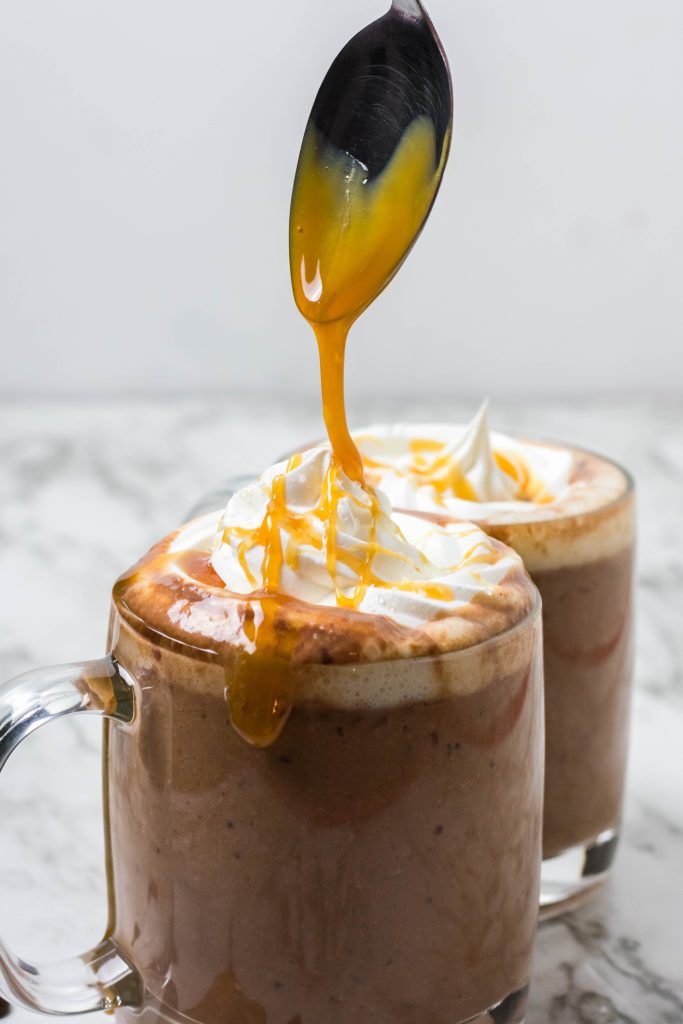 Fast forward those almost 20 years, now with my own home and kids of my own, and if the weather reports and storm casts hold true, Central Va is about ready to get hit with another snow storm of potentially historic proportions.
Well for our area anyway.
Everybody is emptying store shelves, stocking up on milk, bread, and batteries.
And while we're no different, I also made sure to add to my cart the ingredients I'd need to make my own kids hot chocolate for the duration of anytime we're spent snowed in.
It's a snow storm tradition now.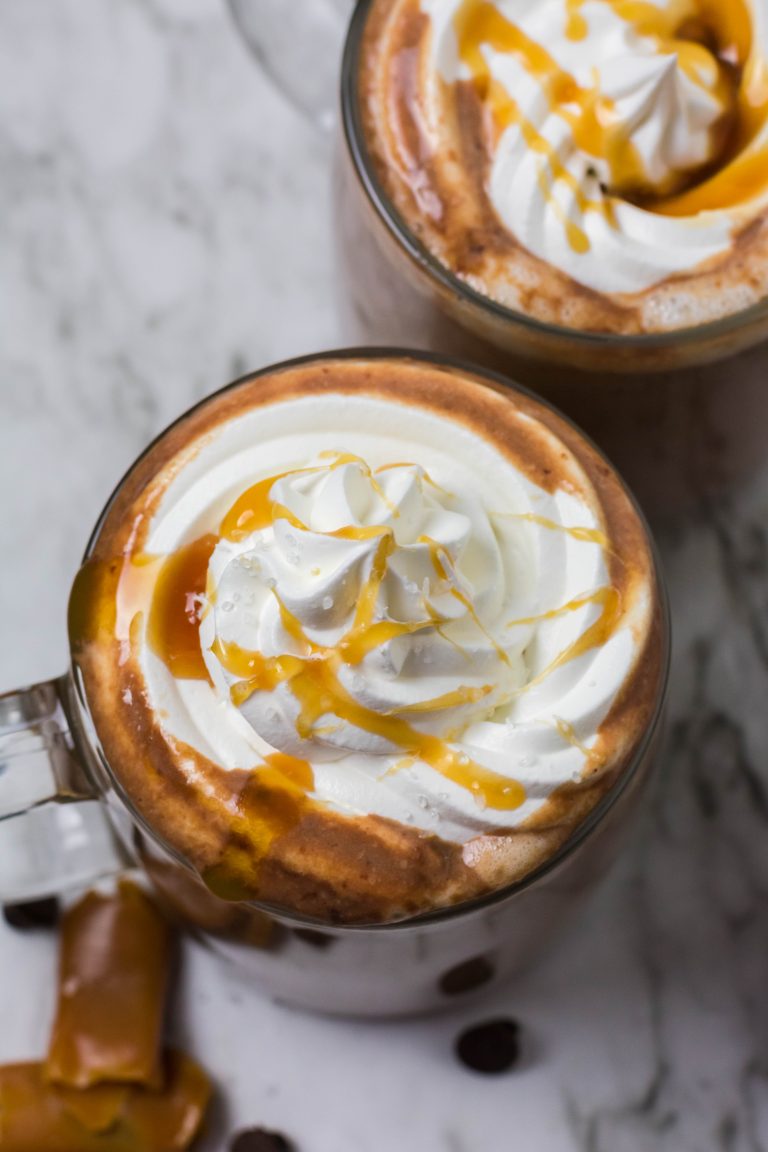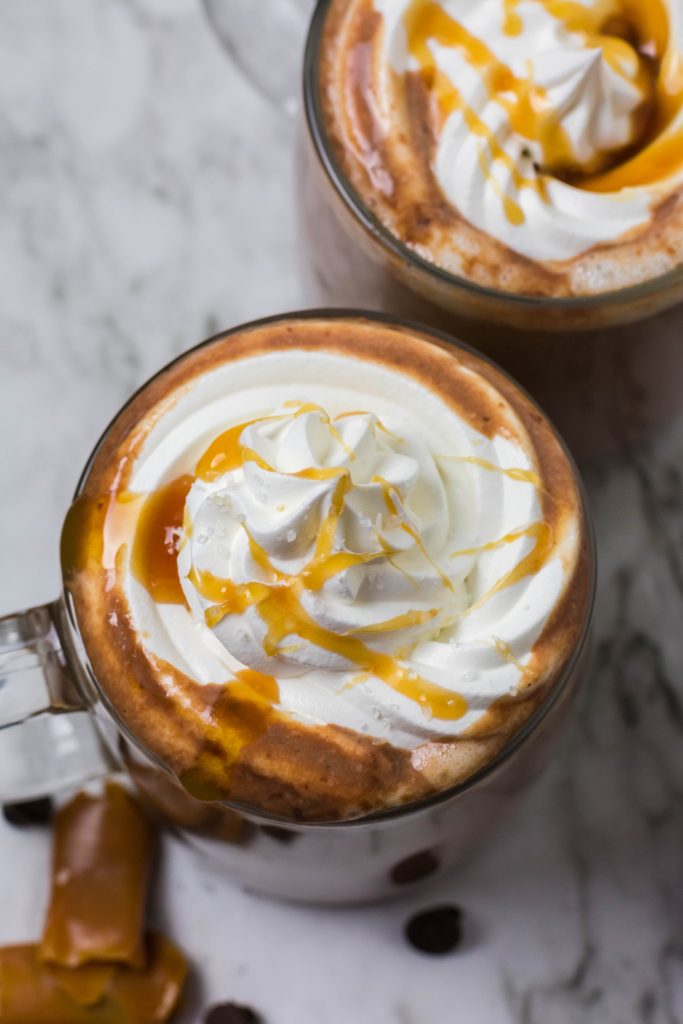 And there's no better way to create a memory than warming up by a fire, watching snow fall, while sipping on a warm mug of this particularly indulgent cocoa.
Can You Make Salted Caramel Hot Chocolate On The Stovetop?
While this tends to come together in our slow cooker, that may not be possible if serious snow storms are headed your way. Generator or not, if you've got a stove top- you can still enjoy this delightful salted caramel hot chocolate drink.
To make this on the stove top, add all of the hot chocolate ingredients to a large pot set over medium heat. Whisk the mixture well and often.
The heat setting is important, because if it's too high the mixture may come to a boil which you DO NOT want. Boiling it can cause the milk to separate, even curdle.
While whisking often, let the mixture heat up gently but completely.
As soon as the chocolate chips are melted and the cocoa's smooth, you should begin to see little tiny bubbles forming around the edges of the pot.
That's your cue that this salted caramel hot chocolate is hot & ready to serve.
Technically, you could also make this delicious hot chocolate in the microwave- but I'll save that post for another day!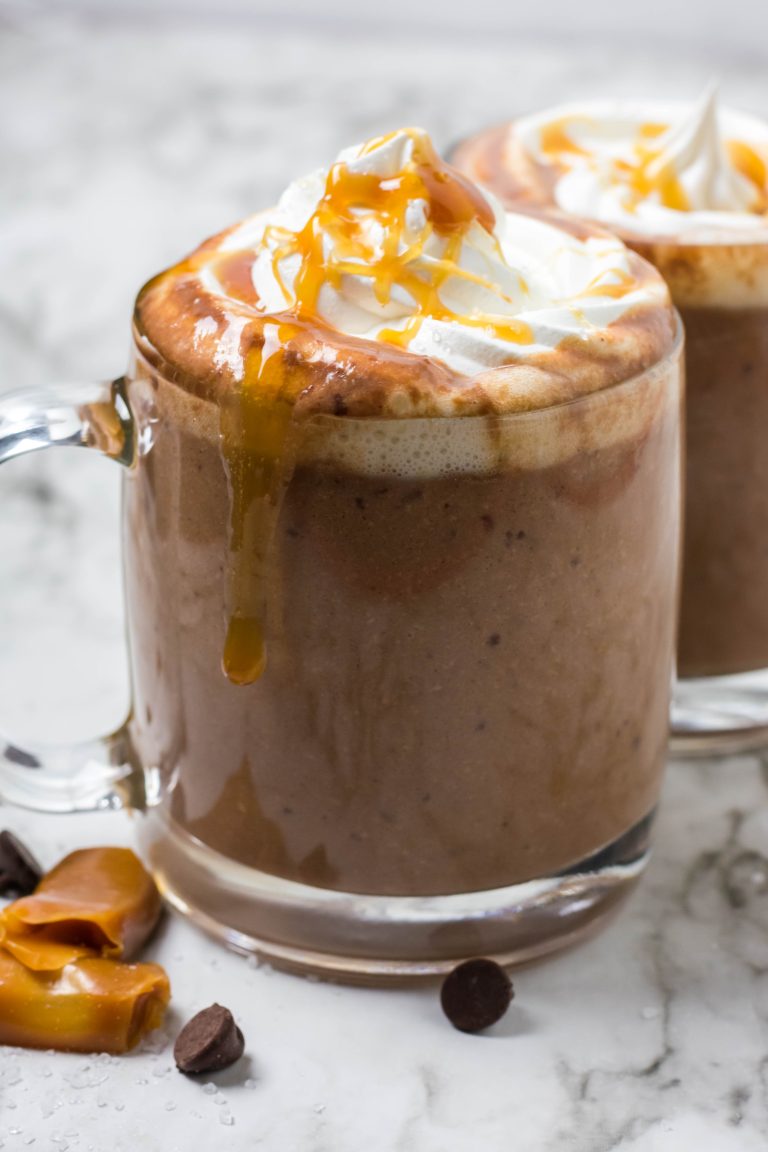 To Get The Full Effect- How To Top Salted Caramel Crockpot Hot Chocolate
While this rich milk chocolate based hot cocoa recipe is infused with the sweet & salty combination throughout, topping it the right way really takes it over the top.
We like using whipped cream, the kind from the can, for a quick easy creamy topping for our glasses of hot chocolate.
Another great option is a generous dollop of cool whip, or a couple large marshmallows. They will make their own cream as they begin to melt.
If you're wanting to go the extra mile though, whip up some cream for a truly indulgent cream topping.
To set a glass of this hot chocolate off, you're going to want to add a caramel drizzle and a pinch of flaky sea salt to each one. You can skip the salt if needed, but I do suggest at least trying it before knocking it.
Just don't try using regular table salt, that would not be good. It's got to be the flaky sea salt or nothing.
As for the caramel drizzle, that is essential. We've used caramel syrup, the same kind you'd put on your ice cream, caramel sauce, and even dulce de leche that we've warmed up to be spoon-able.
Caramel and smooth milk chocolate create a rich creamy hot chocolate base that's sure to thaw any freeze, and it's all topped off with a dollop of fresh whipped cream, a drizzle of caramel, and a pinch of sea salt to really make that flavor 'pop'.
Cozy up this Winter with a full glass of our salted caramel crock pot hot chocolate and be prepared to savor the memories, old & new that you make around it. Maybe it will become a tradition for your family too?
Other Cozy Hot Chocolate Ideas To Try:
If you've tried these SALTED CARAMEL CROCKPOT HOT CHOCOLATE, or any other recipe on the site, let me know in the comment section how it turned out, we love hearing from our readers! You can also follow along with me on PINTEREST, FACEBOOK, and INSTAGRAM to see more amazing recipes and whatever else we've got going on!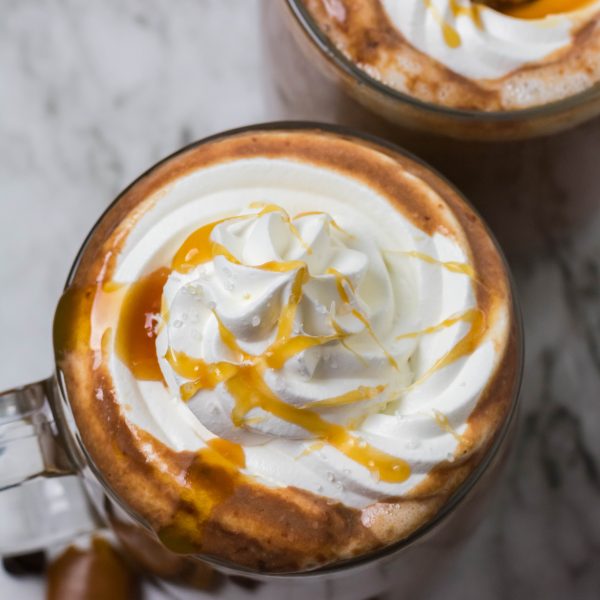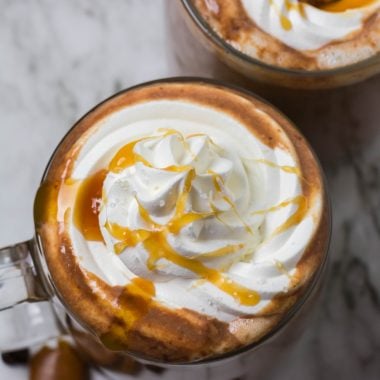 Salted Caramel Crock Pot Hot Chocolate
Rich & creamy caramel hot chocolate made in, and served piping hot from, your crockpot. Topped with a generous dollop of whipped cream, and a caramel drizzle for a truly indulgent treat.
Print
Pin
Rate
Ingredients
1

14 oz can sweetened condensed milk

2

cups

heavy whipping cream

or half and half

6

cups

milk

2

cups

milk or semi sweet chocolate chips

1/2

cup

caramel sauce

plus extra for topping

1-2

tsp

sea salt

plus extra for topping

whipped cream

for topping
Instructions
Add all of the ingredients (other than those for the topping) to your crockpot, and give everything a good stir to evenly combine.

Heat the ingredients on low for 2-3 hours, stirring infrequently to prevent the chocolate from sticking, or until the chocolate chips are melted and the mixture is smooth and hot.

Ladle the hot chocolate into mugs and top with generous dollops of whipped cream, followed by a drizzle of caramel sauce, and a tiny sprinkle of sea salt.
Nutrition
Calories:
491
kcal
|
Carbohydrates:
35
g
|
Protein:
8
g
|
Fat:
36
g
|
Saturated Fat:
22
g
|
Cholesterol:
82
mg
|
Sodium:
357
mg
|
Potassium:
443
mg
|
Fiber:
3
g
|
Sugar:
21
g
|
Vitamin A:
965
IU
|
Vitamin C:
1
mg
|
Calcium:
225
mg
|
Iron:
2
mg