This silky sweet Nutella cheesecake is sandwiched in between a crispy, crunchy hazelnut crust and a rich layer of Ferrero Rocher-style ganache. This Ferrero Rocher Nutella Cheesecake is a confectionery miracle.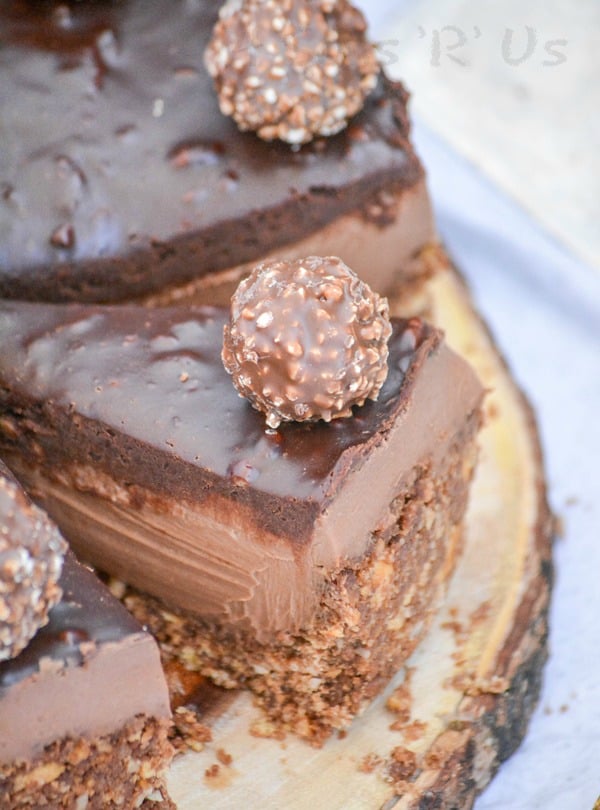 Another year, another birthday. I still can't believe Son # 2 is 17 now. Yes, seventeen. S-E-VEN-TEEN. It's just crazy!!
Every year, for every birthday the birthday boy gets to pick whatever he'd like for his special dinner. For dessert? A cake of their choosing.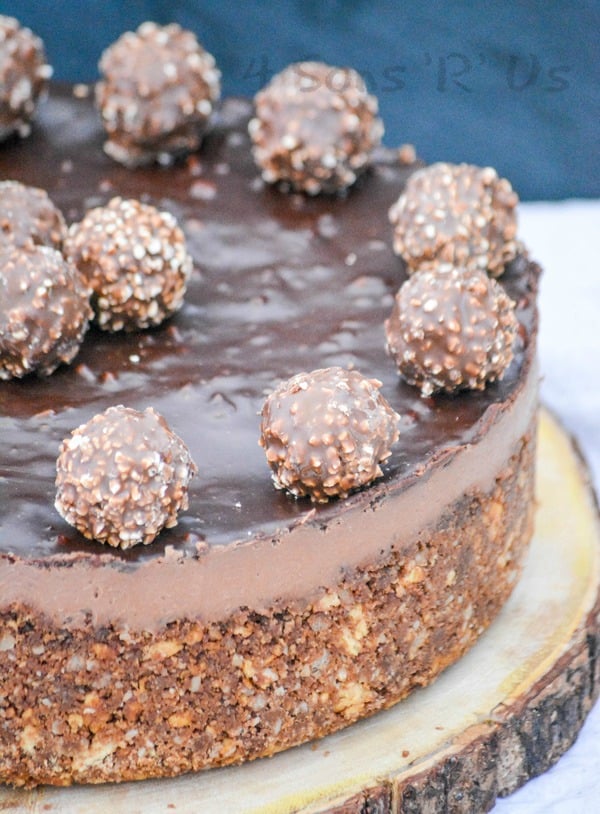 Once my kids reach a certain age, usually somewhere around 12-14, they begin craving and asking for the same thing year after year. For our oldest it was our family recipe for Sausage, Scallions, and Farfalle. For Son # 3 it's my Crockpot Lasagna.
My second son wants a classic Philly cheese steak. Except he wants his on a foot long sub bun. Hey, the only rule is it has to be something I can make at home. So while the rest of us get regular sized hoagies– he chows down on an extra large, 12″ sub sandwich.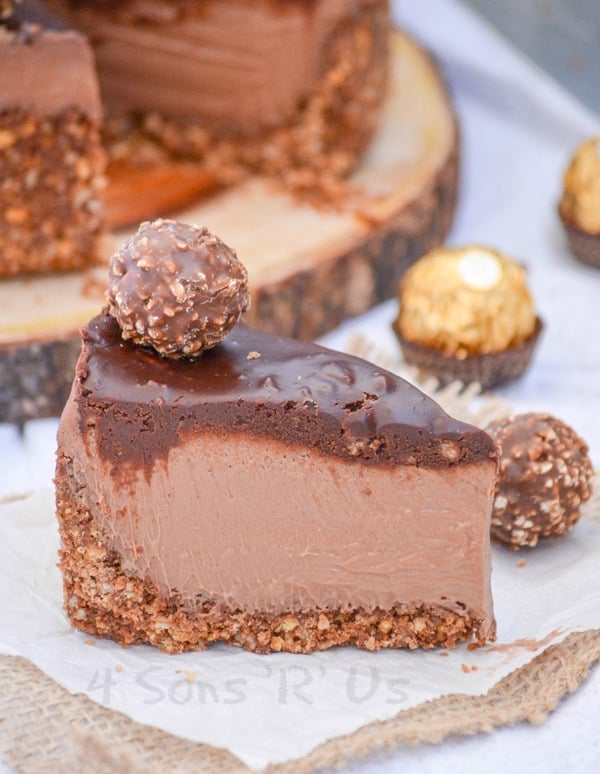 And as far as birthday dinners go, it's pretty easy. Pair it with some baked french fries, and a simple side salad– and it's a simple meal, that's also exactly what he wanted.
The kids used to come up with really creative designs I could adapt, and it was fun. With age has come the early onset of mental laziness, and a total lack of creative input. Instead, now I get a 'whatever you think I'll like Mom, even when I'm not sure about whatever you're whipping up– I always end up loving it.'
While I love the creative license, I do miss the days of collaboration. It was just so much fun. Either way though, the birthday cake tradition started by my grandma will live on. And on, and on, and on if I have my way.
By the time I was done with this year's 'cake', I was thanking my lucky stars that the dinner I still had to prepare was so easy.
The birthday boy loves loves loves Ferrero Rocher candy. I know, I know– he has expensive taste. He's learned to shop the post-holiday candy aisle though to stock up. Smart boy, Mama's taught you well. Super proud of his frugality.
This particular son also inherited his Daddy's craaaazy sweet tooth. It's bad y'all. By bad, I meant that I have to hide sweets meant for recipe development because they can sniff them out, even hidden, in the pantry like bloodhounds.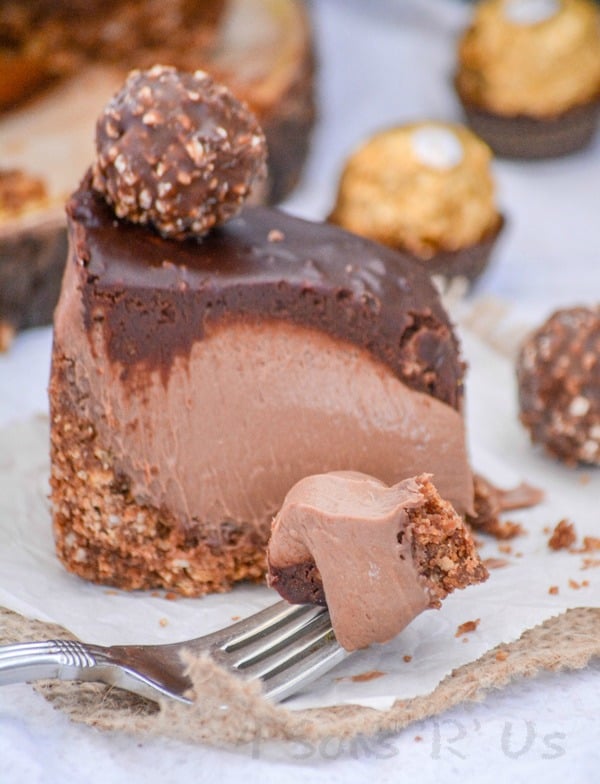 Of course, I took all this into consideration before deciding on his birthday 'cake'. Cheesecake is also his latest love since discovering it in his culinary classes. It wasn't a stretch for me to turn all that into a truly 'wow' dessert for his big day.
The end result? This epic Ferrero Rocher Nutella Cheesecake. It's a dream come true in the form of an edible, truly delectable dessert.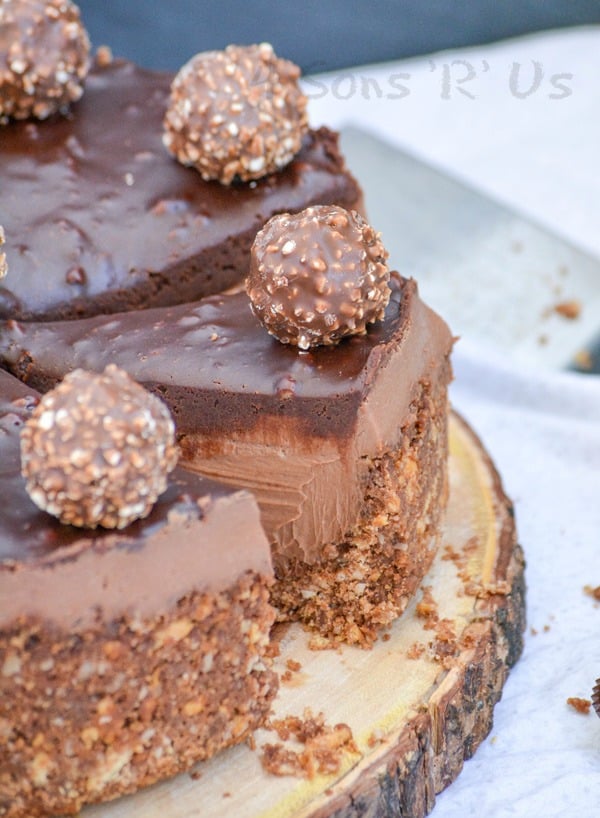 A crispy, crunchy cheesecake crust featuring freshly roasted hazelnuts and actual rice crispies, your mouth will think it's eating the crunchies right out of your favorite candy. Filled with a silky smooth, rich cheesecake flavored with Nutella and melted chocolate– it's topped with a chocolate ganache that's studded with crispies, again just like the famed Ferrero Rocher. Every bite is pure indulgent, edible heaven by the forkful.
This Ferrero Rocher Nutella Cheesecake is the perfect dessert to celebrate someone. Shoot, it's good enough to celebrate anything. I might even have to invent a holiday or something, so I have a guilt-free excuse to have more of this in my life.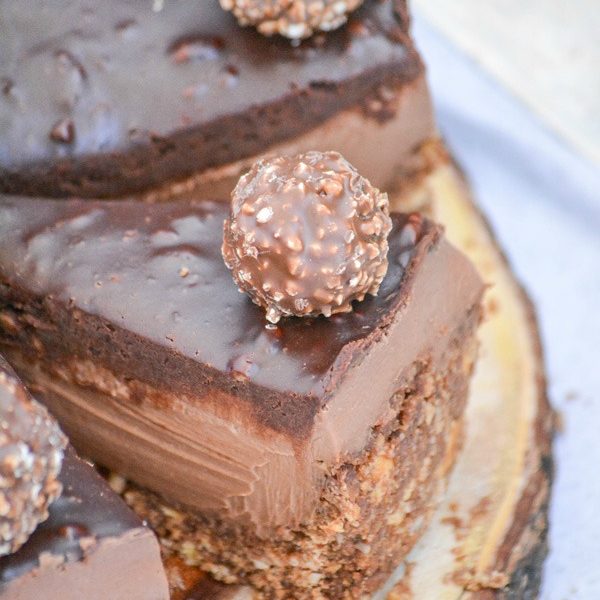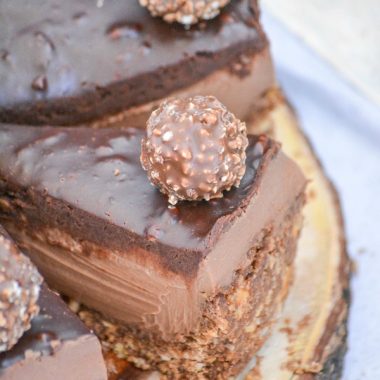 Ferrero Rocher Nutella Cheesecake
A rich and creamy, totally indulgent Nutella cheesecake inside a crispy Ferrero Rocher crust and a silky chocolate ganache.
Print
Pin
Rate
Ingredients
For The Crust
2-1/2

cups

graham cracker crumbs

1

cup

Rice Krispies Cereal

slightly crushed

1/2

cup

roasted hazelnuts

finely chopped

1/4

cup

sugar

1/2

cup

butter

softened

1/2

cup

Nutella
For The Cheesecake Filling
3

8 oz

packages cream cheese

1

cup

sour cream

3/4

cup

sugar

1/3

cup

heavy whipping cream

1

tbsp

vanilla extract

5

large eggs

3

tbsp

corn starch

1-1/2

cups

Nutella

1/2

cup

semi-sweet chocolate chips

melted
For The Ganache
3/4

cup

semi-sweet chocolate chips

1/4

cup

Nutella

1/2

cup

heavy whipping cream

1

tbsp

butter

softened

1/3

cup

roasted hazelnuts

finely chopped
To Finish
15

Ferrero Rocher

unwrapped
Instructions
For The Crust
Remove the ring from your 9" spring form pan. Place an oversized sheet of parchment paper evenly out over the plate, folding the excess under so the sheet's flush with the pan. Replace, and tighten, the outer ring and let the excess parchment paper fan up around the sides.

In a large bowl, stir together the graham crackers, cereal, nuts, and sugar.

In a small skillet, whisk together the nutella and the butter until evenly incorporated and smooth. Use a spatula to scrape all of the nutella mixture into the dry ingredients, stir until evenly incorporated.

Transfer the crust mix to the prepared springform pan. Use your spatula to spread it out, and press it down, in a firm even layer and up the sides of the pan, about 3/4's of the way up. Place the crust-filled pan over an extra large sheet of aluminum foil and fold the foil over the pan so its exterior is completely covered. Set aside.
To Make The Cheesecake Filling
In a medium pot, add four cups of water and let it come to a boil.

While waiting for the water to boil, add the cream cheese, sour cream, sugar, whipping cream and vanilla extract to the bowl of your food processor. Beat them together until evenly incorporated, scraping the sides as needed, and the mixture's completely smooth throughout.

Crack and add all of the eggs to the mixture, mix again until completely smooth and incorporated throughout.

Add the cornstarch, once again scraping and the mixing until evenly incorporated.

Add the nutella and melted chocolate, once again mixing until they're evenly incorporated and the mixture's smooth throughout.

Place the prepared crust into a large roasting pan. Pour the prepared cheesecake batter into the pan, spreading it out evenly. Add enough boiling water into the roasting pan so it goes up about 3/4 of the way up the side surrounding the springform pan.

Bake the cheesecake, in it's water bath, at 350 degrees for 25 minutes. Reduce the oven temp to 250 degrees, and continue baking the cheesecake for another 75 minutes. Turn the oven off, crack the door an inch, and let the cheesecake sit undisturbed for another hour. Remove the cheesecake from the oven and the water bath/ foil layer. Let sit until completely cool throughout.

Run a butter knife along the outer edge of the cheesecake to release it from the springform pan. Refrigerate the cake at least six hours, or overnight, to completely set.
To Make The Ganache
Add the chocolate, Nutella, cream and butter to a heated double boiler. Whisk until melted and the mixture's completely smooth. Stir in the nuts until evenly incorporated.

Pour the ganache out over the top of the cheesecake, using a spatula to spread it out evenly to all edges. Refrigerate the cheesecake until the ganache has completely set.
To Finish
Remove the cheesecake from the refrigerator. Carefully release the spring and remove the outer ring from the pan.

Carefully remove the cheesecake from the parchment paper by sliding it onto a cake stand or cutting board/serving tray of your choice.

Add a ring of Ferraro Rocher to the outer edge. Place three in the center. Slice and serve.
Notes
If you have raw hazelnuts, spread them out in a single layer on a baking sheet. Roast them in the oven at 350 degrees for 10-15 minutes. Transfer the hot nuts to a kitchen hand towel and wrap them up, sealing in the steam. Leave them for 1 minute to steam. Roll the nuts around roughly in the towel to remove the skins. Let them cool completely before using.
recipe adapted from My Evil Twin's Kitchen