A sweet and savory dessert, this dish blends two old-fashioned favorites into one Pumpkin Mincemeat Pie. Revive a classic, with this sweet & savory pie baked in a golden, flaky crust.
This post is sponsored in conjunction with PumpkinWeek . I received product samples from sponsor companies to aid in the creation of the PumpkinWeek recipes. All opinions are mine alone.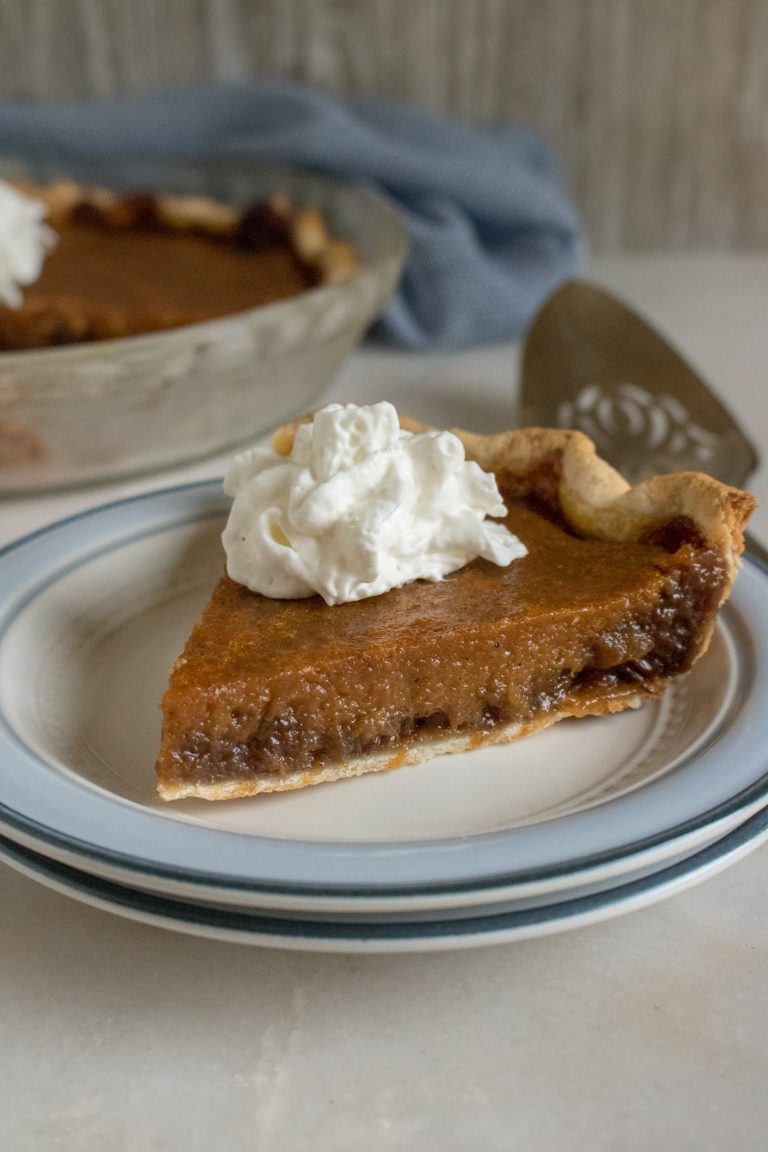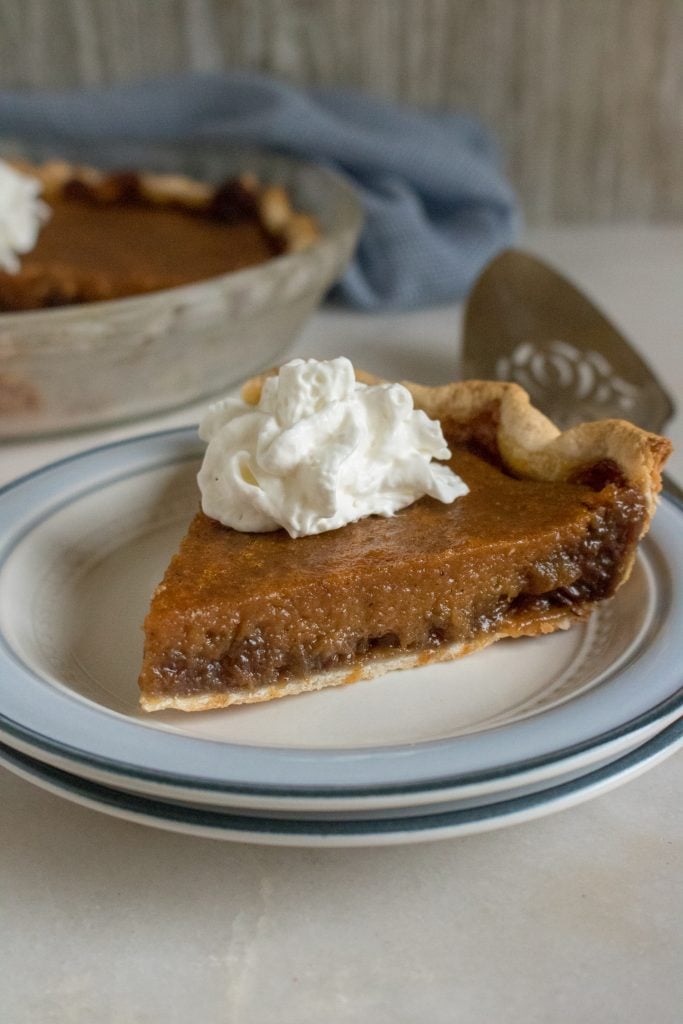 Well this week has been chock full of deliciousness. Today will be no different, but sadly our PumpkinWeek journey for 2018 is coming to a close.
Nothing would be more fitting though than a hearty pie- one of the best ways to enjoy pumpkin & an essential Fall dessert.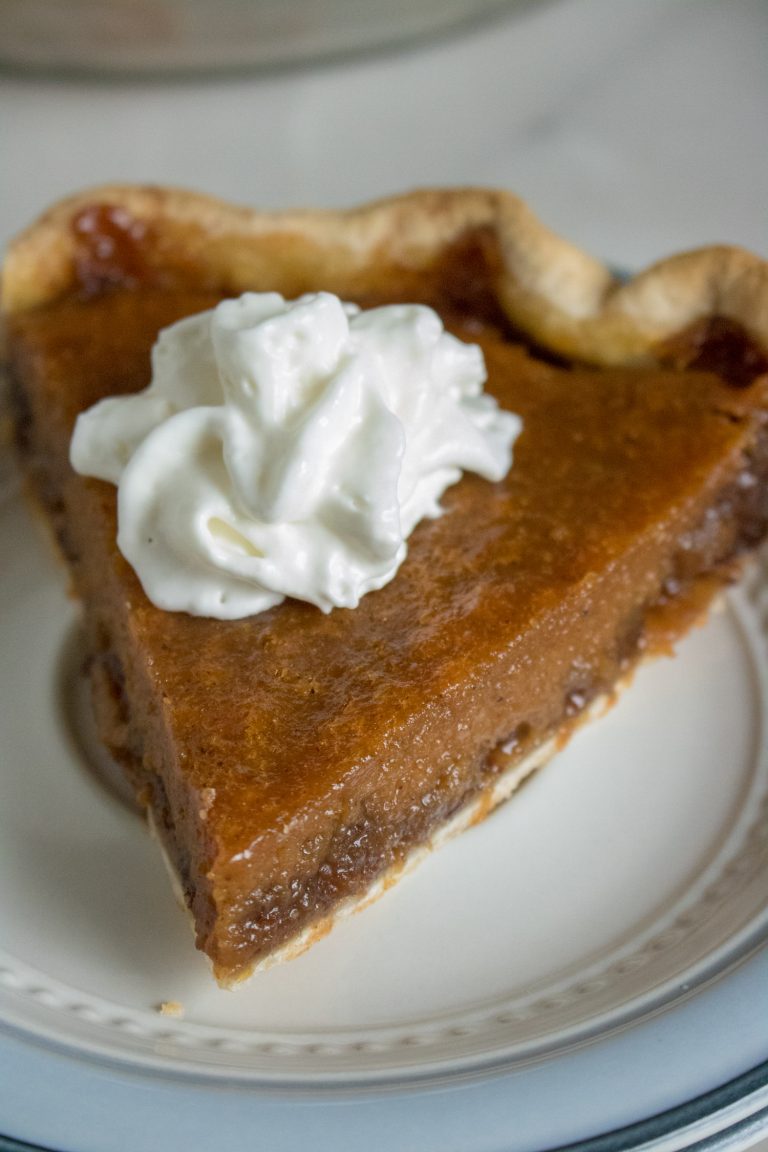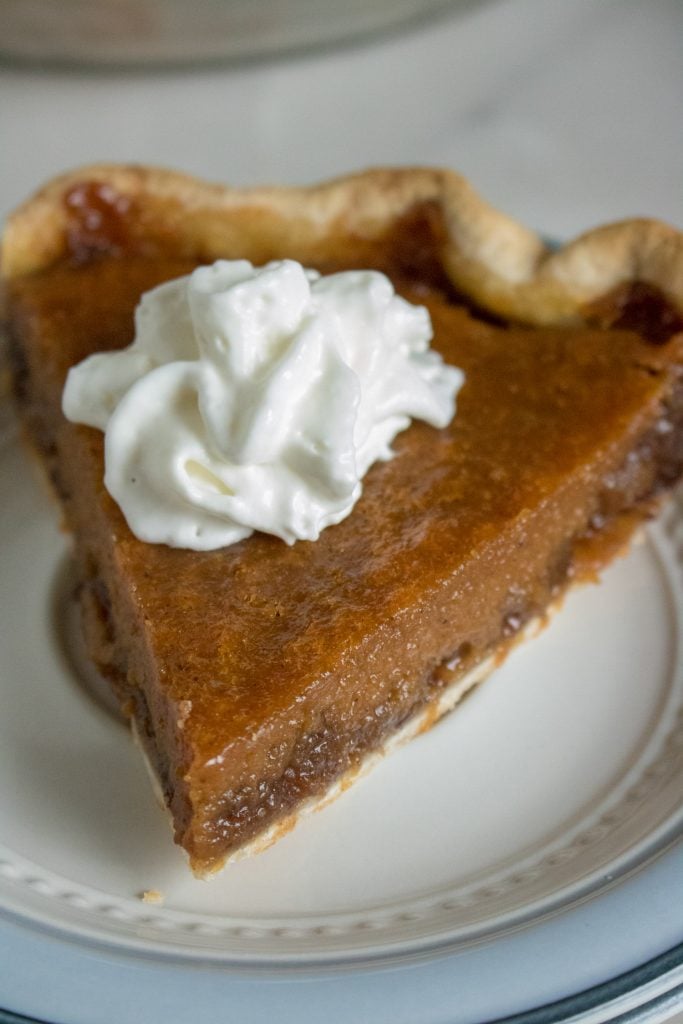 In typical 4 Sons fashion, we chose to combine two of our favorite classics into one ultimate, to-die-for dessert- Pumpkin Mincemeat Pie.
Unlike pumpkin pie, mincemeat pie isn't necessarily what you'd think, just hearing the name. Up until a year or two ago, I thought it was just how people in Great Britain refered to ground beef. And while that's true, too, it's not typically what we refer to as mincemeat at large, especially in the Fall when it's pumpkin season and the holidays are coming. It also has a long, fascinating history.
Mincemeat, as I'm referring to it in this post- is typically a mixture of chopped meat (traditionally mutton or beef- I'll stick with the beef version, thanks!), spices, dried fruit such as apples, and sometimes nuts- that had all been steeped in brandy, making for an interesting sauce and flavor combination.
As time went on, possibly as times got tougher, the actual meat was gradually taken out and replaced with beef suet- which is usually what you'll find on store shelves today. The pie also evolved itself over the years, and many years it was too!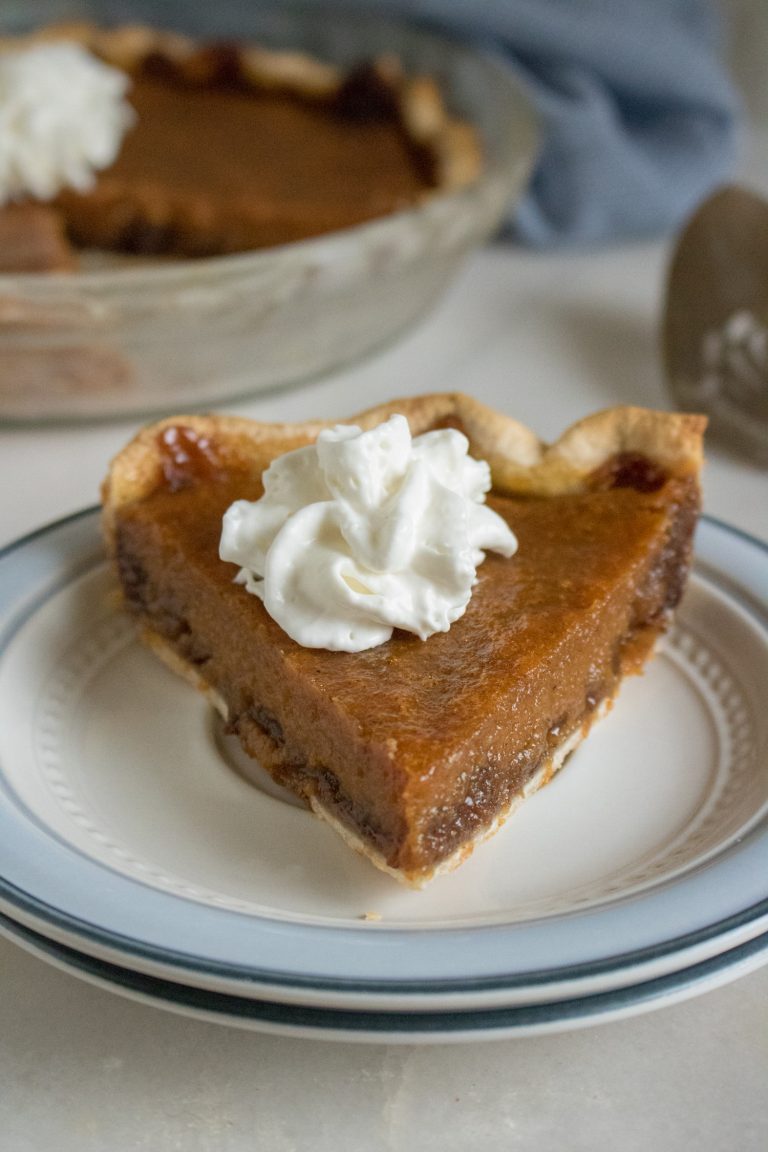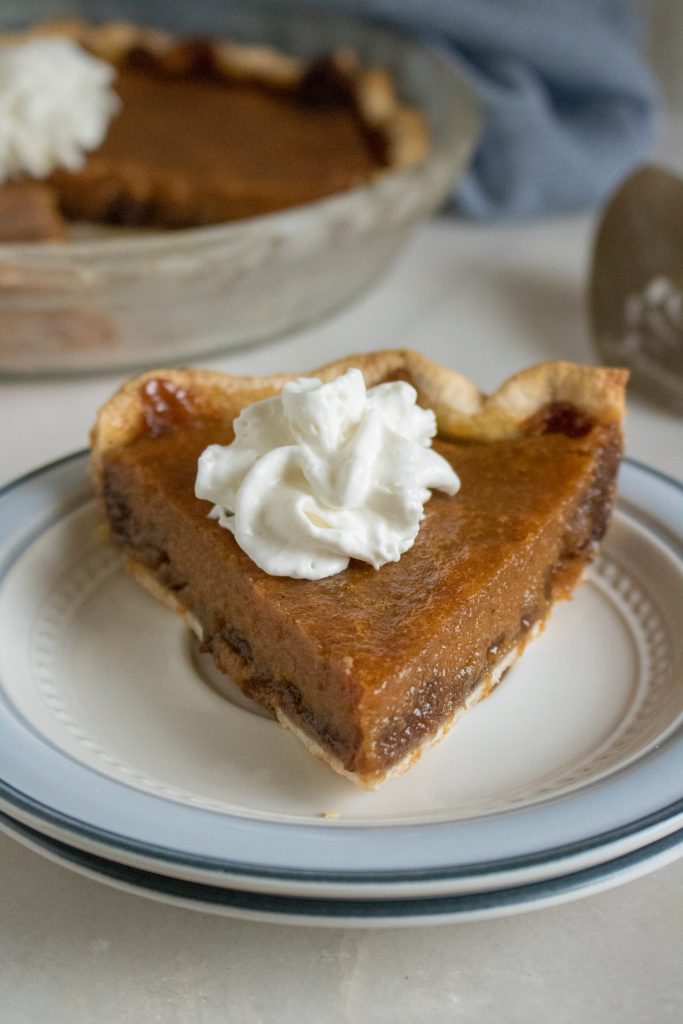 Mincemeat Pie, in one for or another, has been around since Medieval times. Crusaders coming back from war in the Holy Land, brought back a variety of previously un-experienced Oriental spices with them. The big 3 being cloves, cinnamon, and nutmeg. These were incorporated (as a symbol of the three gifts given by the wise men) into people's Christmas pies. Hence, where it got (and keeps) it's holiday connection.
Over the years, as the meatiness of the dish dwindled away, it was partly also because of modern innovation. Back in the day, sugar was a known alternative to preserve meat, as opposed to just salting or smoking it. Making mincemeat pie an ideal way to stretch the family budget when meat could be hard to come by or afford. Especially when you consider the prepared mince not used in that night's pie could be poured into jars, sealed, and stored for months. It was practical and affordable, especially considering it used several Winter-centric seasonal ingredients and combined them all in one savory supper.
As meat became more readily available, especially here in the states where the pie originally made it's way over with English immigrants, it became less a necessity, and more of an enjoyed tradition for the Holidays.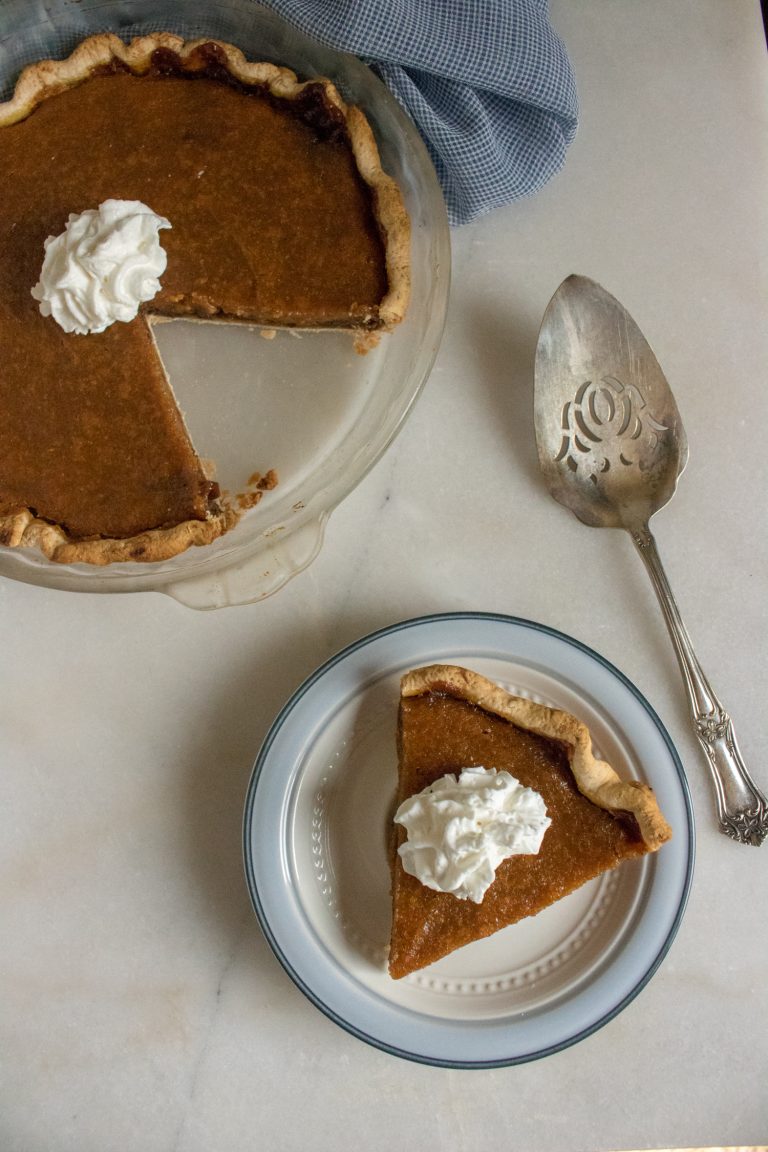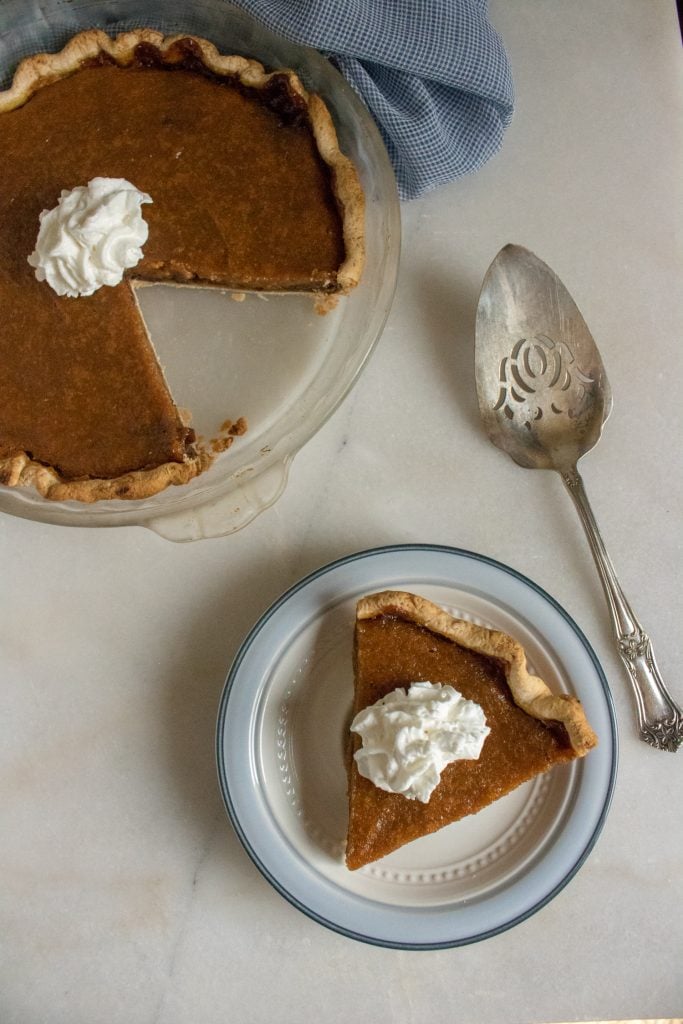 While it's still a tradition seen in the Northeast, it's not as well known elsewhere, and has all but disappeared from younger generations completely. But why? Precisely because of the evolution it underwent.
Modern, or American, mincemeat pie doesn't contain meat, sometimes not even any alcohol, and it has a strange ingredient most modern eaters haven't heard of, that sounds scary and off-putting… suet.
Suet is just shredded rendered beef fat that when slow simmered with all of the ingredients, coats everything locking in the juices and preserving them. It's not scary and totally in there for a reason. So while mincemeat- and mincemeat pie- as we know it are not the hearty, manly filling our ancestors were used to, today's version can be just as yummy when baked into a pie crust, just in a fashion more fitting for brunch or for dessert.
It's definitely something we don't want to be forgotten, and with this recipe- and by introducing it to all of you – we're hoping to help it make the comeback it deserves!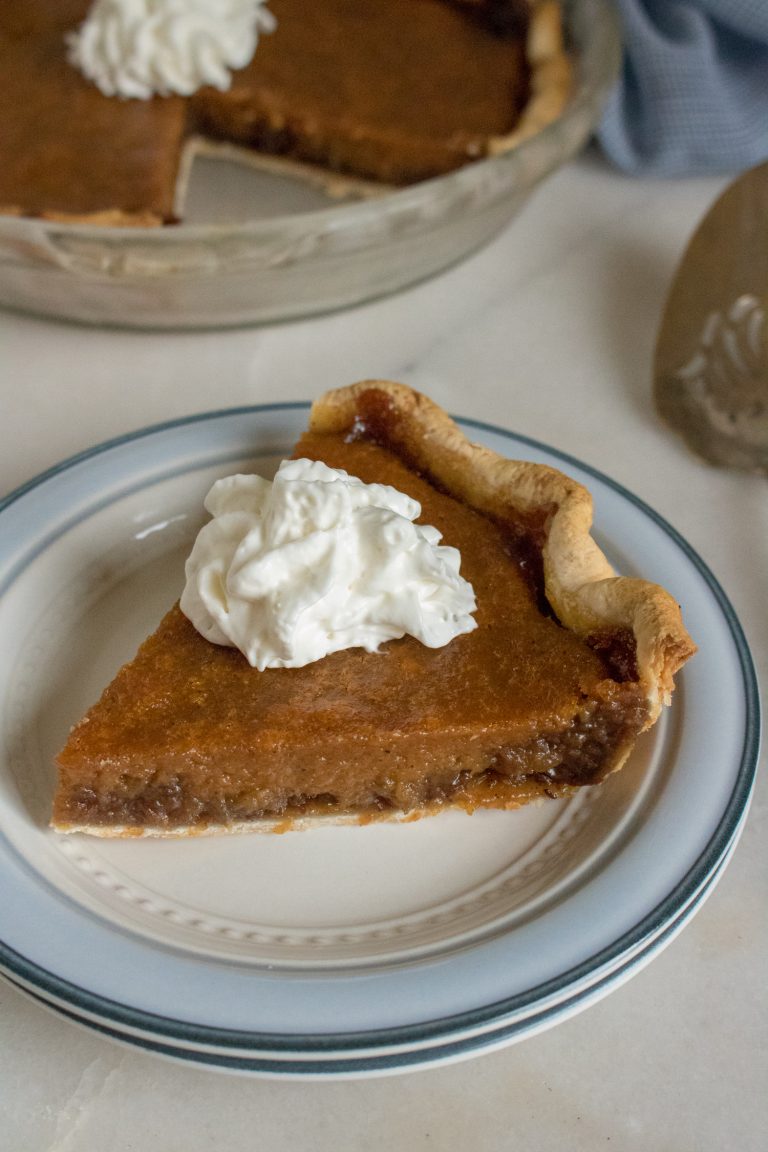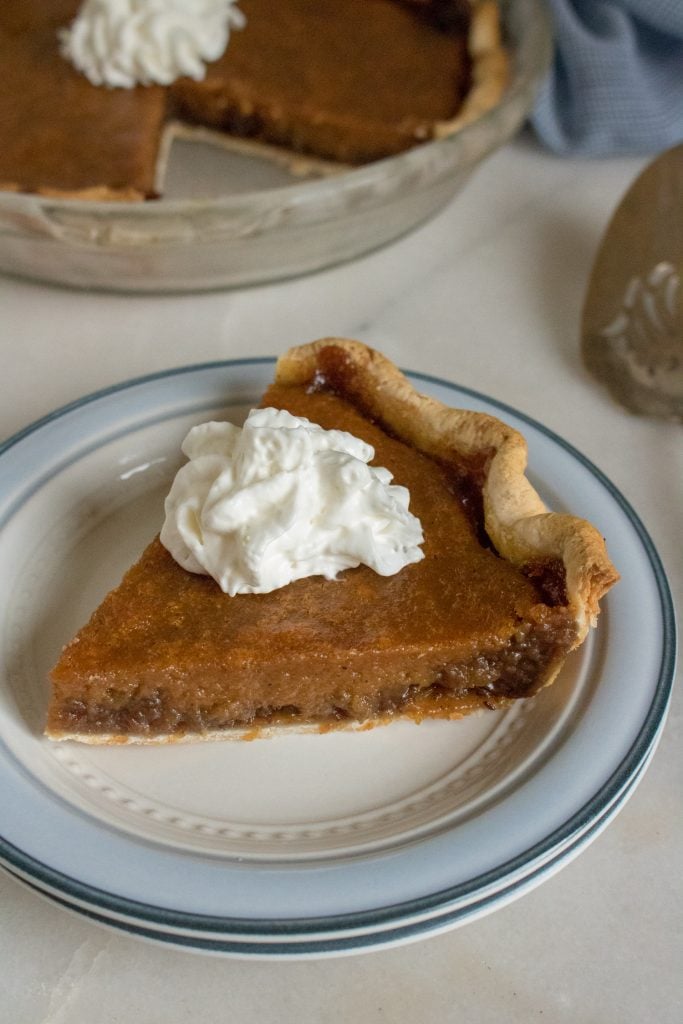 So remember when I told you that today's mincemeat was a combination of dried fruit, raisins, sometimes nuts and candied peels with spices like cinnamon, nut meg, and cloves? Guess what that pairs perfectly with? Guessed it yet?? Pumpkin.
Specifically the pureed, slightly sweet squashy flavor in a sweetened pumpkin pie. It contains some of Fall's most sensational flavors, in a sweet, yet savory pastry dish.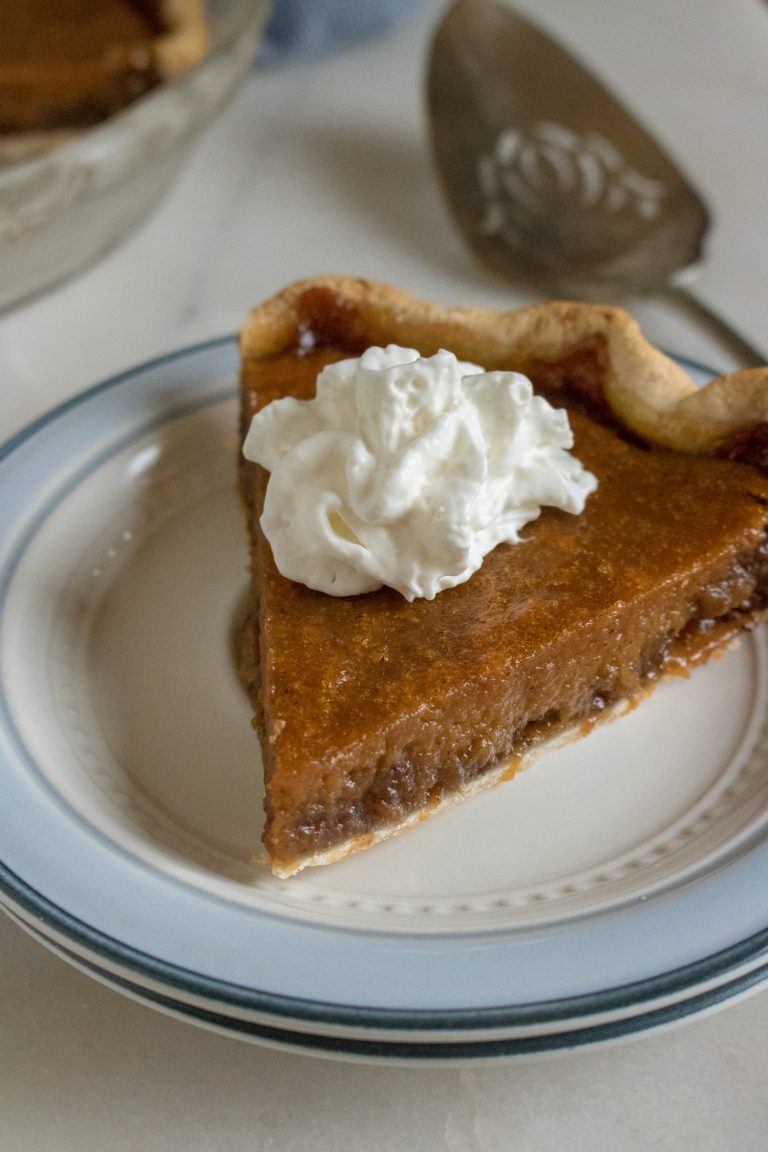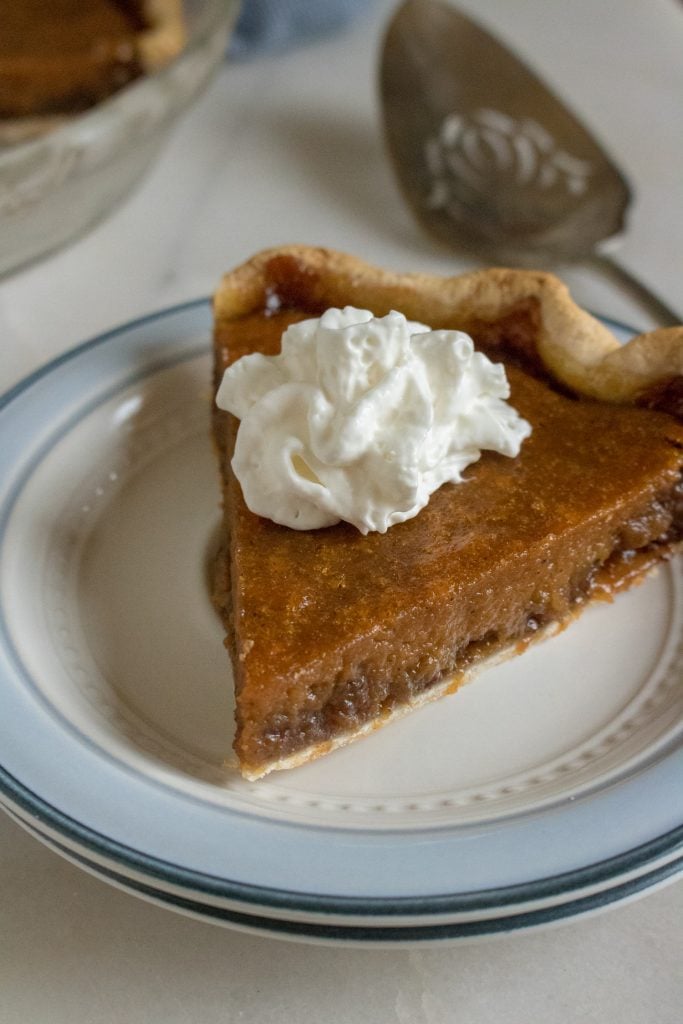 A flaky, golden pie crust holds a layered filling or rich mincemeat (store bought, or homemade), topped with a sweetened pumpkin layer. Every bite of this Pumpkin Mincemeat Pie is a magical marriage of flavors.
It's perfect for brunch, or dessert, and topped with a dollop of freshly whipped cream- it was made to be served to guests at your next holiday themed party, or just as a special treat for a cozy family meal.
Infuse your family with a bit of new age, old school tradition with our yummy Pumpkin Mincemeat Pie.
Other Pumpkin Ideas You Might Also Enjoy:
Don't forget to ENTER the Pumpkin Week GIVEAWAY for your chance to win some seriously awesome prizes from our sponsors! Just scroll past the recipe, and enter for your chance to WIN.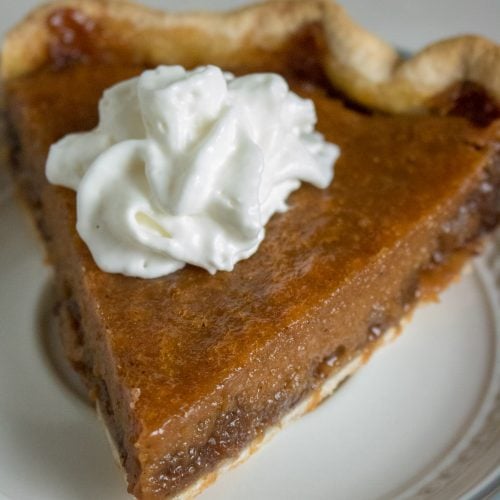 Pumpkin Mincemeat Pie
A sweet, fruity spin on the traditional pumpkin pie- this version features a 'spirited' layer of traditional mincemeat.
Print
Pin
Rate
Ingredients
1 1/2

cups

prepared

meatless mincemeat

1

Eggland's Best egg

beaten

1

cup

pumpkin puree

1/2

cup

Dixie Crystal's granulated white sugar

1/2

tsp

ground cinnamon

1/4

tsp

ground nutmeg

1/4

tsp

salt

1 9

" refrigerated pie crust

not yet baked

1

cup

whipped cream
Instructions
Place the crust into a pie pan, cut off any excess, and crimp edges, if desired.

In the bowl of a stand mixer, whip together the egg, pumpkin, sugar, spices, & salt, just until everything's equally incorporated.

Spread the mincemeat evenly out over the pie crust.

Pour the pumpkin mixture out over the mincemeat, spread to smooth evenly to the edges.

Bake at 425 degrees for 35-40 minutes. Let the pie cool, either until it's just slightly warm or completely cool, and serve topped with whipped cream.
Welcome to #PumpkinWeek 2018 hosted by Love and Confections and A Kitchen Hoor's Adventures! This year is even bigger and better than ever with a giveaway! Thirty nine bloggers from around the country are showcasing their best pumpkin dishes. Get ready for Fall with over 130 pumpkin recipes throughout the week including cocktails, main courses, pizzas, pastas, pastries, breads, muffins, and plenty of desserts! Our PumpkinWeek Sponsors are helping us give away some great prizes. Thank you so much, Sponsors, for your generosity. We have an incredible giveaway below and we'd love if you would take a moment to read about it and what you can win!
Prize #1 Dixie Crystals is giving one winner a 6-Quart Instant Pot 7-in-1 Multi-Use Programmable Pressure Cooker, Slow Cooker, Rice Cooker, Steamer, Sauté, Yogurt Maker and Warmer.
Since 1917, Dixie Crystals® has been the South's choice for high-quality sugar and sweeteners. For generations, Dixie Crystals has been at the heart of family traditions and celebrations. Our pure cane, non-GMO sugar products guarantee that treasured family recipes will turn out right every time. Bake with love and Dixie Crystals.
Prize #2 Cabot Creamery Co-operative is giving one winner a Cheese Gift Box, including a selection of Seriously Sharp, Pepper Jack, Sharp Light, Extra Sharp, Horseradish, Private Stock, Vintage Choice, and Sharp cheeses, VT Sharp Cracker Cuts, Burlap & Plaid Bag, Thick & Thin Slicer, and Wooden Cutting Board
Cabot Creamery Co-operative, makers of naturally aged, award-winning cheeses and dairy products is owned by 1,000 dairy farm families in New England and New York.
Prize #3
Eggland's Best
is giving one winner an Eggland's Best Kitchen Essential Prize Package that includes a Freezer Bag, Whisk, Spatula, Plush Phone Holder and Cleaner, Plush Egg, Recipe Book, 3 Free Months of Eggland's Best Eggs and Cutting Board.
Eggland's Best eggs have more of the delicious, farm fresh taste you and your family love – anyway you cook them. Plus, Eggland's Best provides superior nutrition such as 6x more vitamin D, 10x more vitamin E, and double the omega 3s compared to ordinary eggs so why settle for less?
Here are today's #PumpkinWeek recipes:
Beverages:
Pumpkin Juice from House of Nash Eats
Pumpkin Old Fashioned from The Redhead Baker
Pumpkin Pie Milkshake from The Beard and The Baker
Savory:
Black Futsu Pumpkin Pizza from Culinary Adventures with Camilla
Cheesy Pumpkin Pasta Bake from Hezzi-D's books and Cooks
Ham & Cheese Stuffed Pumpkin Rolls from Amy's Cooking Adventures
Mincemeat Pumpkin Pie from 4 Sons 'R' Us
Pumpkin and Seafood Stew from A Day in the Life on the Farm
Pumpkin Cheddar Ale Soup from Strawberry Blondie Kitchen
Pumpkin Grilled Cheese Sticks from Cindy's Recipes and Writings
Pumpkin Pepperjack Macaroni and Cheese from Cooking with Carlee
Pumpkin Ravioli (Tortelli di Zucca) from Caroline's Cooking
Pumpkin Sausage Penne from Jonesin' For Taste
Baked Goods & Desserts:
Chocolate Cream Cheese Pumpkin Cake from Rants From My Crazy Kitchen
Chocolate Dipped Pumpkin Truffles from The Chef Next Door
Chocolate Truffle Pumpkin Pound Cake from Family Around the Table
No Bake Pumpkin Cream Cheese Pie from Eat Move Make
Pumpkin Bacon Waffles with Cinnamon Syrup from For the Love of Food
Pumpkin Caramel Scones from Cookaholic Wife
Pumpkin Chia Pudding from April Golightly
Pumpkin Chocolate Cheesecake Bars from Who Needs A Cape?
Pumpkin Chocolate Chip Muffins from The Crumby Kitchen
Pumpkin Chocolate Donuts from The Bitter Side of Sweet
Pumpkin Cupcakes with Cinnamon Cream Cheese Frosting from Daily Dish Recipes
Pumpkin French Toast Loaf from Seduction In The Kitchen
Pumpkin Fudge from Sweet Beginnings
Pumpkin Lava Cakes from The Spiffy Cookie
Pumpkin Muffins from Everyday Eileen
Pumpkin Pecan Pancakes with Caramel Syrup from The Chef Next Door
Pumpkin Pecan Pie Layer Cake from Love and Confections
Pumpkin Pie Dessert Dip from Hardly A Goddess
Pumpkin Pie Krispie Treats from The Mandatory Mooch
Pumpkin Pop Tarts from Platter Talk
Disclaimer: Thank you PumpkinWeek Sponsors: Dixie Crystals, Cabot Cheese, and Eggland's Best for providing the prizes free of charge. These companies also provided the bloggers with samples and product to use for PumpkinWeek recipes. All opinions are my own. The PumpkinWeek giveaway is open to U.S. residents, age 18 & up. All entries for the winner will be checked and verified. By entering you give the right to use your name and likeness. The number of entries received determines the odds of winning. Three (3) winners will be selected. The prize packages will be sent directly from the giveaway sponsors. The PumpkinWeek Bloggers are not responsible for the fulfillment or delivery of the prize packages. Bloggers hosting this giveaway and their immediate family members in their household cannot enter or win the giveaway. No purchase necessary. Void where prohibited by law. This promotion is in no way sponsored, endorsed or administered by, or associated with Facebook, Instagram, Pinterest, Twitter or any other social channel mentioned in the PumpkinWeek posts or entry.