The most tender, juiciest chicken breasts come out of a smoker. This Maple Chipotle Smoked Chicken Breast offers some heat under a sweet maple glaze.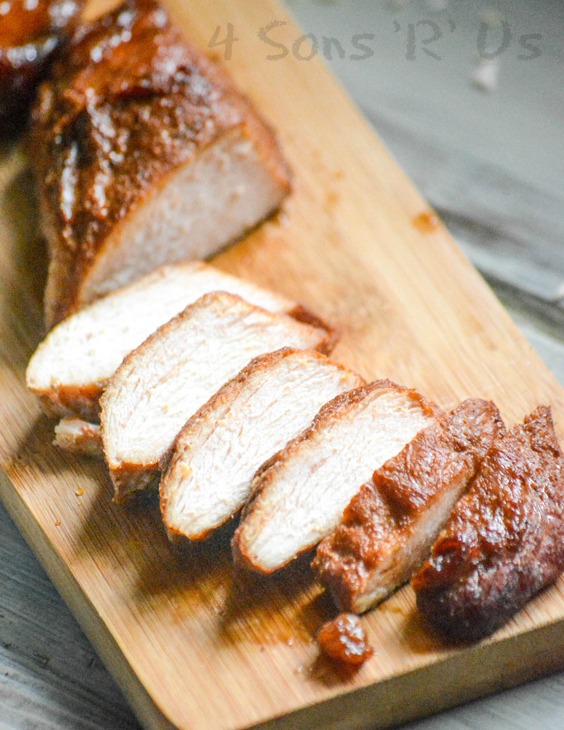 Do you ever just look at your significant other and think 'Damn, did I get lucky!'?? I have those moments on a regular basis. After a decade together, my man is still smokin' hot.
And I'm not talking about just how he looks. I mean, I love how he looks but it's also the things he does that keep him up on that pedestal for me.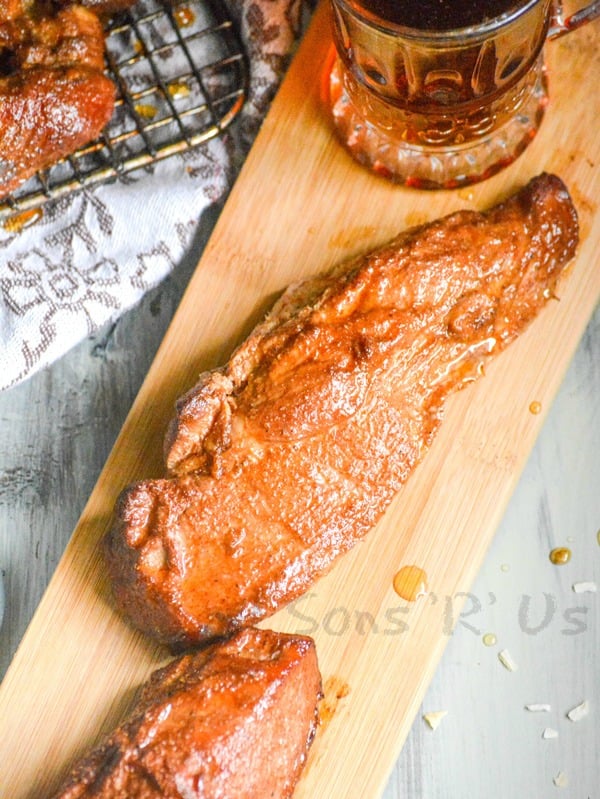 Like when he works his scheduled 40, then picks up night shift overtime to make sure our kids have what they want for their birthday gift. Or when I'm bone-tired from working two jobs and he not only goes to the grocery store for me, but when I get out of the shower dinner's ready and all the kids are seated at the table eating. Without a single argument.
Those moments are magic.
When he falls asleep reading the youngest a book before bedtime. When he's stuck at work, but manages to sneak a constant face time stream of one of the sons' games. When he's teaching the youngest son how to plug a hole in his bike tire, or helping the oldest remove a spark plug wire from his first car.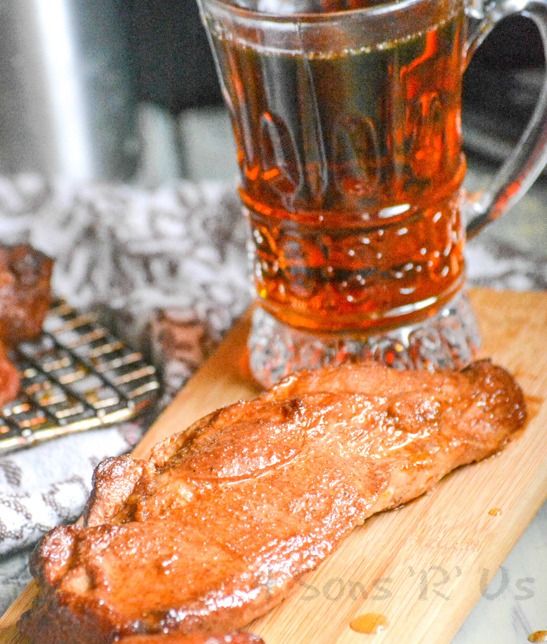 Every time, he steals my heart. Every time, he's smokin' hot– to me, in every single way.
So it's only fitting that, in his honor, I'd make one of his favorite smokin' meals.
This Maple Chipotle Smoked Chicken Breast is every bit as hot as the man in your life.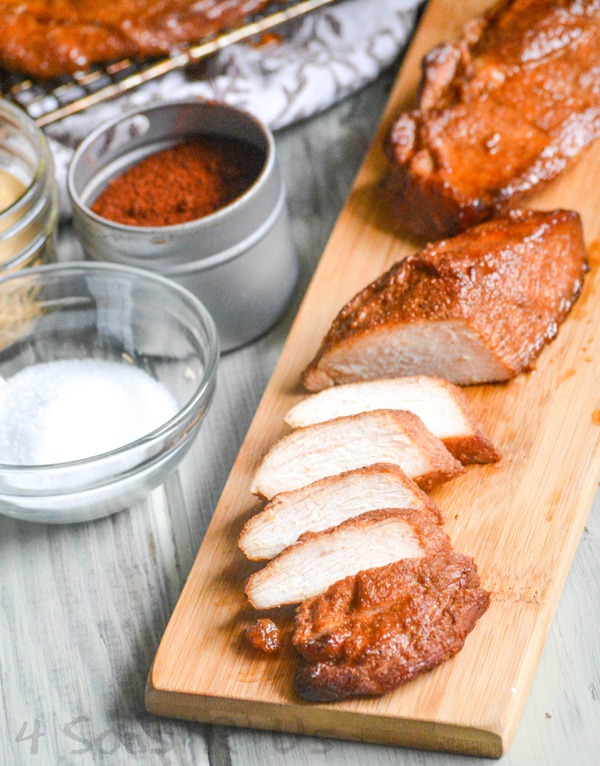 Sweet with a hint of spice lingering underneath the glaze, it's a healthy hearty meat that is utterly satisfying.
Nothing too fancy, but it still delivers on full flavor without a bit of disappointment in any bite. Smoked through, it's the total package, in edible form, that the whole family will love.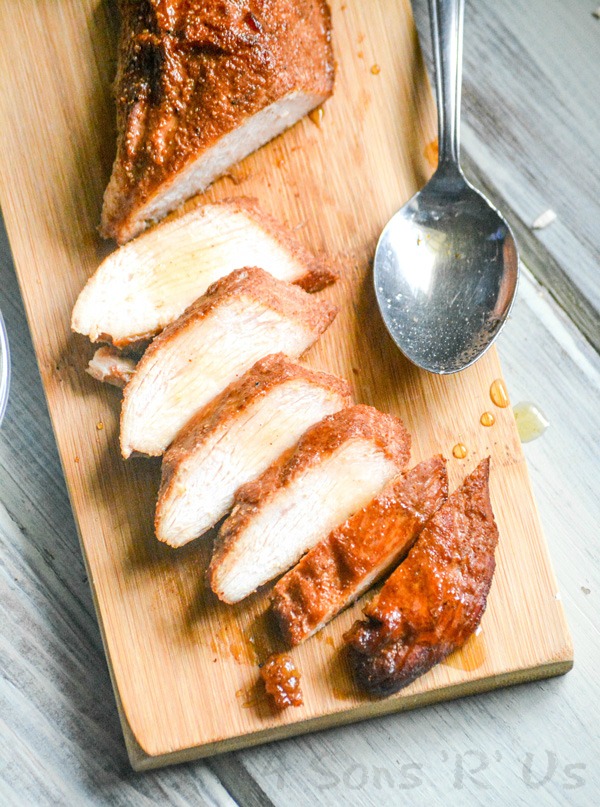 Serve Dad a meal that will truly show him how much you appreciate him, and that tastes as good as he makes his family feel. This Maple Chipotle Smoked Chicken Breast is a meal worthy of celebration, or celebrating such a special person.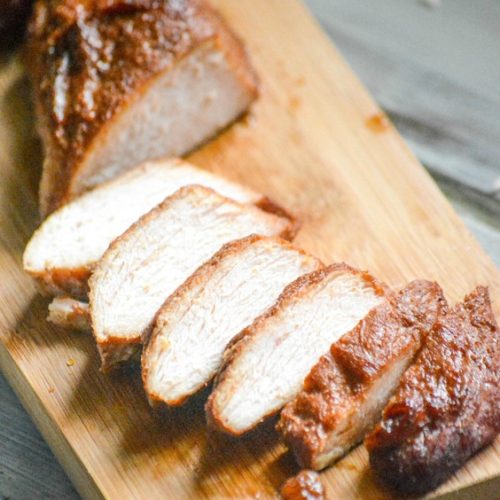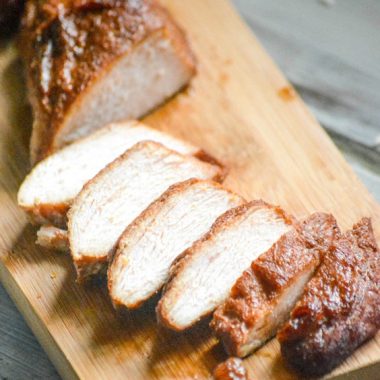 Maple Chipotle Smoked Chicken Breast
A sweet and slightly spicy maple chipotle glazed chicken breast is infused with wood smoke in every bite.
Print
Pin
Rate
Ingredients
4-5

boneless, skinless chicken breasts

2

tsp

chipotle powder

1

tsp

salt

1

tsp

garlic powder

1

tsp

onion powder

1/2

tsp

pepper

1/3

cup

maple syrup, plus more for basting
Instructions
Preheat your smoker to 250 degrees, using a blend of hickory, maple, and peach chips.

In a small bowl, stir together all of the ingredients-- except for the chicken.

Dip each chicken breast into the mixture and use your fingers to gently massage it in. Repeating until all the breasts are coated.

Place the chicken breasts into the prepared smoker, placing the thermometer prove into the center of the thickest one. Baste them every hour with maple syrup.

Cook the chicken about 3 hours, or until the probe registers an internal temperature of 160-165 degrees.

Remove the chicken from the smoker, to a serving platter. Baste again with syrup. Serve immediately, or store in an air tight container and heat up when ready to serve.